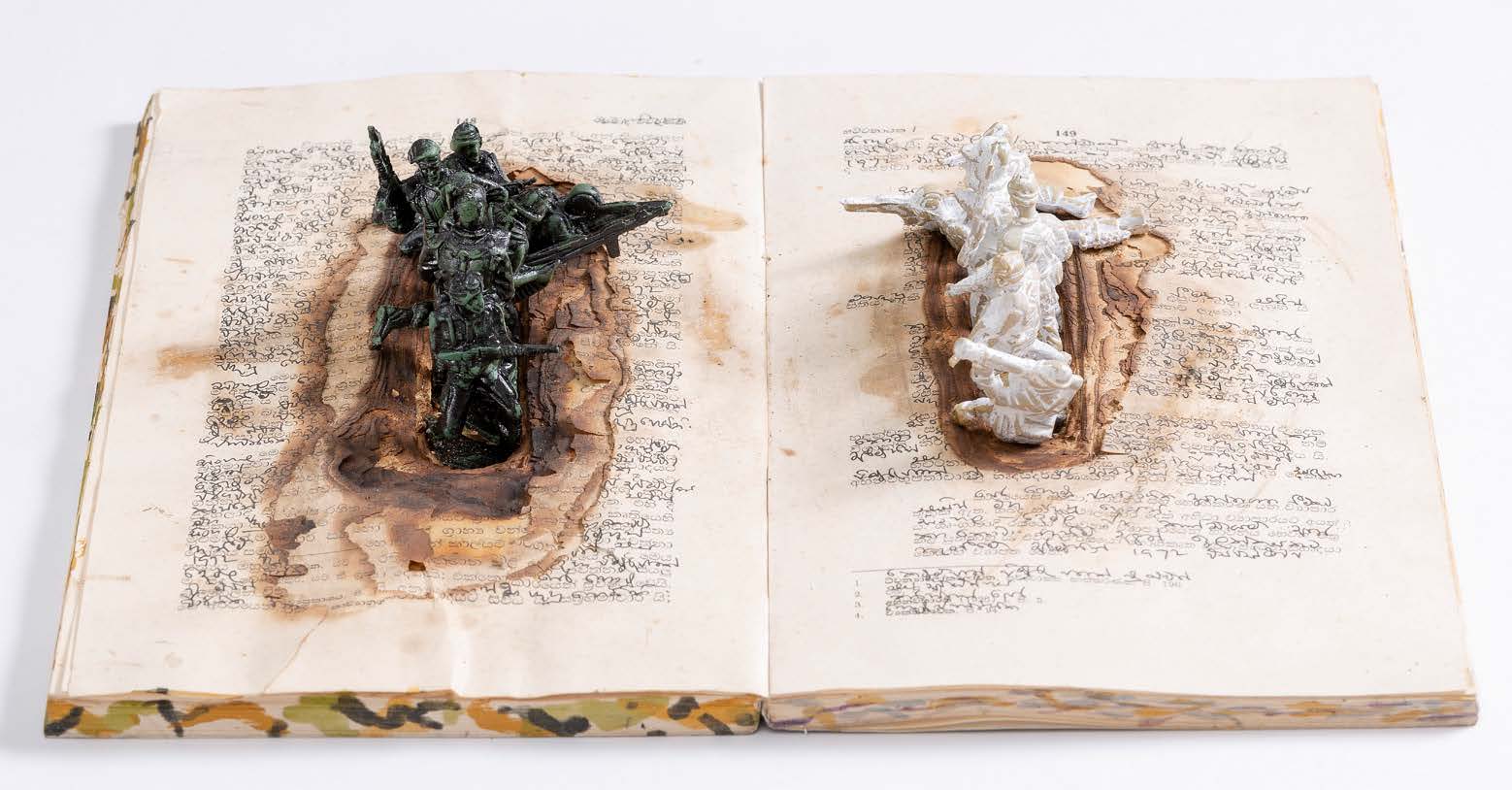 Kingsley Gunatillake, War Text, Used books and toy soldiers, 21 cm x 28 cm x 3.5 cm, 2018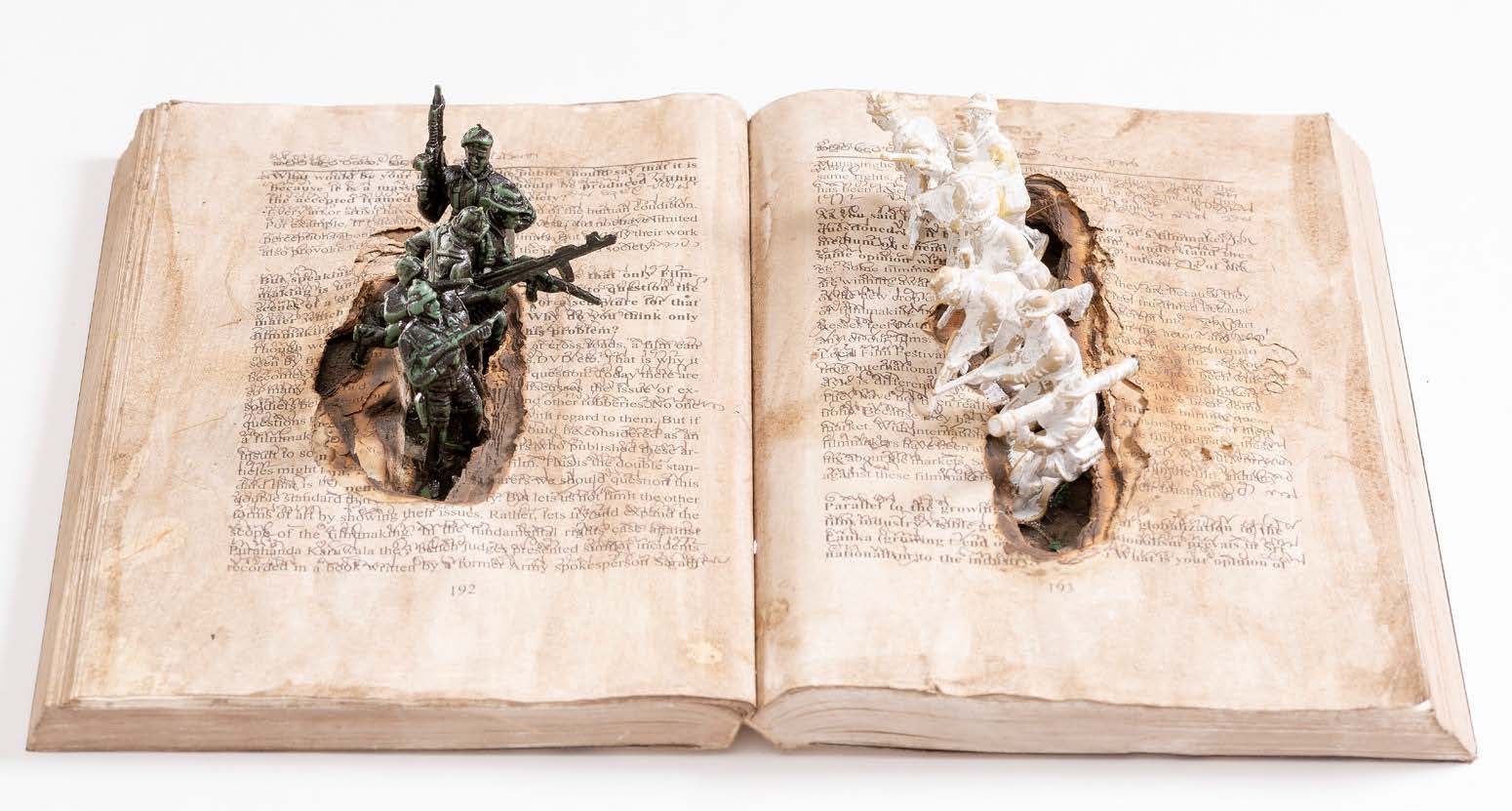 Kingsley Gunatillake, War Text, Used books and toy soldiers, 21 cm x 28 cm x 3.5 cm, 2018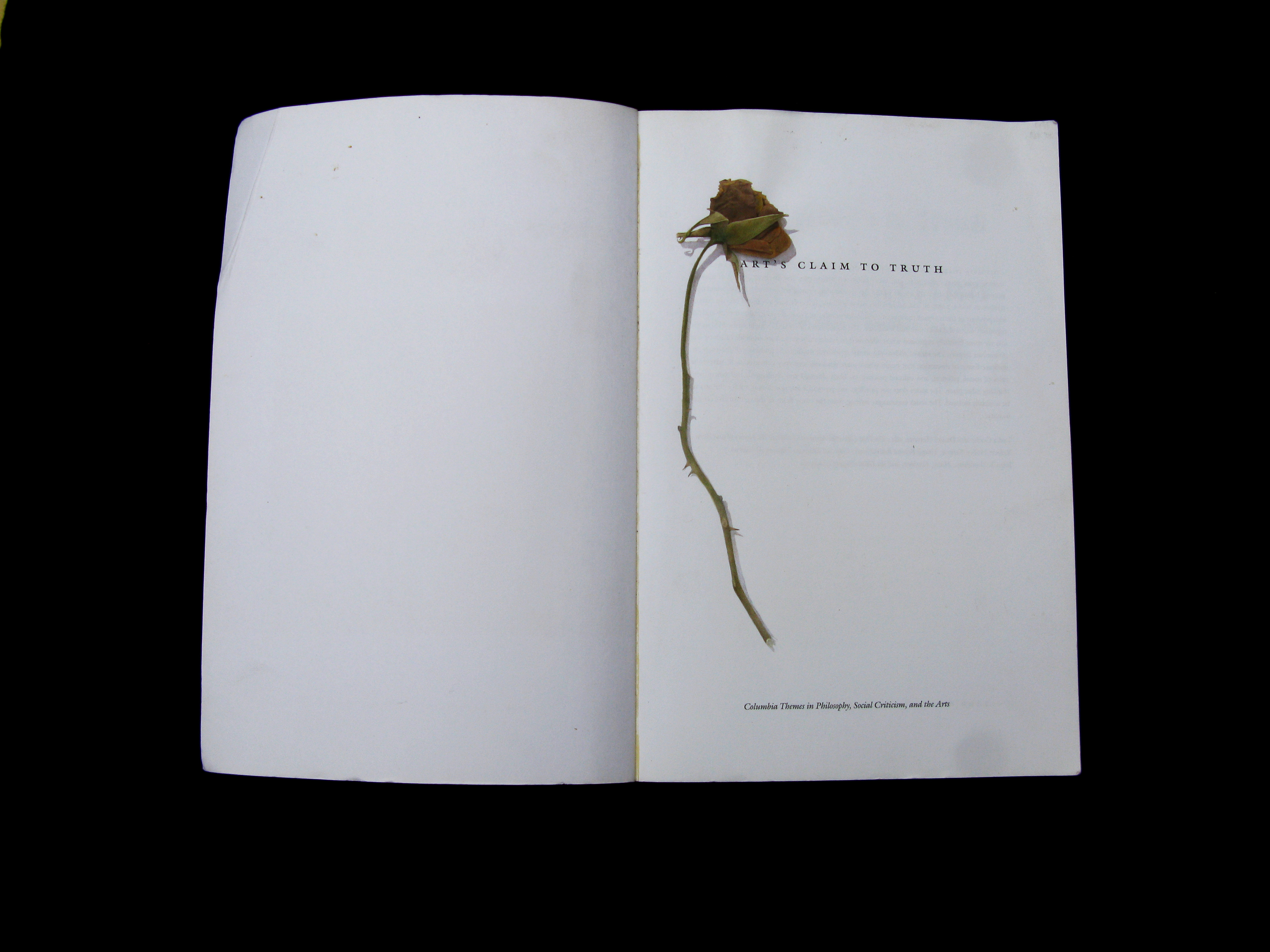 Madiha Sikander, The Inconvenient Truth I, Gadrung on paper (hand-painted found book), 18.5 cm x 23 cm X 1.5 cm, 2015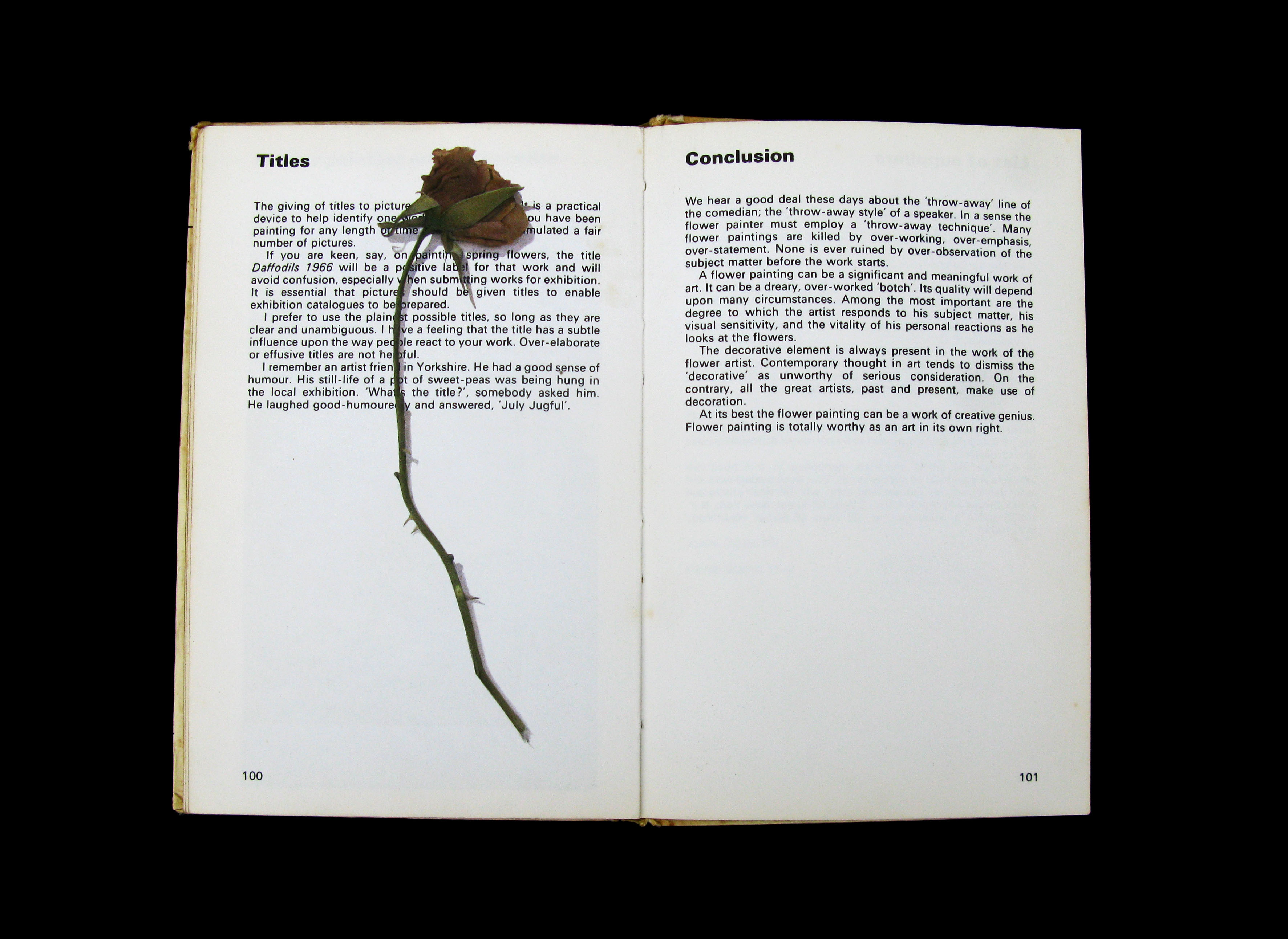 Madiha Sikander, Inconvenient Truth II, Gadrung on paper (hand-painted found book), 19 cm x 24 cm x 1.5 cm, 2015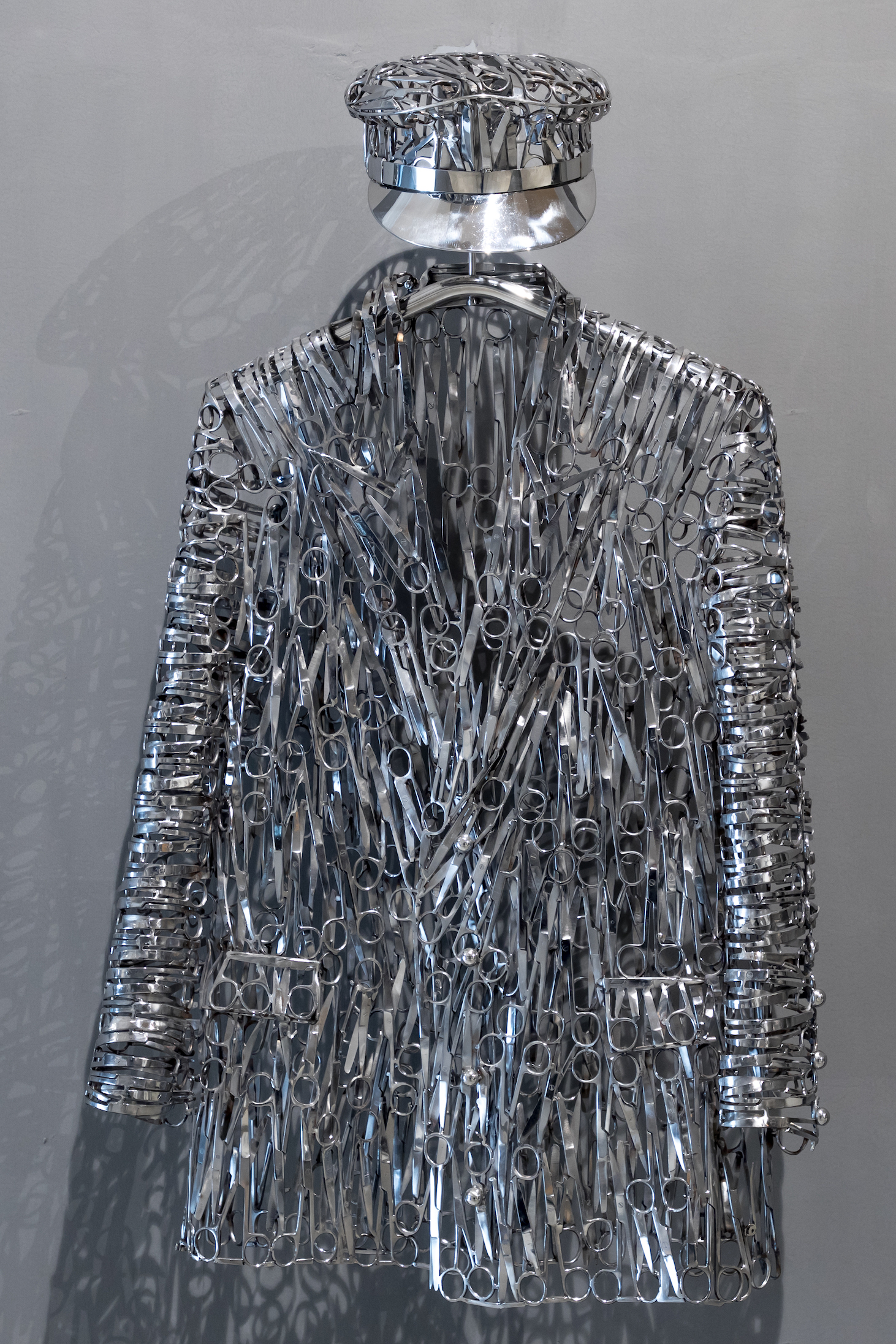 Mahbubur Rahman, Rest room, Stainless steel , 105 cm x 28 cm x 55 cm, 2018 (AP+1)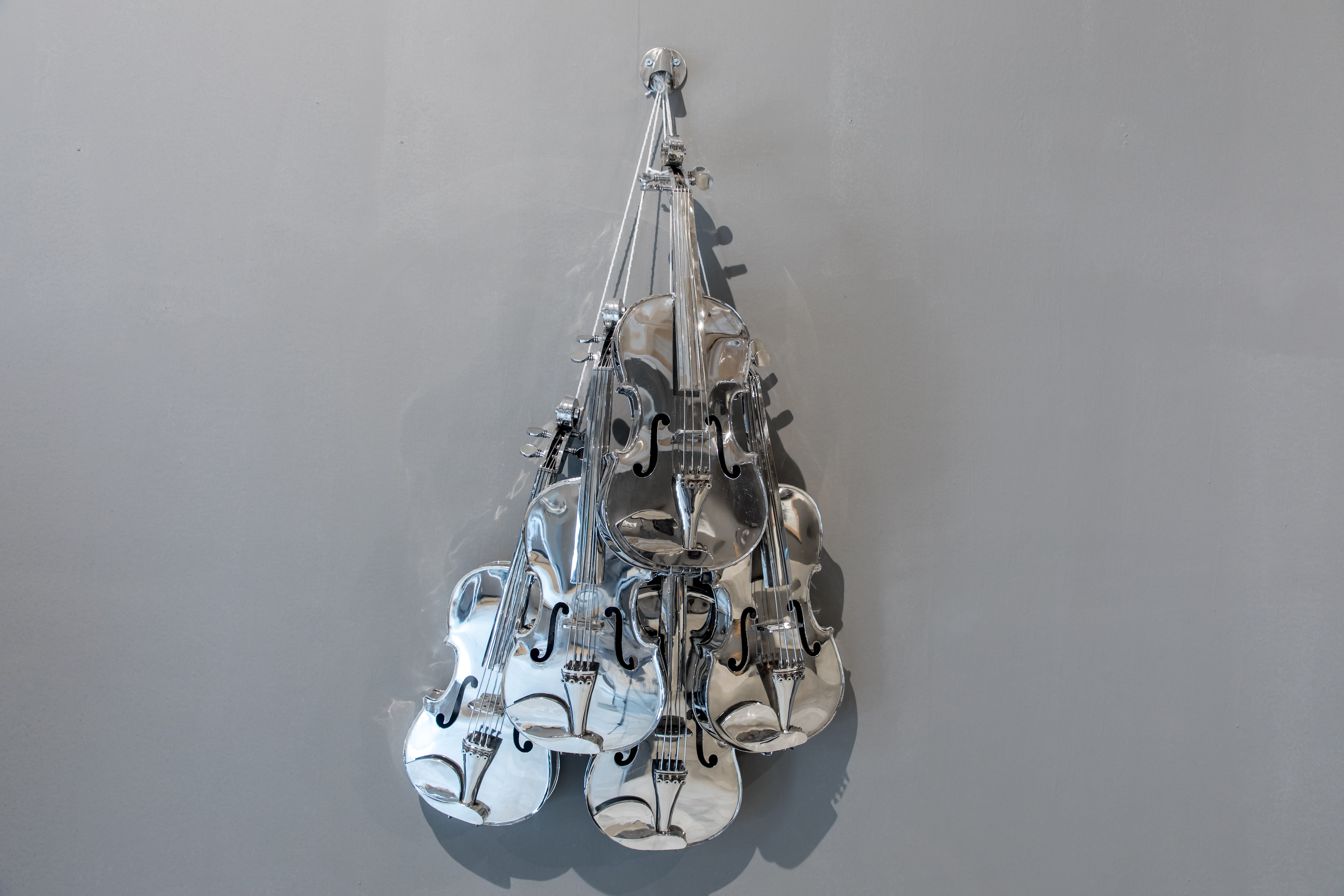 Mahbubur Rahman, Burning Violin, Stainless steel , 115 cm x 72 cm x 30 cm, 2018 (AP+1)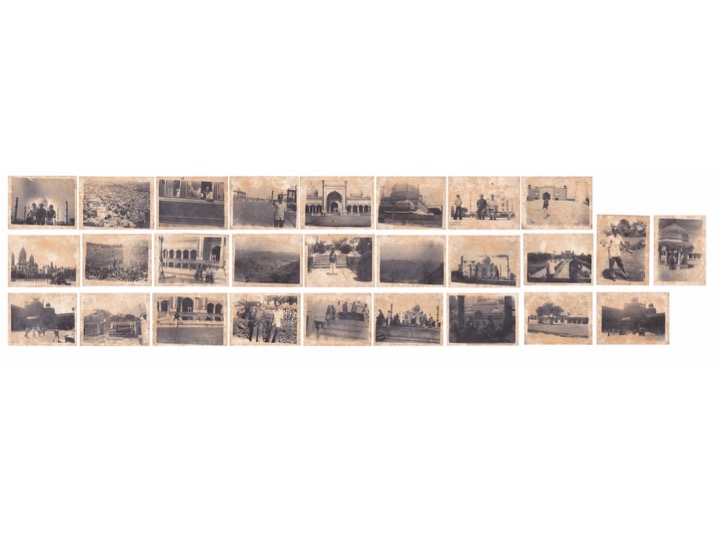 Najmun Nehar (Keya), Voyage, Gold leaf and rabbit skin glue on digital archival print, 7cm X 9 cm each (set of 27), 2017 (AP+3)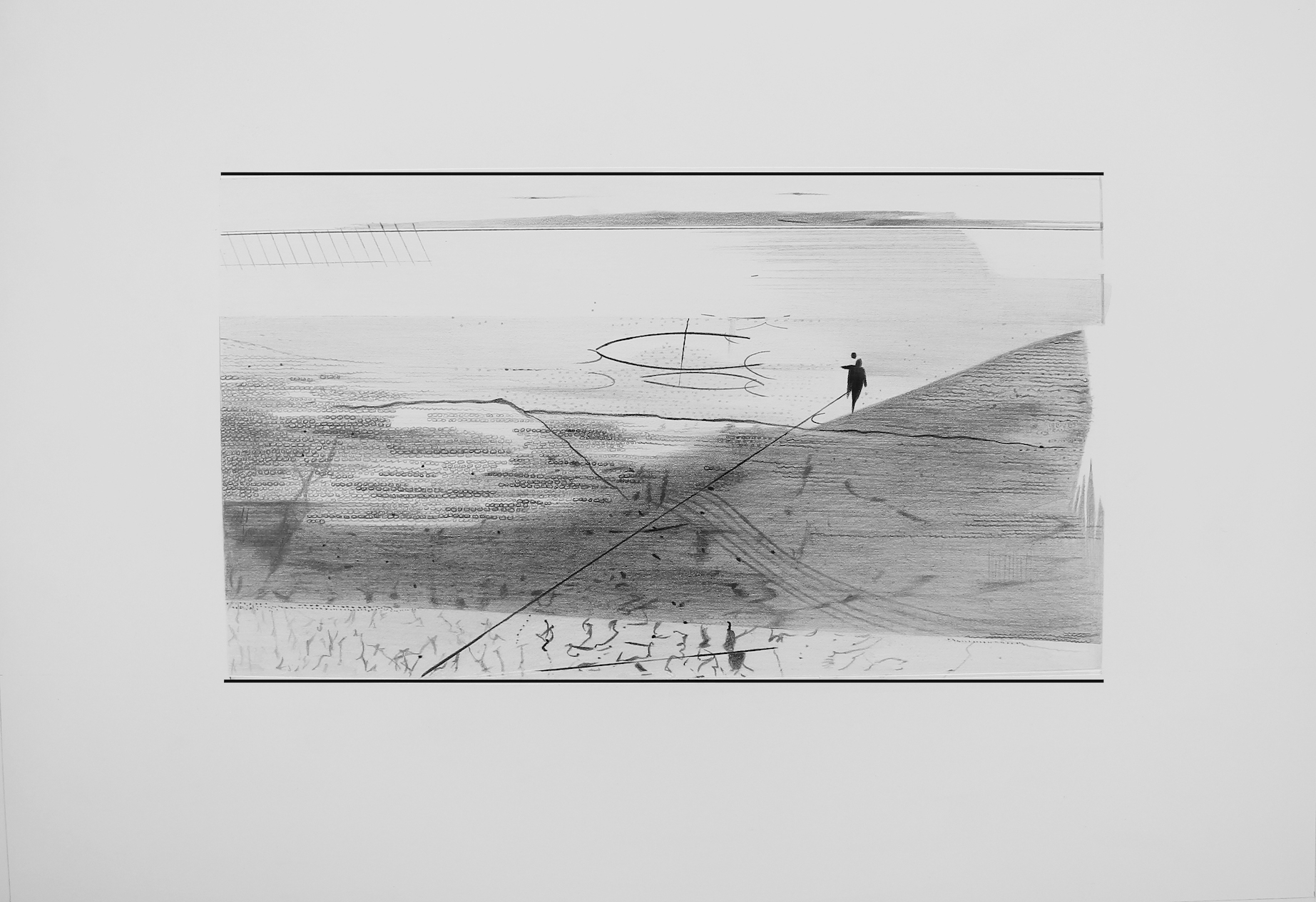 Vipeksha Gupta, Samvejanīya-tthāna, Pencil on paper, 35.5 cm x 51 cm , 2018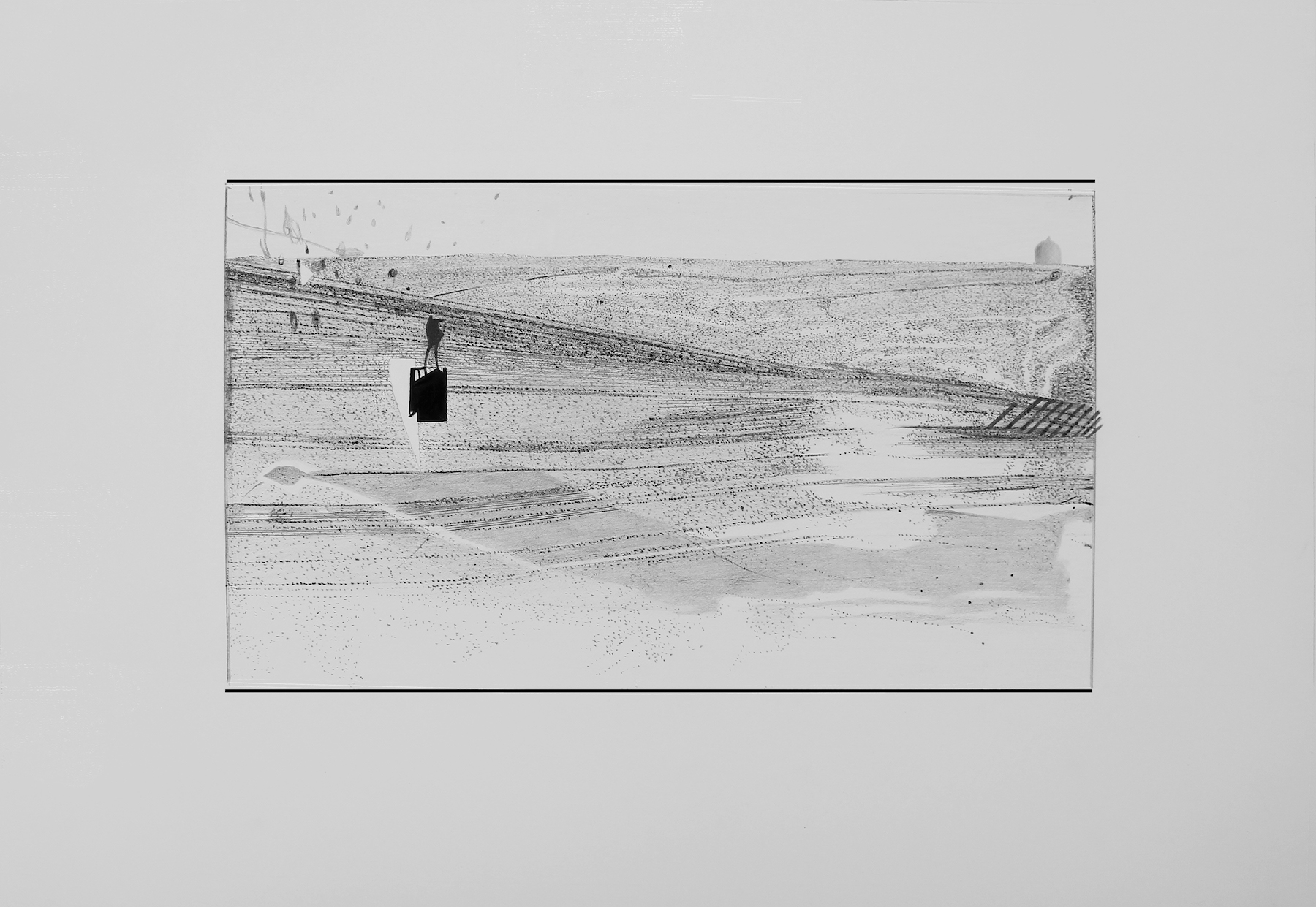 Vipeksha Gupta, Samvejanīya-tthāna, Pencil on paper, 35.5 cm x 51 cm , 2018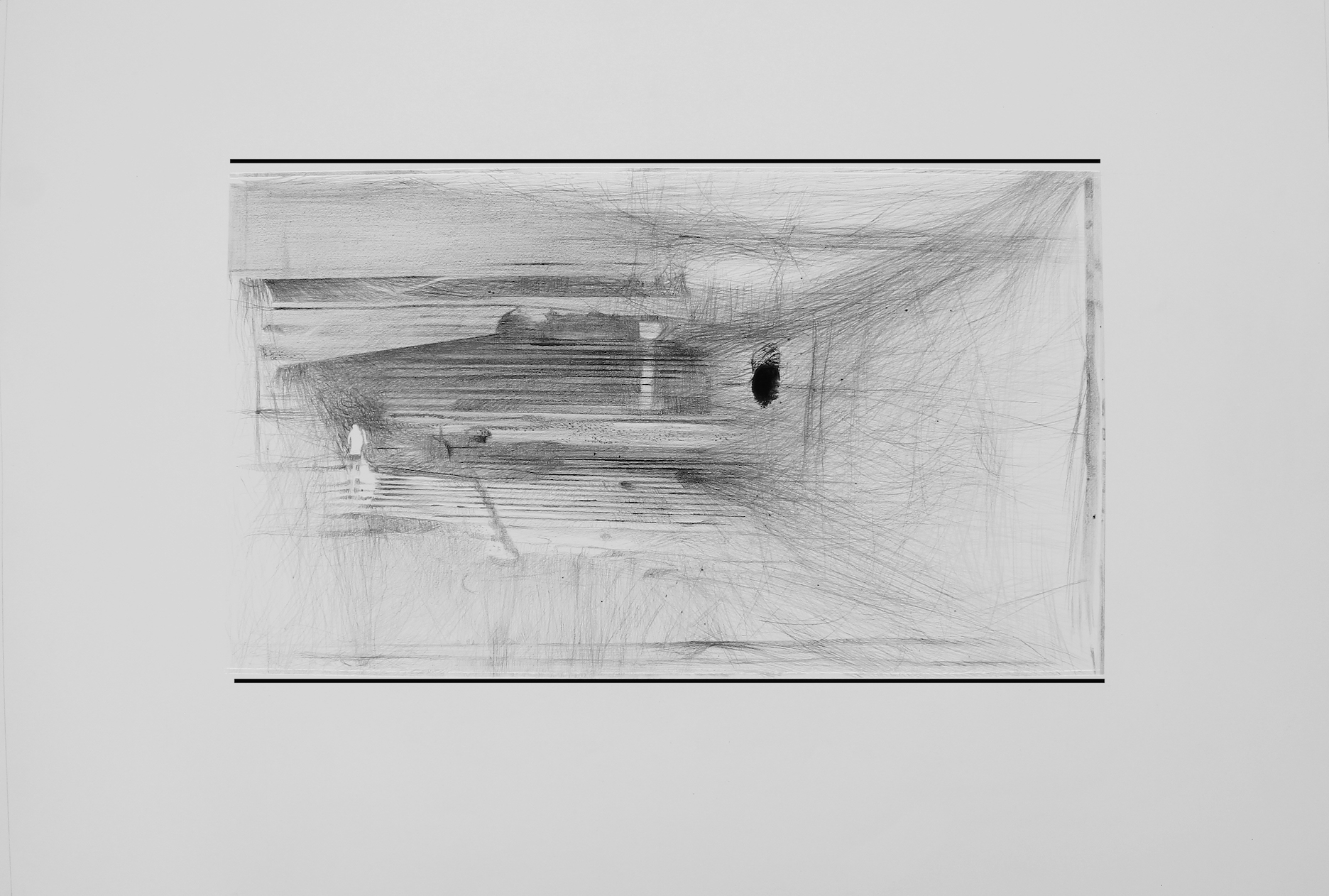 Vipeksha Gupta, Samvejanīya-tthāna, Pencil on paper, 35.5 cm x 51 cm , 2018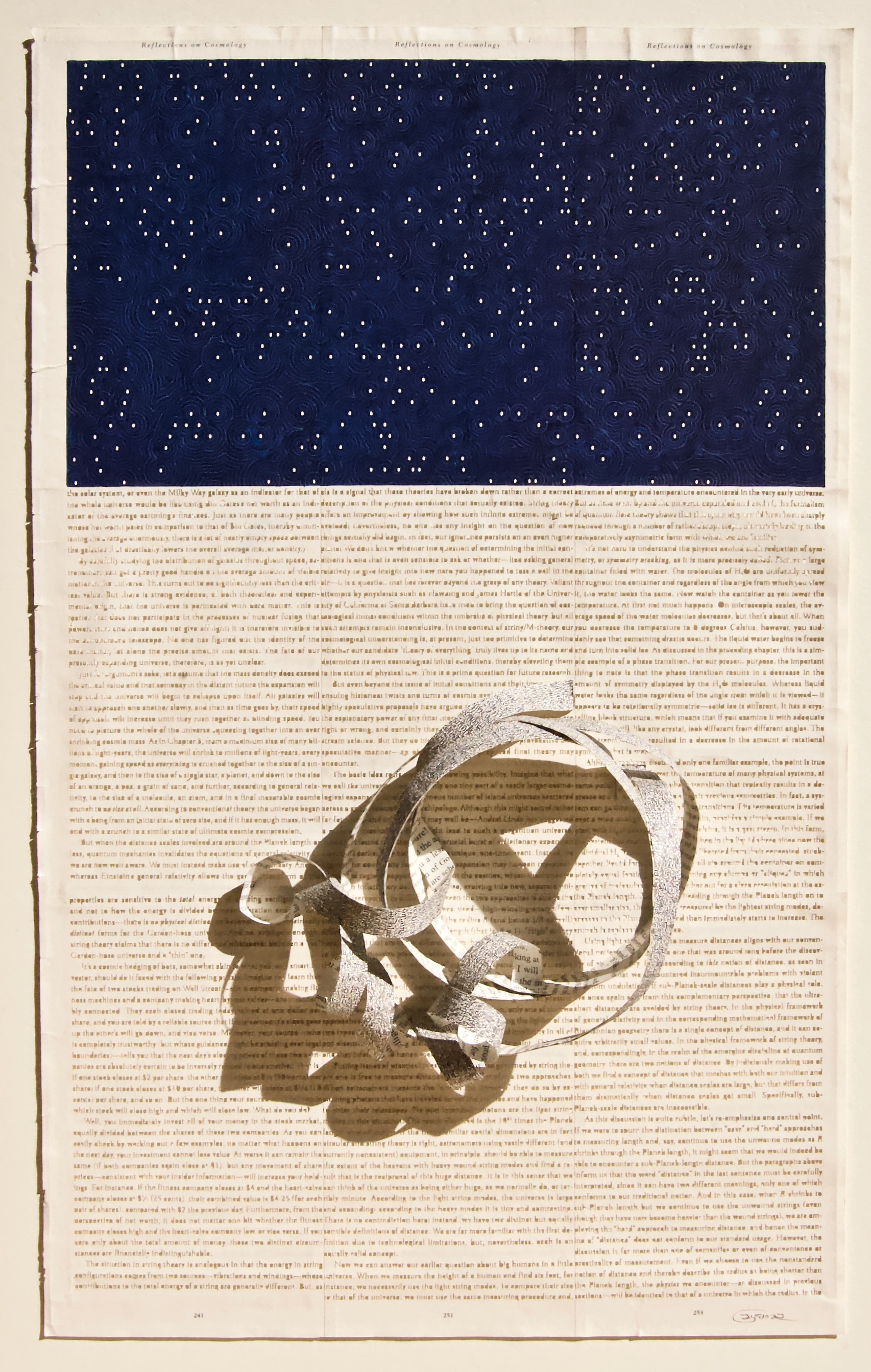 Youdhisthir Maharjan, Reflections on Cosmology , Acrylic & handcut text cutouts collage on deacidified reclaimed bookpages, 69 cm x 49cm x 6.5cm, 2019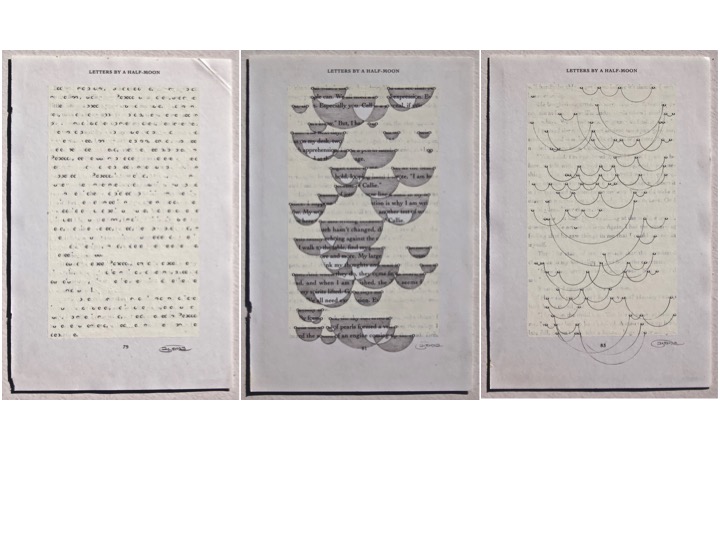 Youdhisthir Maharjan, Letters by a Half-Moon, Acrylic & graphite on deacidified reclaimed book pages , 22.5 cm x 15cm (each), 2018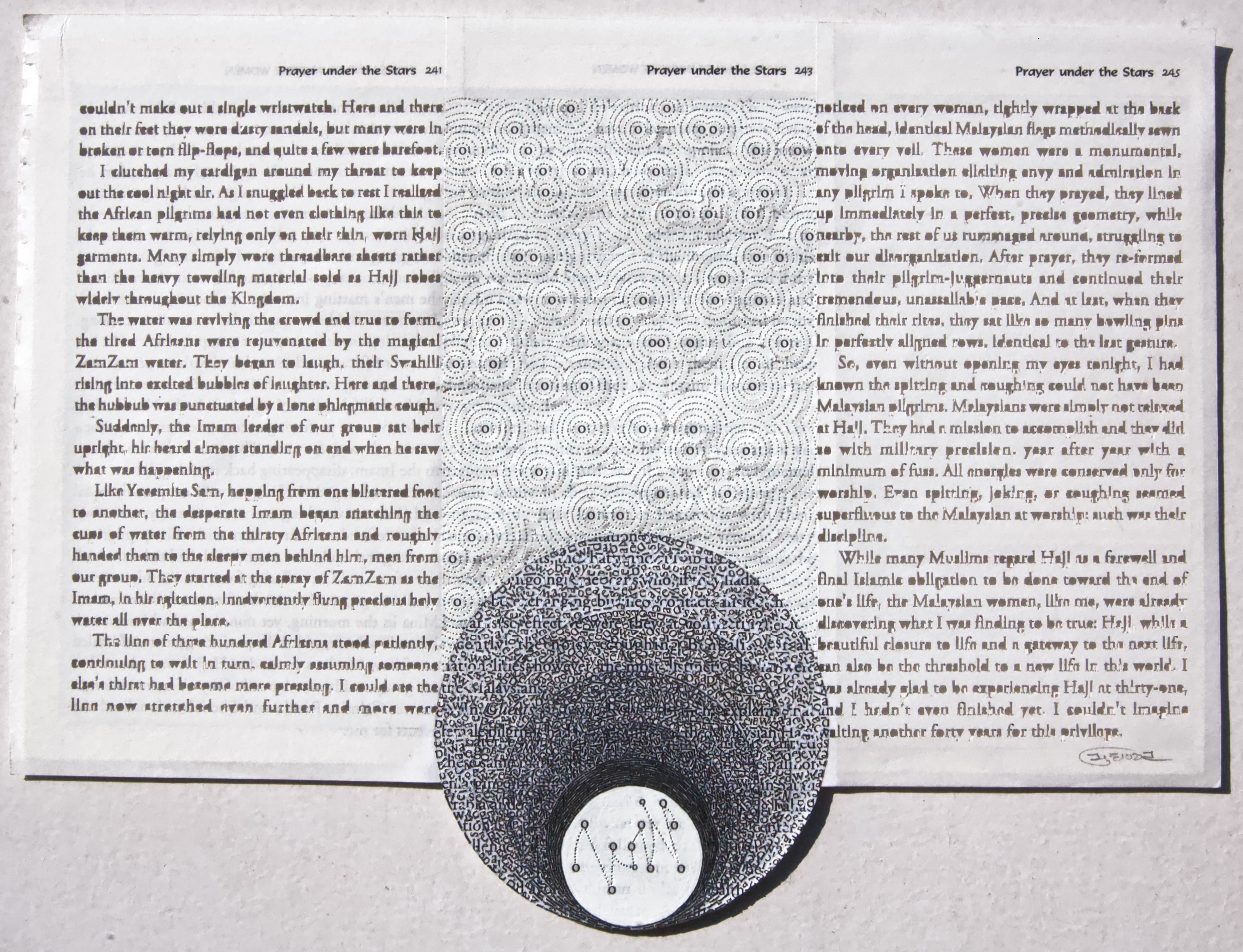 Youdhisthir Maharjan, Prayer Under the Stars, Acrylic, needle piercings and handcut text collage on deacidified reclaimed book pages, 20.5 cm x 27.5 cm, 2018

Youdhisthir Maharjan, The Water Under the Earth, Handcut text collage on reclaimed deacidified book pages, 62.5 cm x 24 cm, 2018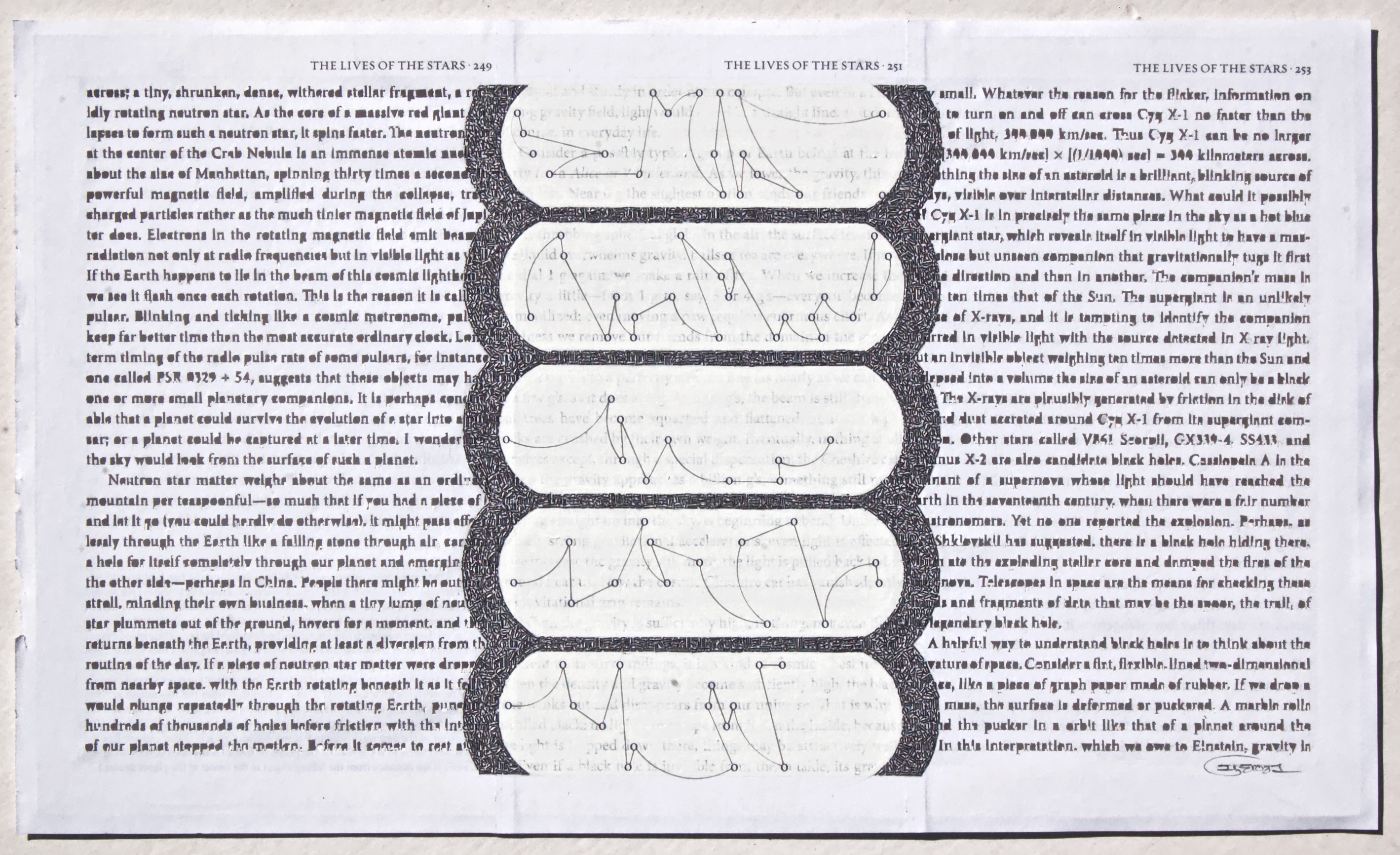 Youdhisthir Maharjan, The Lives of the Stars, Acrylic, graphite and handout text collage on deacidified reclaimed book pages, 19.5 cm x 32 cm, 2018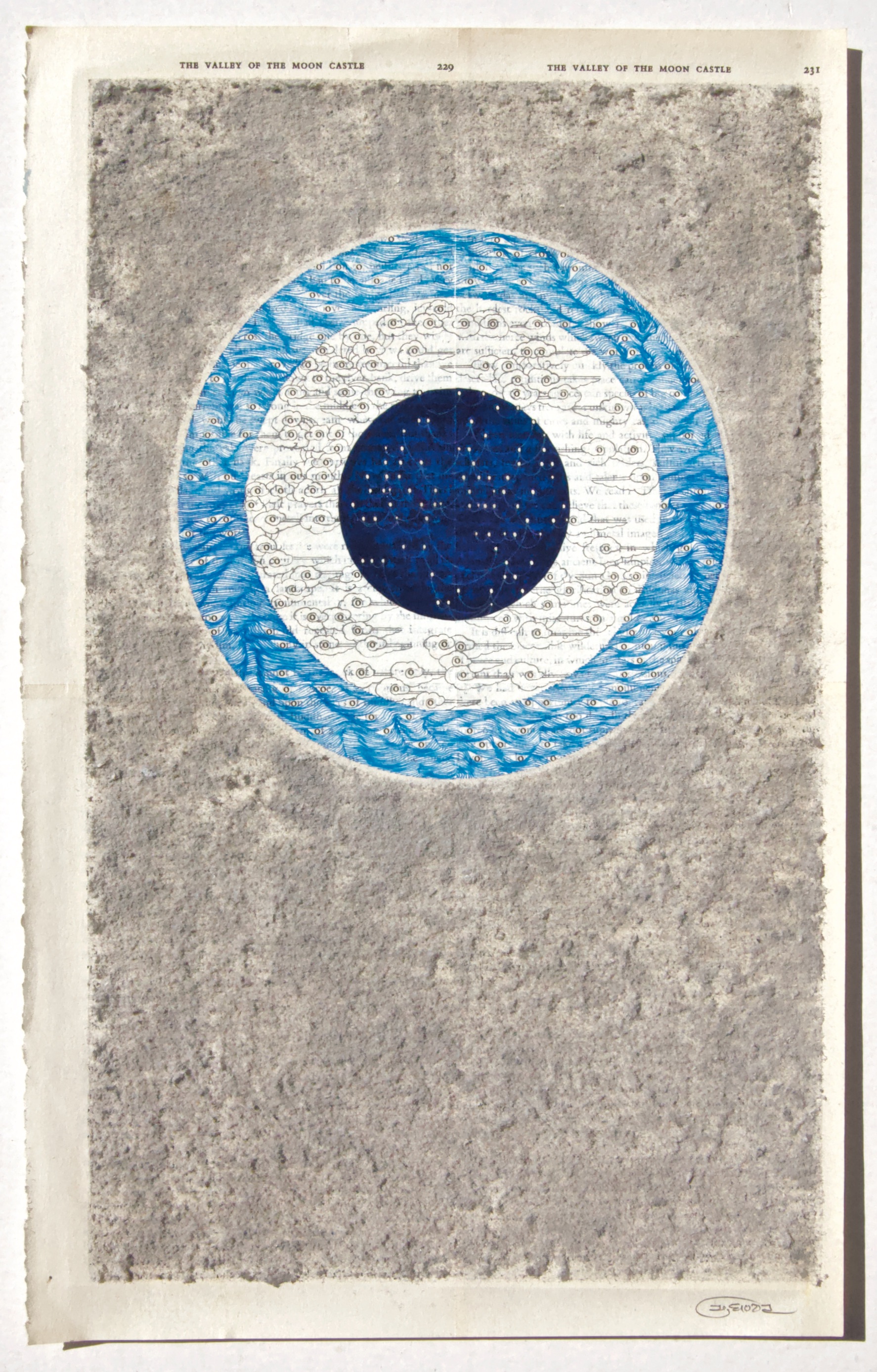 Youdhisthir Maharjan, The Valley of the Moon Castle, Acrylic, graphite, ink, scrapped text on deacidified reclaimed book pages, 37.5 cm x 24 cm, 2018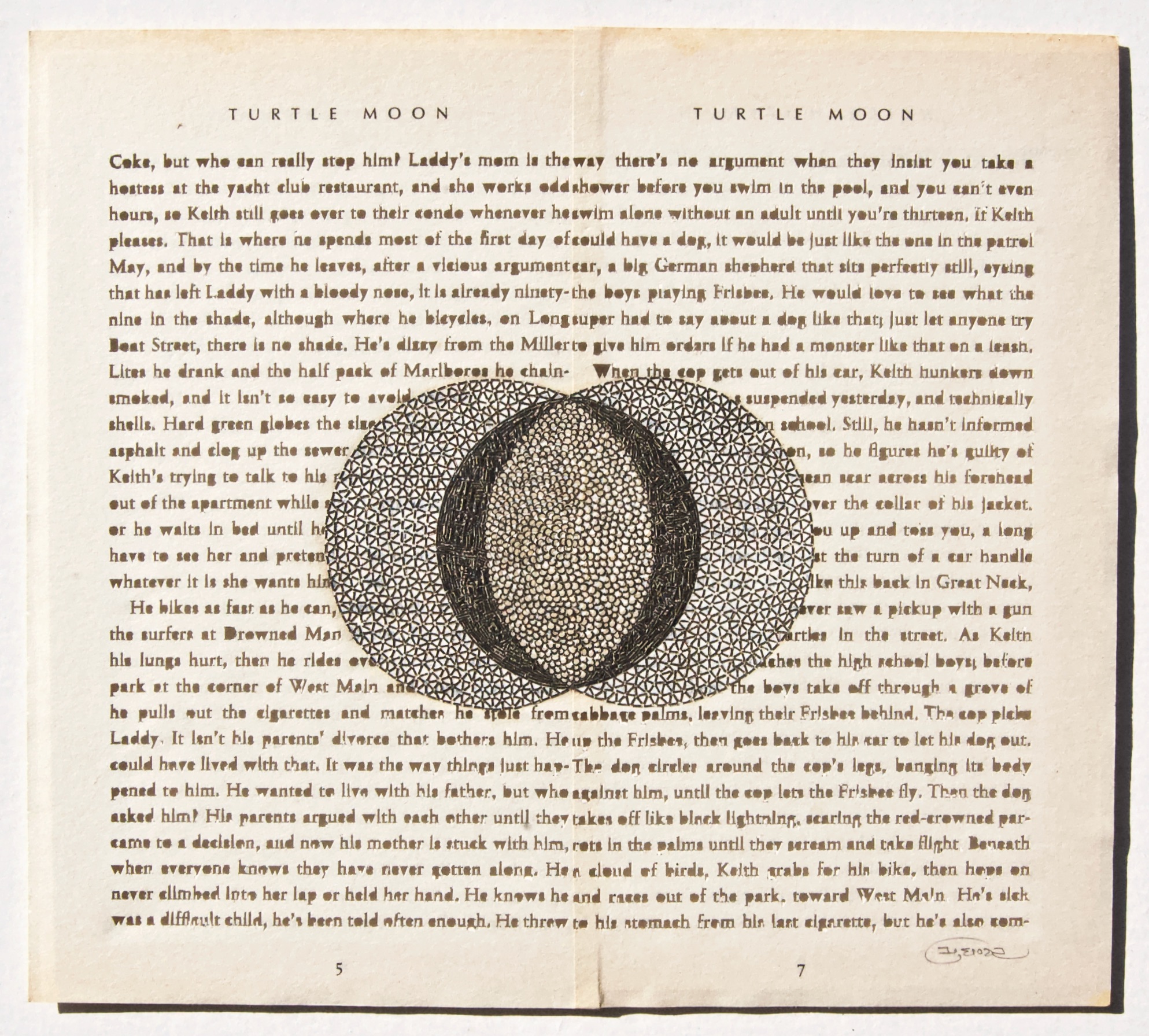 Youdhisthir Maharjan, Turtle Moon, Handcut text collage on deacidified reclaimed book pages, 19.5 cm x 22 cm, 2018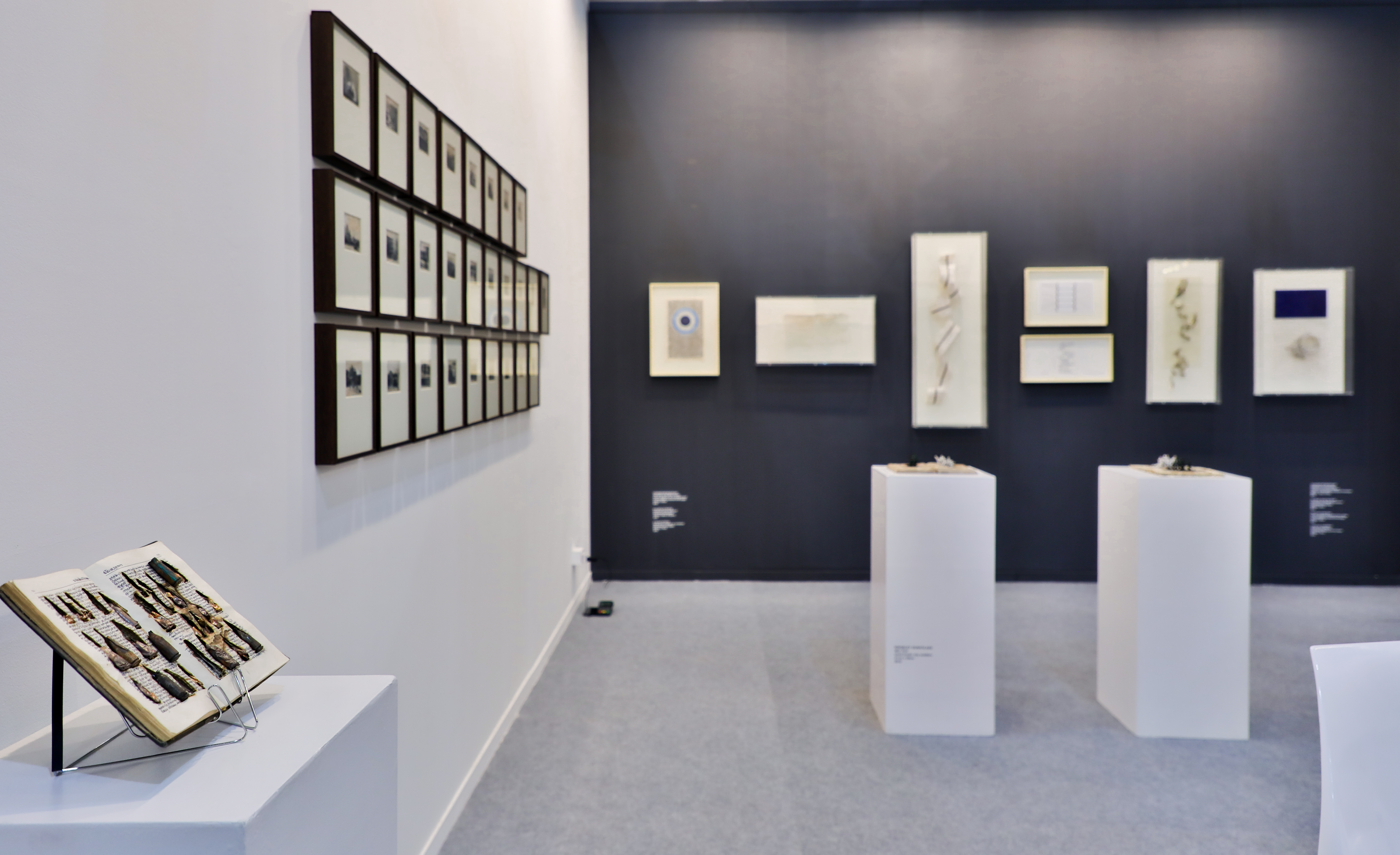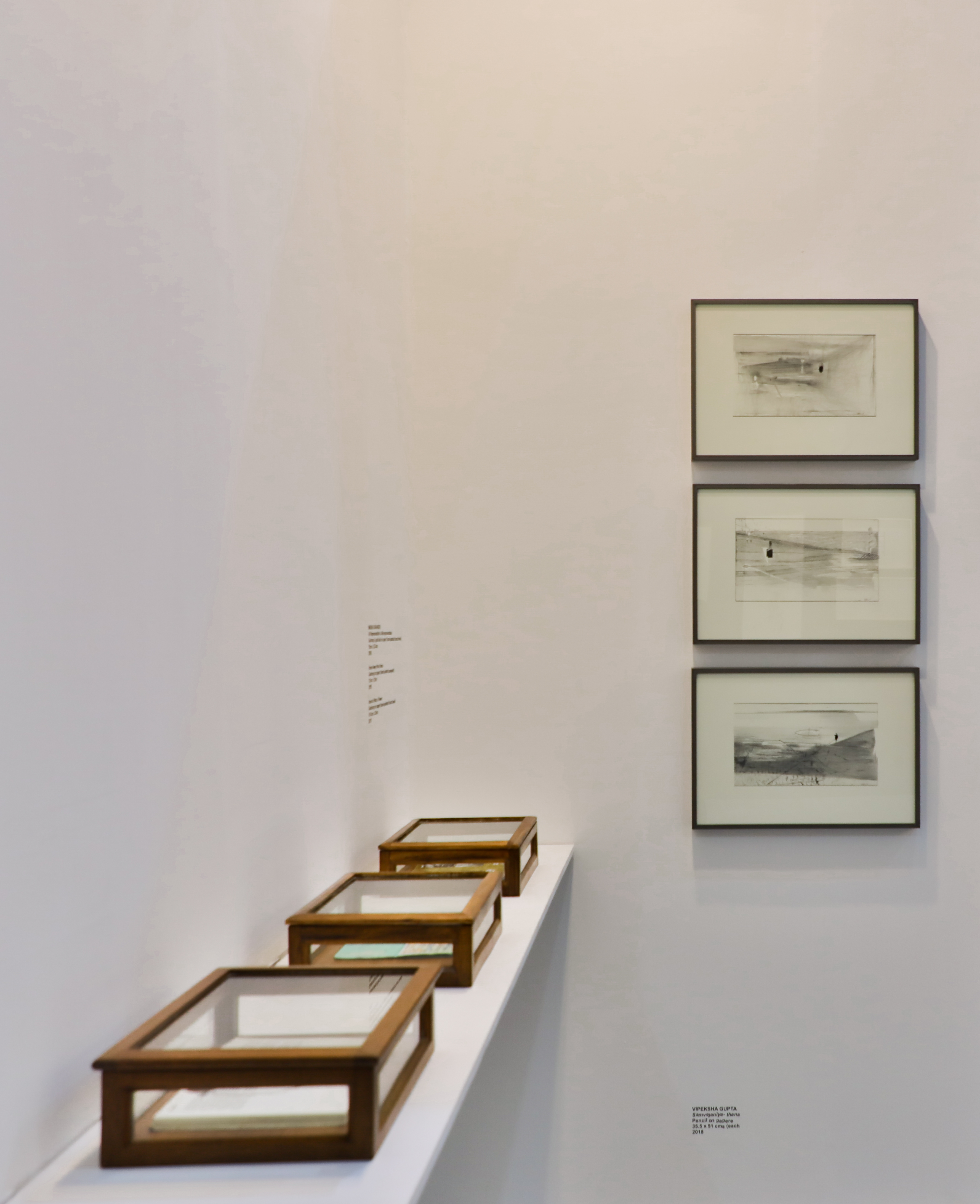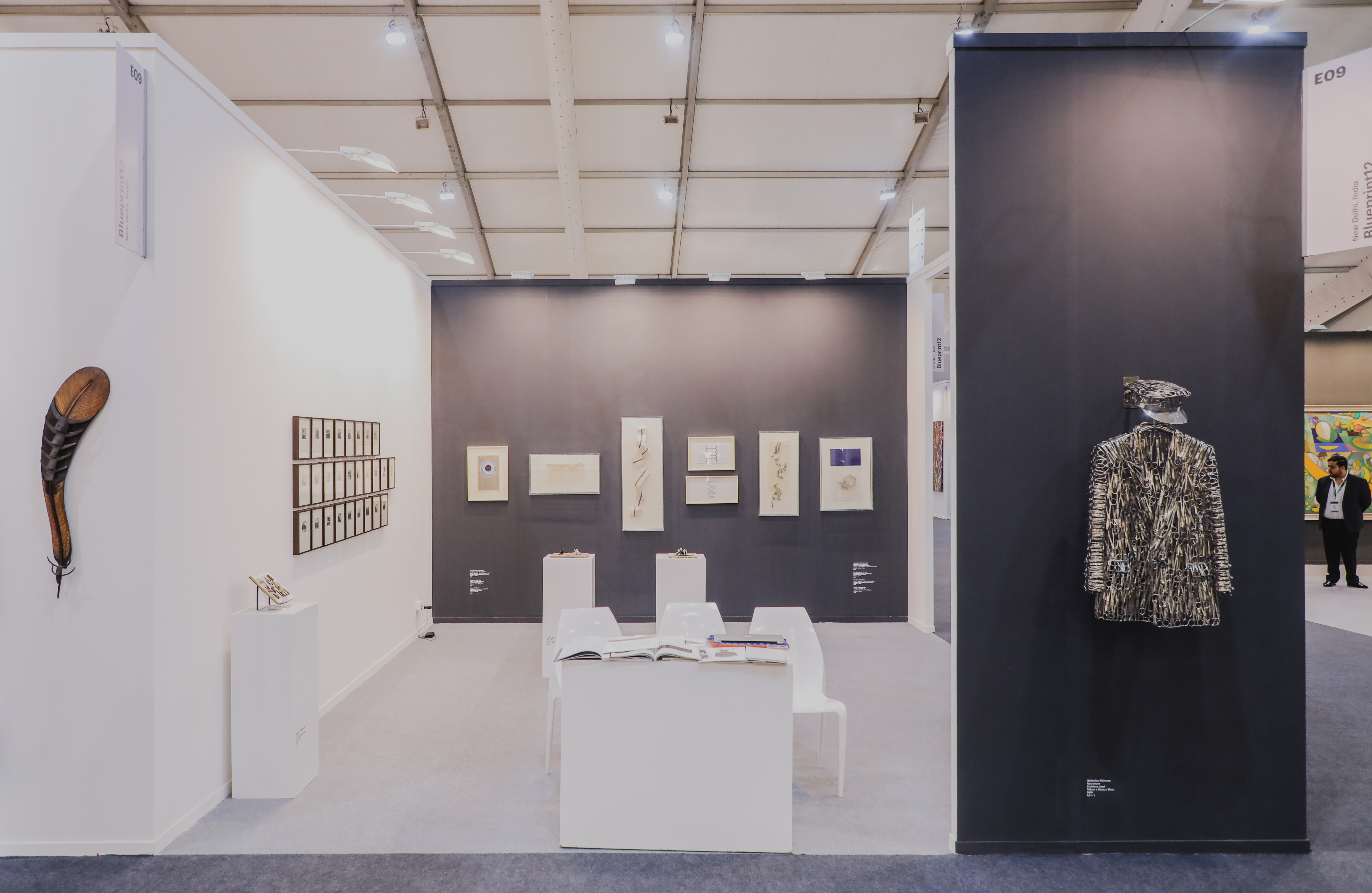 IDENTITY – LOST OR FOUND

While Identity is the way we are perceived, artists of the 21st centaury transcend this orthodoxy and go beyond. We propose to showcase works of 5 different artists from the South Asian region, some of whom have worked in search of lost identity while others chose to let their work find their new identity.

Through various media, these artists have build networks and currents that surpass the official narratives of the State to question that post colonial identity in a global marketplace and a sense of belonging.

Madiha Sikander's works are built of complex layers that simultaneously address the past, the present, the social, political and personal notions of identity, ownership, memory and erasure. Sikander's work contends the relation between real and imaginary, depicting the world beyond appearances. Her use of realism is a turning point in the history of our contemporary miniature painting.

Mahbubur Rahman is one of the most important cultural activists of Bangladesh. He choses mediums like performances and installations that have allowed him to respond spontaneously, often commenting upon the issues that have plagued post Independent Bangladesh, such as its colonial past, its post colonial identity, migration, social stigmas and political censorship and control.

Kingsley Gunatilake, from Sri Lanka, works on the lost identity of the country owing the civil war lasted over three decades lingering as dead memories, a ruin of empty bullets among preaching by politicians about reconciliation. The havoc after an explosion is nothing more than scattered pieces, baffled identity.

Najmun Nahar Keya, from Bangladesh, was worked on a series of old photographs that were taken by her father during his first visit to India post partition. In search of lost identity, she retained the damaged parts of the pictures and filled it with gold leaf.

Youdhisthir Maharjan, from Nepal, works and lives in USA. His existence as a person and as an artist transcends border, language, and race, yet he is again and again dragged back to his birth identity, constantly reminding him that he cannot escape it. His works and engagement with the process allows him to transcend the world of opposites and labels--and be simply him--charging him with the love and compassion that is so desperately needed to share with anyone and everyone who directs hatred, anger and fear against him simply because he is different from them.

It is a process of metamorphosis that begins when the soul awakensto its spiritual essence. Vipeksha Gupta, a Delhi based drawing artist, focuses on taking a critical view on the concept of looking inward for finding peace and the whole science of spirituality. Her arrangements are schematic; inviting the viewer to move into a space of deep contemplation.
Artists
Kingsley Gunatilake
Madiha Sikandee
Mahbubur Rahman
Najmun Nahar Keya
Vipeksha Gupta
Youdhisthir Maharjan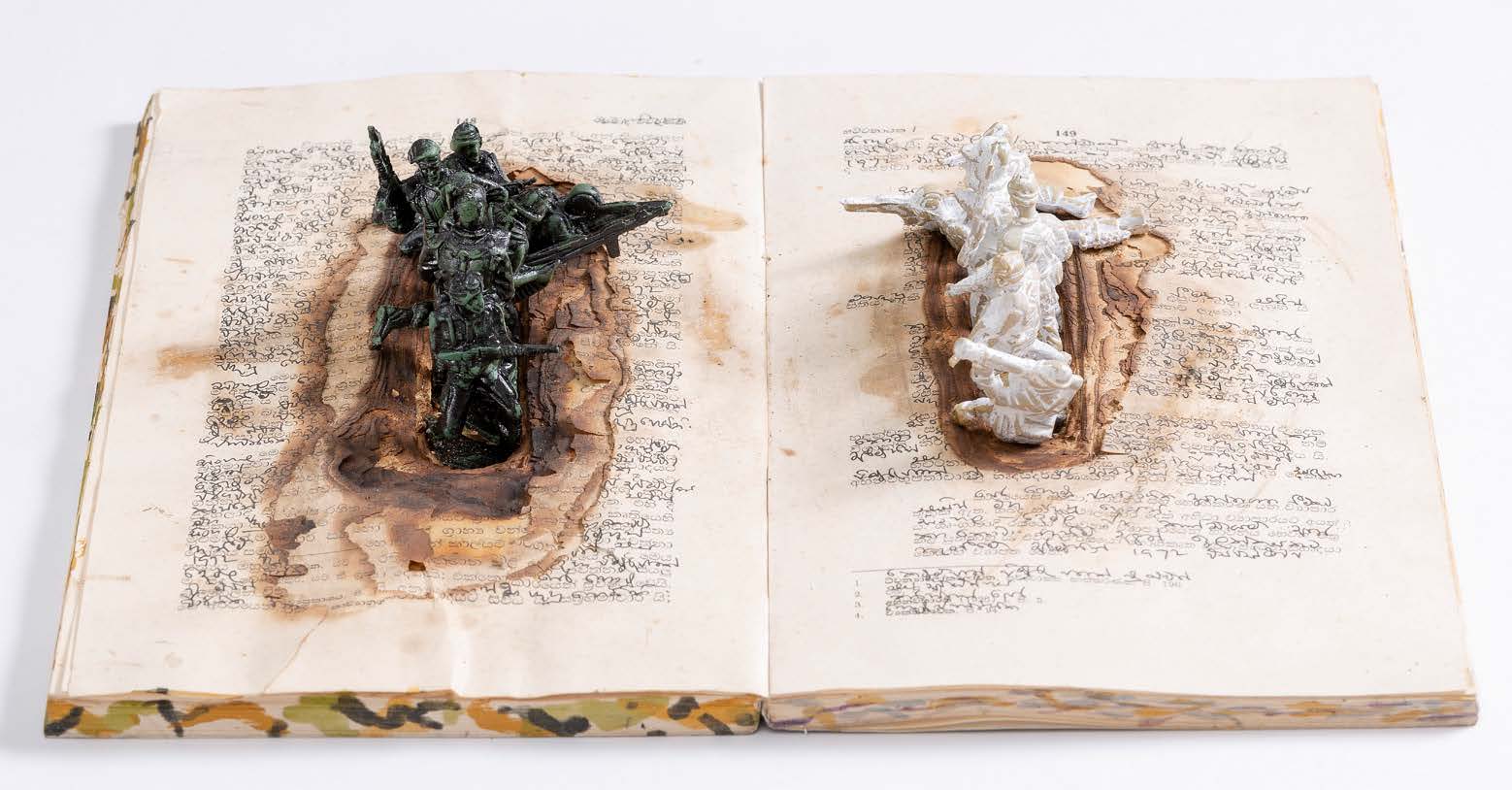 Kingsley Gunatillake, War Text, Used books and toy soldiers, 21 cm x 28 cm x 3.5 cm, 2018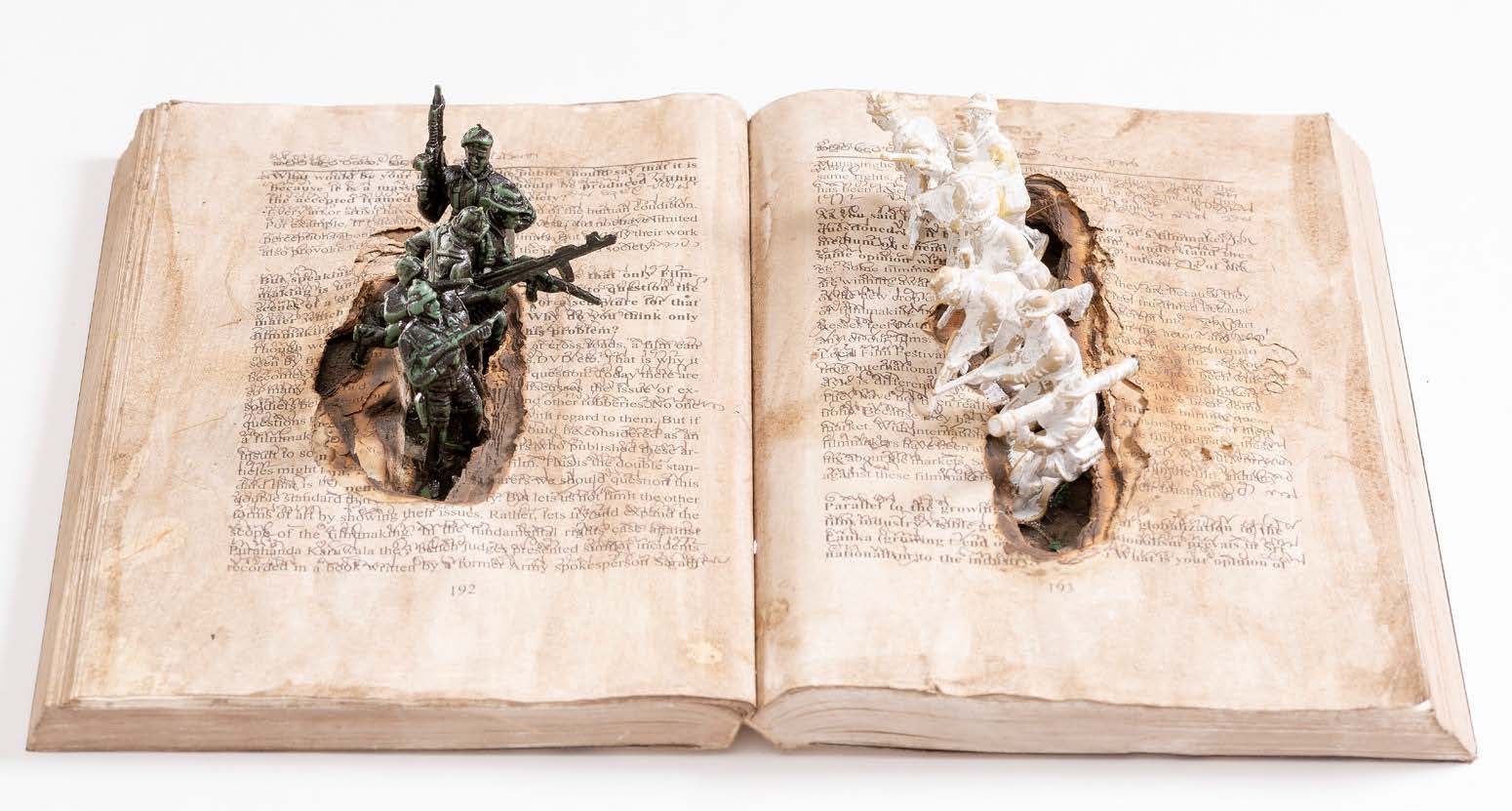 Kingsley Gunatillake, War Text, Used books and toy soldiers, 21 cm x 28 cm x 3.5 cm, 2018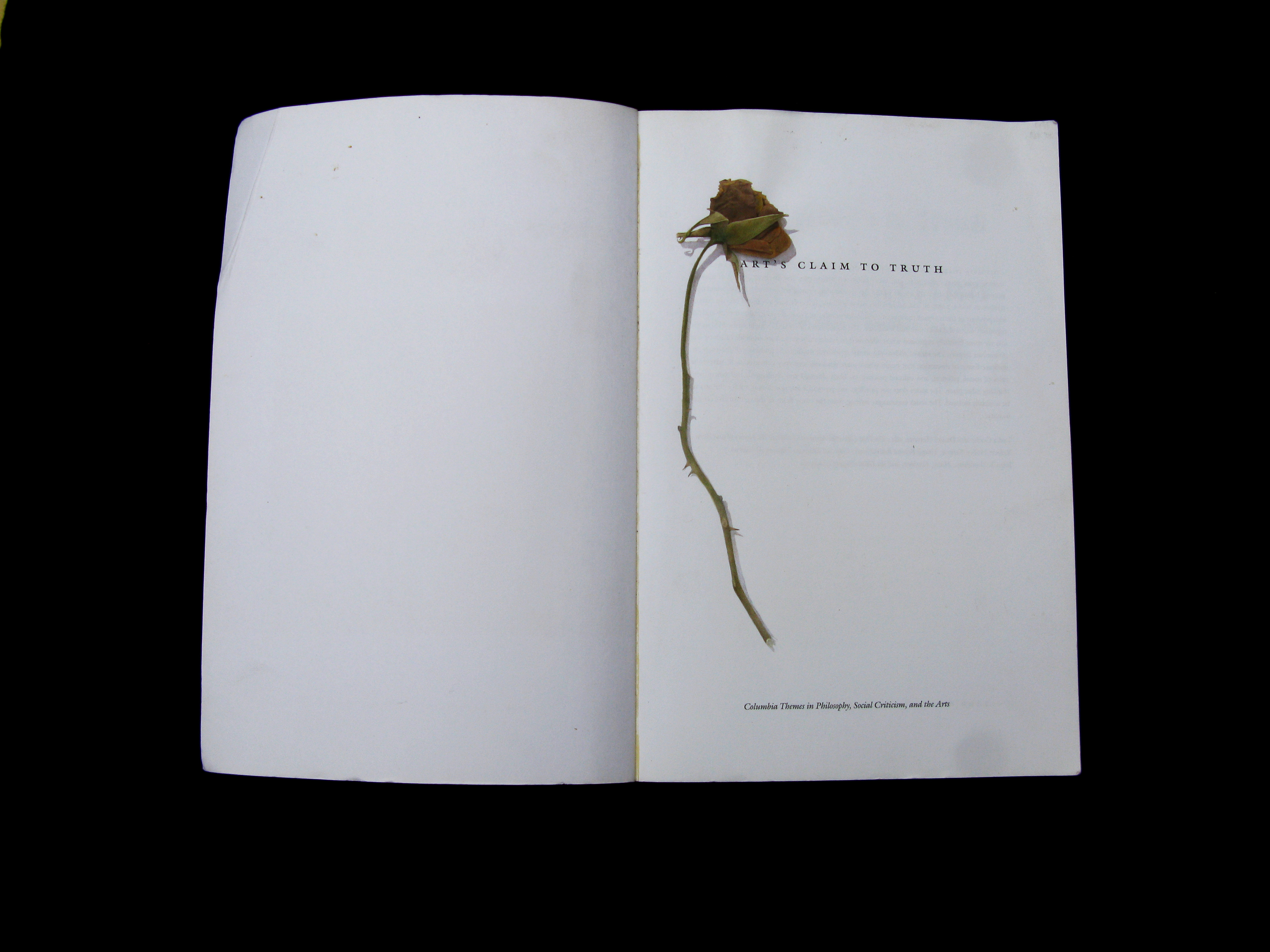 Madiha Sikander, The Inconvenient Truth I, Gadrung on paper (hand-painted found book), 18.5 cm x 23 cm X 1.5 cm, 2015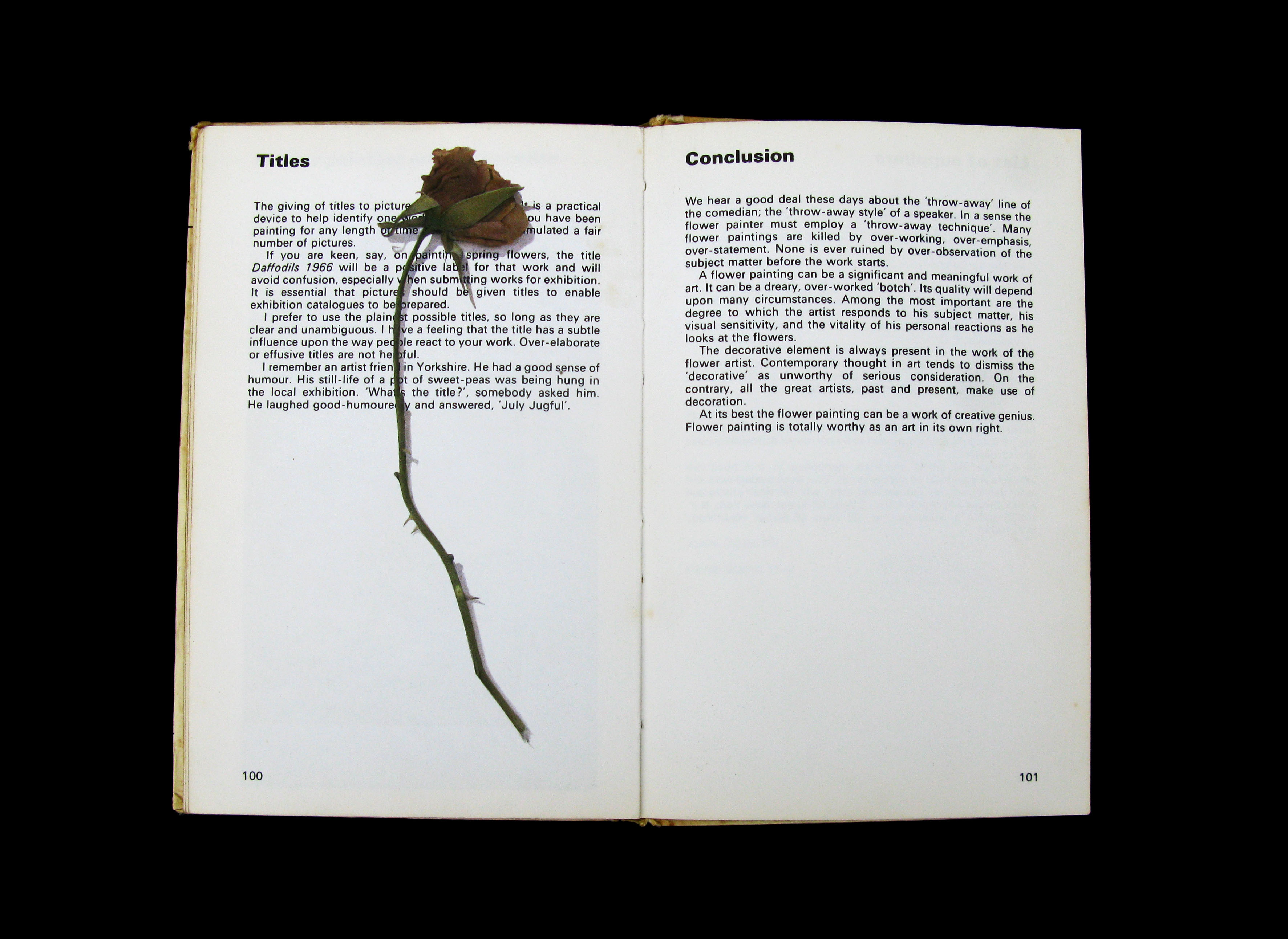 Madiha Sikander, Inconvenient Truth II, Gadrung on paper (hand-painted found book), 19 cm x 24 cm x 1.5 cm, 2015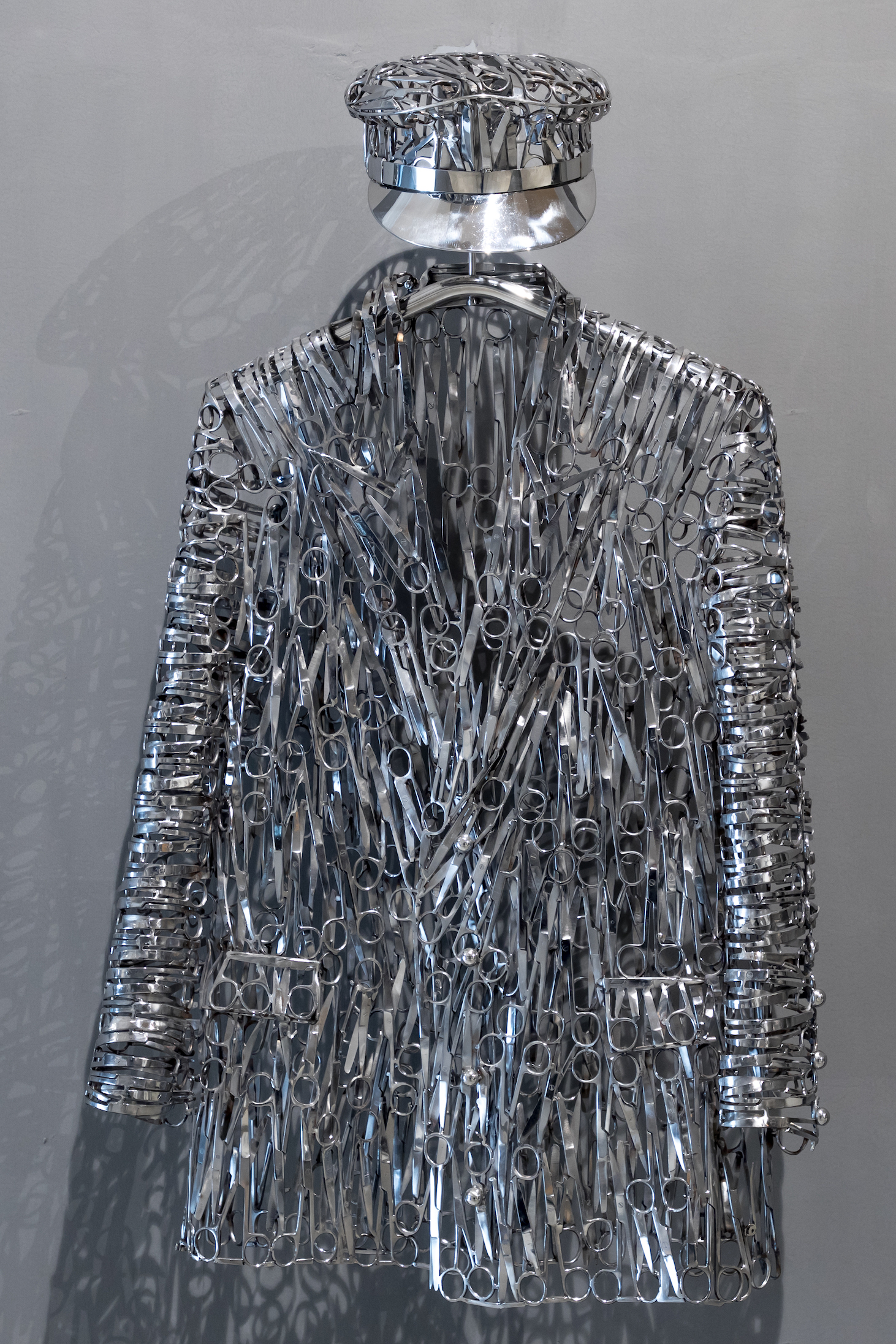 Mahbubur Rahman, Rest room, Stainless steel , 105 cm x 28 cm x 55 cm, 2018 (AP+1)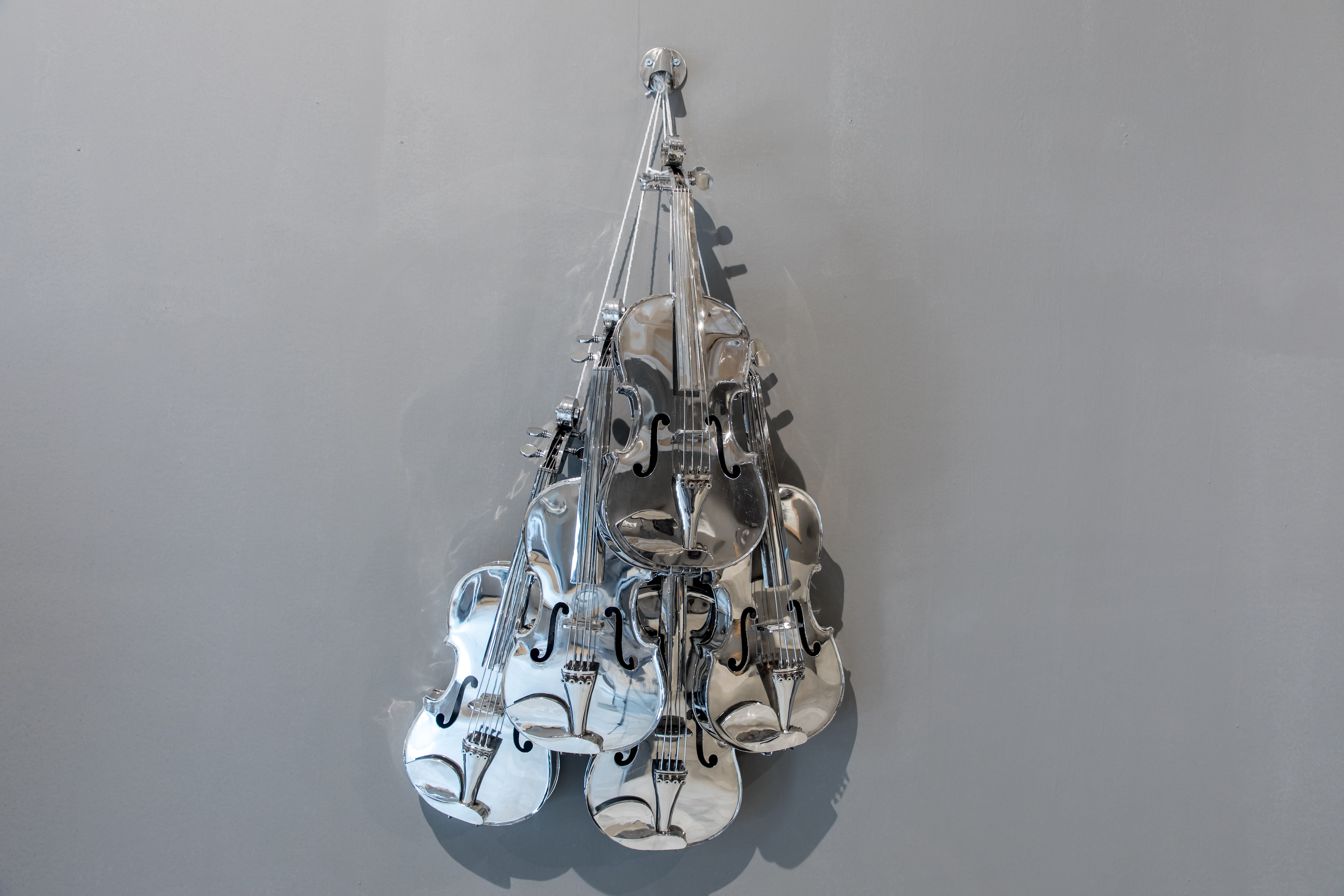 Mahbubur Rahman, Burning Violin, Stainless steel , 115 cm x 72 cm x 30 cm, 2018 (AP+1)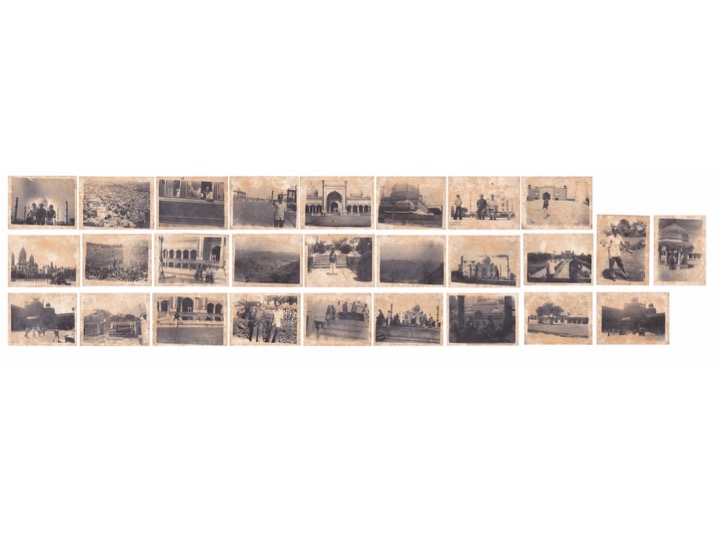 Najmun Nehar (Keya), Voyage, Gold leaf and rabbit skin glue on digital archival print, 7cm X 9 cm each (set of 27), 2017 (AP+3)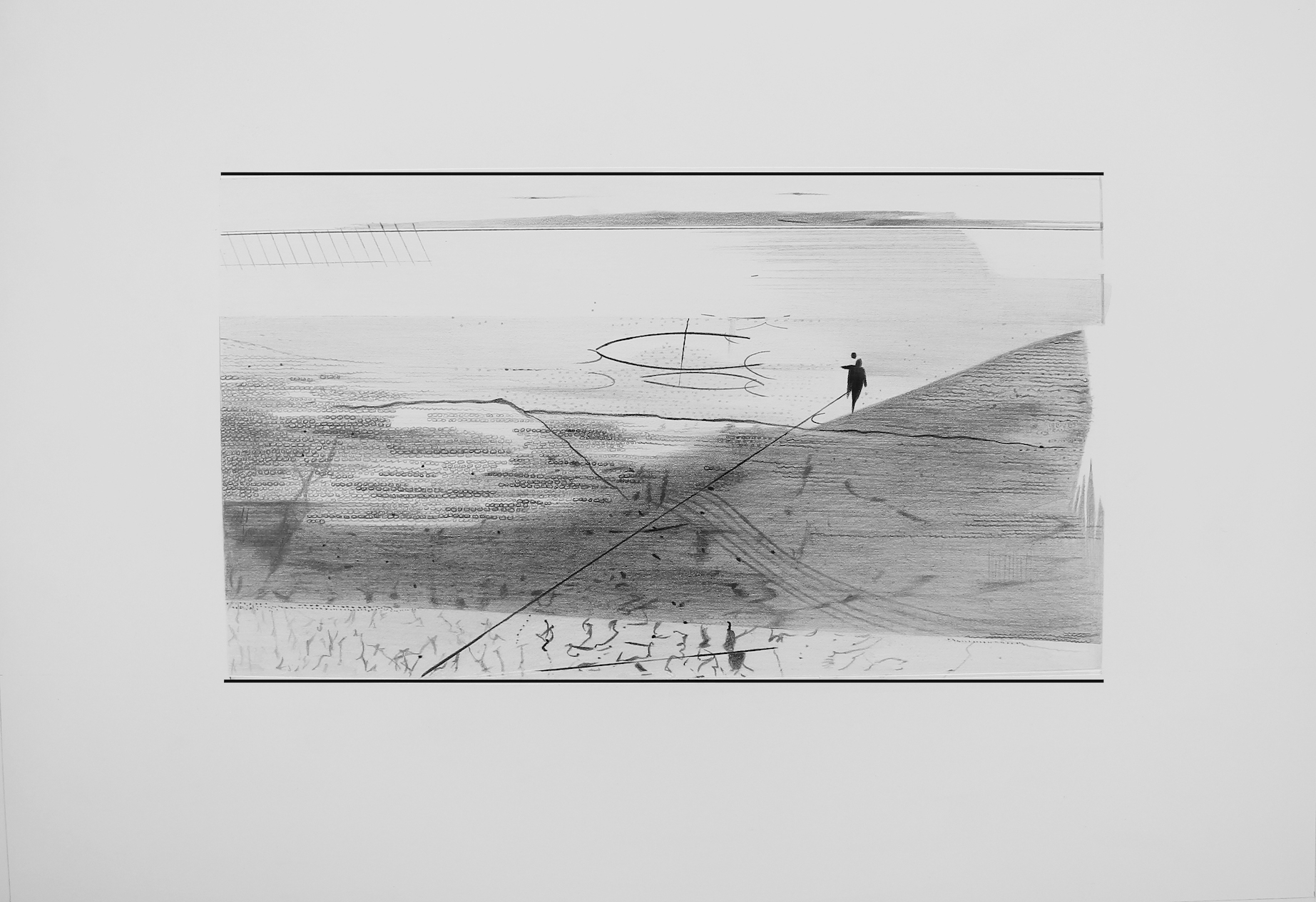 Vipeksha Gupta, Samvejanīya-tthāna, Pencil on paper, 35.5 cm x 51 cm , 2018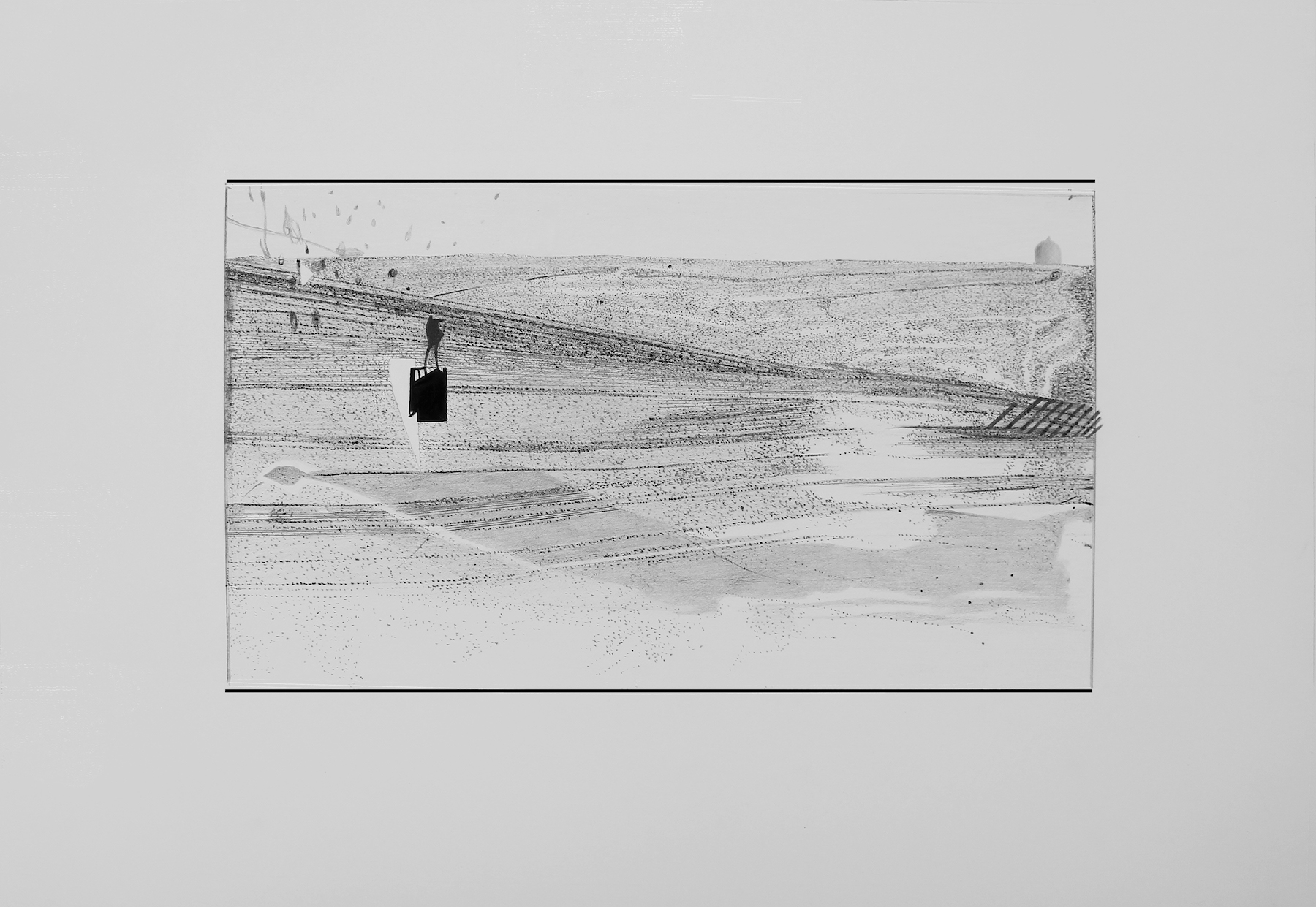 Vipeksha Gupta, Samvejanīya-tthāna, Pencil on paper, 35.5 cm x 51 cm , 2018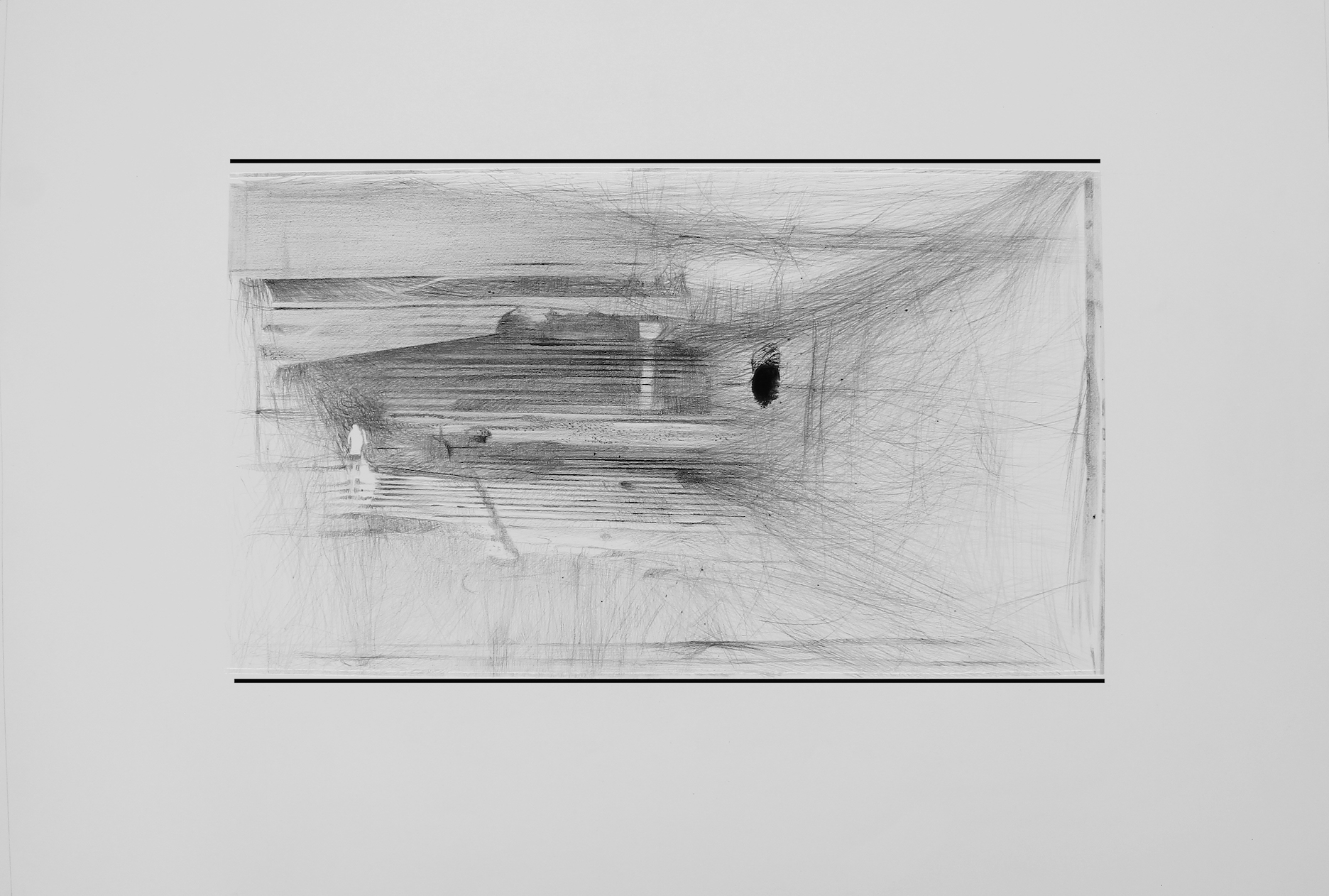 Vipeksha Gupta, Samvejanīya-tthāna, Pencil on paper, 35.5 cm x 51 cm , 2018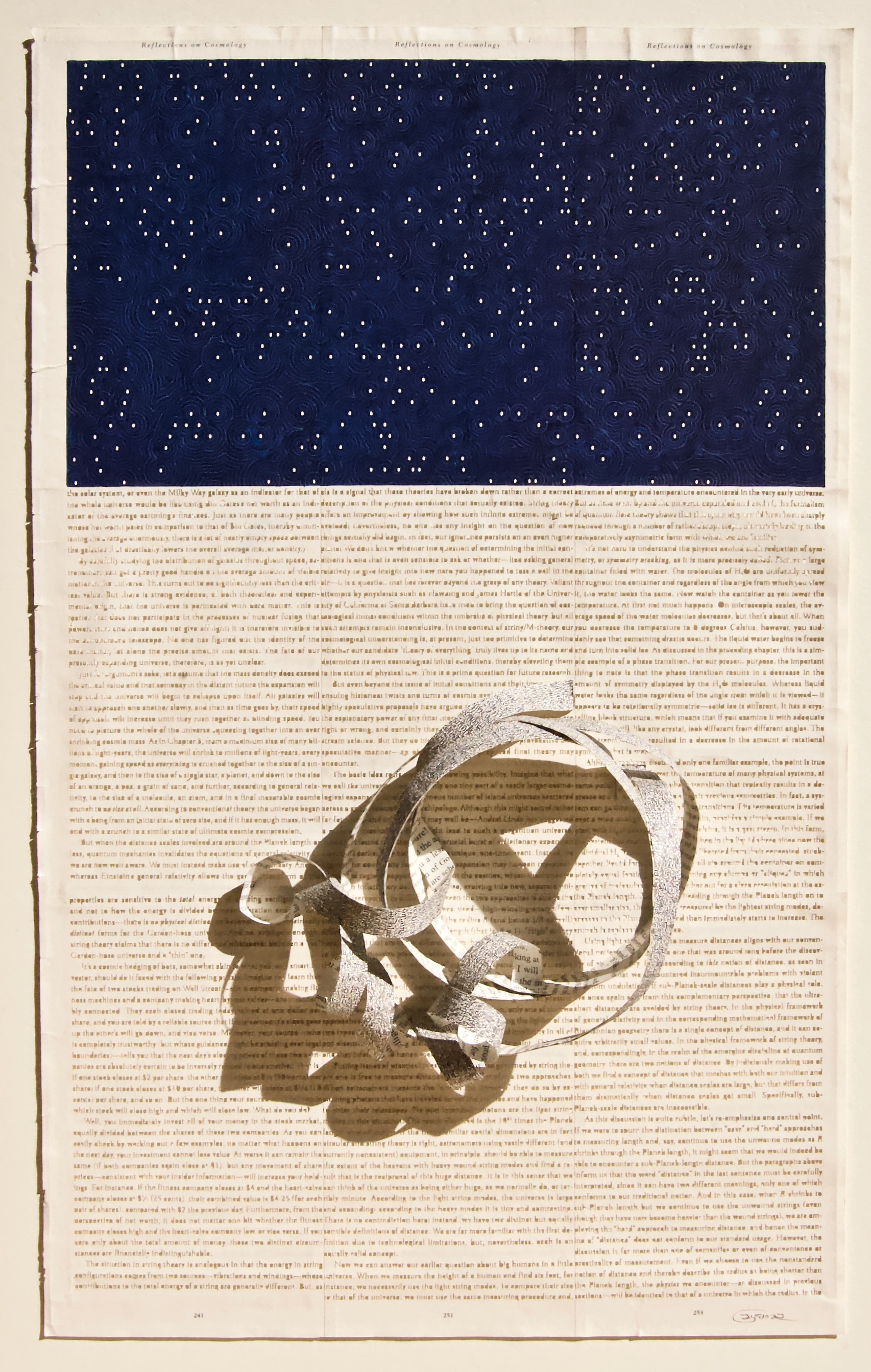 Youdhisthir Maharjan, Reflections on Cosmology , Acrylic & handcut text cutouts collage on deacidified reclaimed bookpages, 69 cm x 49cm x 6.5cm, 2019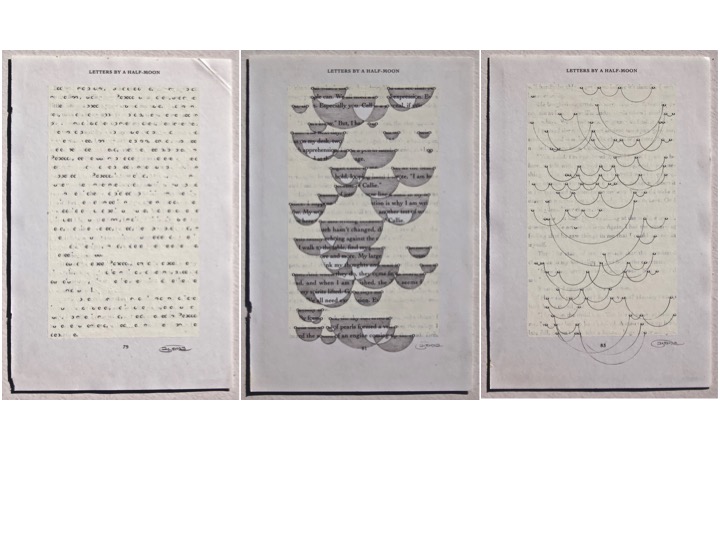 Youdhisthir Maharjan, Letters by a Half-Moon, Acrylic & graphite on deacidified reclaimed book pages , 22.5 cm x 15cm (each), 2018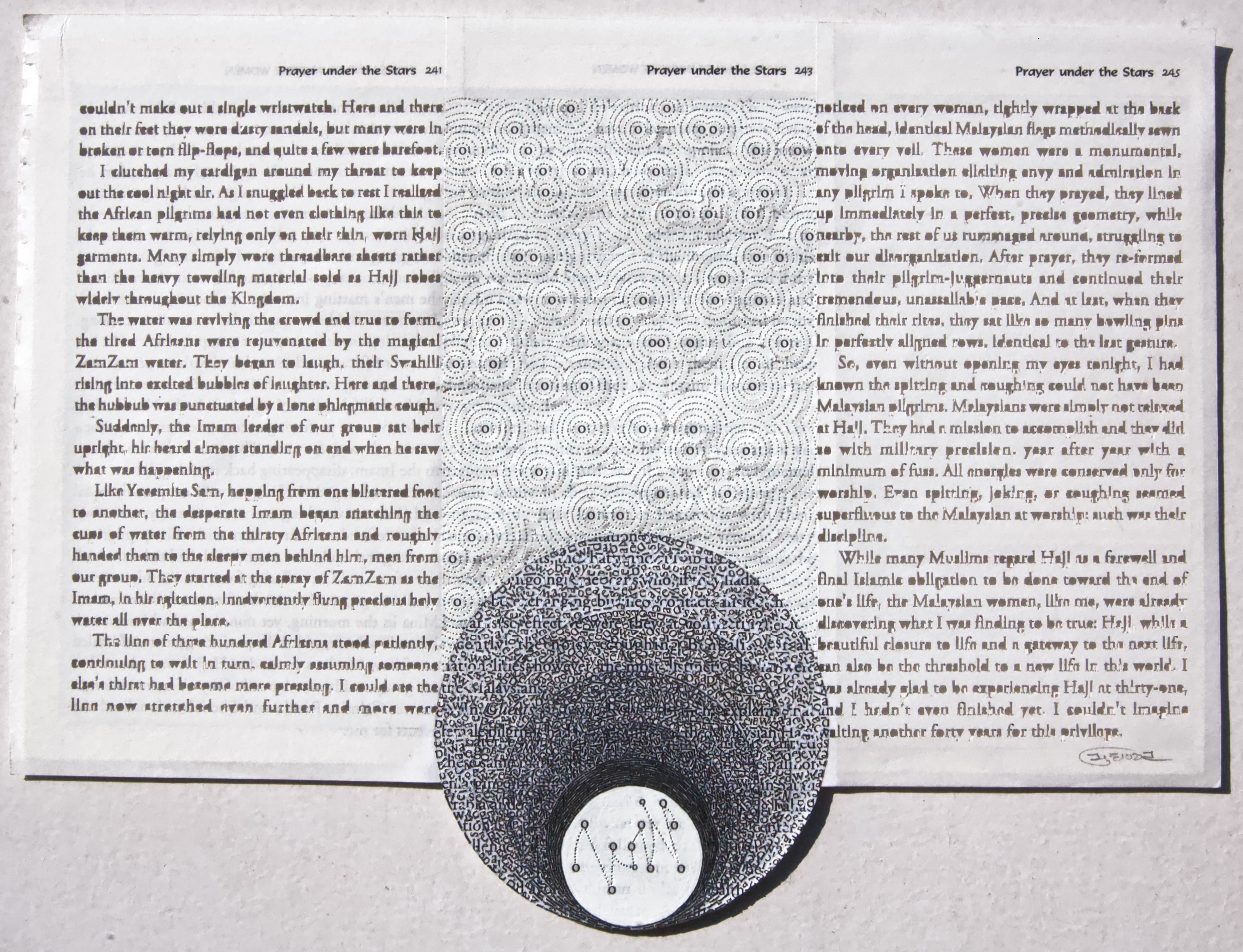 Youdhisthir Maharjan, Prayer Under the Stars, Acrylic, needle piercings and handcut text collage on deacidified reclaimed book pages, 20.5 cm x 27.5 cm, 2018

Youdhisthir Maharjan, The Water Under the Earth, Handcut text collage on reclaimed deacidified book pages, 62.5 cm x 24 cm, 2018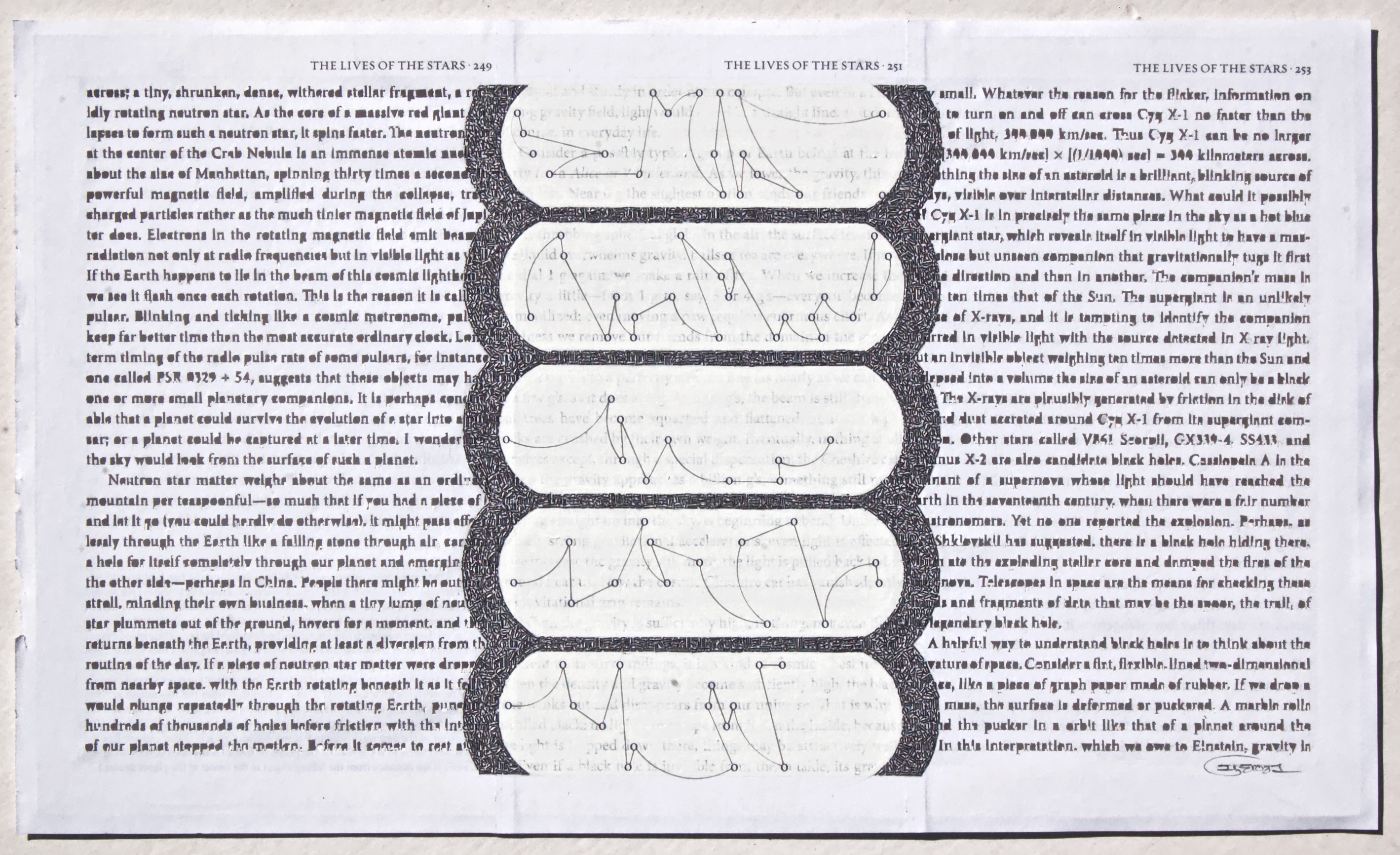 Youdhisthir Maharjan, The Lives of the Stars, Acrylic, graphite and handout text collage on deacidified reclaimed book pages, 19.5 cm x 32 cm, 2018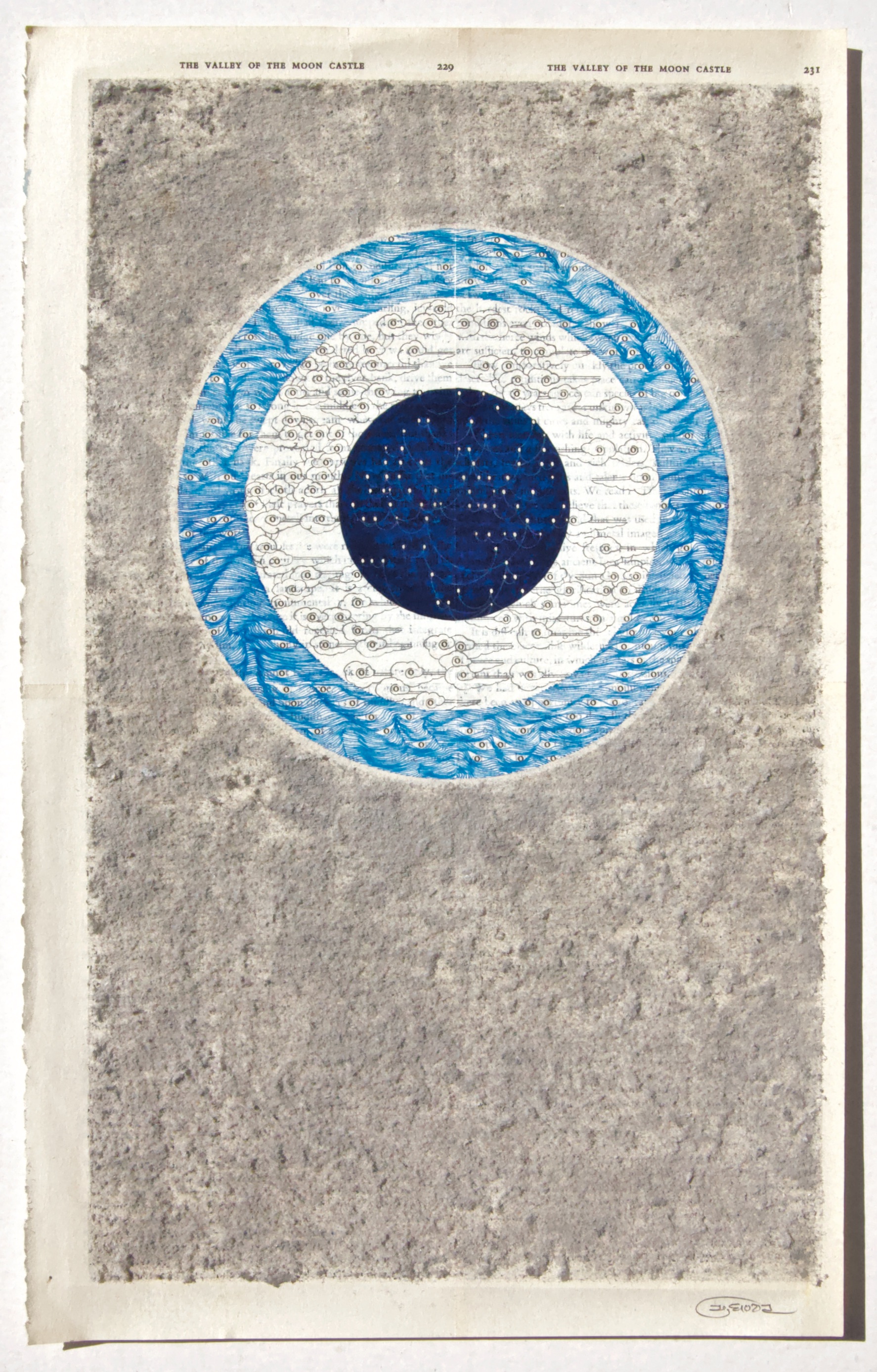 Youdhisthir Maharjan, The Valley of the Moon Castle, Acrylic, graphite, ink, scrapped text on deacidified reclaimed book pages, 37.5 cm x 24 cm, 2018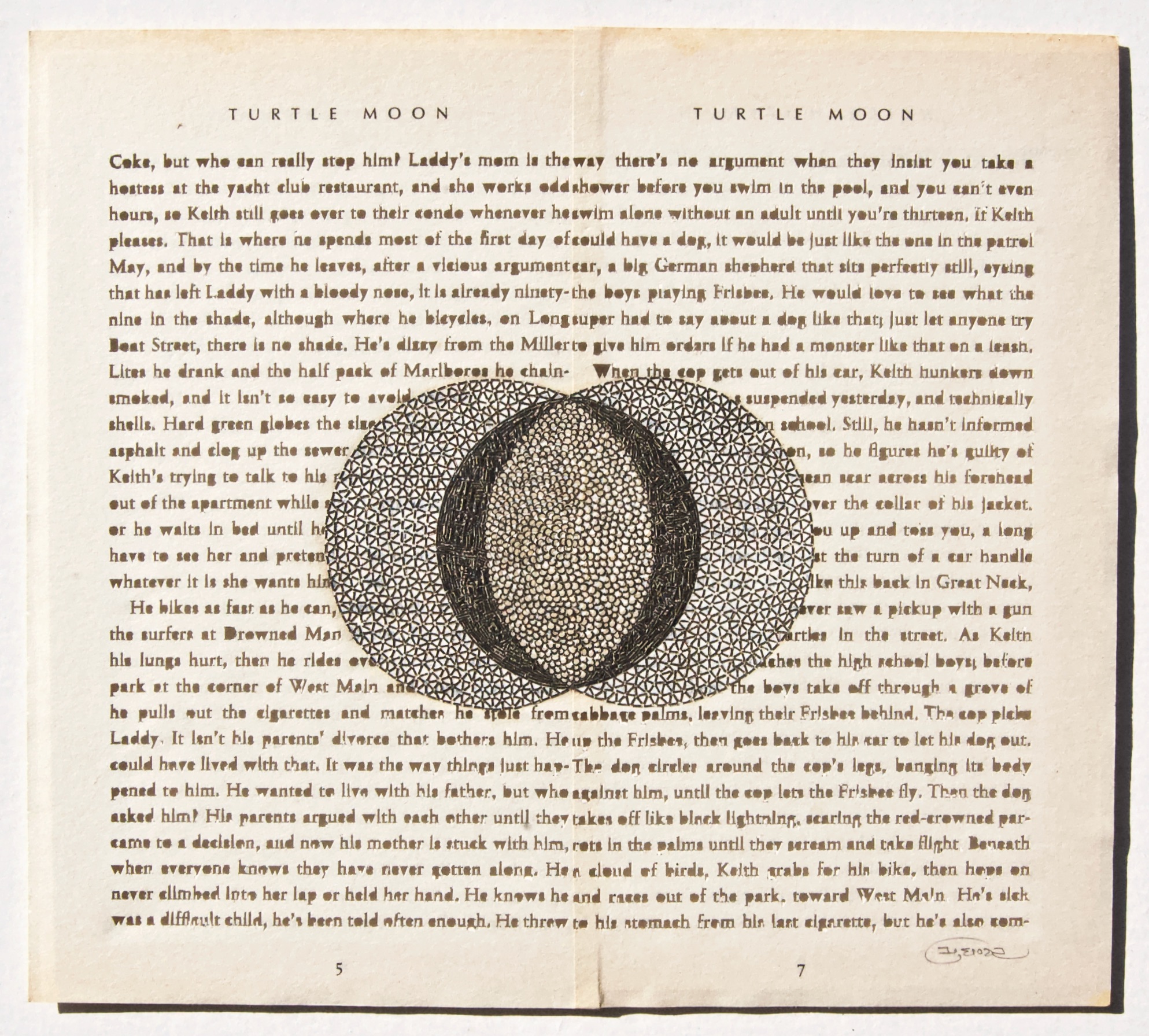 Youdhisthir Maharjan, Turtle Moon, Handcut text collage on deacidified reclaimed book pages, 19.5 cm x 22 cm, 2018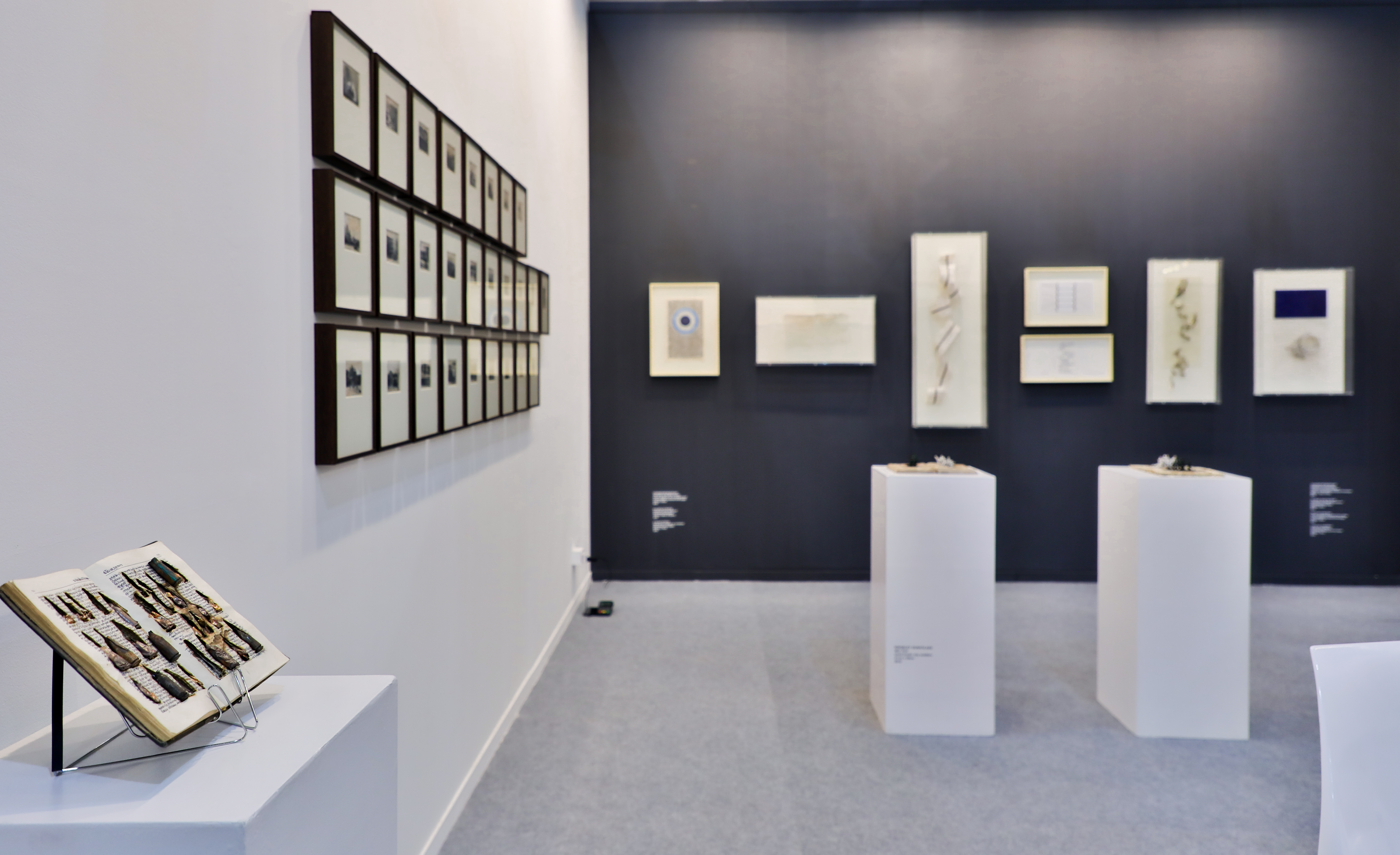 Installation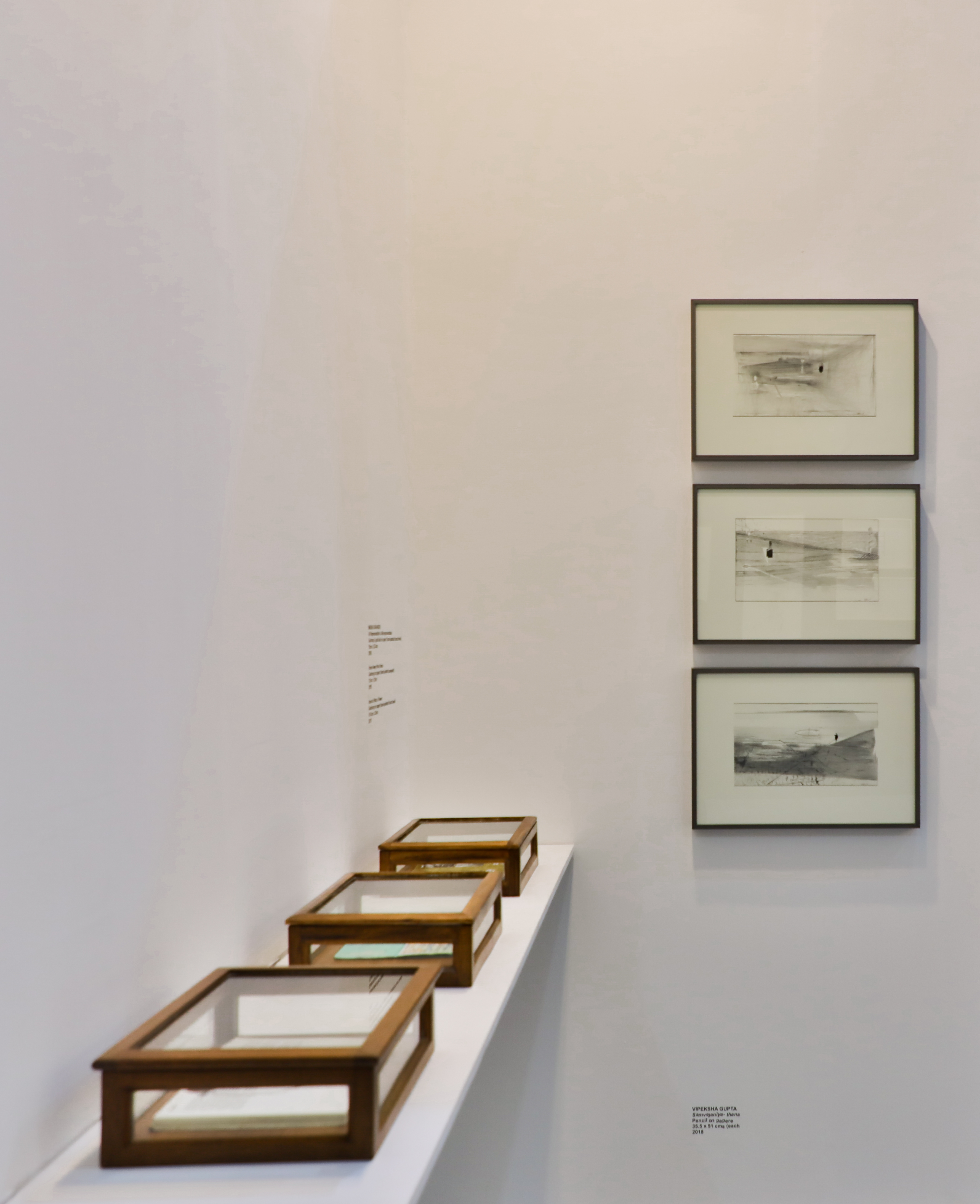 Installation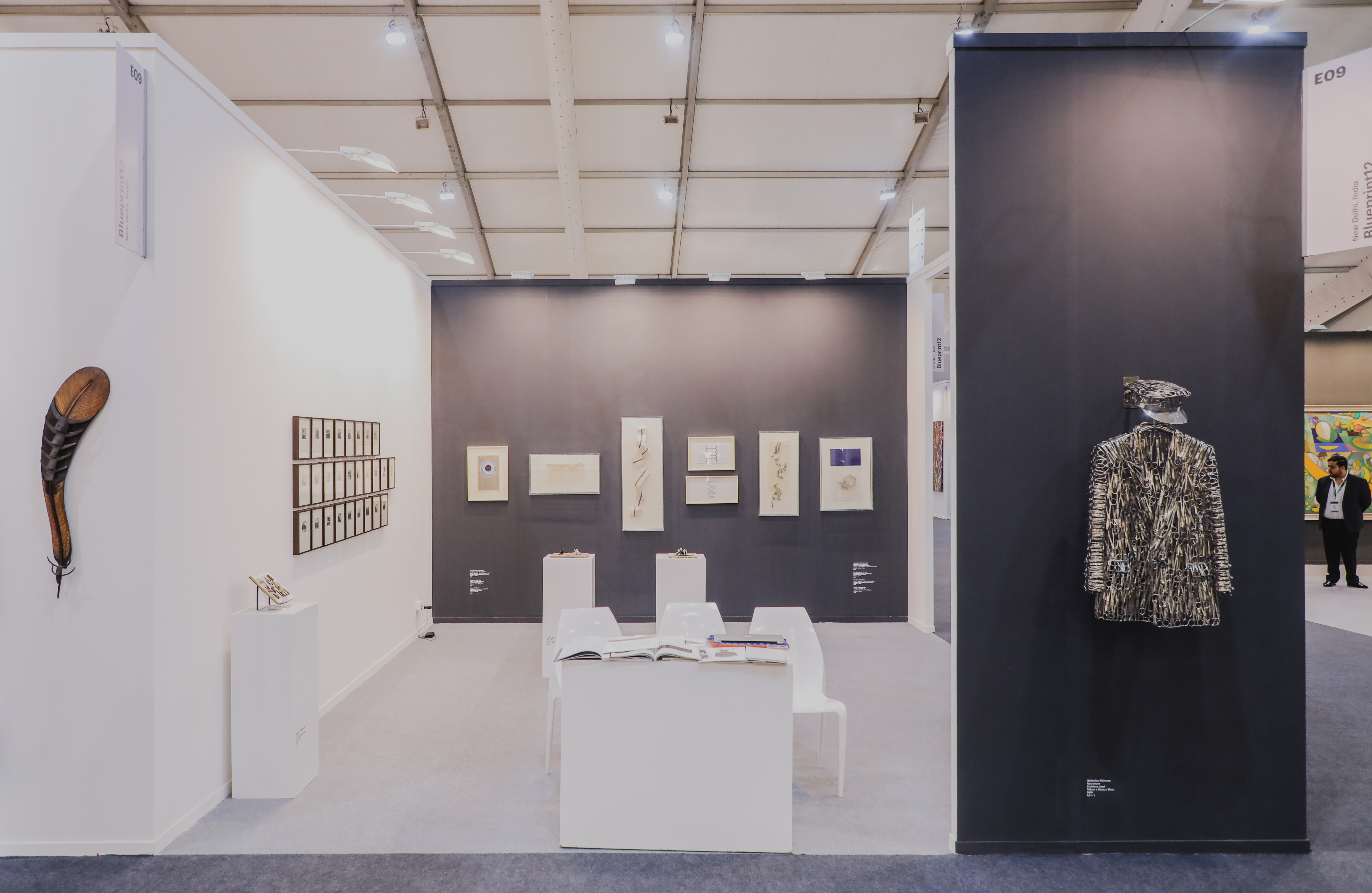 Installation