Arshi Irshad Ahmadzai's (b. 1988) works are deeply connected to the experiences of women that rarely find a voice and are subdued under societal and political pressures or are bound within religious orthodoxies. Her works, though narrate a personal experience, are inspired by a much larger community of women who have been marginalized in history. Working within a disciplined studio practice and through collaborative community projects such as Lihaaf (Quilt), Arshi has struck a powerful chord with contemporary feminist art theory.

Her prolific art practice finds its foundation in the history of stitching by rafoogars (darners) of Najibabad. Surrounded by a large community of women who share their embroidery over songs, compassion and sisterhood, it was only natural for Arshi to turn to the fabric as her canvas. These exchanges have led to large scrolls as well as smaller works, where she juxtaposes image and text to comment on women and their roles, their sexuality, their freedom and their desires- some in love and some victims to political terrorism. An avid reader of poetry and philosophy, she not only questions patriarchy, but demands that her voice is heard and accepted.

Arshi Irshad Ahmadzai graduated with a Bachelors in Fine Art from the Aligarh Muslim University, 2011 and a Masters in Fine Art from Jamia Millia Islamia, New Delhi in 2013. Her recent solo shows include, Qissah-e Kabul, at Chatterjee & Lal, Mumbai (2022) and Nafas (Isolation Diaries) at Blueprint12, New Delhi (2021). Her select group exhibitions include: 'Remains of the Garden', Kunst Museum Thun, Switzerland (2022); 'DON'T PRETEND YOU CAN'T HEAR', The Clemente Center, New York (2022); Burqewali, Kunst Museum Wolfsburg, Germany (2022); 'Woman Is As Woman Does', CSMVS Museum, Mumbai (2022); 'Forestial Flock', Shrine Empire, New Delhi (2022); 'May we meet again', a collaborative project for Noor Riyadh light festival, Saudi National Museum, 2021; 'Head in the Clouds' at Chatterjee & Lal, 2021; 'Seeds are being sown' at Shrine Empire Gallery, 2020; The India Art Fair, 2020; 'Out of your shadow' by Blueprint12 at Gallery Espace, 2019 and a solo presentation at 1Shanthi Road Gallery in 2019. She is one of the recipients of the Five Million Incidents grant from the Goethe-Institut, New Delhi and the Inlaks Fine Arts Award in 2019.

Having previously lived between Kabul and New Delhi, she is currently based in Germany.
Arshi Irshad Ahmadzai
Recent exhibitions:

'Remains of the Garden', Kunst Museum Thun, Switzerland (2022)

'DON'T PRETEND YOU CAN'T HEAR', The Clemente Center, New York (2022)

'Nafas' at Blueprint12, New Delhi (2021)



Publication:

Stir World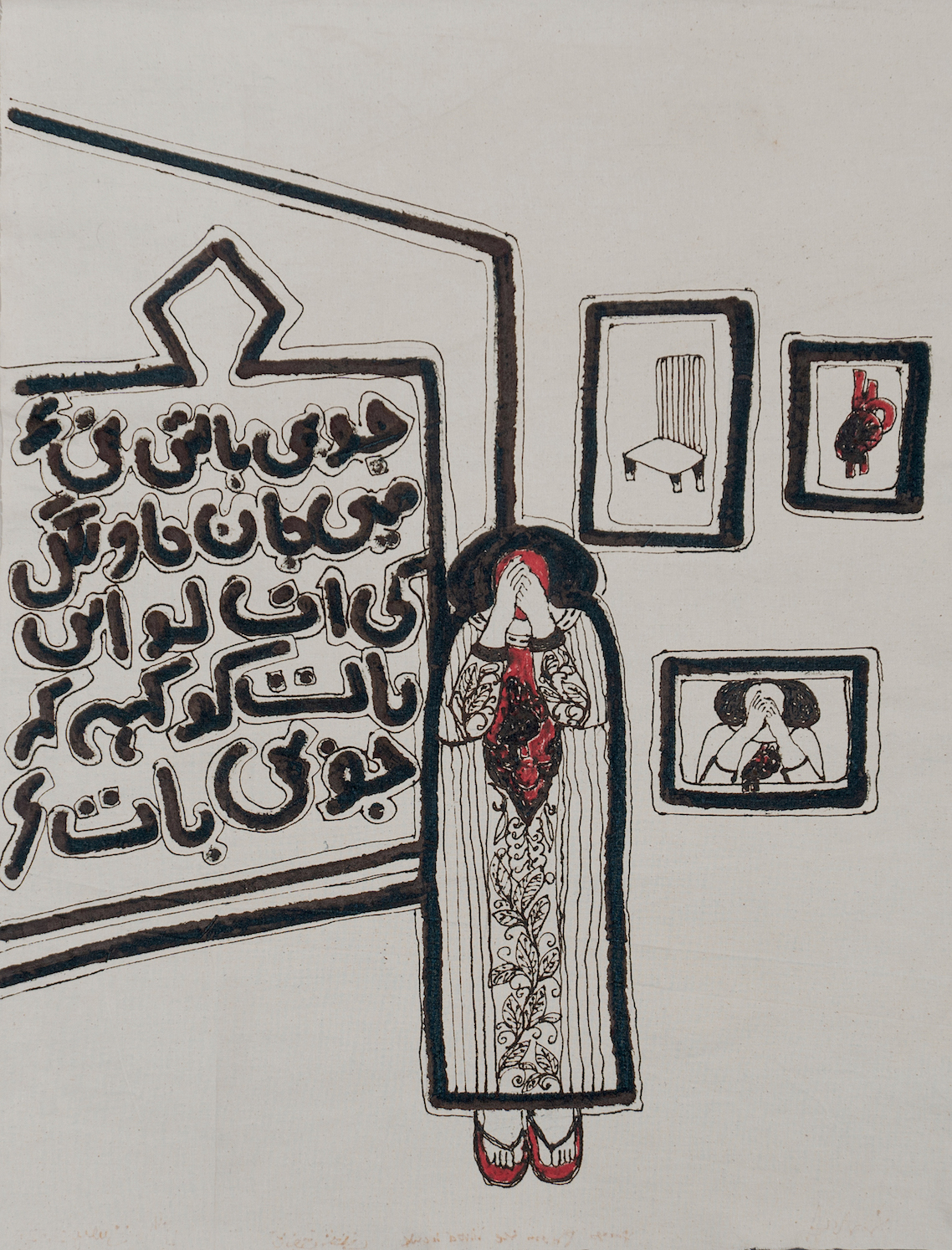 Takhti from Kabul, 10.08.2020 (From the Blood Book), Ink on Majher Paath Fabric, 60 cm x 44 cm, 2020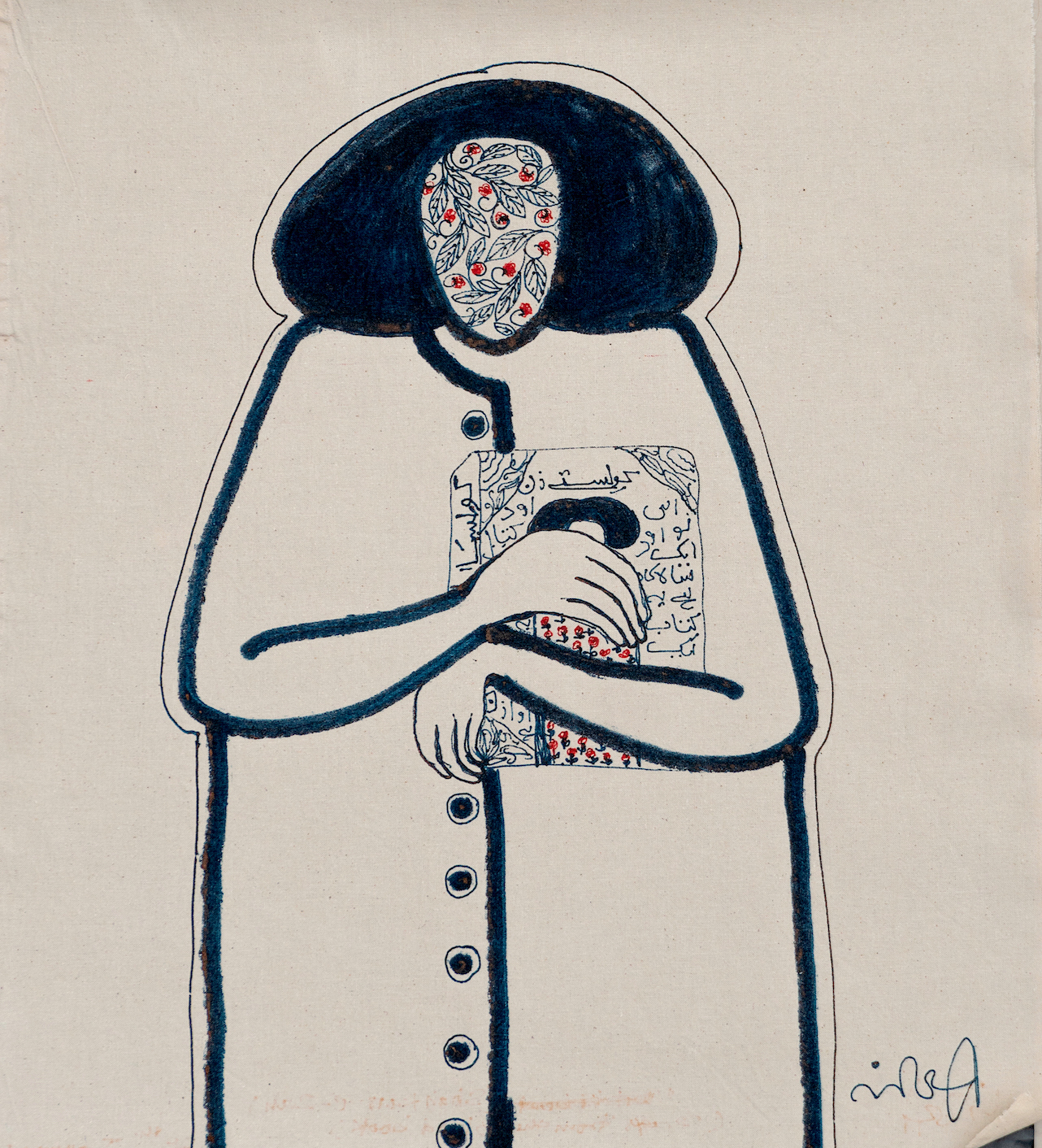 Shahkaar E Zan, 20.02.2020 (From the Blood Book), Ink on Majher Paath,
45 cm x 40 cm, 2020
Haya, 10.08.2020 (From the Blood Book), Flower Dye paste and Ink on Majher Paath fabric, 45 cm x 40 cm, 2020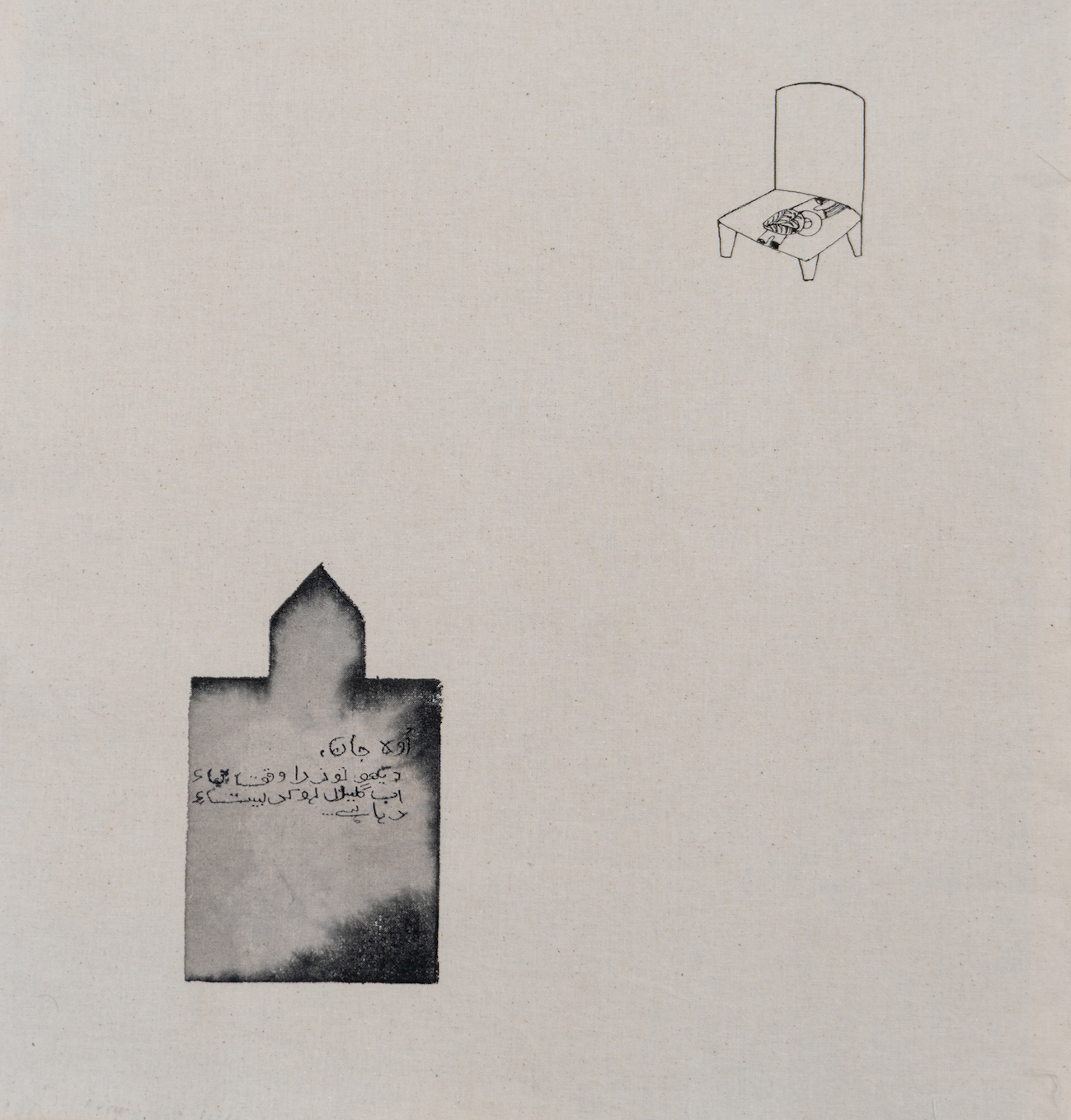 April 28th - Takhti aur Kursi ki baat, Ink on Majher Paath Fabric,
40 cm x 45 cm, 2020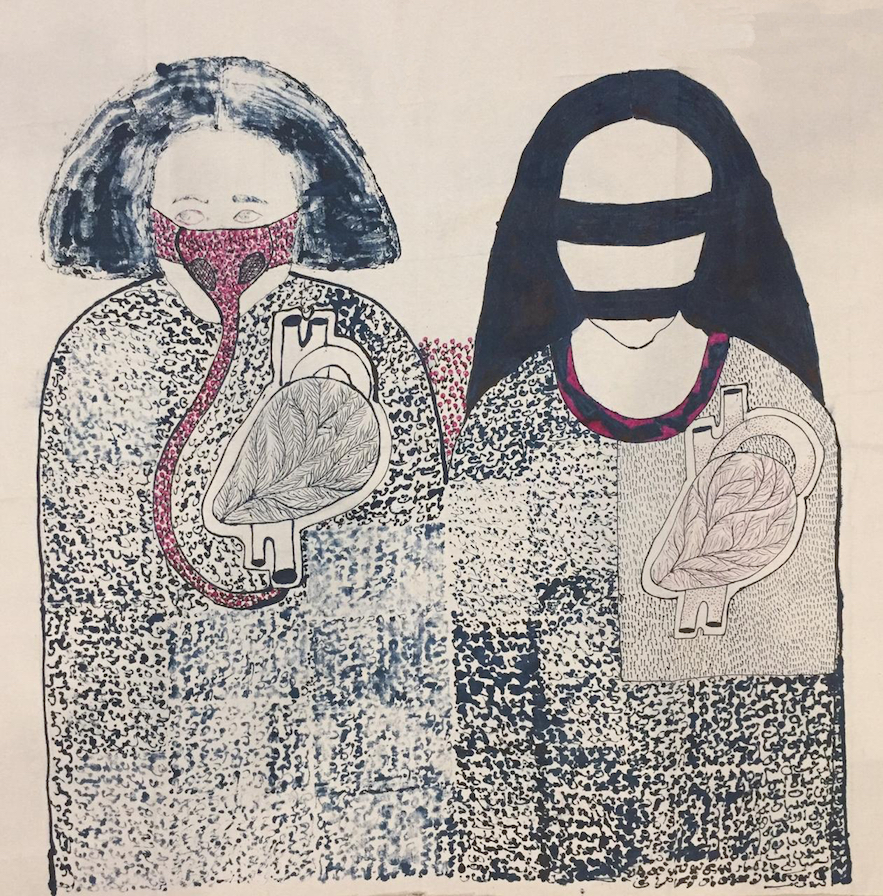 An Nisa, Natural colour on muslin cloth, 93 cm x 93 cm, 2019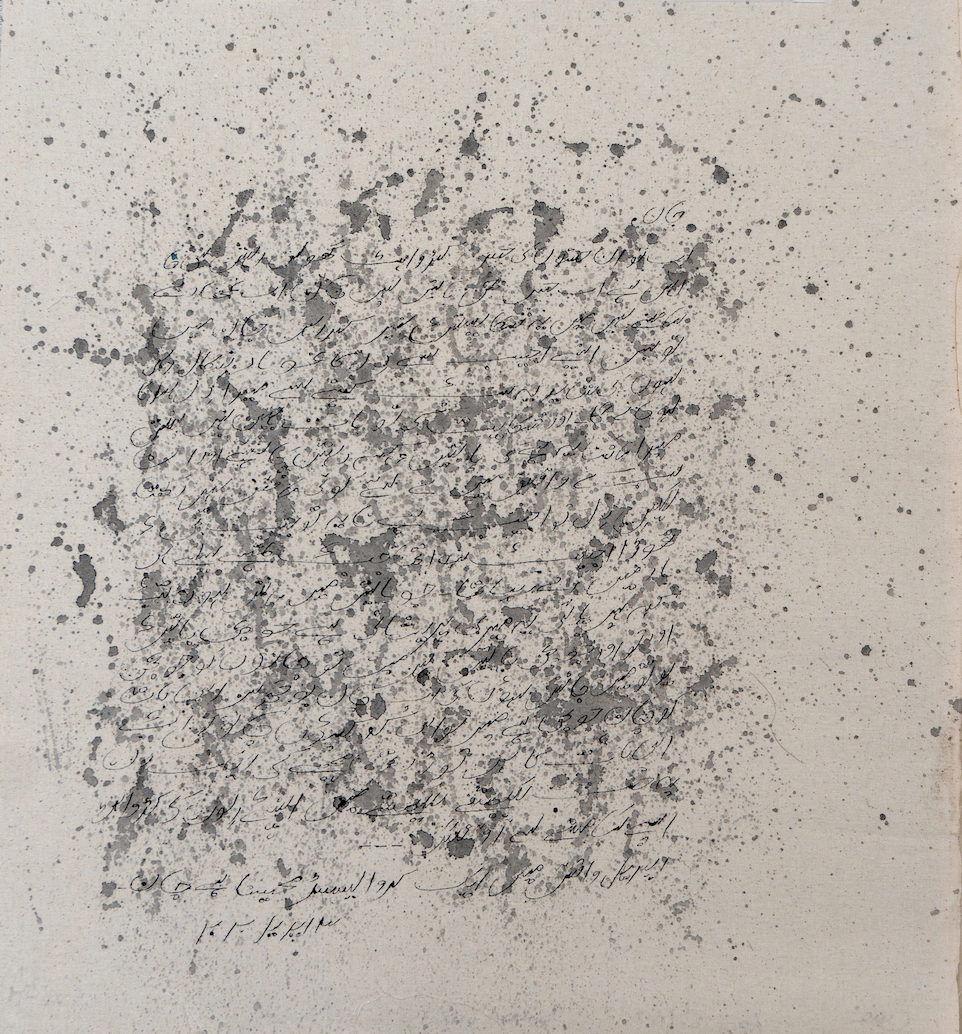 April 3rd - April is the Cruelest month, Ink on Majher Paath Fabric,
40 cm x 45 cm, 2020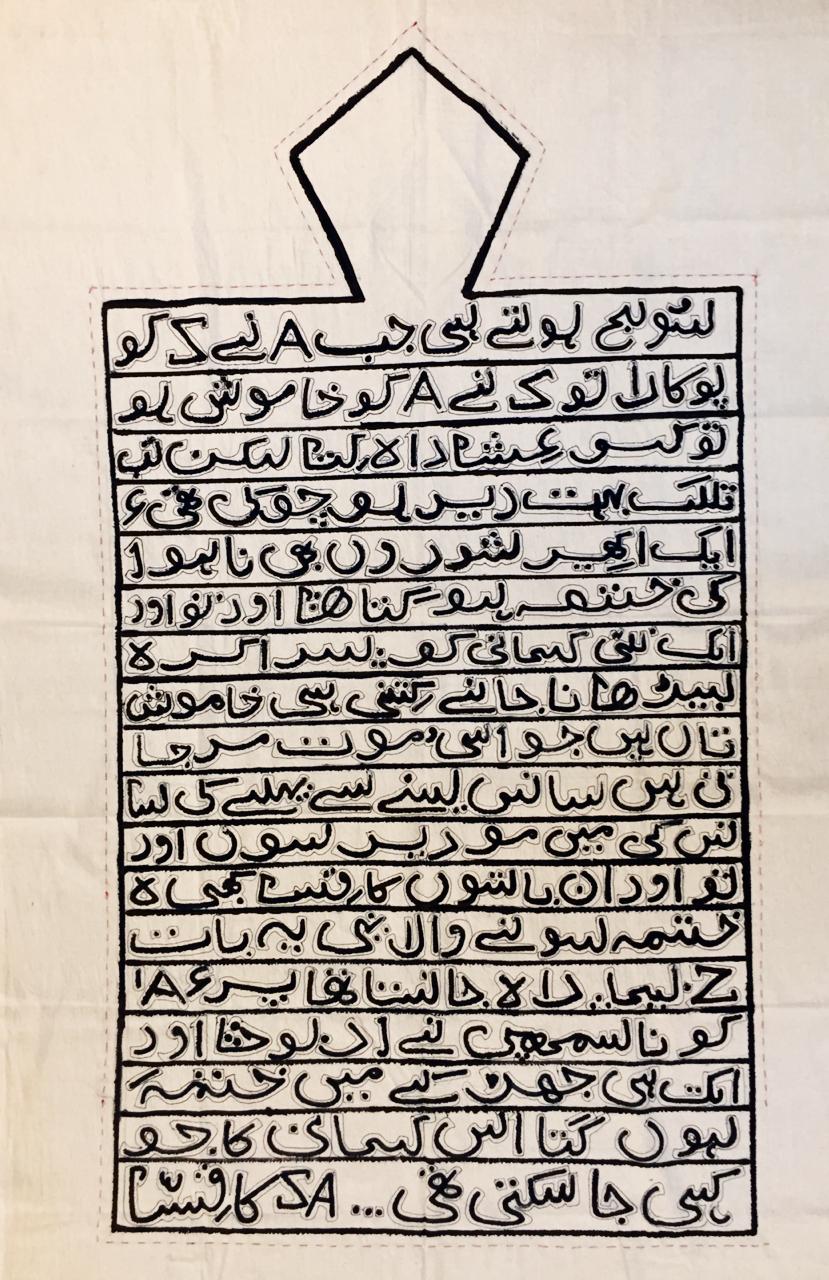 An Nisa, Natural colour on Muslin cloth and thread, 203 cm x 115 cm, 2019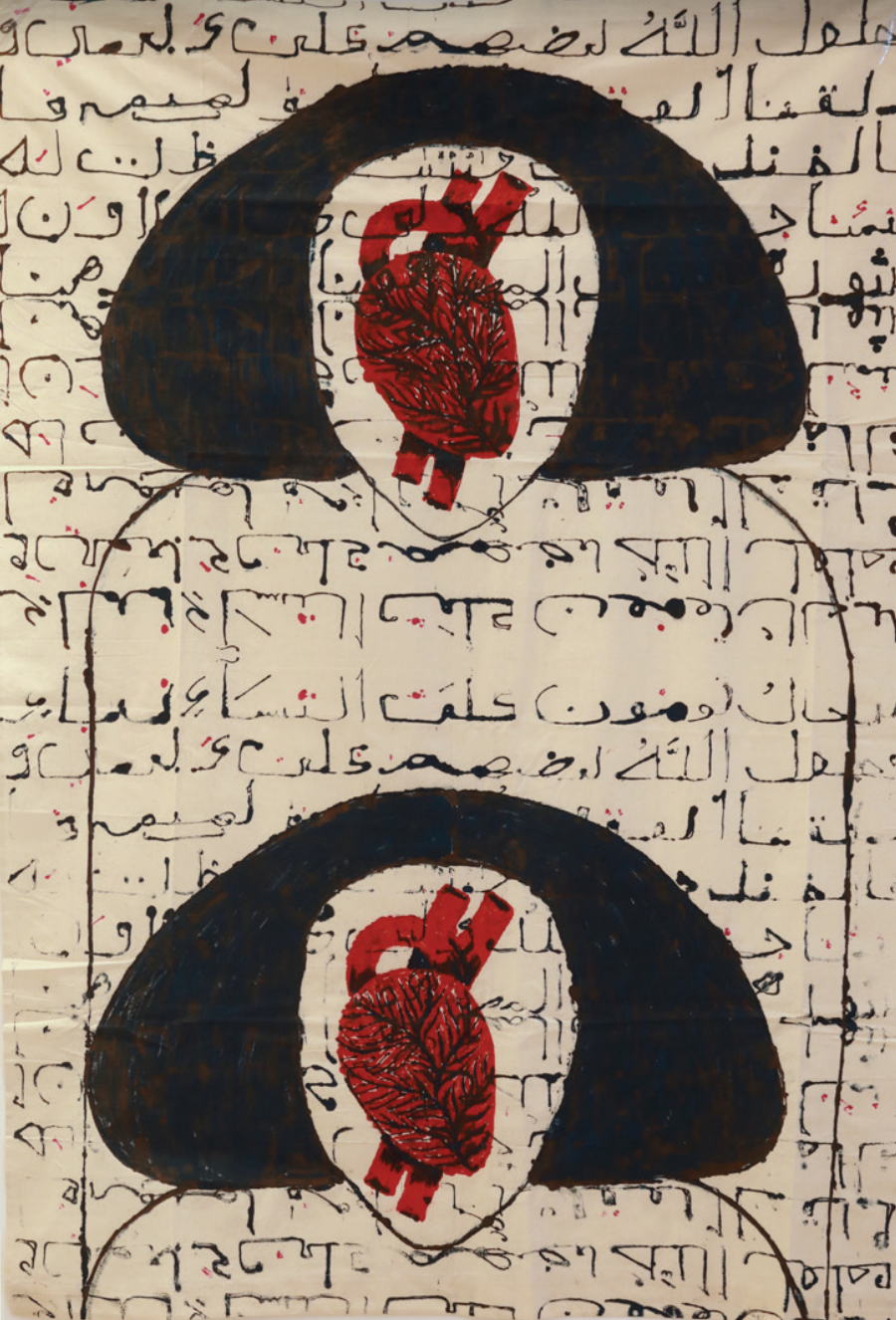 An Nisa, Natural Colour on muslin cloth, 152.5 cm x 119 cm, 2019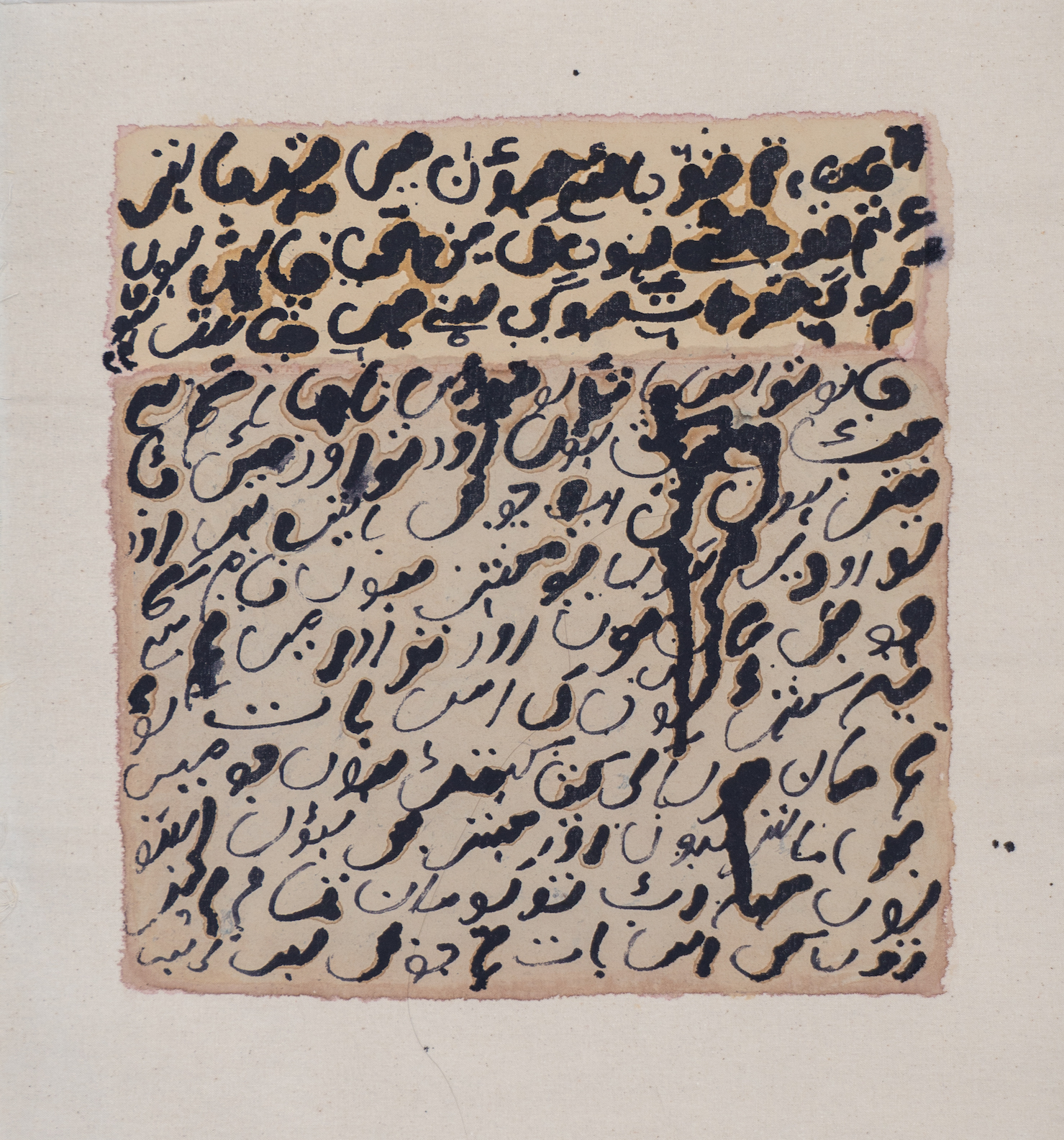 May 13th - Siyaah Siyaahi, Flower dye paste, Fullers earth and ink on Majher Paath, 38 cm x 30 cm, 2020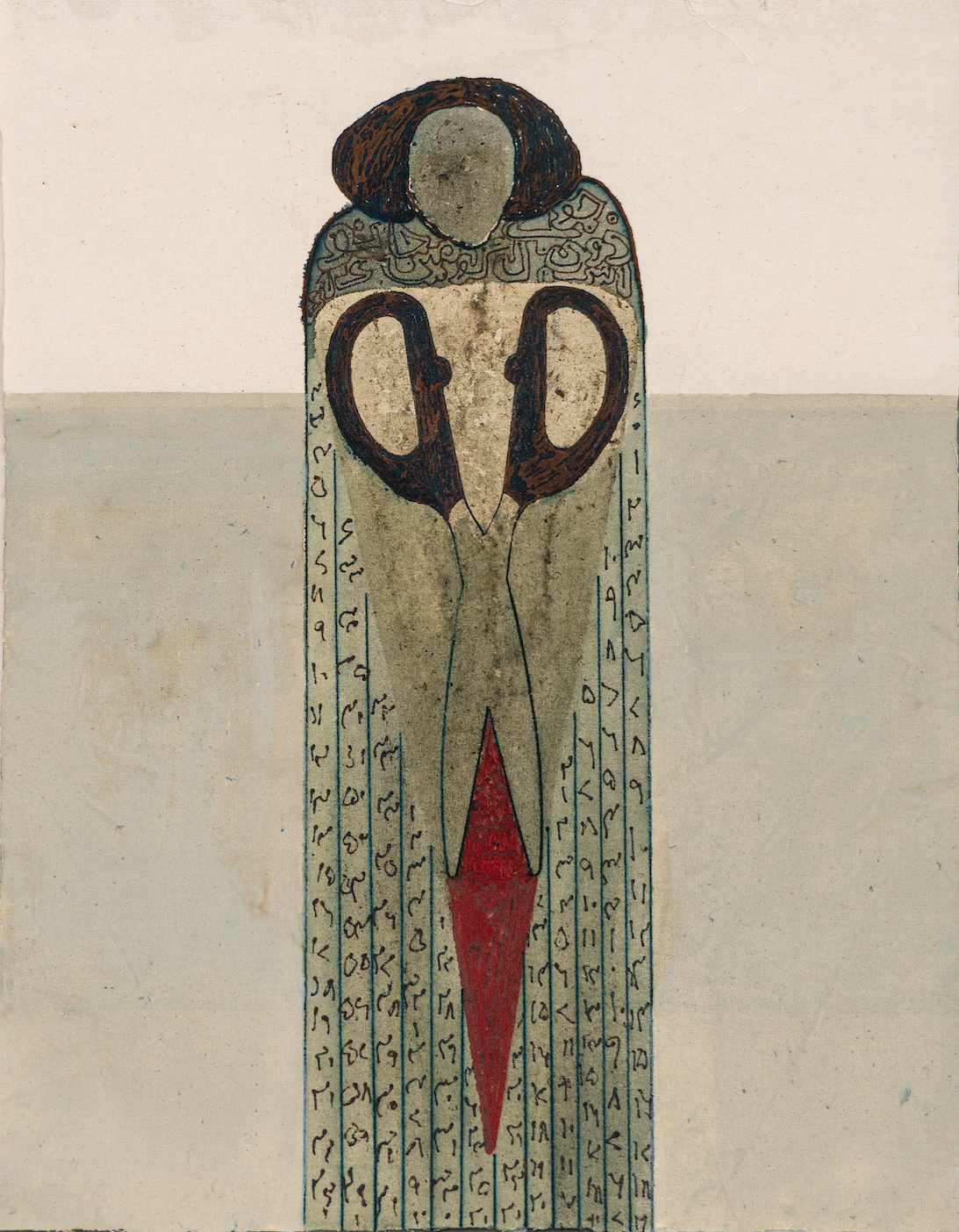 47 days, 08.06.2020 (From the Blood Book), Fullers Earth, Flower dye paste and ink on Majher Paath fabric, 39.5 cm x 30 cm, 2020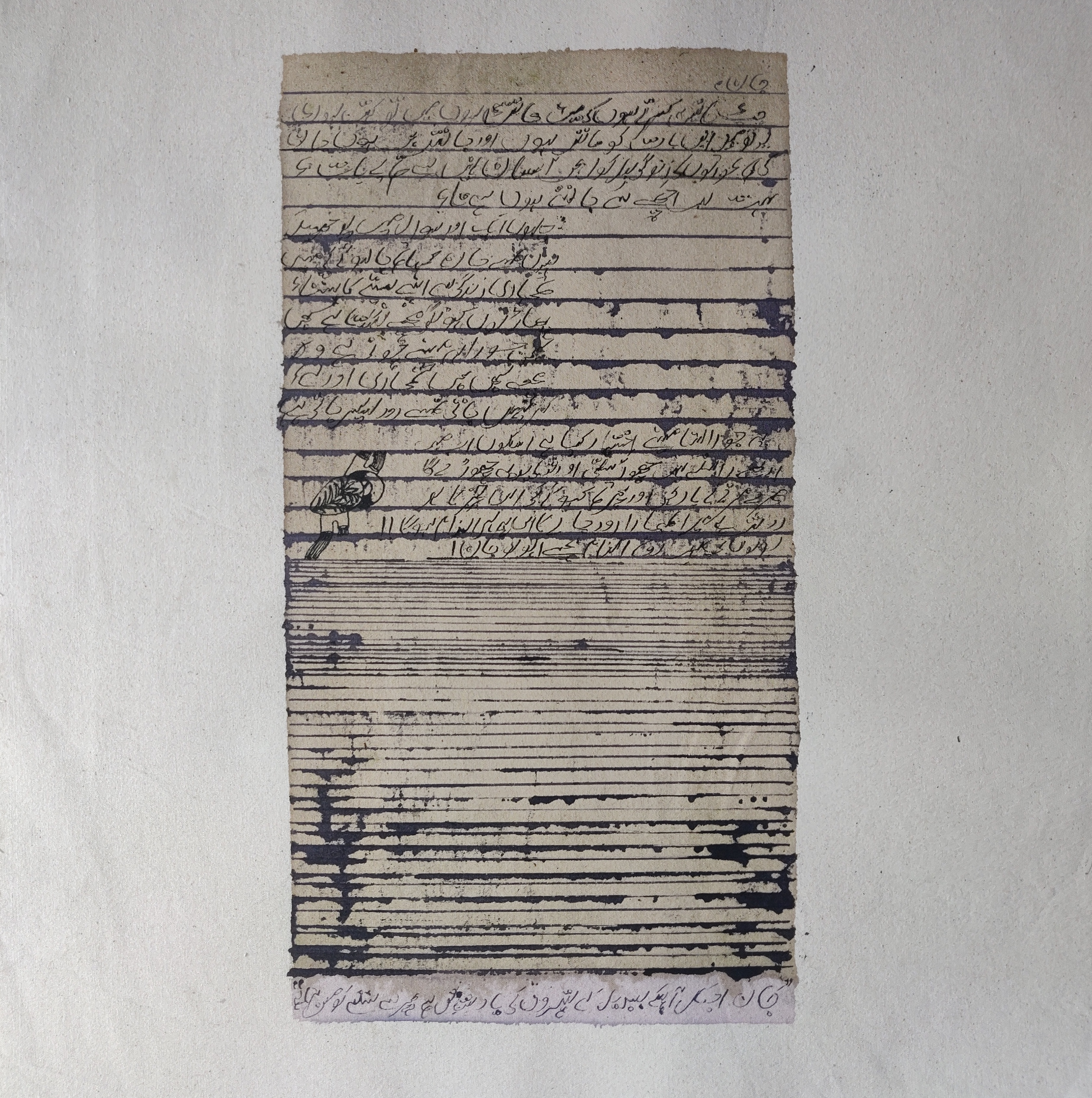 May 5th - Ek Sawal, Flower dye paste and ink on Majher Paath Fabric,
45 cm x 40 cm, 2020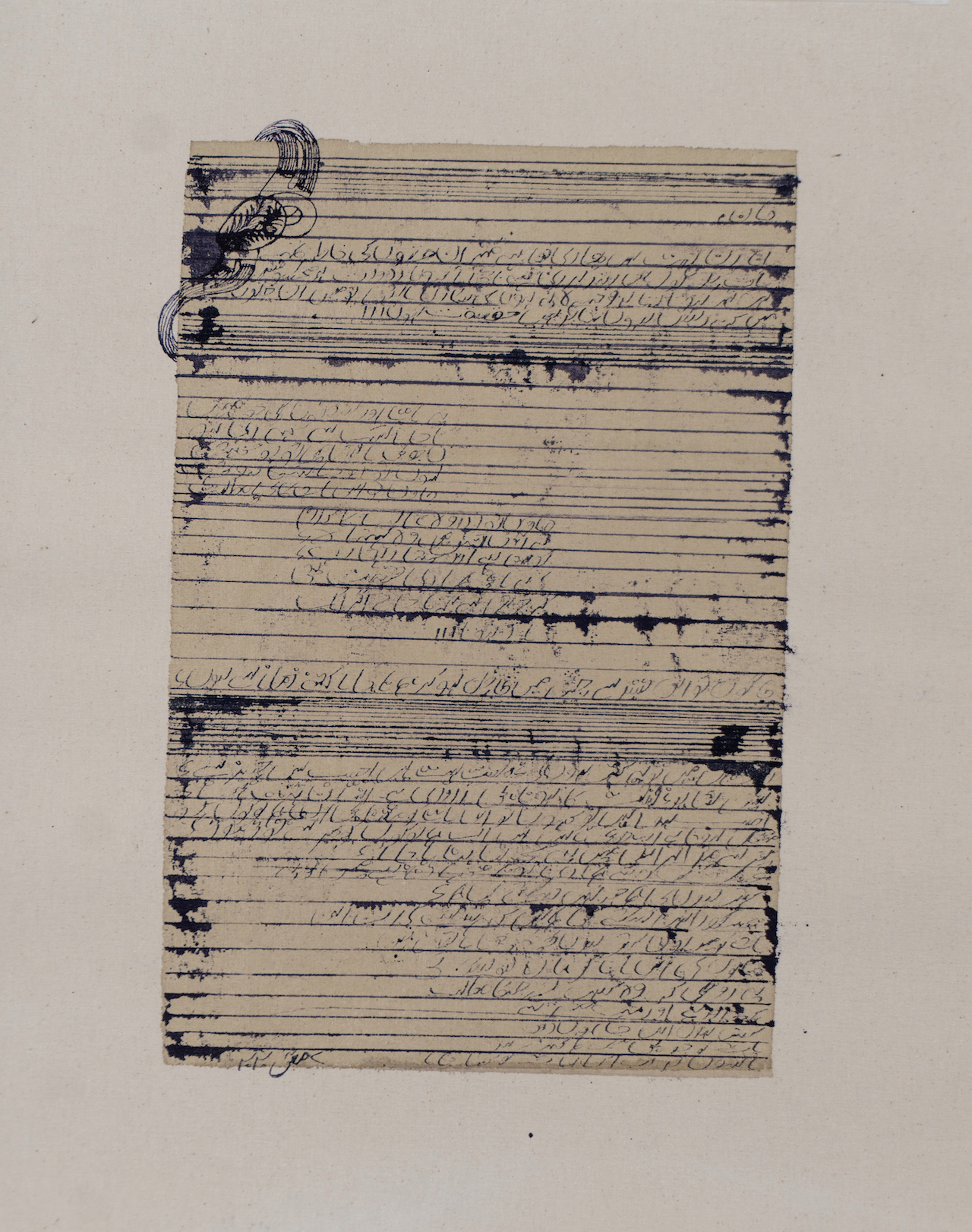 May 7th - Ek Baat!, Flower dye paste and ink on Majher Paath Fabric,
45 cm x 40 cm, 2020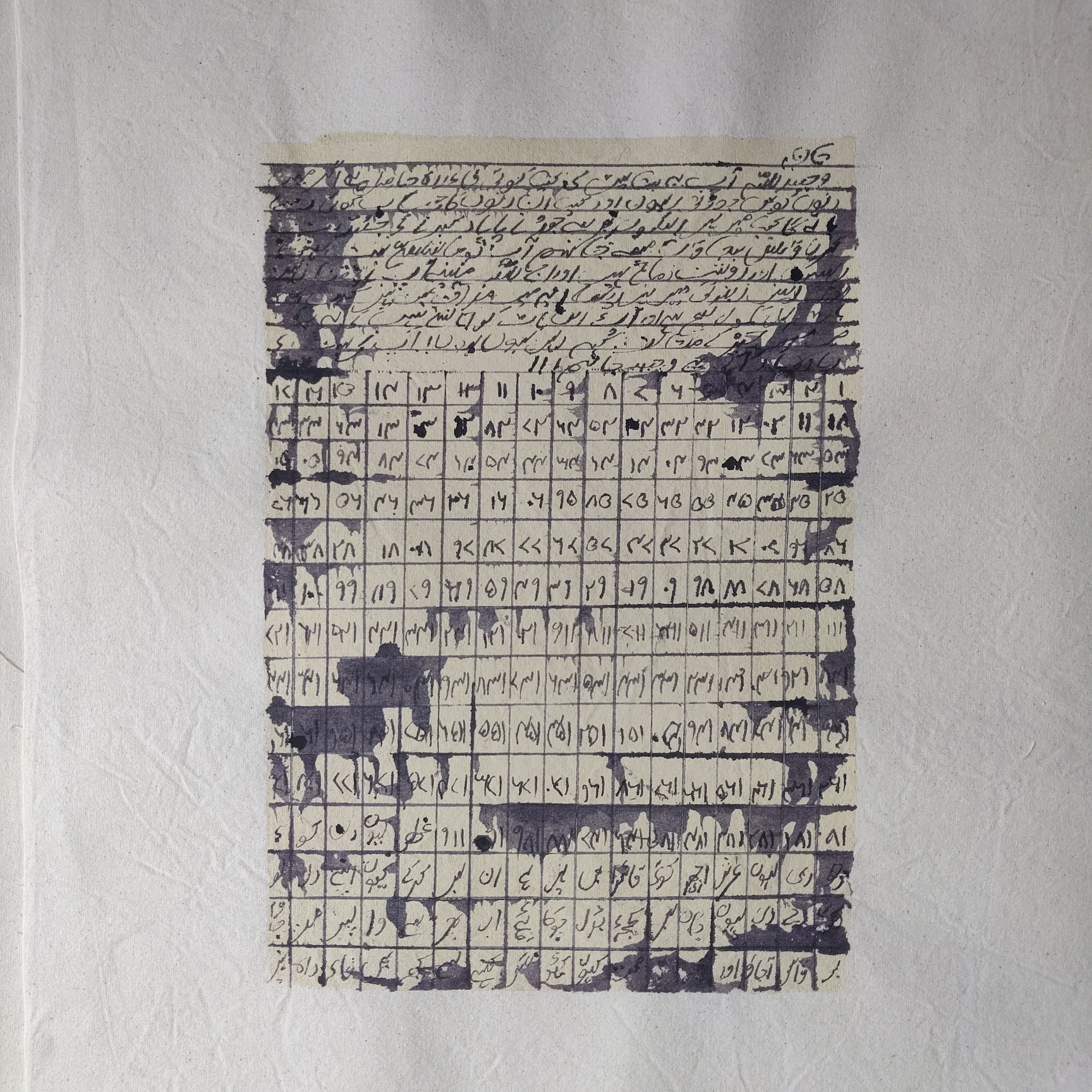 May 8th - 180 Din, Fullers earth and ink on Majher Paath Fabric,
45 cm x 40 cm, 2020
May 8th - Nai Khabar, Flower dye paste and ink on Majher Paath Fabric,
45 cm x 40 cm, 2020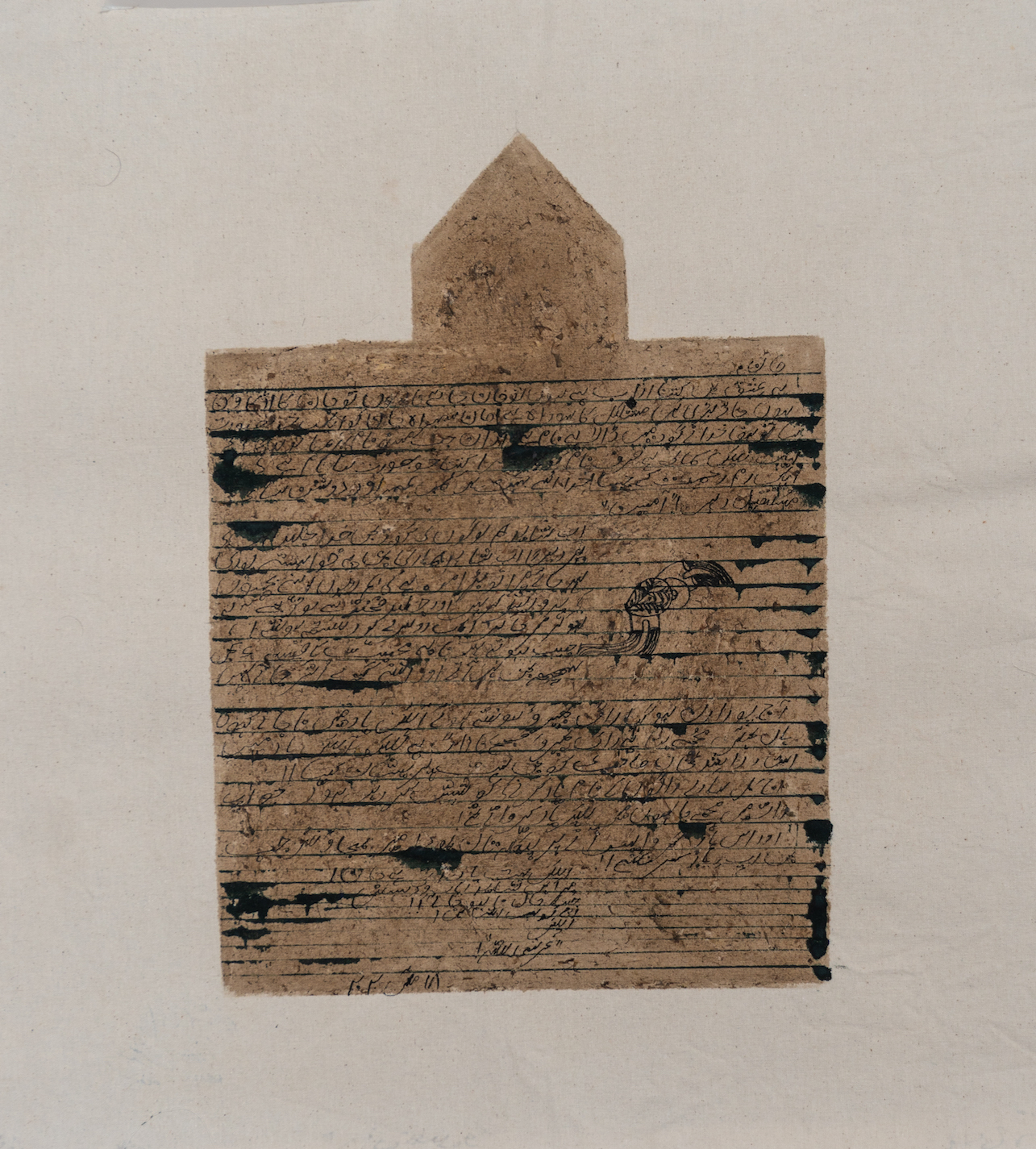 May 18th - Raag-Bhairav, Flower dye paste and ink on Majher Paath Fabric,
45 cm x 40 cm, 2020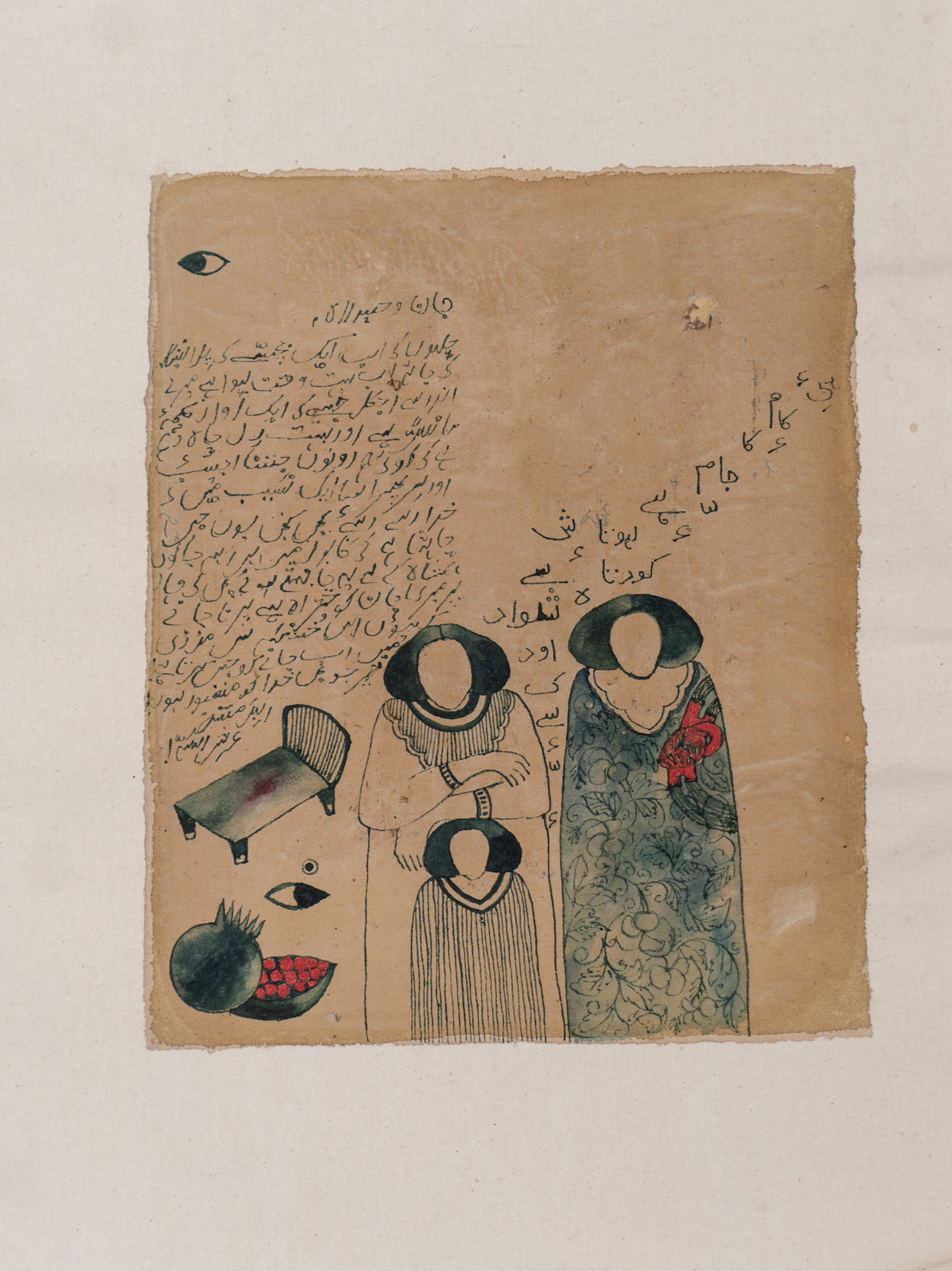 May 19th - Khwaab, Flower dye paste, Fullers earth and ink on Majher Paath Fabric, 45 cm x 40 cm, 2020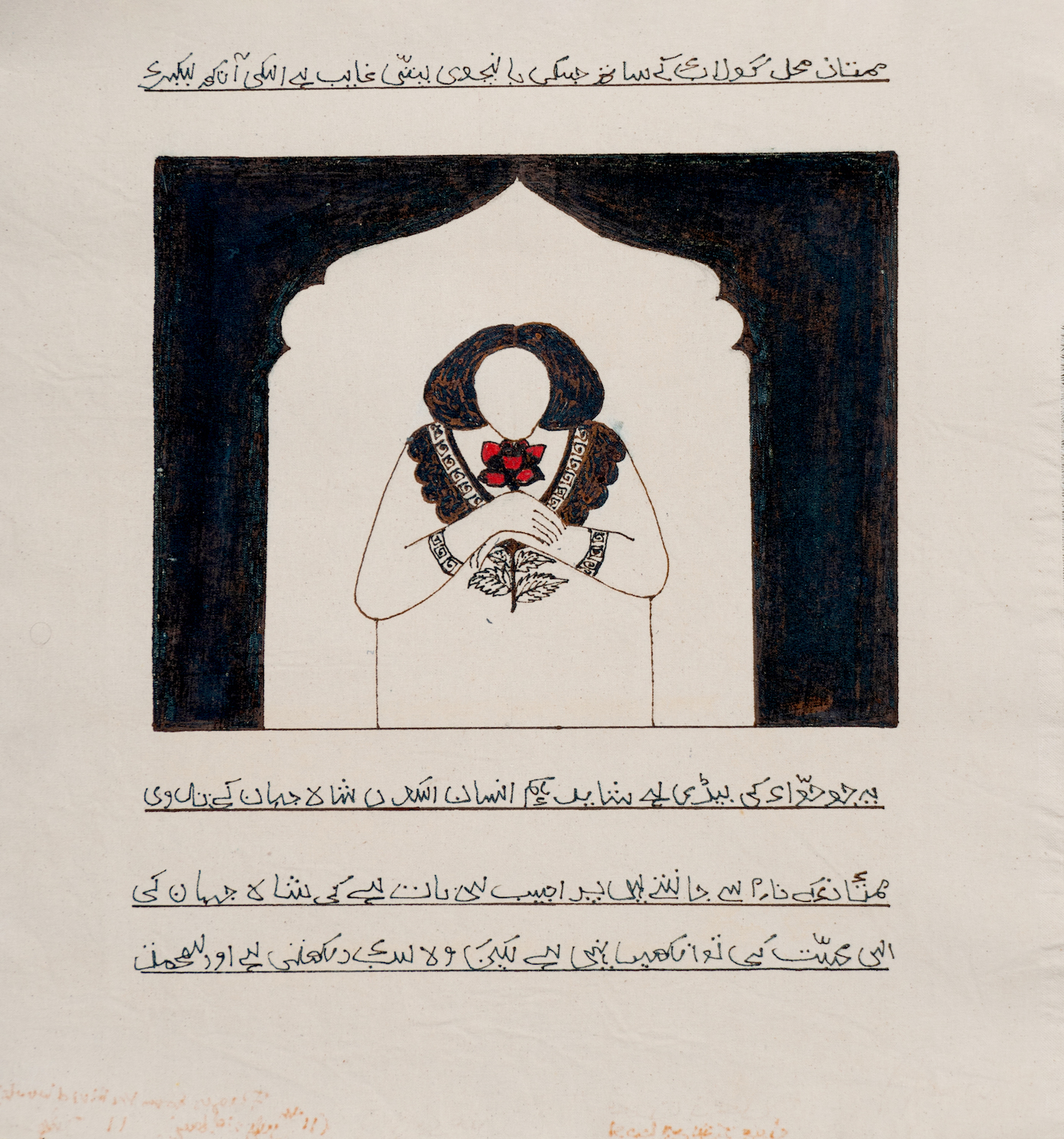 Paanch Patti Ka Ghulab Aur Mumtaz Mahal, 11.08.2020 (From the Blood Book), Ink on Majher Paath Fabric, 45 cm x 40 cm, 2020