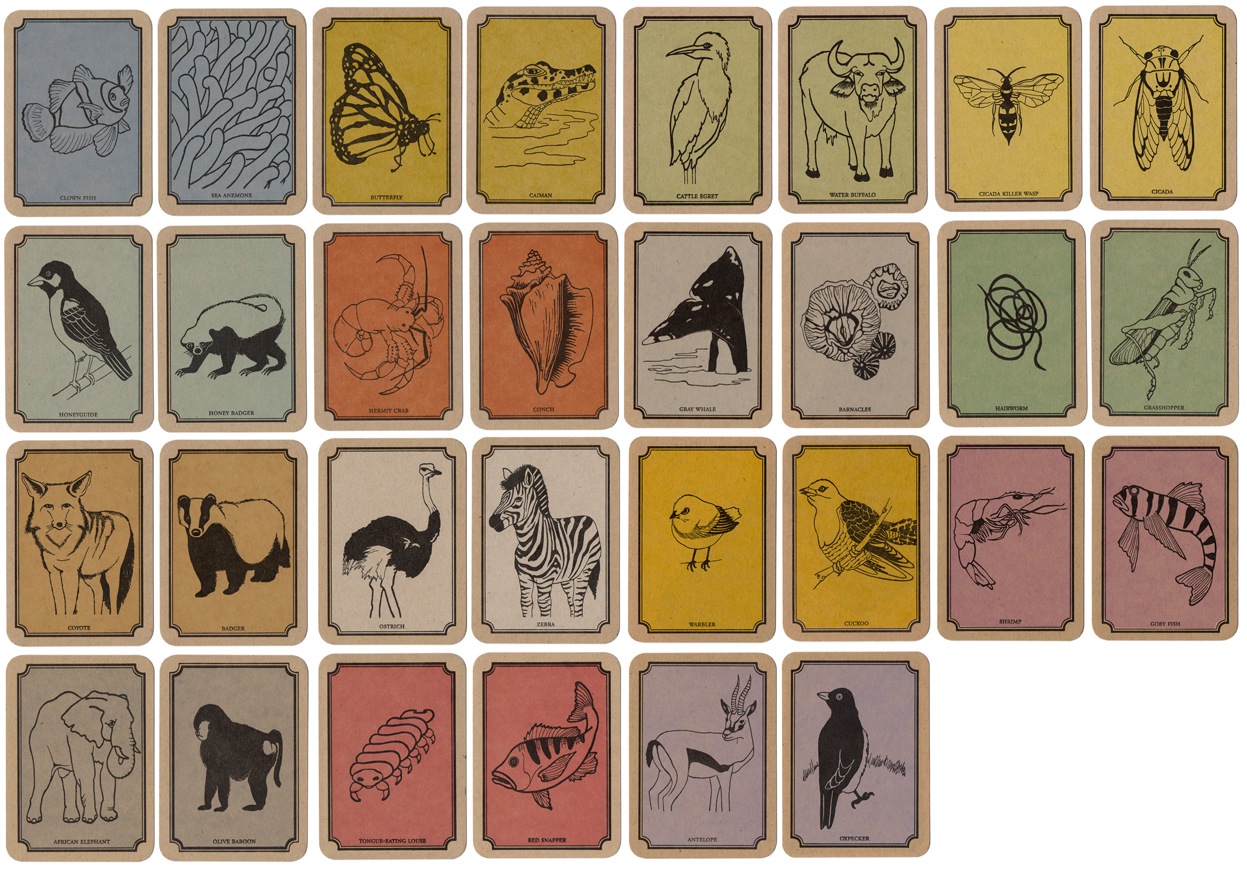 Anne Covell, Natural Order_ A Game of Pairs, Artists book_card game, 30 hand-drawn card illustrations, learning guide and case letterpress printed from polymer, 8.1 cm X 6.25 cm X 1.25 cm, 2012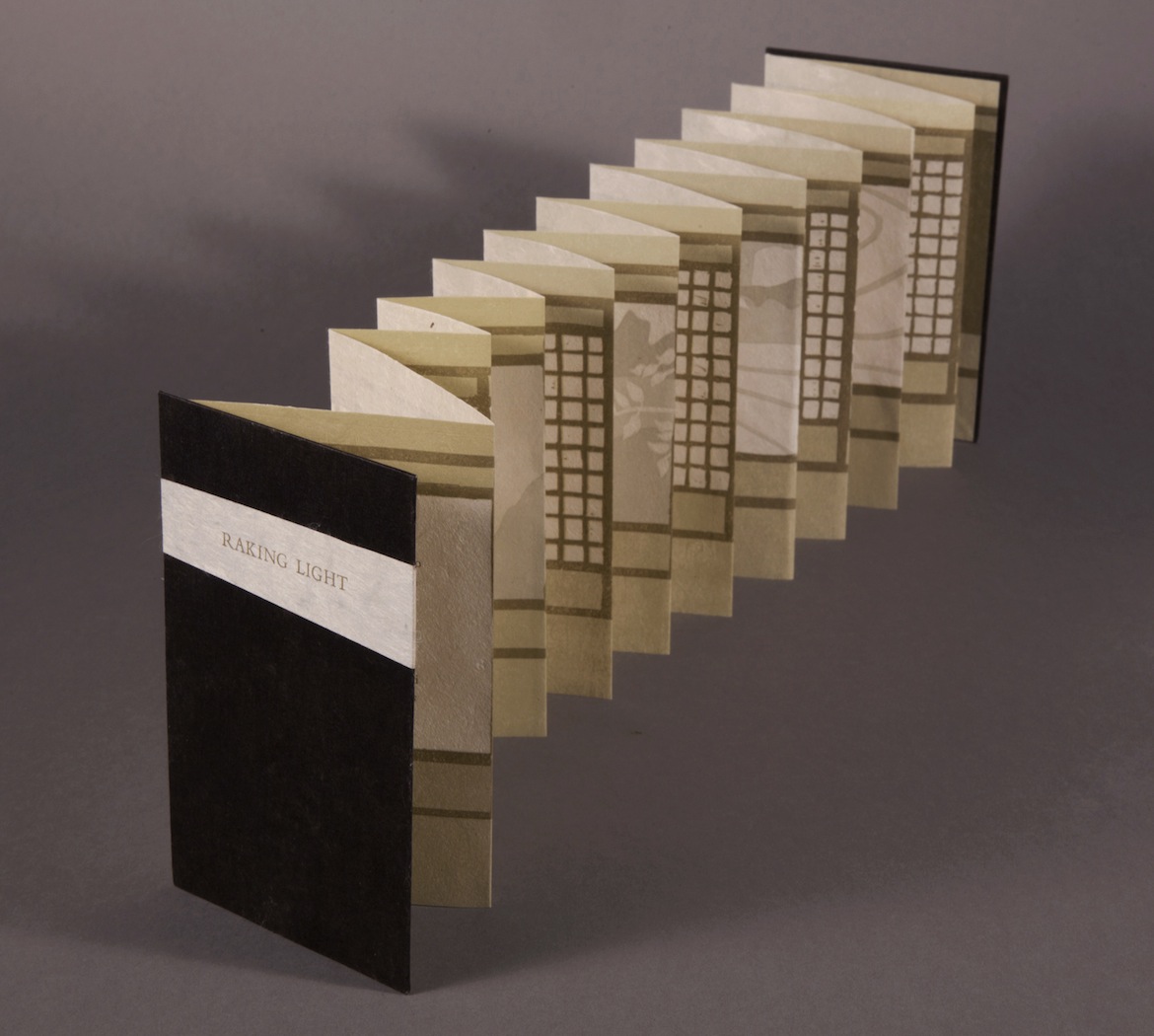 Anne Covell, Raking Light, Accordion, letterpress linoleum reduction, handmade kozo, 12.5 cm x 8.75 cm x 0.65 cm, 2012
Banoo Batliboi, Age of Shiva, Digital print on metallic paper, 47 cm x 37 cm, 2014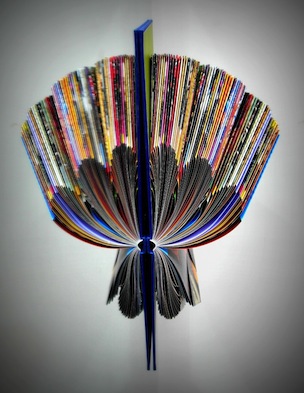 Banoo Batliboi, Pacific patterns, Digital print on metallic paper, 47 cm x 37 cm, 2014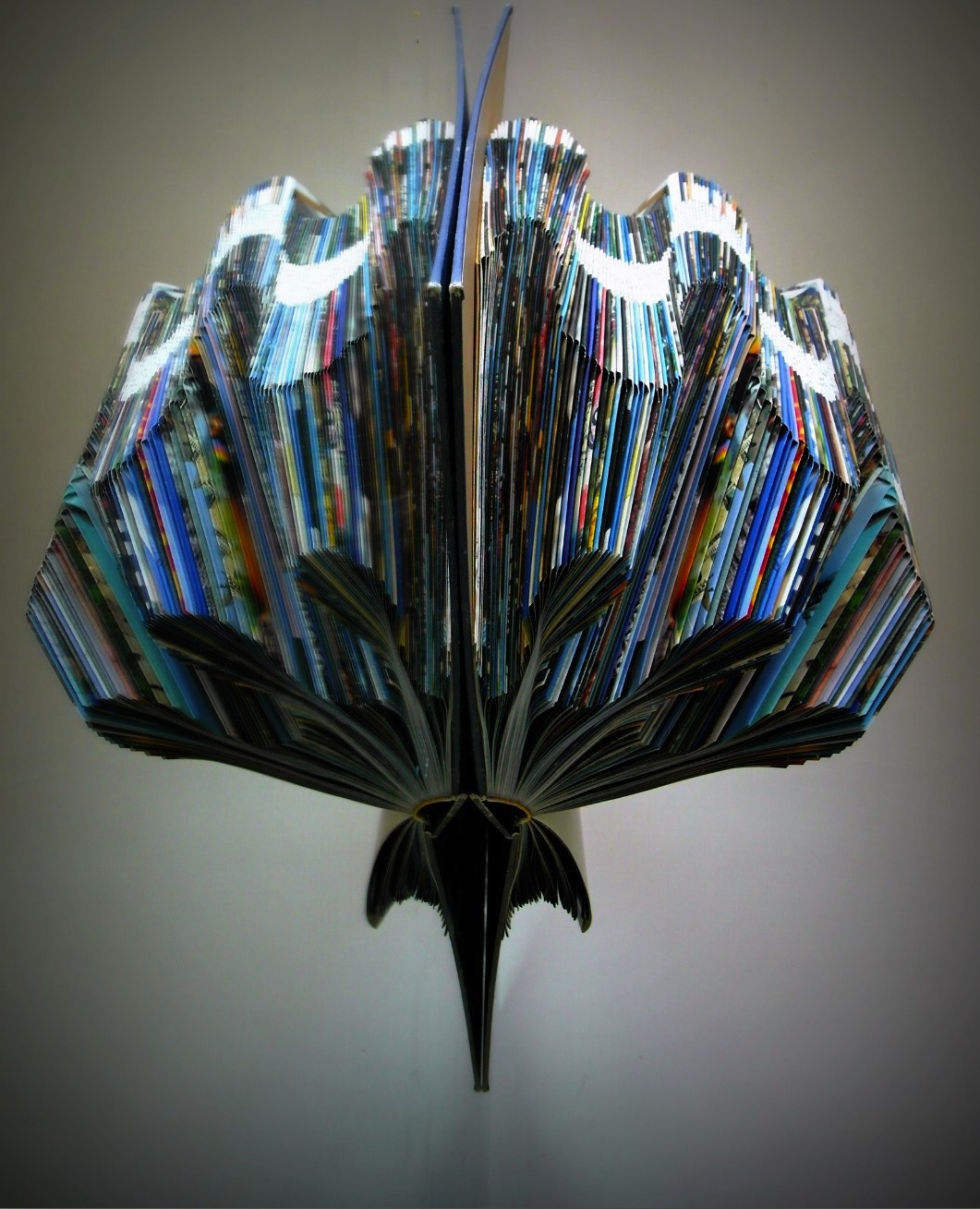 Banoo Batliboi, The travel book, Digital print on metalic paper, 47 cm x 37 cm, 2014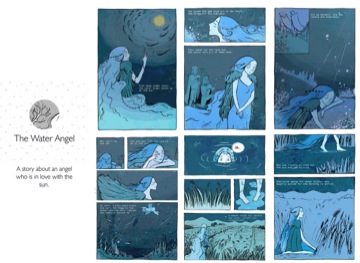 Bandana Tulachan, Bun Dyo of the Rain and other short stories, 80 pages, 80 gsm off white paper, case bound, Edition 1, self published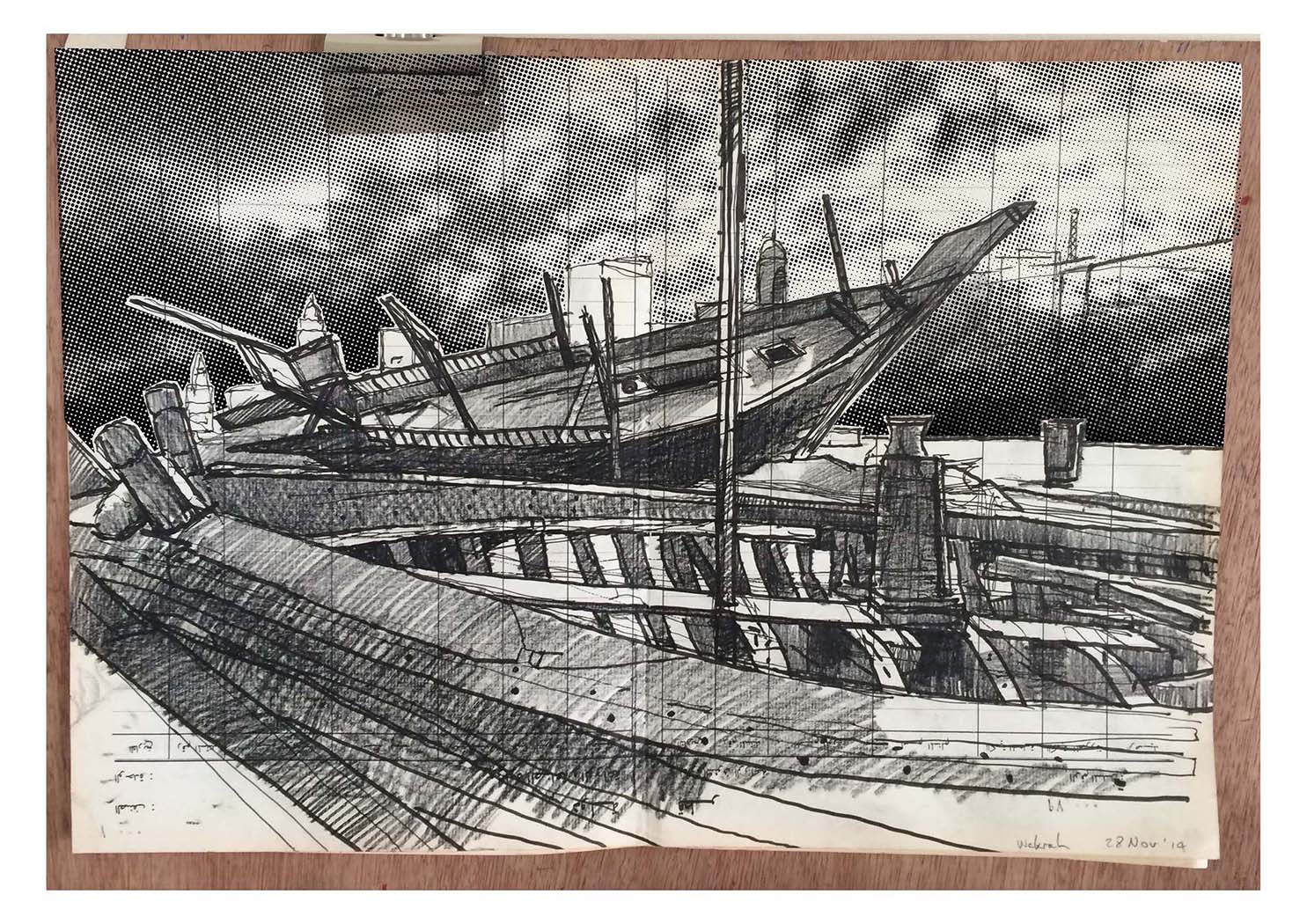 Ben Barbour, Abandoned Dhows, Al Wakrah, Mixed media on a page from a discarded ledger book from the Ministry of Agriculture & Industry, Qatar, 35 cm x 50 cm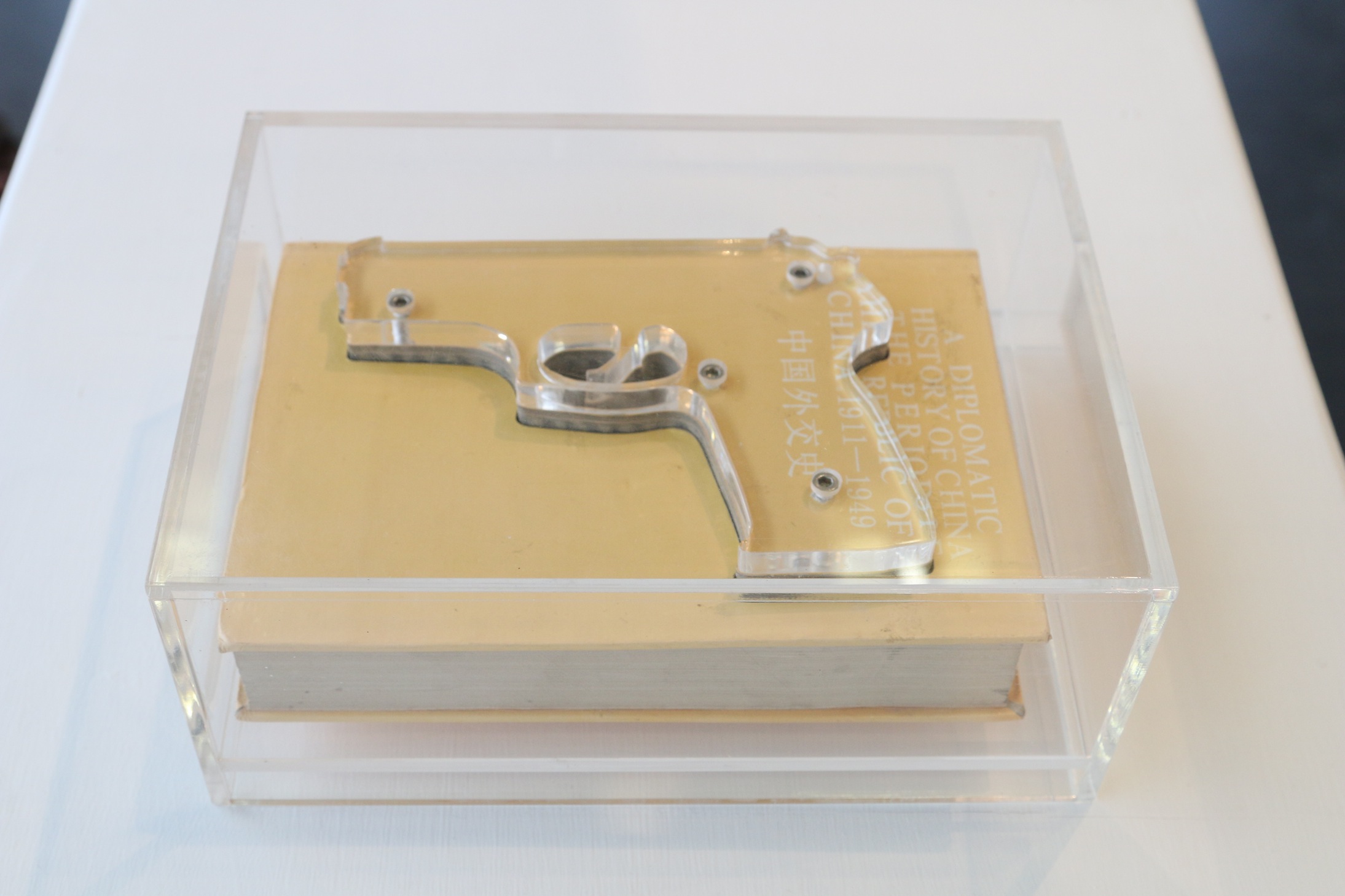 Deng Yifu, Diplomatic History (Y1145-Gun), Book and Perspex with Screws, 20.3 cm x 14 cm x 4.2 cm, 2003-05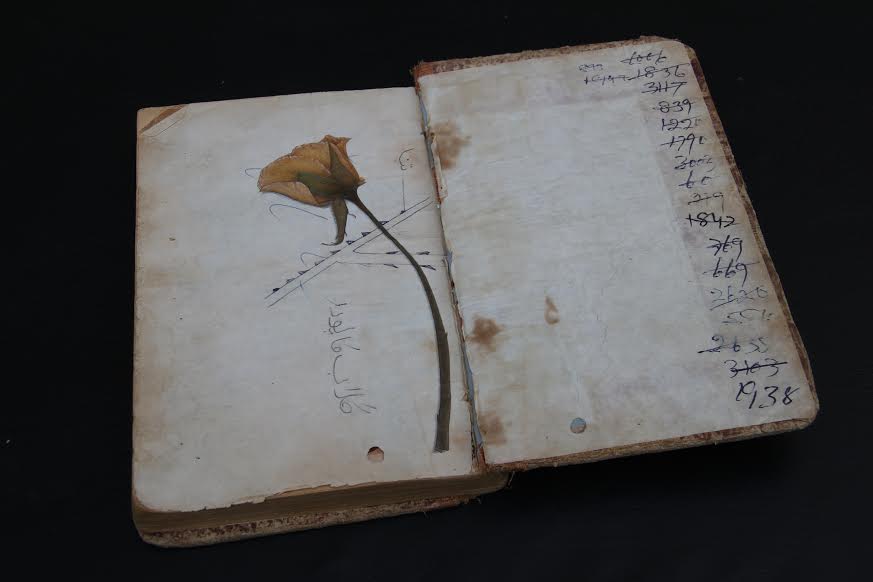 Madiha Sikander, Roses are Red, Gadrung on paper, 11.5 cm x 17.5 cm x 1.25 cm, 2014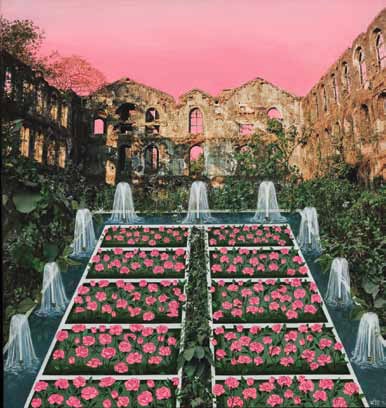 Meera Devidayal, Into the Rose Garden, Artist book, Digital print on photo paper, 2014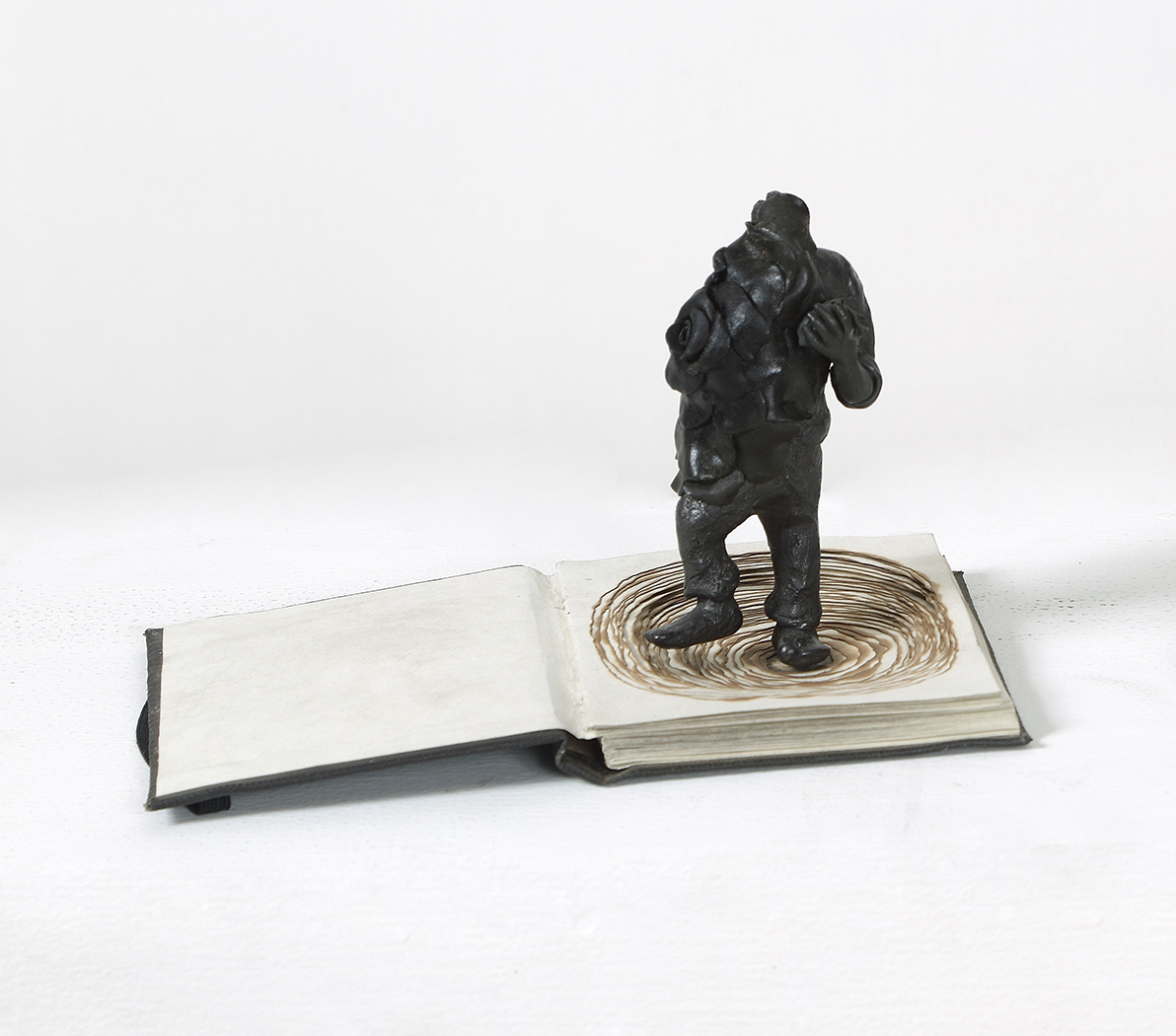 Preksha Tater, I feel..., Sketchbook and e-proxy composed, 21.5 cm x 13.5 cm x 12.5 cm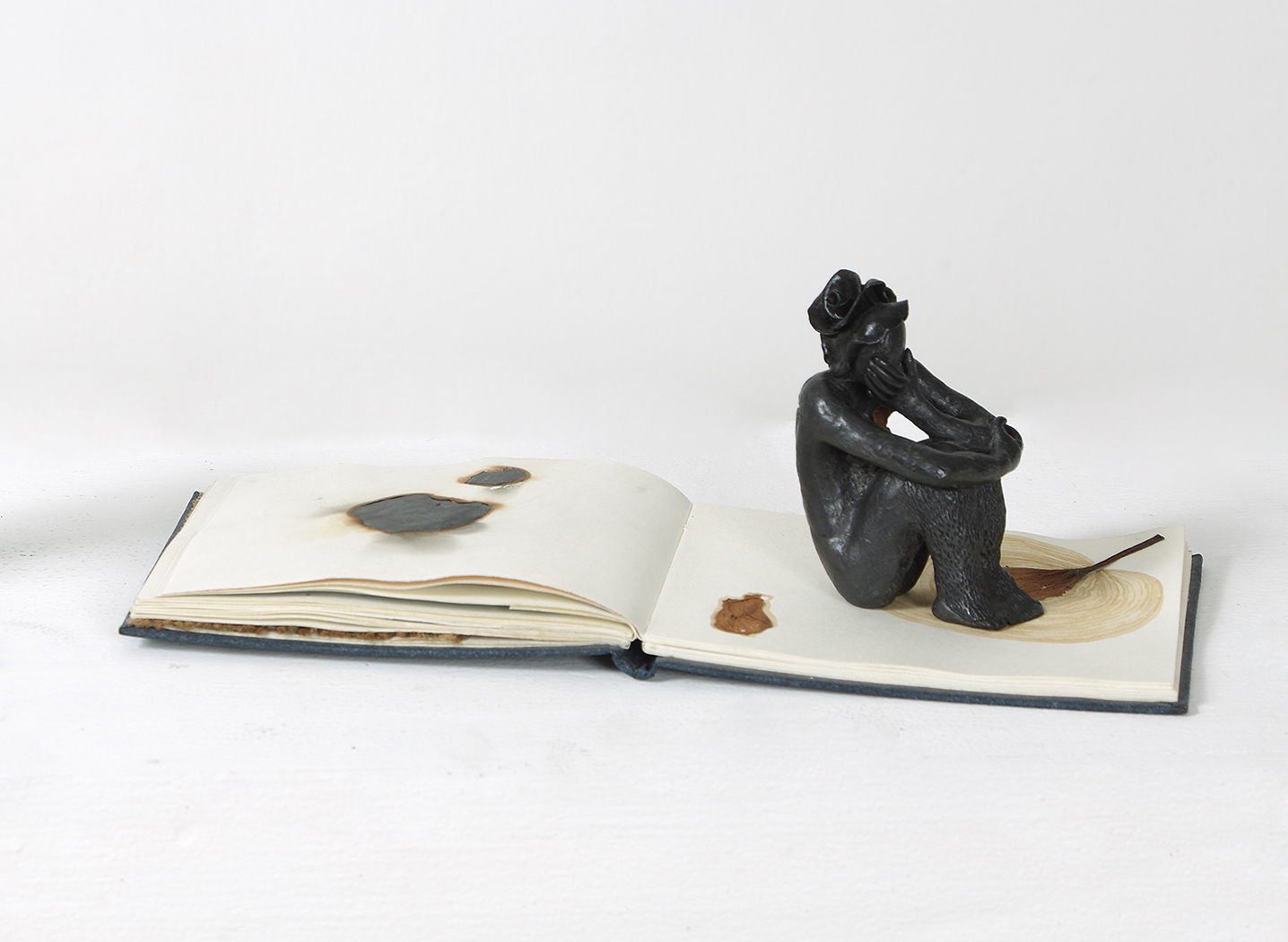 Preksha Tater, _I feel....., Sketchbook and e-proxy composed, 27.5 cm x 12.5 cm x 10 cm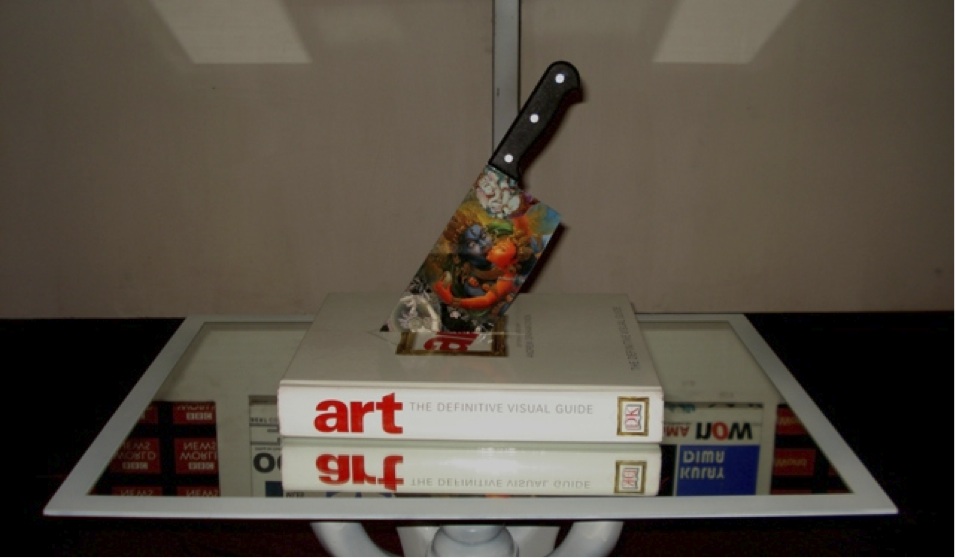 Rabindra Shreshta, Vs (versus), Sketchbook and e-proxy composed, 53.5 cm x 34 cm X 12.5 cm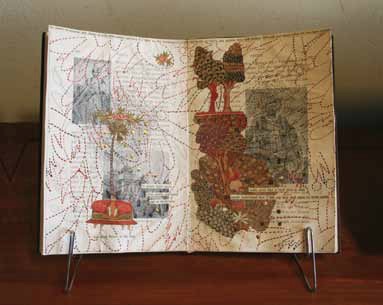 Samanta Batra Mehta, The Anthropology of Time, Antiquarian books, Ink, graphite, gesso, 23k gold leaf , plastic plants, 2012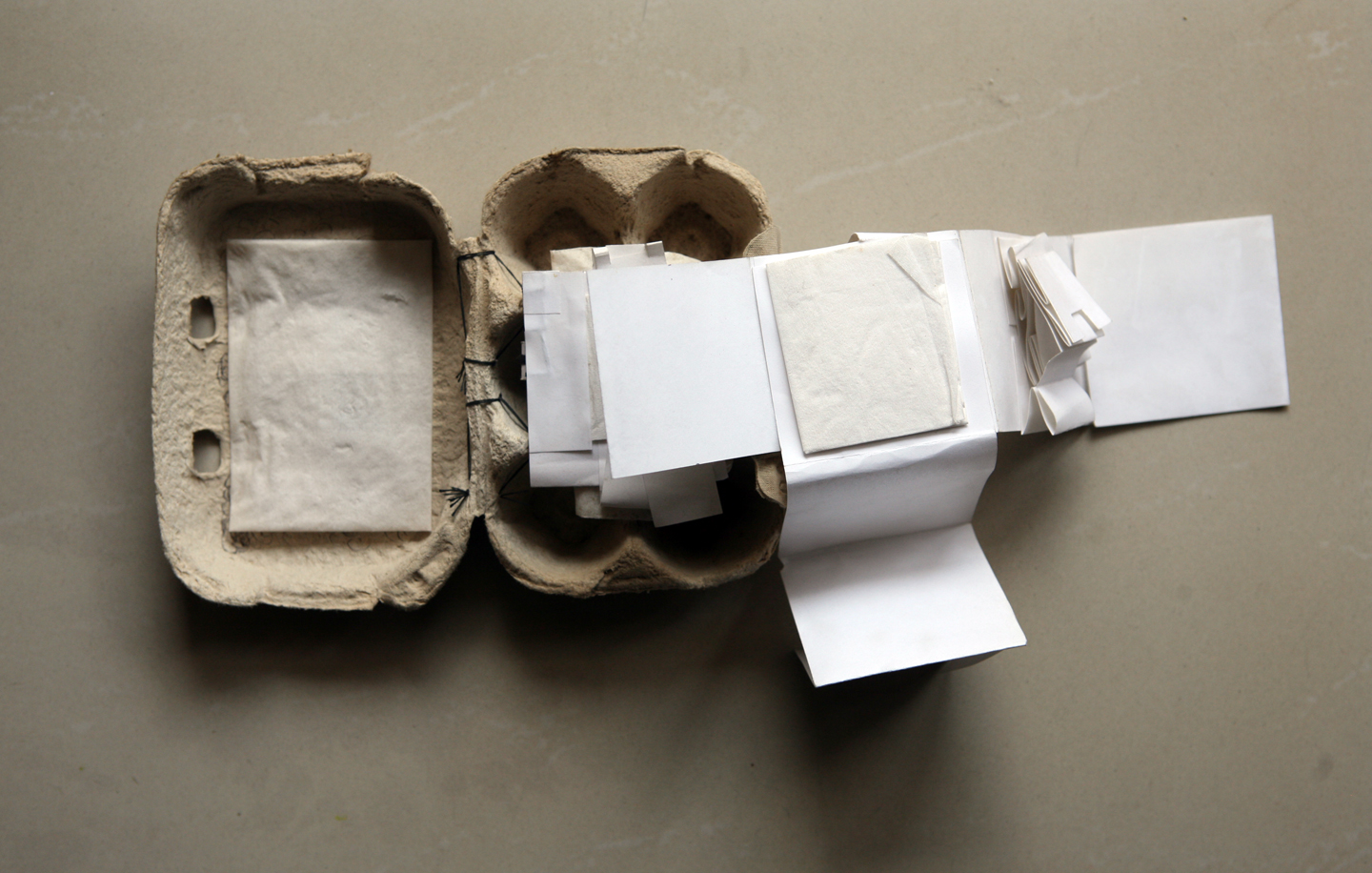 Samit Das, Vibrations and Silence-4, Card board egg box & paper, Hand stitched Unique Artwork, 16.5 cm x 11 cm x 6.5 cm (Egg box), variable when unfolded, 2002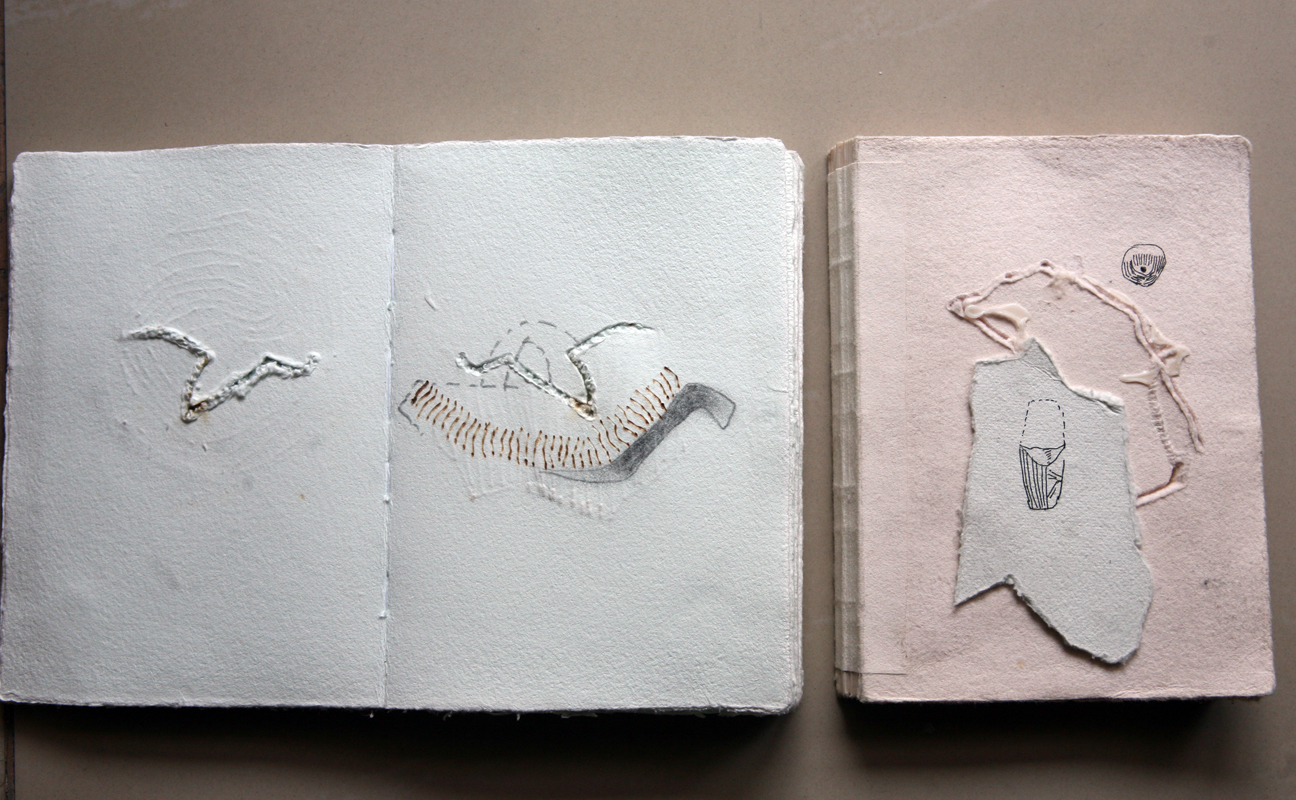 Samit Das, Vibrations and Silence-5, Drawing ink on acid free handmade paper, pencil, cut out and burnt lines, Set of two books, Unique artist books, 21 cm x 15 cm x 3 cm and 21 cm x 15 cm x 2 cm, 2013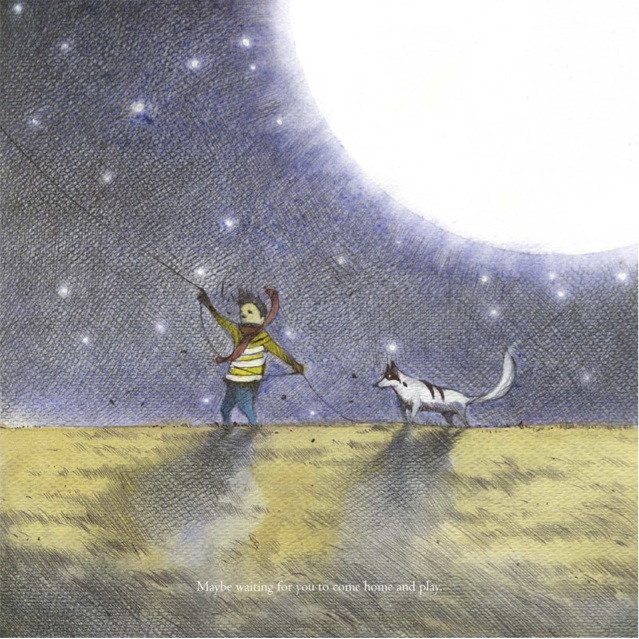 Sarwagya Nembang (Ubahang), A Place Called Home, 32 pages, special ivory paper, hard-bound, edition 1 (6 copies)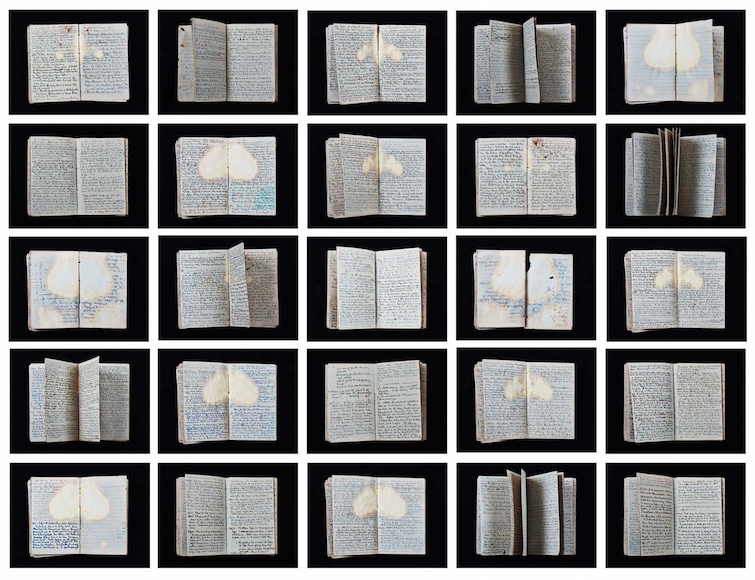 Sathyanand Mohan , Chronical, set of 25 photographs, 40 cm x 60 cm (each), 2013

Tanmoy Samanta, The Cartographer's Paradox, Recycled book, paperboard & gouache on rice paper, 22.5 cm x 37.5 cm x 2.5 cm, 2014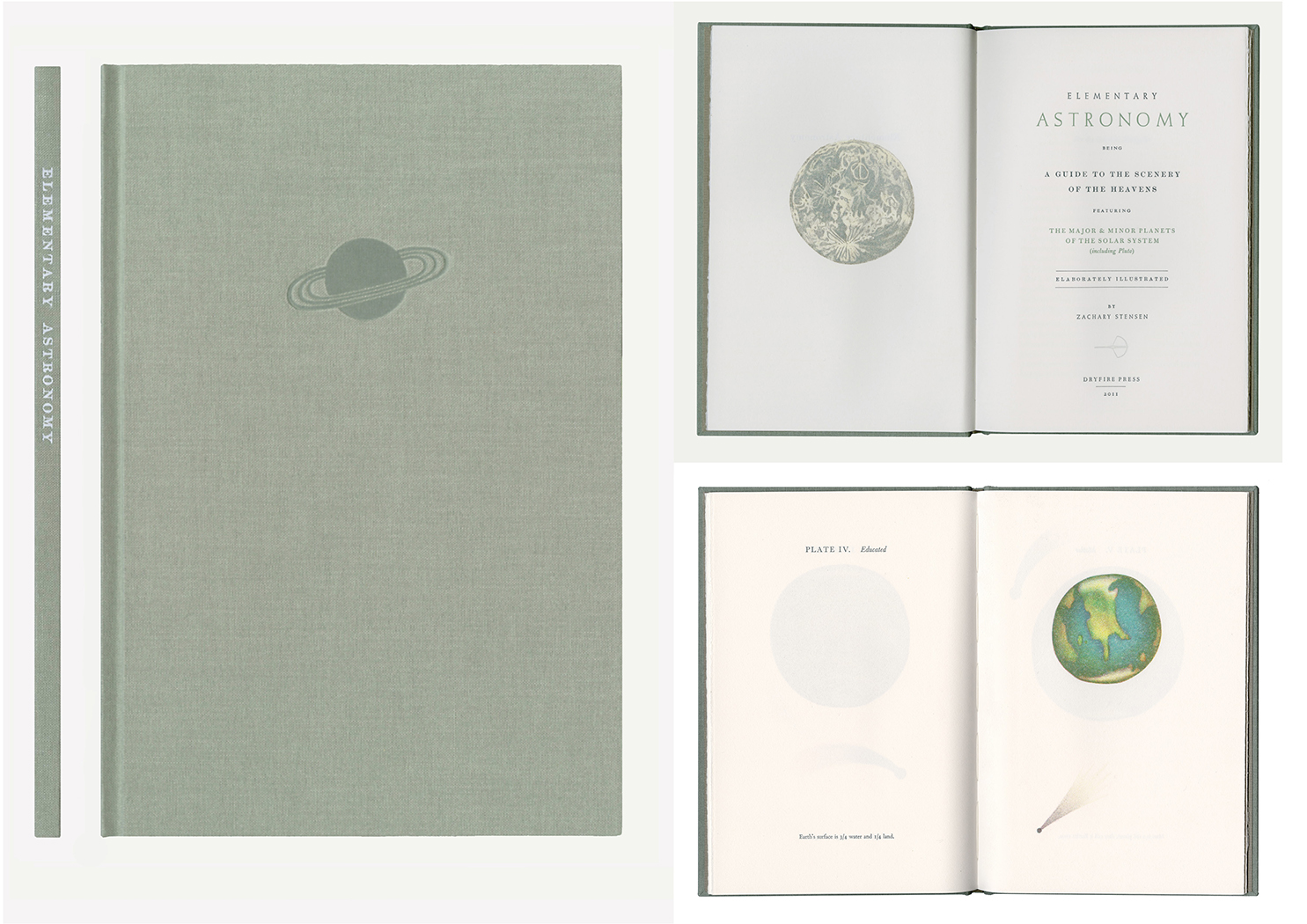 Zach Stensen, Elementary Astronomy, Dryfire Press, 15.7 cm x 23.2 cm, 29 pages Edition of 22, 2011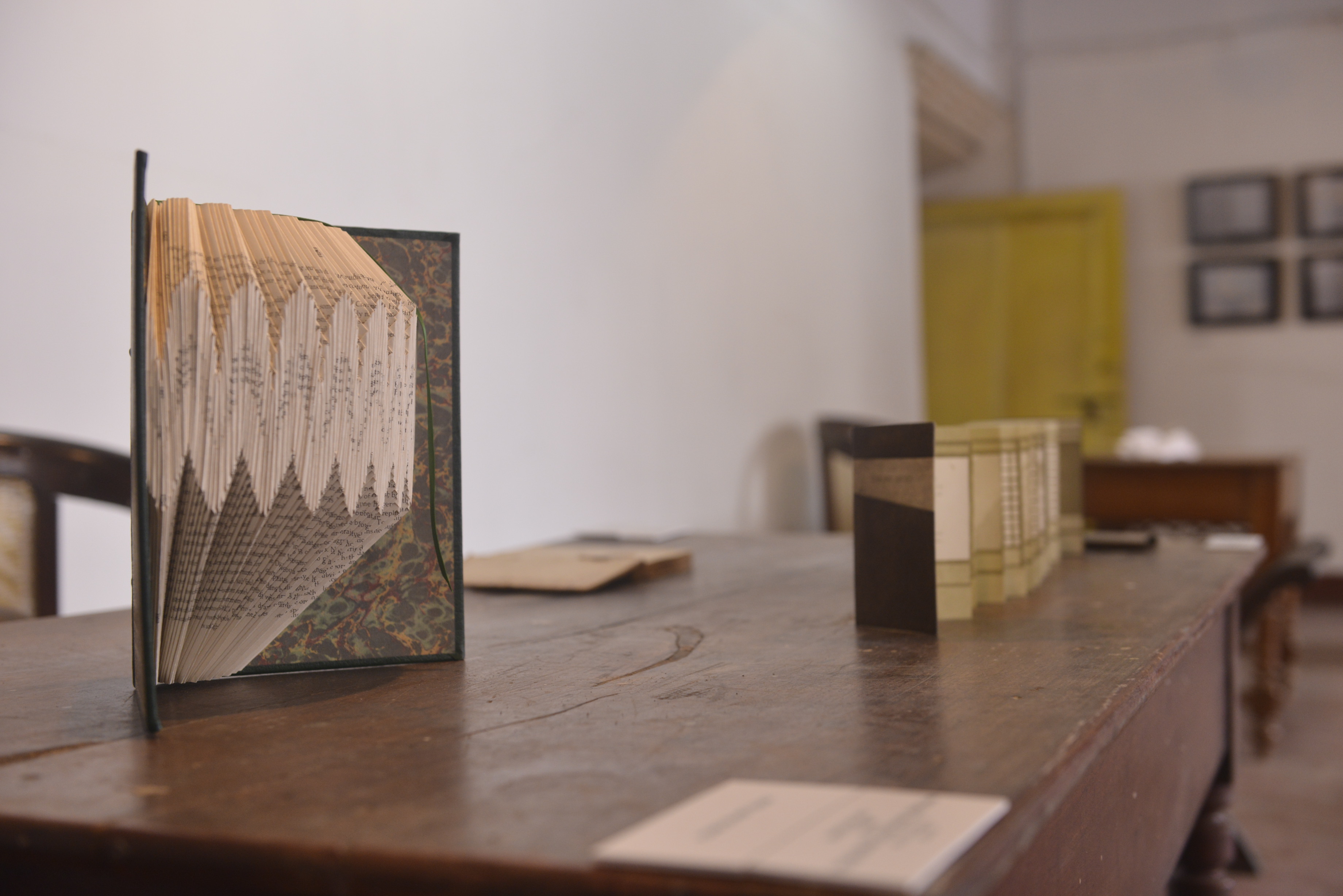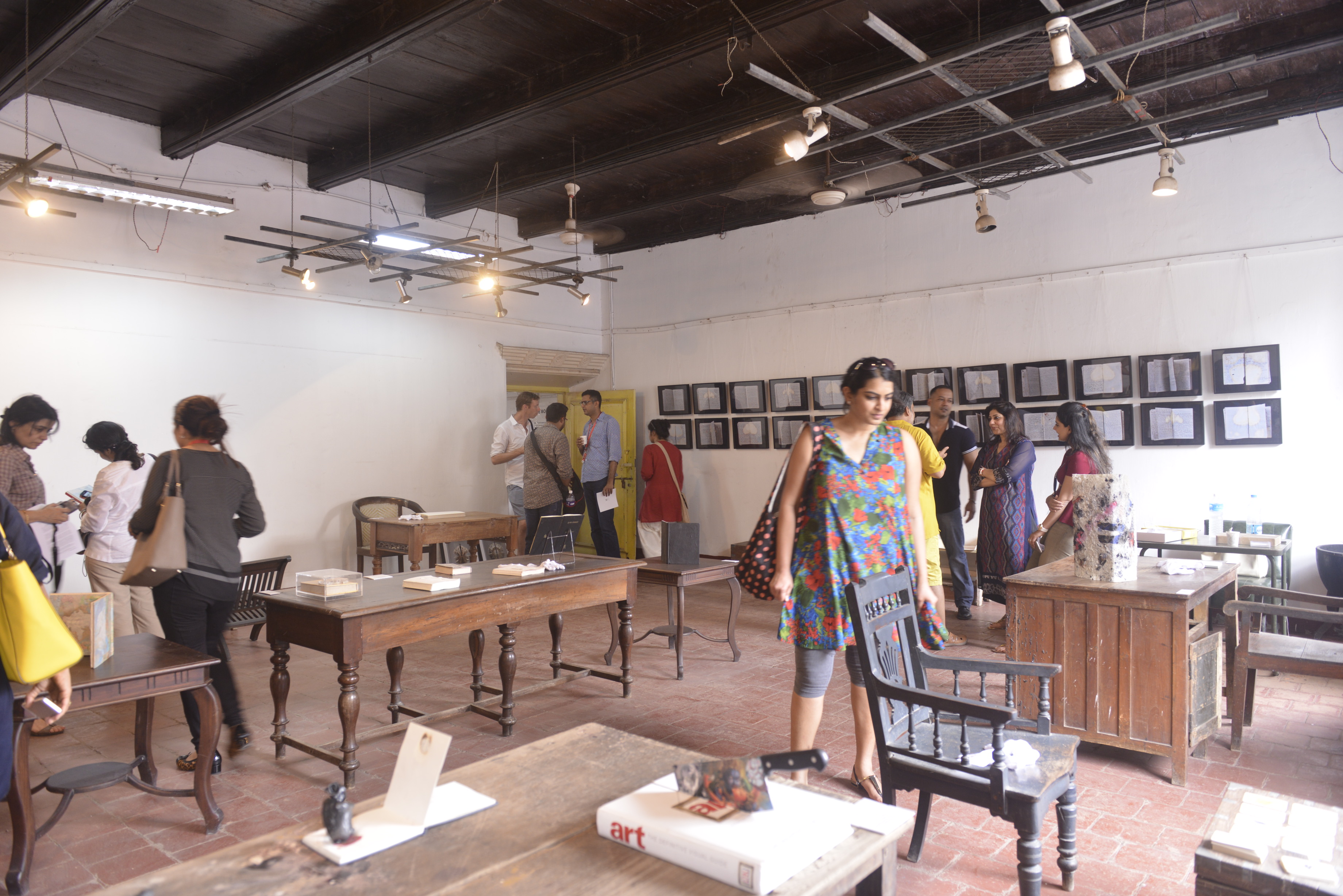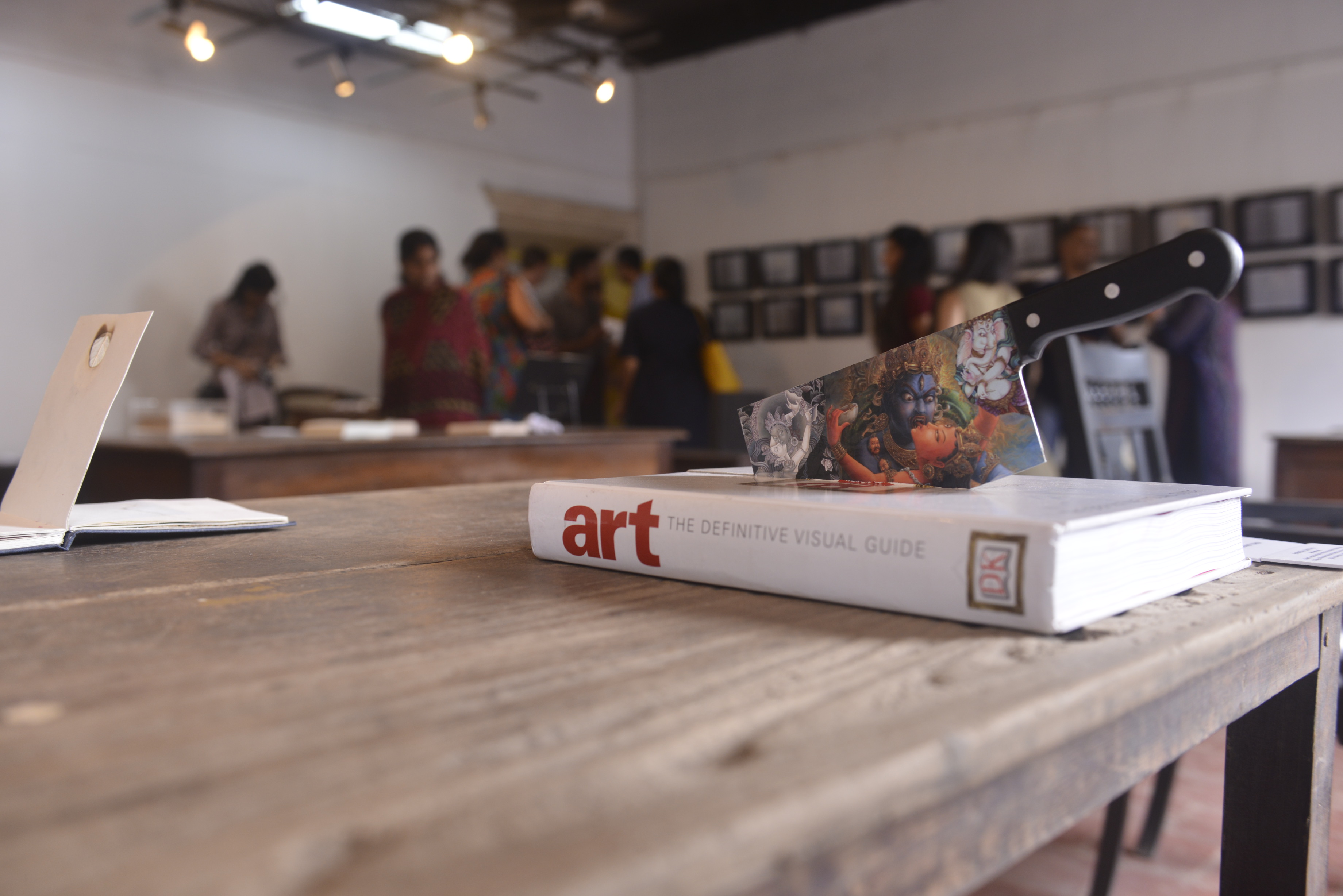 The 'Reading Room' is a journey of discoveries and experiences, of nostalgia and witness; a space where the many and varied perspectives and practices of the book arts find a place of meeting, dialogue and expression.

Book art demands both anaesthetic engagement andcritical conceptual inquiry into the work. Aesthetic engagement with book art requires a paradigm shift reading a different logic in the book: the logic of the visual, textural and cultural. Traditionally, the book has signified knowledge, and can be considered visually embedded cultural site because of this history(consider the manytimes thatbooks havebeen burnt as acts of symbolic violence). It is a site where many versions of history, senses of identity and narratives (both dominant and counter) converge.

The book in contemporary art, is thus an object completely transformed - not just in its structure, but also in its meaning. Walter Benjamin calls this the' renewal of existence'. This sense of renewal is to be experienced in the work of the exhibiting artists brought together in conversation in the 'Reading Room'. The mood is sometimes fantastical and playful, and sometimes evocative and intimate. At its most activist, it stands as a collective resistance to dominant politics and ideologies. And, as the artist, in many ways, works as an interpreter of the book, so will the viewer of the work.

The experience of readingis deeply personal, whether approached with anticipation, curiosity, or sometimes even with hesitation. Thus, the 'Reading Room' invites thereader ofthis spaceto carry with them the memory of this experience in a context created for encounter, discussion, and making meaning.
Artists
Anne Covell
Bandana Tulachan
Banoo Batliboi
Ben Barbour
Deng-Yifu
Jagath Weeresinghe
Kingsley Gunatillake
Layla Gonaduwa
Liz Fernando
Madiha Sikander
Meera Devidayal
M. Abou El Naga
Preksha Tater
Rabindra Shrestha
Radhika Heetiarachi & Shanika Perera
Samanta Batra Mehta
Samit Das
Sarwagya Nenbang (Ubahang)
Satyanand Mohan
Smriti Choudhary
Tanmoy Samanta
Zach Stensen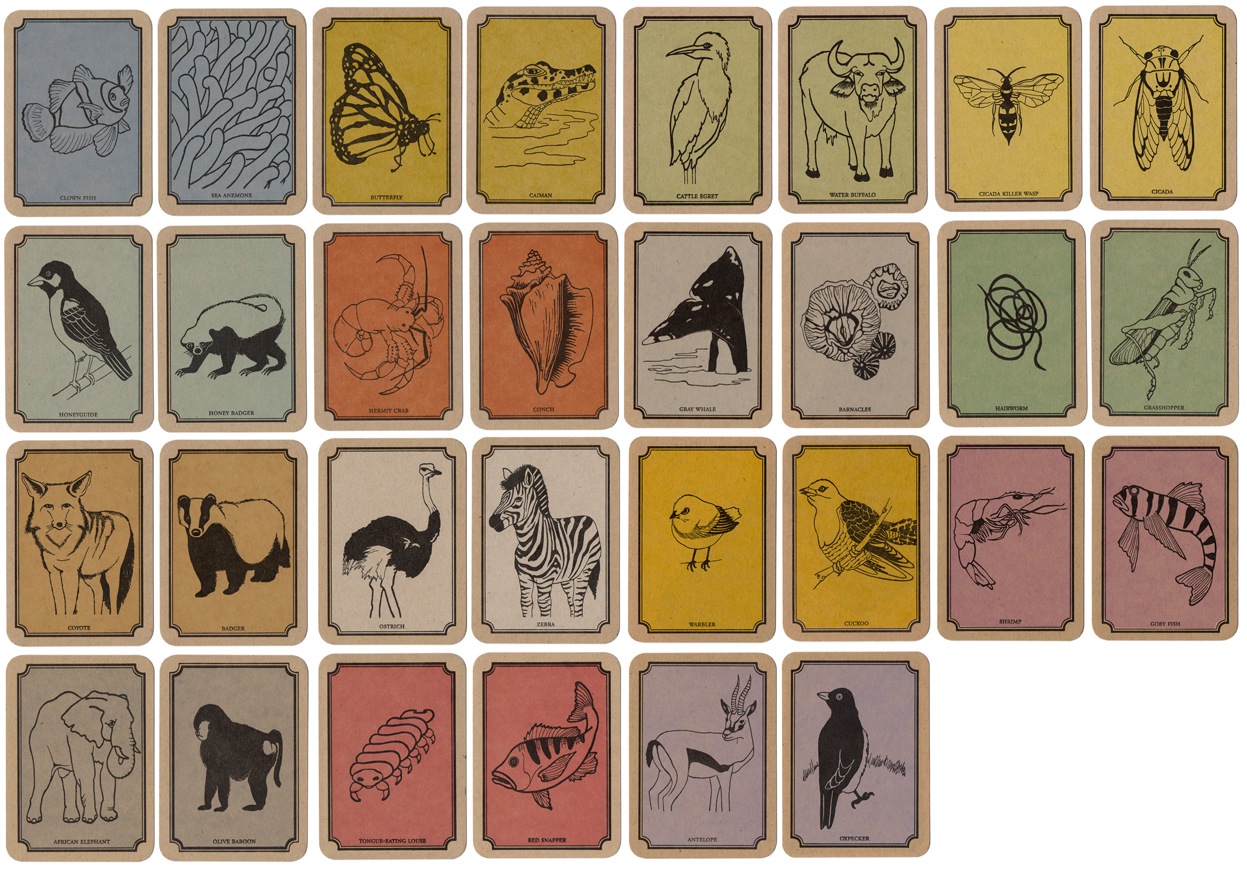 Anne Covell, Natural Order_ A Game of Pairs, Artists book_card game, 30 hand-drawn card illustrations, learning guide and case letterpress printed from polymer, 8.1 cm X 6.25 cm X 1.25 cm, 2012
Reading Room, Kochi Biennale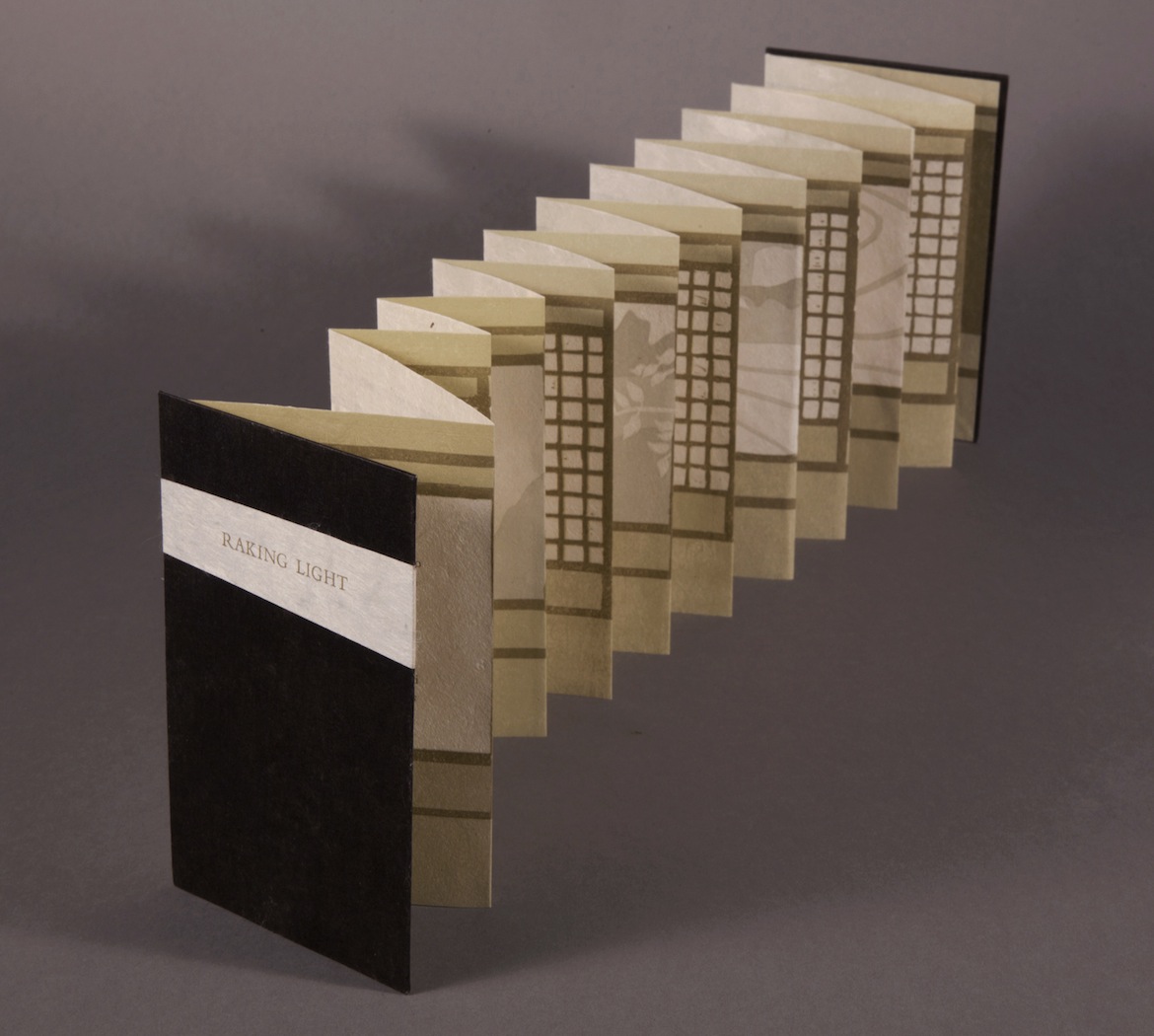 Anne Covell, Raking Light, Accordion, letterpress linoleum reduction, handmade kozo, 12.5 cm x 8.75 cm x 0.65 cm, 2012
Reading Room, Kochi Biennale
Banoo Batliboi, Age of Shiva, Digital print on metallic paper, 47 cm x 37 cm, 2014
Reading Room, Kochi Biennale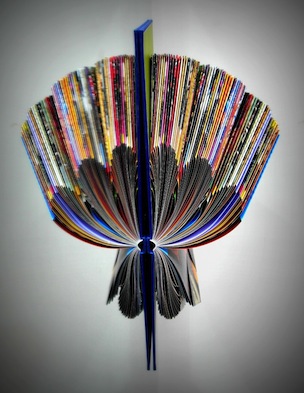 Banoo Batliboi, Pacific patterns, Digital print on metallic paper, 47 cm x 37 cm, 2014
Reading Room, Kochi Biennale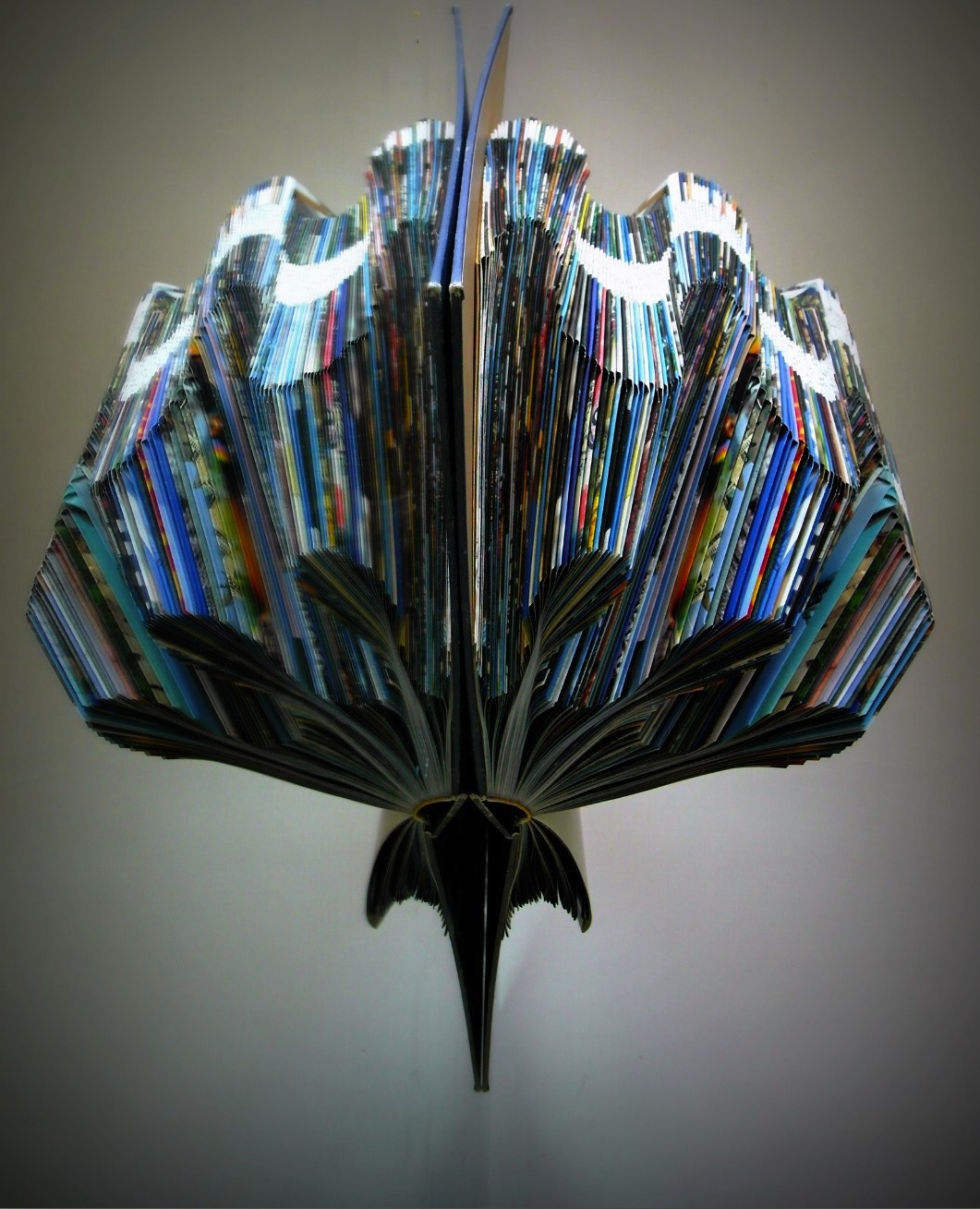 Banoo Batliboi, The travel book, Digital print on metalic paper, 47 cm x 37 cm, 2014
Reading Room, Kochi Biennale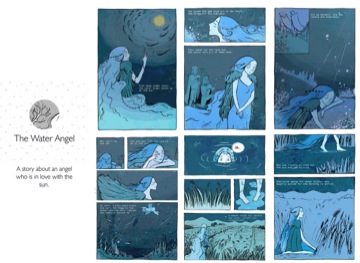 Bandana Tulachan, Bun Dyo of the Rain and other short stories, 80 pages, 80 gsm off white paper, case bound, Edition 1, self published
Reading Room, Kochi Biennale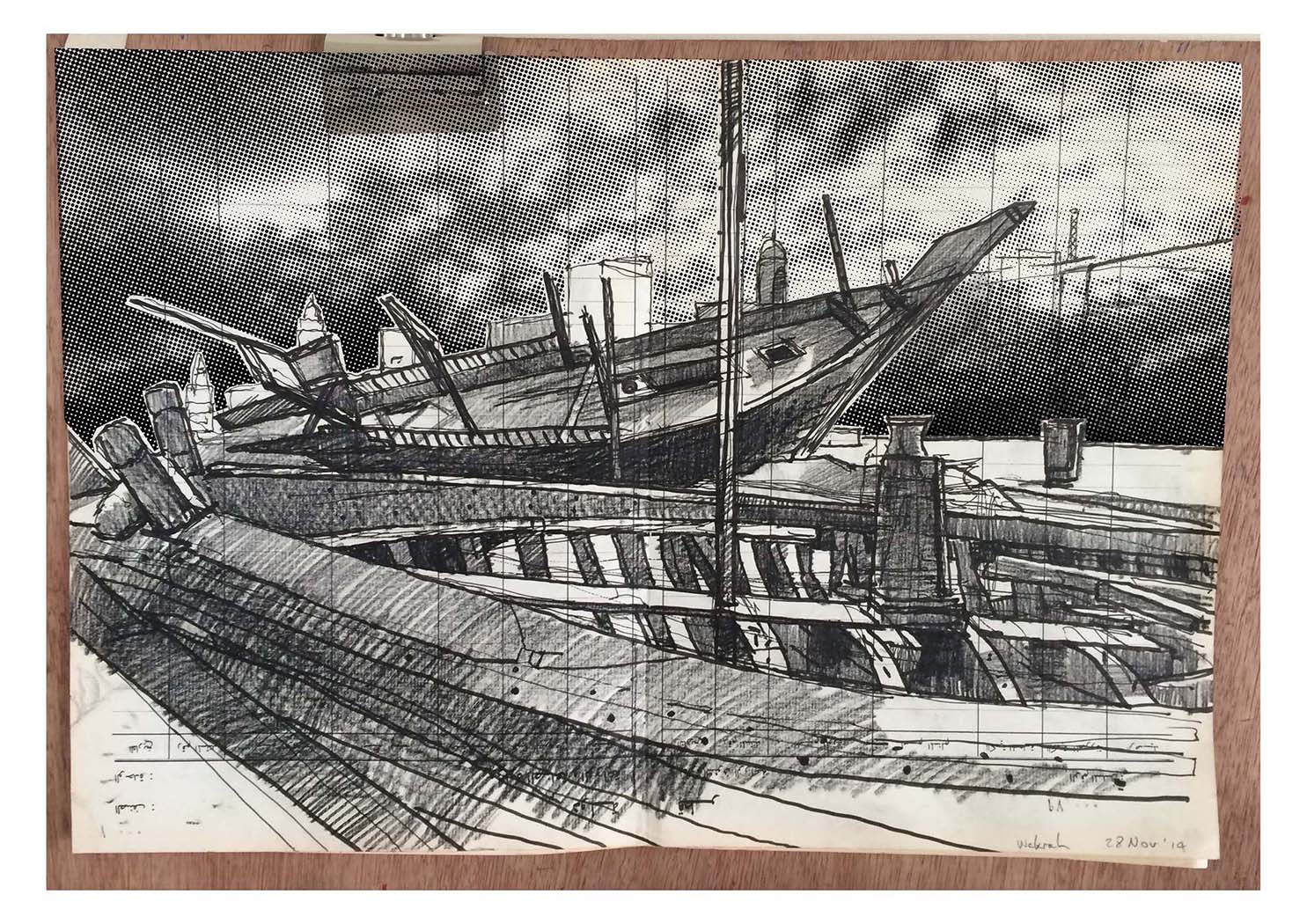 Ben Barbour, Abandoned Dhows, Al Wakrah, Mixed media on a page from a discarded ledger book from the Ministry of Agriculture & Industry, Qatar, 35 cm x 50 cm
Reading Room, Kochi Biennale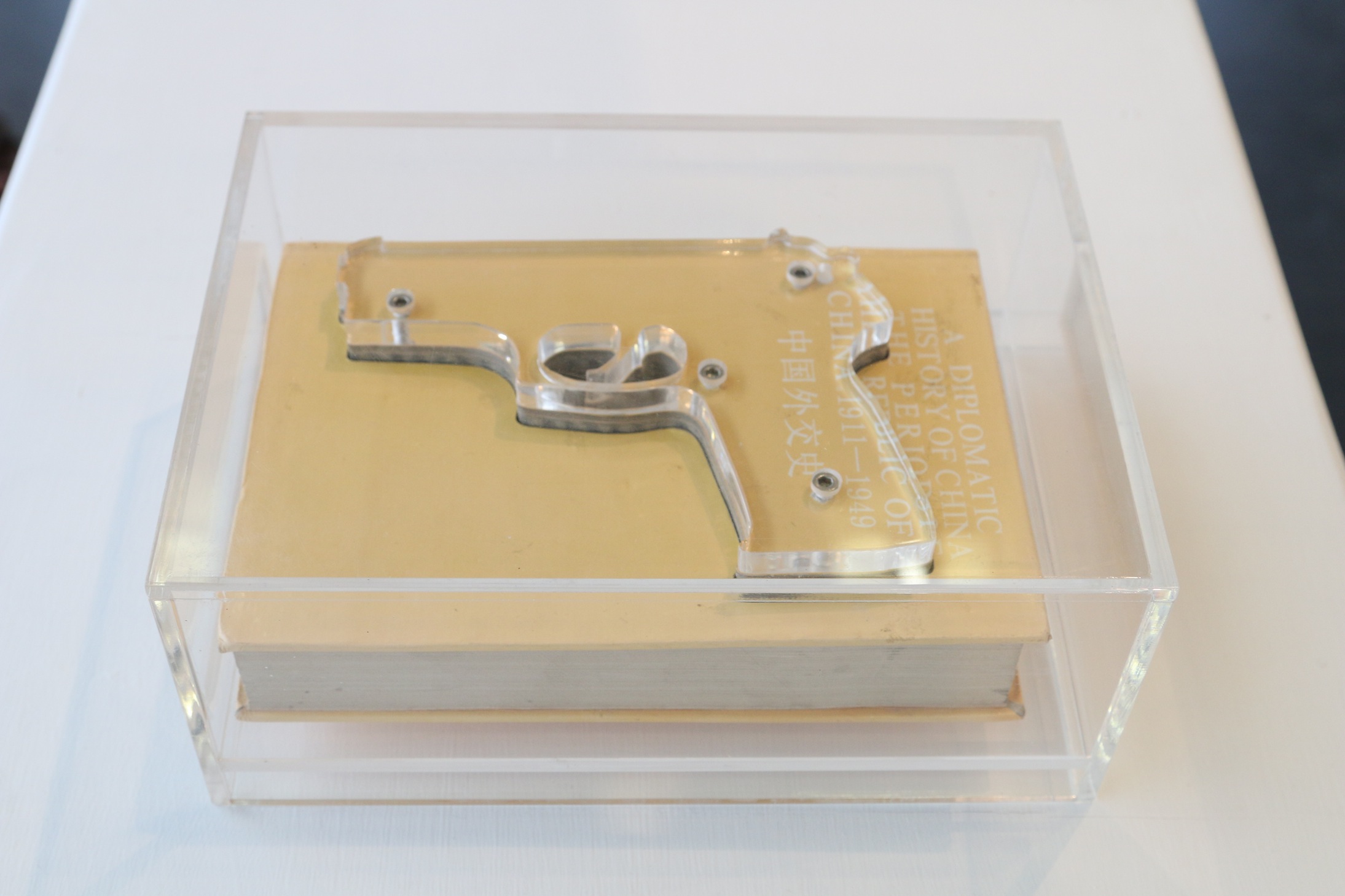 Deng Yifu, Diplomatic History (Y1145-Gun), Book and Perspex with Screws, 20.3 cm x 14 cm x 4.2 cm, 2003-05
Reading Room, Kochi Biennale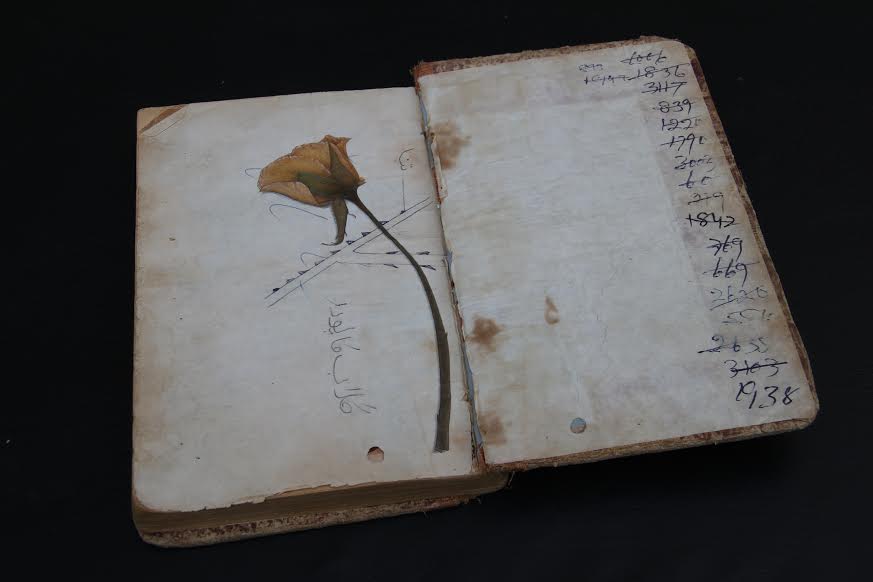 Madiha Sikander, Roses are Red, Gadrung on paper, 11.5 cm x 17.5 cm x 1.25 cm, 2014
Reading Room, Kochi Biennale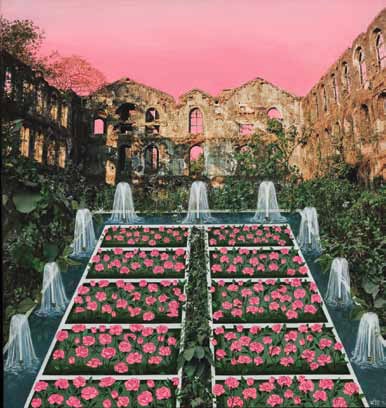 Meera Devidayal, Into the Rose Garden, Artist book, Digital print on photo paper, 2014
Reading Room, Kochi Biennale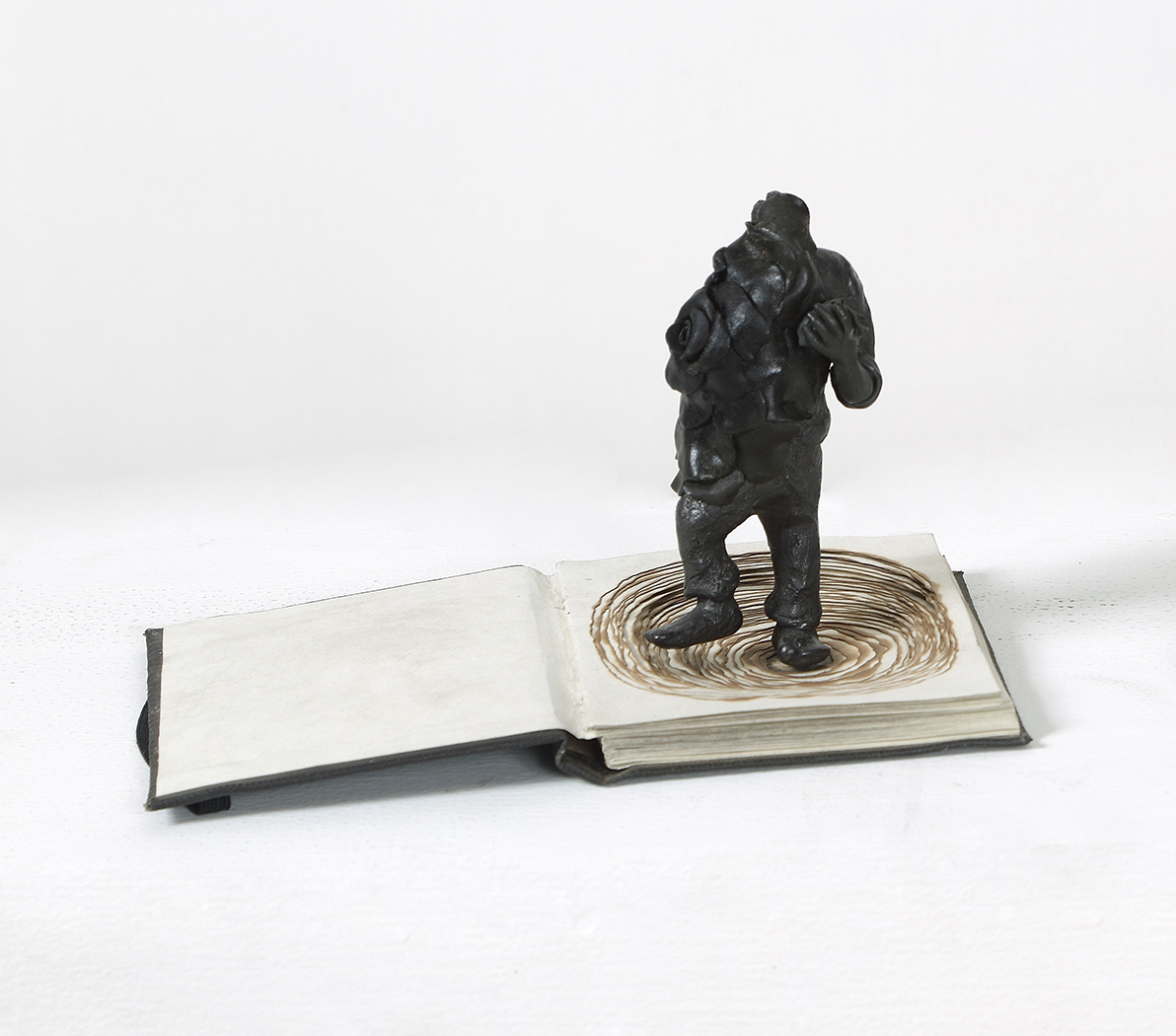 Preksha Tater, I feel..., Sketchbook and e-proxy composed, 21.5 cm x 13.5 cm x 12.5 cm
Reading Room, Kochi Biennale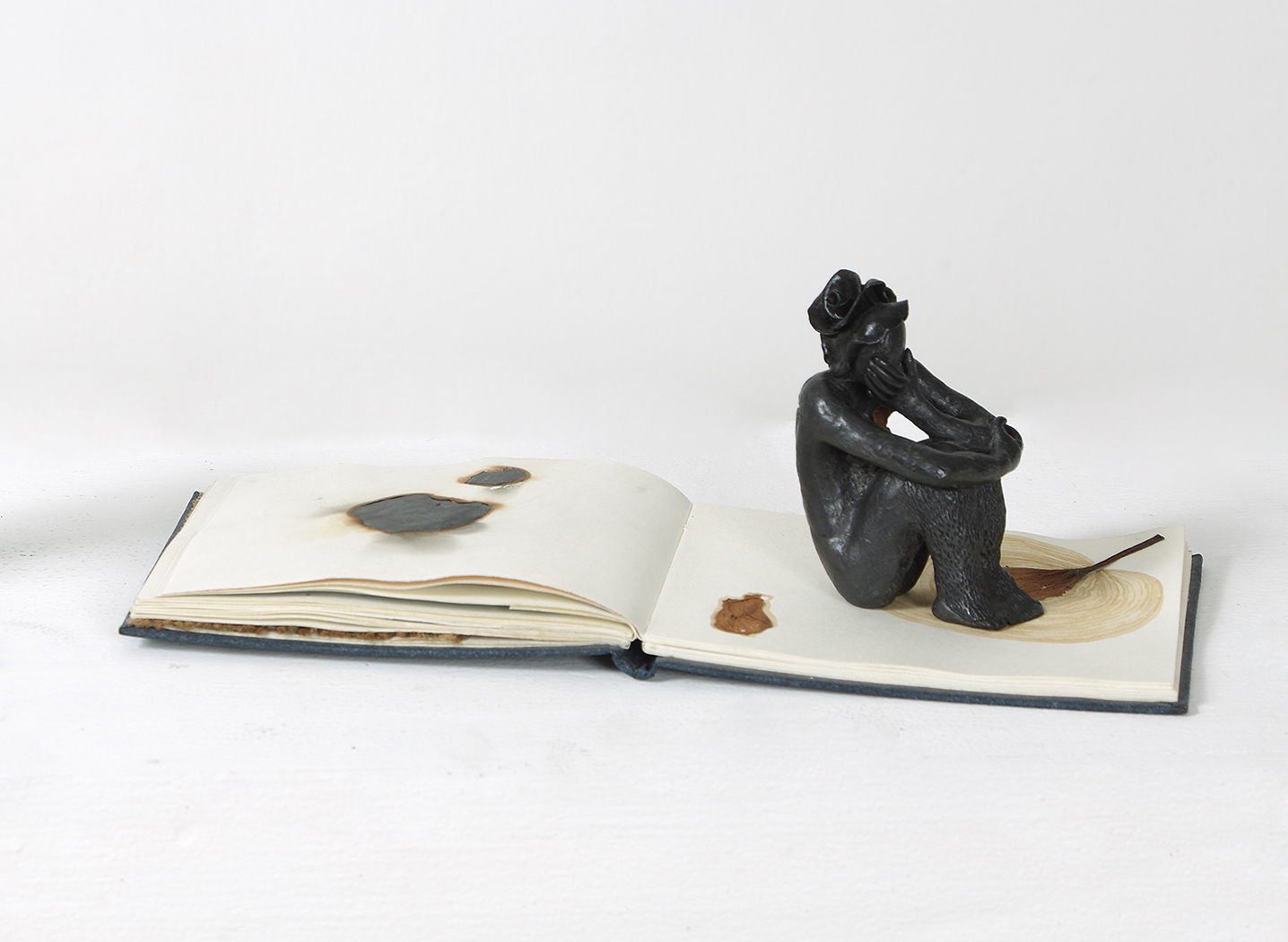 Preksha Tater, _I feel....., Sketchbook and e-proxy composed, 27.5 cm x 12.5 cm x 10 cm
Reading Room, Kochi Biennale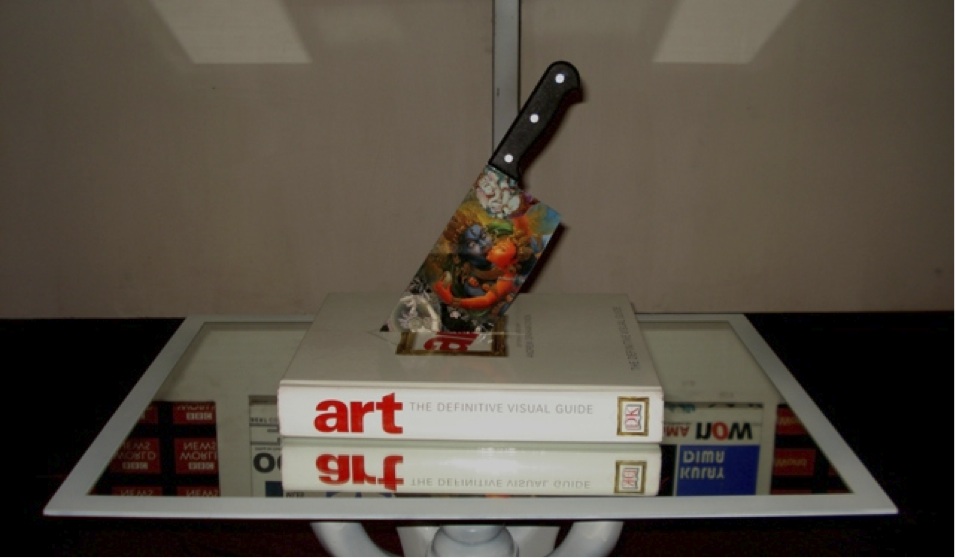 Rabindra Shreshta, Vs (versus), Sketchbook and e-proxy composed, 53.5 cm x 34 cm X 12.5 cm
Reading Room, Kochi Biennale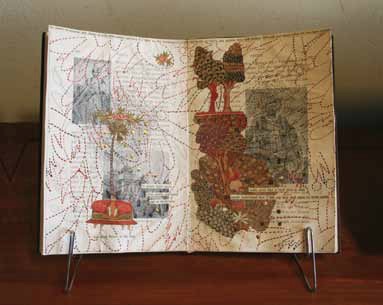 Samanta Batra Mehta, The Anthropology of Time, Antiquarian books, Ink, graphite, gesso, 23k gold leaf , plastic plants, 2012
Reading Room, Kochi Biennale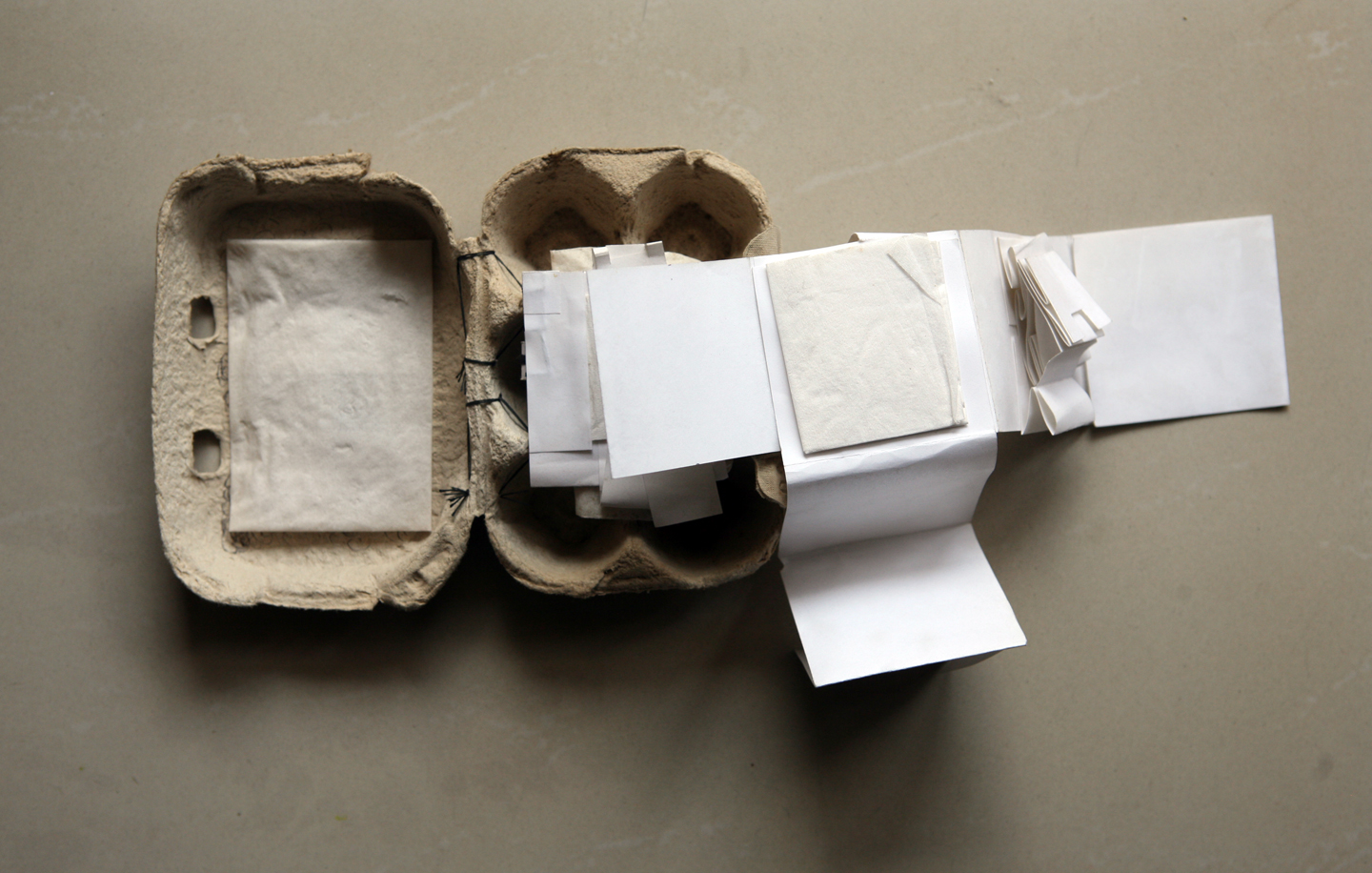 Samit Das, Vibrations and Silence-4, Card board egg box & paper, Hand stitched Unique Artwork, 16.5 cm x 11 cm x 6.5 cm (Egg box), variable when unfolded, 2002
Reading Room, Kochi Biennale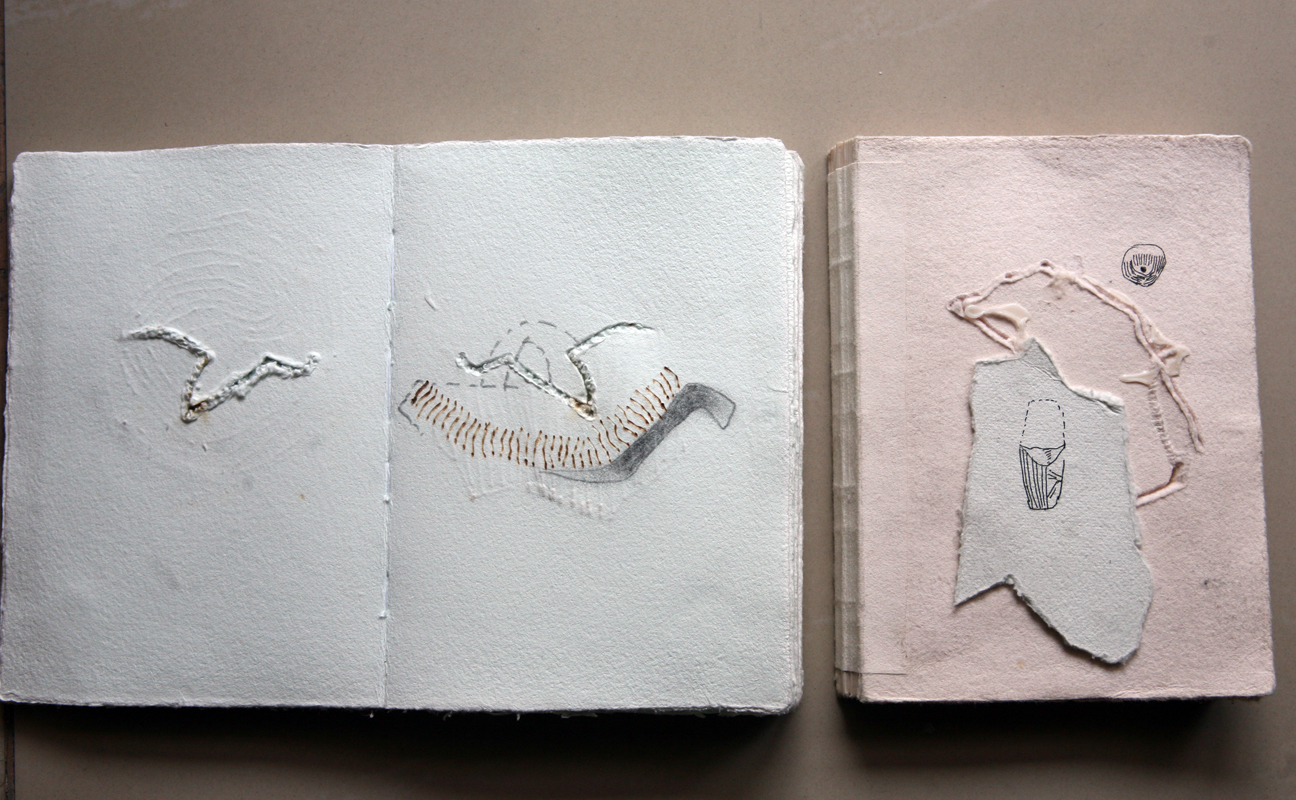 Samit Das, Vibrations and Silence-5, Drawing ink on acid free handmade paper, pencil, cut out and burnt lines, Set of two books, Unique artist books, 21 cm x 15 cm x 3 cm and 21 cm x 15 cm x 2 cm, 2013
Reading Room, Kochi Biennale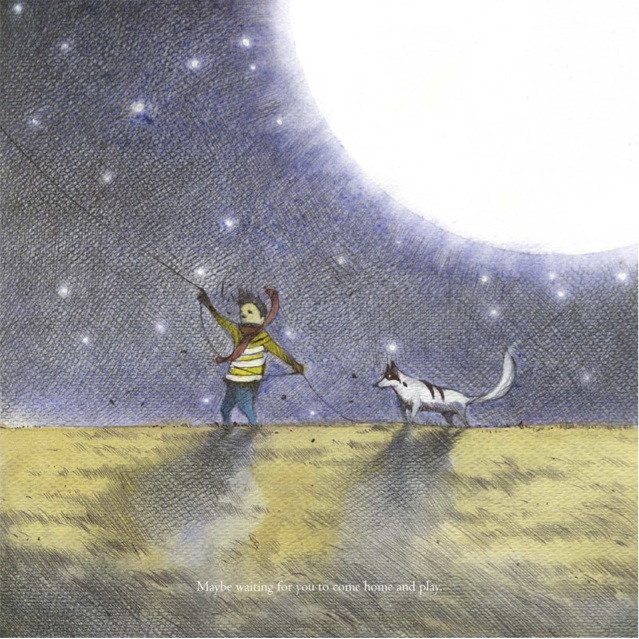 Sarwagya Nembang (Ubahang), A Place Called Home, 32 pages, special ivory paper, hard-bound, edition 1 (6 copies)
Reading Room, Kochi Biennale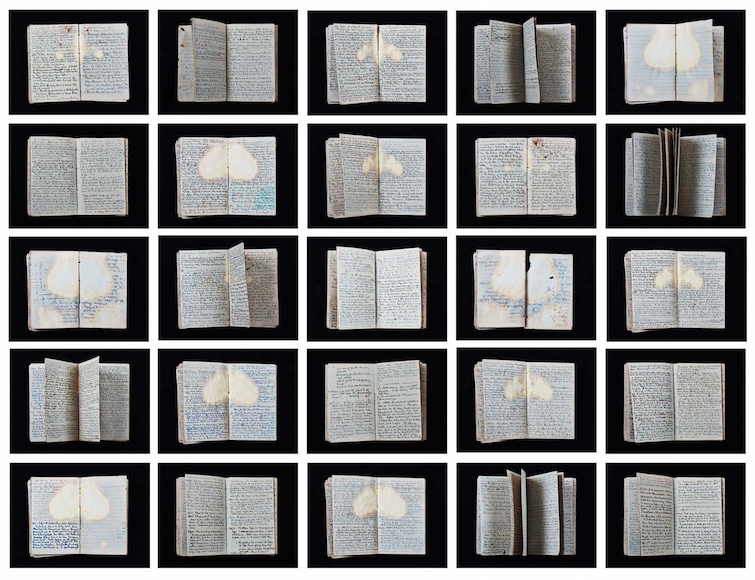 Sathyanand Mohan , Chronical, set of 25 photographs, 40 cm x 60 cm (each), 2013
Reading Room, Kochi Biennale

Tanmoy Samanta, The Cartographer's Paradox, Recycled book, paperboard & gouache on rice paper, 22.5 cm x 37.5 cm x 2.5 cm, 2014
Reading Room, Kochi Biennale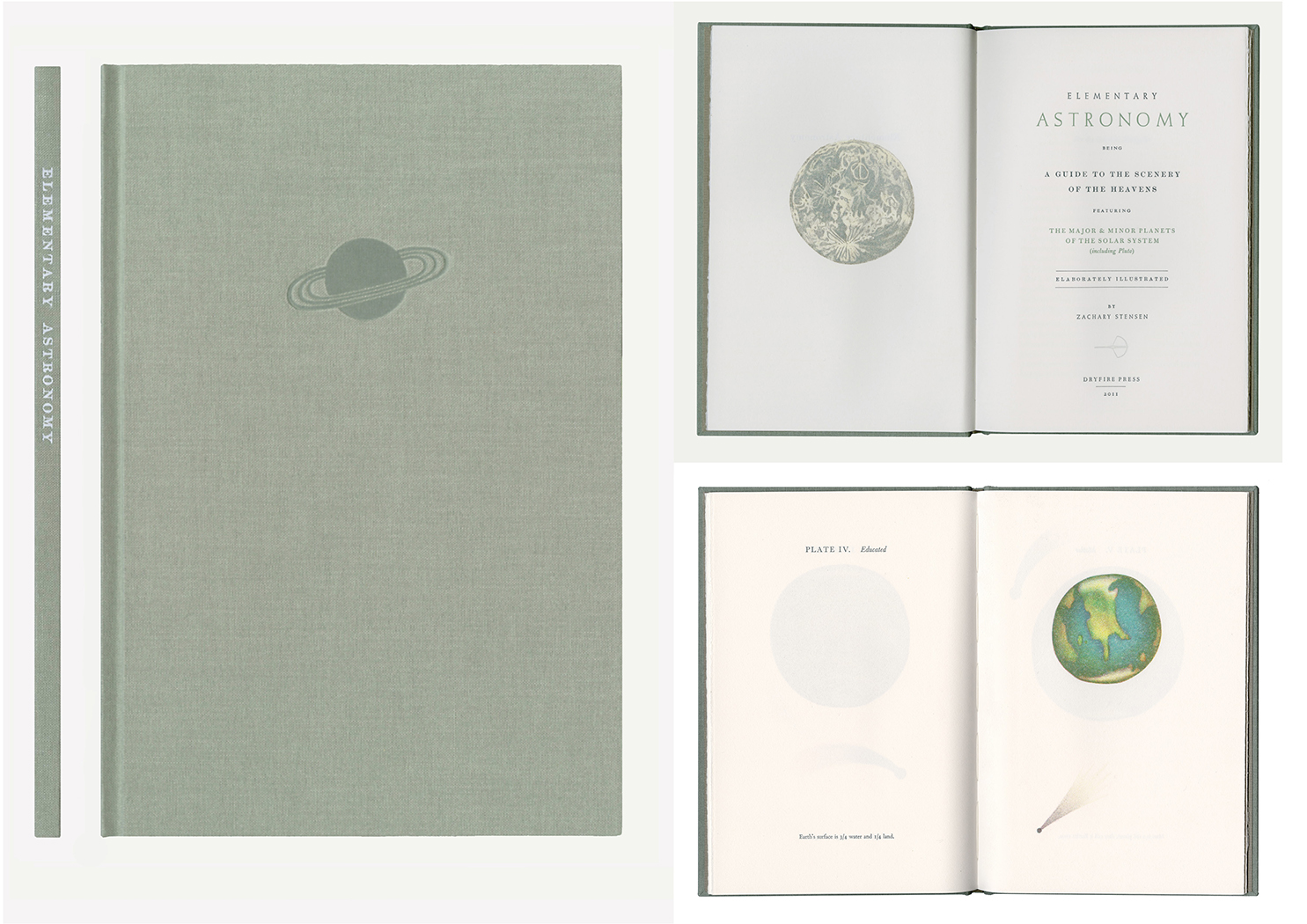 Zach Stensen, Elementary Astronomy, Dryfire Press, 15.7 cm x 23.2 cm, 29 pages Edition of 22, 2011
Reading Room, Kochi Biennale

Installation
Reading Room, Kochi Biennale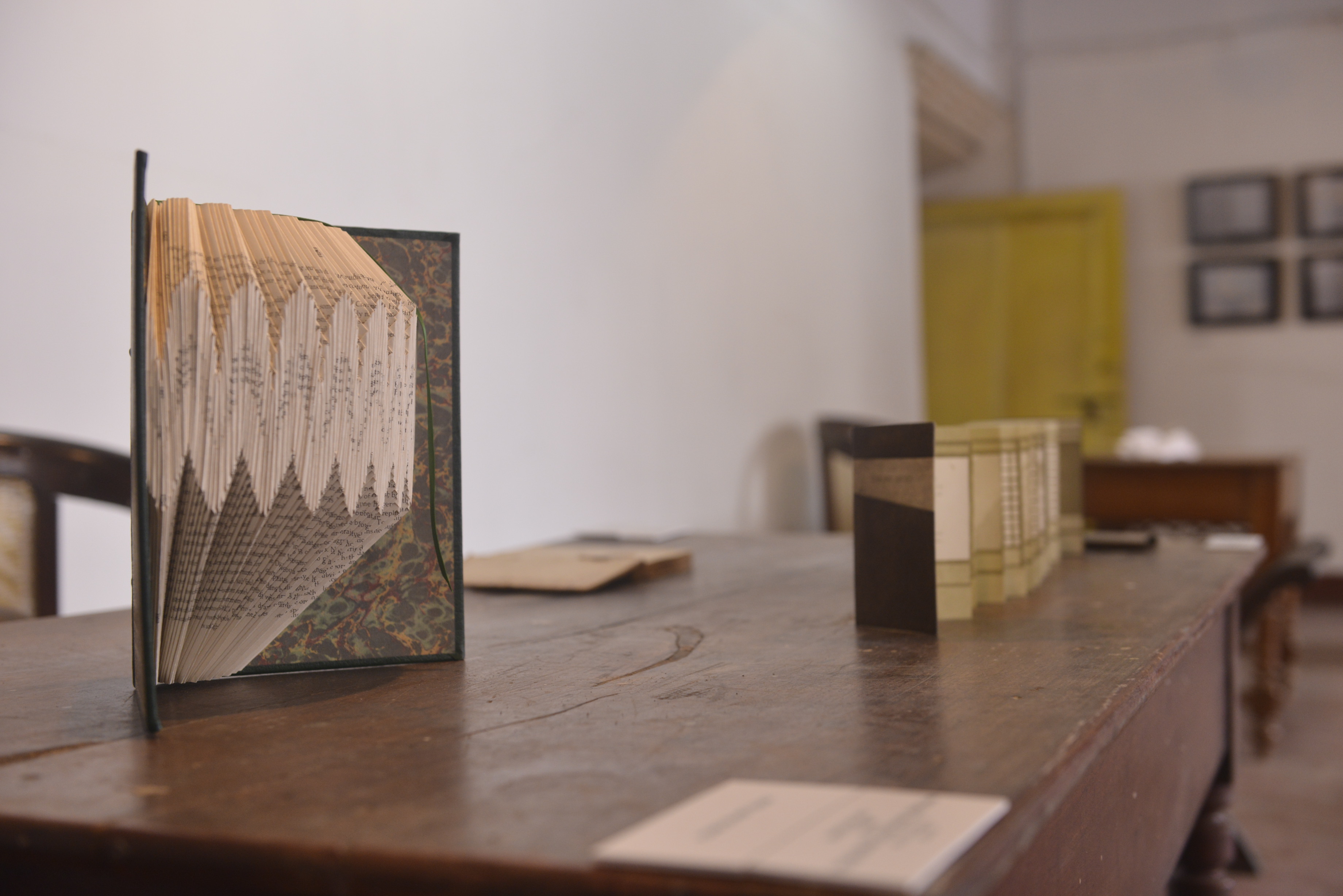 Installation
Reading Room, Kochi Biennale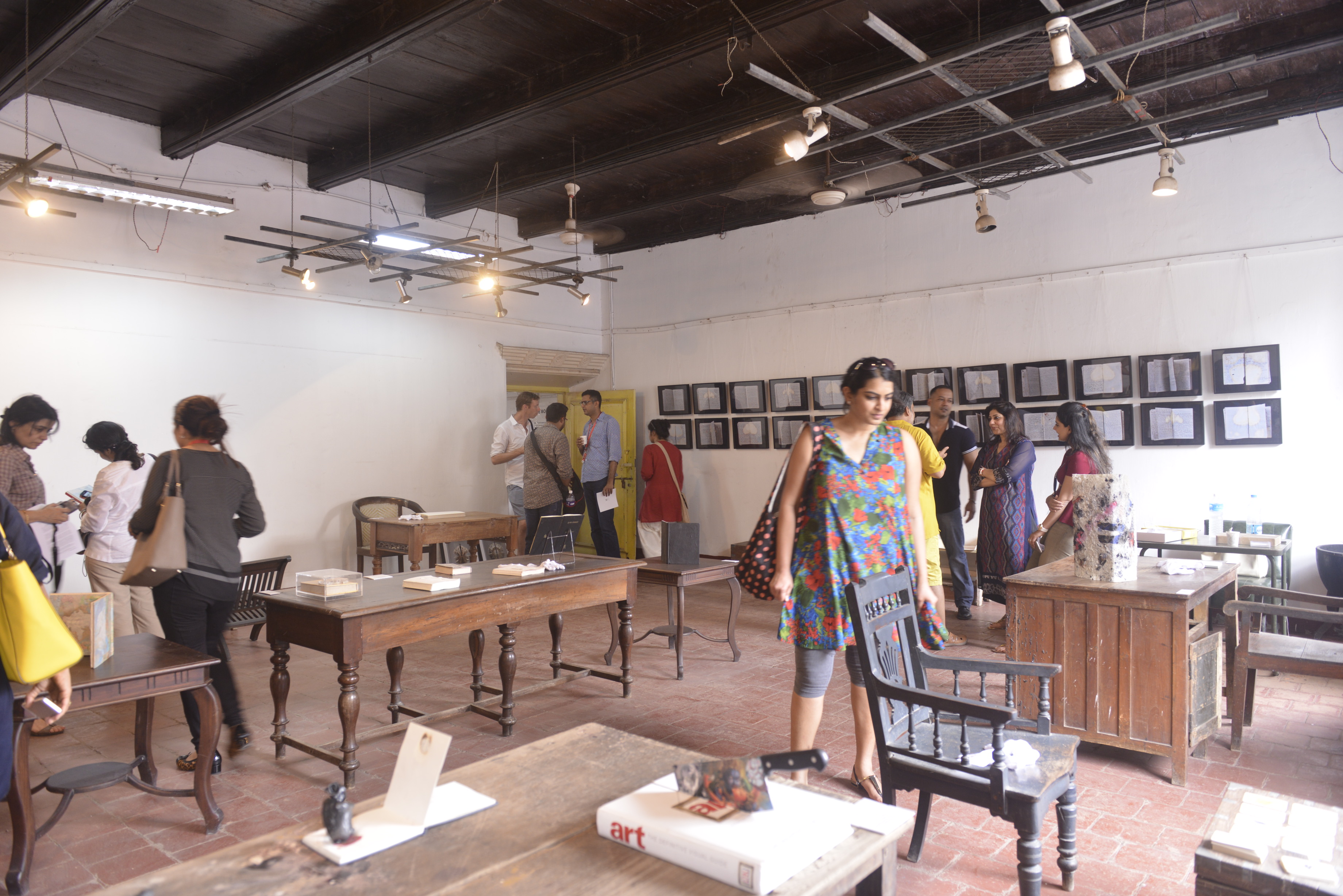 Installation
Reading Room, Kochi Biennale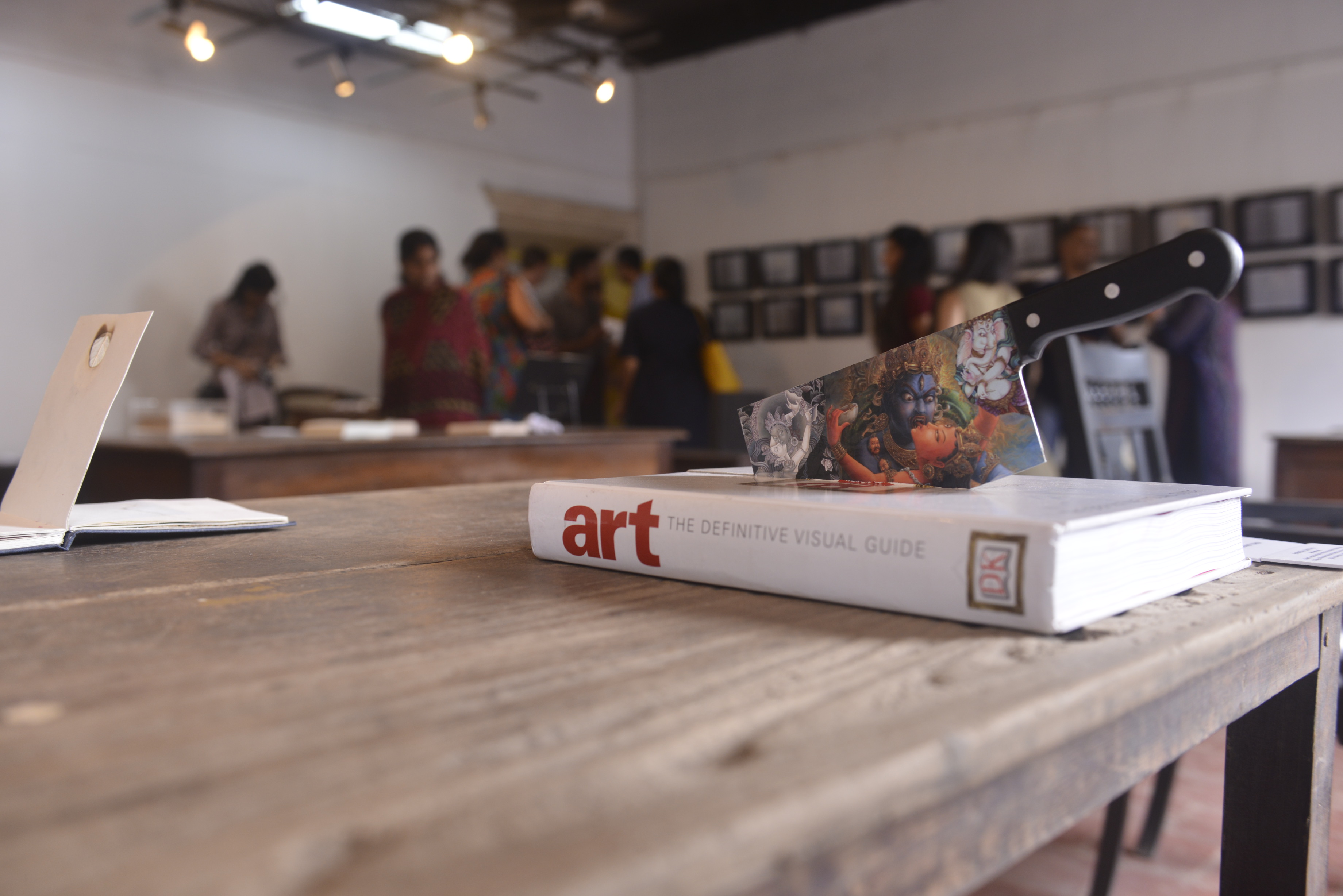 Installation
Reading Room, Kochi Biennale