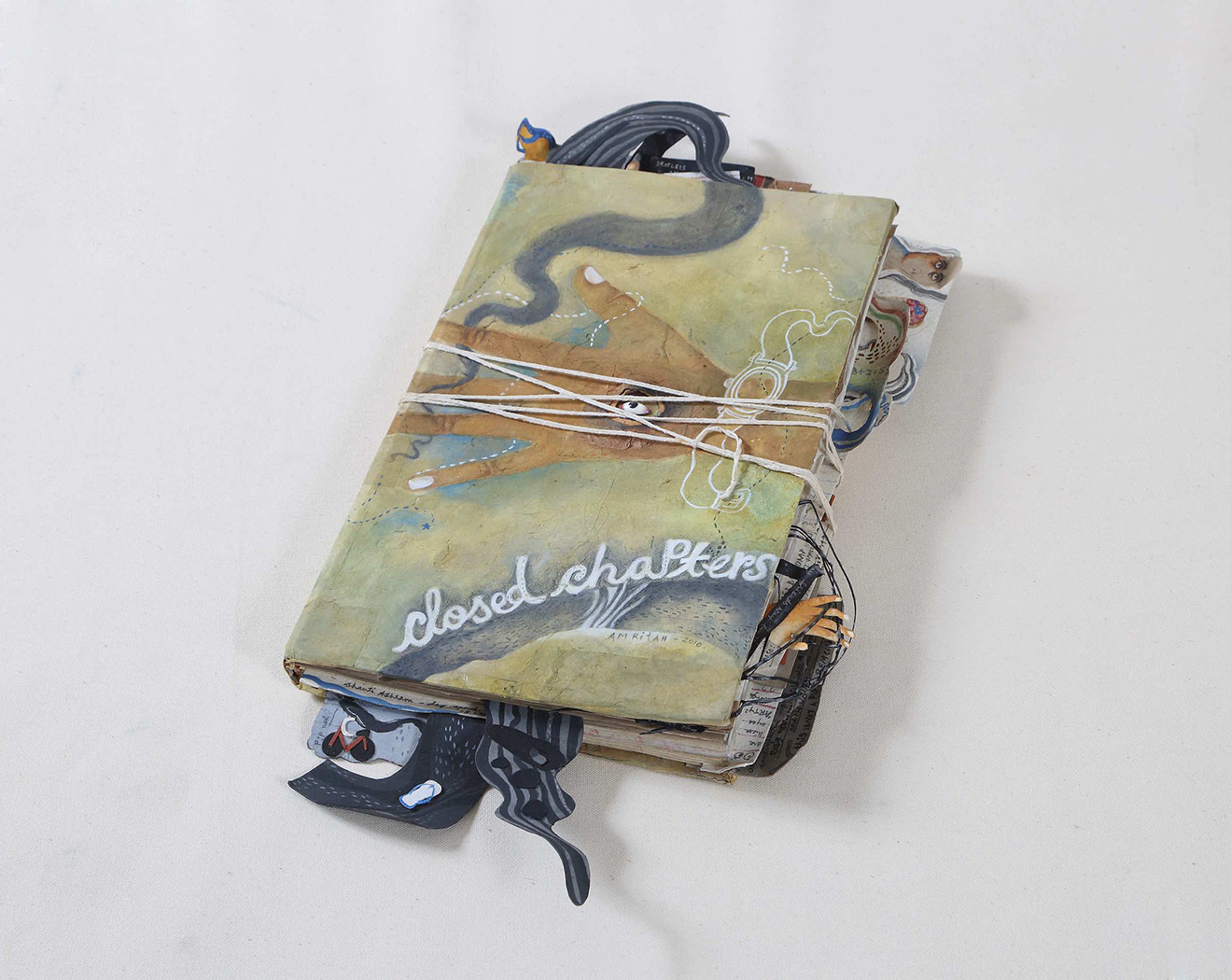 Amritah Sen, Closed Chapter, A modified exercise copy with water colour, paper collage, thread and ceramic eye, 54 cm x 27.5 cm x 5.5 cm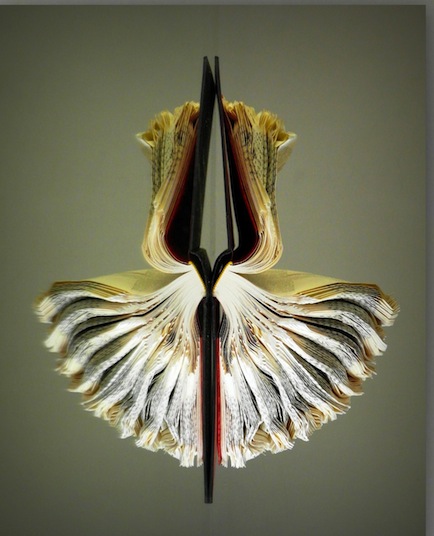 Banoo Batliboi, Age of Shiva, Digital print on metallic paper, 47 cm x 37 cm, 2014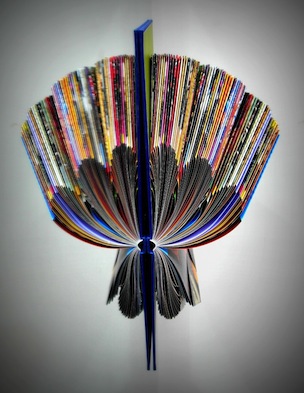 Banoo Batliboi, Pacific patterns, Digital print on metallic paper, 47 cm x 37 cm, 2014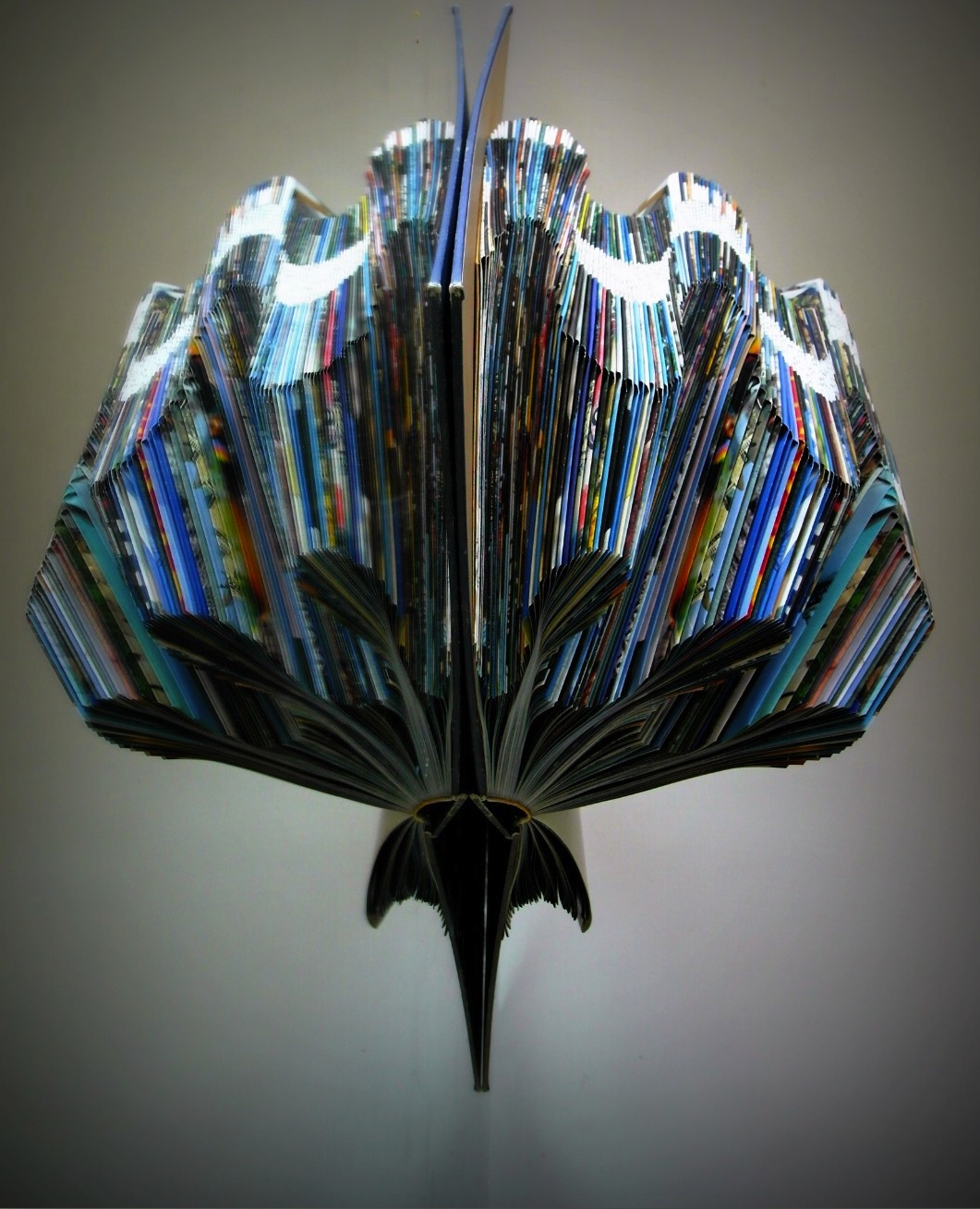 Banoo Batliboi, The travel book, Digital print on metalic paper, 47 cm x 37 cm, 2014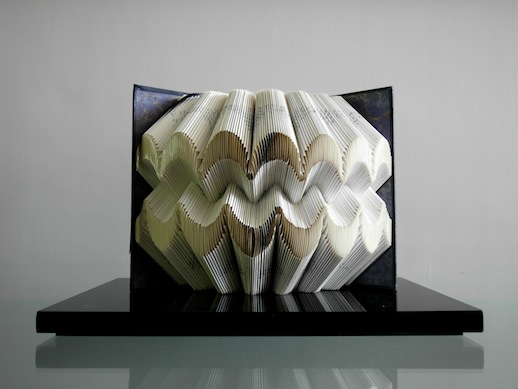 Banoo Batliboi, Clam, Vintage leather bound books folded anew, 40 cm x 22.5 cm x 27.5 cm, 2015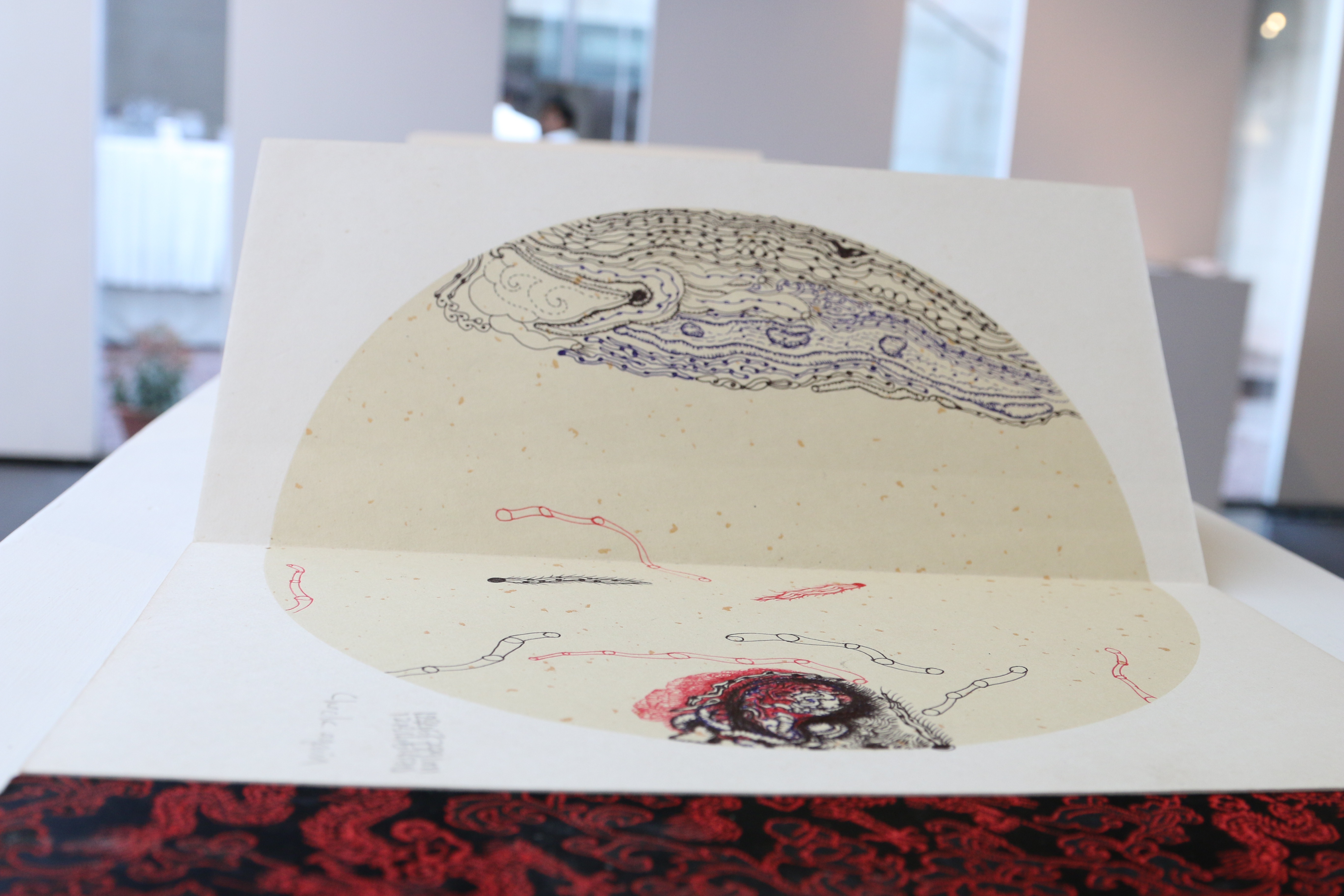 Jagath Weerasinghe, Cause of Illness, Mixed media on paper , 315 cm x 31.5 cm, 2011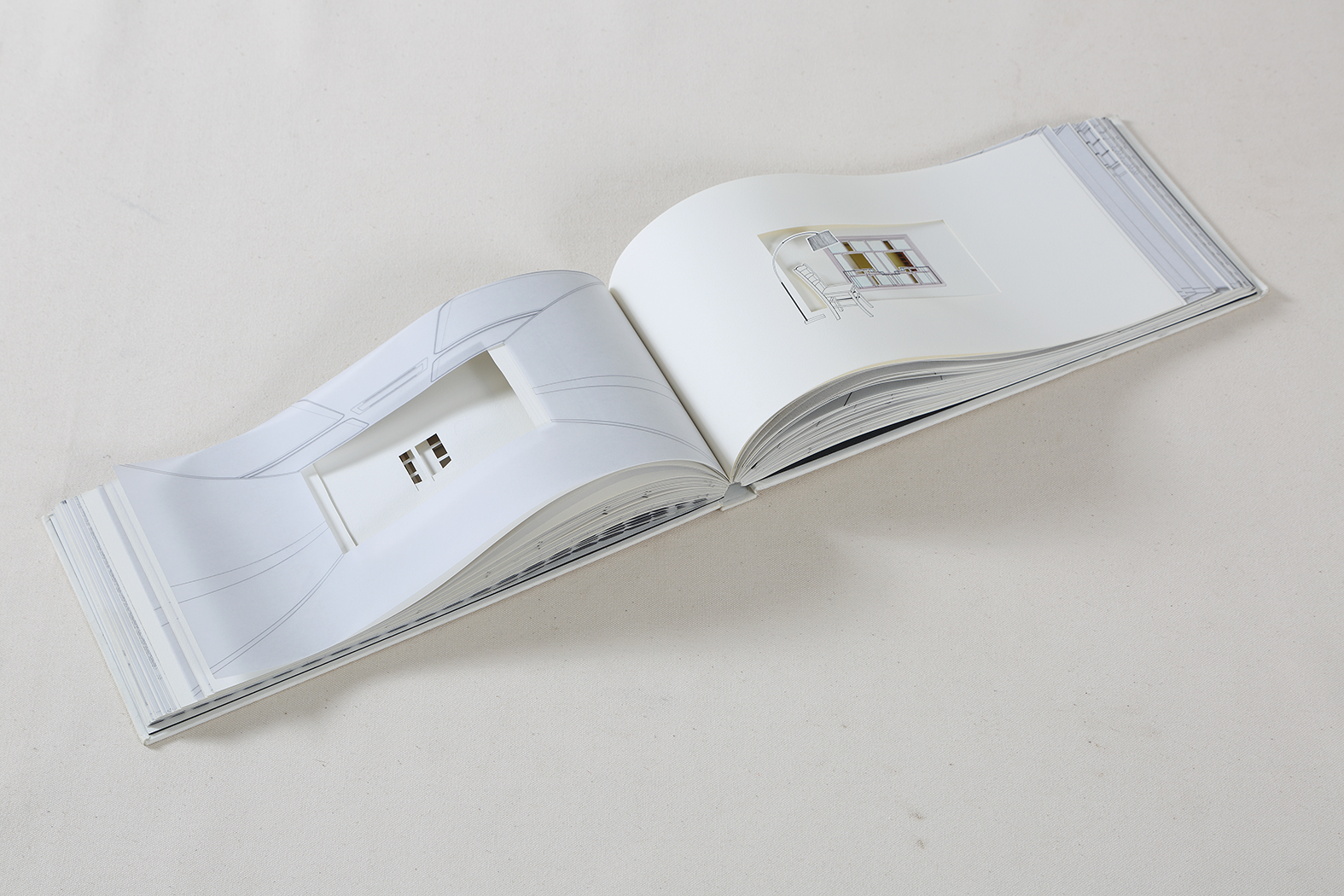 Katsushi Goto & Vishwa Shroff, Postulating Premises, Artists book- inkjet printing on grey transparencies and Somerset paper, 15.2 cm x 30.5 cm (Edition of 10)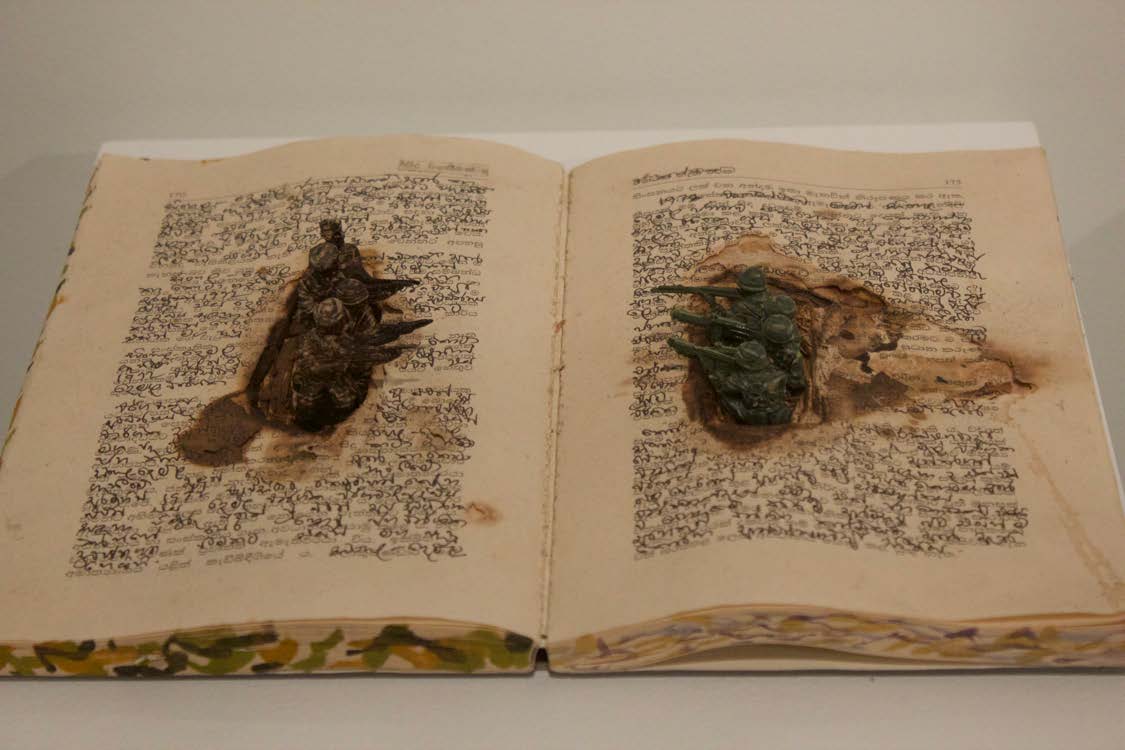 Kingsley Gunatilake, Bullet Book, Used books and toy soldiers, 27.5 cm x 21 cm x 2 cm, 2014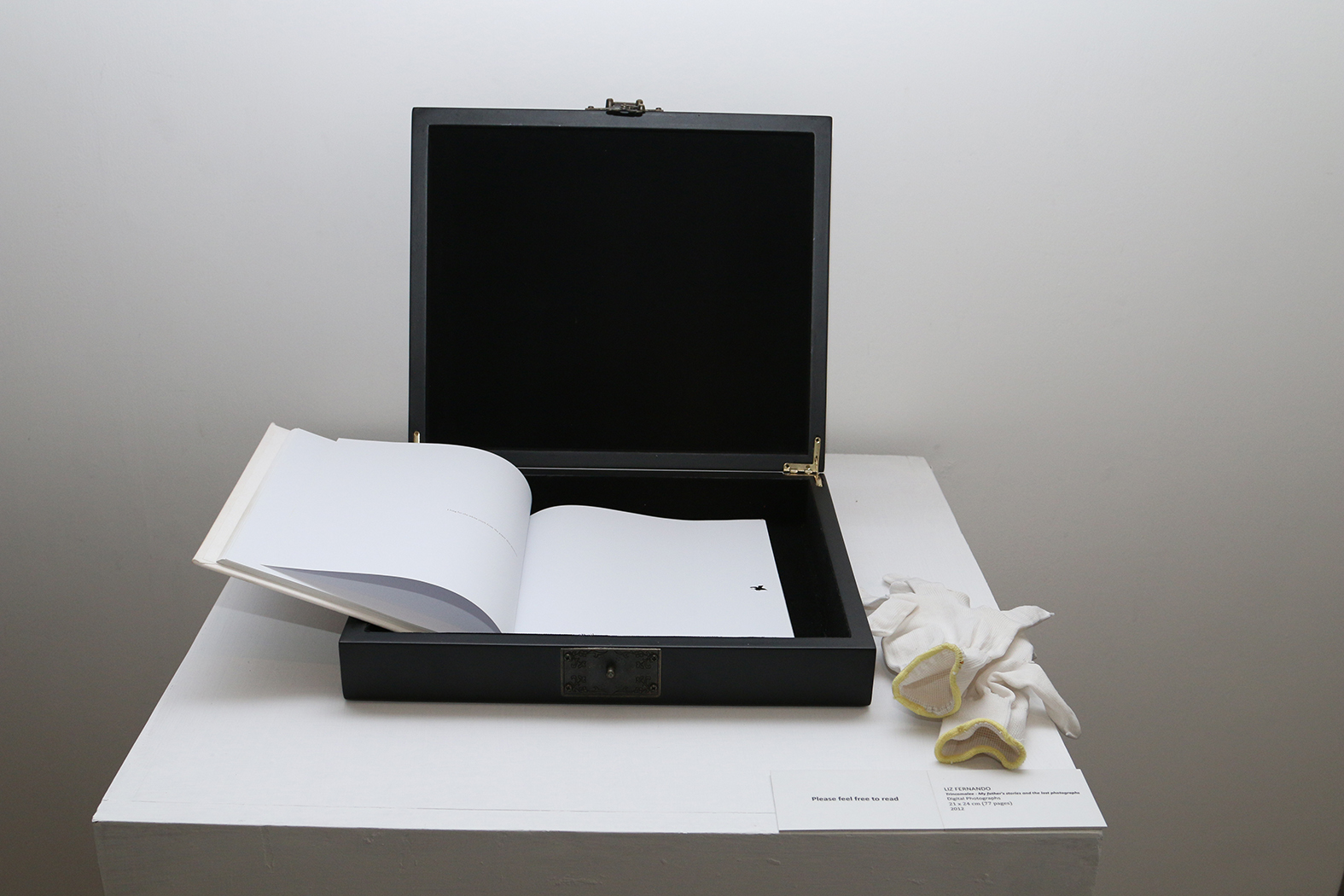 Liz Fernando, Trincomalee - My father's stories and the lost photographs, Digital Photographs,  24 cm x 21 cm (77 pages), 2012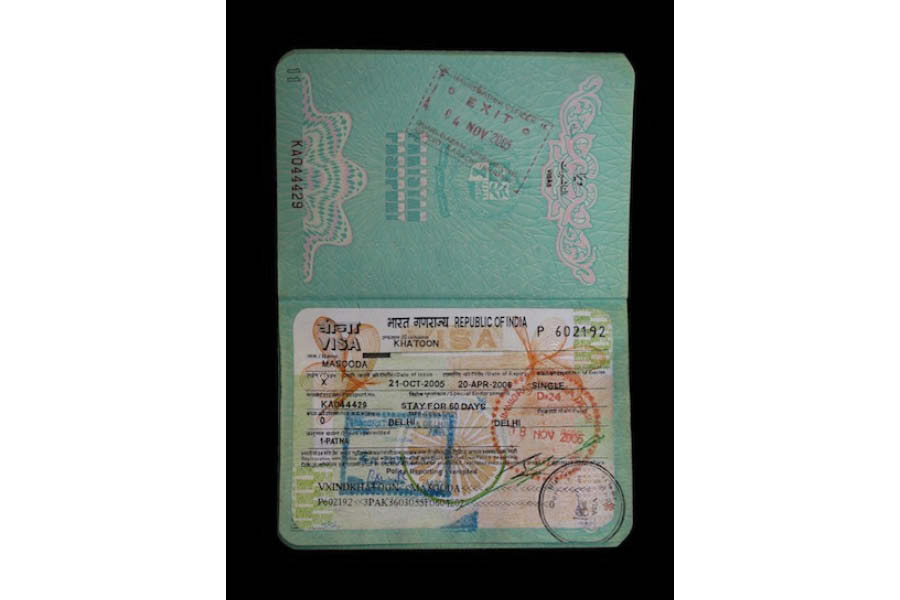 Madiha Sikander, Home Away from Home, Gadrung on paper, 17.5 cm x 12. 5 cm, 2015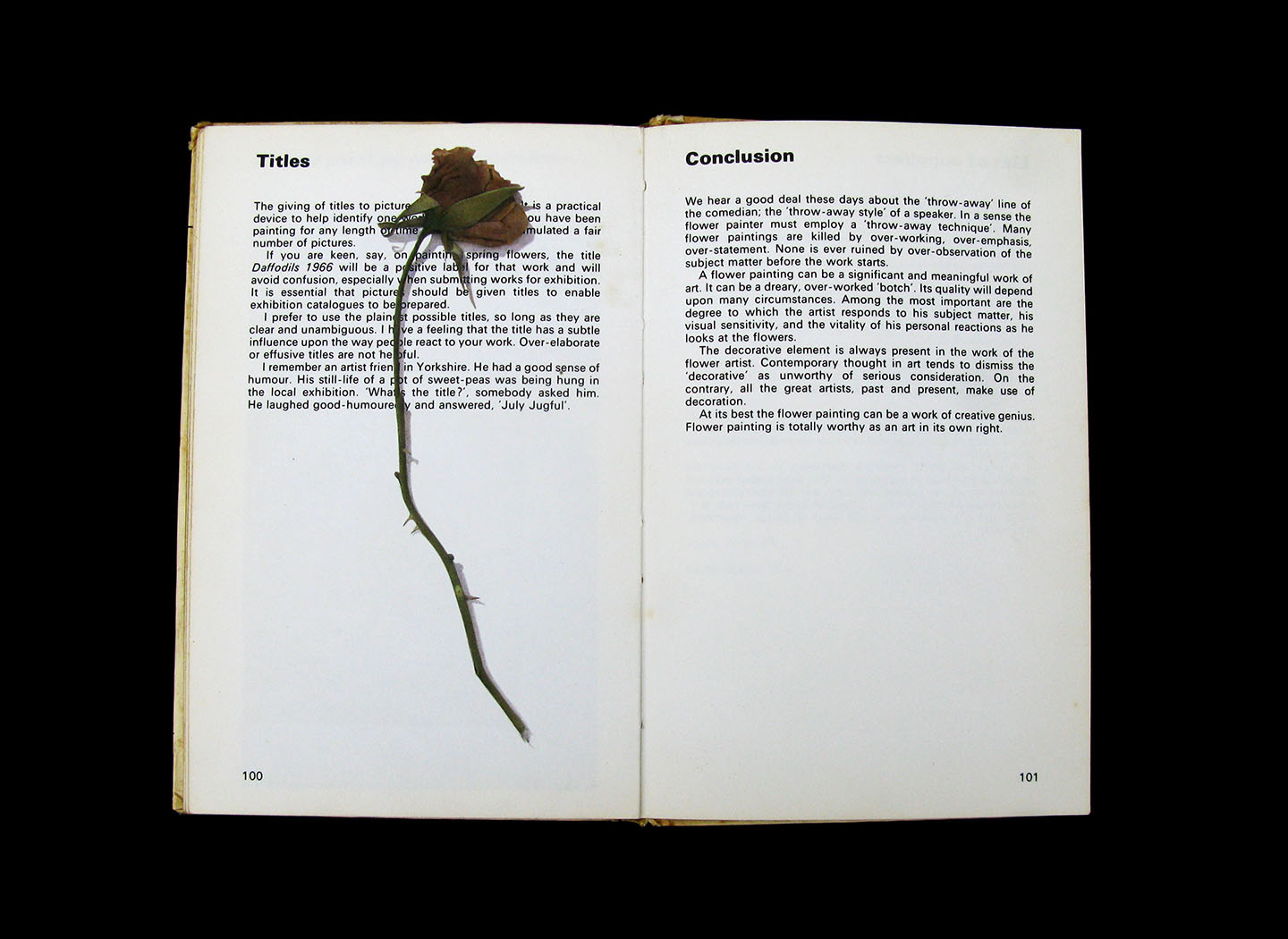 Madiha Sikander, Inconvenient Truth II, Gadrung on paper, 32 cm x 22.5 cm, 2015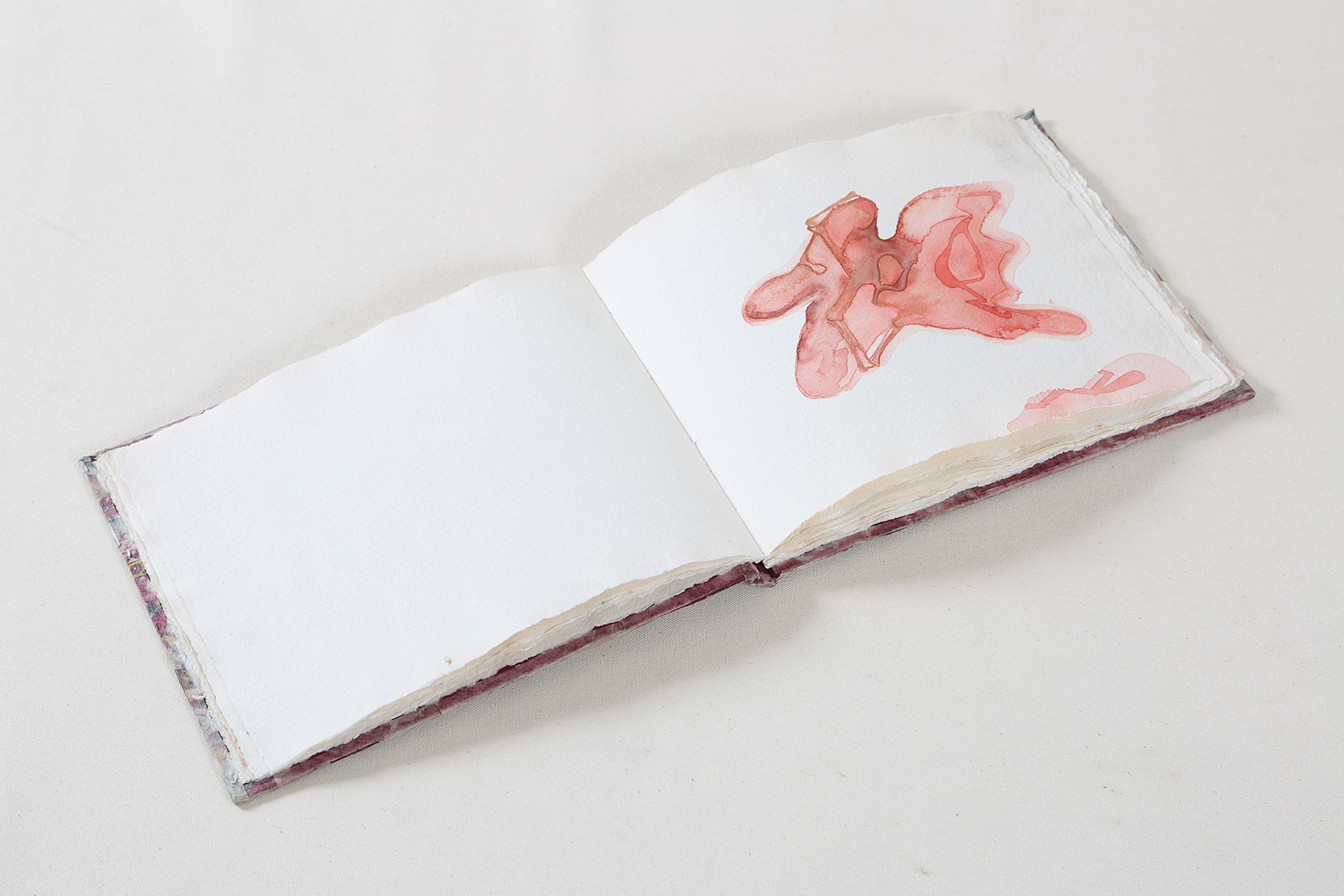 Mahula Ghosh, Stains II, Water colour, stitch on Nepali paper and fabric on hand made paper sketch book, 20 cm X 19 cm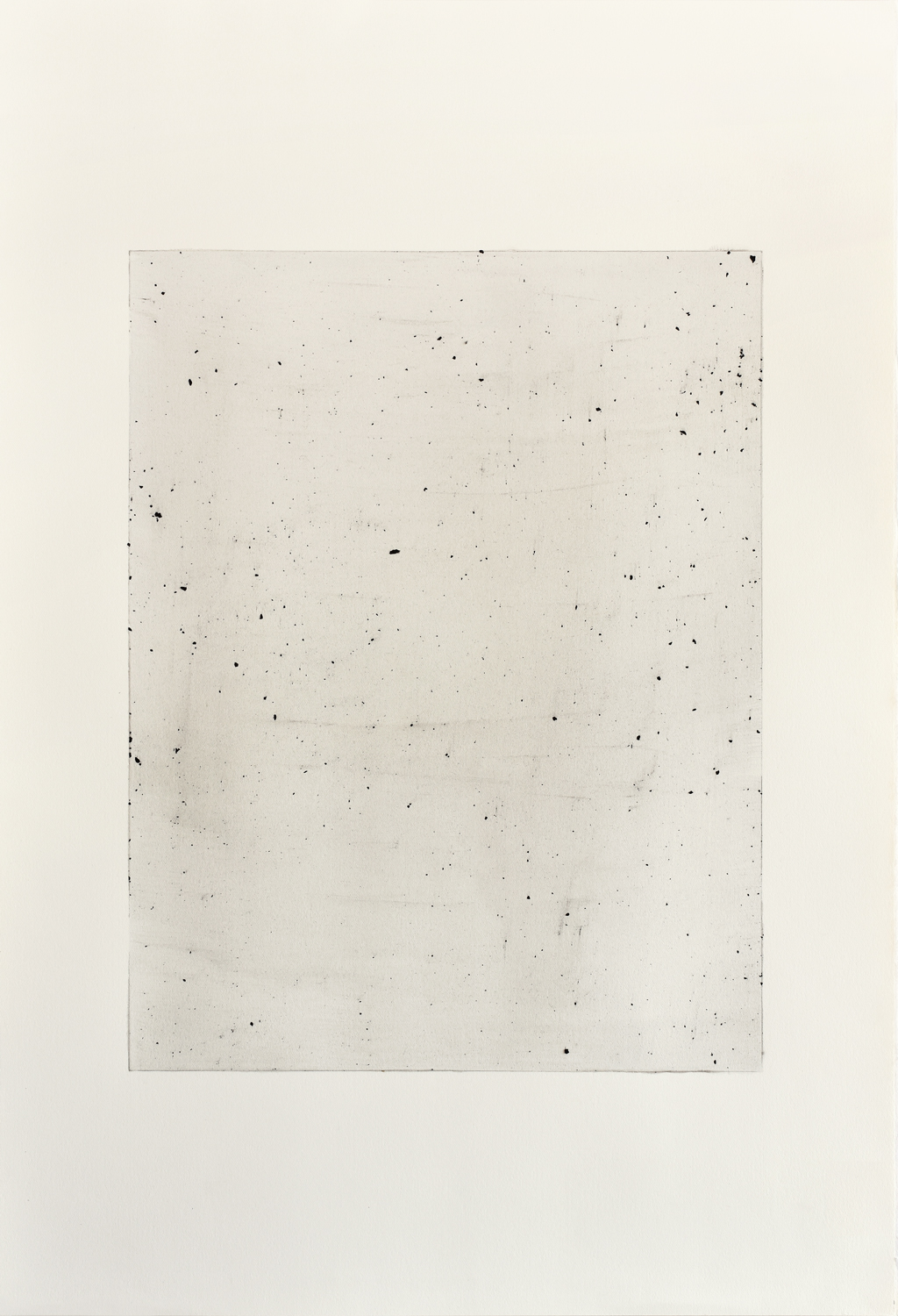 Mansha Chhatwal, Drawing the Line of Intolerance - Abu Nuwas, A Genius of Poetry, Book ash, acrylic on archival paper , 55 cm x 27.5 cm, 2015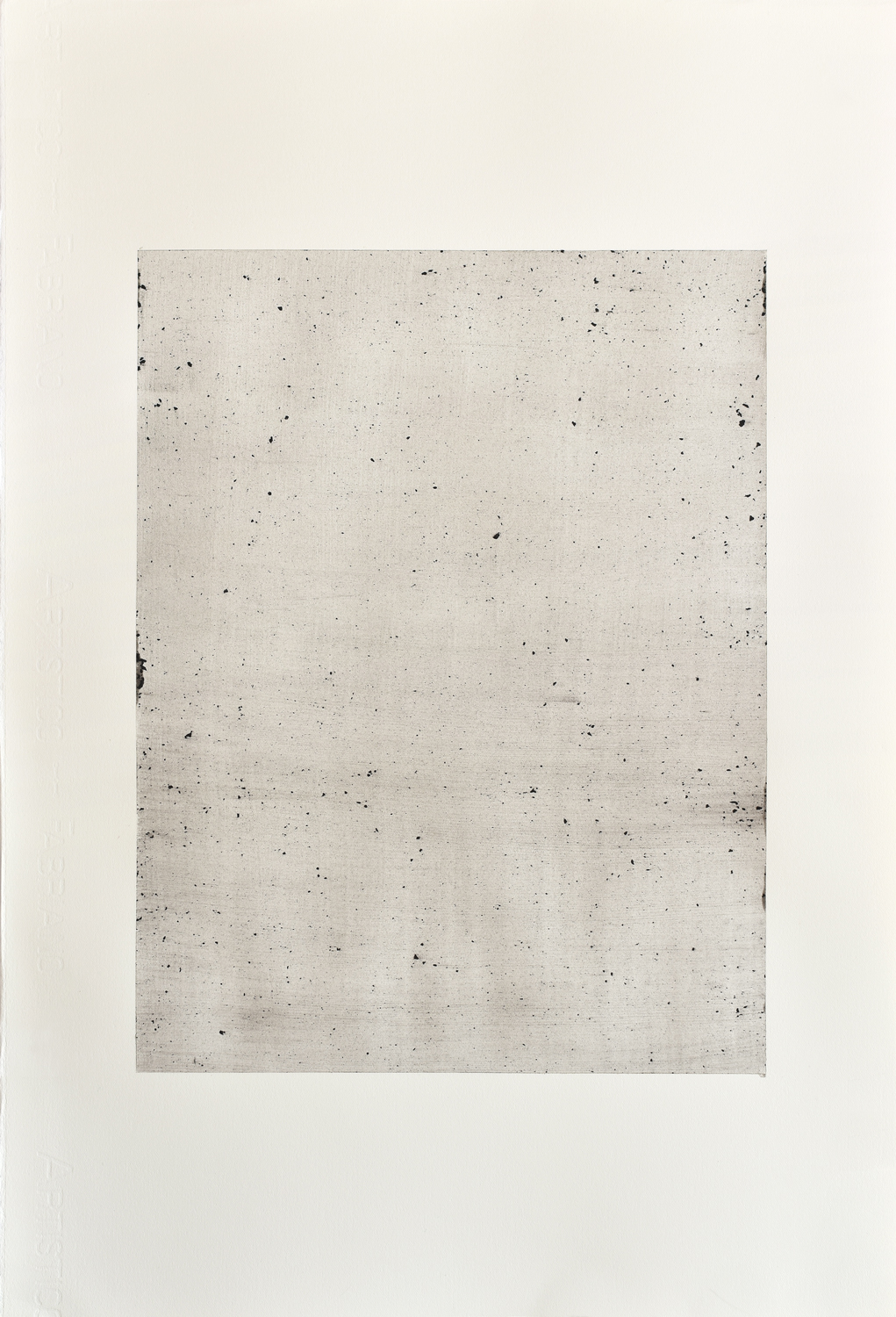 Mansha Chhatwal, Drawing the Line of Intolerance - Such a Long Journey, Rohinton Mistry, Book ash, acrylic on archival paper , 55 cm x 27.5 cm, 2015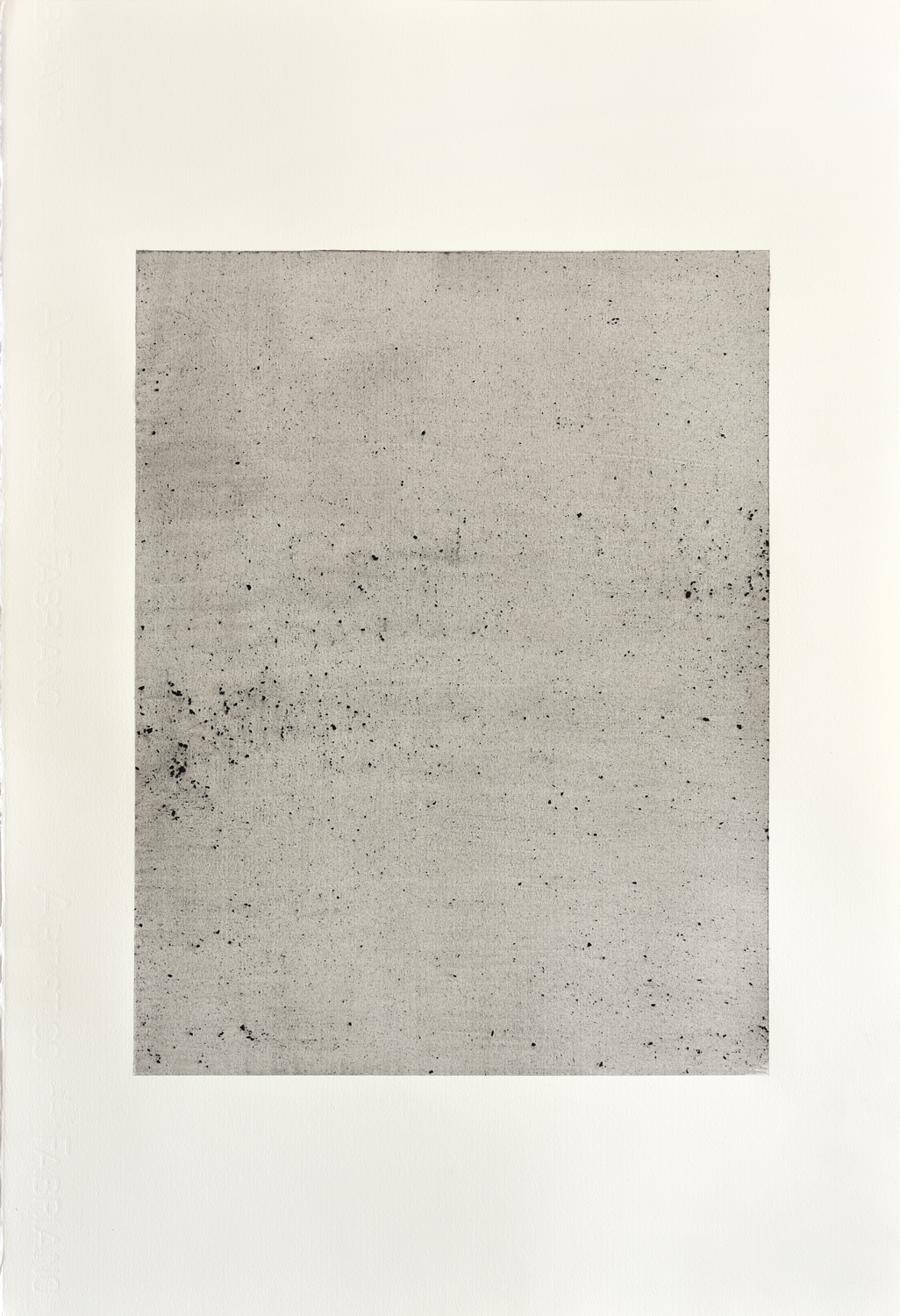 Mansha Chhatwal, Drawing the Line of Intolerance - Madhorubhagan, Perumal Murugan, Book ash, acrylic on archival paper , 55 cm X 27.5 cm, 2015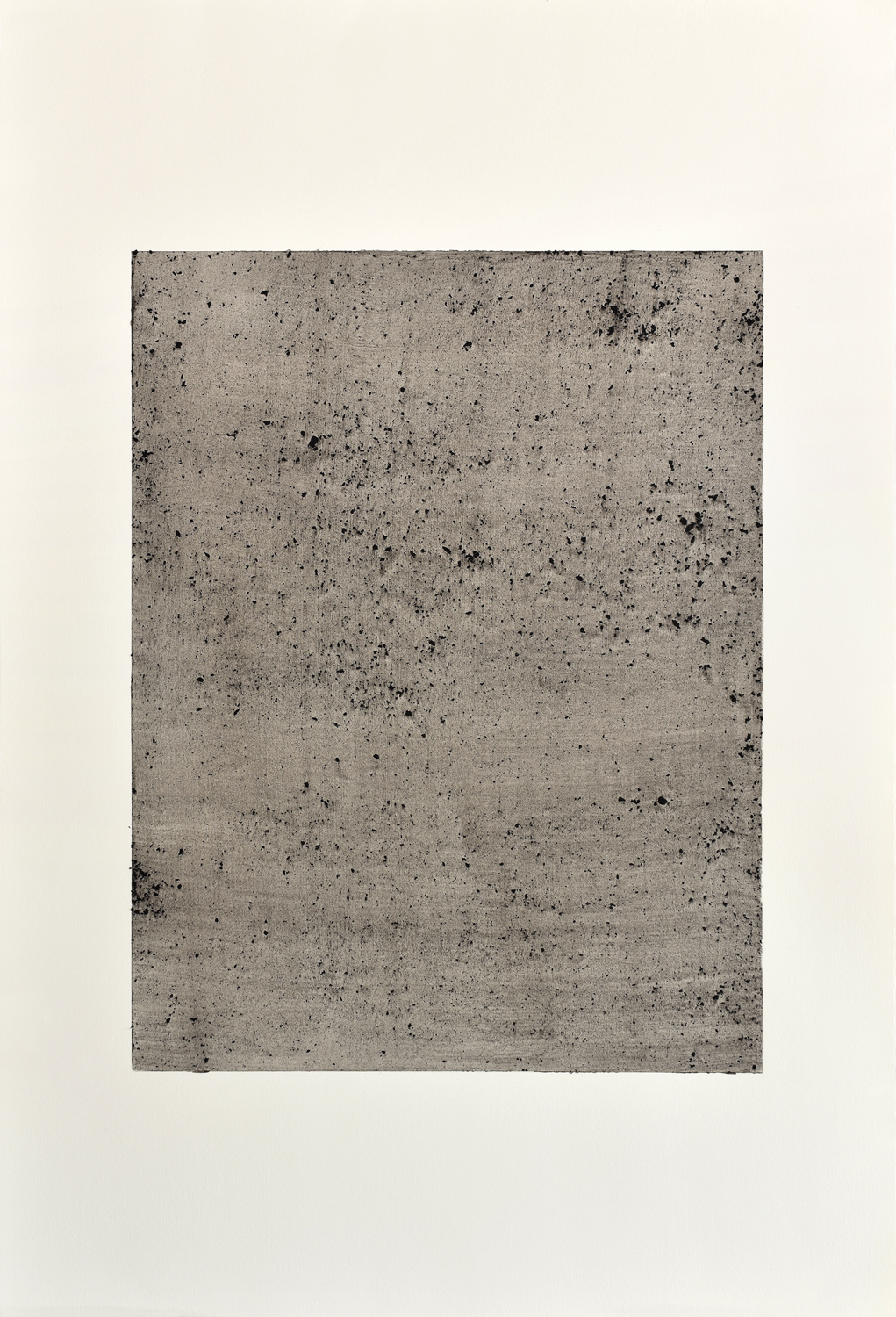 Mansha Chhatwal, Drawing the Line of Intolerance - God Resigns at the Summit Meeting, Nawal El Saadawi, Book ash, acrylic on archival paper , 55 cm X 27.5 cm, 2015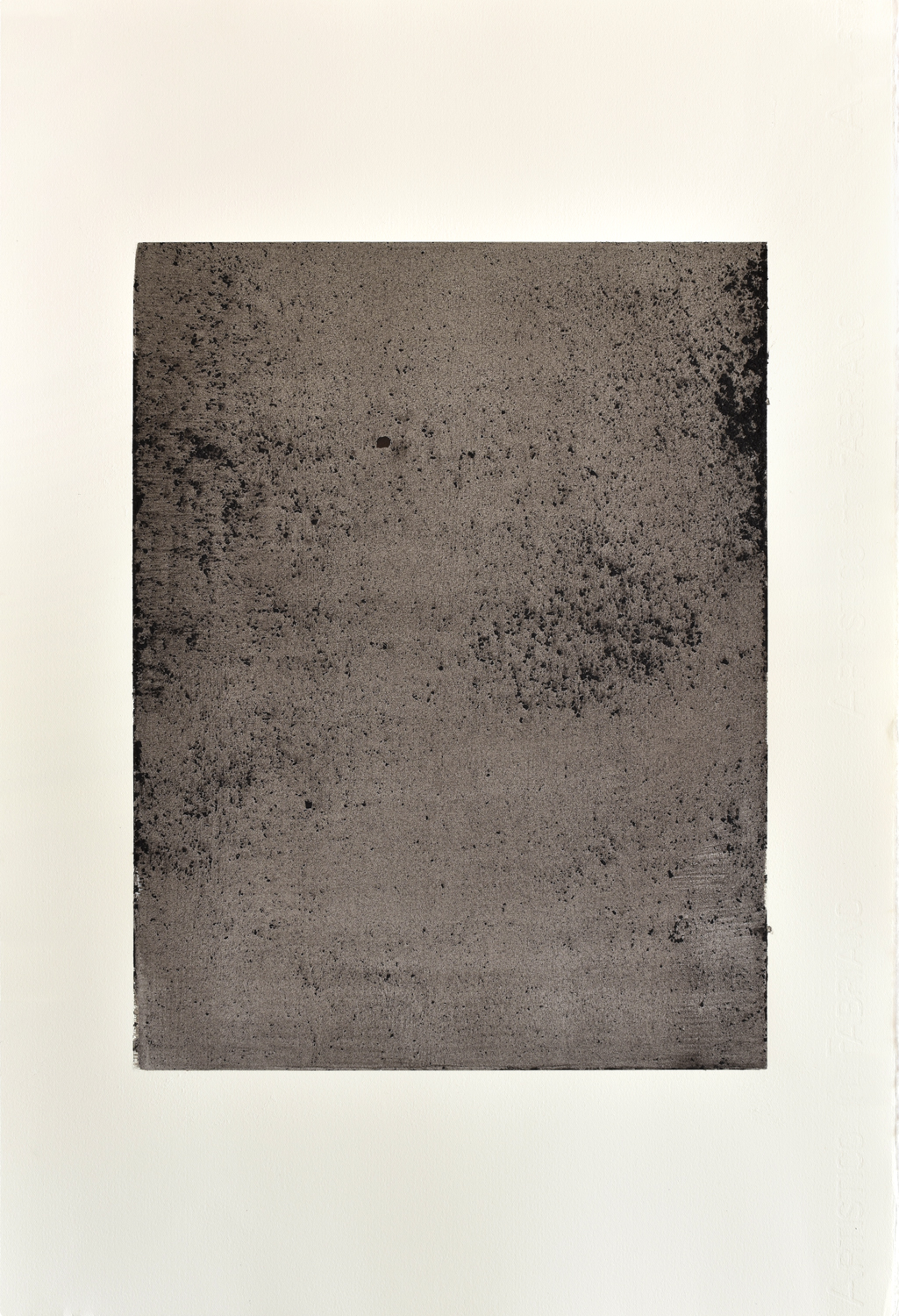 Mansha Chhatwal, Drawing the Line of Intolerance - Perburuan, Pramoedya Anata Toer, Book ash, acrylic on archival paper , 55 cm x 27.5 cm, 2015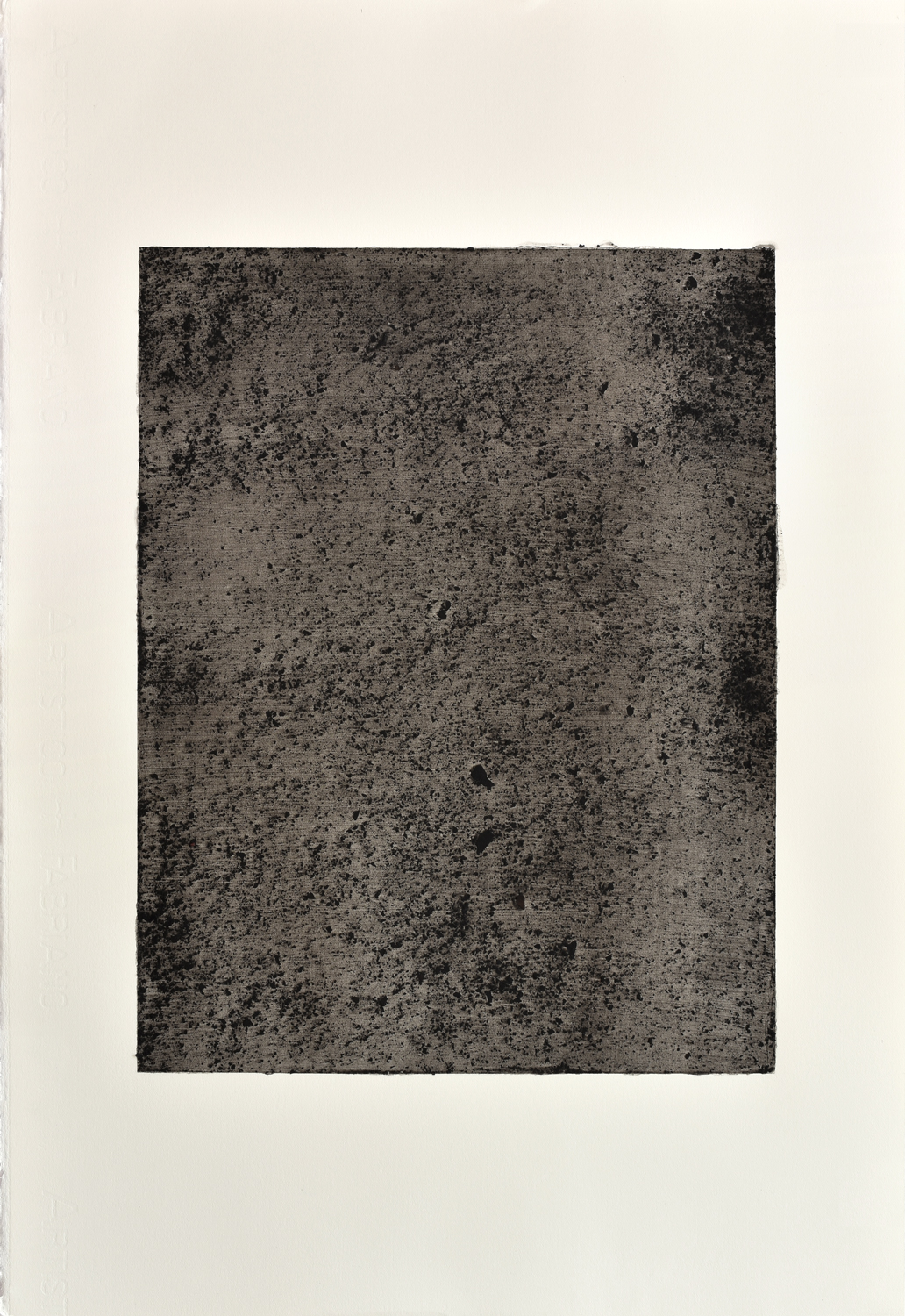 Mansha Chhatwal, Drawing the Line of Intolerance - The Satanic Verses, Salman Rushdie, Book ash, acrylic on archival paper , 55 cm x 27.5 cm, 2015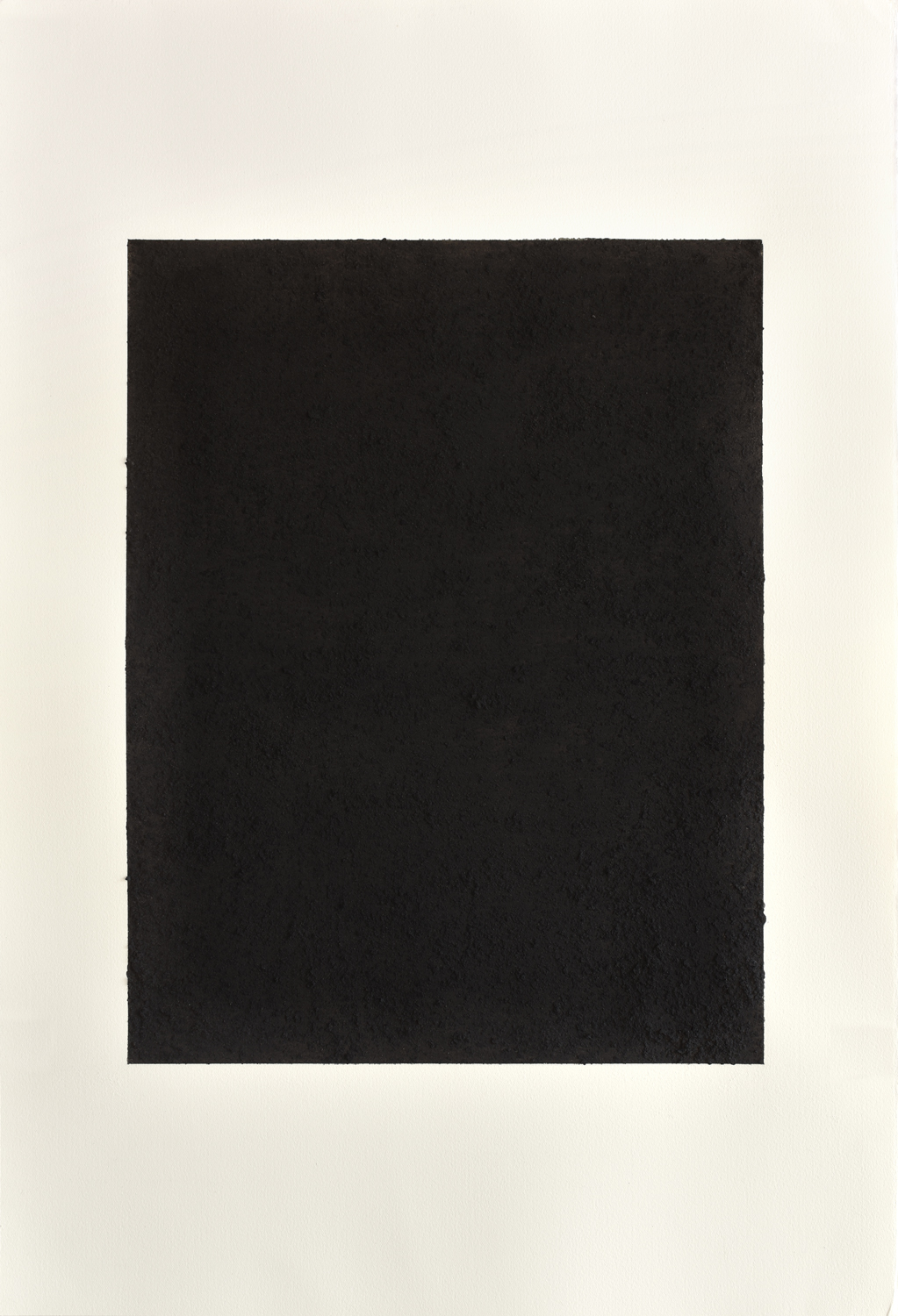 Mansha Chhatwal, Drawing the Line of Intolerance - Lajja, Taslima Nasrin, Book ash, acrylic on archival paper , 55 cm x 27.5 cm, 2015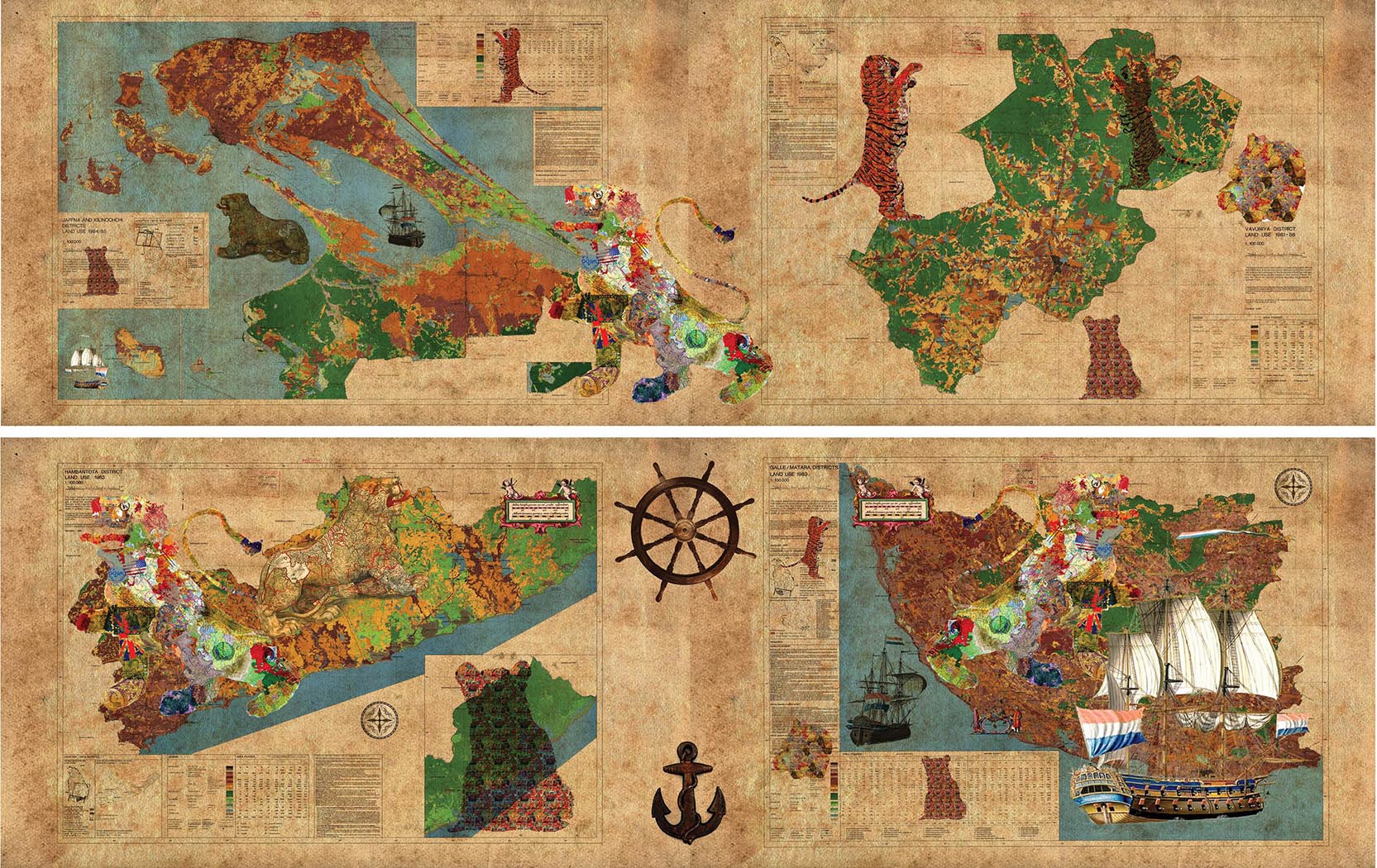 Pala Pothupitiye, Jaffna to Vavuniya division map-Matara & Hambantota division map, Archival print book, 50 cm x 31 cm, 2016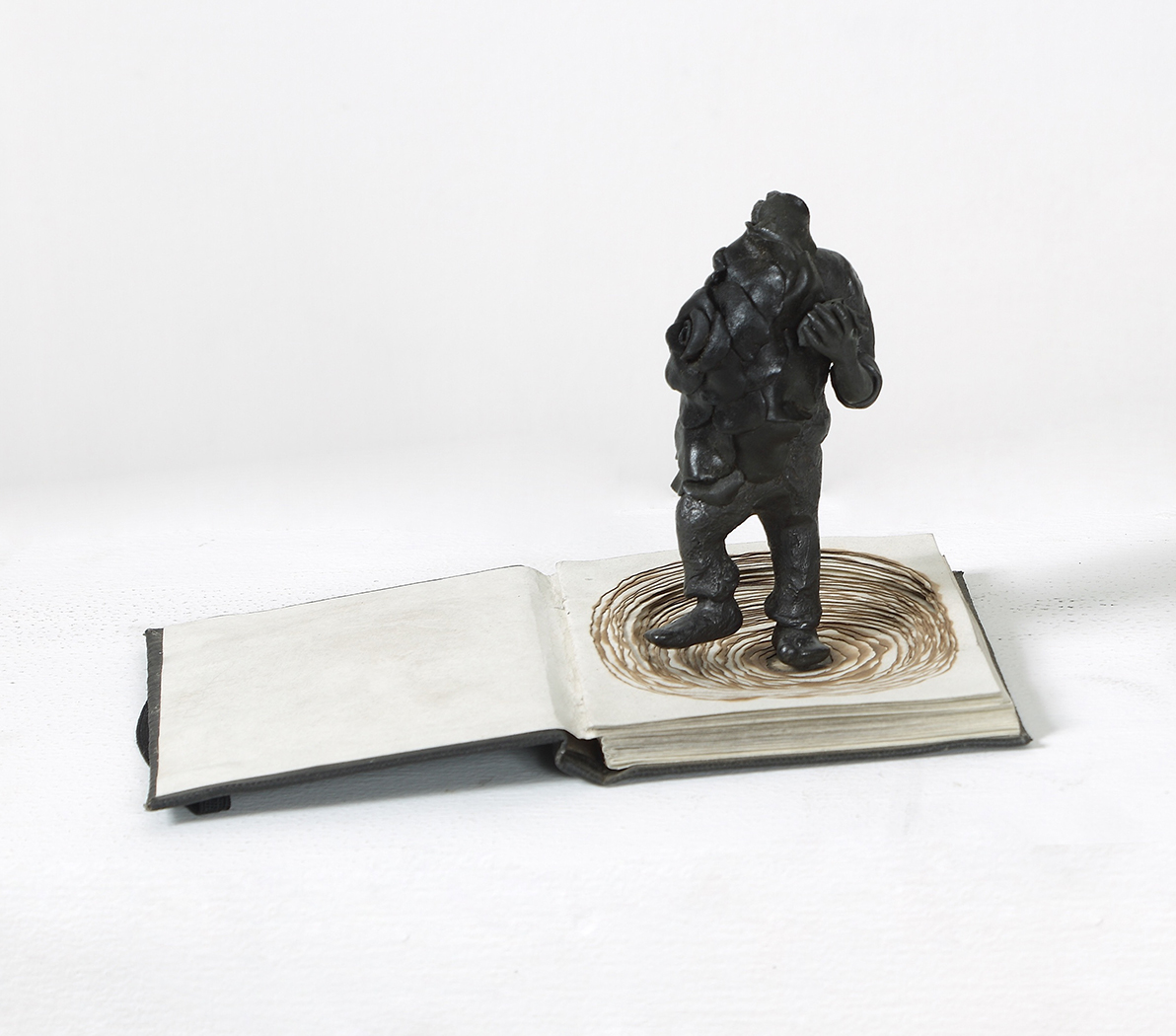 Preksha Tater, _I feel....., Sketchbook and e-proxy composed, 27.5 cm x 12.5 cm x 10 cm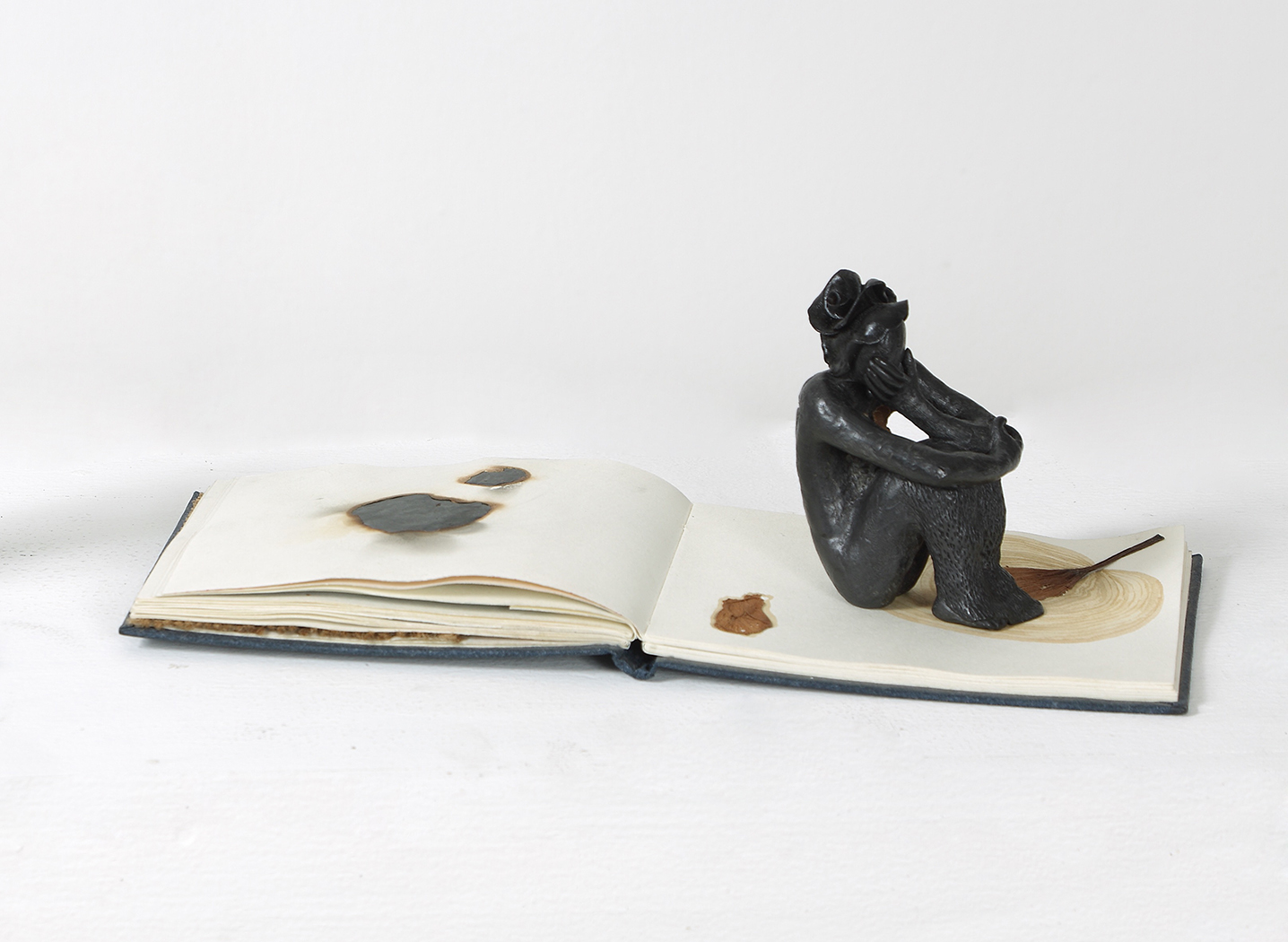 Preksha Tater, I feel..., Sketchbook and e-proxy composed, 21.5 cm x 13.5 cm x 12.5 cm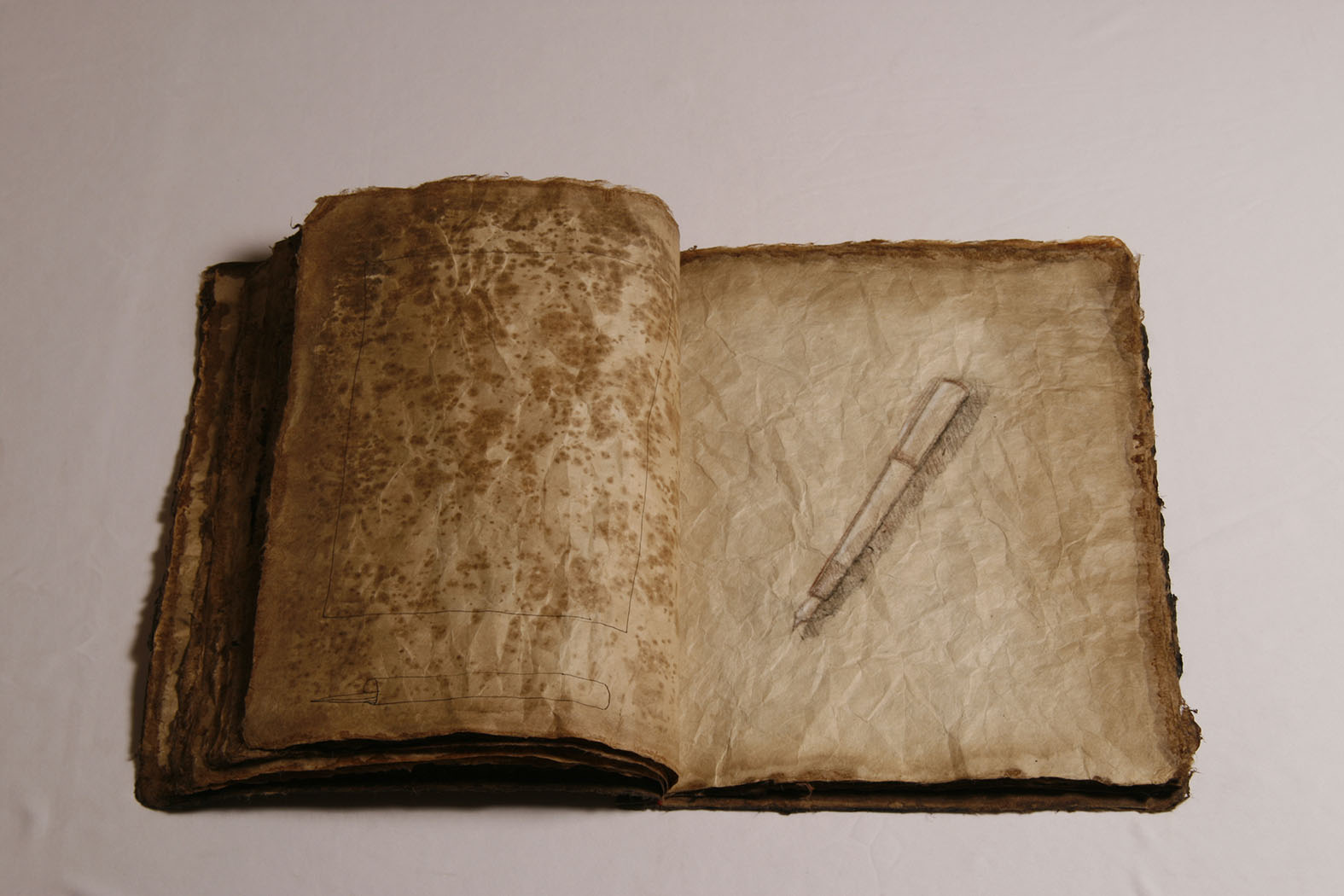 Ravi Kumar Kashi,, Everything He Touched, Conte, ink and photocopy transfer on Japanese raka stained handmade paper, 36 cm x 30 cm x 1 cm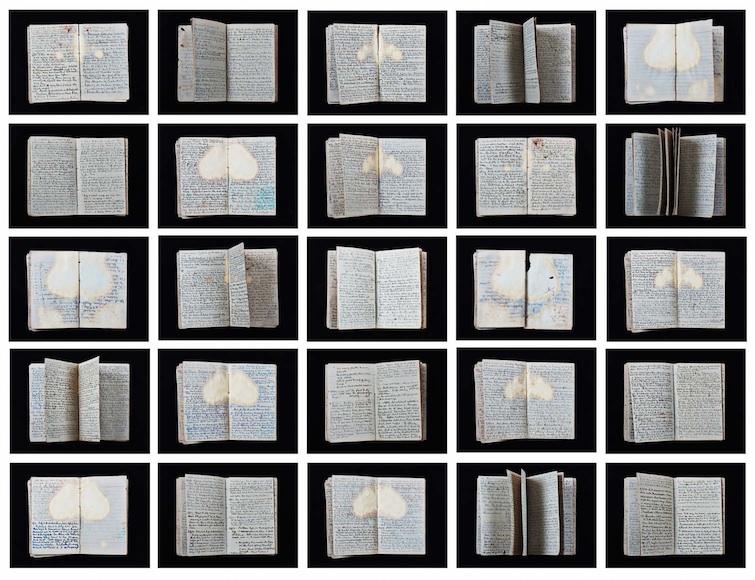 Sathyanand Mohan , Chronical, set of 25 photographs, 40 cm x 60 cm (each), 2013

Tanmoy Samanta, The Cartographer's Paradox, Recycled book, paperboard & gouache on rice paper, 22.5 cm x 37.5 cm x 2.5 cm, 2014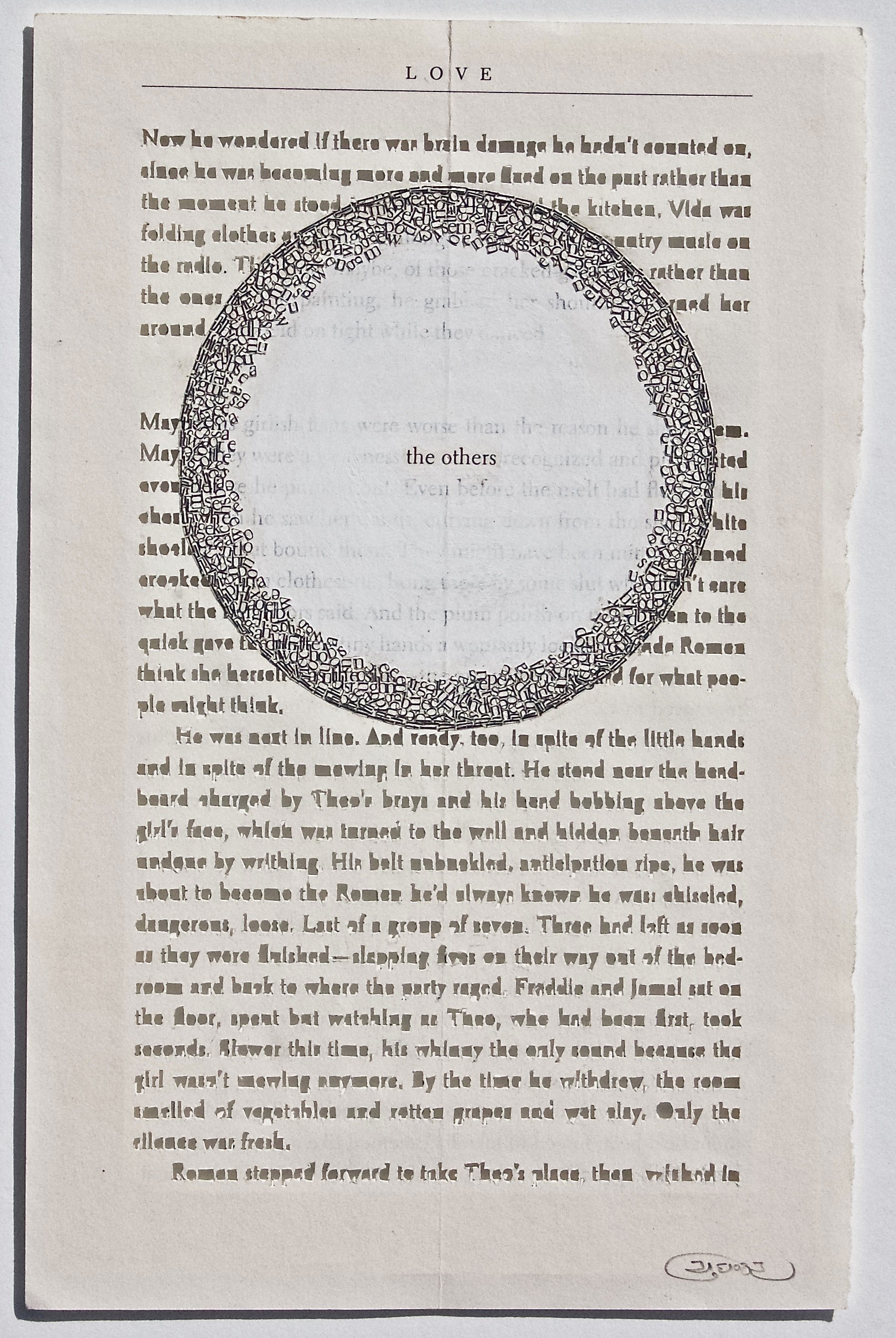 Youdhisthir Maharjan, Love (the Others) , Reclaimed text cutout collage and Acrylic , 20 cm x 13 cm, 2015

Youdhisthir Maharjan, Love, Acrylic and Ink on Reclaimed Book Pages 37.5 cm x 13 cm, 2015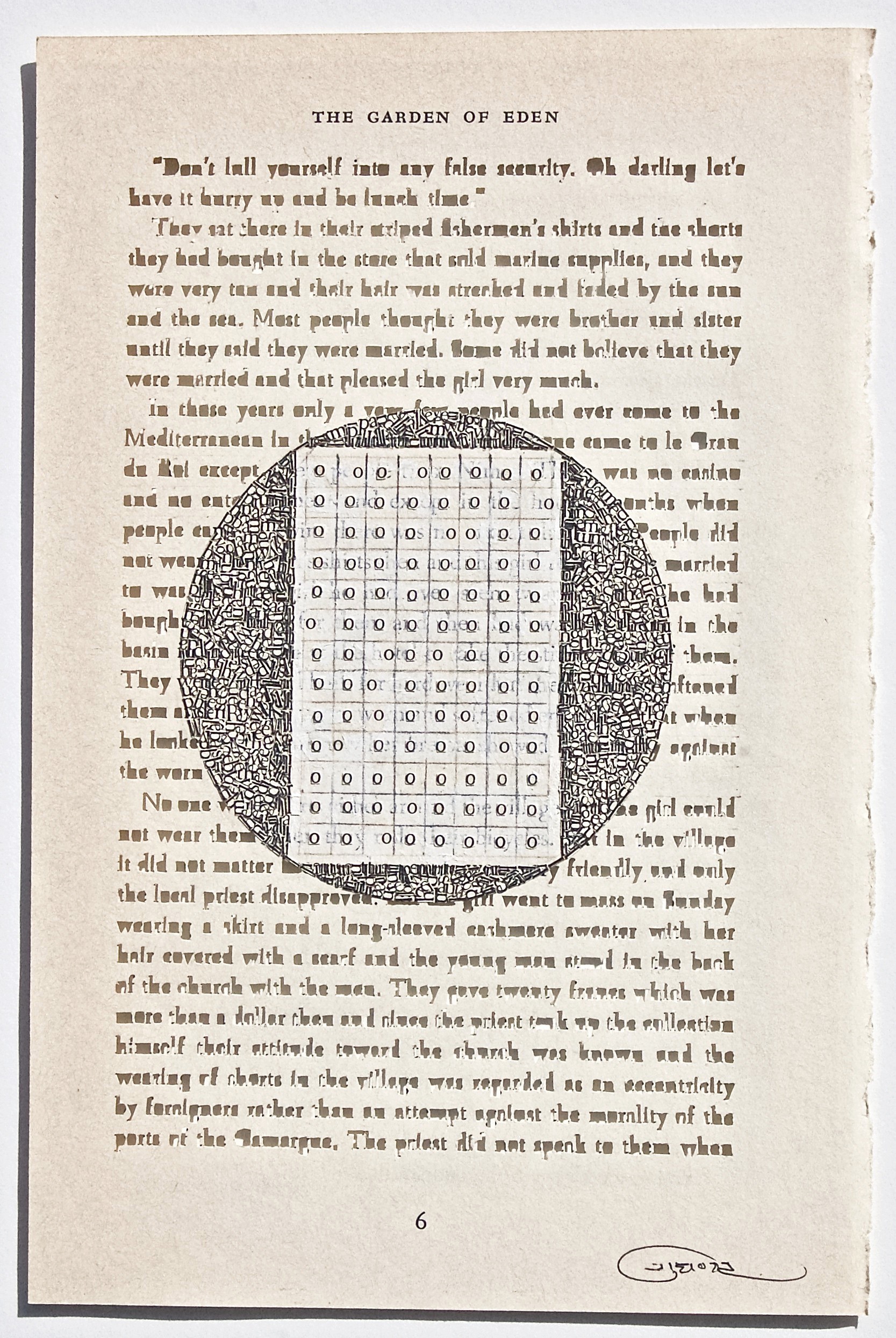 Youdhisthir Maharjan, The Garden of Eden, Reclaimed text cutout collage and Acrylic, 21 cm x 14 cm, 2015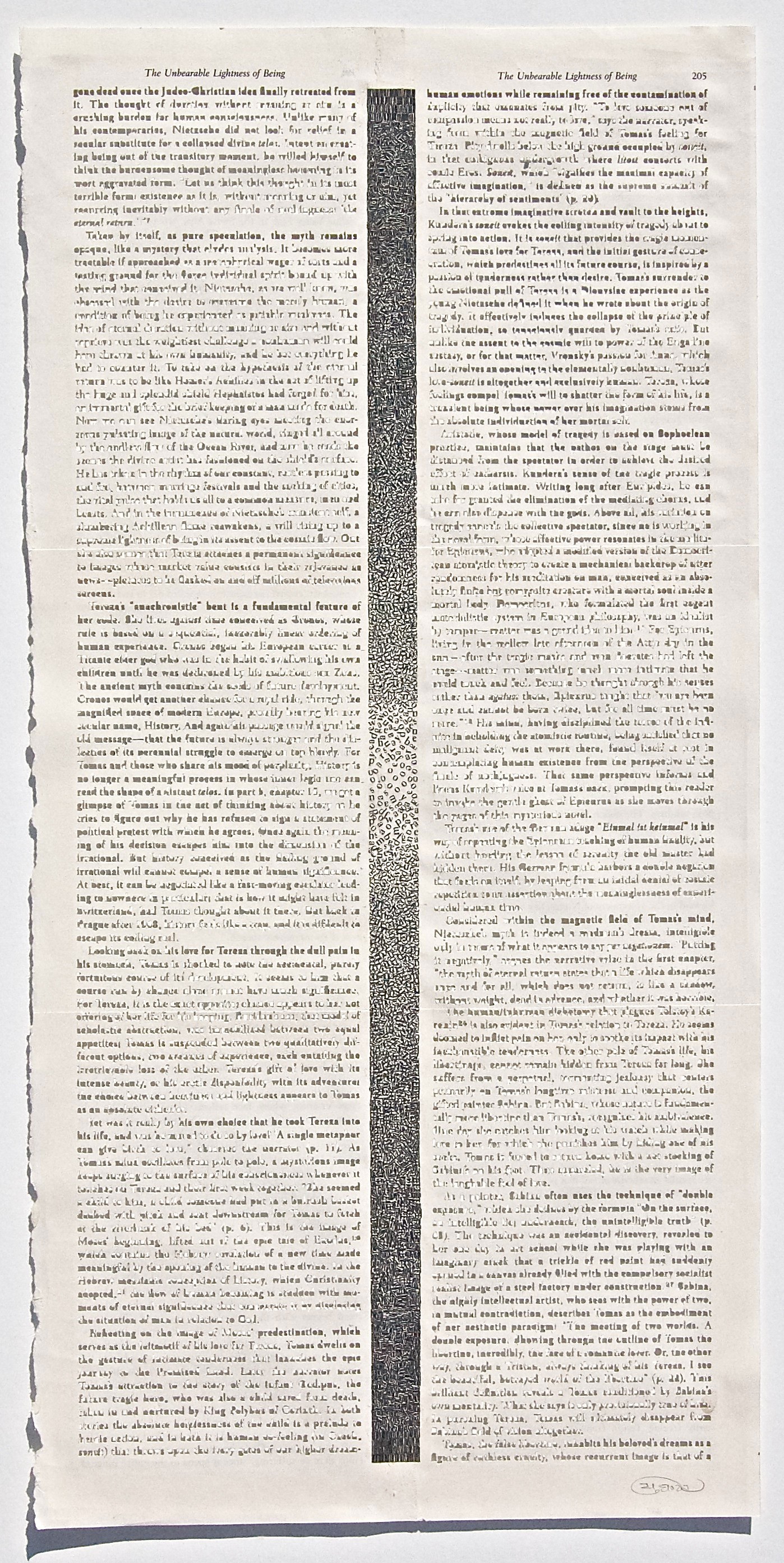 Youdhisthir Maharjan, The Unbearable Lightness of Being, Reclaimed text cutout collage 52.5 cm x 25.5 cm, 2015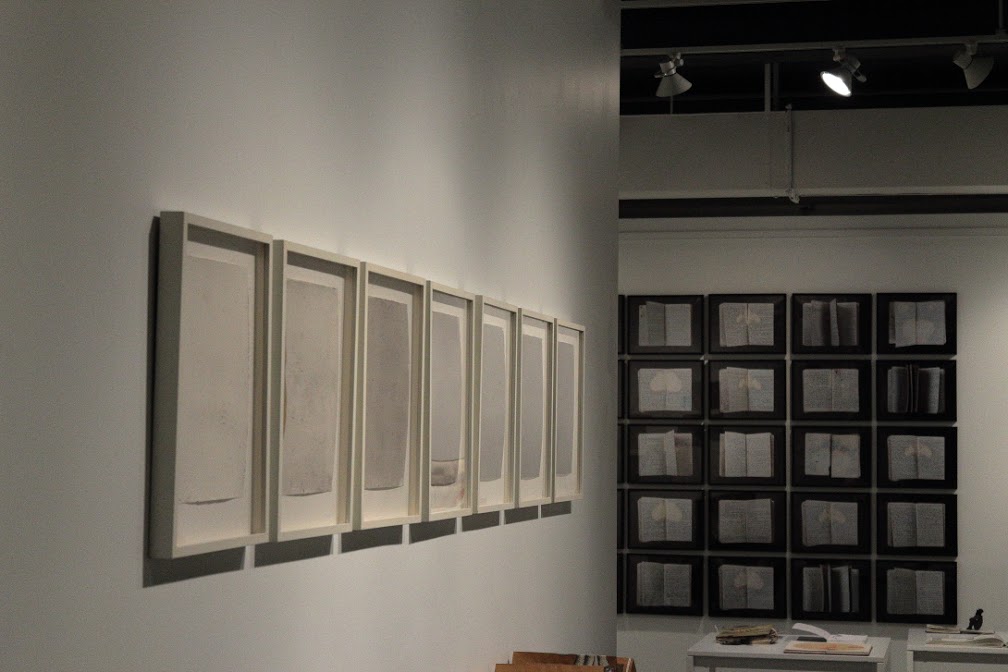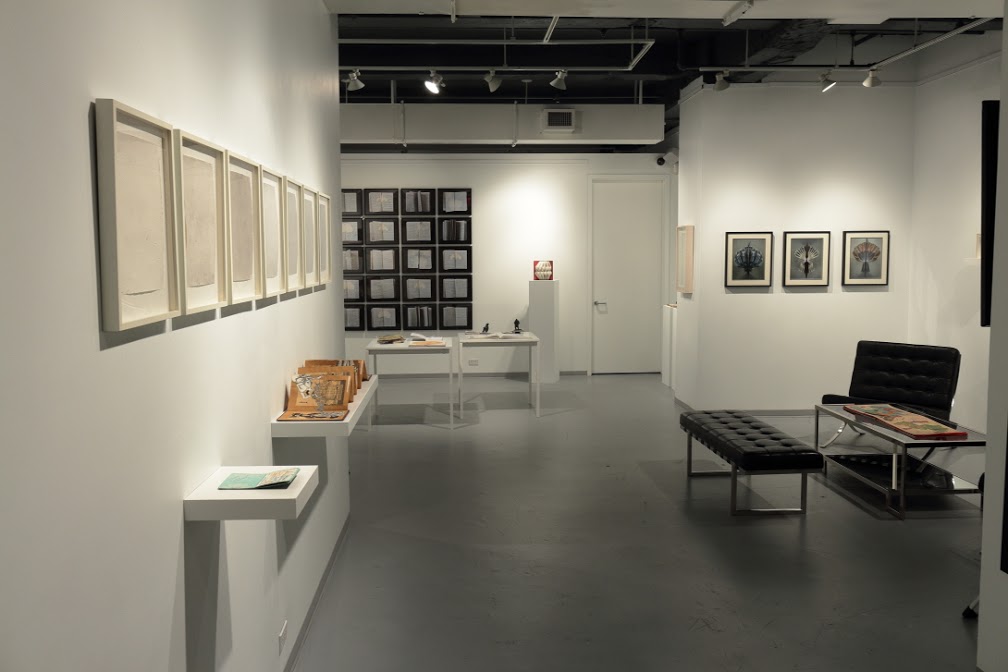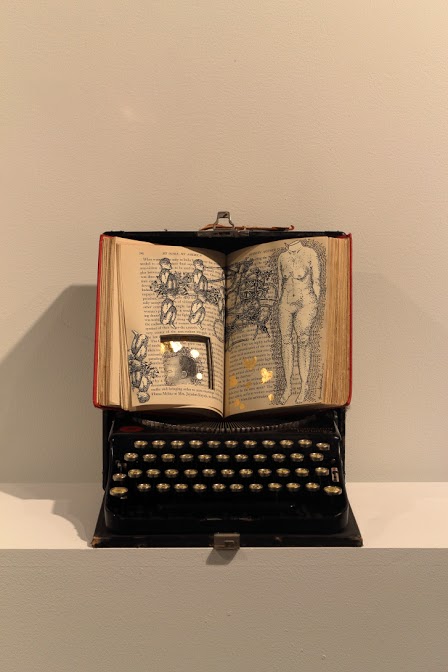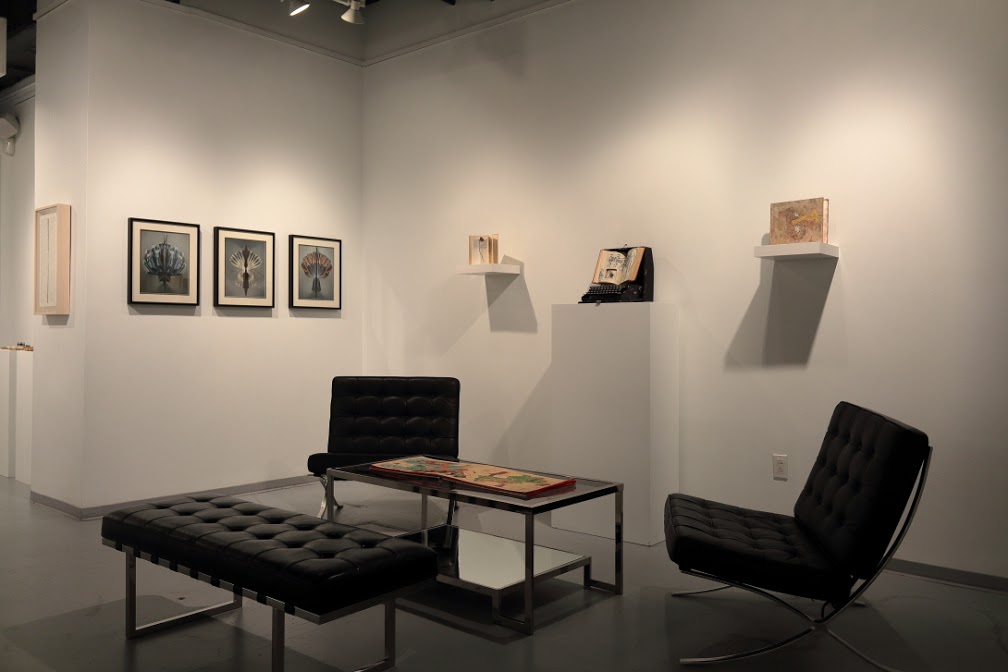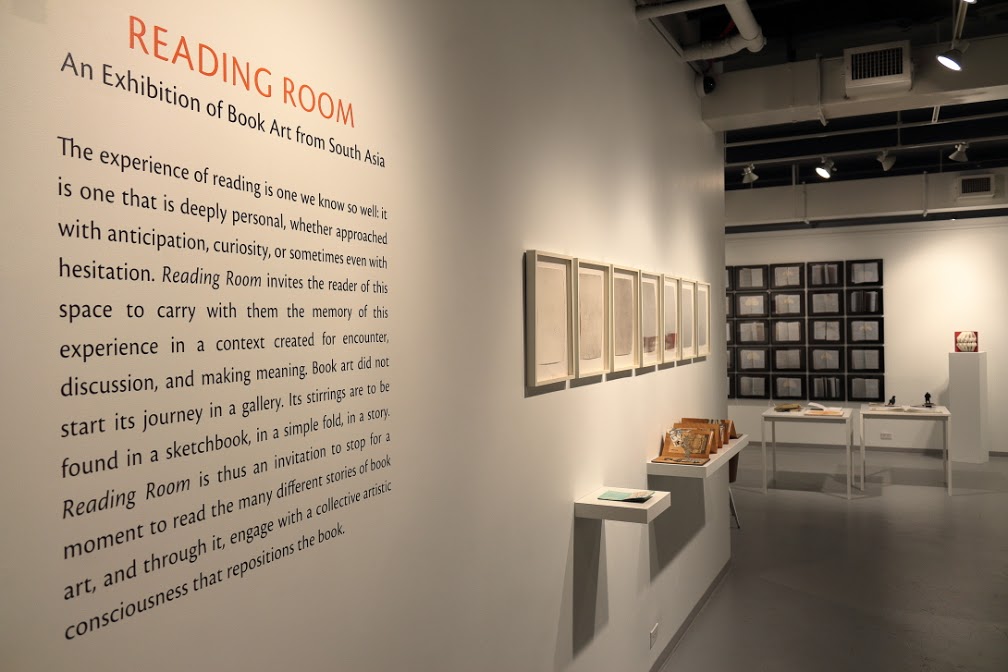 FREEING THE BOOK
Some Thoughts for the Journey through Book Art

The journey through 'Reading Room' is a journey of discoveries and experience, of nostalgia and witness. The idea of the room - is the creation of a space to inhabit, a space where the many and varied perspectives and practices of the book arts find a place of meeting, and expression. In its fifth edition, the exhibition travels to New York after critical success at the Colombo Art Biennale, Kochi Art Biennale, University of Winchester and private galleries in Mumbai and New Delhi.

In the age of the digital revolution, where the practice of reading itself has changed so dramatically, this reimagining of the book through a contemporary art practice is both interesting and significant. Book art demands - as is the case with approaching contemporary art - both an aesthetic engagement and a critical conceptual inquiry into the work. Aesthetic engagement with book art demands a paradigm shift to reading a different logic in the book: the logic of the visual and the textural. The book is also a cultural site because of its history (consider the many times that books have been burnt as acts of symbolic violence) and its signification of knowledge. It follows then that critical conceptual inquiry counts book art as a visually embedded cultural site. It is a site where many versions of history, senses of identity and narratives (both dominant and counter) converge.

The book in contemporary art, is thus an object completely transformed - not just in its structure, but also in its meaning. Walter Benjamin calls this the 'renewal of existence.' This sense of renewal is to be experienced in the work of the exhibiting artists brought together in conversation in 'The Reading Room'. The mood is sometimes fantastical and playful, and sometimes evocative and intimate. At its most activist, it stands as a collective resistance to dominant politics and ideologies. And, as the artist, in many ways, works as an interpreter of the book, so will the viewer of the work.

The experience of reading is one we know so well; it is one that is deeply personal, whether approached with anticipation, curiosity, or sometimes even with hesitation. 'Reading Room' invites the reader of this space to carry with them the memory of this experience in a context created for encounter, discussion, and making meaning.Book art did not start its journey in a gallery. It stirrings are to be found in a sketchbook, in a simple fold, in a story. 'Reading Room' is thus an invitation to stop for a moment to read the many different stories of book art, and through it, engage with a collective artistic consciousness that repositions the book.
-Ruhanie Perera
Artists
Amritah Sen
Banoo Batliboi
Jagath Weeresinghe
Katsushi Goto & Vishwa Shroff
Kingsley Gunatillake
Liz Fernando
Madiha Sikander
Mahula Ghosh
Mansha Chhatwal
Pala Pothupitye
Preksha Tater
Ravi Kumar Kashi
Samanta Batra Mehta
Samit Das
Satyanand Mohan
Saubya Chasmawala
Tanmoy Samanta
Youdhisthir Maharjan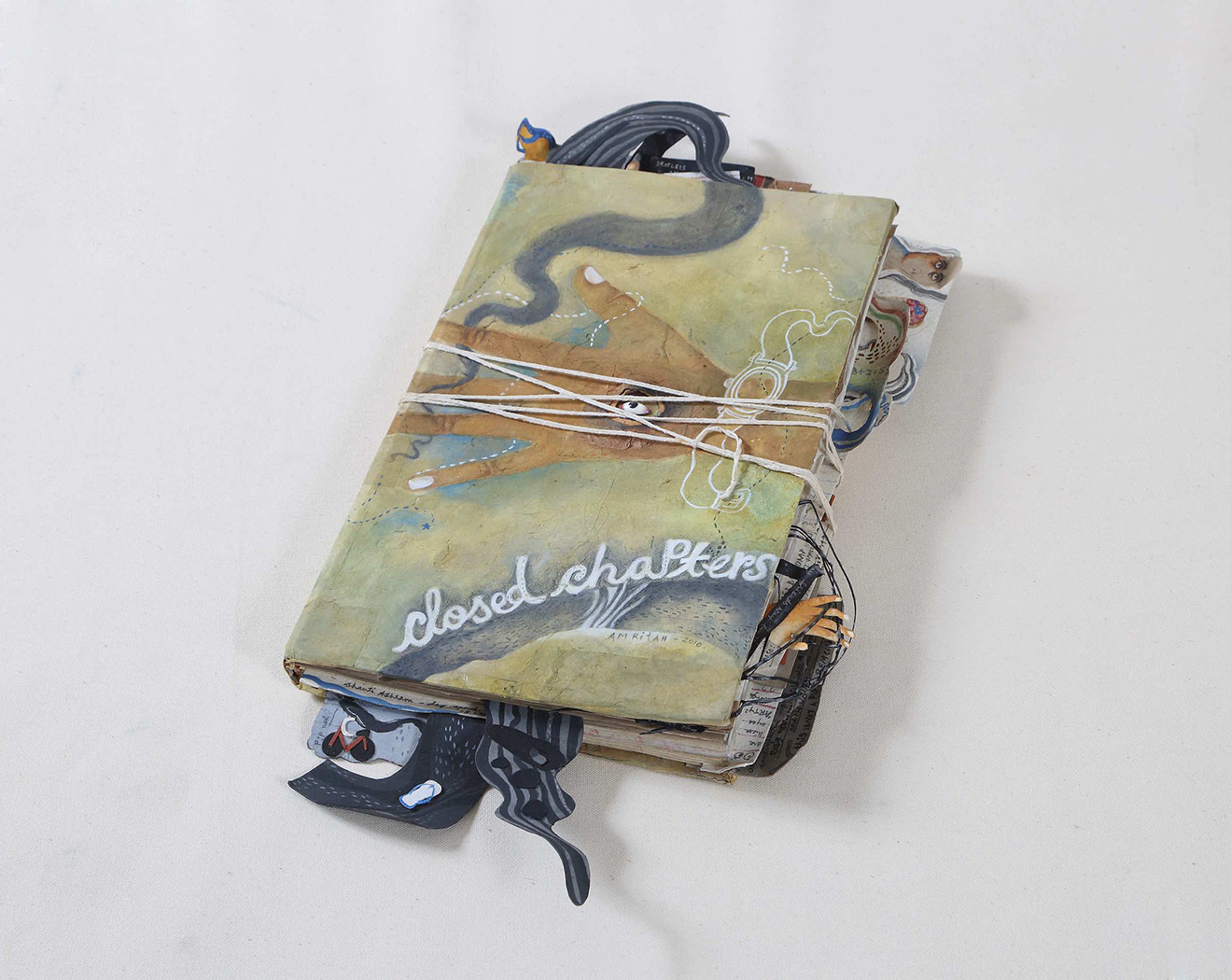 Amritah Sen, Closed Chapter, A modified exercise copy with water colour, paper collage, thread and ceramic eye, 54 cm x 27.5 cm x 5.5 cm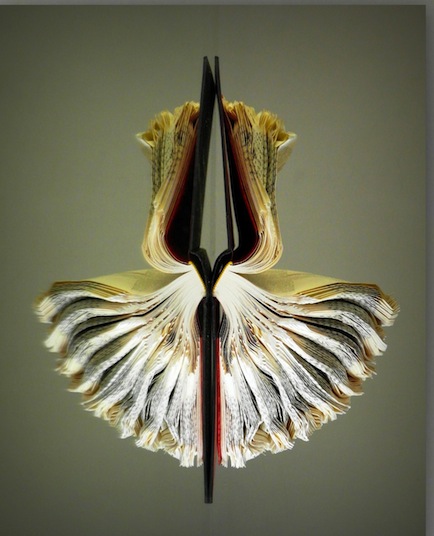 Banoo Batliboi, Age of Shiva, Digital print on metallic paper, 47 cm x 37 cm, 2014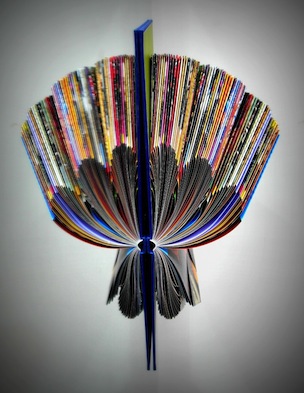 Banoo Batliboi, Pacific patterns, Digital print on metallic paper, 47 cm x 37 cm, 2014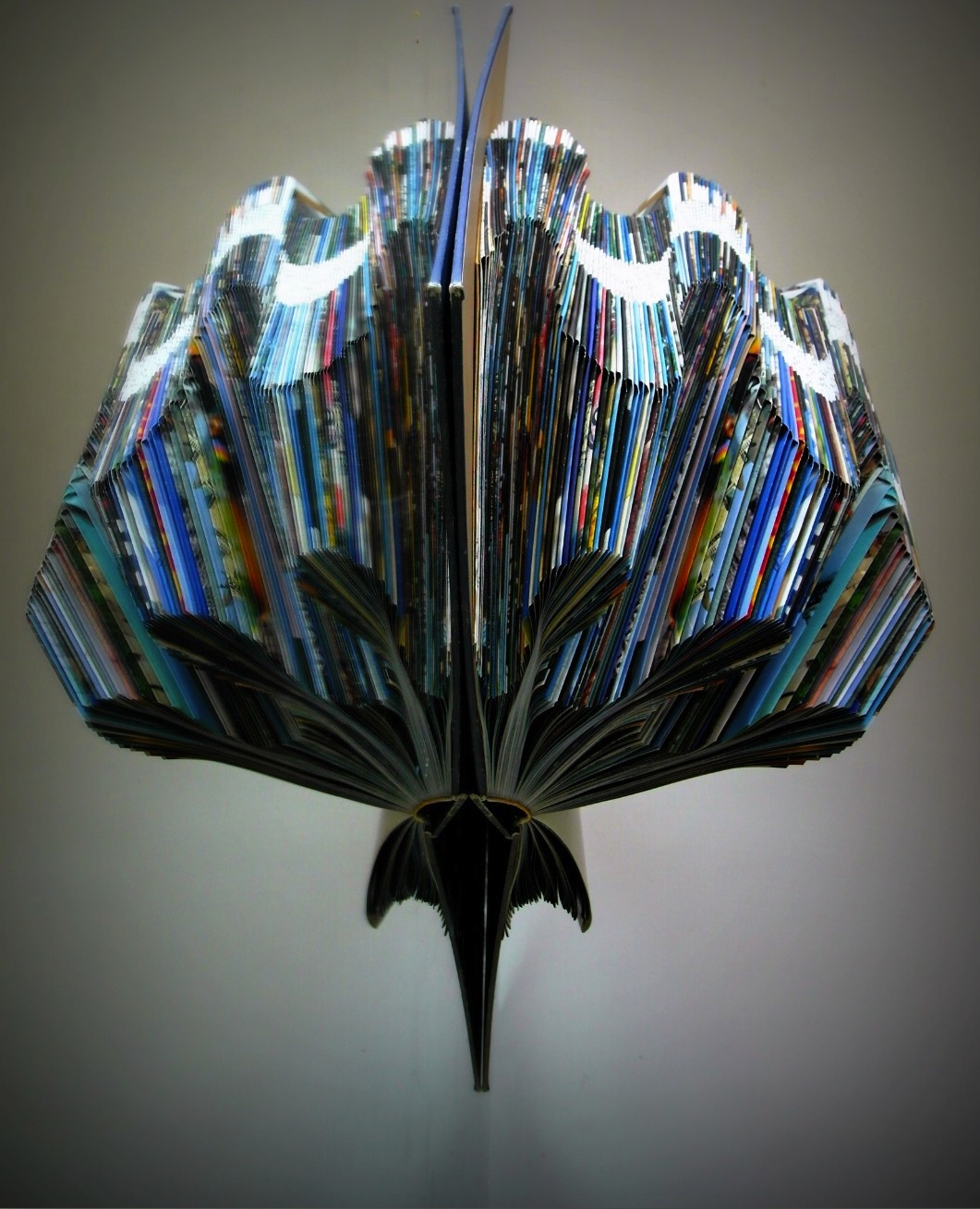 Banoo Batliboi, The travel book, Digital print on metalic paper, 47 cm x 37 cm, 2014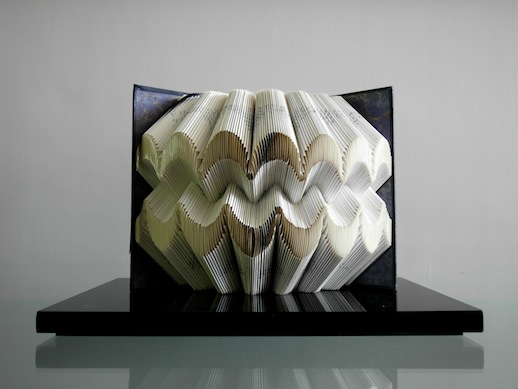 Banoo Batliboi, Clam, Vintage leather bound books folded anew, 40 cm x 22.5 cm x 27.5 cm, 2015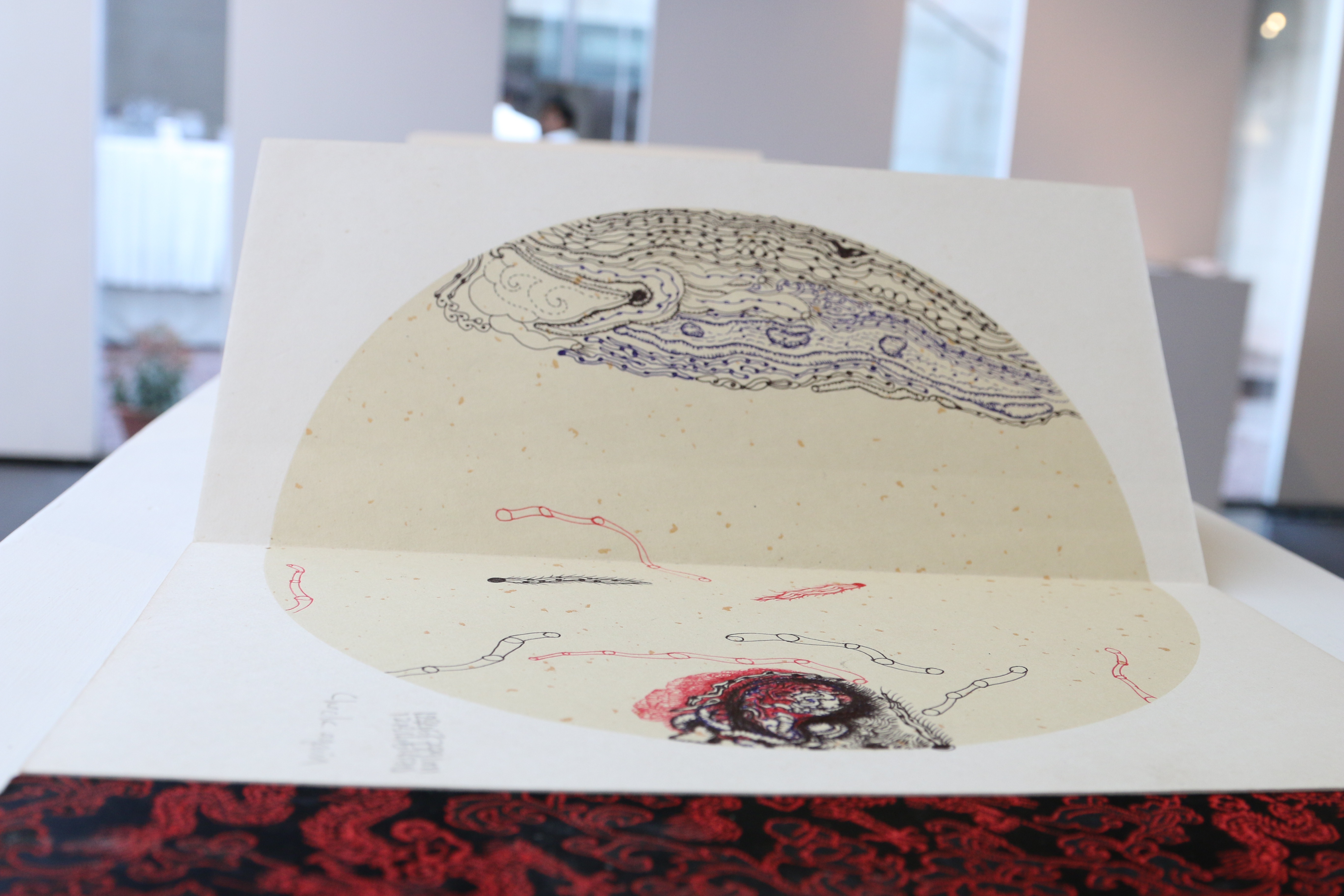 Jagath Weerasinghe, Cause of Illness, Mixed media on paper , 315 cm x 31.5 cm, 2011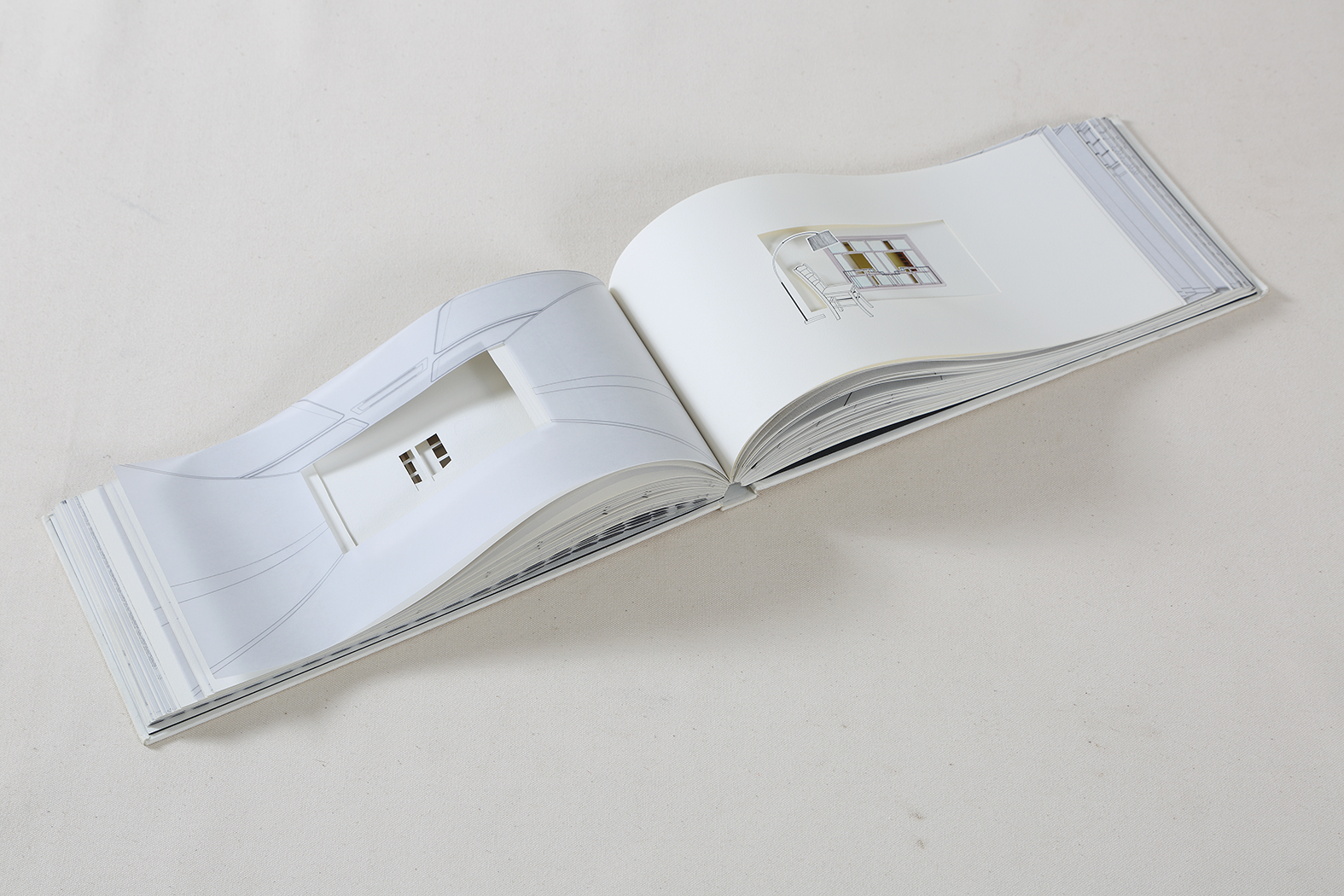 Katsushi Goto & Vishwa Shroff, Postulating Premises, Artists book- inkjet printing on grey transparencies and Somerset paper, 15.2 cm x 30.5 cm (Edition of 10)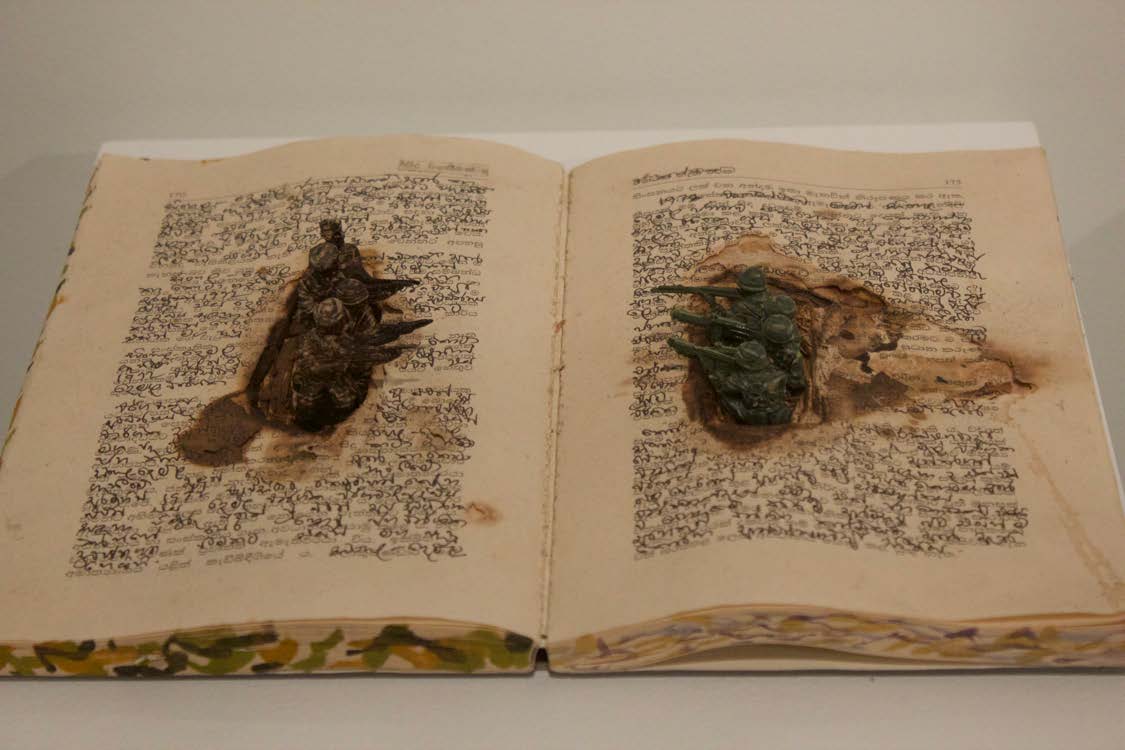 Kingsley Gunatilake, Bullet Book, Used books and toy soldiers, 27.5 cm x 21 cm x 2 cm, 2014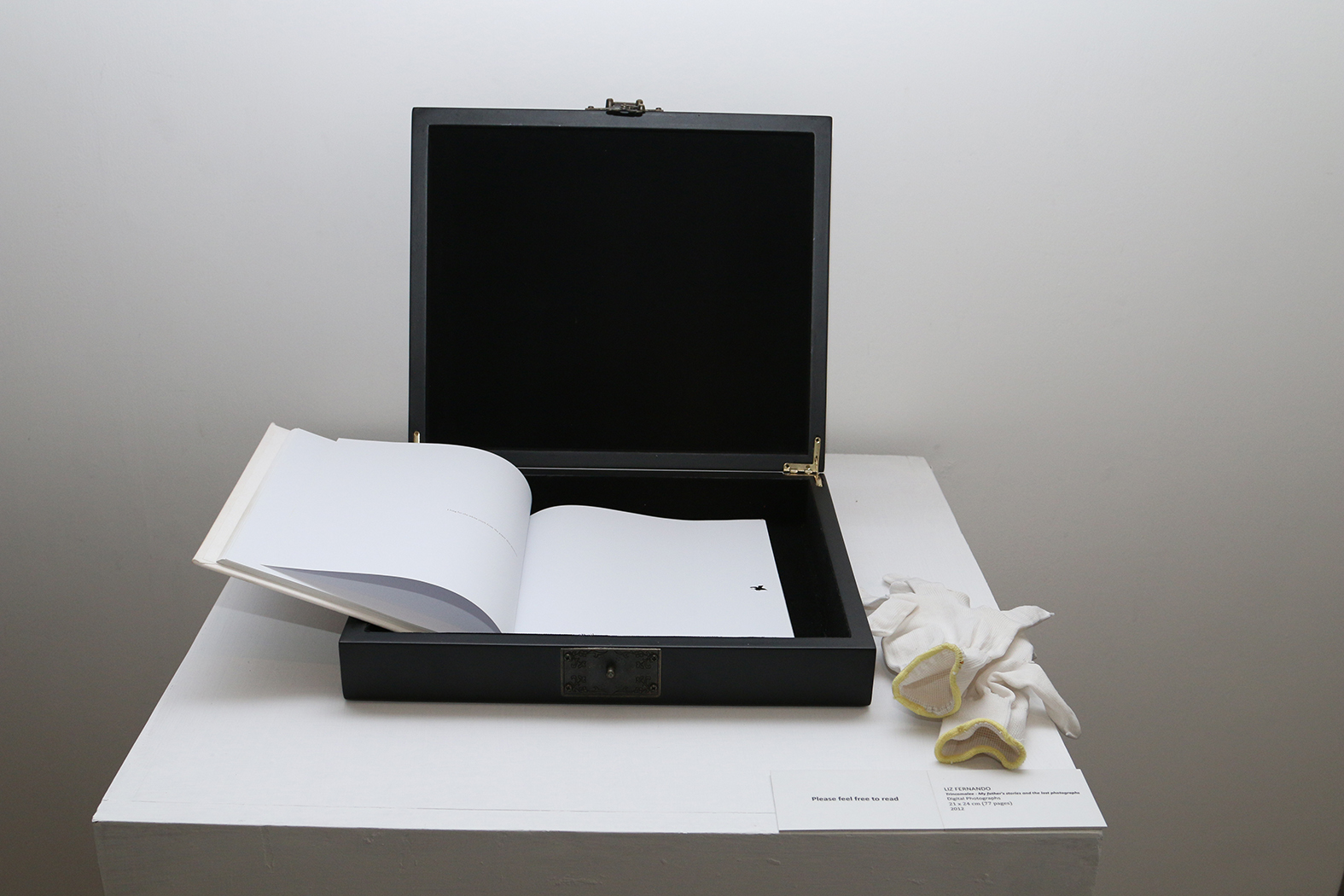 Liz Fernando, Trincomalee - My father's stories and the lost photographs, Digital Photographs,  24 cm x 21 cm (77 pages), 2012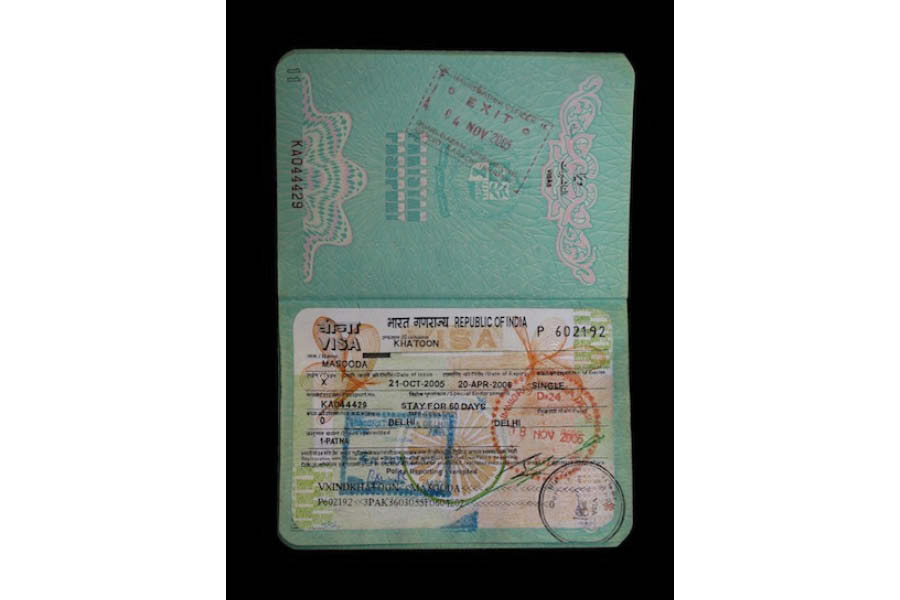 Madiha Sikander, Home Away from Home, Gadrung on paper, 17.5 cm x 12. 5 cm, 2015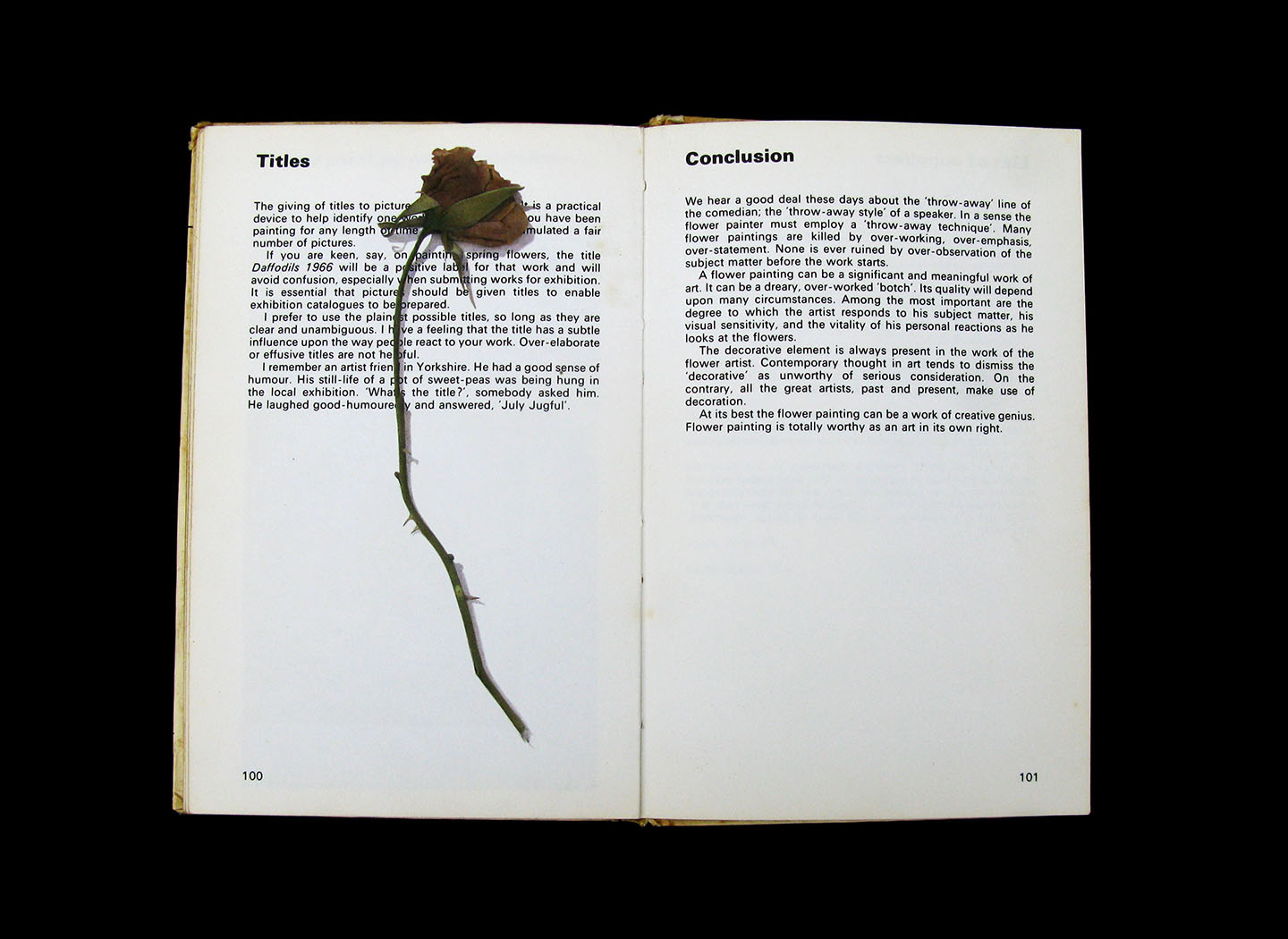 Madiha Sikander, Inconvenient Truth II, Gadrung on paper, 32 cm x 22.5 cm, 2015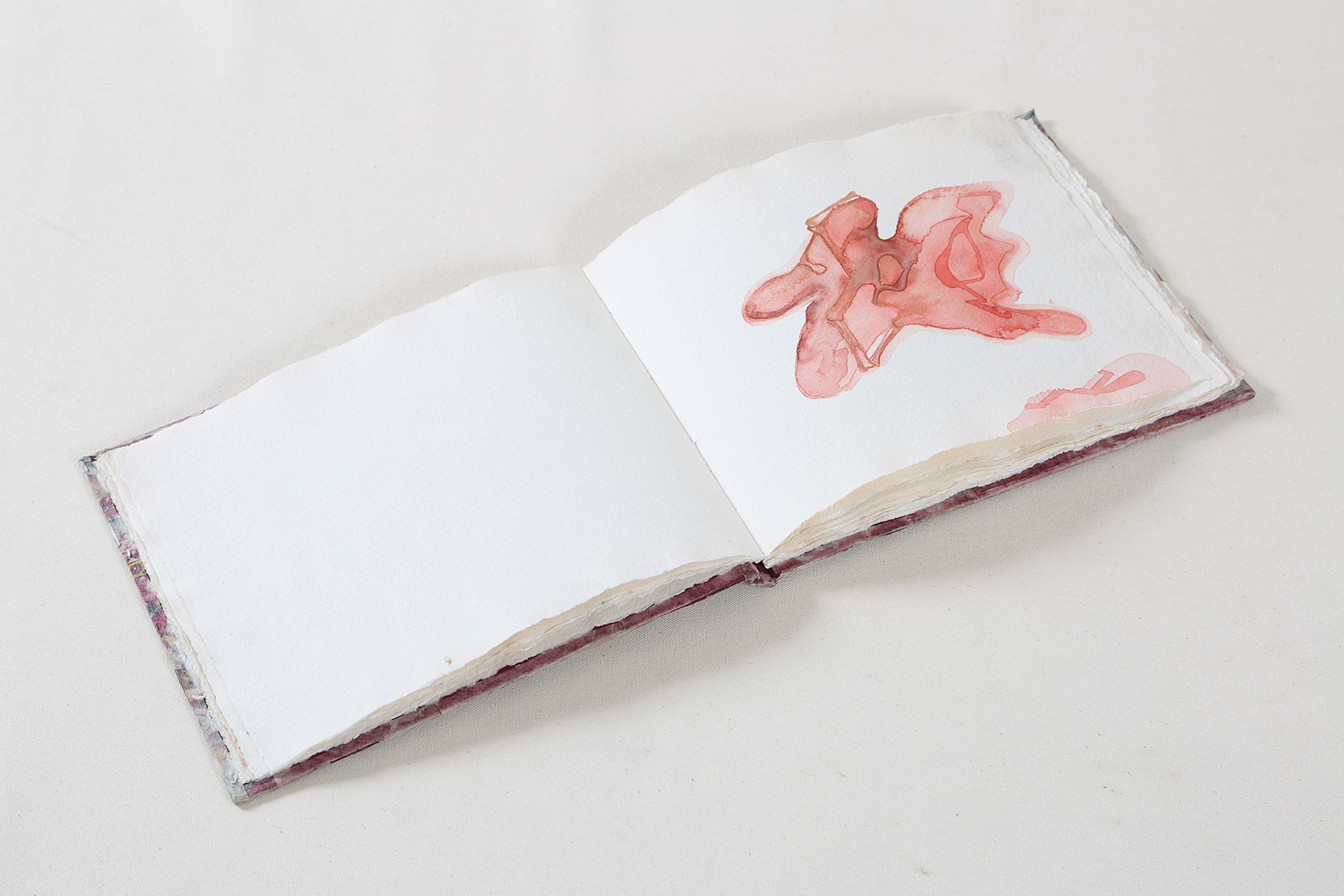 Mahula Ghosh, Stains II, Water colour, stitch on Nepali paper and fabric on hand made paper sketch book, 20 cm X 19 cm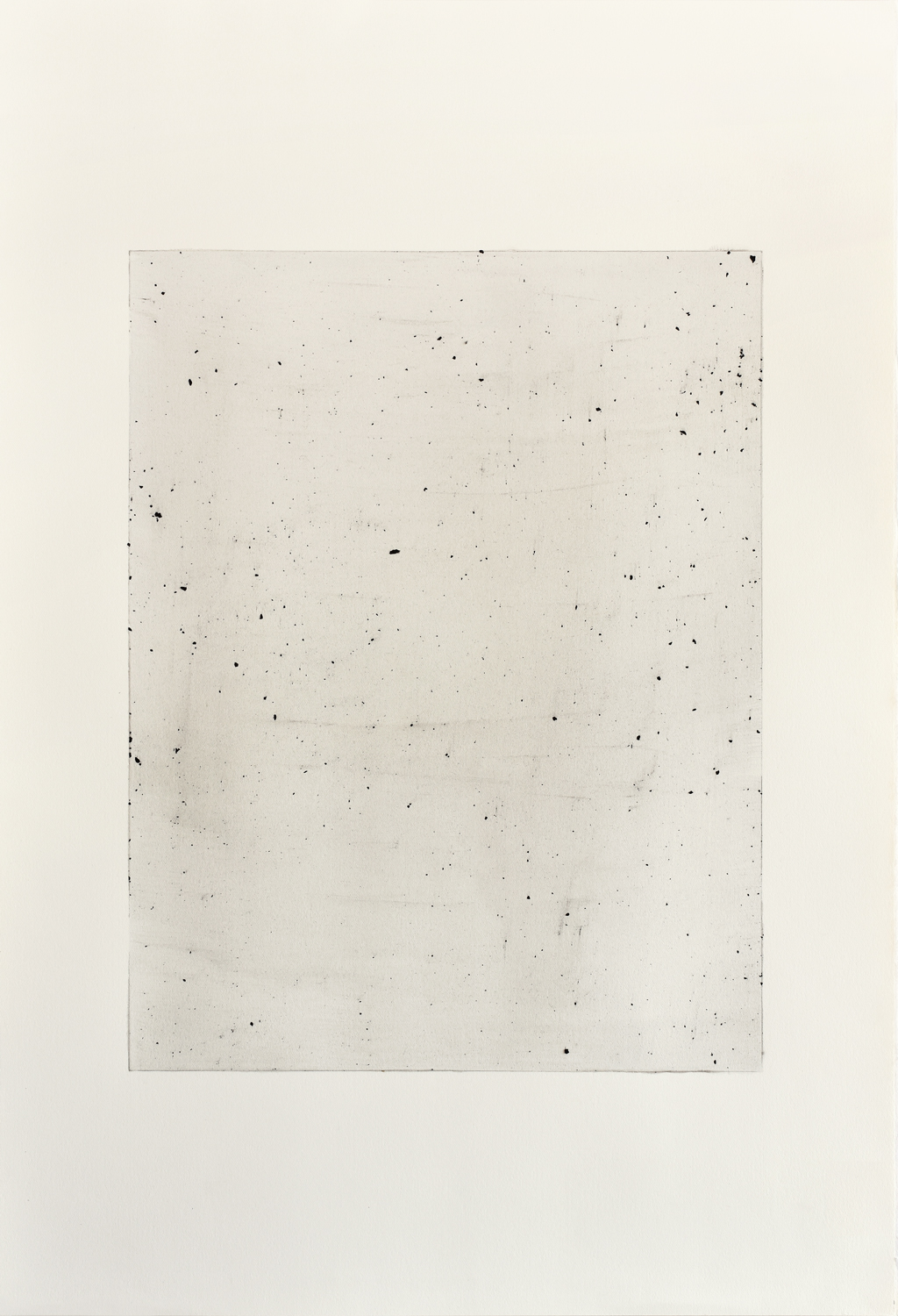 Mansha Chhatwal, Drawing the Line of Intolerance - Abu Nuwas, A Genius of Poetry, Book ash, acrylic on archival paper , 55 cm x 27.5 cm, 2015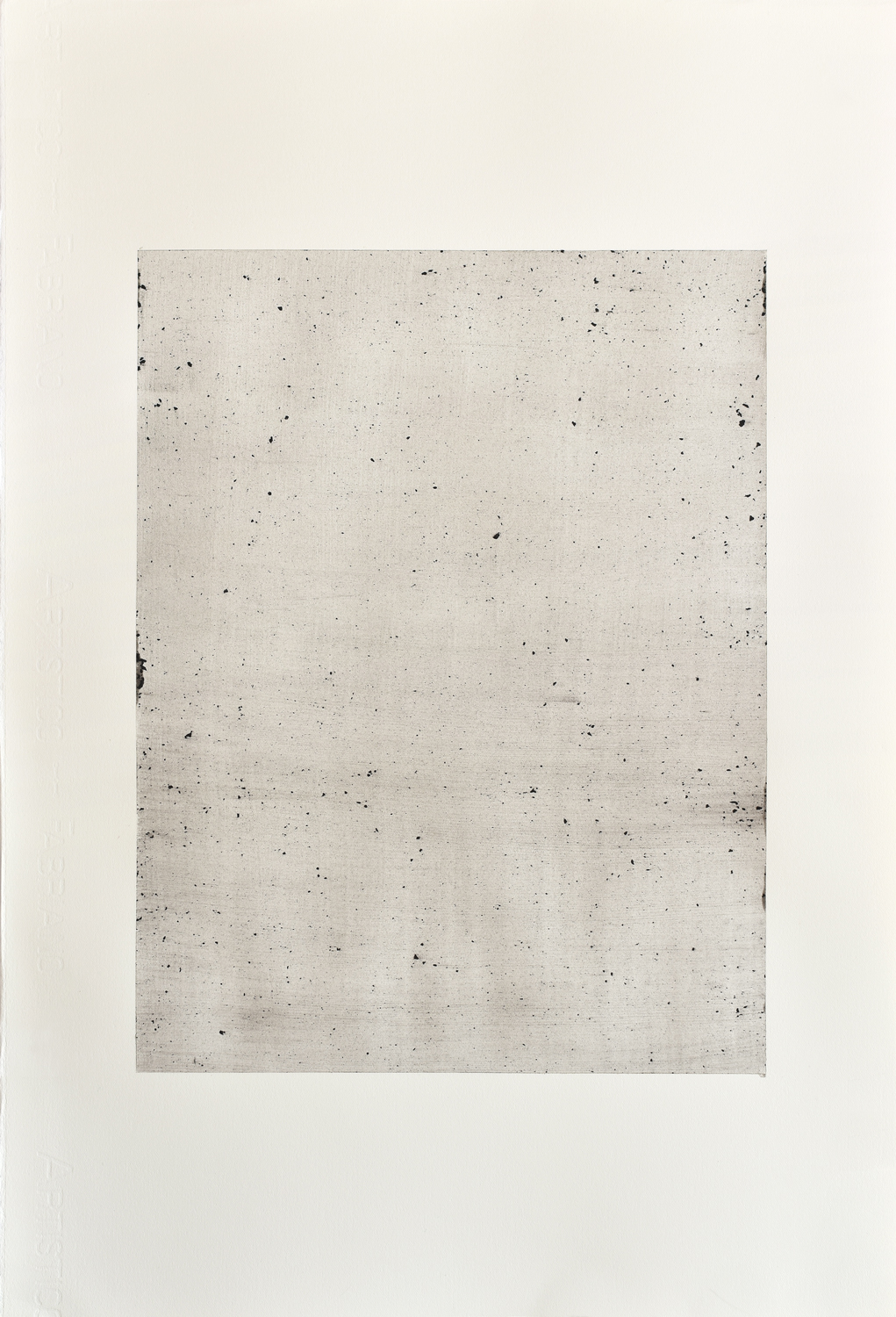 Mansha Chhatwal, Drawing the Line of Intolerance - Such a Long Journey, Rohinton Mistry, Book ash, acrylic on archival paper , 55 cm x 27.5 cm, 2015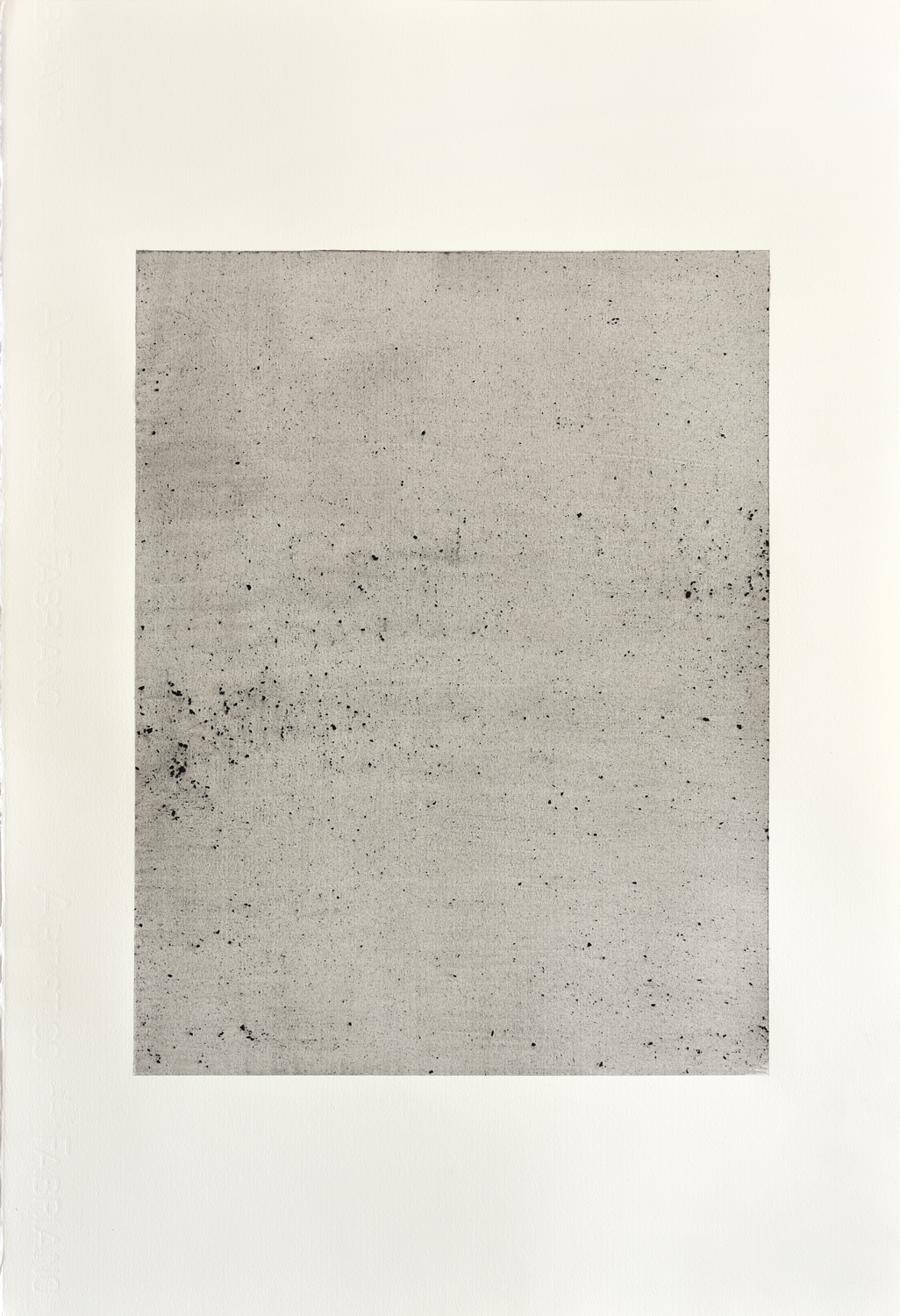 Mansha Chhatwal, Drawing the Line of Intolerance - Madhorubhagan, Perumal Murugan, Book ash, acrylic on archival paper , 55 cm X 27.5 cm, 2015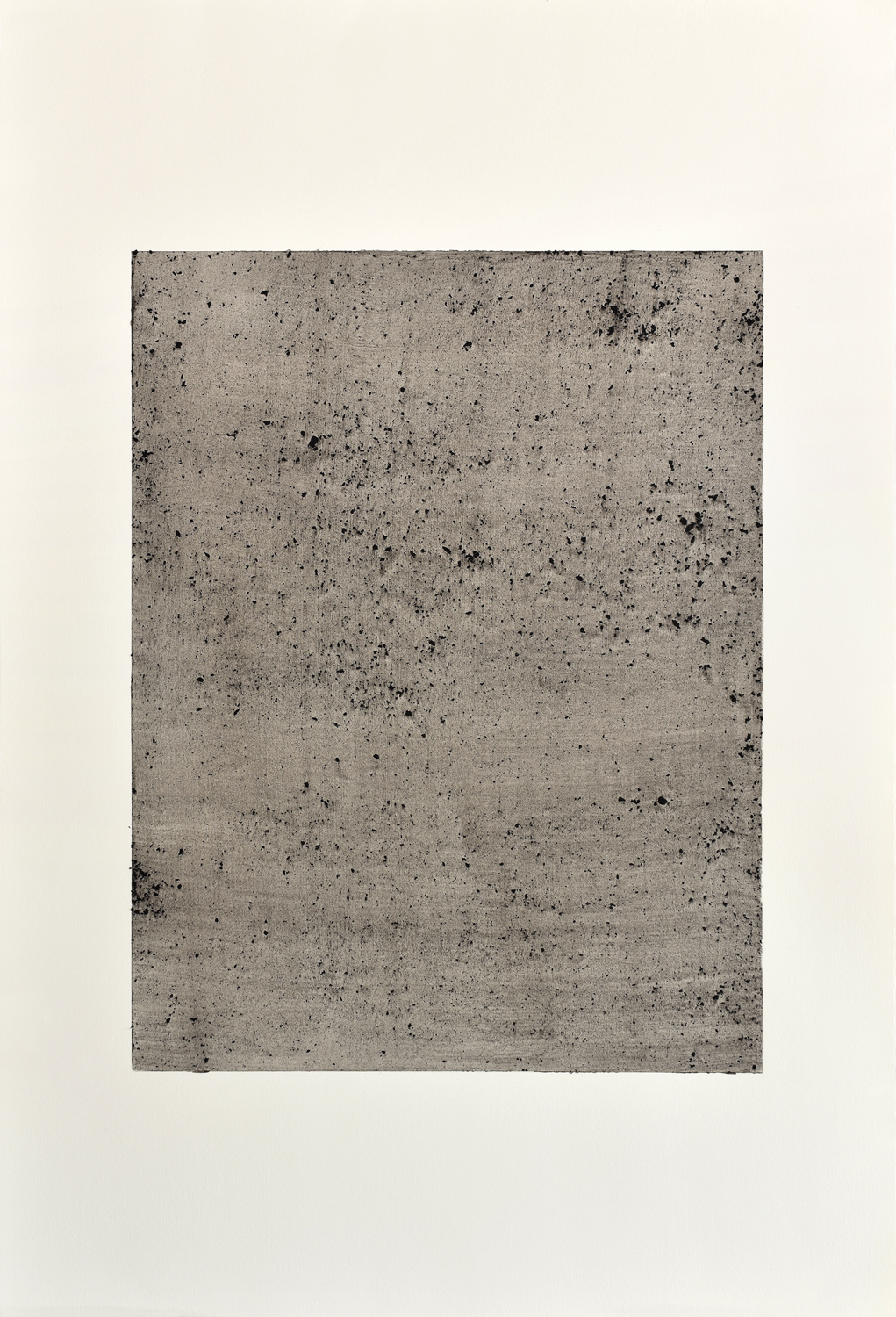 Mansha Chhatwal, Drawing the Line of Intolerance - God Resigns at the Summit Meeting, Nawal El Saadawi, Book ash, acrylic on archival paper , 55 cm X 27.5 cm, 2015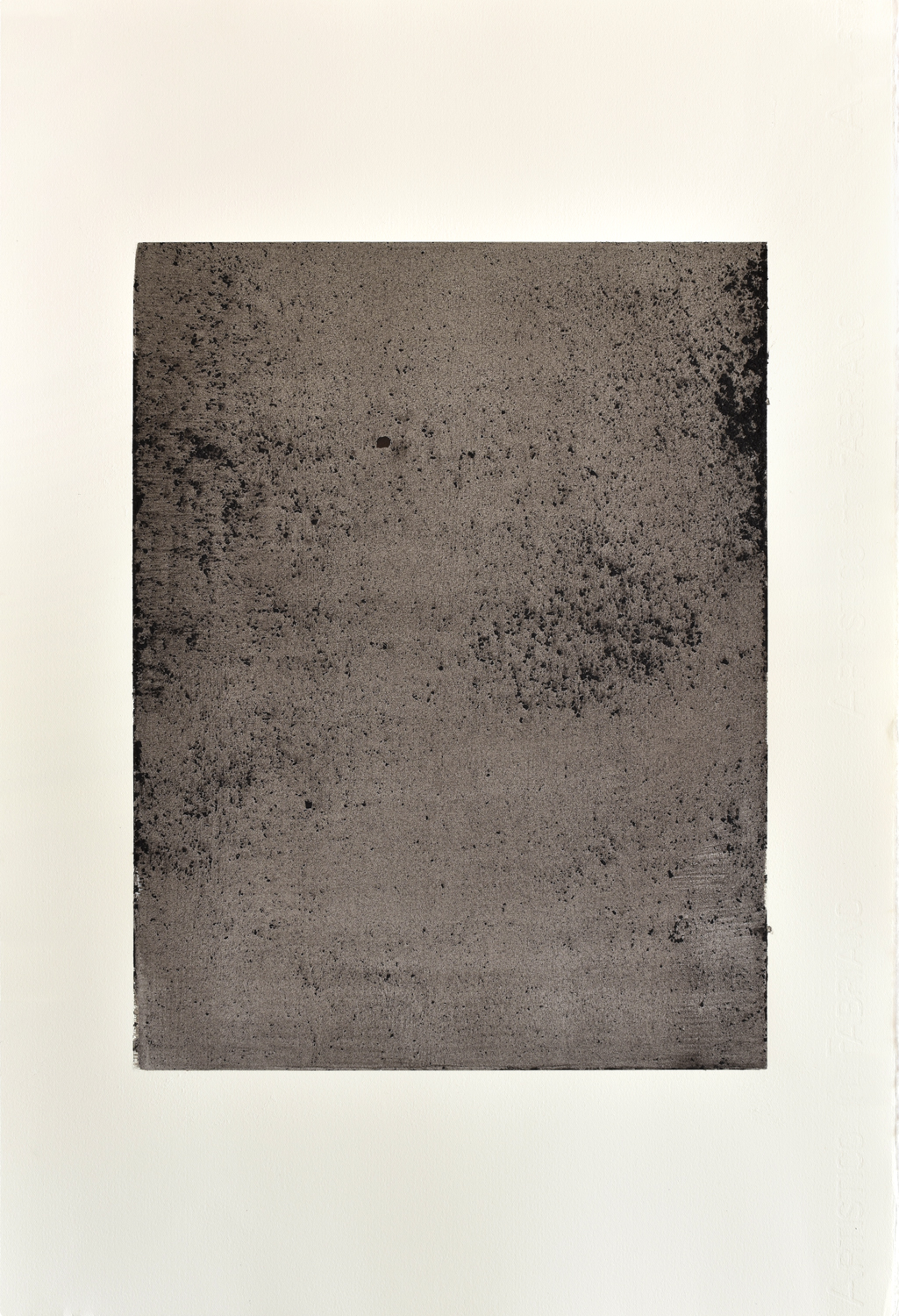 Mansha Chhatwal, Drawing the Line of Intolerance - Perburuan, Pramoedya Anata Toer, Book ash, acrylic on archival paper , 55 cm x 27.5 cm, 2015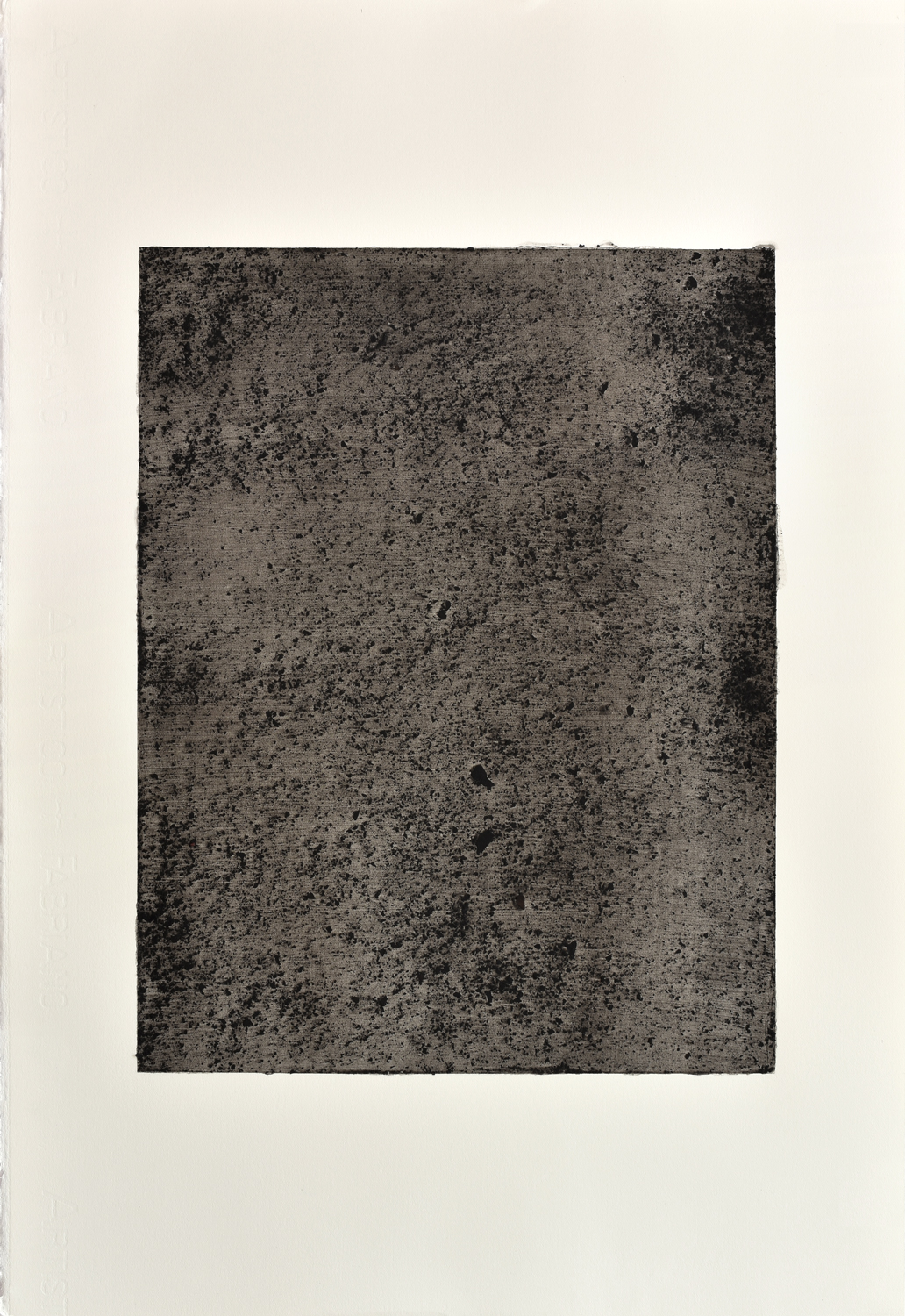 Mansha Chhatwal, Drawing the Line of Intolerance - The Satanic Verses, Salman Rushdie, Book ash, acrylic on archival paper , 55 cm x 27.5 cm, 2015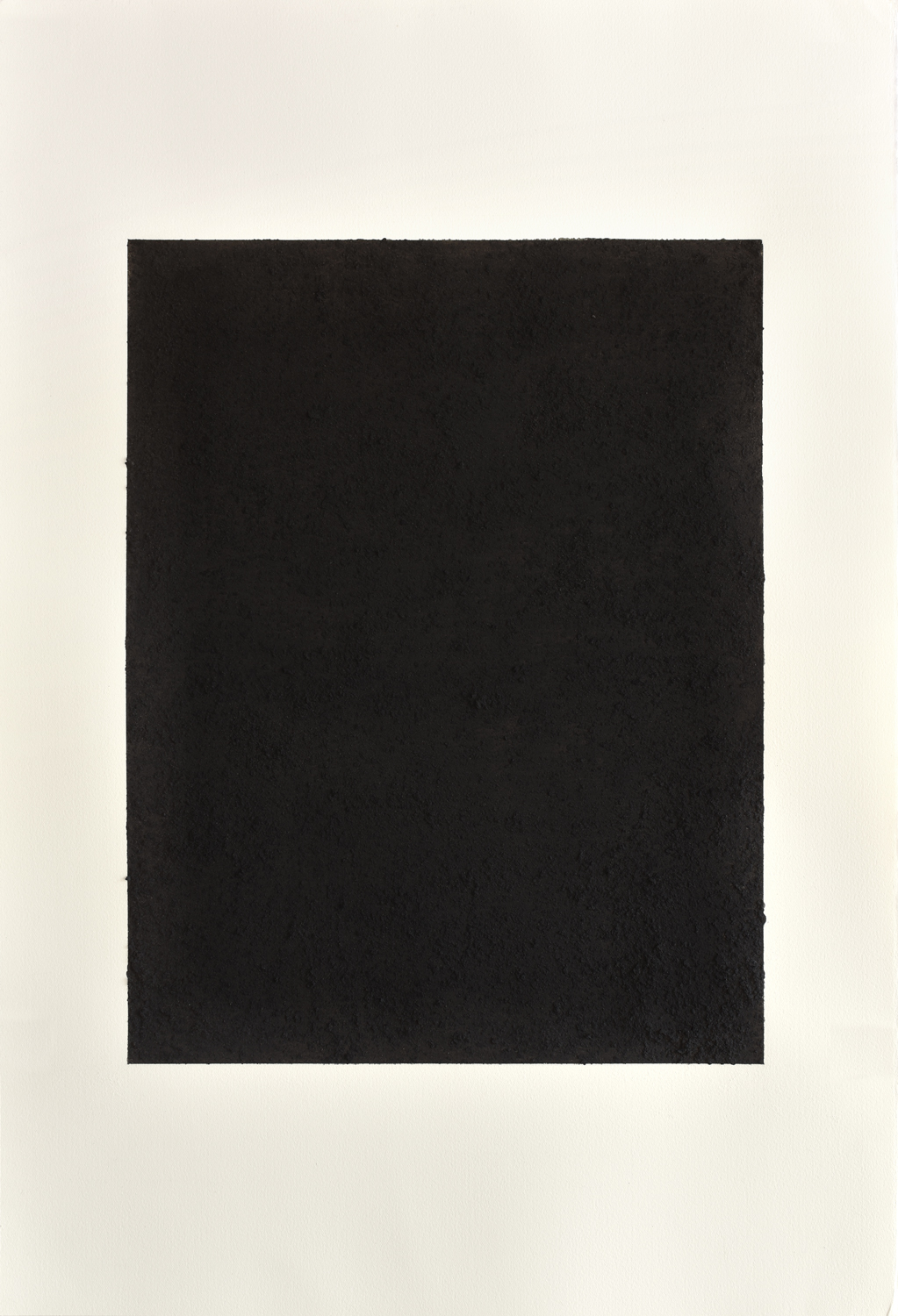 Mansha Chhatwal, Drawing the Line of Intolerance - Lajja, Taslima Nasrin, Book ash, acrylic on archival paper , 55 cm x 27.5 cm, 2015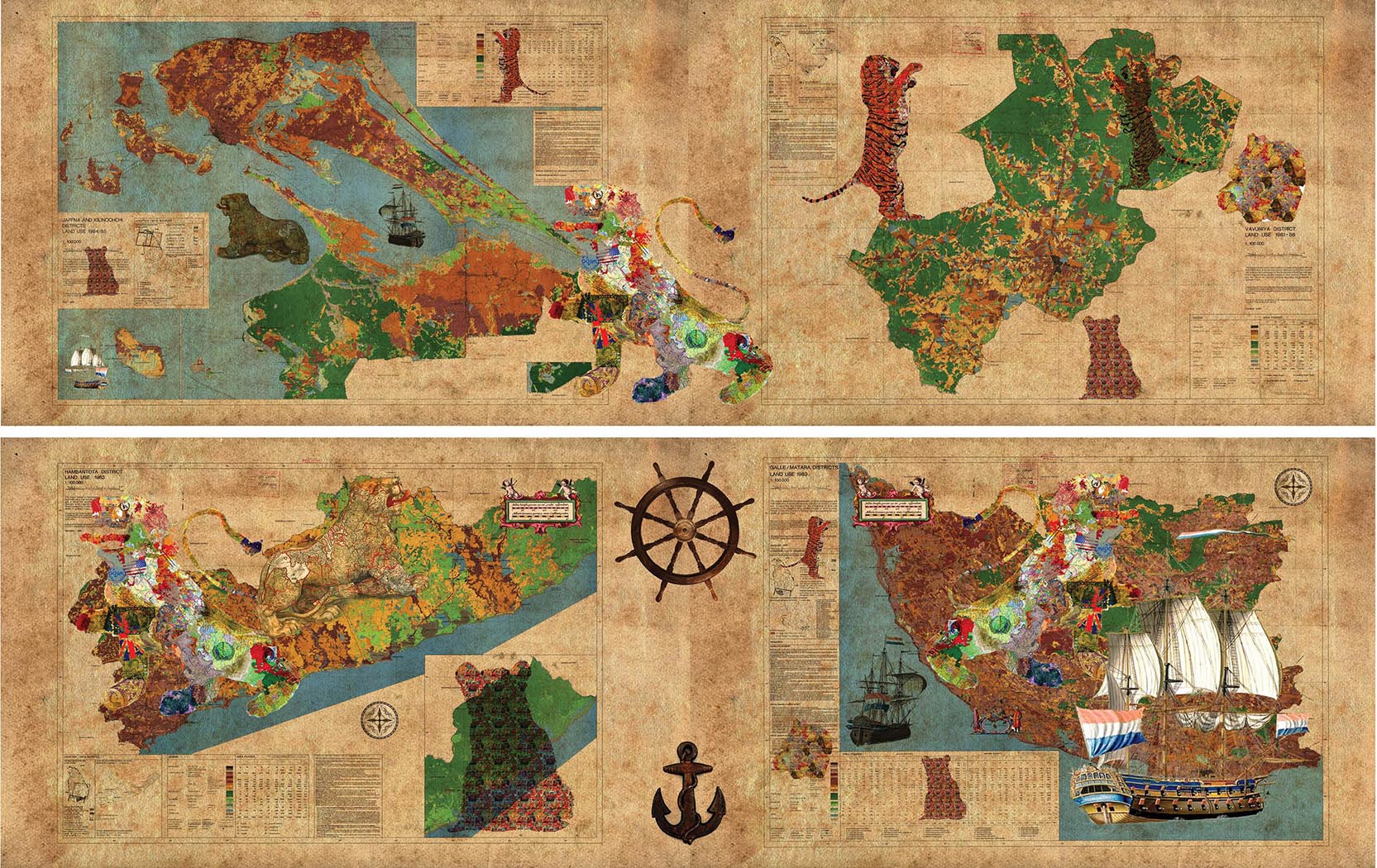 Pala Pothupitiye, Jaffna to Vavuniya division map-Matara & Hambantota division map, Archival print book, 50 cm x 31 cm, 2016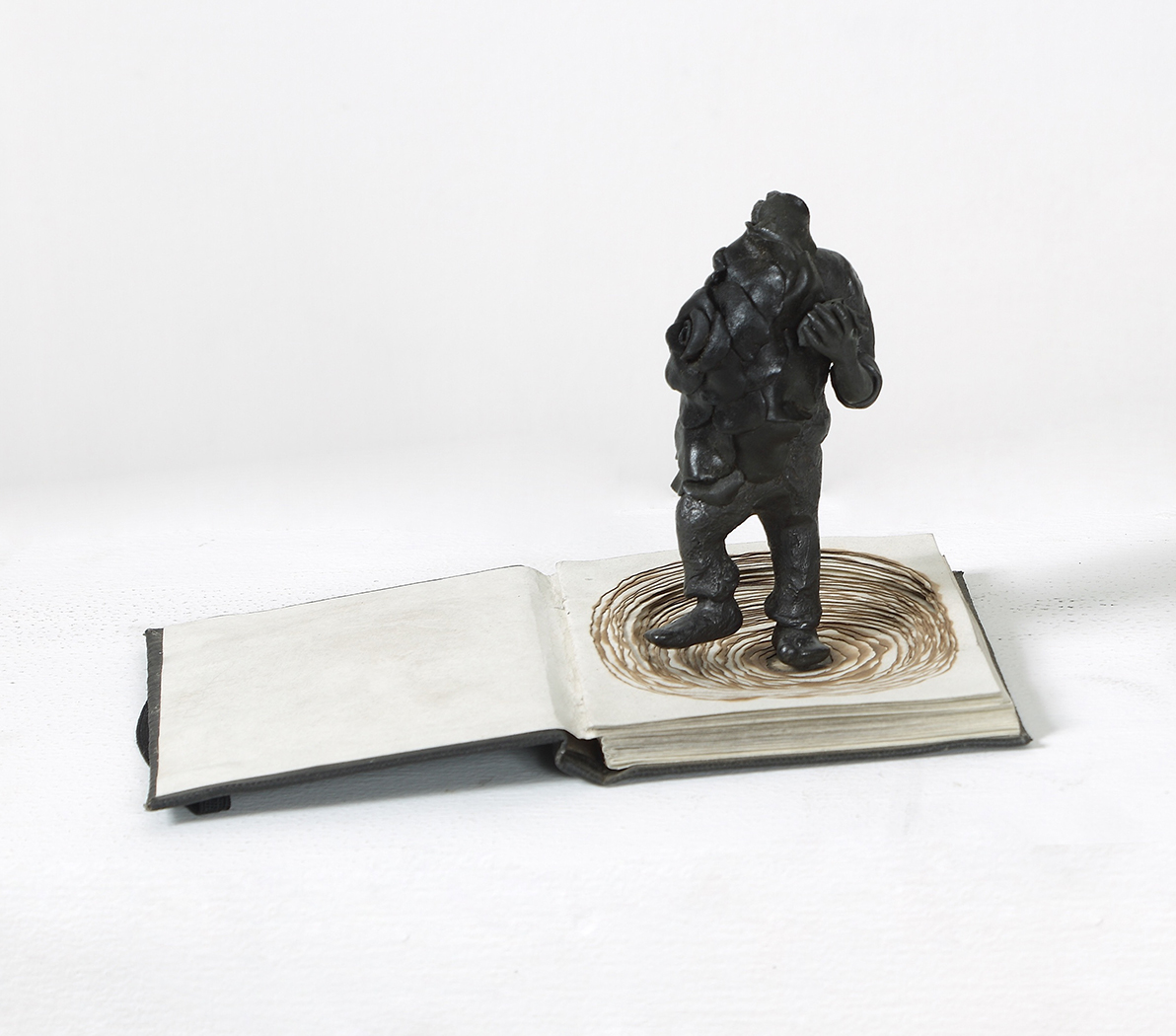 Preksha Tater, _I feel....., Sketchbook and e-proxy composed, 27.5 cm x 12.5 cm x 10 cm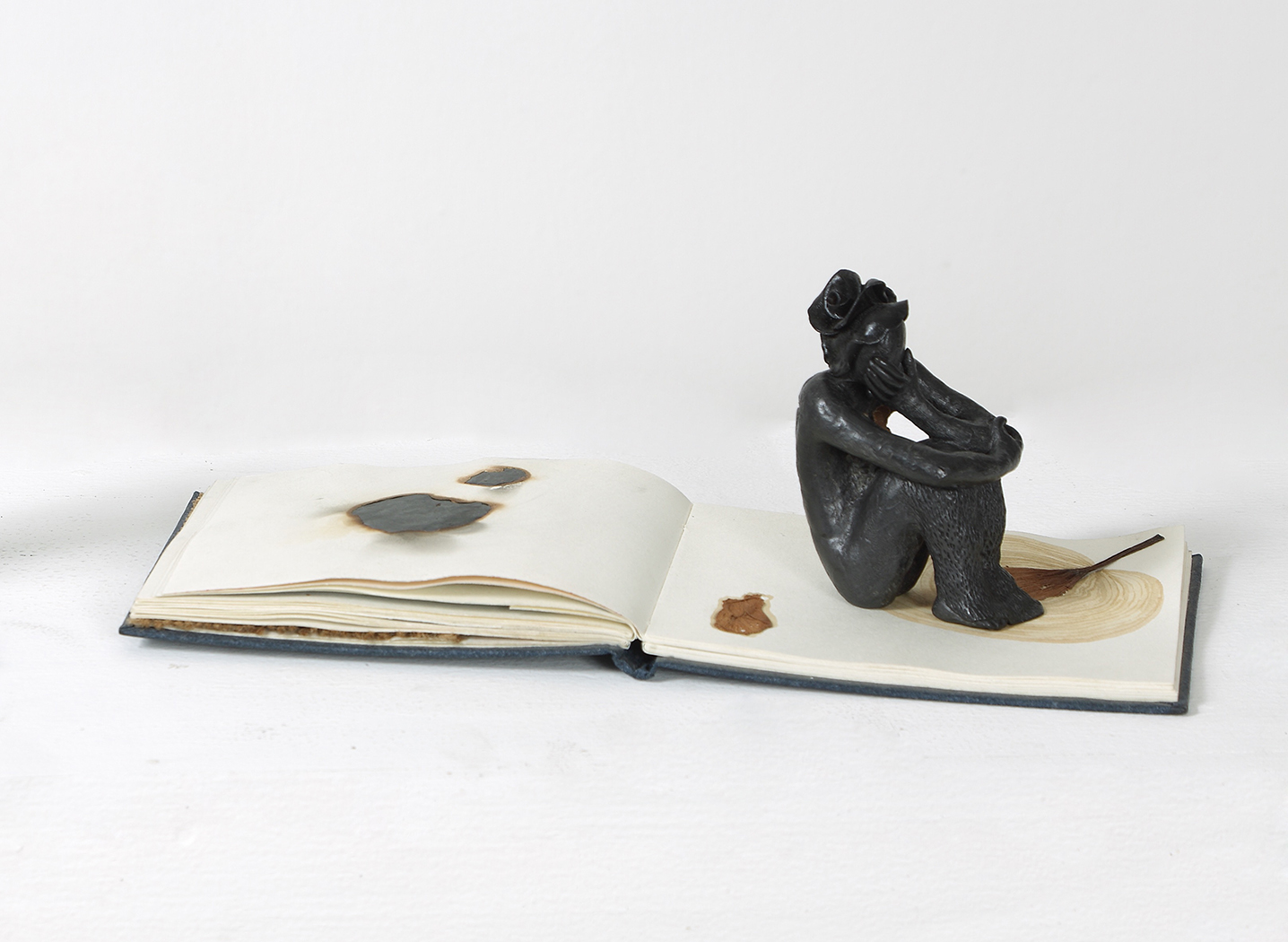 Preksha Tater, I feel..., Sketchbook and e-proxy composed, 21.5 cm x 13.5 cm x 12.5 cm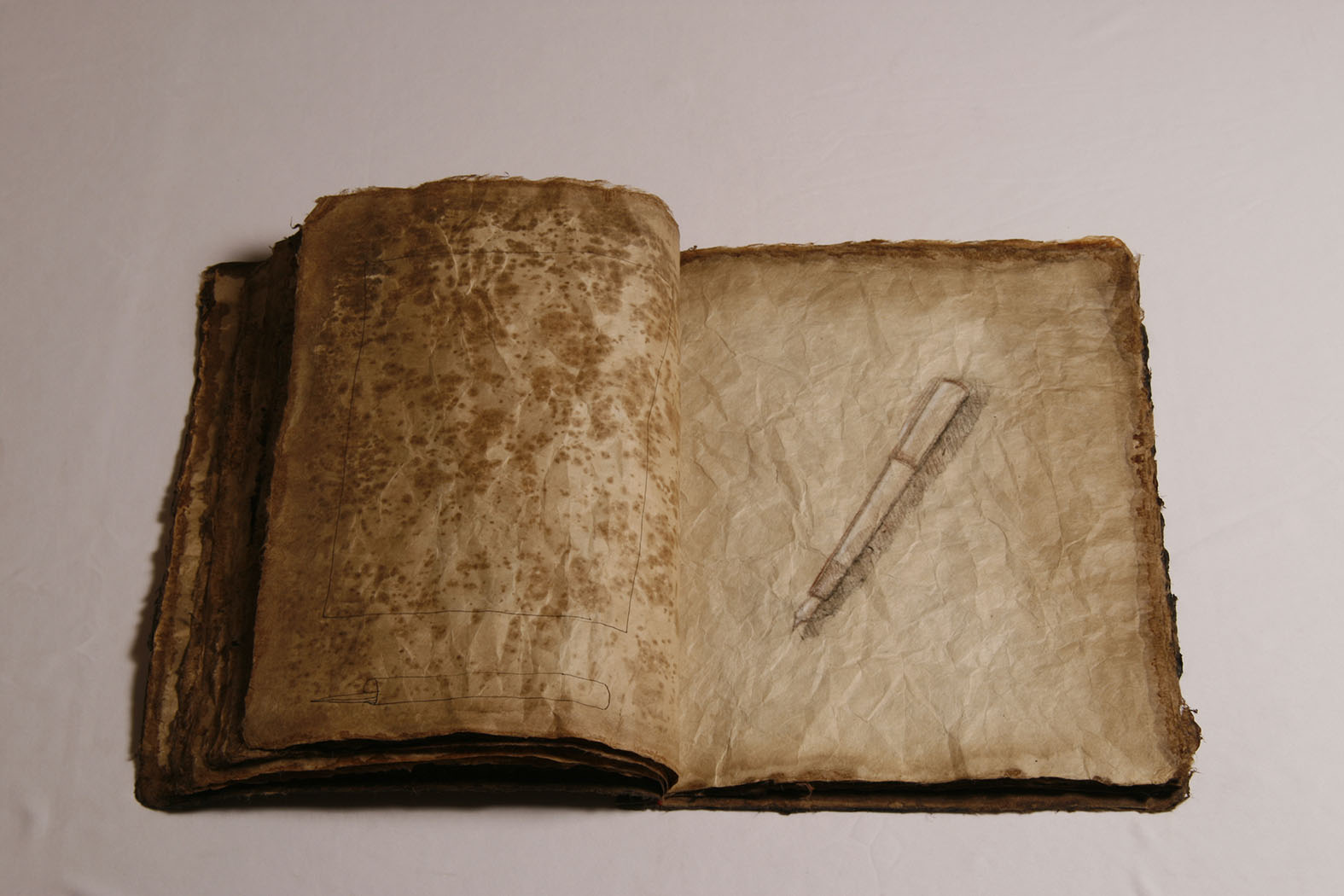 Ravi Kumar Kashi,, Everything He Touched, Conte, ink and photocopy transfer on Japanese raka stained handmade paper, 36 cm x 30 cm x 1 cm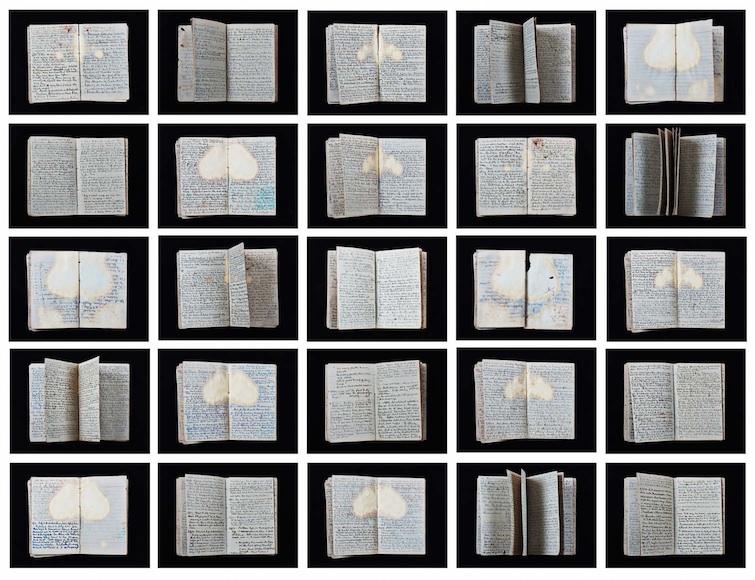 Sathyanand Mohan , Chronical, set of 25 photographs, 40 cm x 60 cm (each), 2013

Tanmoy Samanta, The Cartographer's Paradox, Recycled book, paperboard & gouache on rice paper, 22.5 cm x 37.5 cm x 2.5 cm, 2014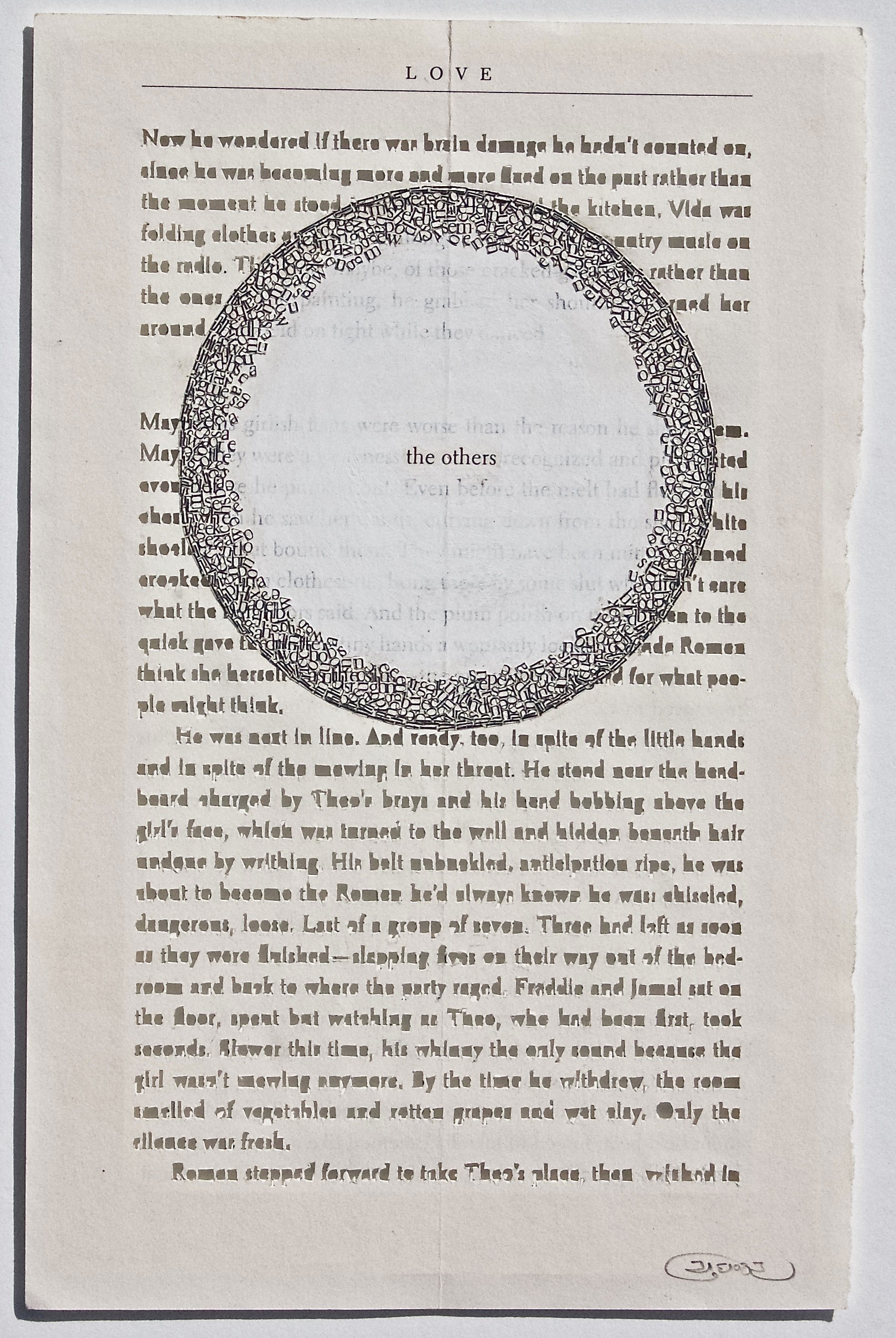 Youdhisthir Maharjan, Love (the Others) , Reclaimed text cutout collage and Acrylic , 20 cm x 13 cm, 2015

Youdhisthir Maharjan, Love, Acrylic and Ink on Reclaimed Book Pages 37.5 cm x 13 cm, 2015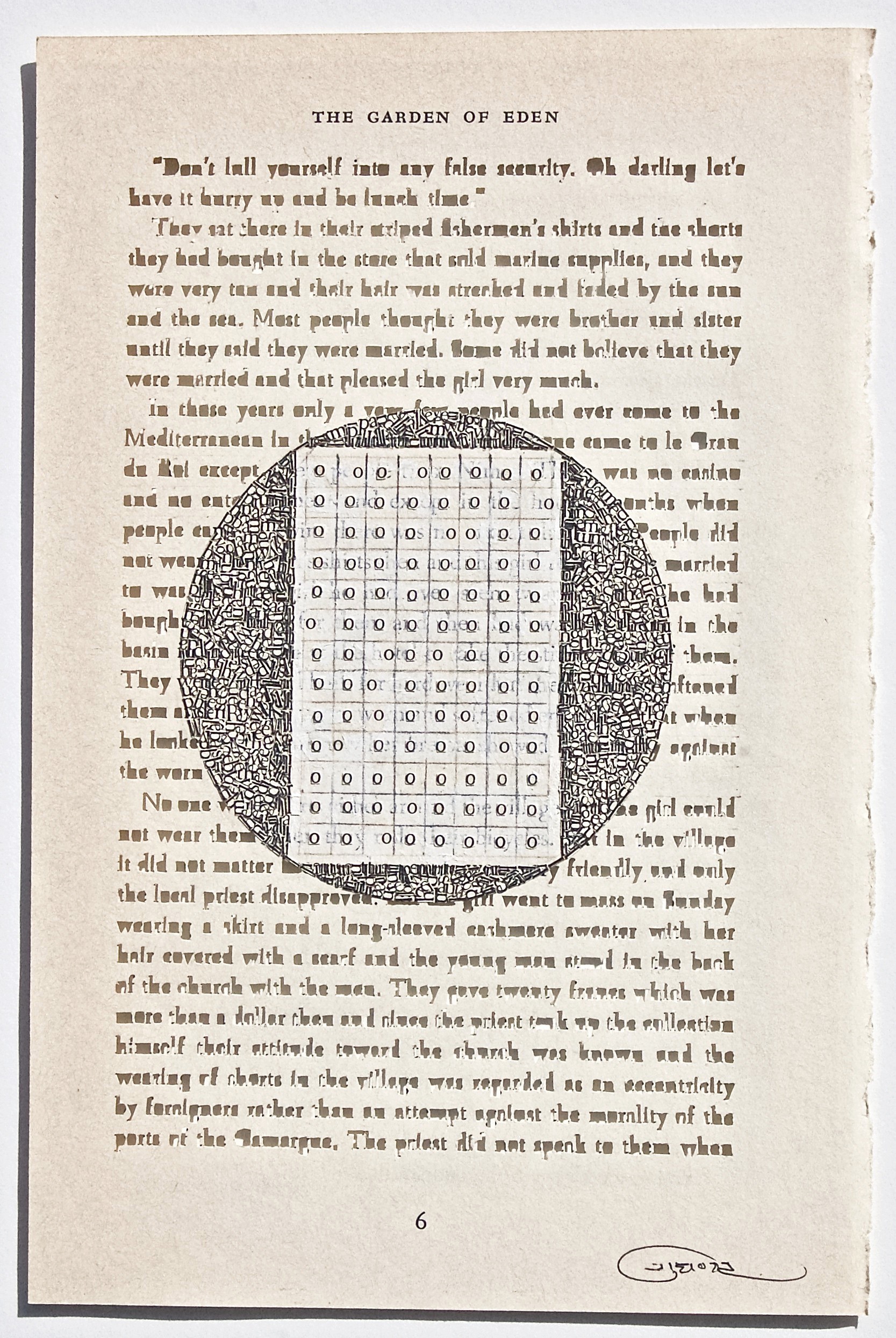 Youdhisthir Maharjan, The Garden of Eden, Reclaimed text cutout collage and Acrylic, 21 cm x 14 cm, 2015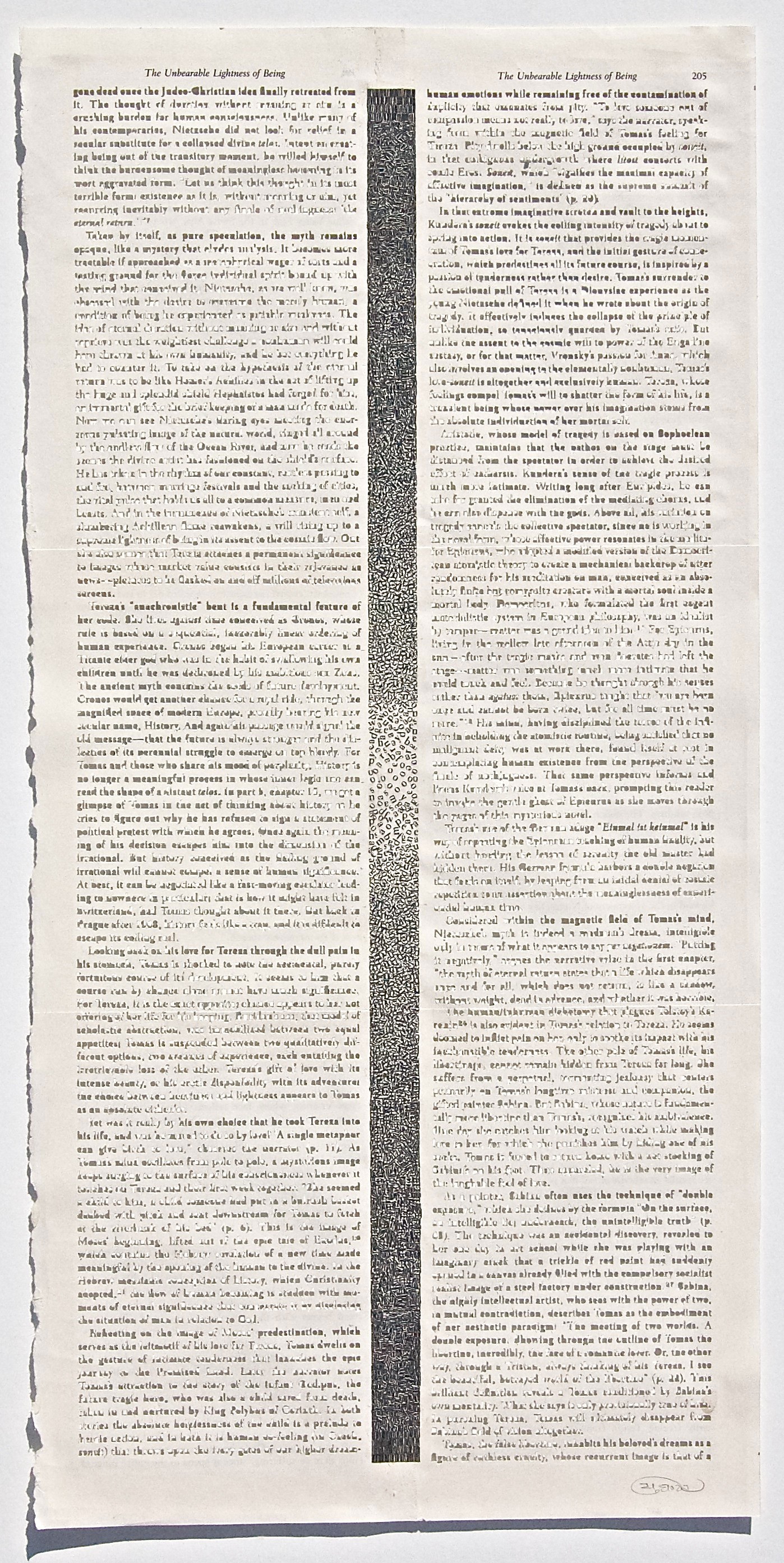 Youdhisthir Maharjan, The Unbearable Lightness of Being, Reclaimed text cutout collage 52.5 cm x 25.5 cm, 2015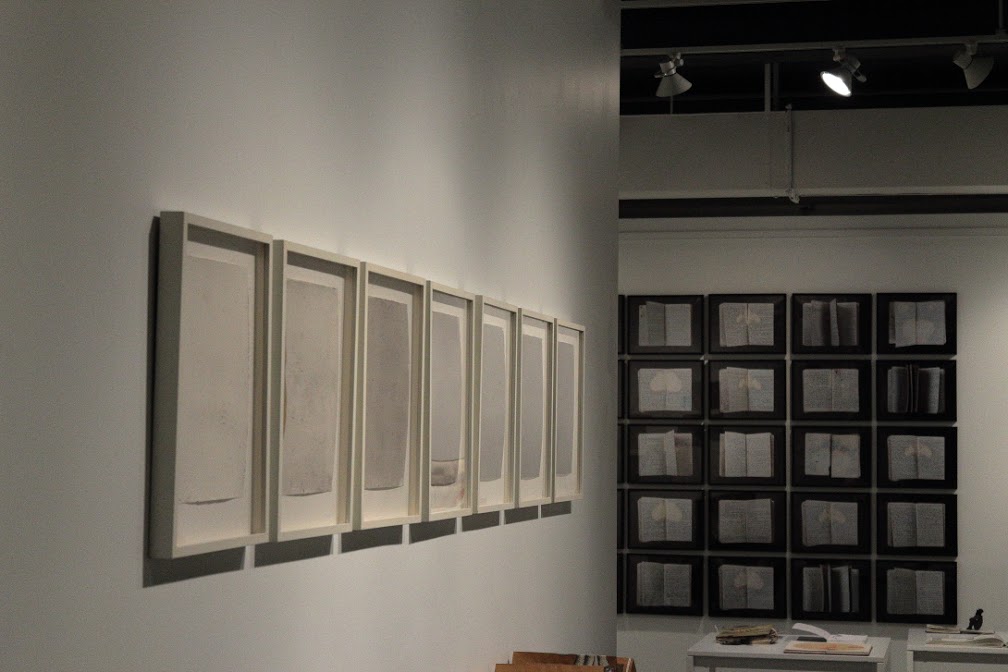 Installation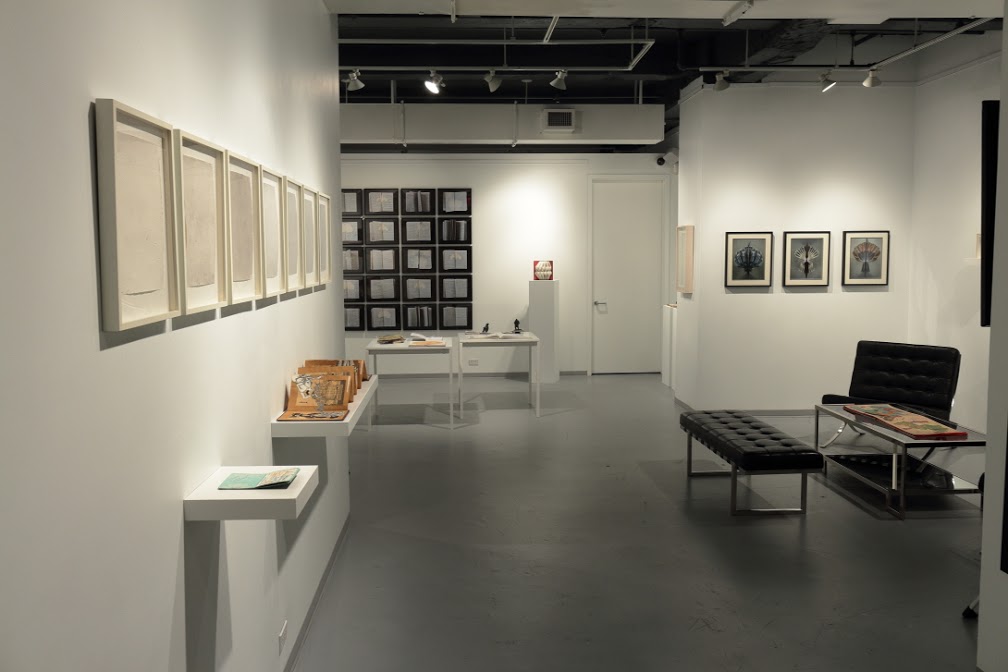 Installation
Installation
Installation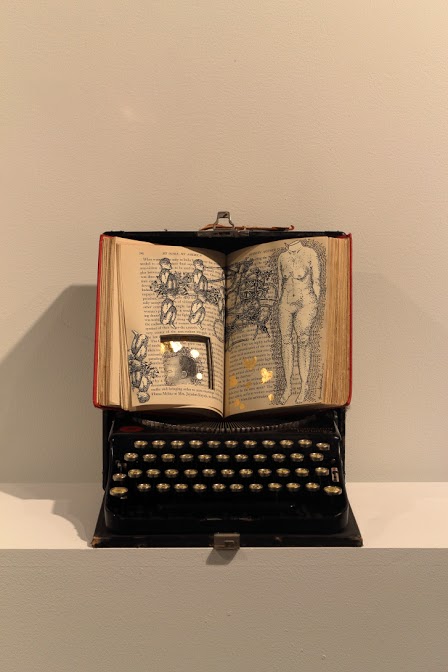 Installation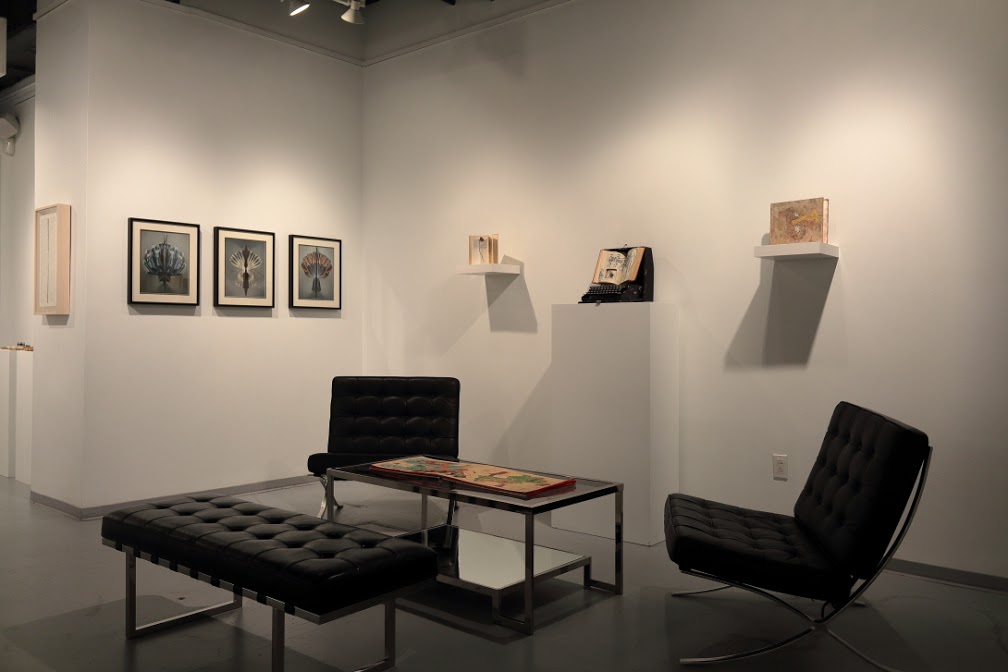 Installation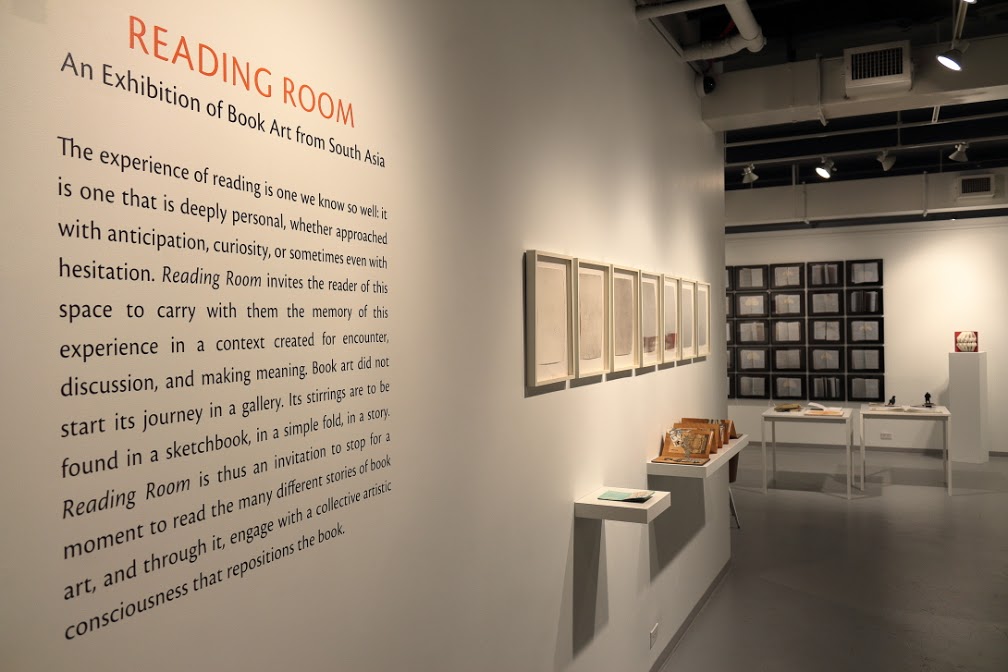 Installation