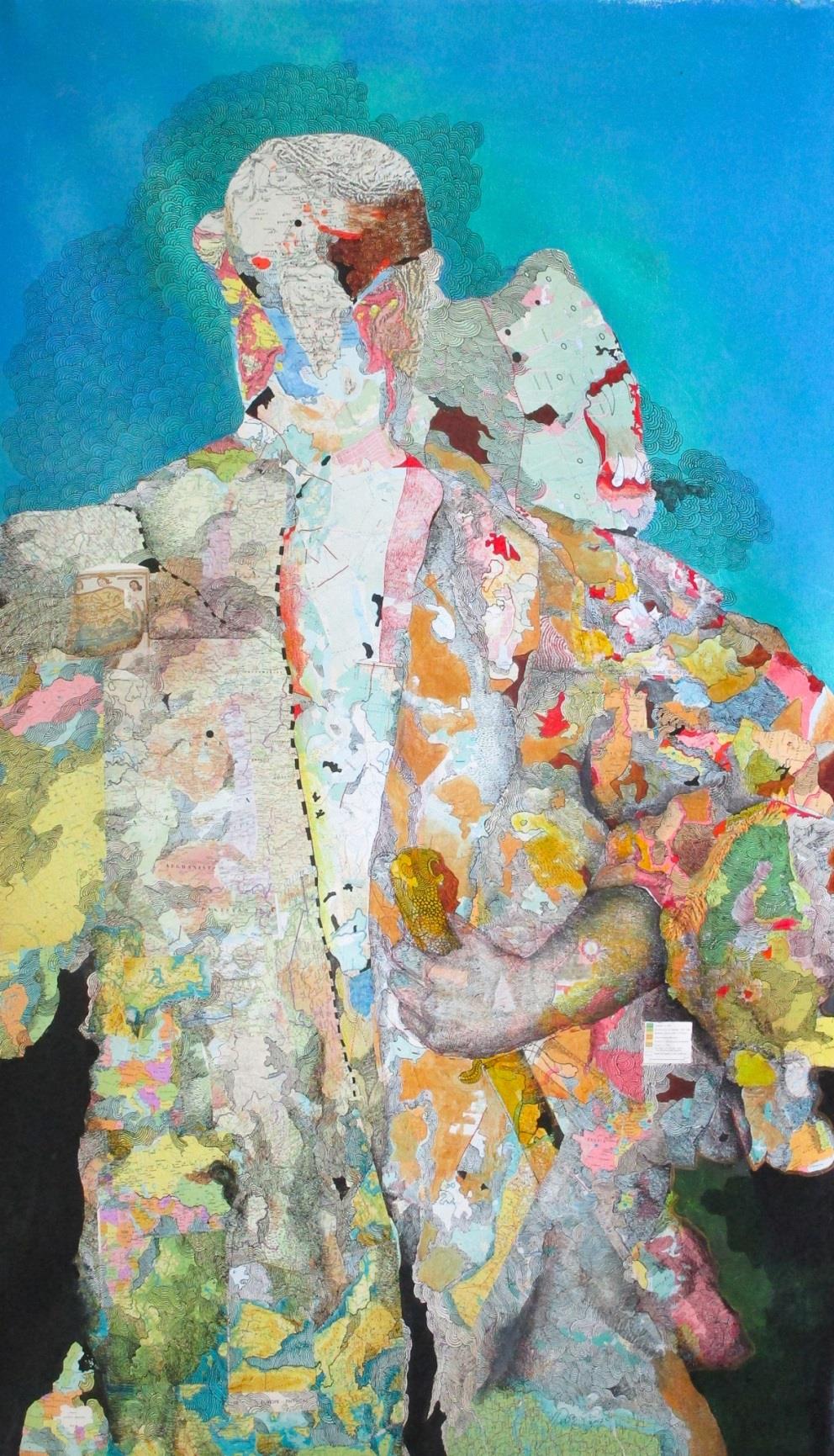 Pala Pothupitiye, Degree Holder, Acrylic and ink on canvas, 143 cm x 81.5 cm, 2017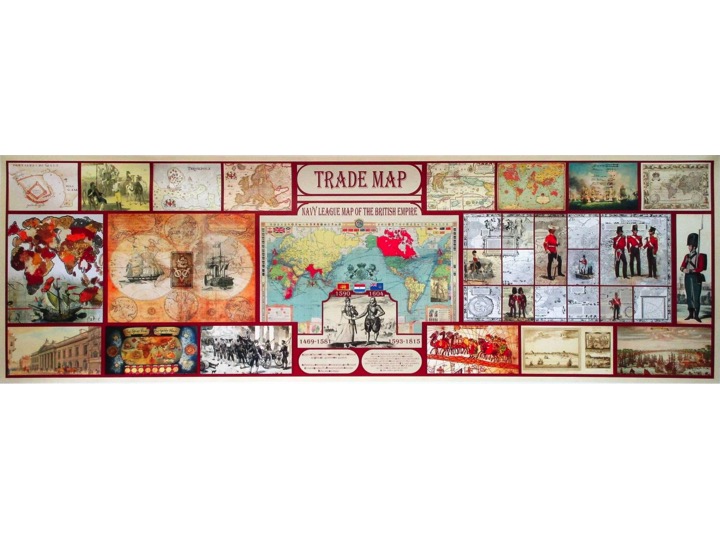 Pala Pothupitiye, Trade Map, Acrylic and ink on archival digital print, 75 cm x 240 cm, 2017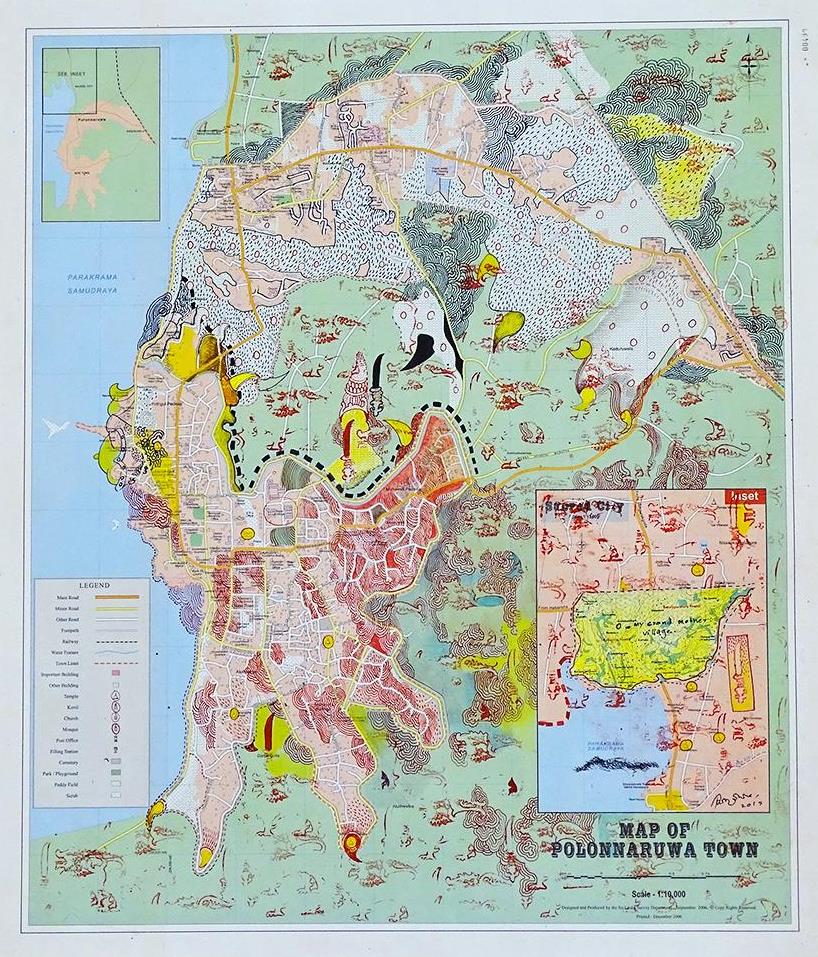 Pala Pothupitiye, Not my Grandmother's Polonnaruwa, Government printed map, ink, pencil and Japanese rice paper, 65 cm x 55 cm, 2015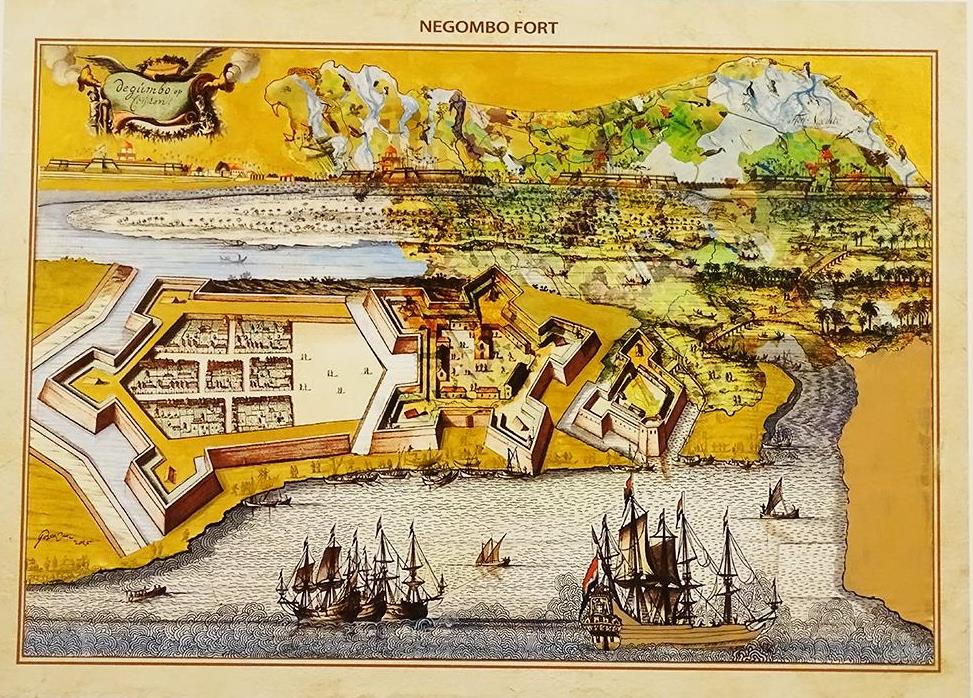 Pala Pothupitiye, Negambo Fort, Ink, pencil and acrylic on archival printed canvas, 55 cm x 74 cm, 2015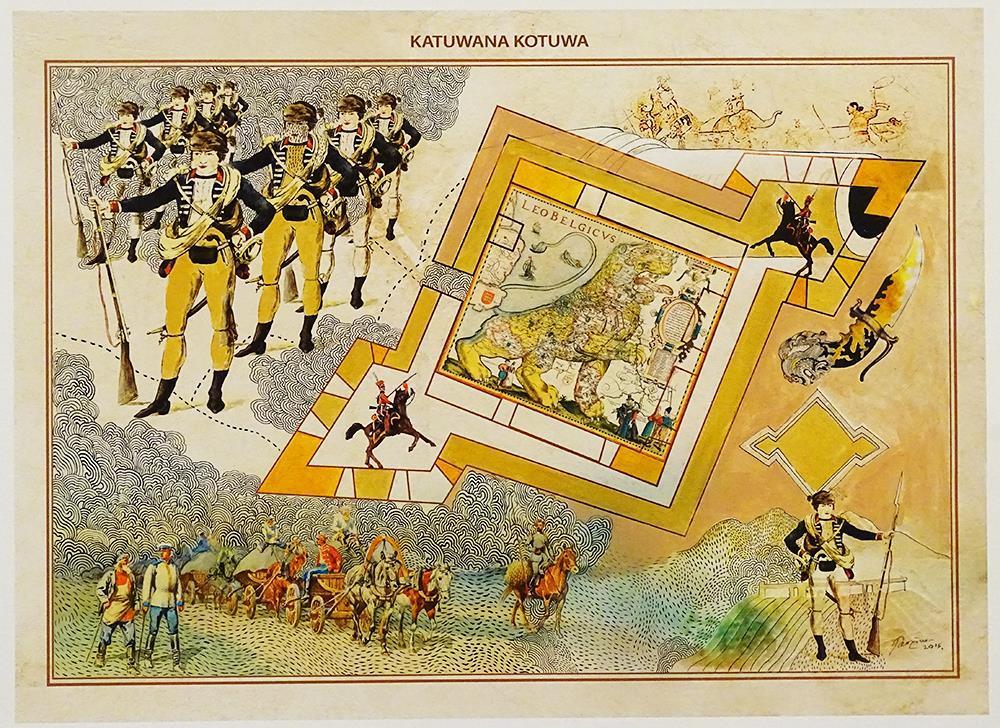 Pala Pothupitiye, Katuwana Kotuwa, Ink, pencil and acrylic on archival printed canvas, 55 cm x 74 cm, 2015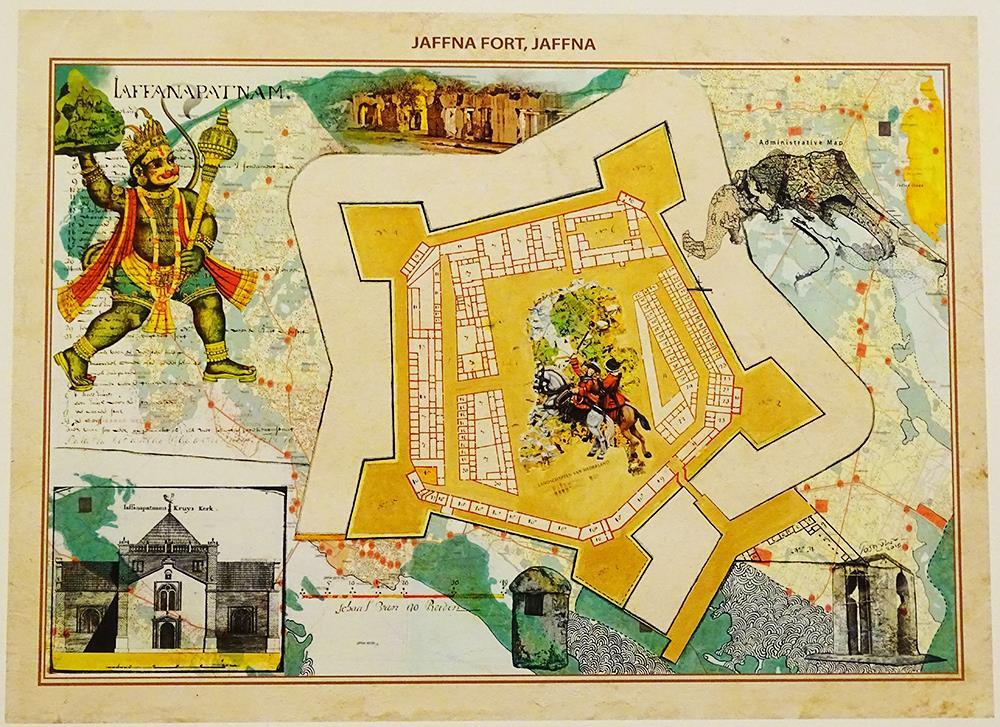 Pala Pothupitiye, Jaffna Fort, Jaffna, Ink, pencil and acrylic on archival printed canvas, 55 cm x 74 cm, 2015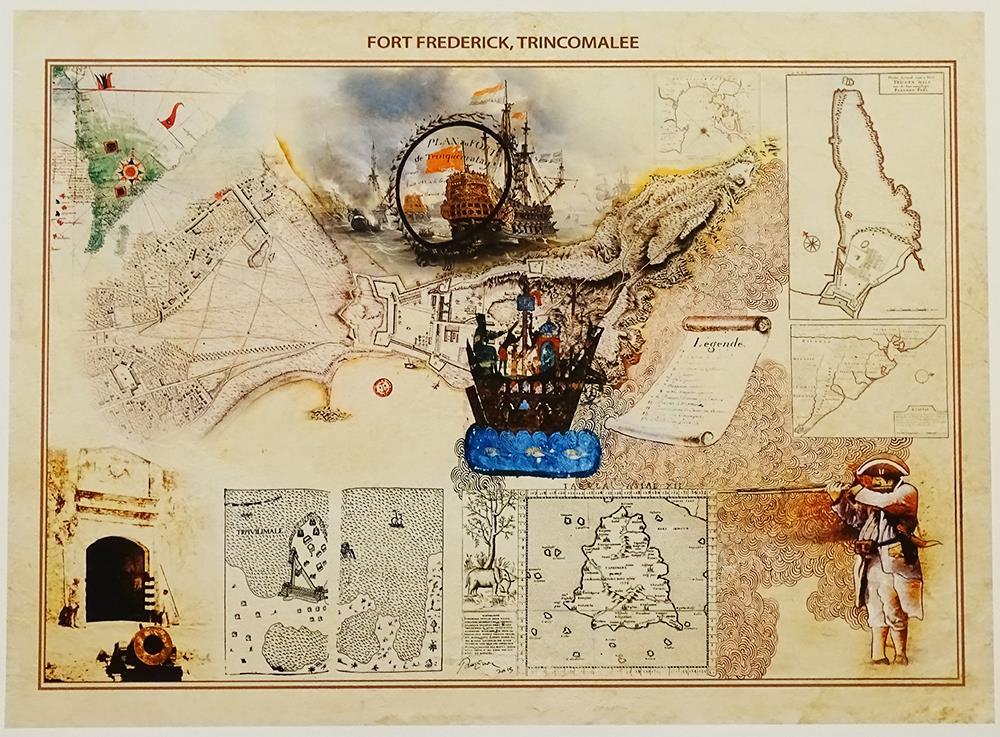 Pala Pothupitiye, Fort Frederick, Trincomalee, Ink, pencil and acrylic on archival printed canvas, 55 cm x 74 cm, 2015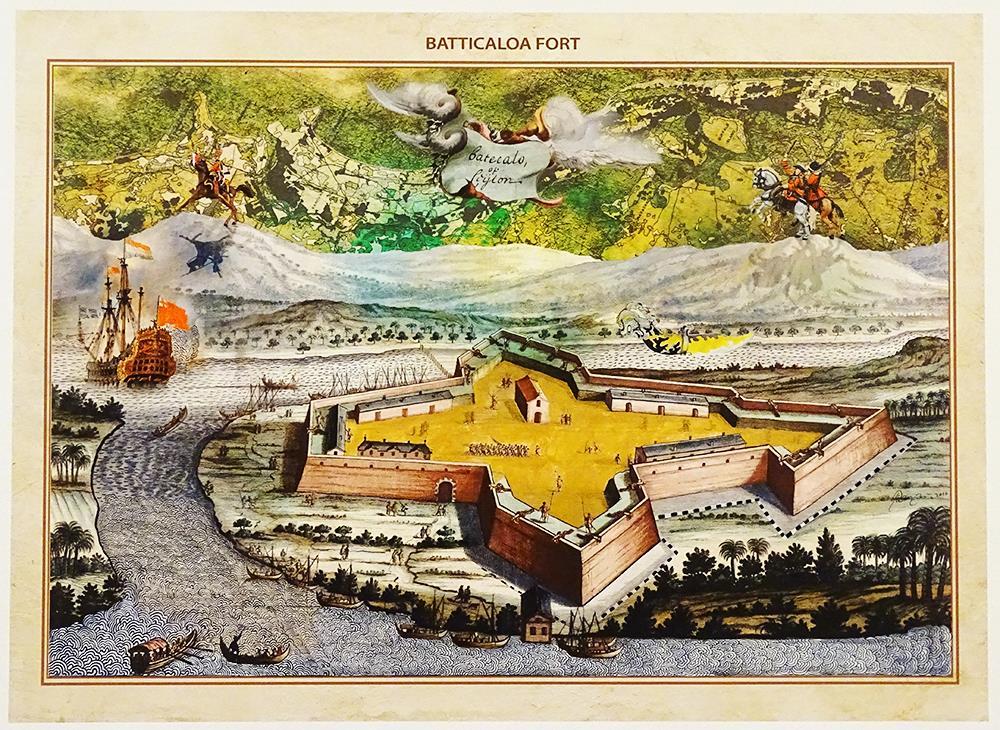 Pala Pothupitiye, Batticaloa Fort, Ink, pencil and acrylic on archival printed canvas, 55 cm x 74 cm, 2015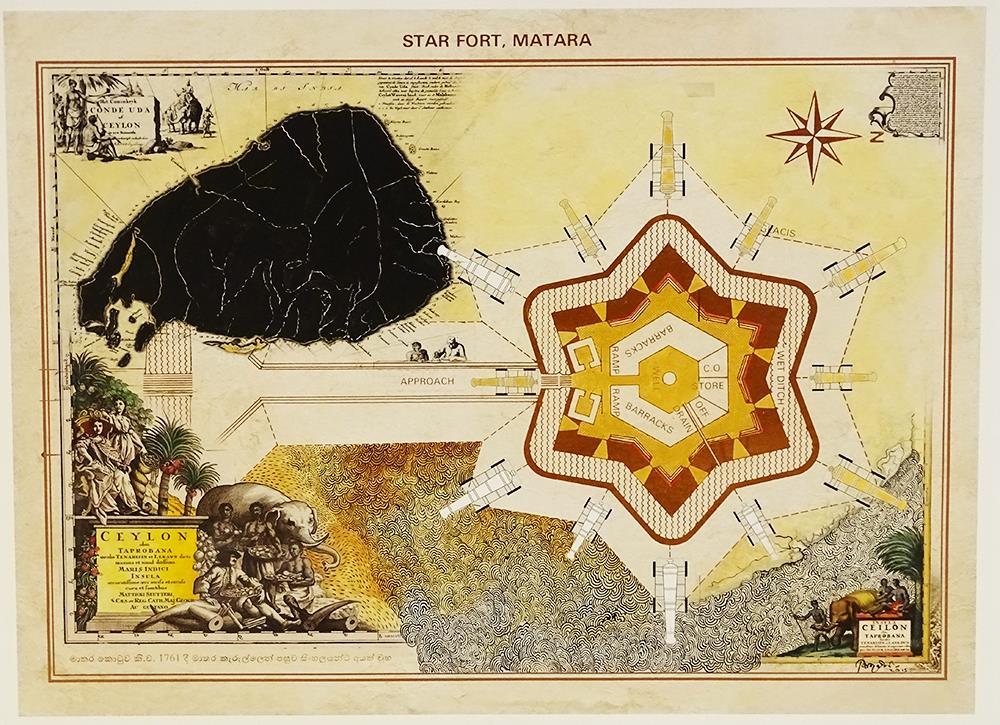 Pala Pothupitiye, Star Fort Matara, Ink, pencil, acrylic on archival printed canvas, 55 cm x 74 cm, 2015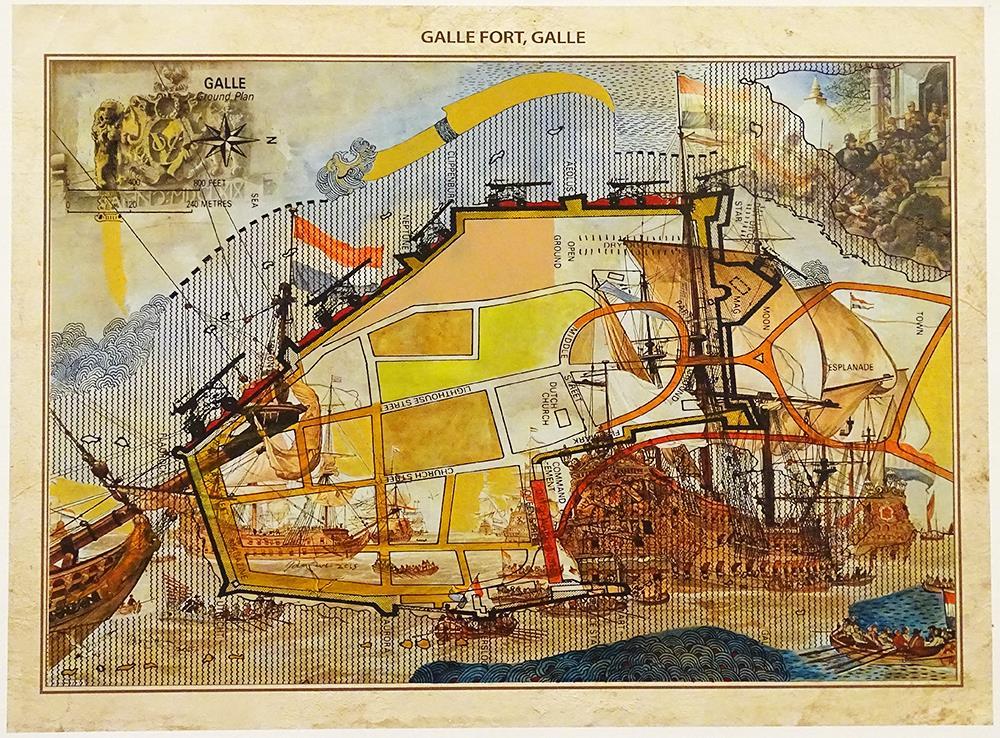 Pala Pothupitiye, Galle Fort, Galle, Ink, pencil, acrylic on archival printed canvas, 55 cm x 74 cm, 2015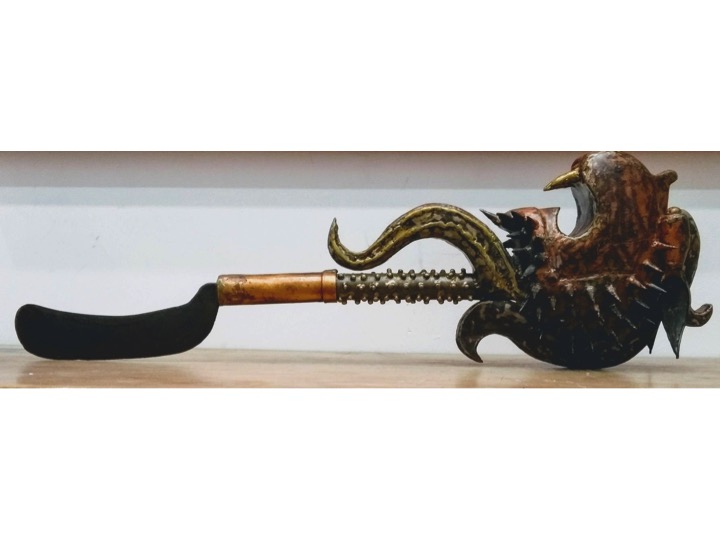 Pala Pothupitiye, Power & Pride, Knife, acrylic metallic-colour paint, metal sheets of tar barrels, iron and copper, 67.5 cm x 21 cm x 7.5 cm, 2015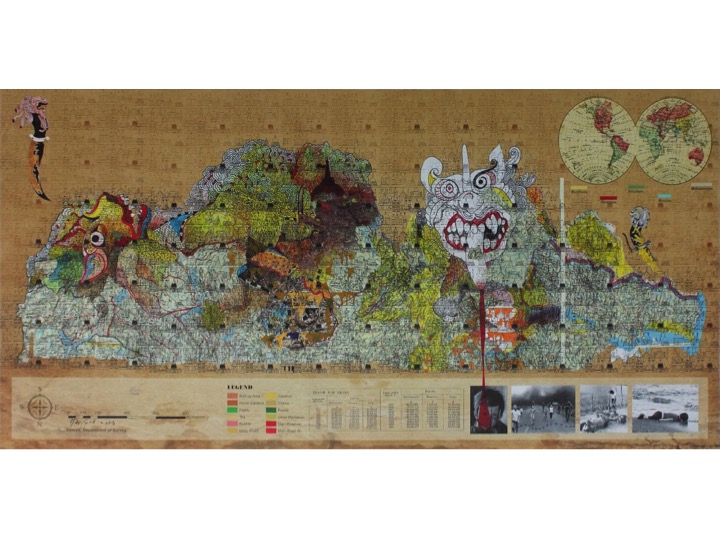 Pala Pothupitiye, Legends, Acrylic and ink on archival printed canvas, 50 cm x 100 cm, 2015-2016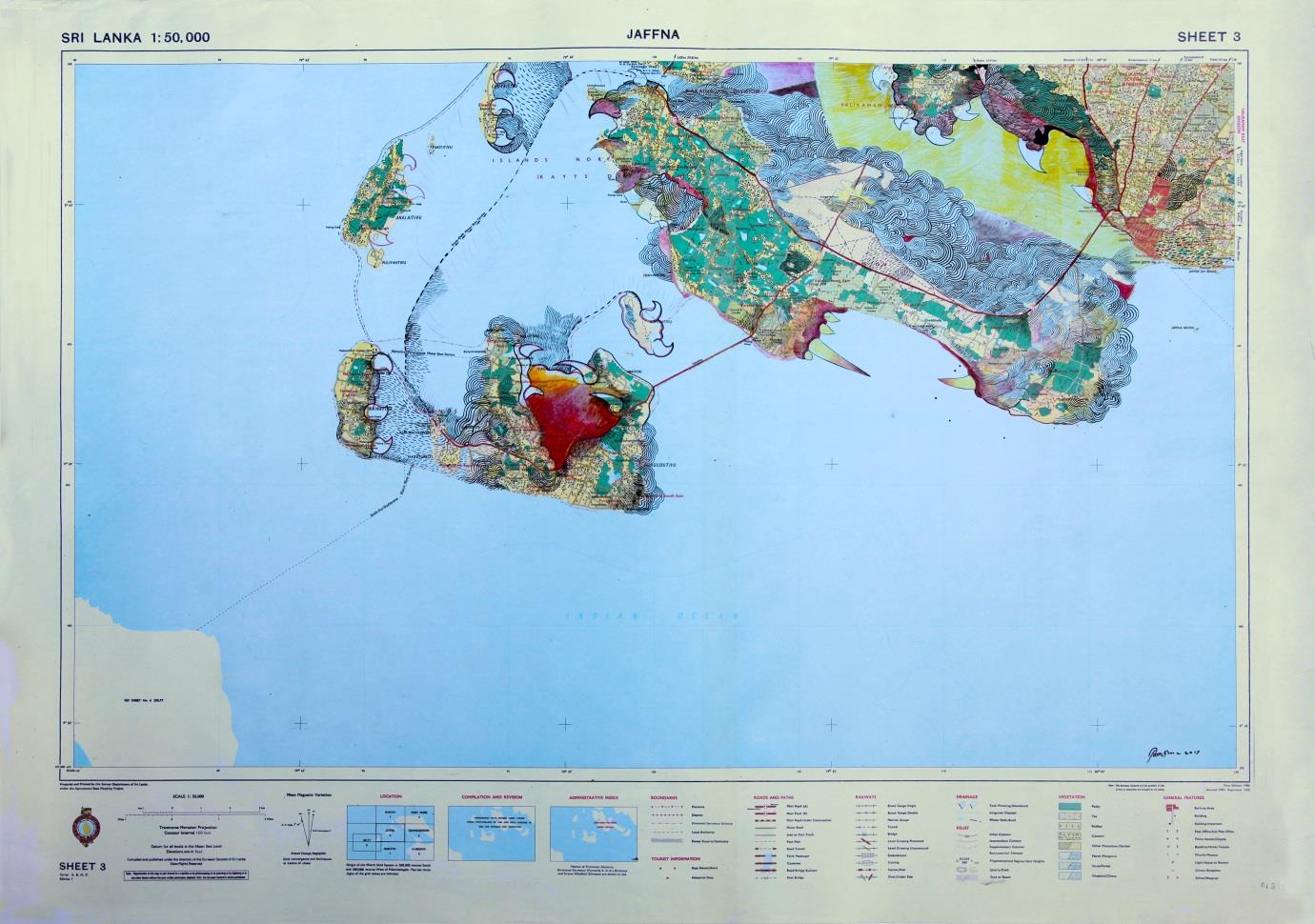 Pala Pothupitiye, Jaffna Map, Government printed map, ink, pencil and Japanese rice paper, 60 cm x 94 cm, 2015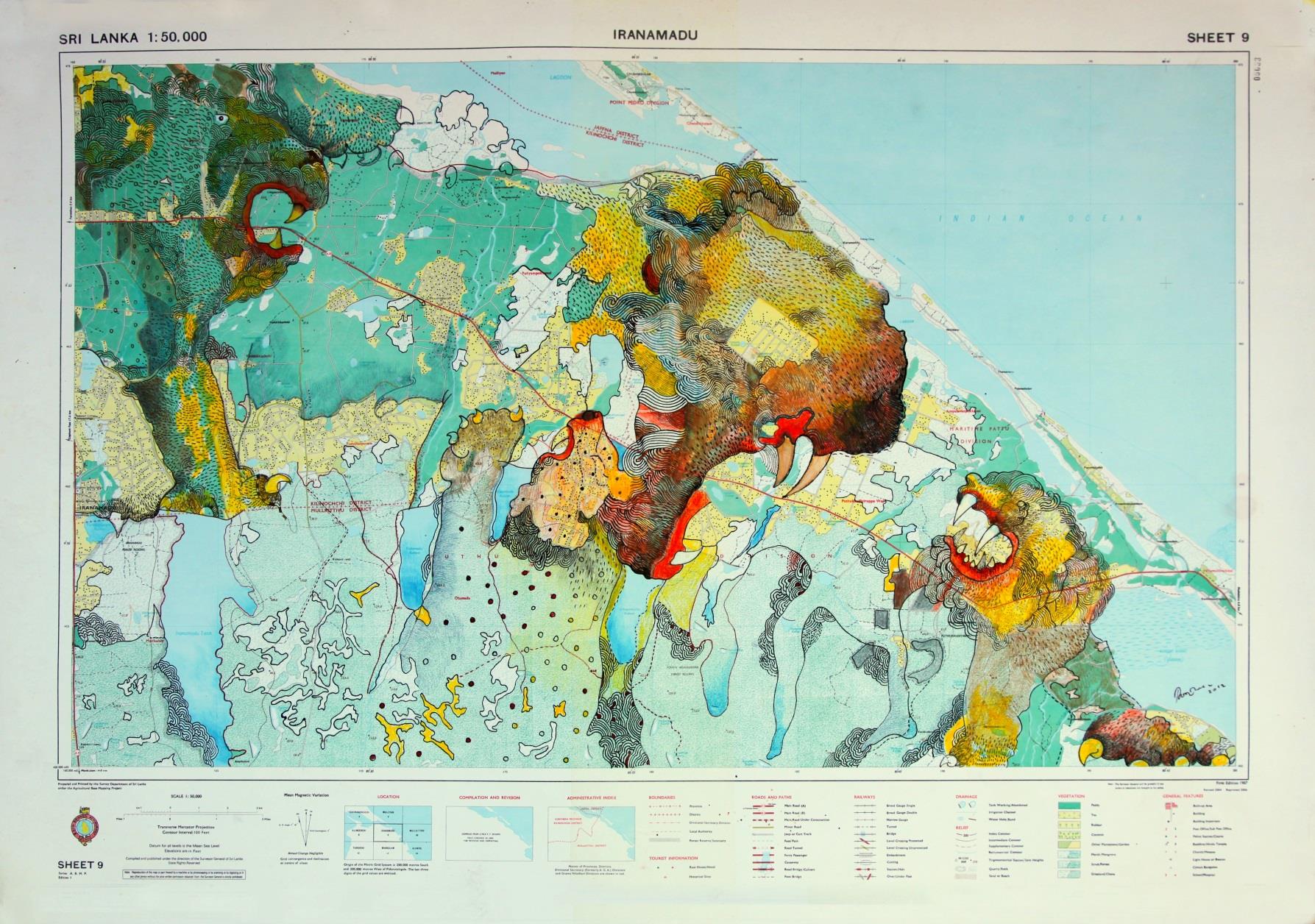 Pala Pothupitiye, Iranamadu Map, Government printed map, ink, pencil and Japanese rice paper, 64 cm x 90 cm, 2015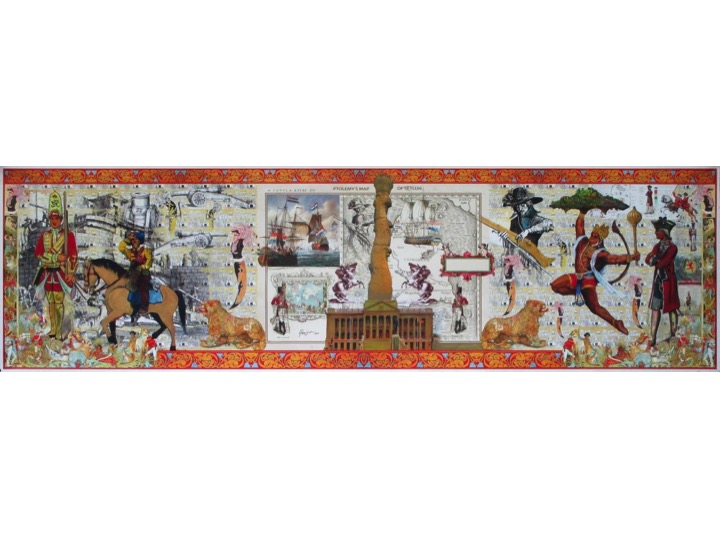 Pala Pothupitiye, Histories and Past, Acrylic and ink on archival digital print, 57.5 cm x 205 cm, 2017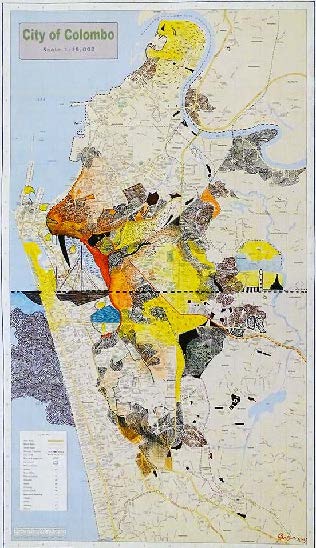 Pala Pothupitiye, City of Colombo, Government printed map, ink, pencil and Japanese rice paper, 90 cm x 64 cm, 2015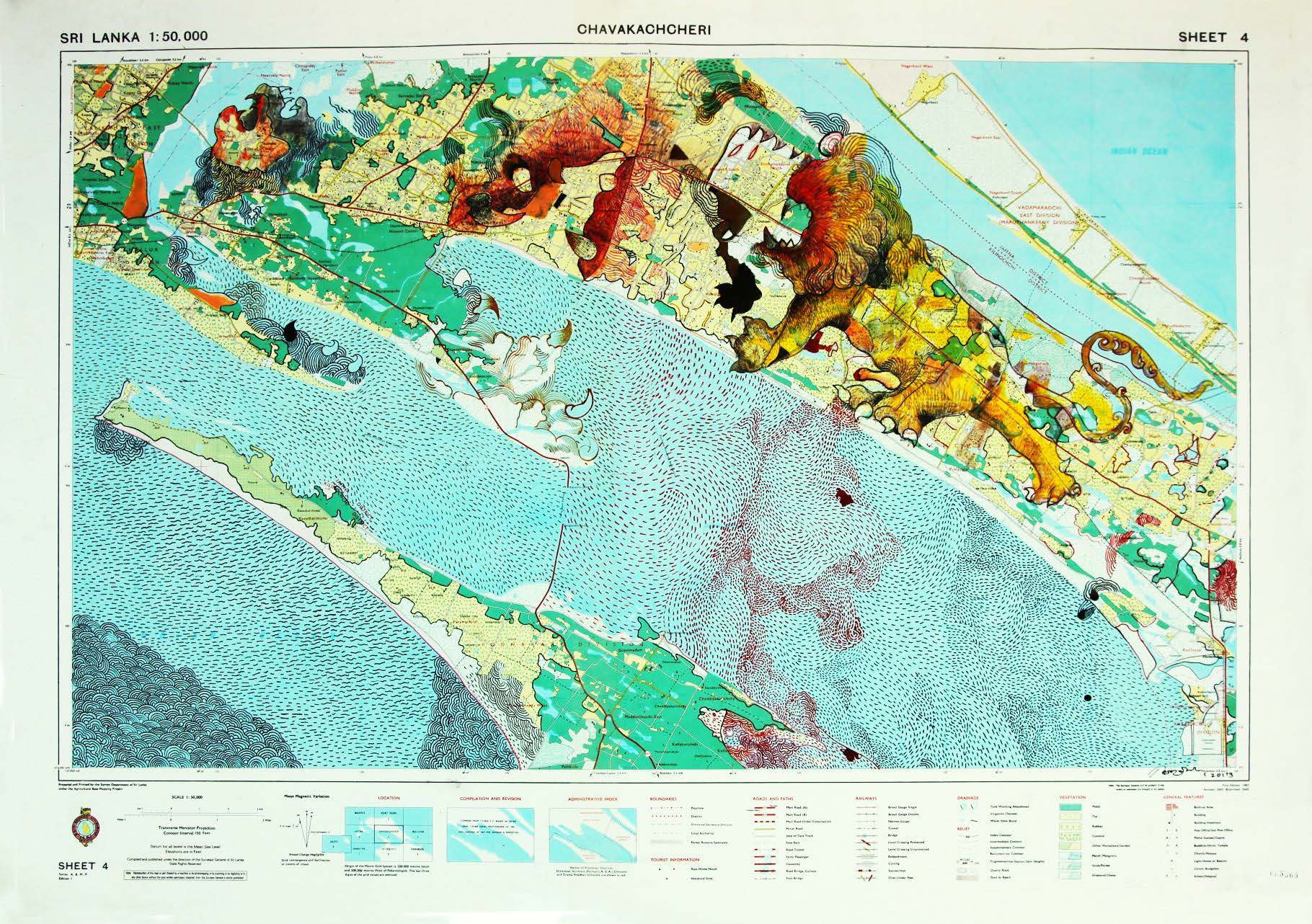 Pala Pothupitiye, Chavakachcheri Map, Government printed map, ink, pencil and Japanese rice paper, 64 cm x 90 cm, 2015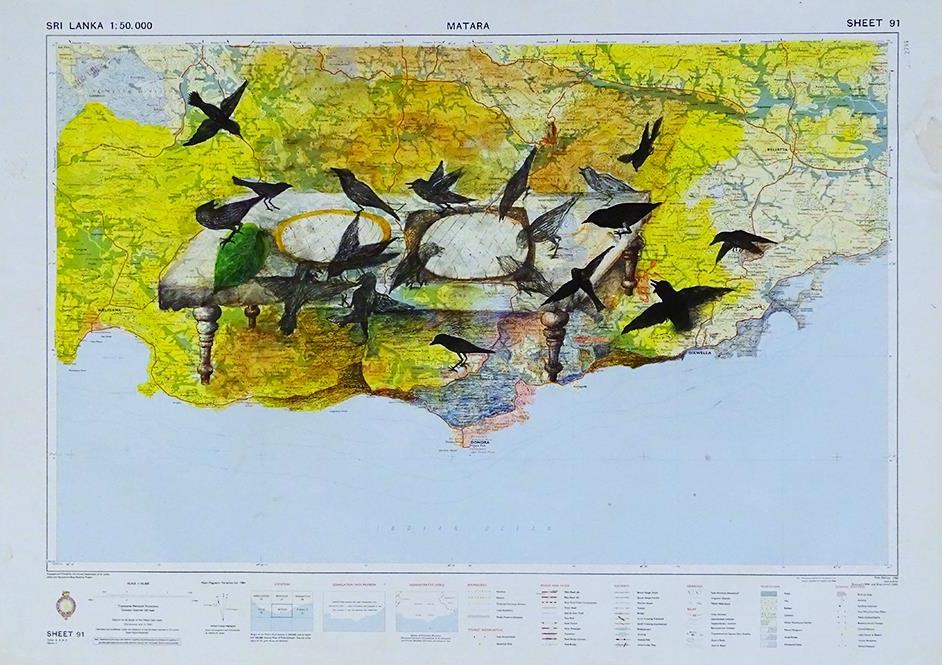 Pala Pothupitiye, Matara, May 18th 2009, Government printed map, ink and pencil, 64 cm x 90 cm, 2009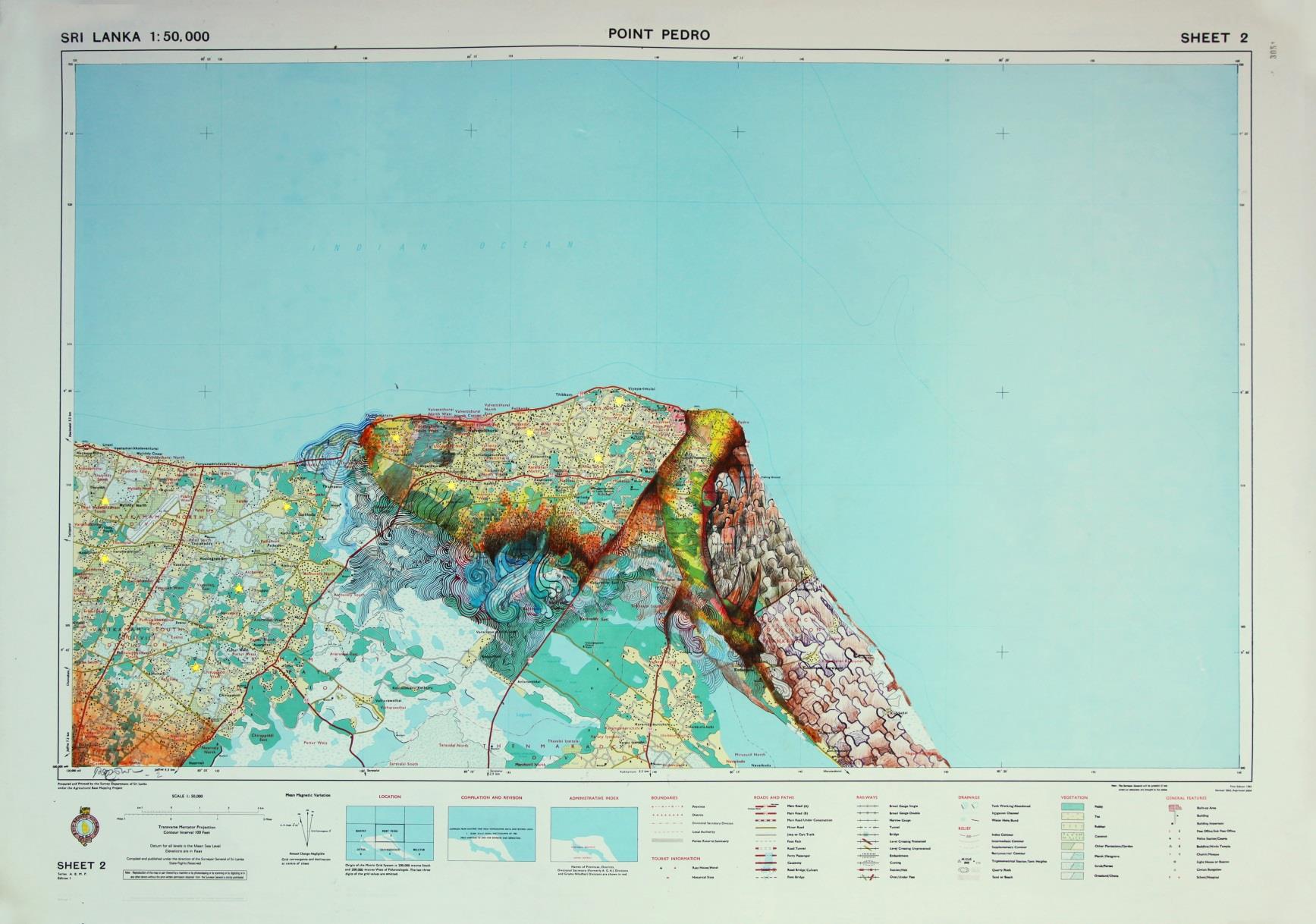 Pala Pothupitiye, Point Pedro Map, Government printed map, ink, pencil and Japanese rice paper, 64 cm x 90 cm, 2015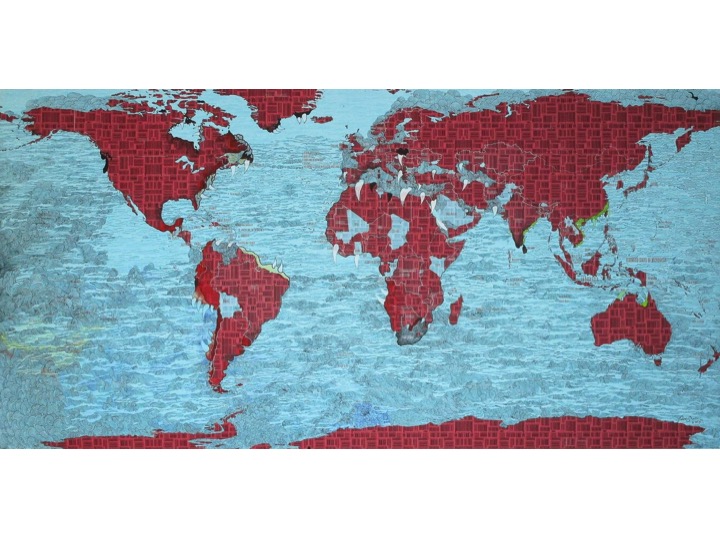 Pala Pothupitiye, Barcode World Map, Ink and watercolor on archival digital print, 86 cm x 172.5 cm, 2017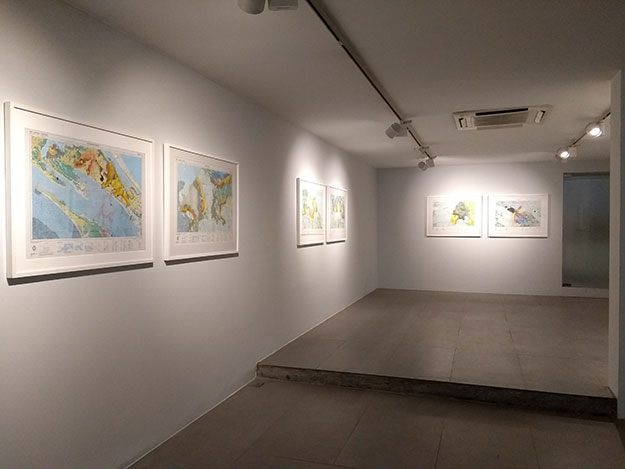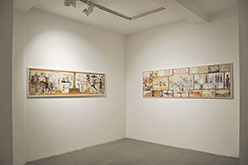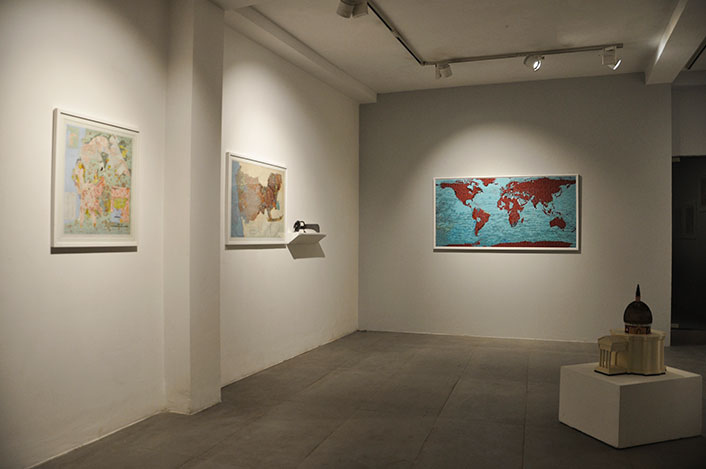 Pala Pothupitiye: Until this moment
At Exhibit320, New Delhi
28th April 2017 – 27th May, 2017
In Collaboration with Exhibit320
Pala Pothupitiye (b. 1972) obtained his degree in Fine Arts at the Visual and Performance Art University in Colombo. He was raised in a village of traditional southern Sri Lankan craft-artists and ritualists and thus his work incorporates and reinterprets the material and philosophical content of traditional art.

Pothupitiye has confronted issues such as colonialism, nationalism, religious extremism and militarism that has become and integral part of the country's fabric, and extends his inquiry to questions of caste, the distinction between art and craft, tradition and modernity, as well as generating a critique of Euro-centrism. He works on government maps and old colonial maps, sometimes merging them to create new cartographies. These alternative cartographic exercises talk about memory and its erasure, identities and their discomfiture, the 30-year war Sri Lanka experienced and its postwar complexities.

In 2005, he was selected to participate in the third Fukuoka Triennial at the Fukuoka Asian Art Museum in Japan, and in 2010 he won the jury award of the Sovereign Art Asian Prize, Hong Kong. Pala has been part of the Colombo Art Biennale (2009, 2012, 2014), Singapore Biennale (2016), Karachi Biennale (2017) and much more recently selected for 'Undefined Territories: Perspectives on Colonial Legacy at MACBA, Barcelona (2019).

At present, Pothupitiye is living and working at the Mullegama Art Center near Colombo where he runs his workshop and an art school, supporting younger artists and schoolchildren.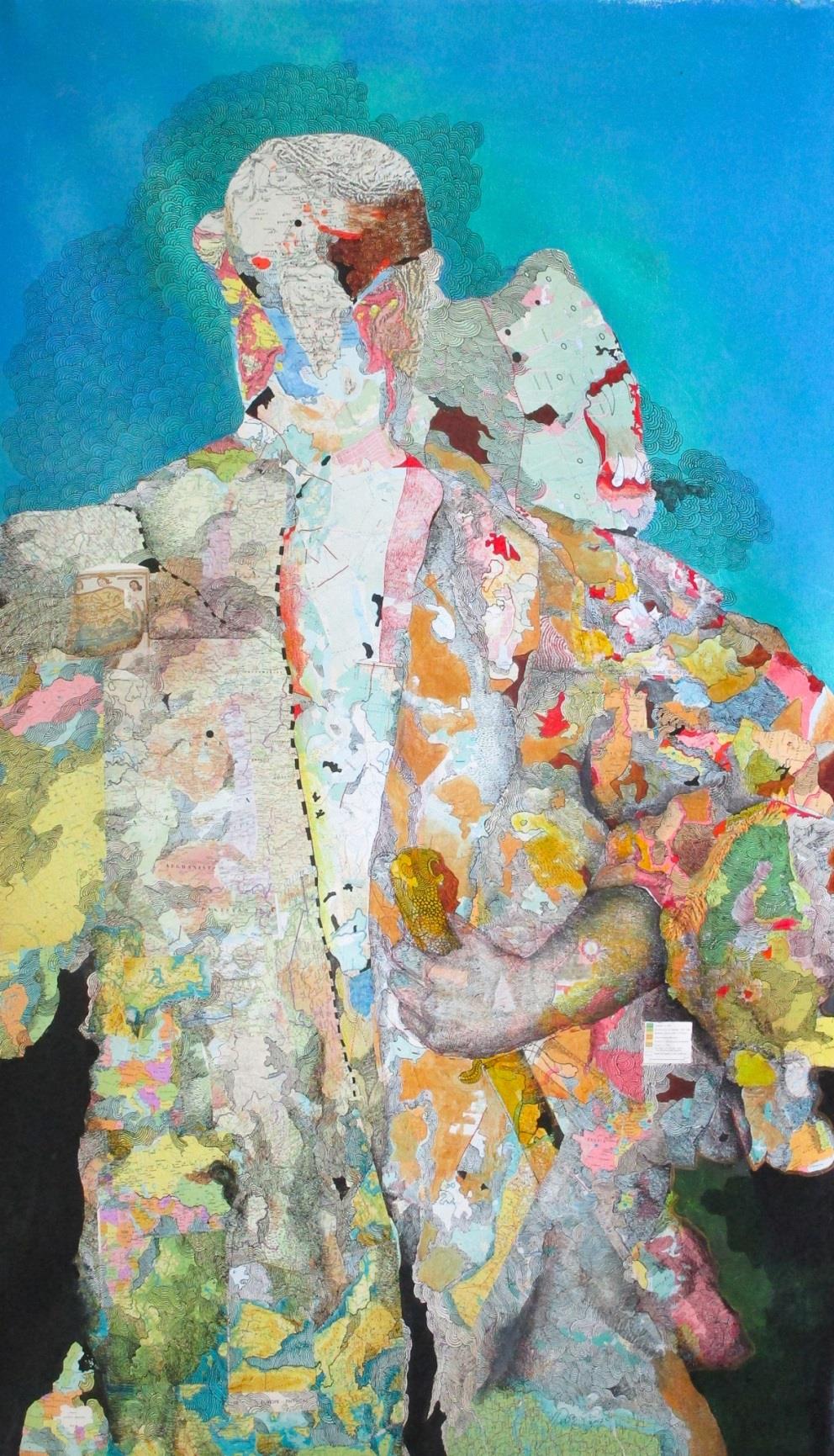 Pala Pothupitiye, Degree Holder, Acrylic and ink on canvas, 143 cm x 81.5 cm, 2017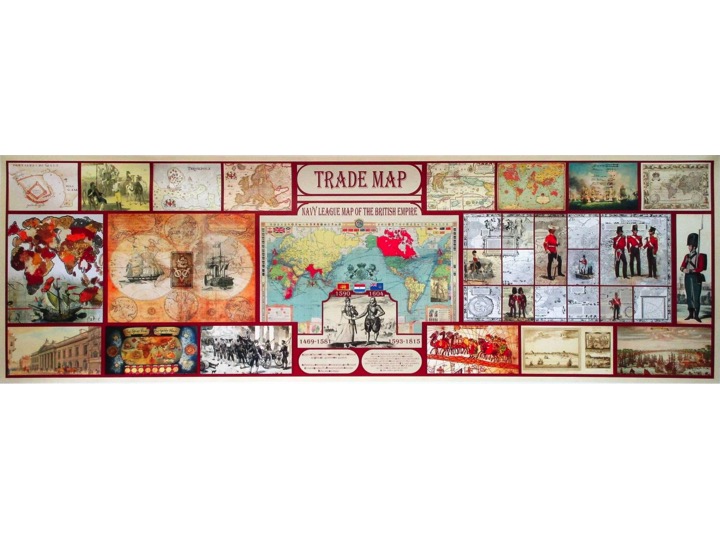 Pala Pothupitiye, Trade Map, Acrylic and ink on archival digital print, 75 cm x 240 cm, 2017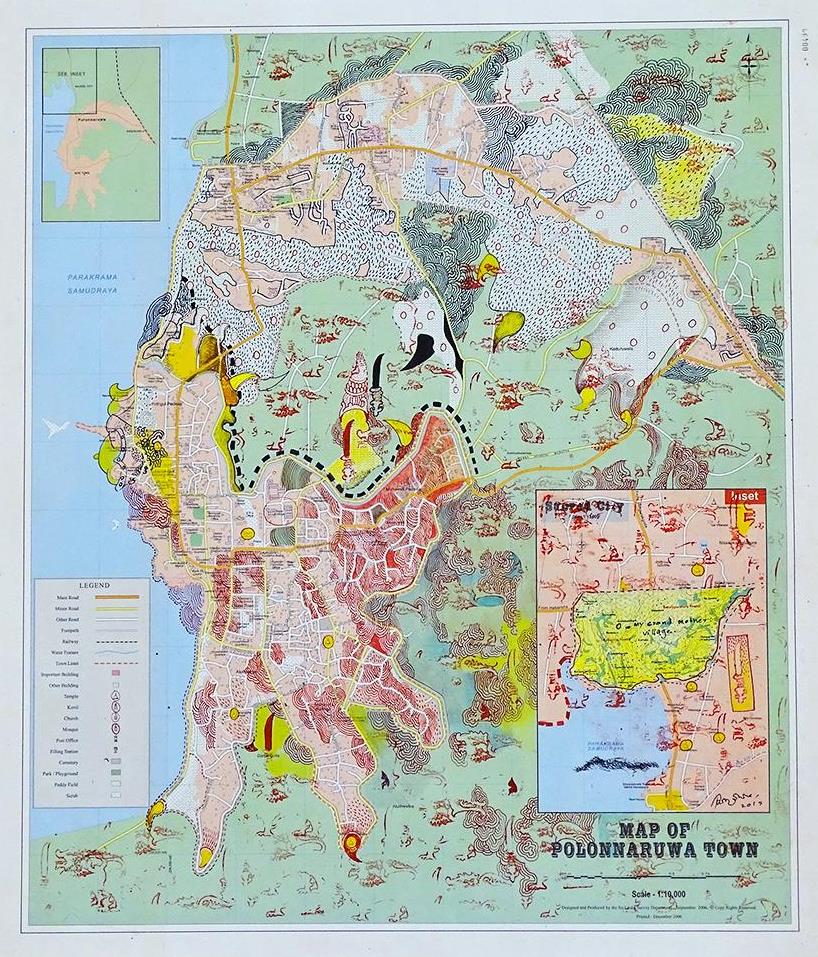 Pala Pothupitiye, Not my Grandmother's Polonnaruwa, Government printed map, ink, pencil and Japanese rice paper, 65 cm x 55 cm, 2015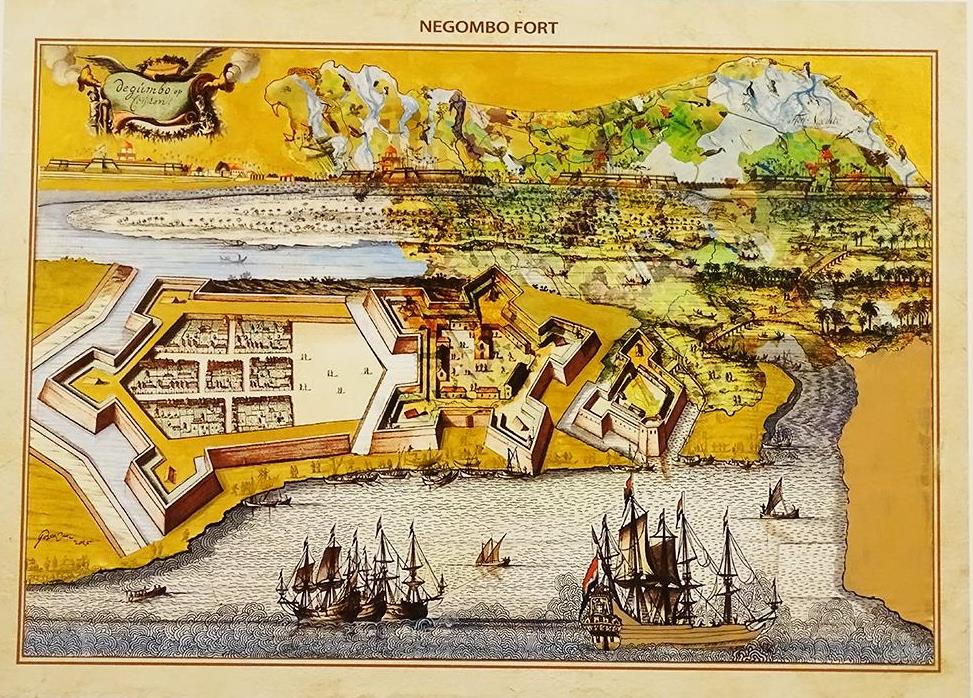 Pala Pothupitiye, Negambo Fort, Ink, pencil and acrylic on archival printed canvas, 55 cm x 74 cm, 2015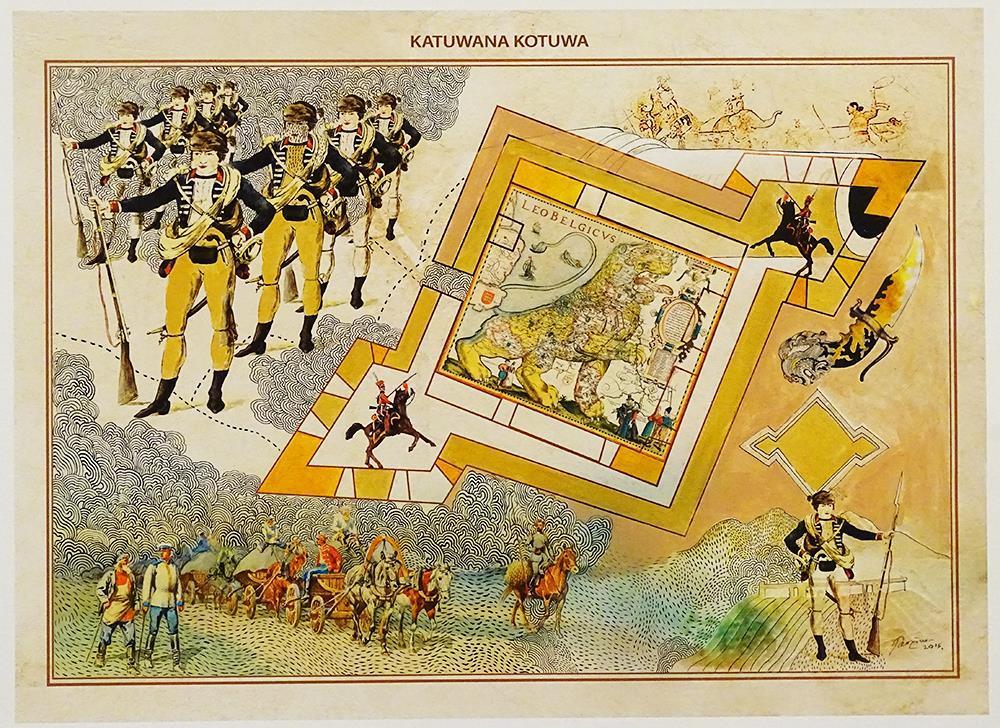 Pala Pothupitiye, Katuwana Kotuwa, Ink, pencil and acrylic on archival printed canvas, 55 cm x 74 cm, 2015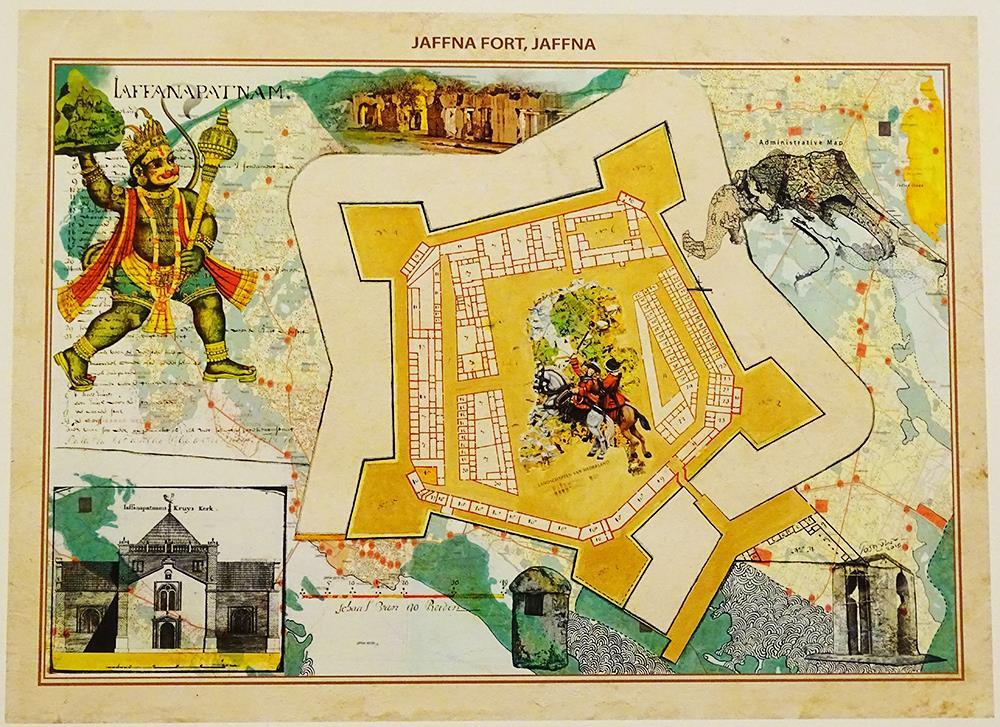 Pala Pothupitiye, Jaffna Fort, Jaffna, Ink, pencil and acrylic on archival printed canvas, 55 cm x 74 cm, 2015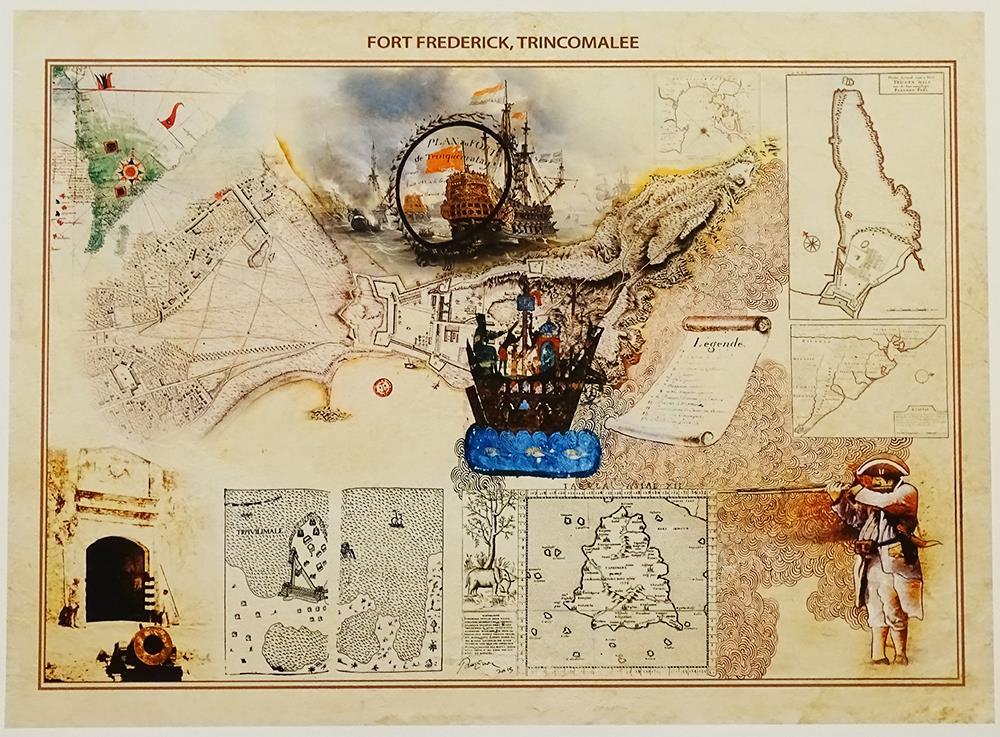 Pala Pothupitiye, Fort Frederick, Trincomalee, Ink, pencil and acrylic on archival printed canvas, 55 cm x 74 cm, 2015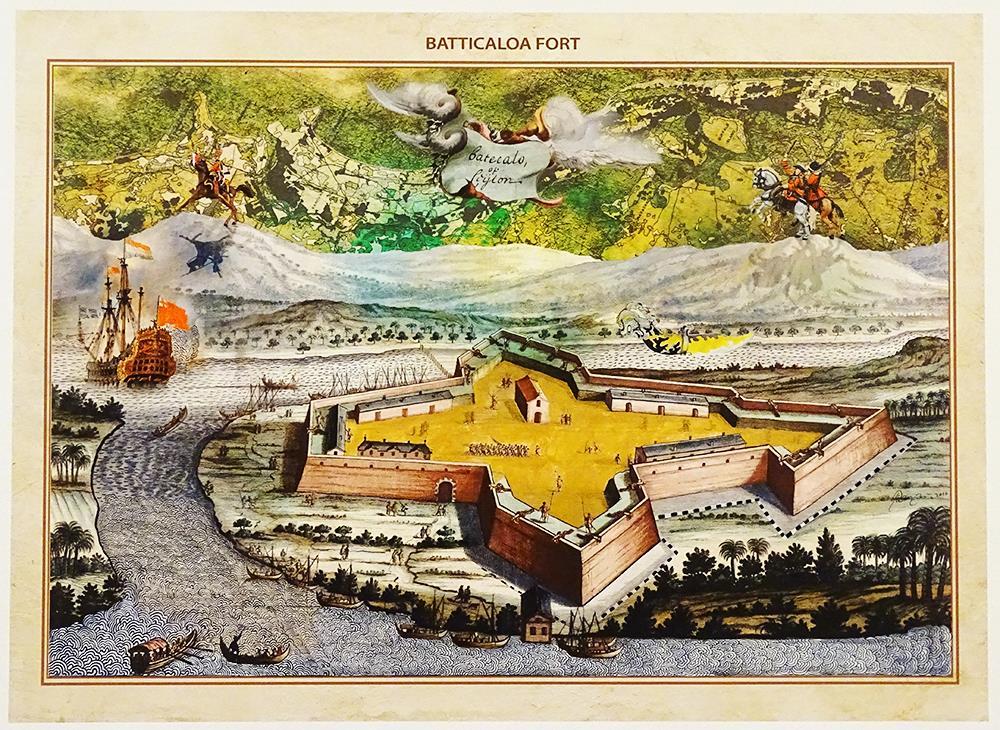 Pala Pothupitiye, Batticaloa Fort, Ink, pencil and acrylic on archival printed canvas, 55 cm x 74 cm, 2015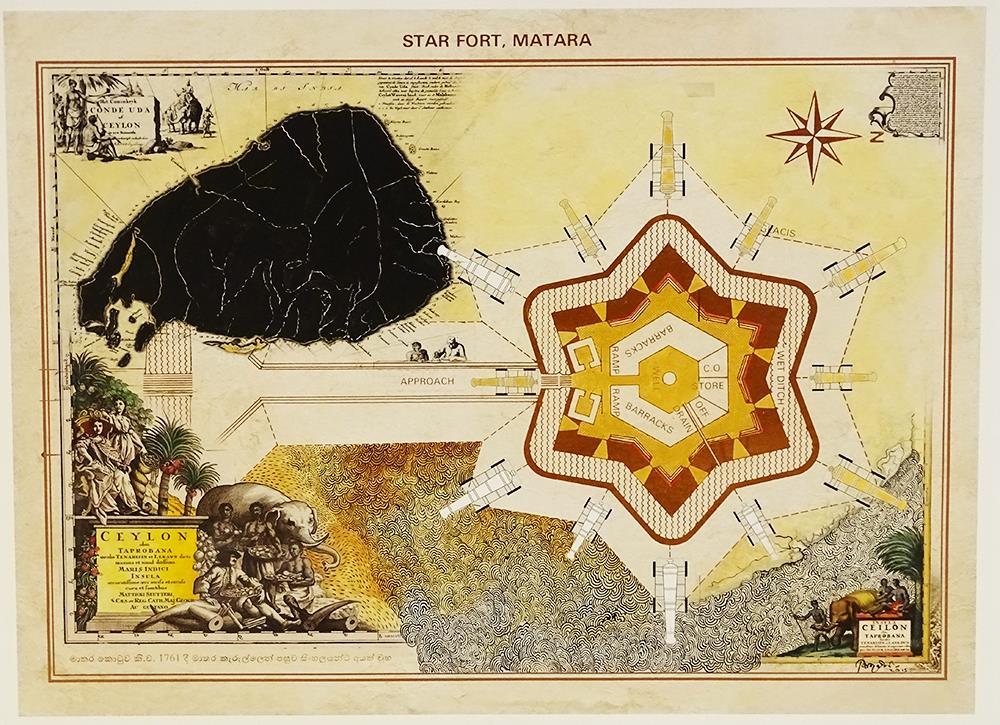 Pala Pothupitiye, Star Fort Matara, Ink, pencil, acrylic on archival printed canvas, 55 cm x 74 cm, 2015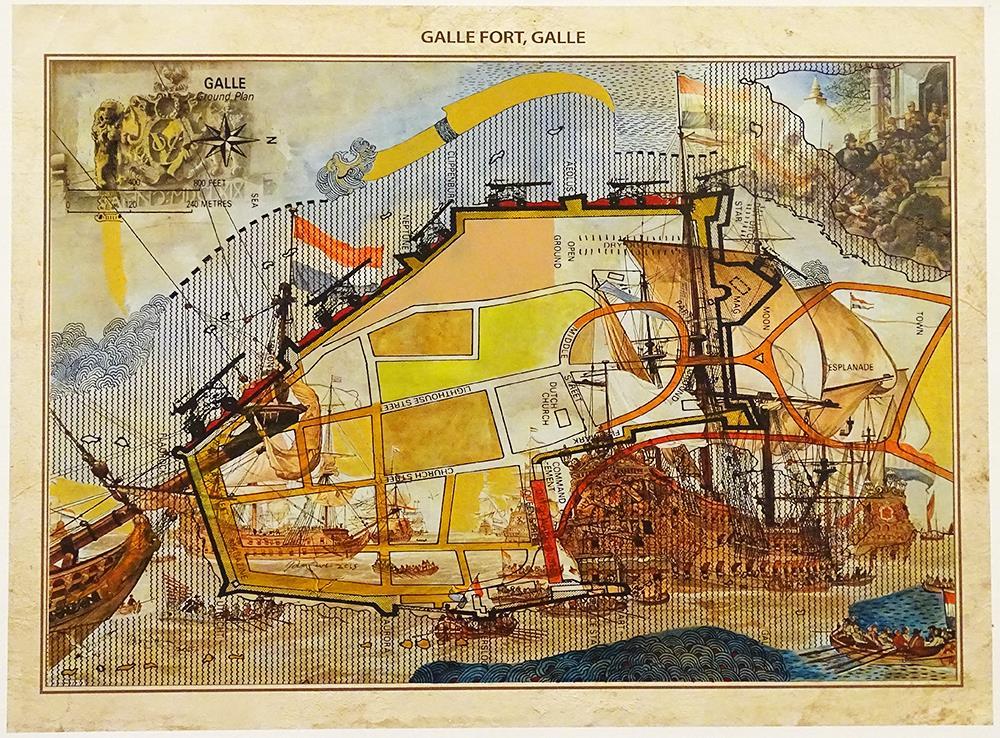 Pala Pothupitiye, Galle Fort, Galle, Ink, pencil, acrylic on archival printed canvas, 55 cm x 74 cm, 2015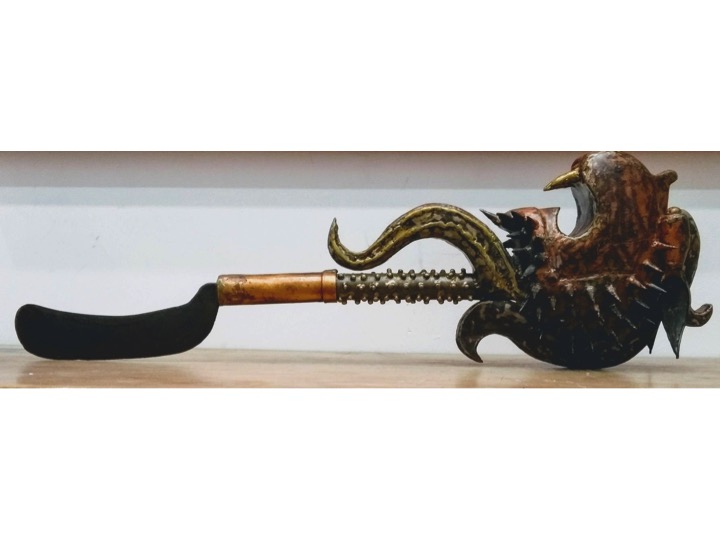 Pala Pothupitiye, Power & Pride, Knife, acrylic metallic-colour paint, metal sheets of tar barrels, iron and copper, 67.5 cm x 21 cm x 7.5 cm, 2015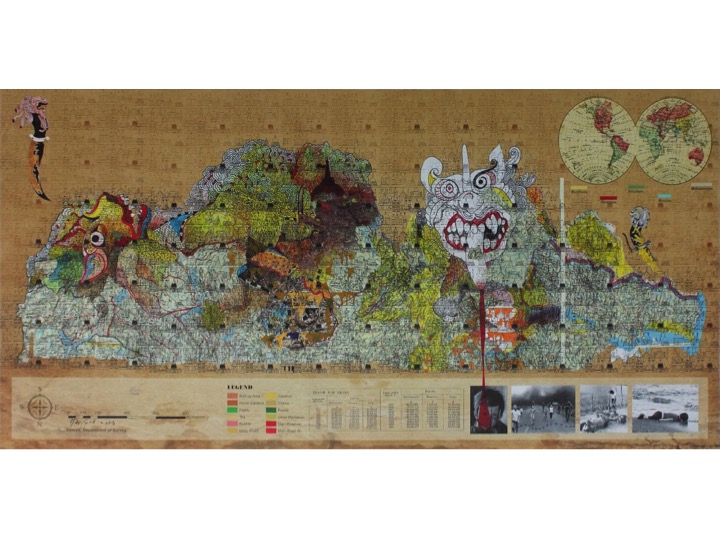 Pala Pothupitiye, Legends, Acrylic and ink on archival printed canvas, 50 cm x 100 cm, 2015-2016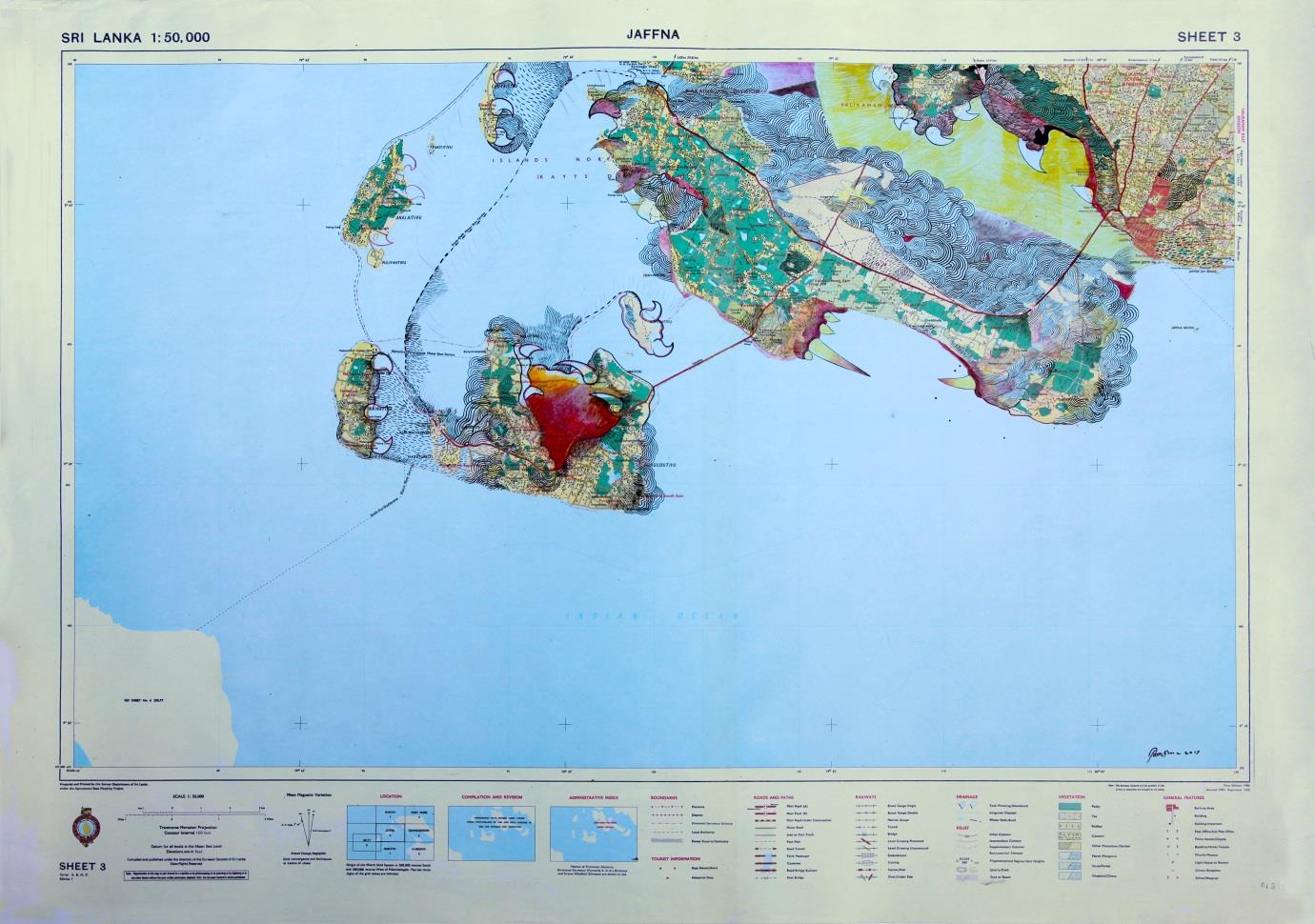 Pala Pothupitiye, Jaffna Map, Government printed map, ink, pencil and Japanese rice paper, 60 cm x 94 cm, 2015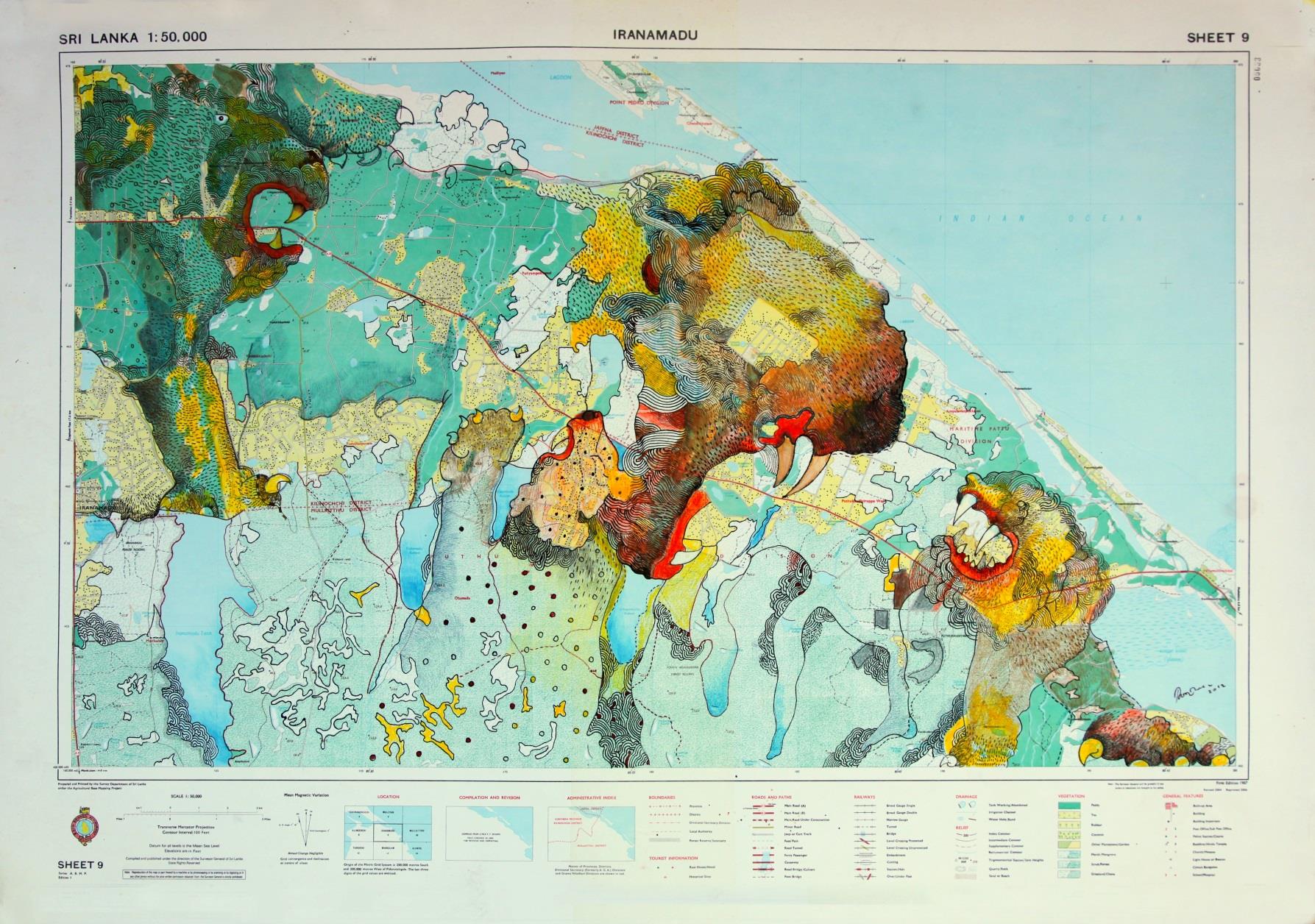 Pala Pothupitiye, Iranamadu Map, Government printed map, ink, pencil and Japanese rice paper, 64 cm x 90 cm, 2015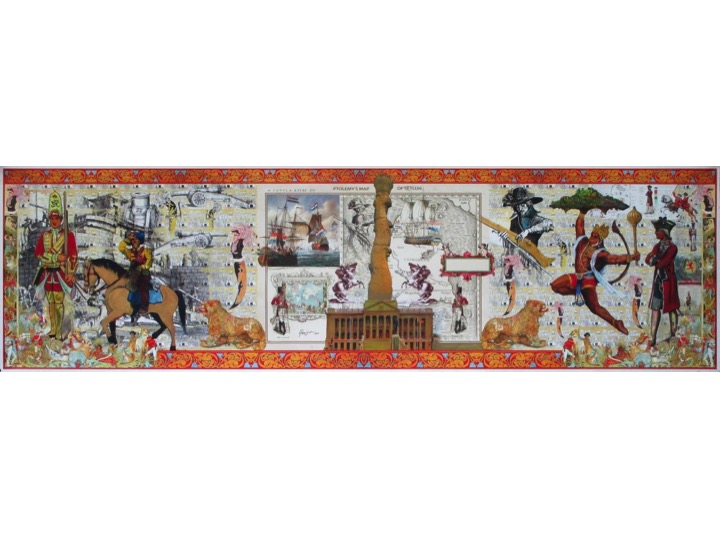 Pala Pothupitiye, Histories and Past, Acrylic and ink on archival digital print, 57.5 cm x 205 cm, 2017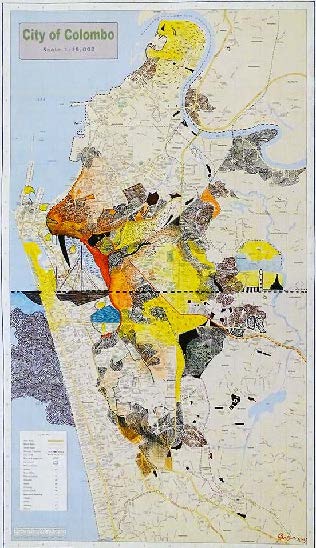 Pala Pothupitiye, City of Colombo, Government printed map, ink, pencil and Japanese rice paper, 90 cm x 64 cm, 2015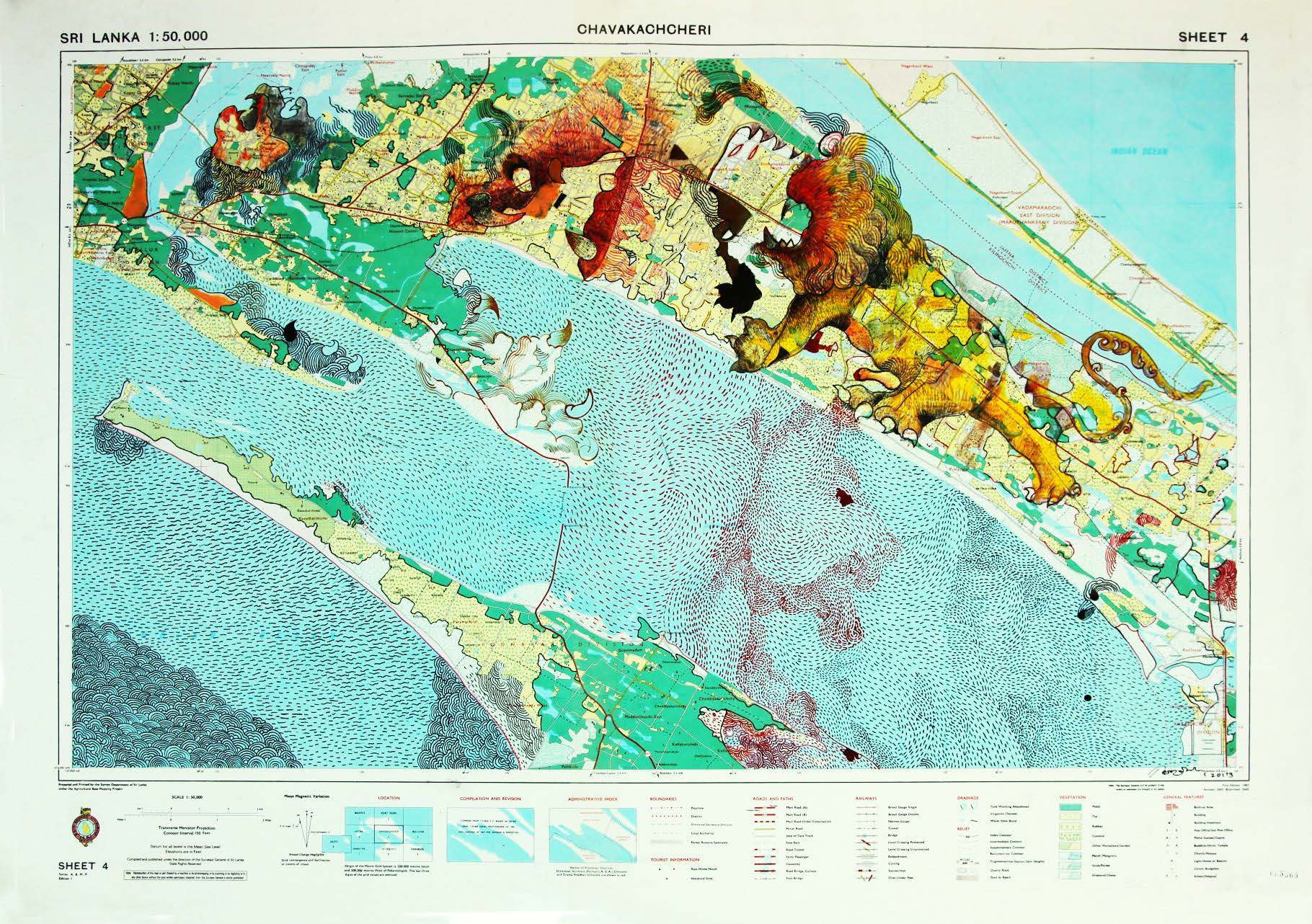 Pala Pothupitiye, Chavakachcheri Map, Government printed map, ink, pencil and Japanese rice paper, 64 cm x 90 cm, 2015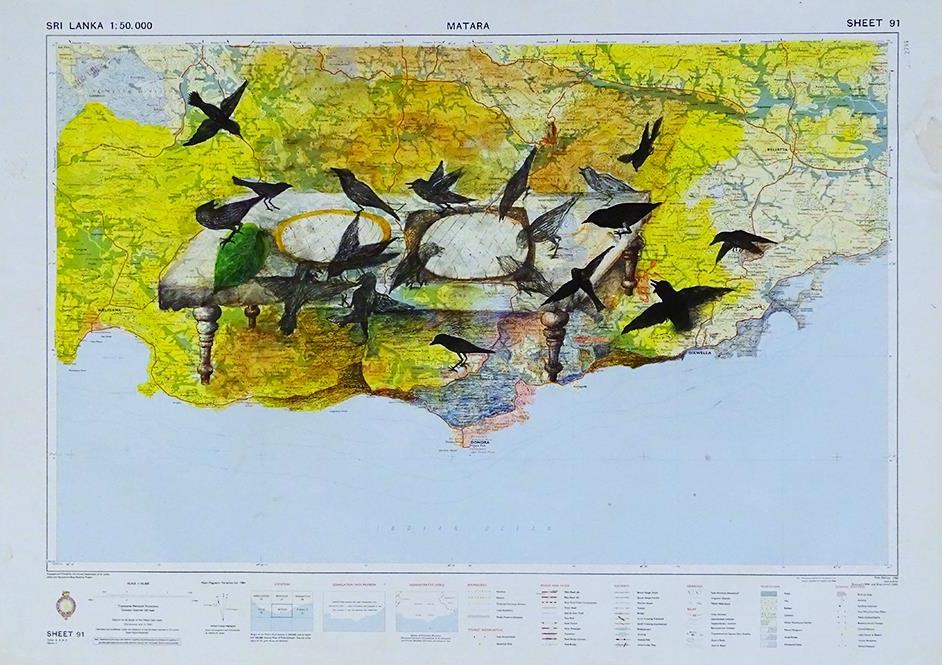 Pala Pothupitiye, Matara, May 18th 2009, Government printed map, ink and pencil, 64 cm x 90 cm, 2009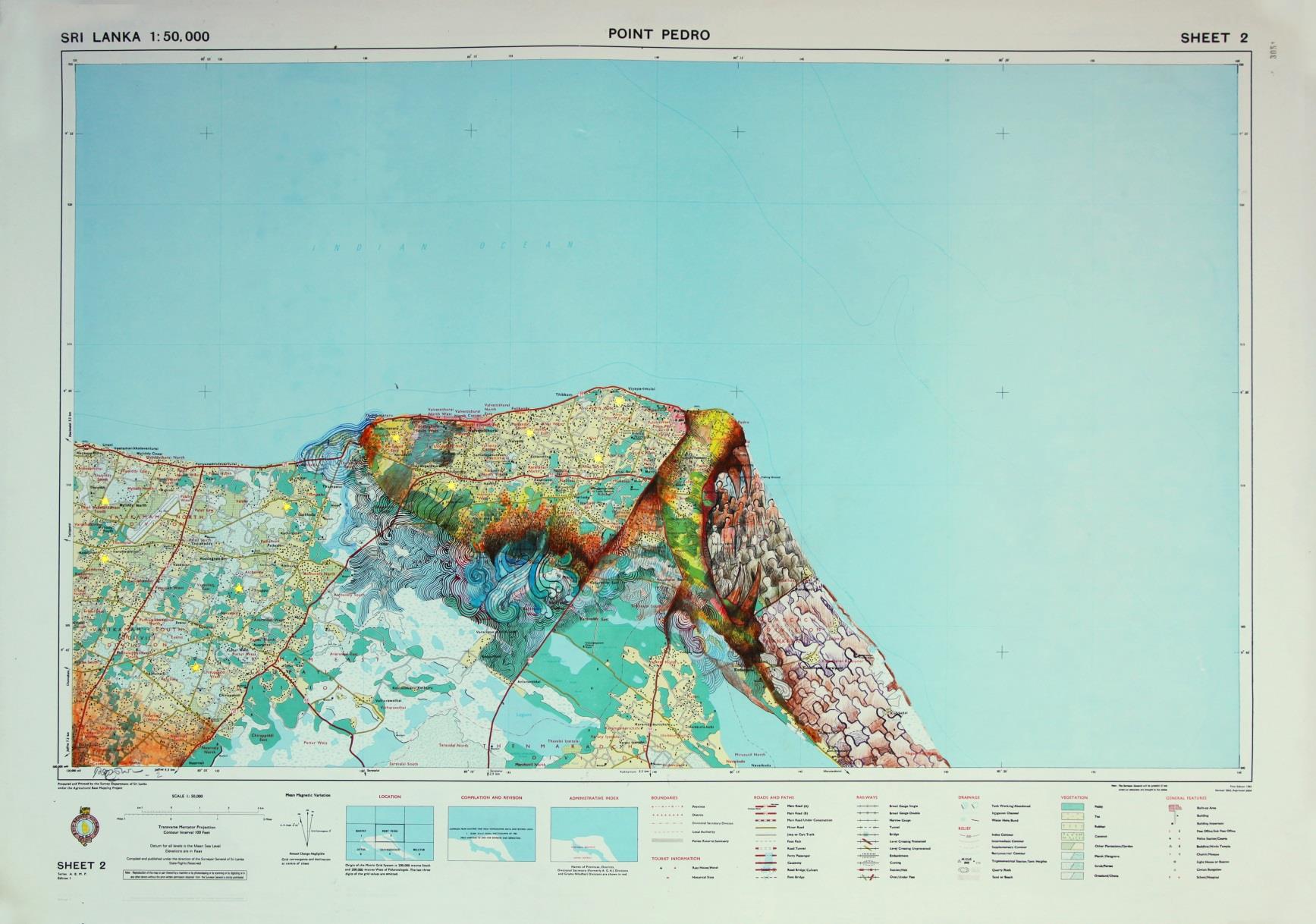 Pala Pothupitiye, Point Pedro Map, Government printed map, ink, pencil and Japanese rice paper, 64 cm x 90 cm, 2015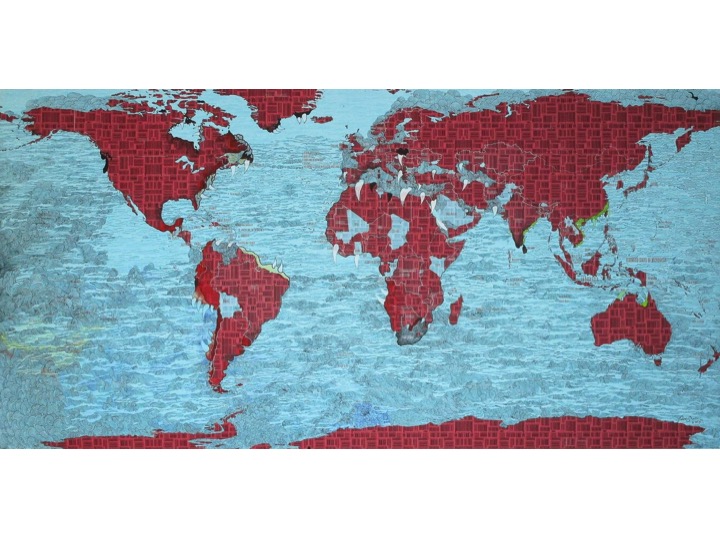 Pala Pothupitiye, Barcode World Map, Ink and watercolor on archival digital print, 86 cm x 172.5 cm, 2017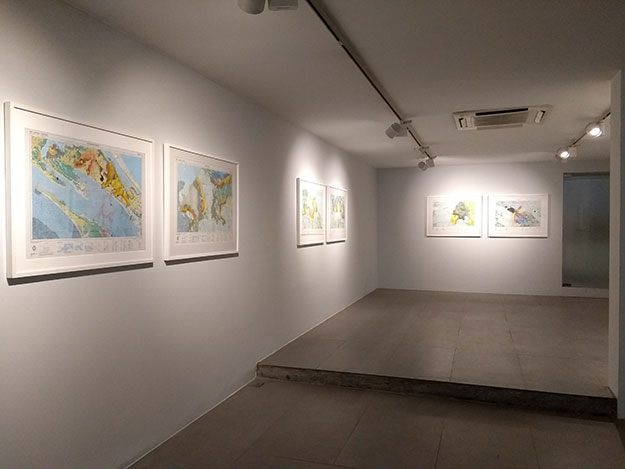 Installation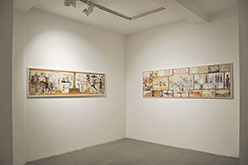 Installation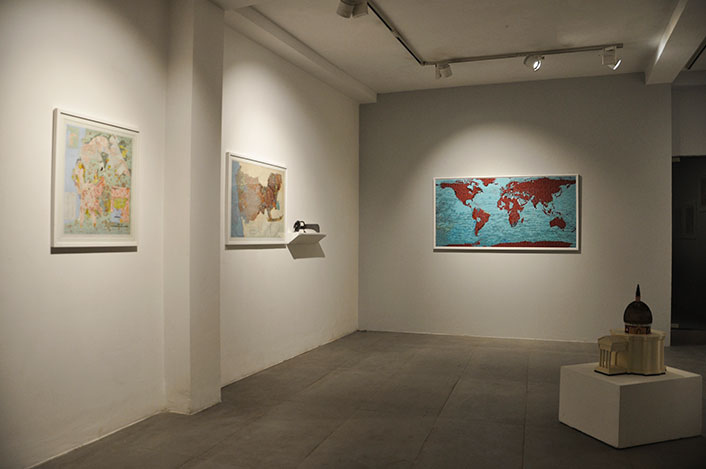 Installation