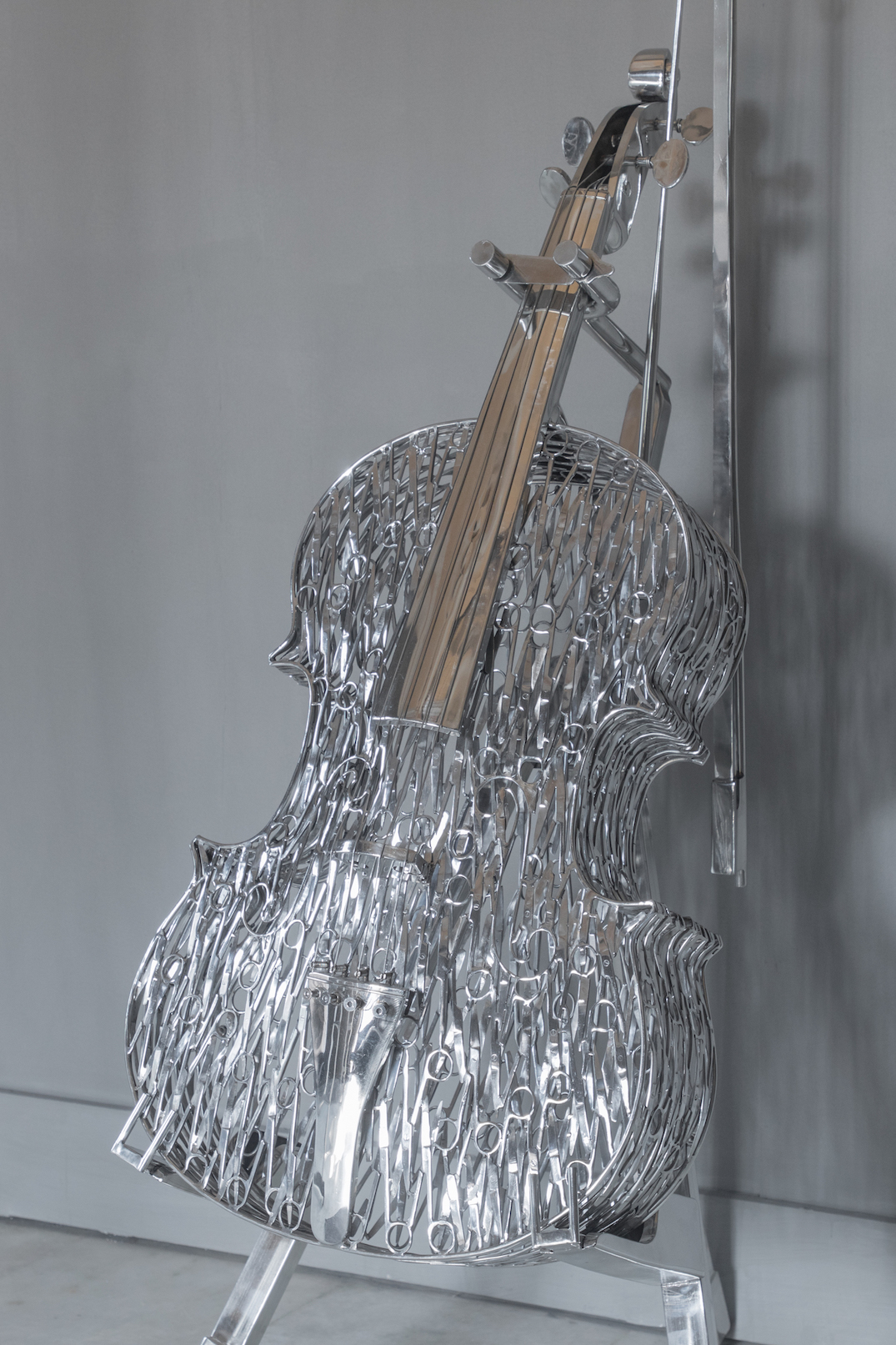 My Cello, Stainless steel and surgical scissors, 175 cm x 75 cm x 90 cm, 2018, AP + 1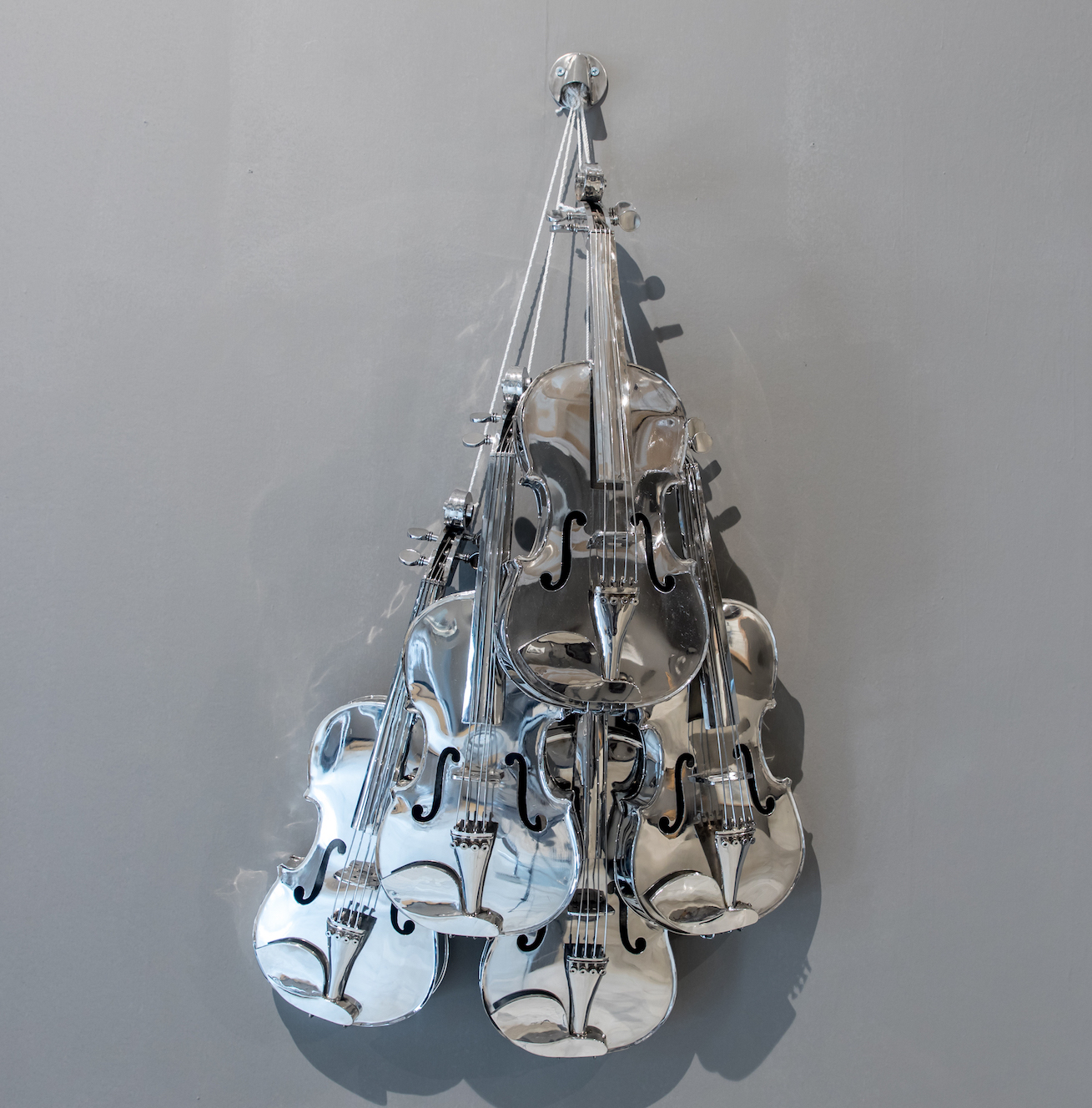 Burning Violin, Stainless steel, 60 cm x 10 cm x 25 cm, 2018, AP+1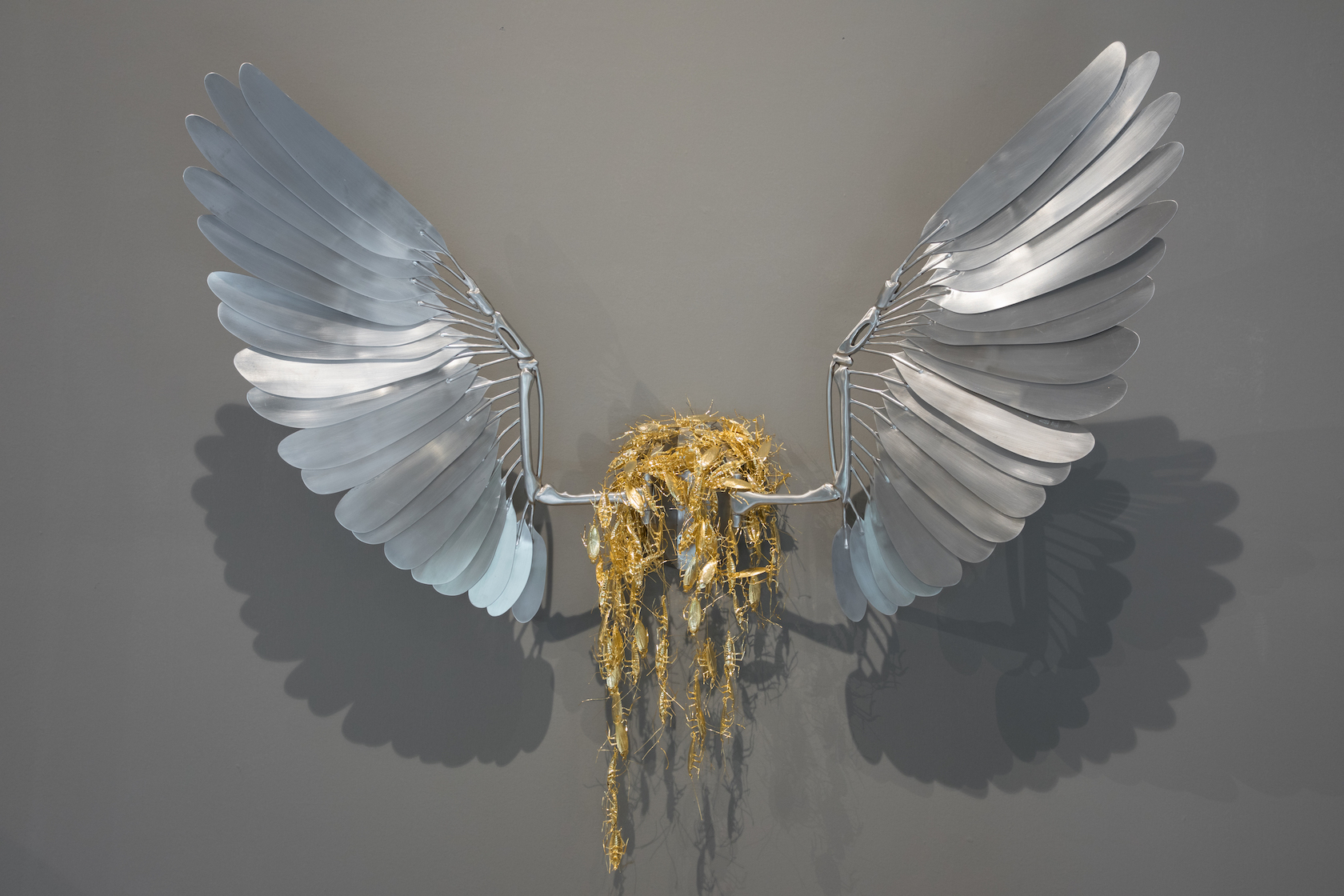 Dead wings, Stainless steel, 135 cm x 25 cm x 77.5 cm, 2018, AP+1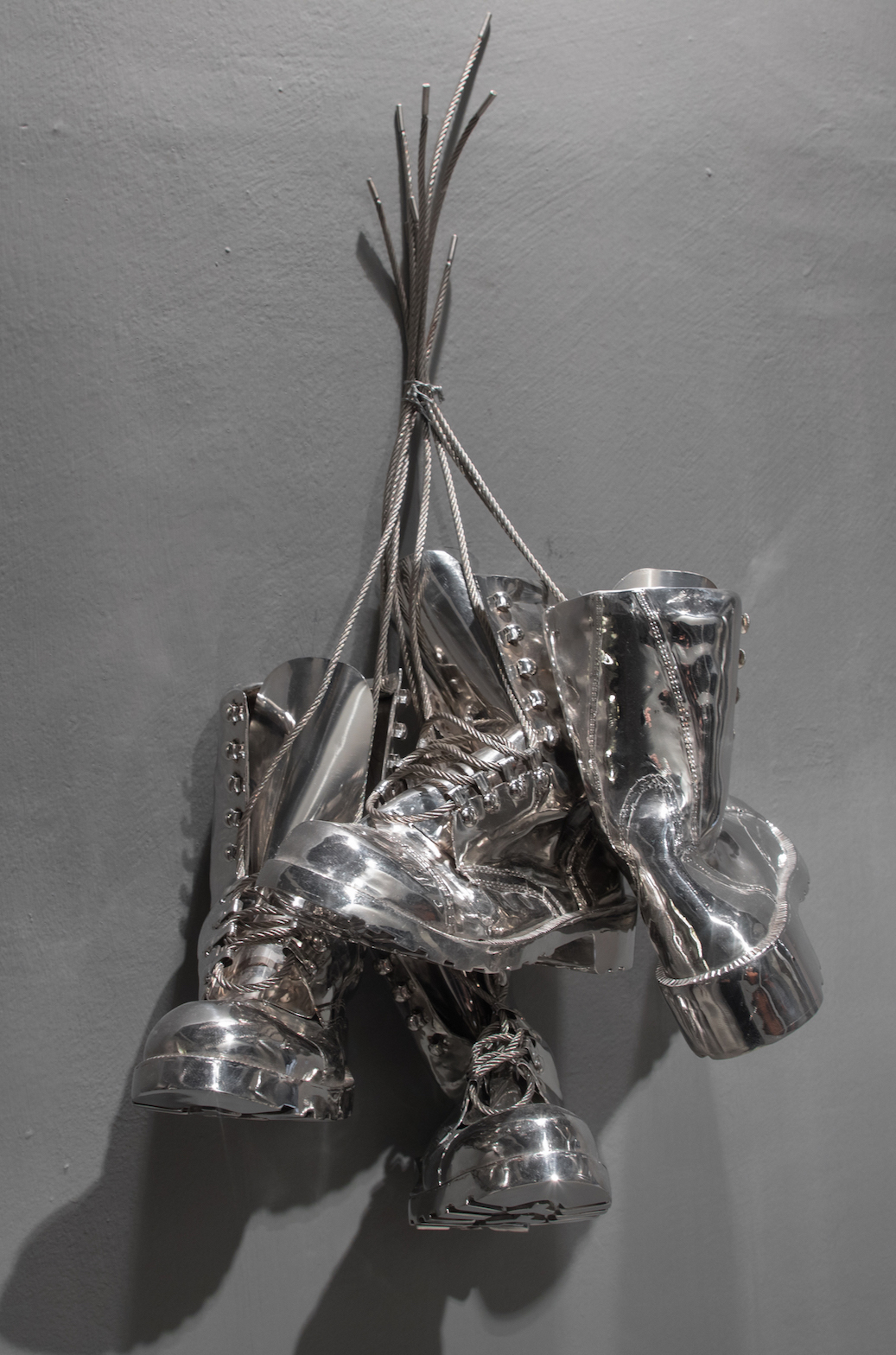 Tower, Stainless steel, 15 cm x 10 cm x 20 cm each boot, 2017, AP + 5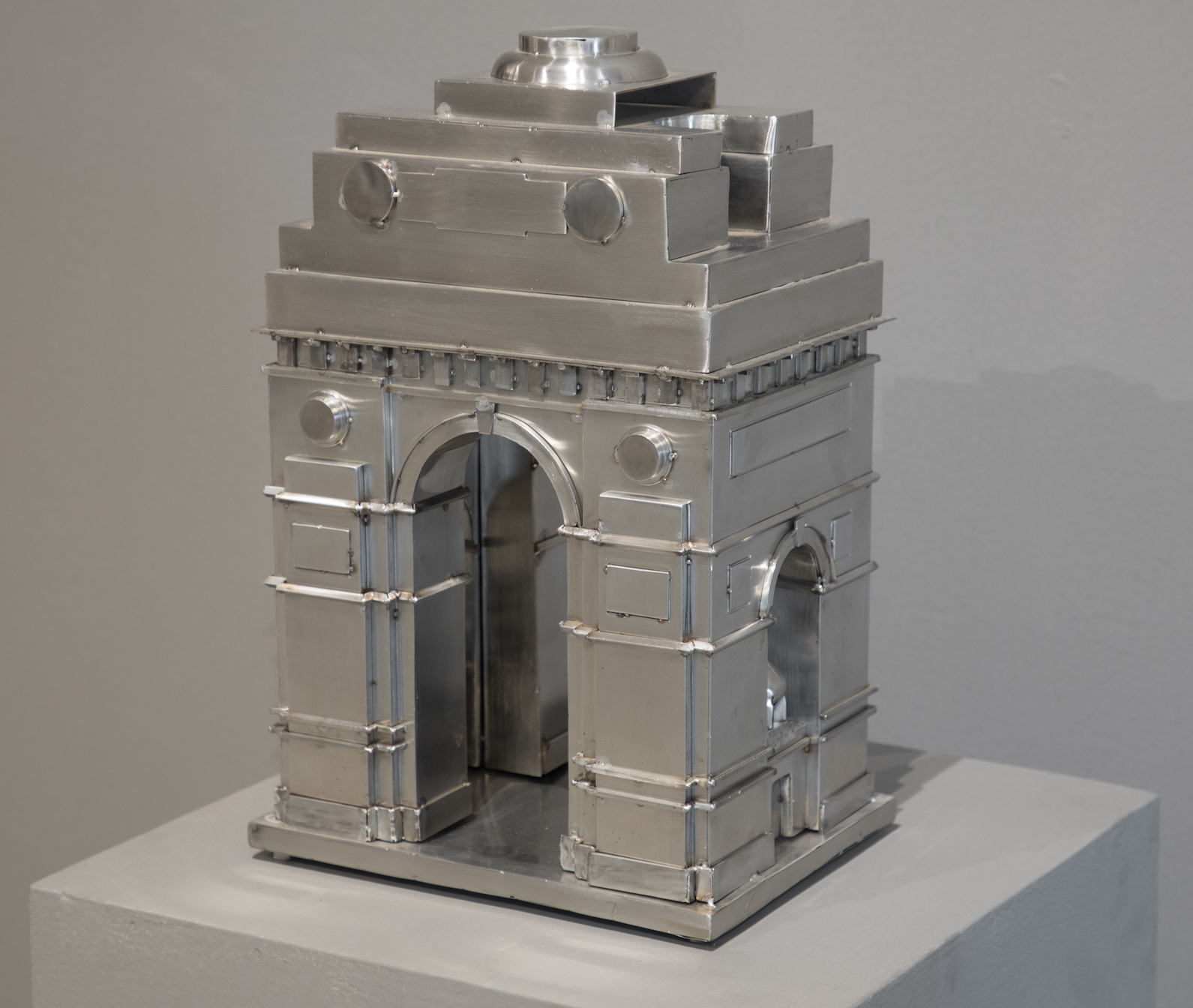 India Gate, Stainless steel, 35 cm x 20 cm x 30 cm, 2018, AP+5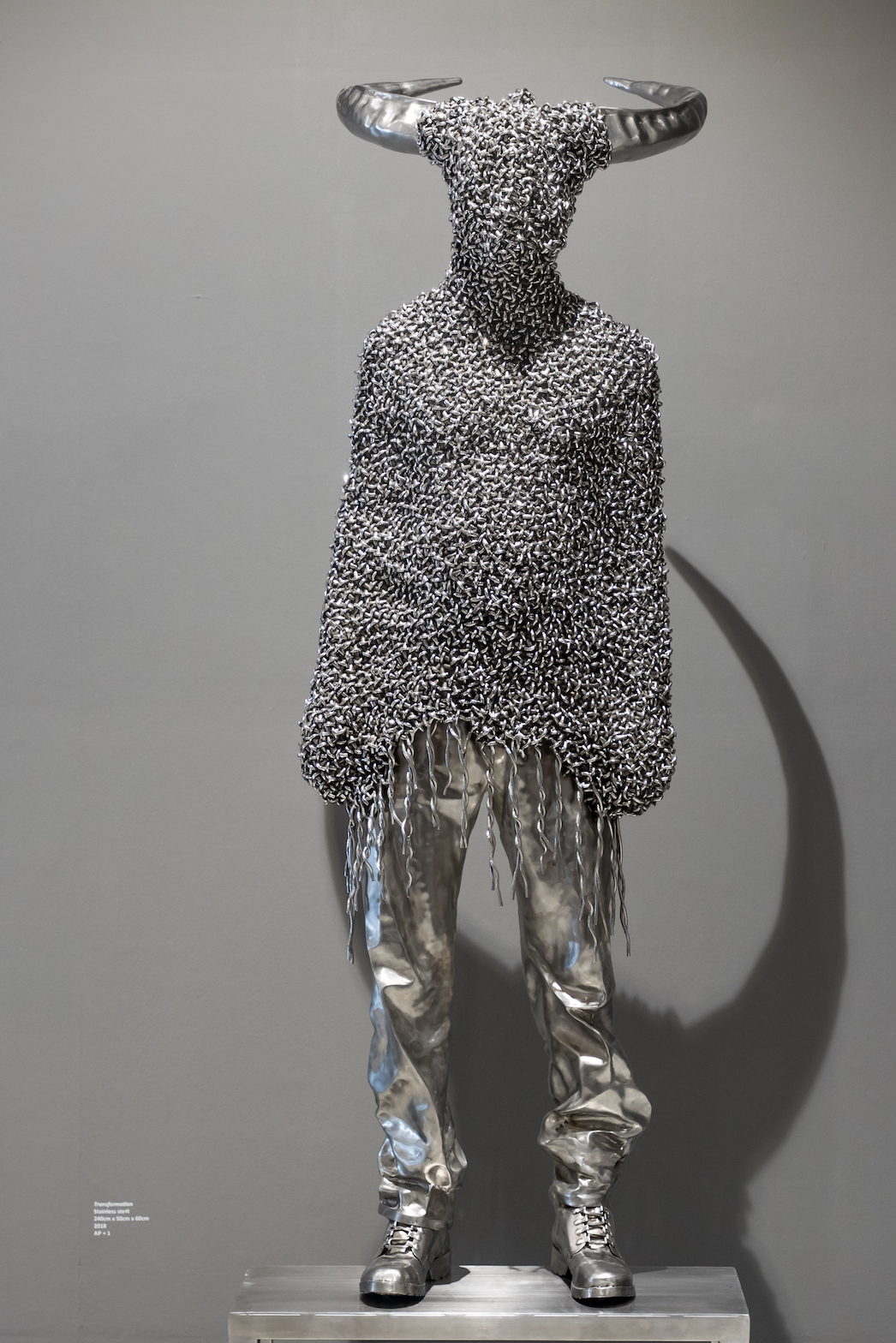 Transformation, Stainless steel, 600 cm x 150 cm x 125 cm, 2018, AP+1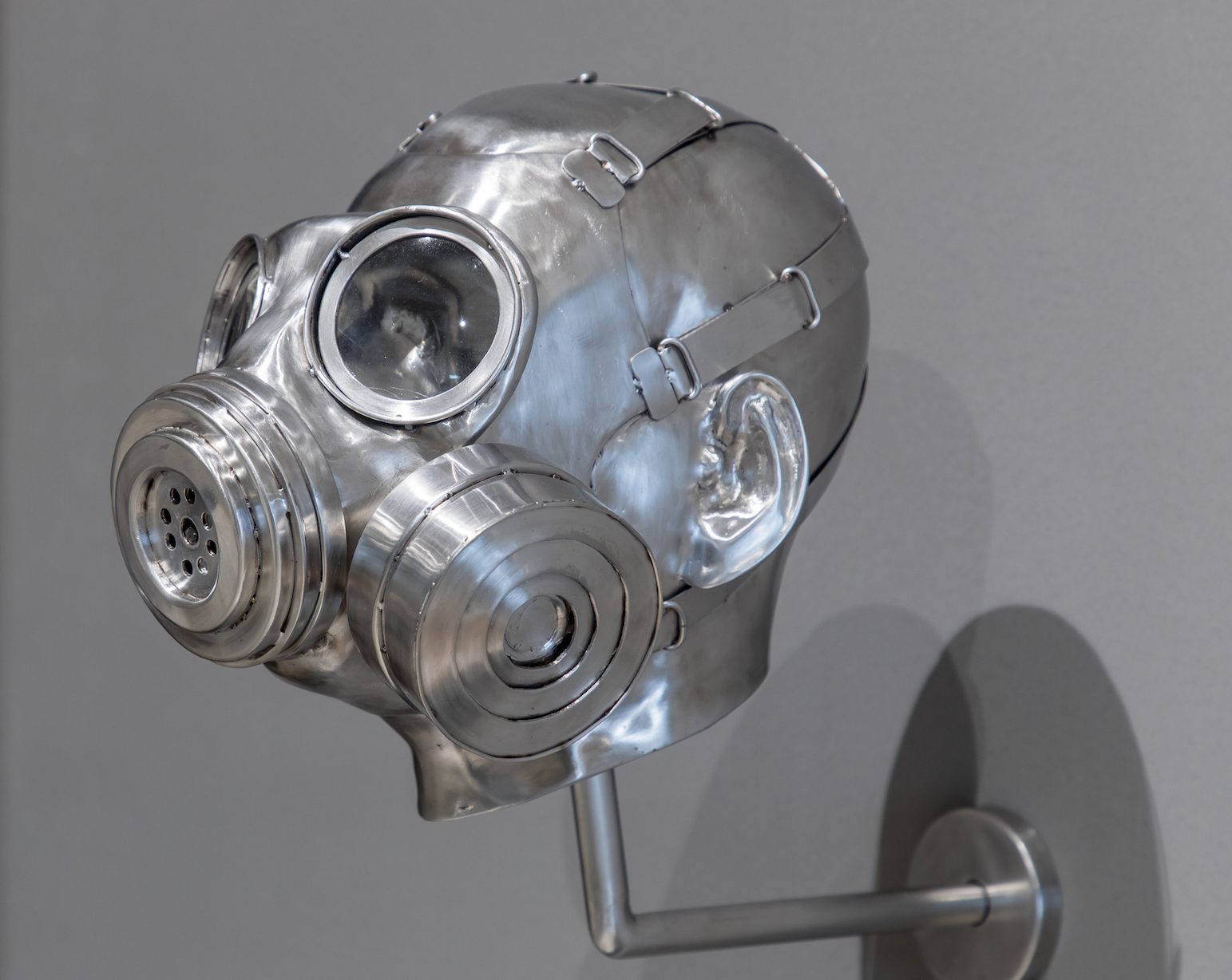 Man with Gas Mask, Stainless steel, 35 cm x 30 cm x 35 cm, 2016, AP + 5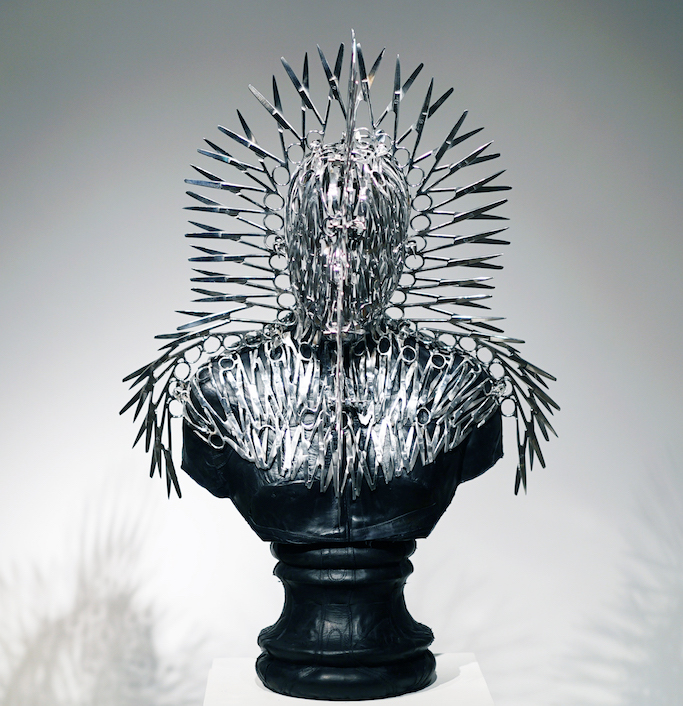 Lonely King, Stainless steel, Surgical scissors & leather, 67.5 cm x 60 cm x 69 cm, 2016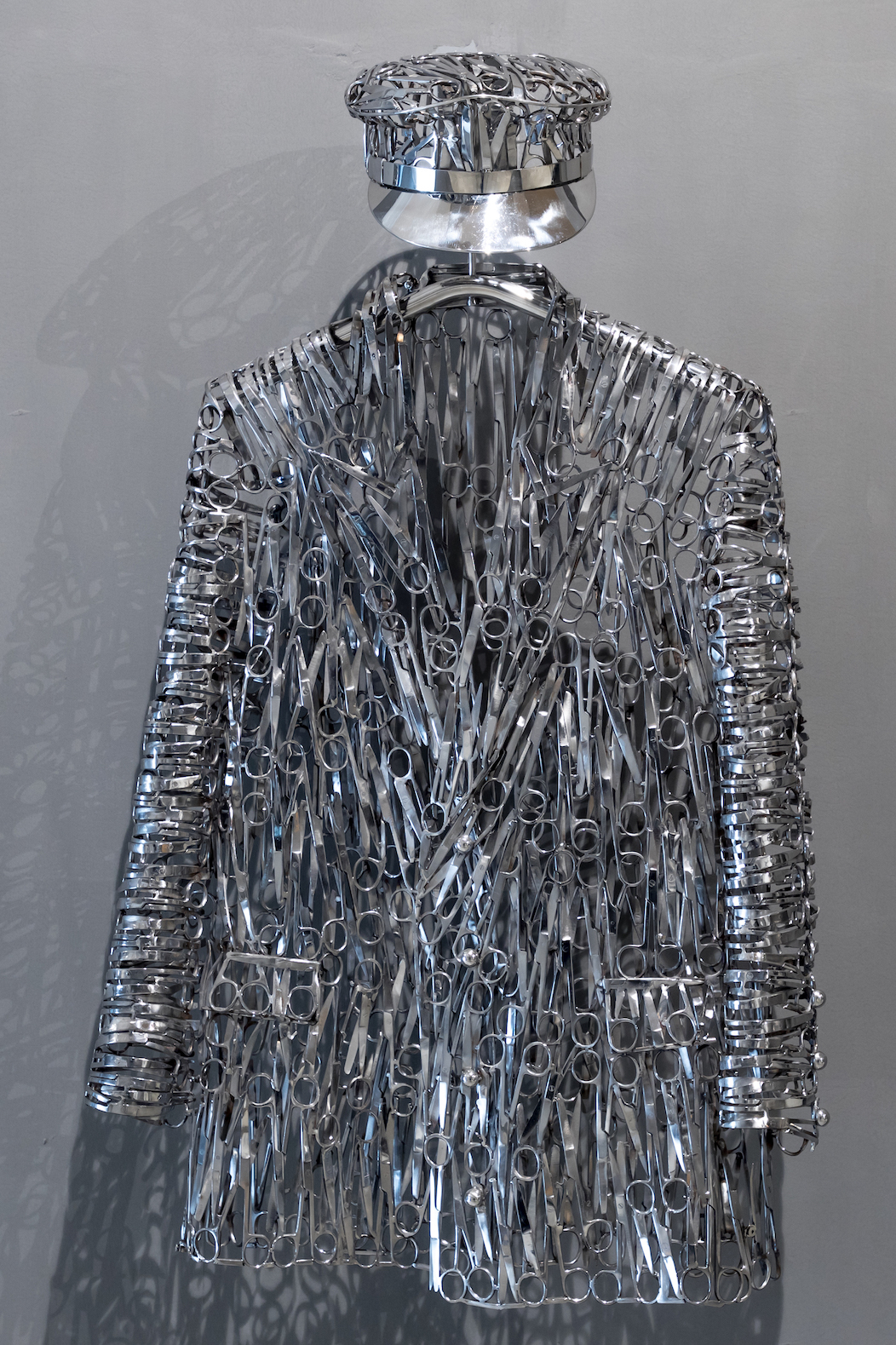 Rest Room, Stainless steel, 105 cm x 27.5 cm x 55 cm, 2018, AP+1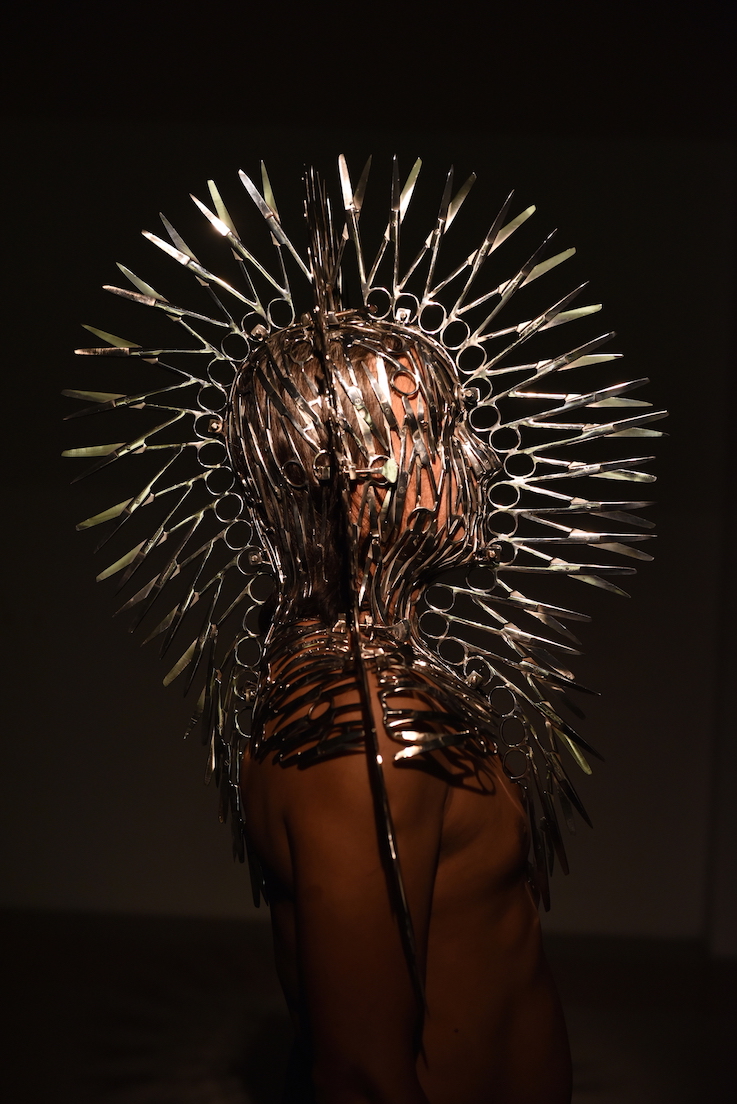 Lonely King, Digital print, 75 cm x 50 cm, 2018 (AP+5)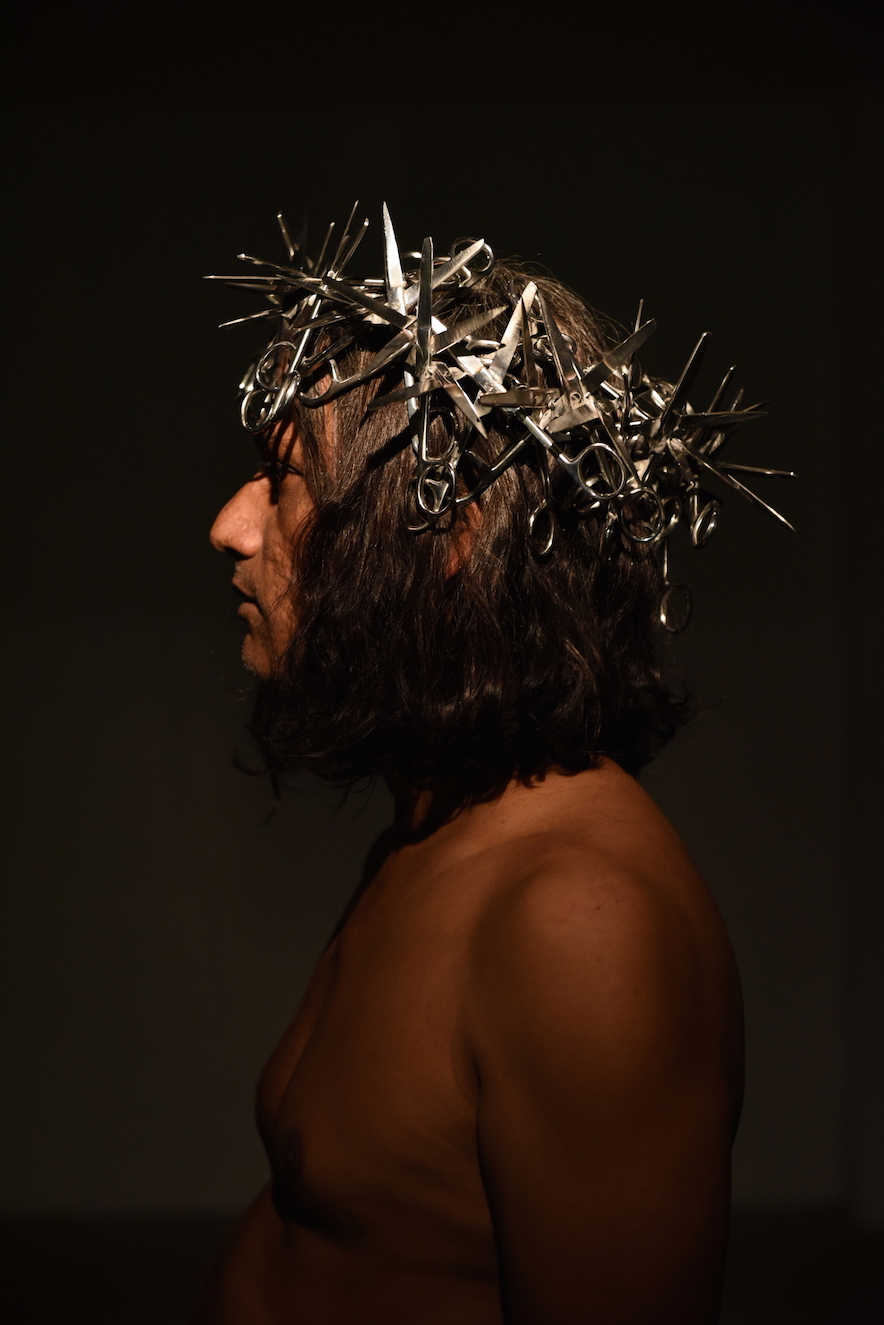 Lonely King, Digital print, 75 cm x 50 cm, 2018 (AP+5)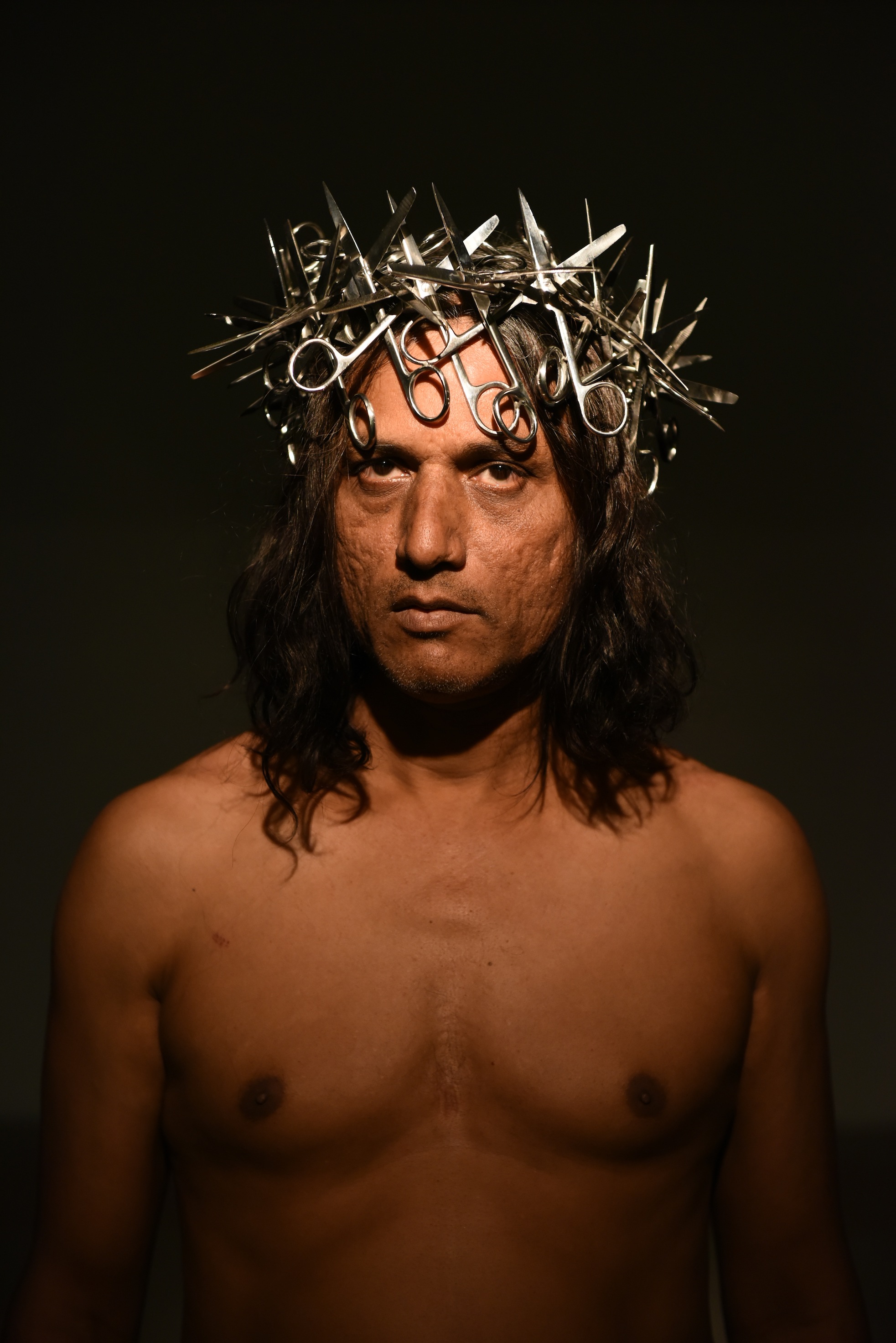 Lonely King, Digital print, 75 cm x 50 cm, 2018 (AP+5)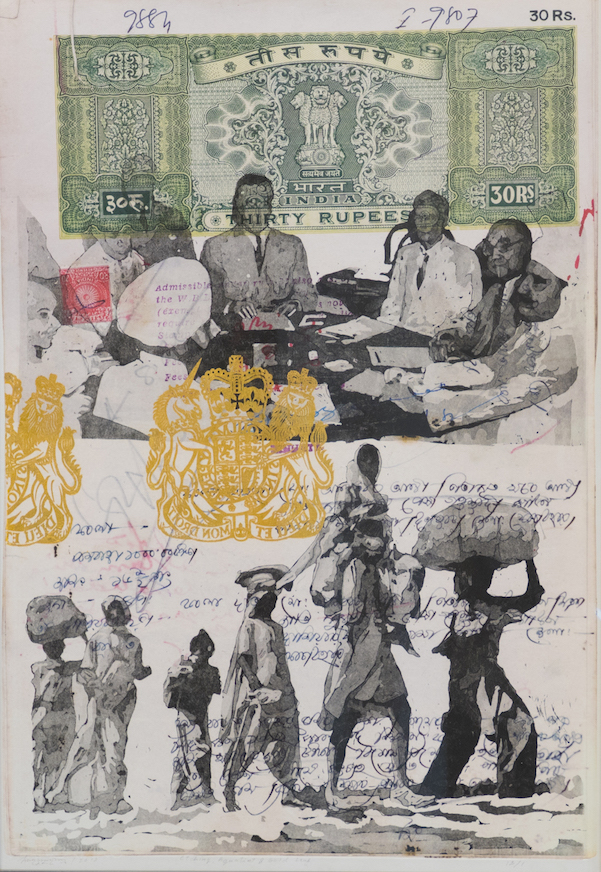 Dislocation, Iron ink drawing and gold leaf on digital print, 67.5 cm x 42.5 cm, 2018, AP+11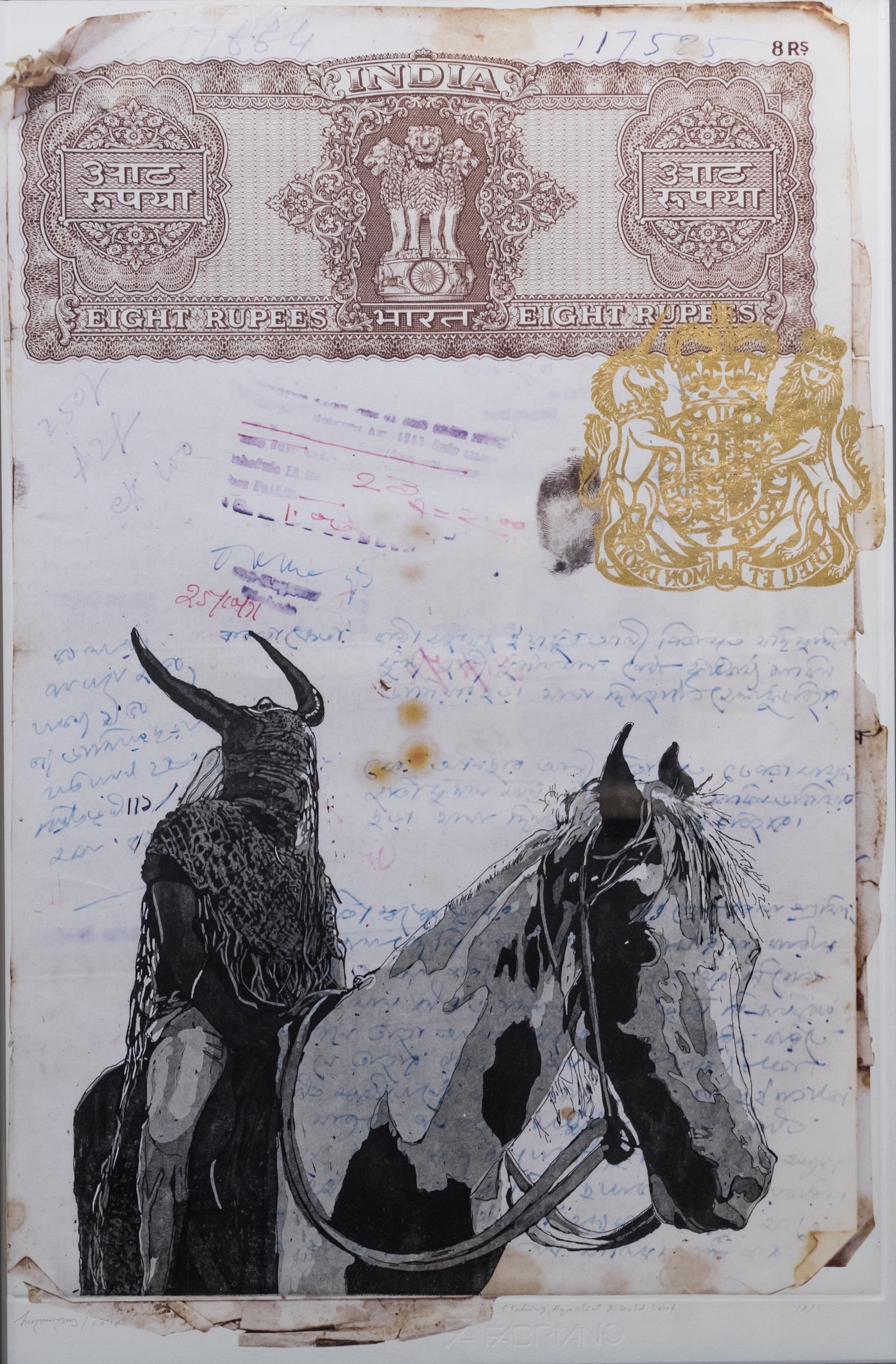 Dislocation, Iron ink drawing and gold leaf on digital print, 67.5 cm x 42.5 cm, 2018, AP+11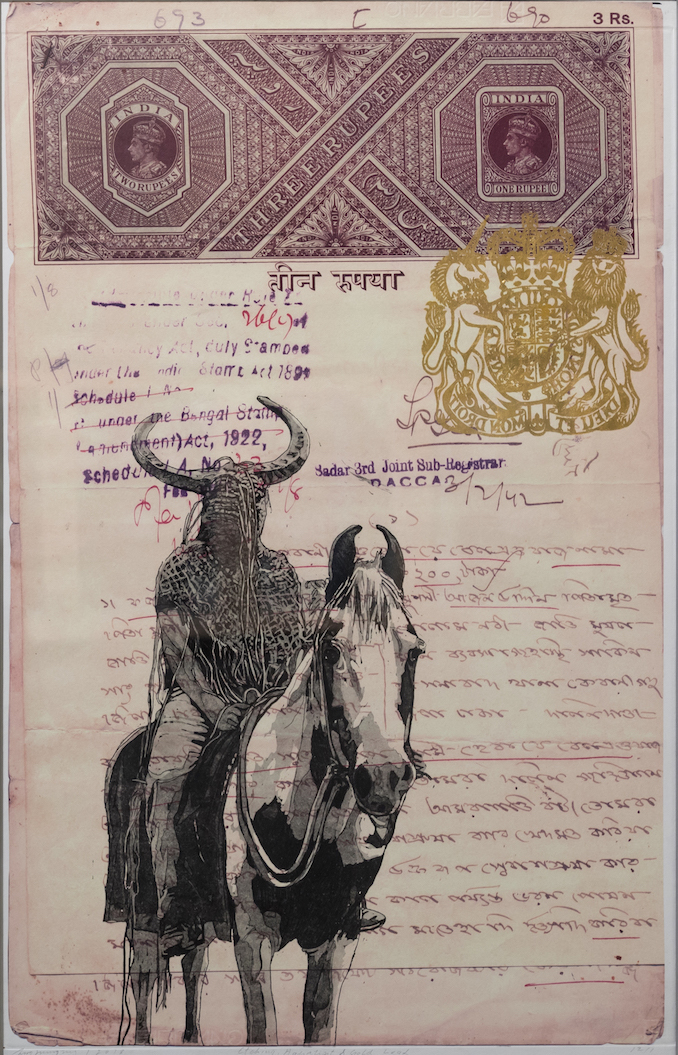 Dislocation, Iron ink drawing and gold leaf on digital print, 67.5 cm x 42.5 cm, 2018, AP+11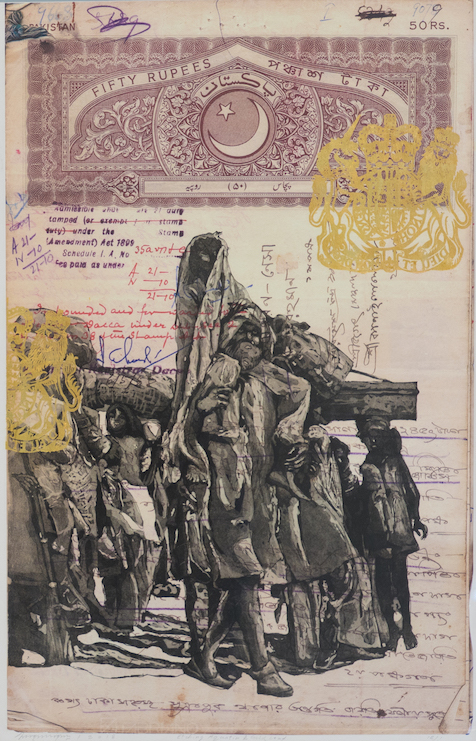 Dislocation, Iron ink drawing and gold leaf on digital print, 67.5 cm x 42.5 cm, 2018, AP+11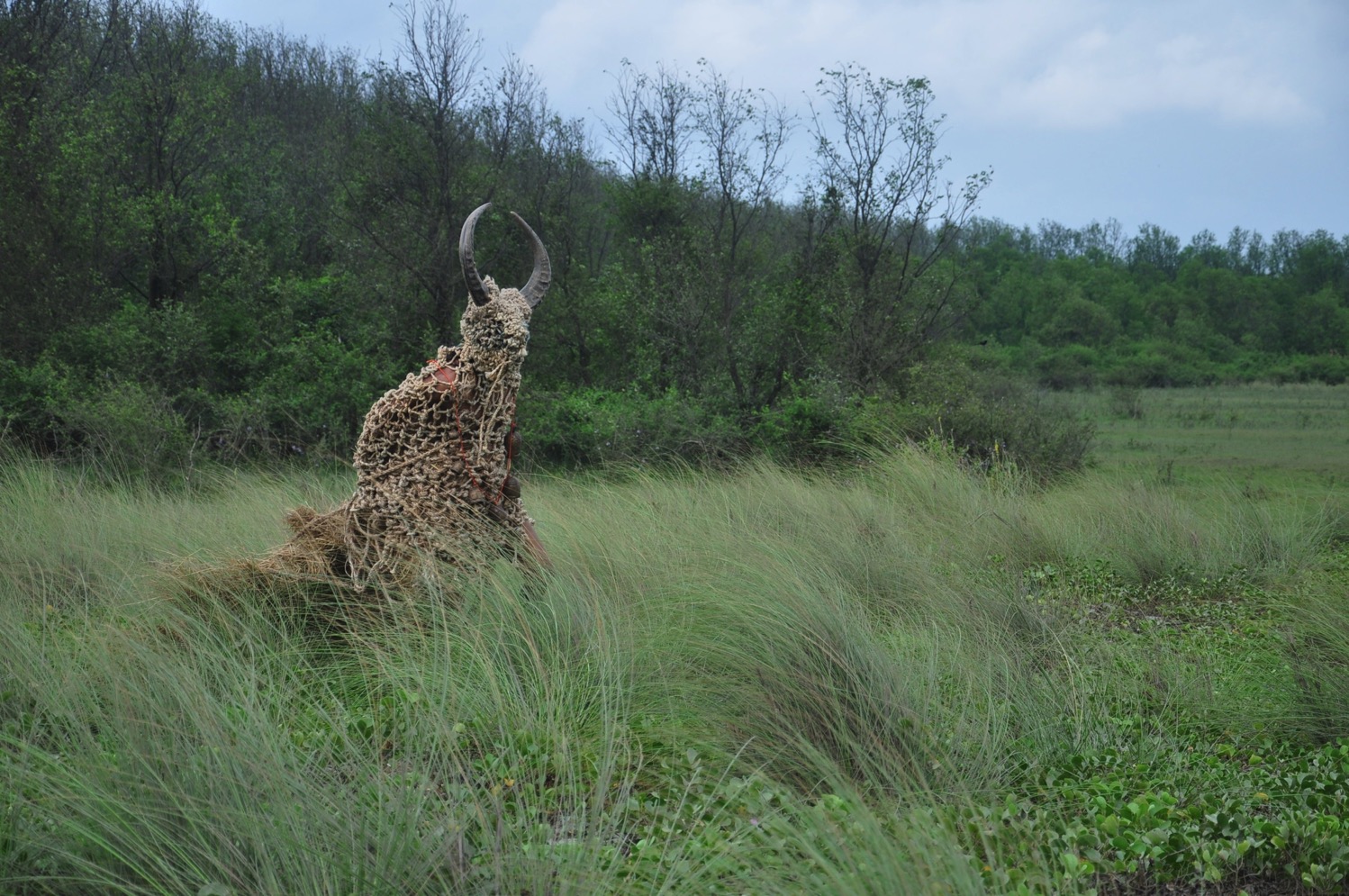 Transformation, Digital print, 50 cm x 75 cm, 2004-14, AP+5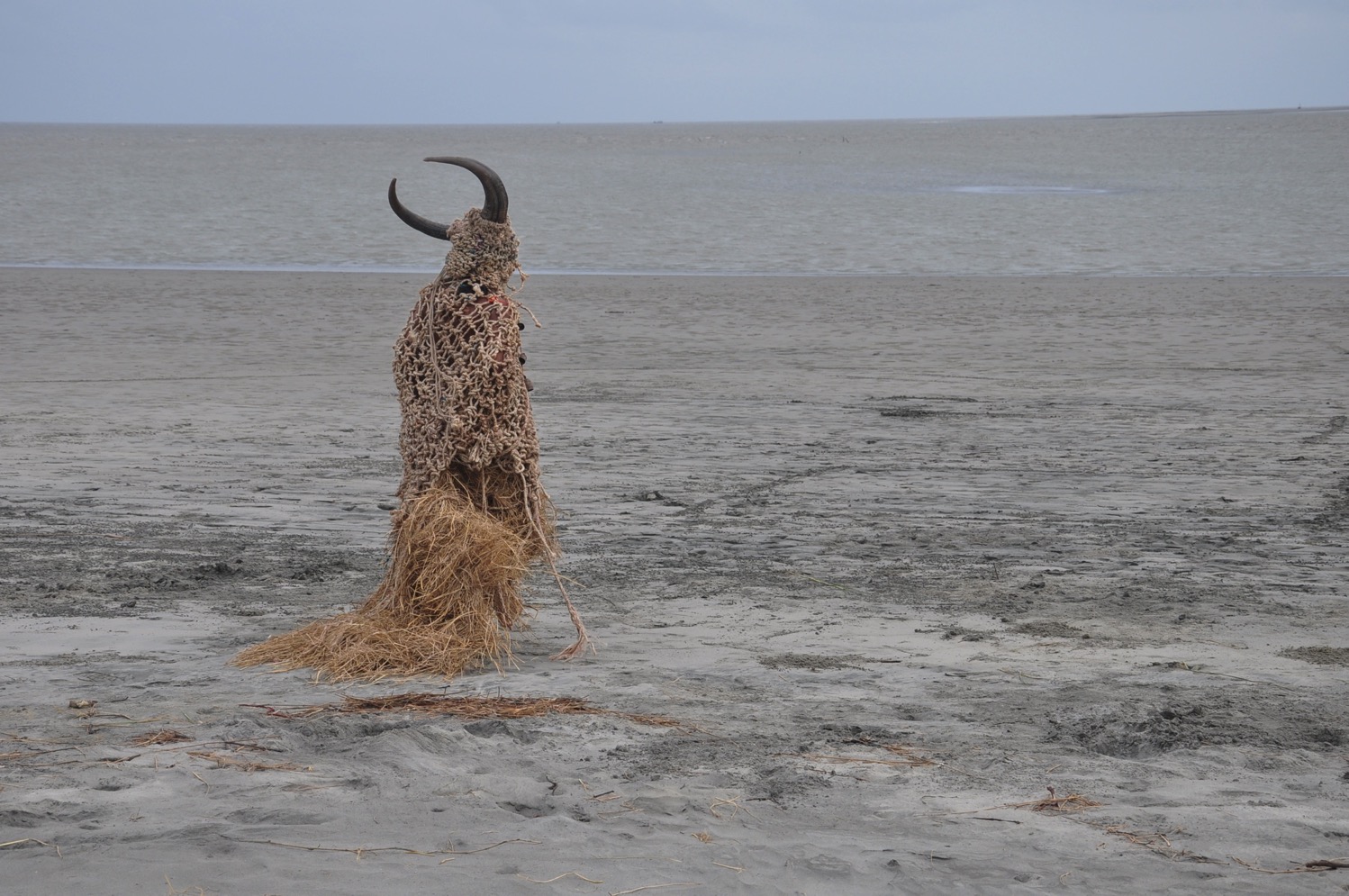 Transformation, Digital print, 50 cm x 75 cm, 2004-14, AP+5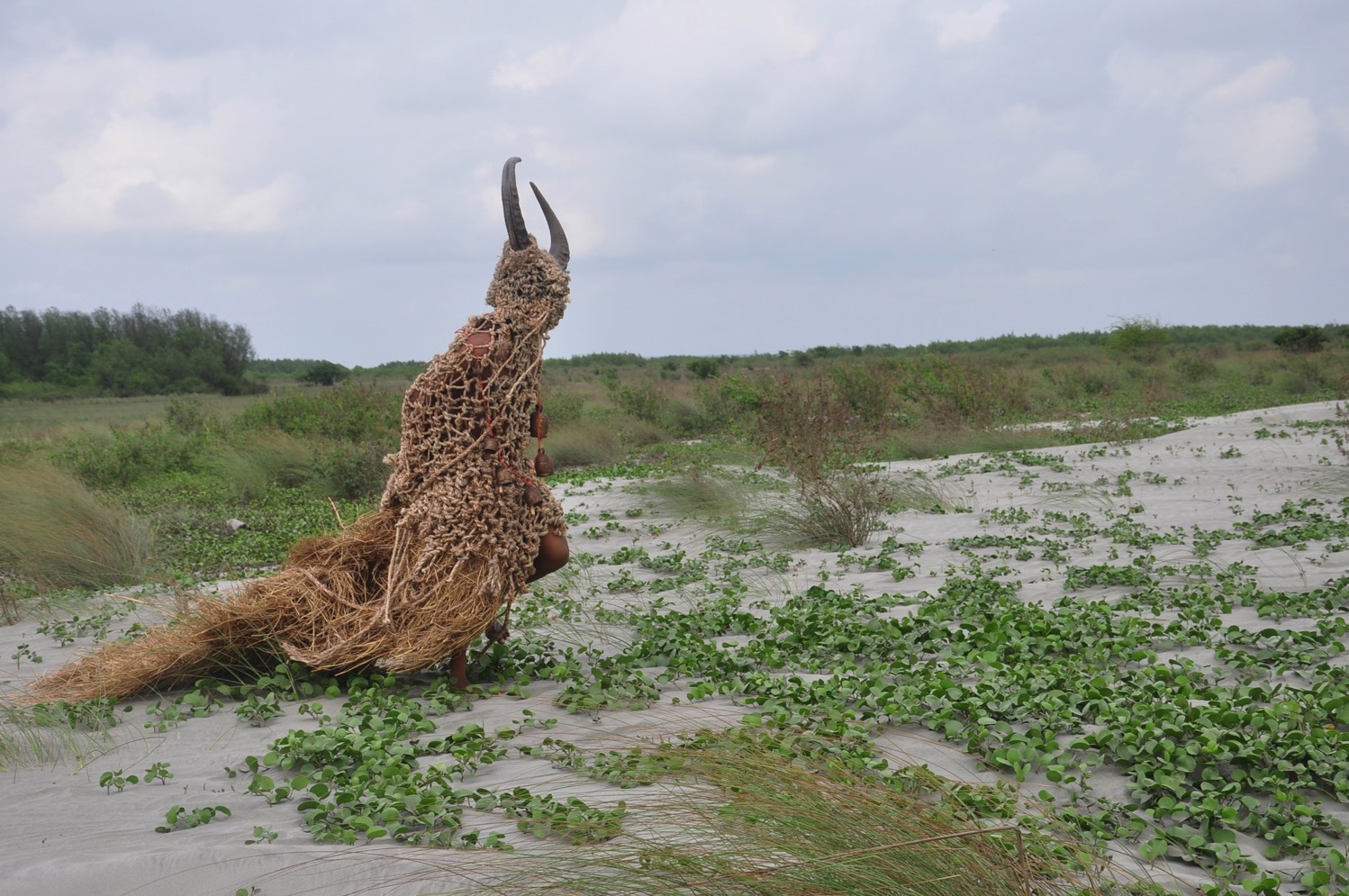 Transformation, Digital print, 50 cm x 75 cm, 2004-14, AP+5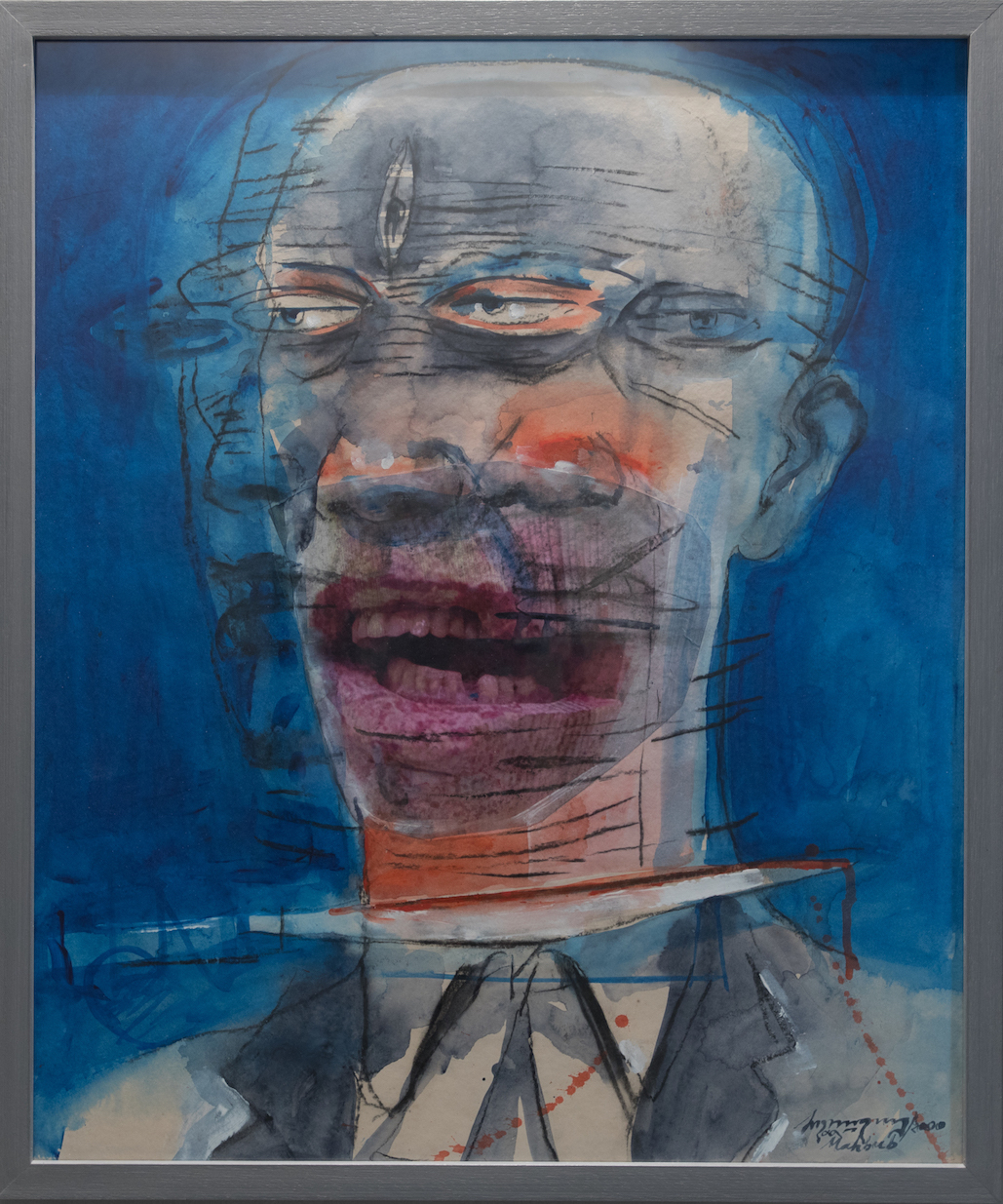 Self Slaughter, Acrylic on paper and collage, 62.5 cm x 50 cm, 2000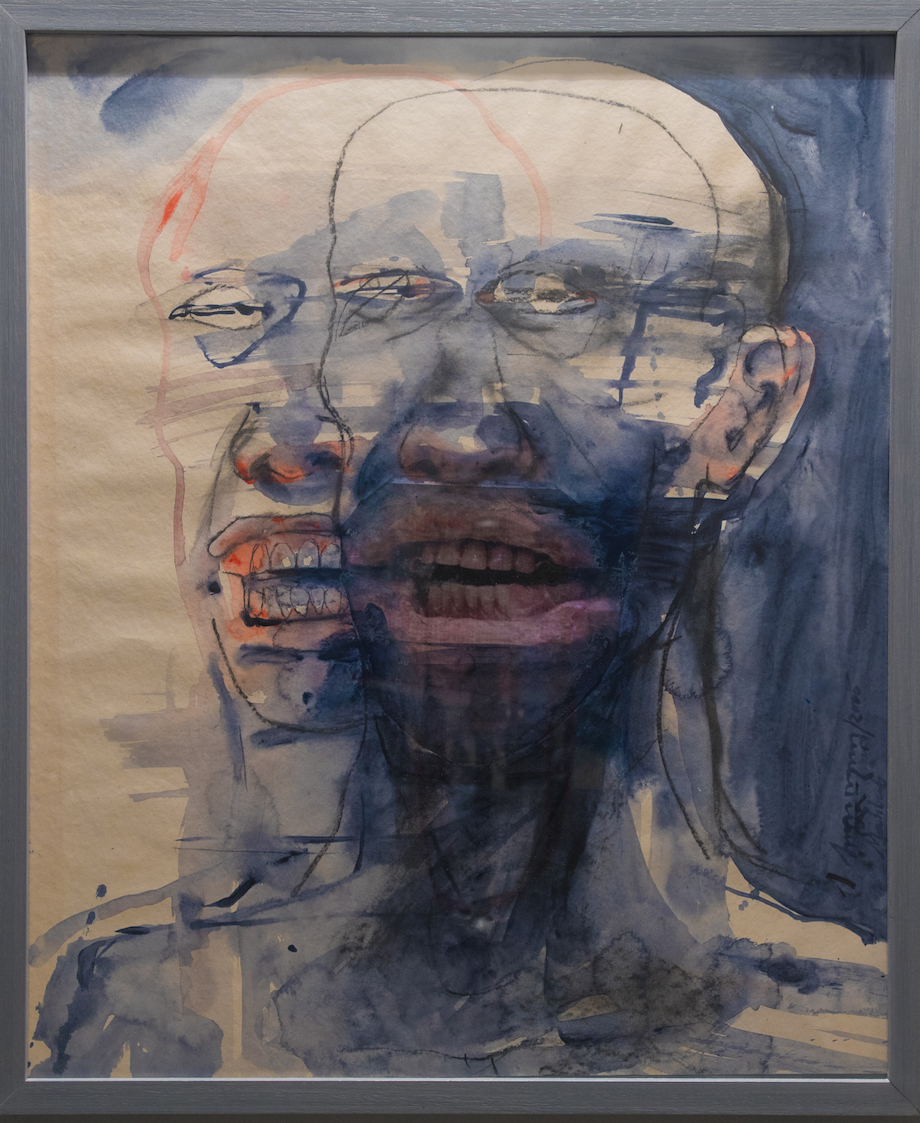 Self Slaughter, Acrylic on paper and collage, 62.5 cm x 50 cm, 2000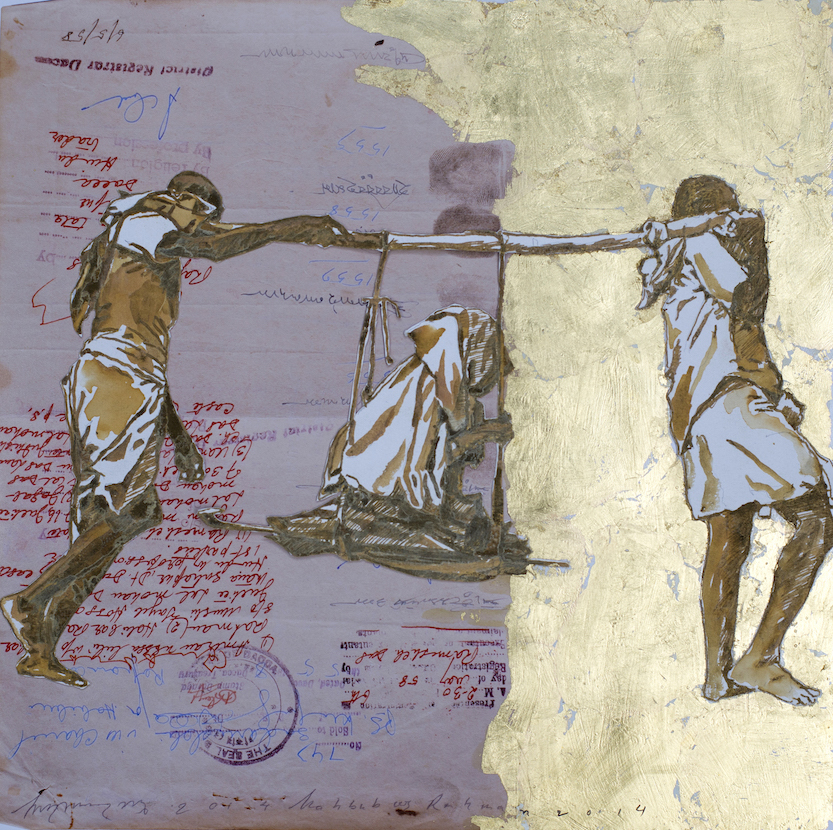 Dislocation, Iron ink drawing and gold leaf on digital print, 35 cm x 35 cm, 2018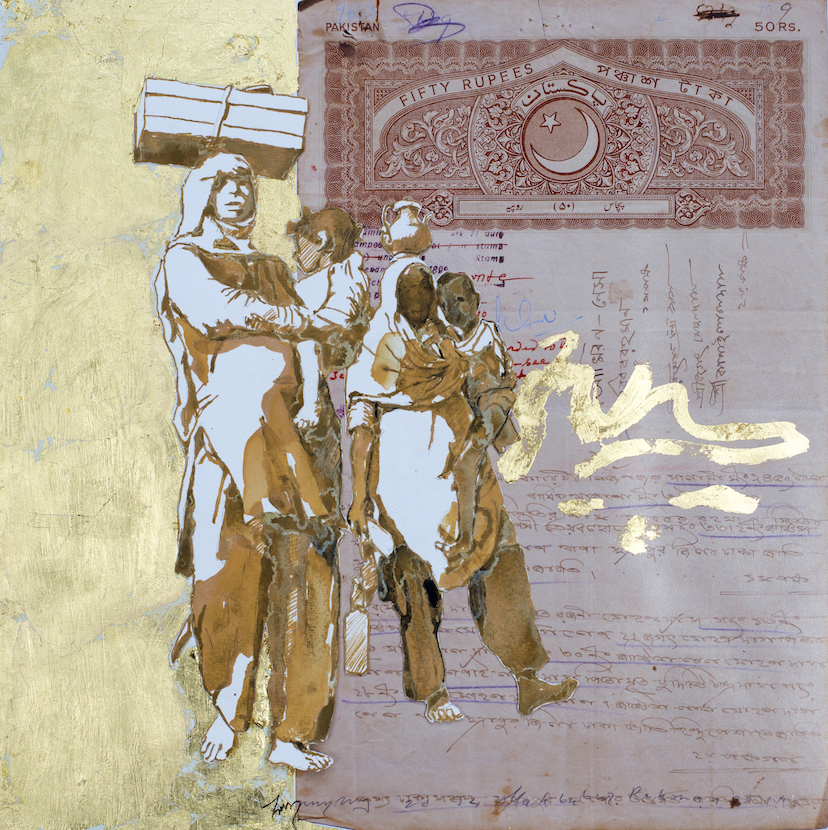 Dislocation, Iron ink drawing and gold leaf on digital print, 35 cm x 35 cm, 2018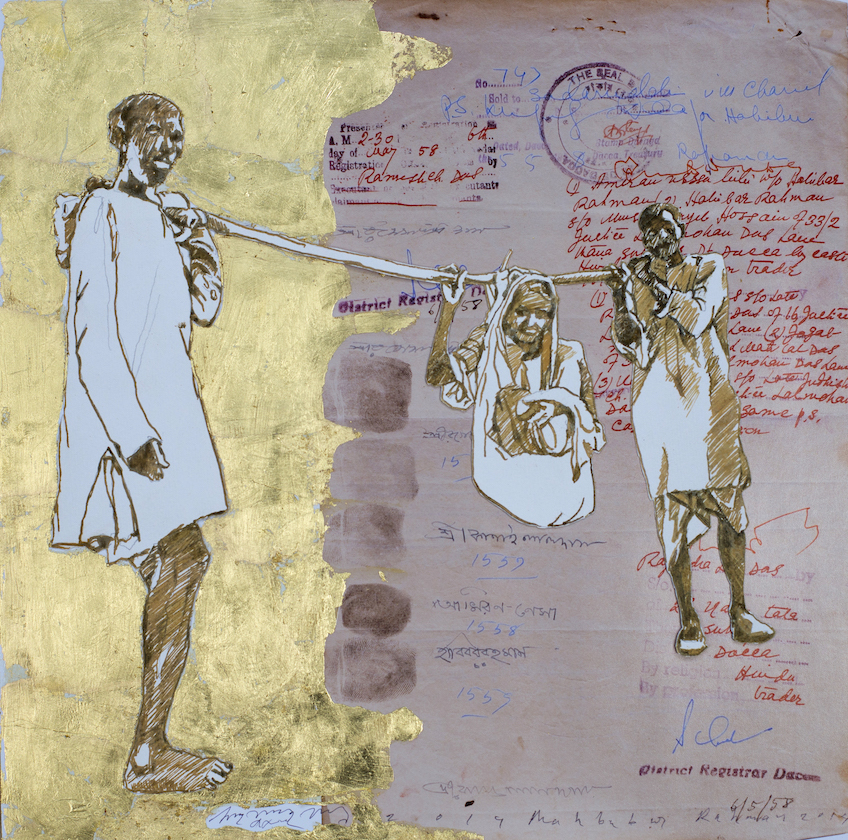 Dislocation, Iron ink drawing and gold leaf on digital print, 35 cm x 35 cm, 2018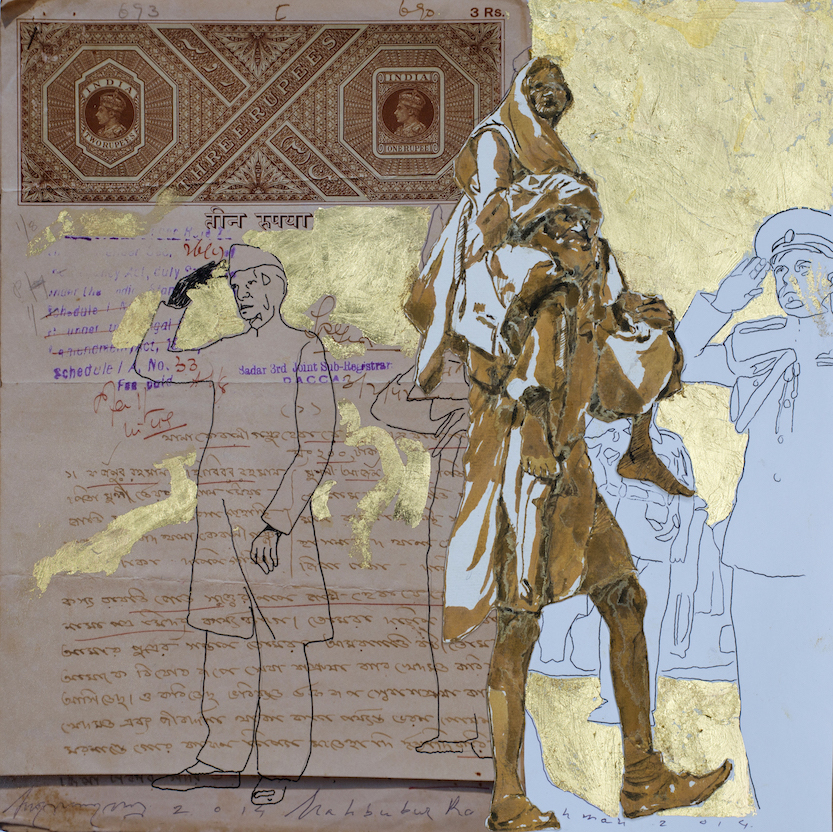 Dislocation, Iron ink drawing and gold leaf on digital print, 35 cm x 35 cm, 2018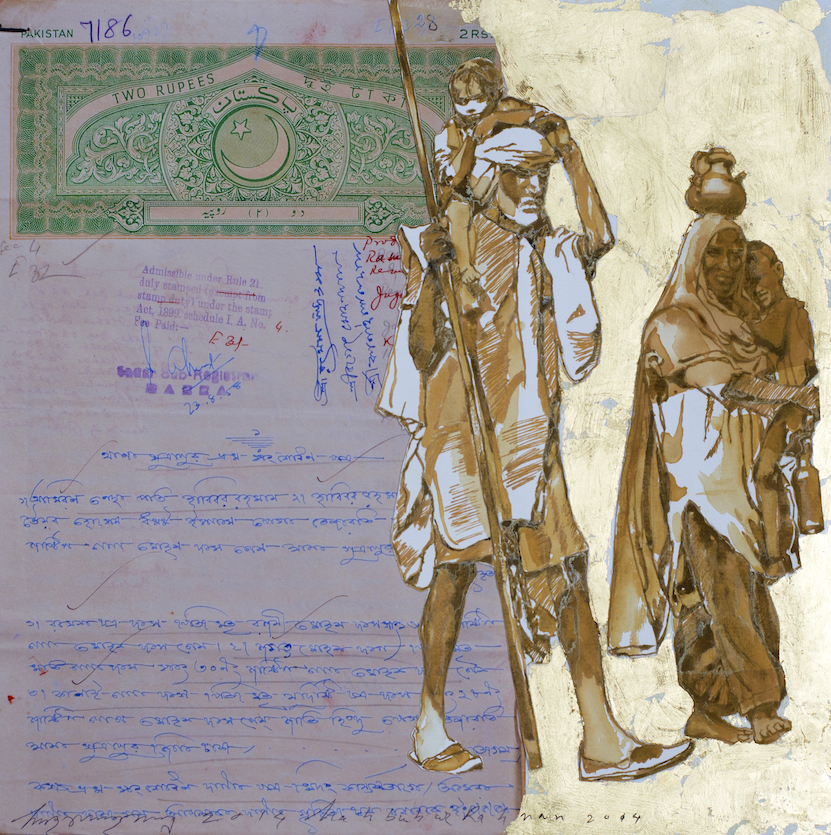 Dislocation, Iron ink drawing and gold leaf on digital print, 35 cm x 35 cm, 2018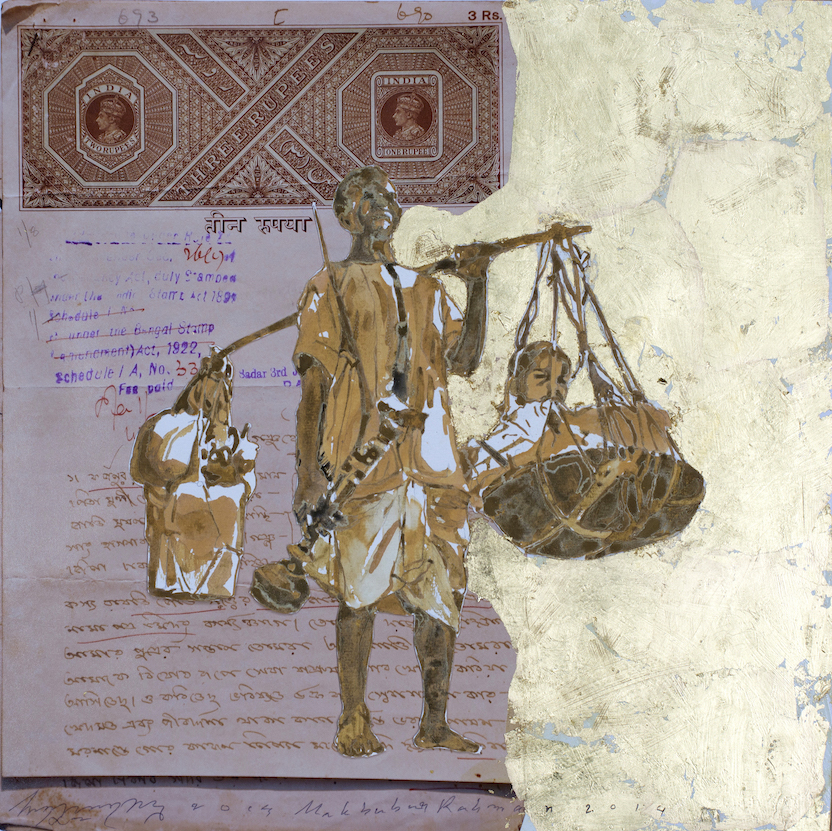 Dislocation, Iron ink drawing and gold leaf on digital print, 35 cm x 35 cm, 2018
What was really happending there, Charcoal drawing on paper, 100 cm x 70 cm, 2015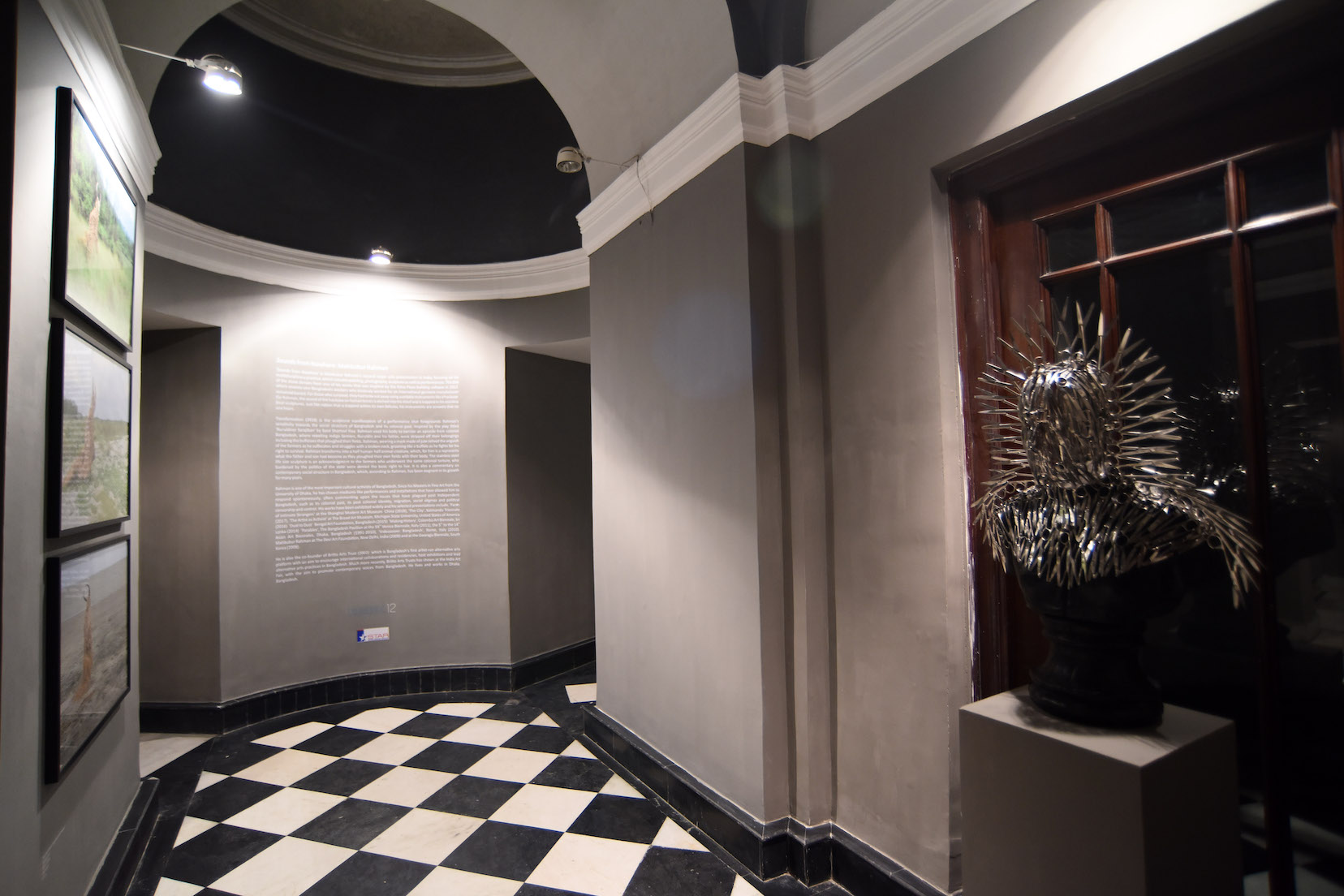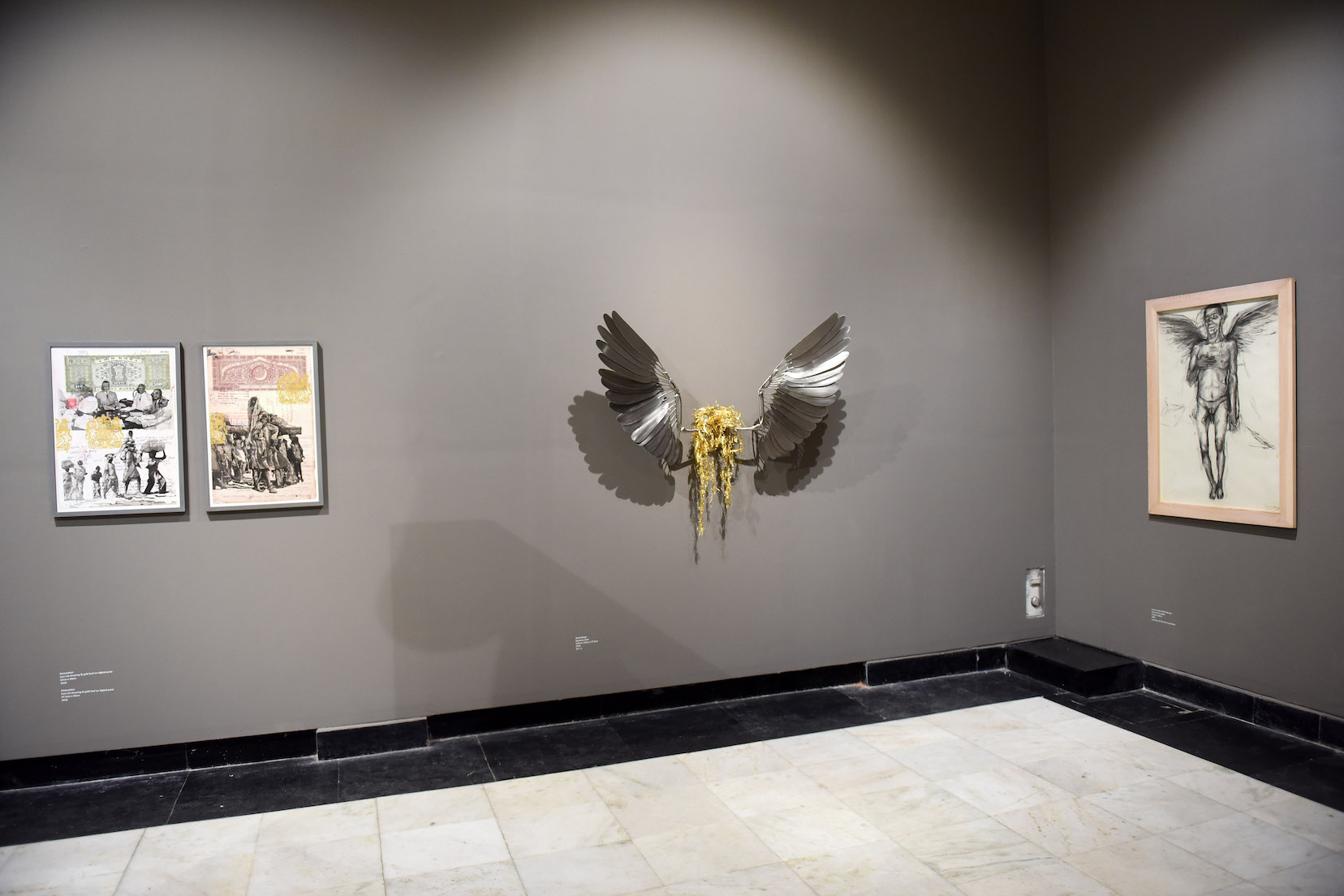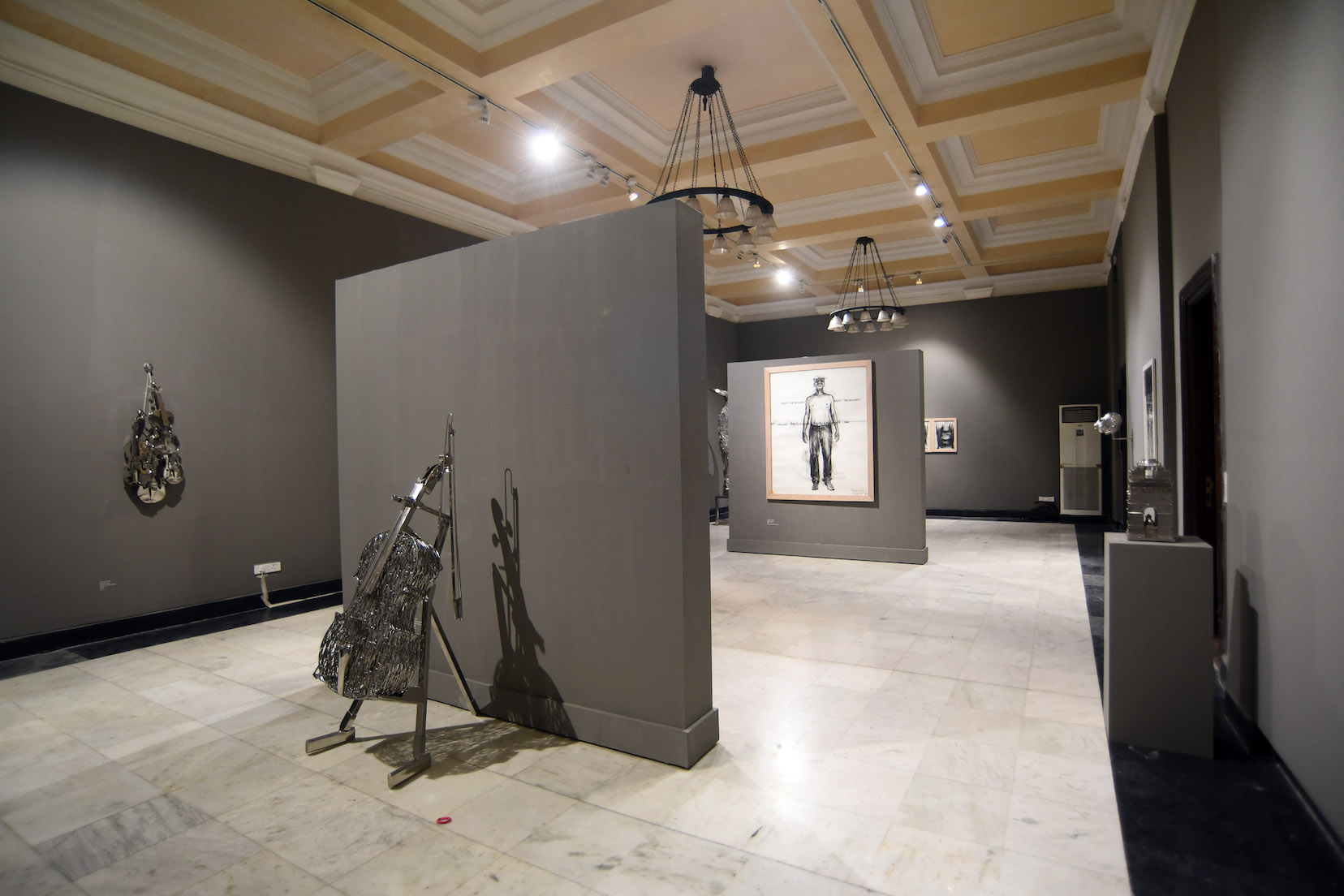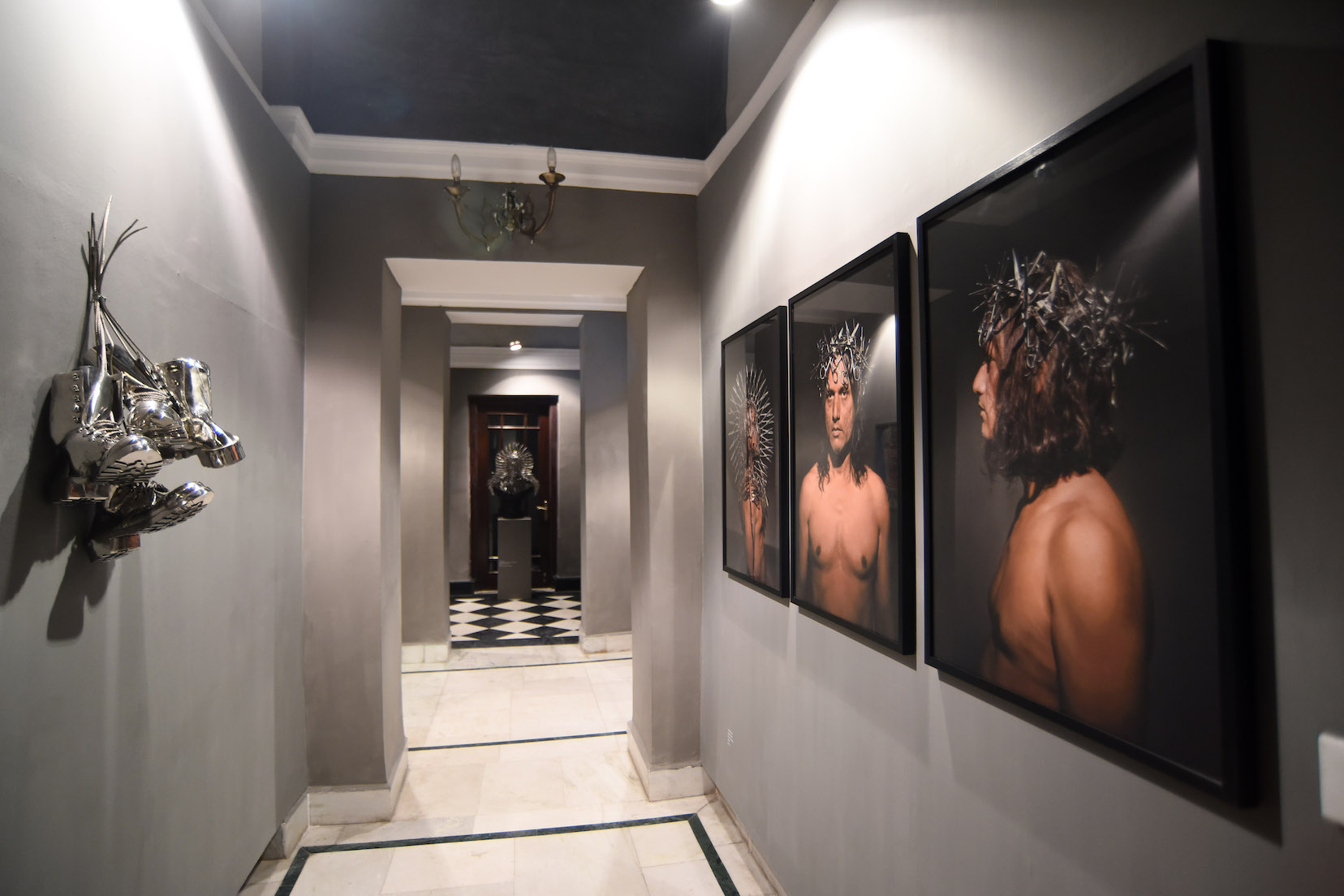 'Sounds from Nowhere' is Mahbubur Rahman's second major solo presentation in India; focusing on his multidisciplinary practice, which includes painting, photography, sculpture as well as performances. The title of the show derives from one of his works that was inspired by the Rana Plaza building collapse in 2013, where seventy-one Bangladeshi workers who tirelessly worked for an international garment manufacturer remained buried. For those who survived, they had to be cut away using available instruments like a hacksaw. For Rahman, the sound of the hacksaw on human bones is etched into his mind and is trapped in his stainless steel sculptures. Just like nation that is trapped within its own failures, his instruments are screams that no one hears.

Transformation (2018) is the sculptural manifestation of a performance that foregrounds Rahman's sensitivity towards the social structure of Bangladesh and its colonial past. Inspired by the play titled 'Nuruldiner Sarajiban' by Syed Shamsul Haq, Rahman used his body to narrate an episode from colonial Bangladesh, where rebelling indigo farmers, Nuruldin and his father, were stripped off their belongings including the buffaloes that ploughed their fields. Rahman, wearing a mask made of jute relived the anguish of the farmers as he suffocates and struggles with a broken neck, groaning like a buffalo as he fights for his right to survival. Rahman transforms into a half human-half animal creature, which, for him is a represents what the father and son had become as they ploughed their own fields with their body. The stainless steel life-size sculpture is an acknowledgment to the farmers who underwent the same colonial torture, who burdened by the politics of the state were denied the basic right to live. It is also a commentary on contemporary social structure in Bangladesh, which, according to Rahman, has been stagnant in its growth for many years.

Rahman is one of the most important cultural activists of Bangladesh. Since his Masters in Fine Art from the University of Dhaka, he has chosen mediums like performances and installations that have allowed him to respond spontaneously, often commenting upon the issues that have plagued post Independent Bangladesh, such as its colonial past, its post colonial identity, migration, social stigmas and political censorship and control. His works have been exhibited widely and his selected presentations include, 'Faces of Intimate Strangers' at the Shanghai Modern Art Museum, China (2018), 'The City', Katmandu Triennale (2017), 'The Artist as Activist' at The Broad Art Museum, Michigan State University, United States of America (2016), 'Dust to Dust', Bengal Art Foundation, Bangladesh (2015), 'Making History', Colombo Art Biennale, Sri Lanka (2014), 'Parables', The Bangladesh Pavilion at the 54th Venice Biennale, Italy (2011), the 5th to the 14th Asian Art Biennales, Dhaka, Bangladesh (1991-2010), 'Videozoom: Bangladesh', Rome, Italy (2010), Mahbubur Rahman at The Devi Art Foundation, New Delhi, India (2009) and at the Gwangju Biennale, South Korea (2008).

He is also the co-founder of Britto Arts Trust (2002), which is Bangladesh's first artist-run alternative arts platform with an aim to encourage international collaborations and residencies, host exhibitions and lead alternative arts practices in Bangladesh. Much more recently, Britto Arts Trusts has shown at the India Art Fair, with the aim to promote contemporary voices from Bangladesh. He lives and works in Dhaka, Bangladesh.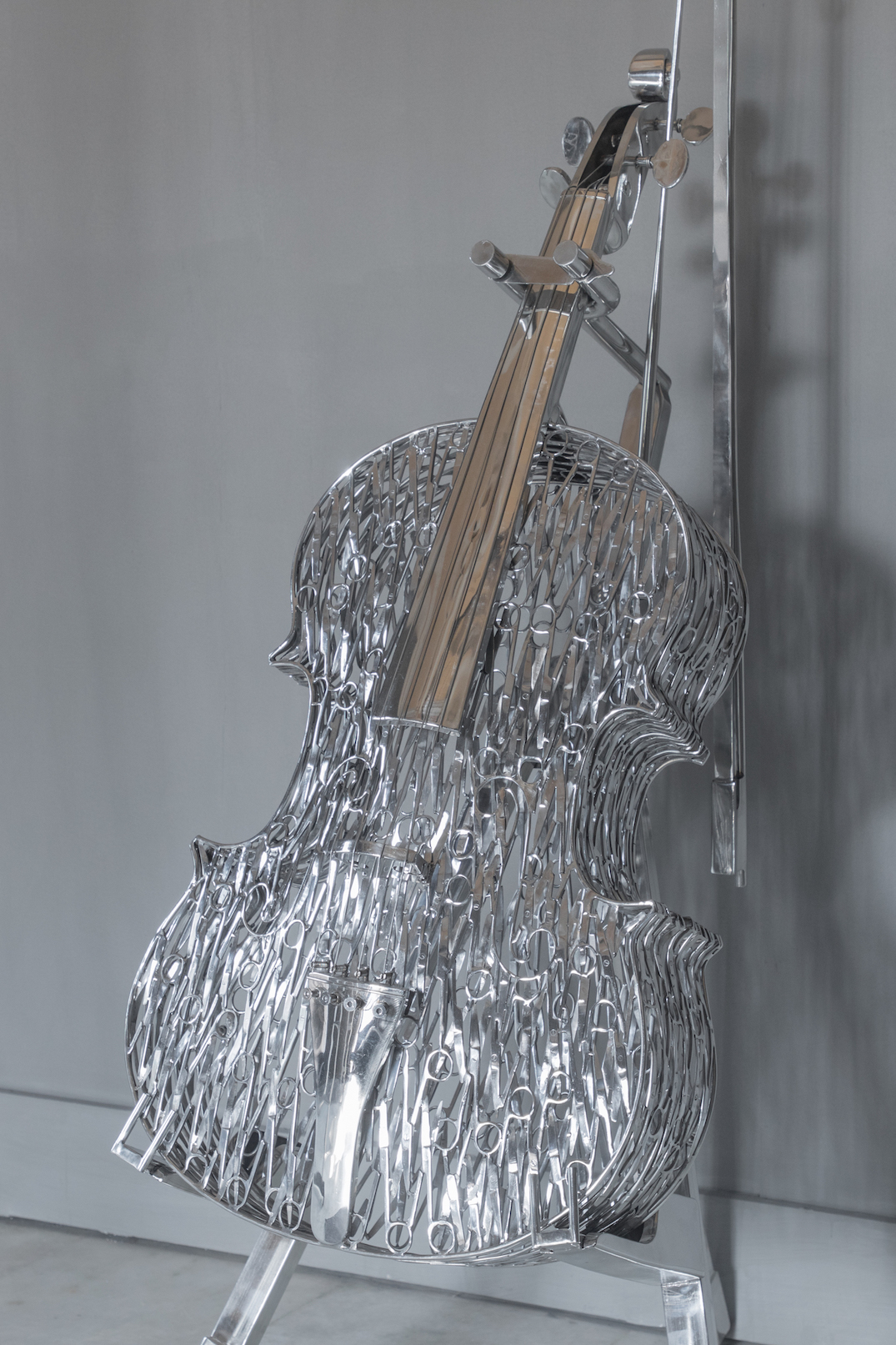 My Cello, Stainless steel and surgical scissors, 175 cm x 75 cm x 90 cm, 2018, AP + 1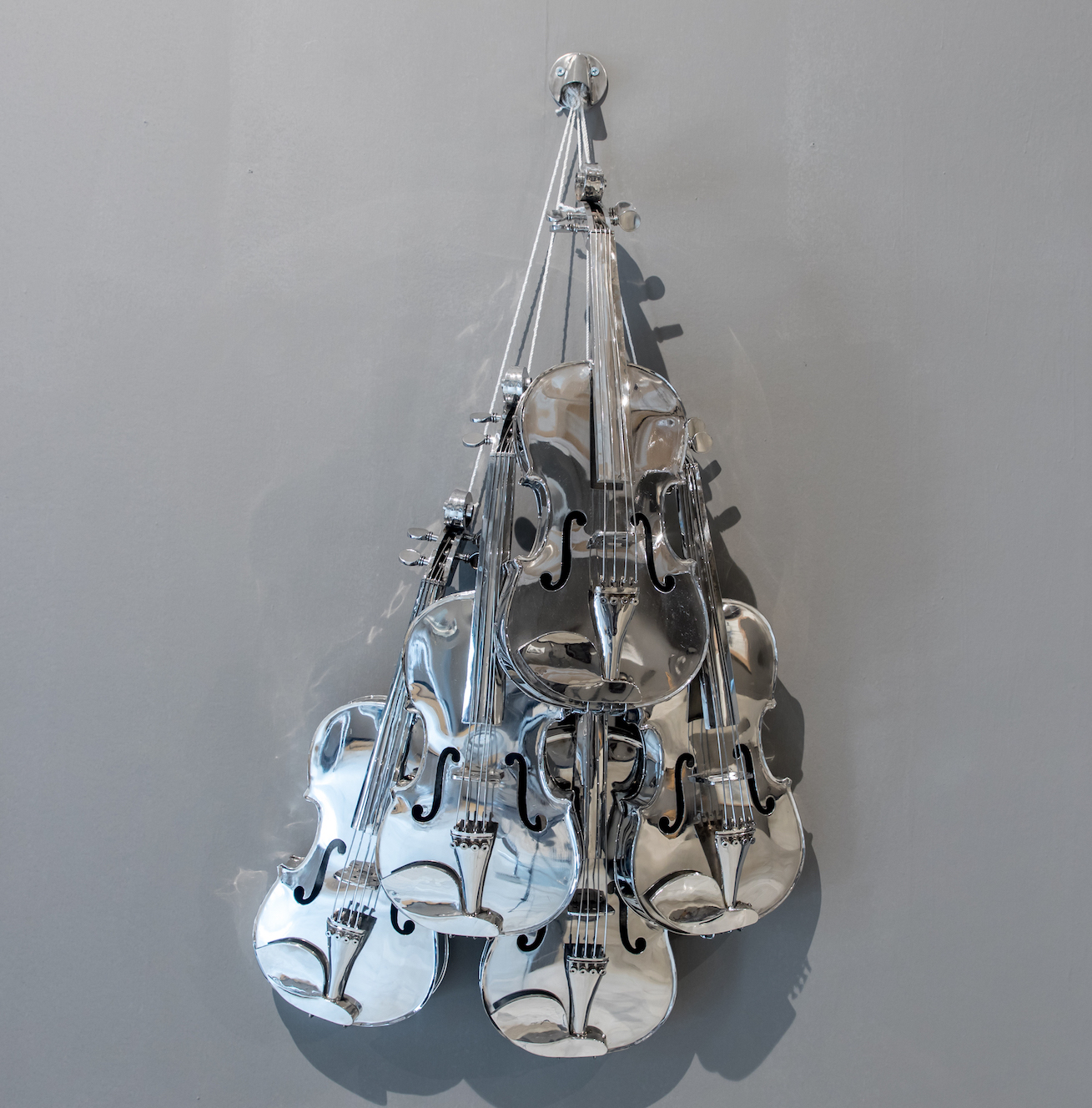 Burning Violin, Stainless steel, 60 cm x 10 cm x 25 cm, 2018, AP+1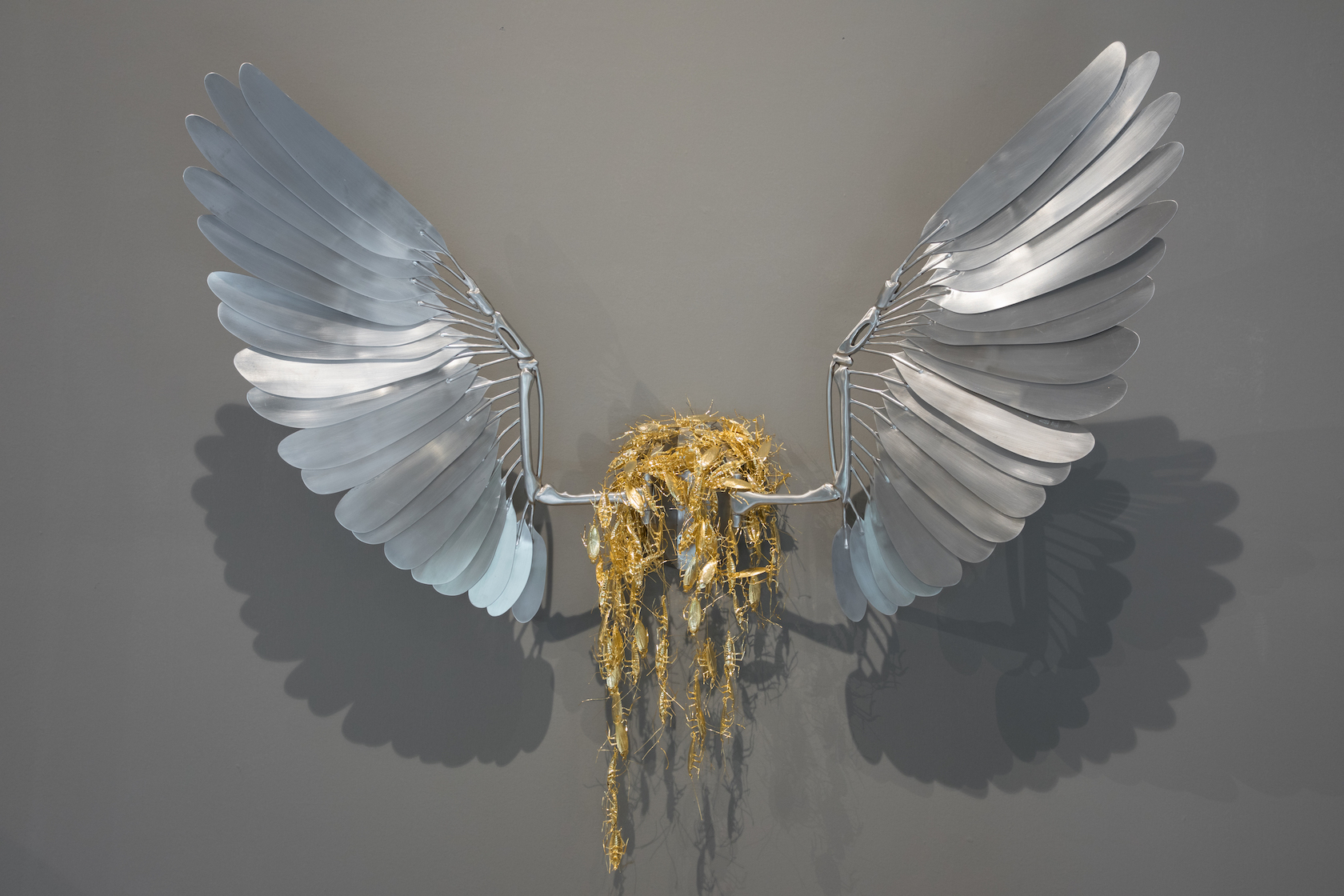 Dead wings, Stainless steel, 135 cm x 25 cm x 77.5 cm, 2018, AP+1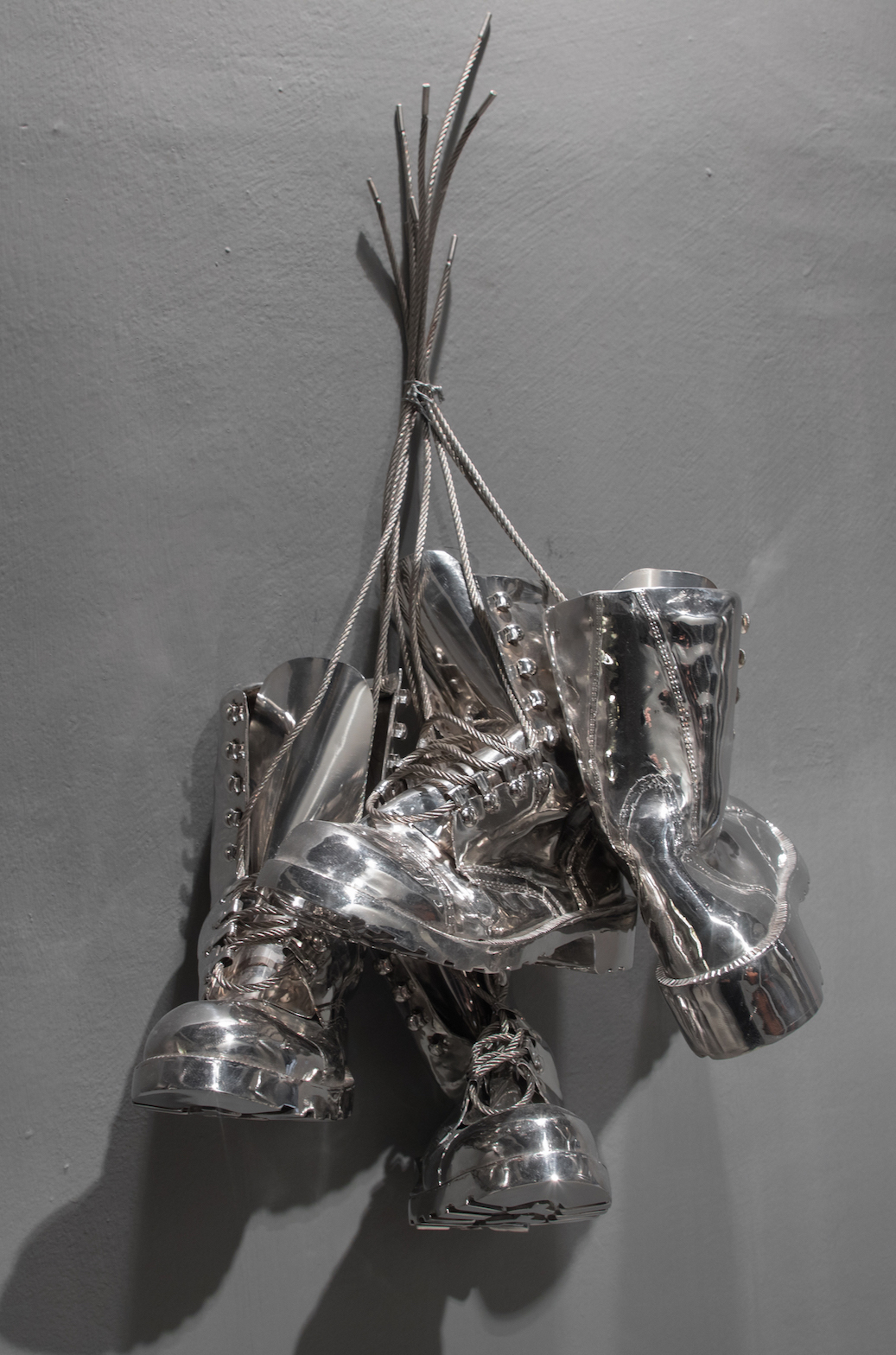 Tower, Stainless steel, 15 cm x 10 cm x 20 cm each boot, 2017, AP + 5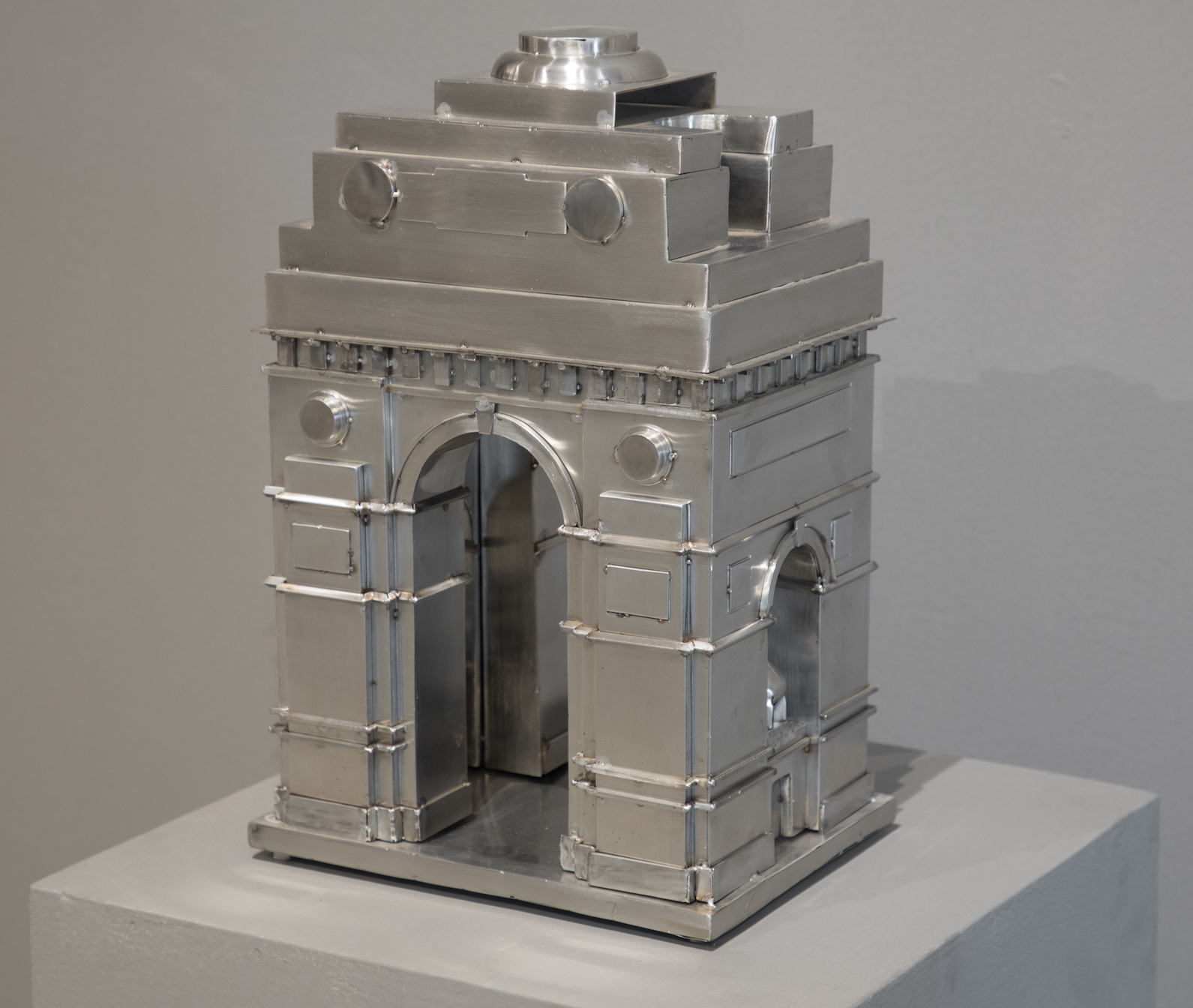 India Gate, Stainless steel, 35 cm x 20 cm x 30 cm, 2018, AP+5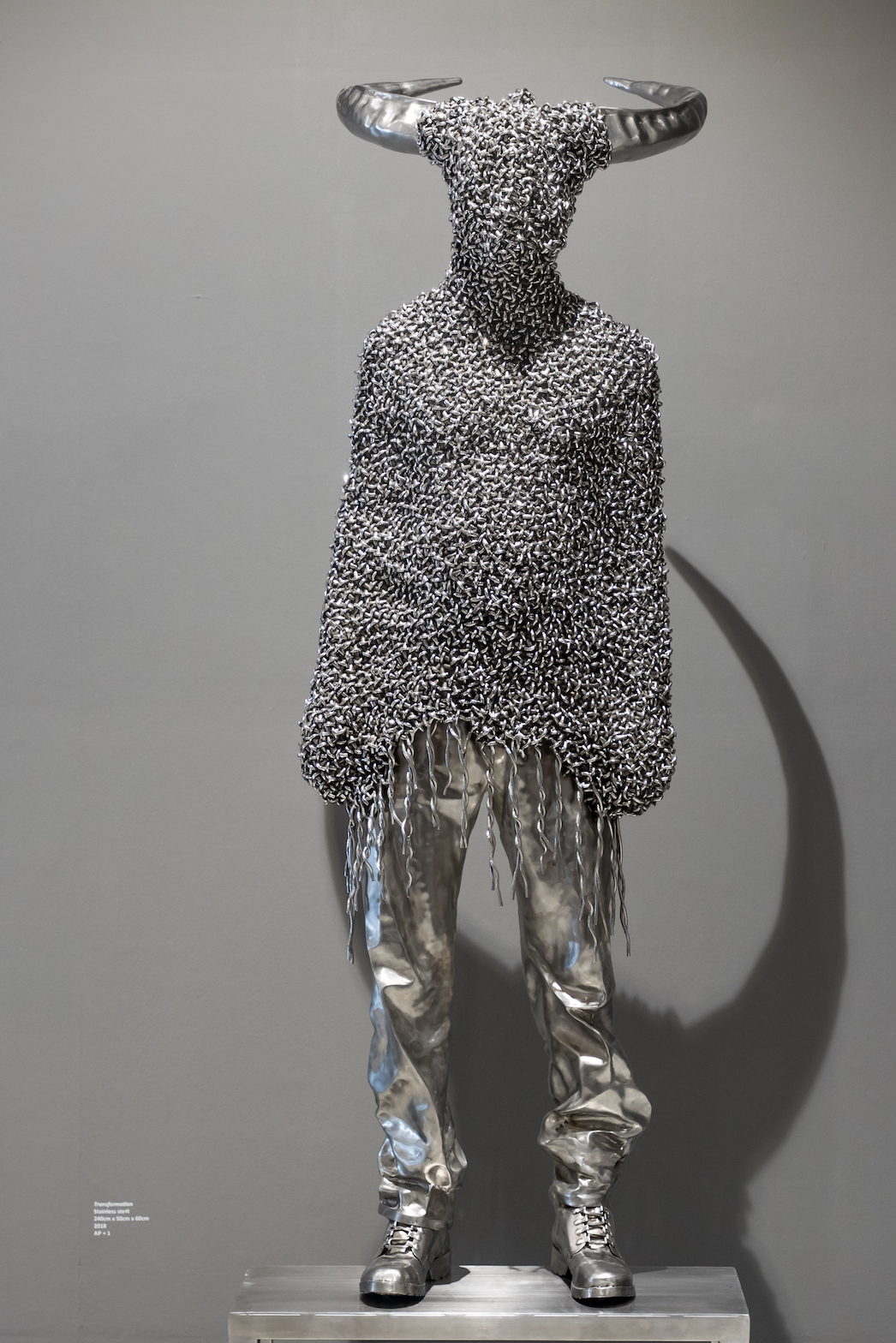 Transformation, Stainless steel, 600 cm x 150 cm x 125 cm, 2018, AP+1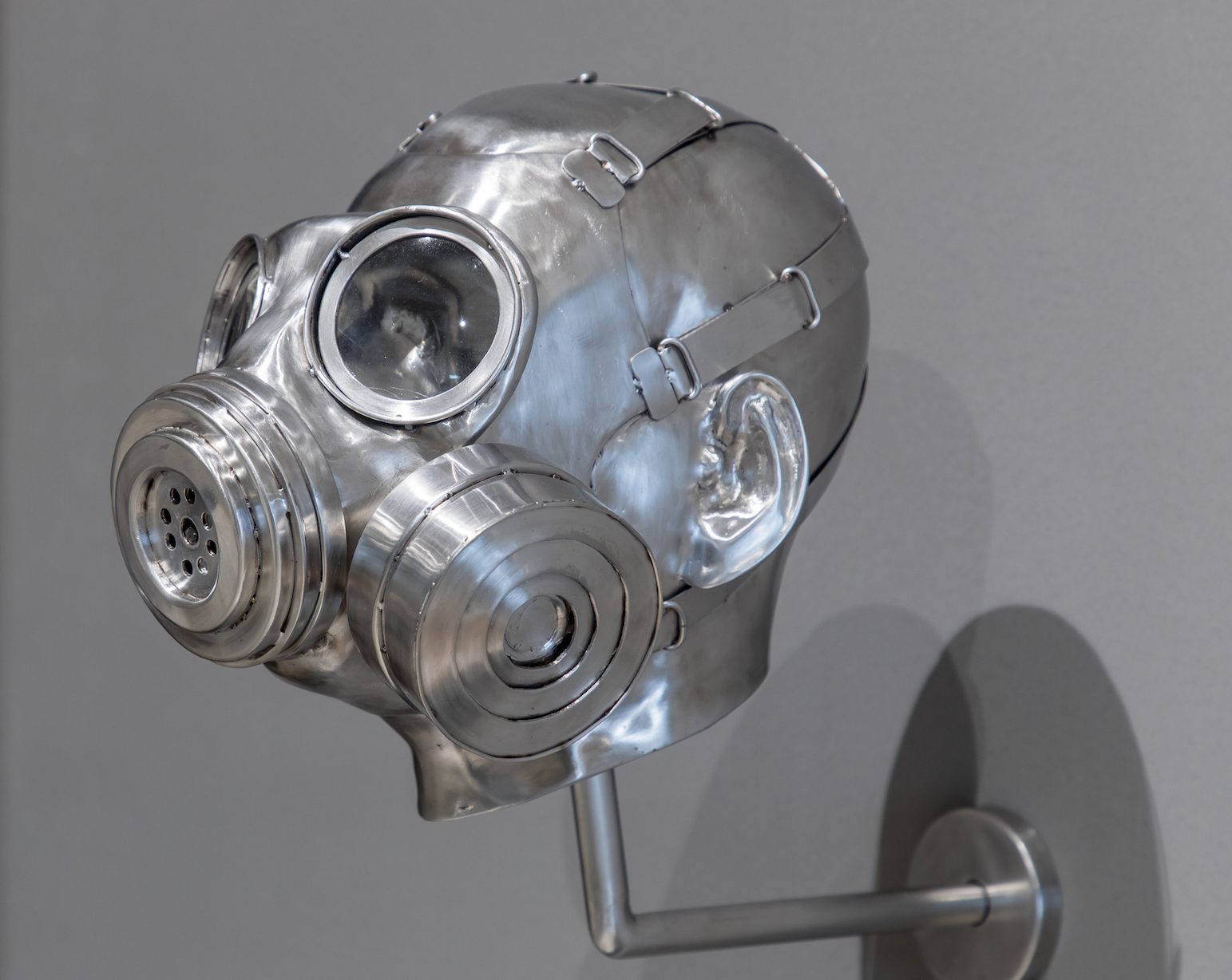 Man with Gas Mask, Stainless steel, 35 cm x 30 cm x 35 cm, 2016, AP + 5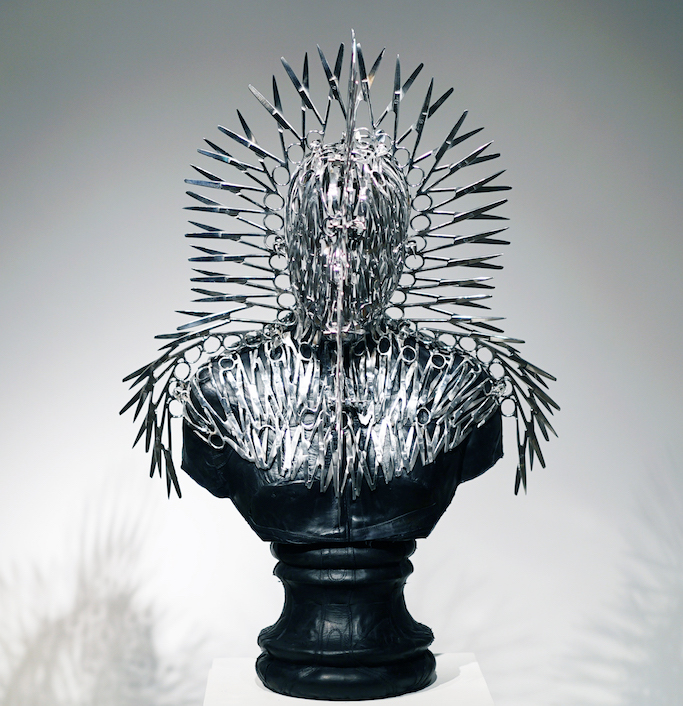 Lonely King, Stainless steel, Surgical scissors & leather, 67.5 cm x 60 cm x 69 cm, 2016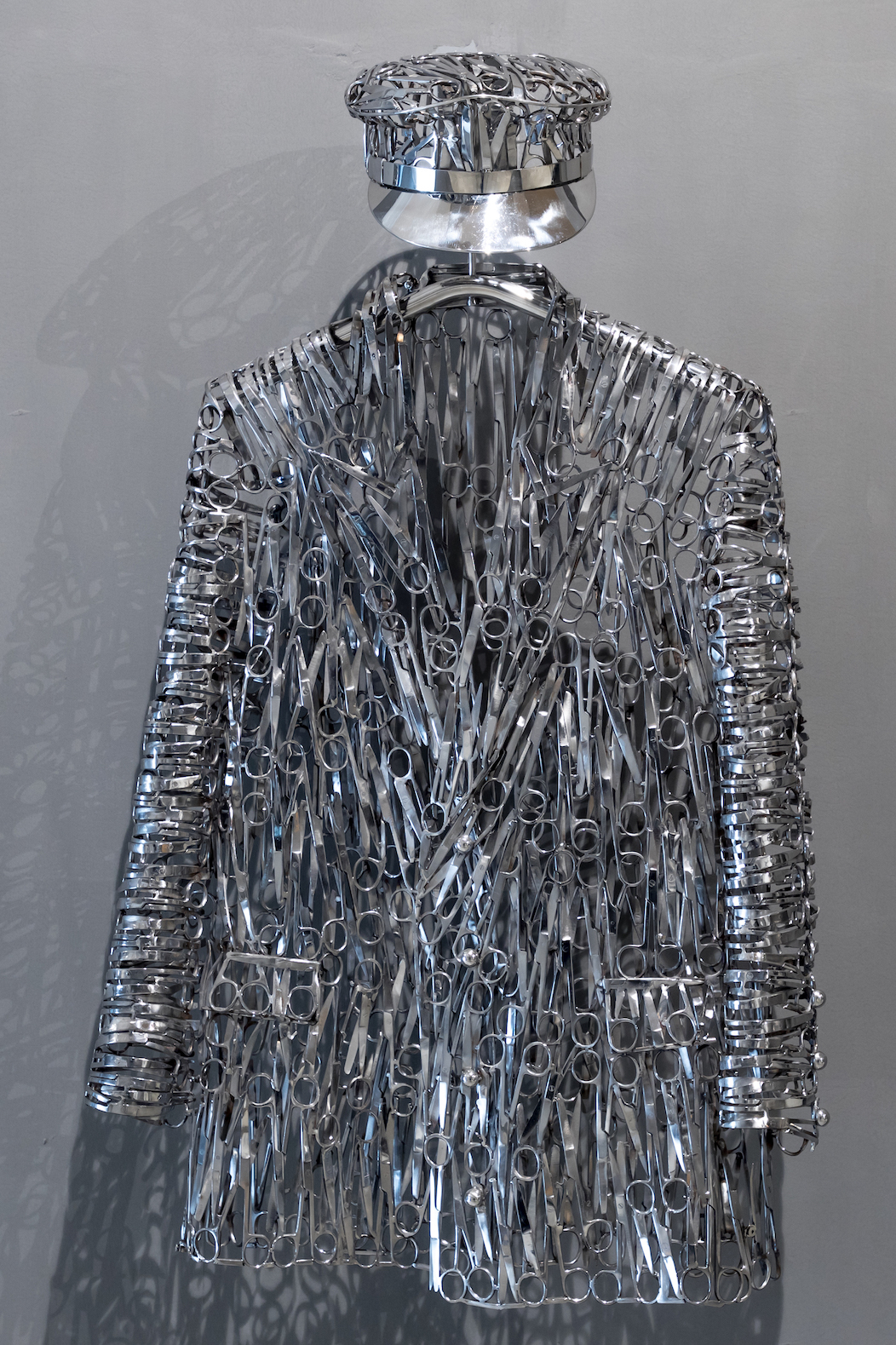 Rest Room, Stainless steel, 105 cm x 27.5 cm x 55 cm, 2018, AP+1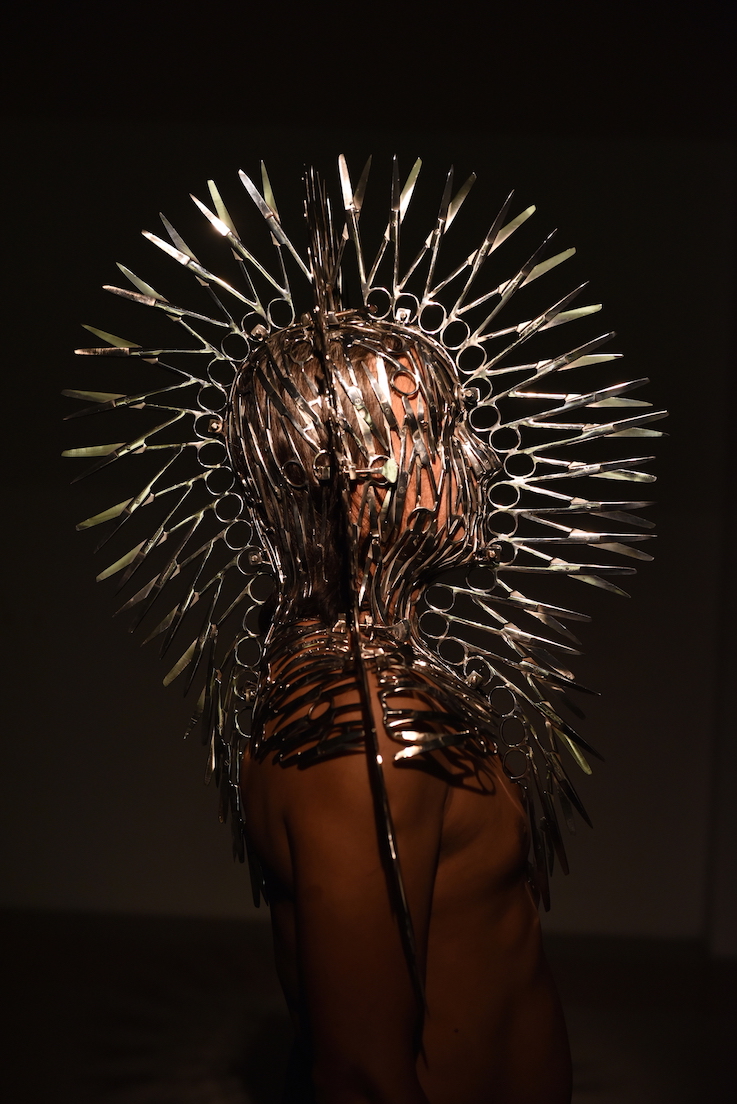 Lonely King, Digital print, 75 cm x 50 cm, 2018 (AP+5)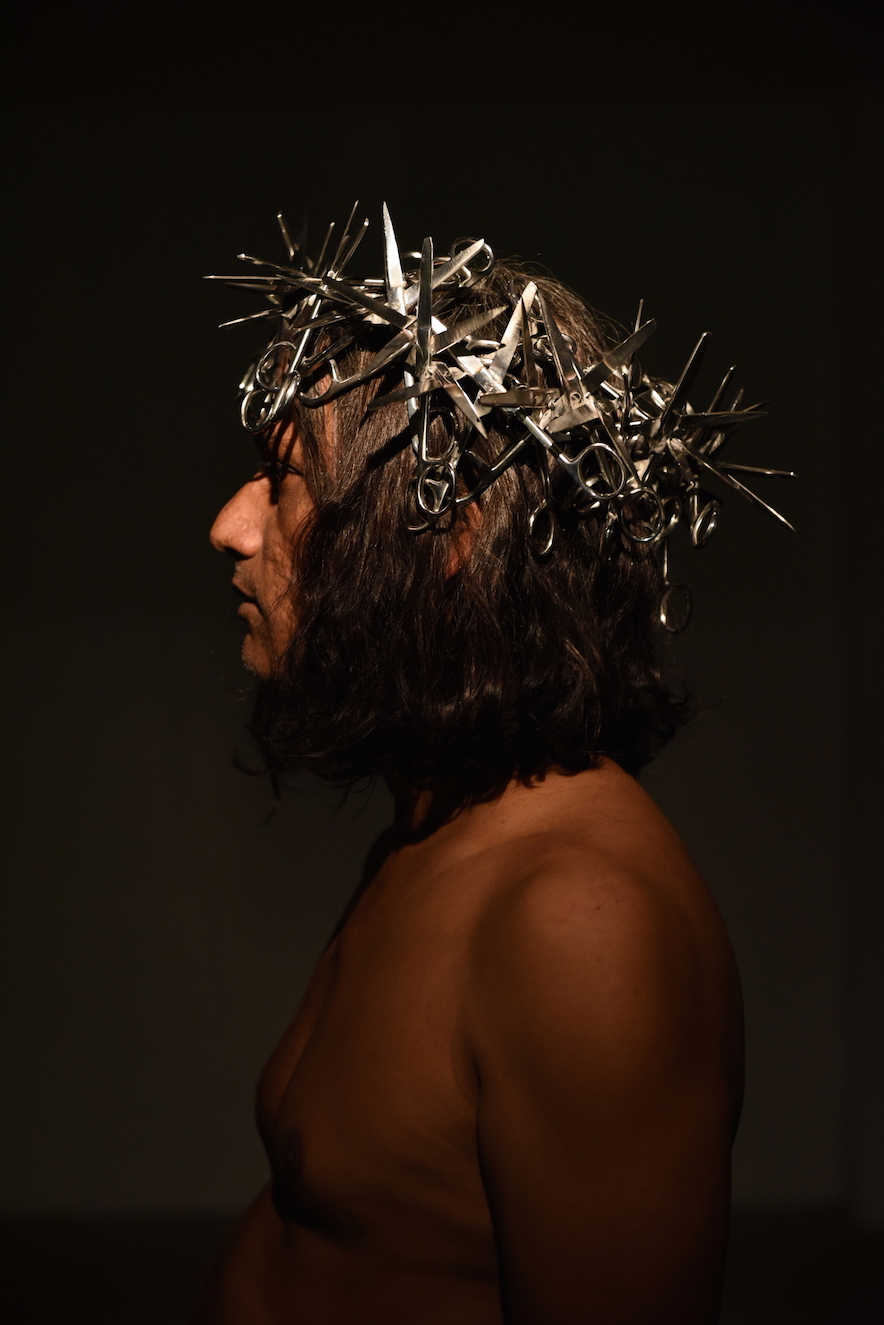 Lonely King, Digital print, 75 cm x 50 cm, 2018 (AP+5)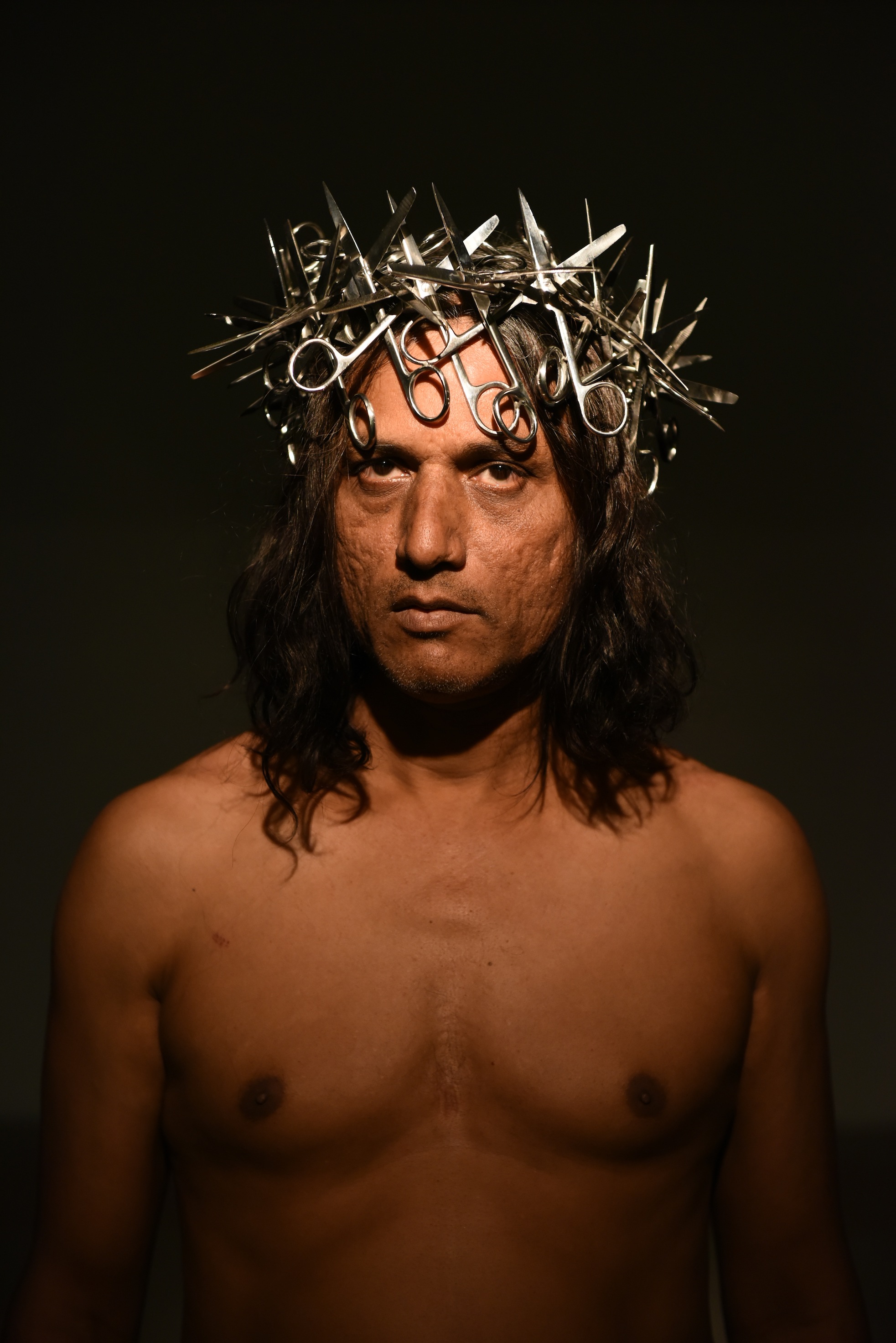 Lonely King, Digital print, 75 cm x 50 cm, 2018 (AP+5)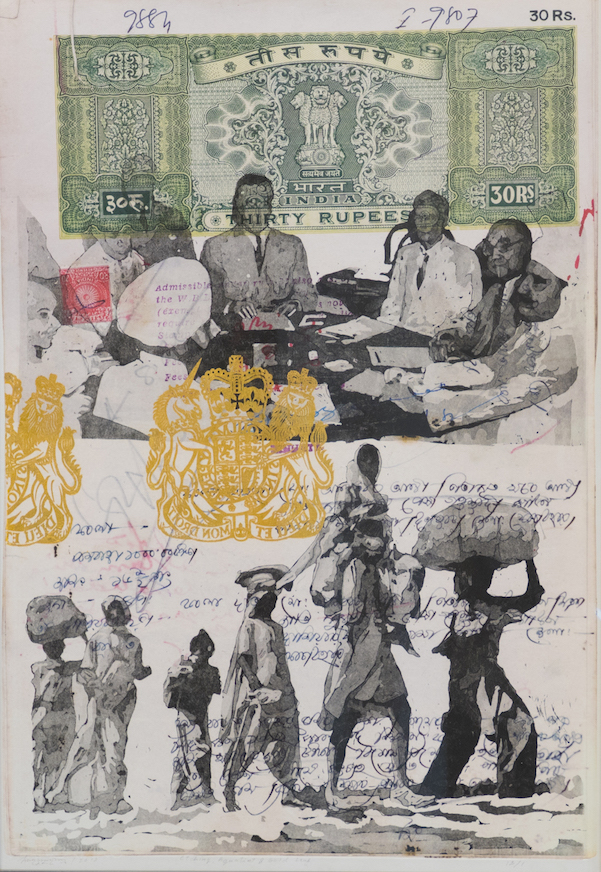 Dislocation, Iron ink drawing and gold leaf on digital print, 67.5 cm x 42.5 cm, 2018, AP+11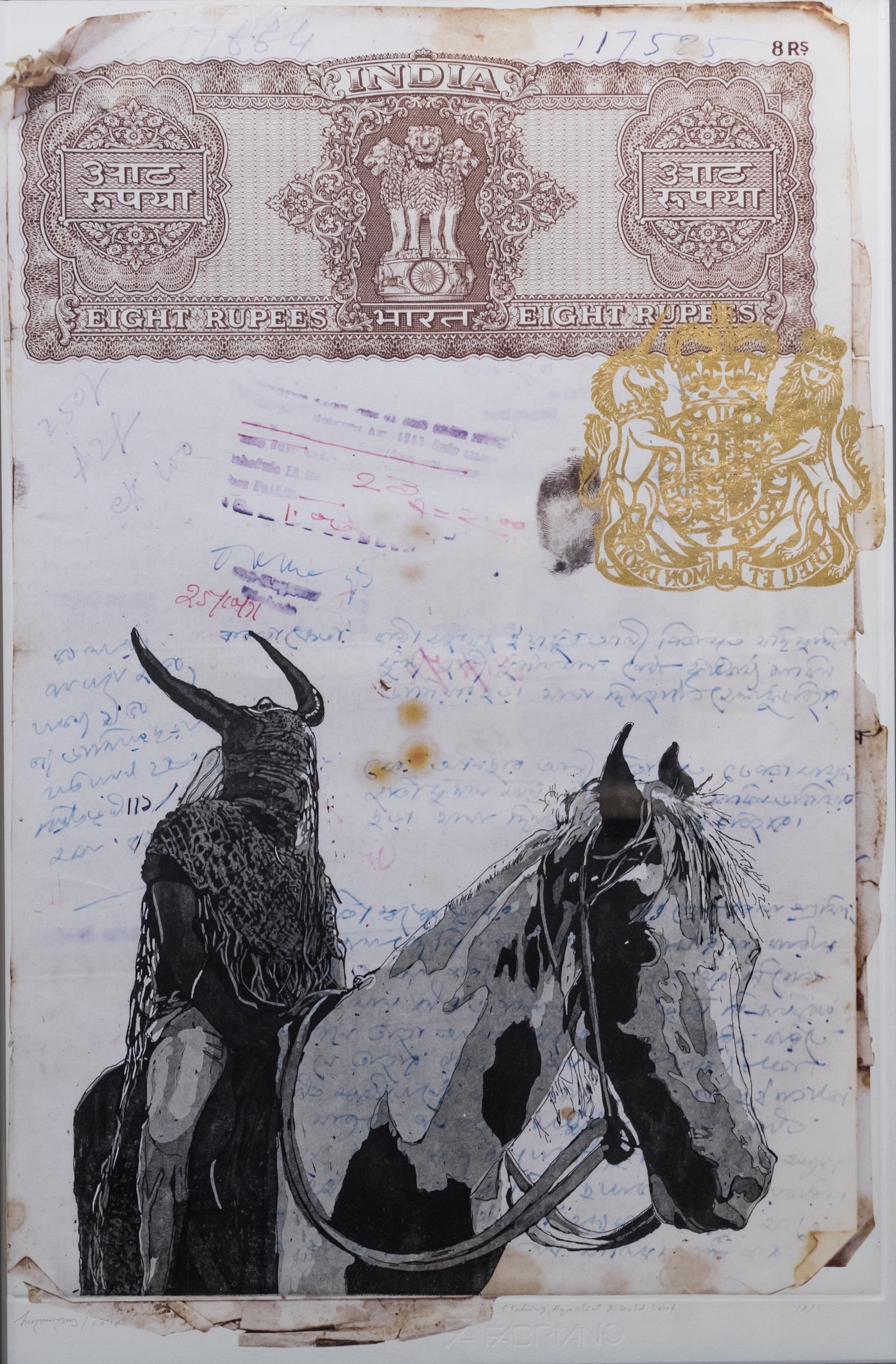 Dislocation, Iron ink drawing and gold leaf on digital print, 67.5 cm x 42.5 cm, 2018, AP+11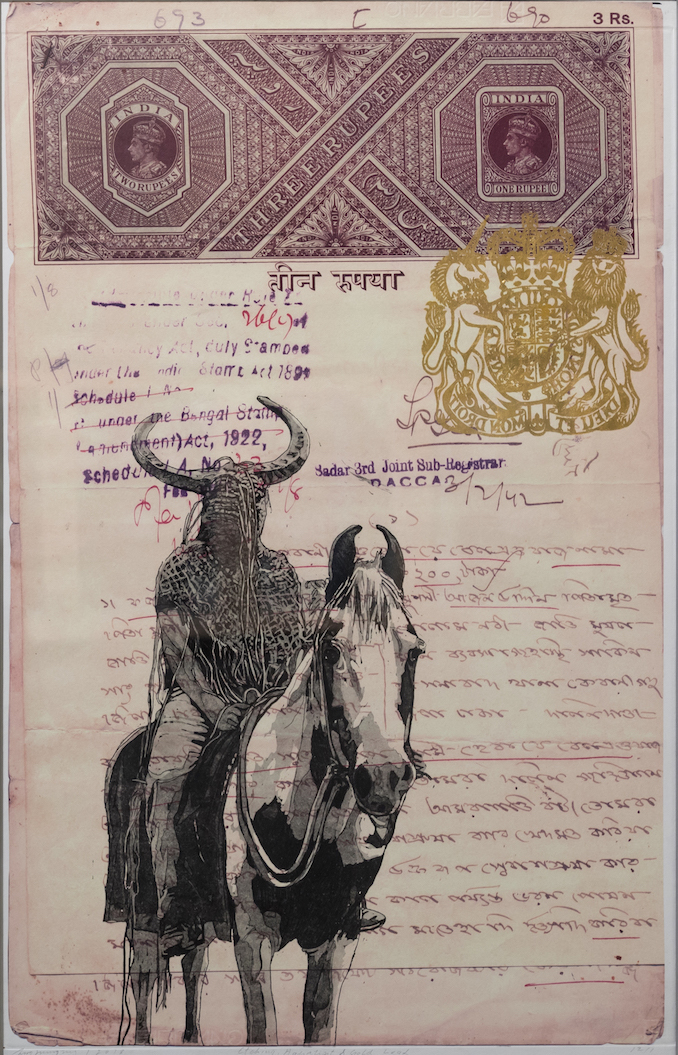 Dislocation, Iron ink drawing and gold leaf on digital print, 67.5 cm x 42.5 cm, 2018, AP+11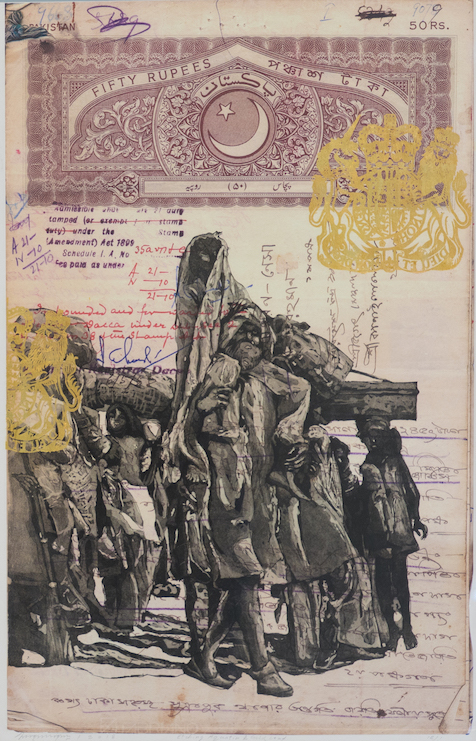 Dislocation, Iron ink drawing and gold leaf on digital print, 67.5 cm x 42.5 cm, 2018, AP+11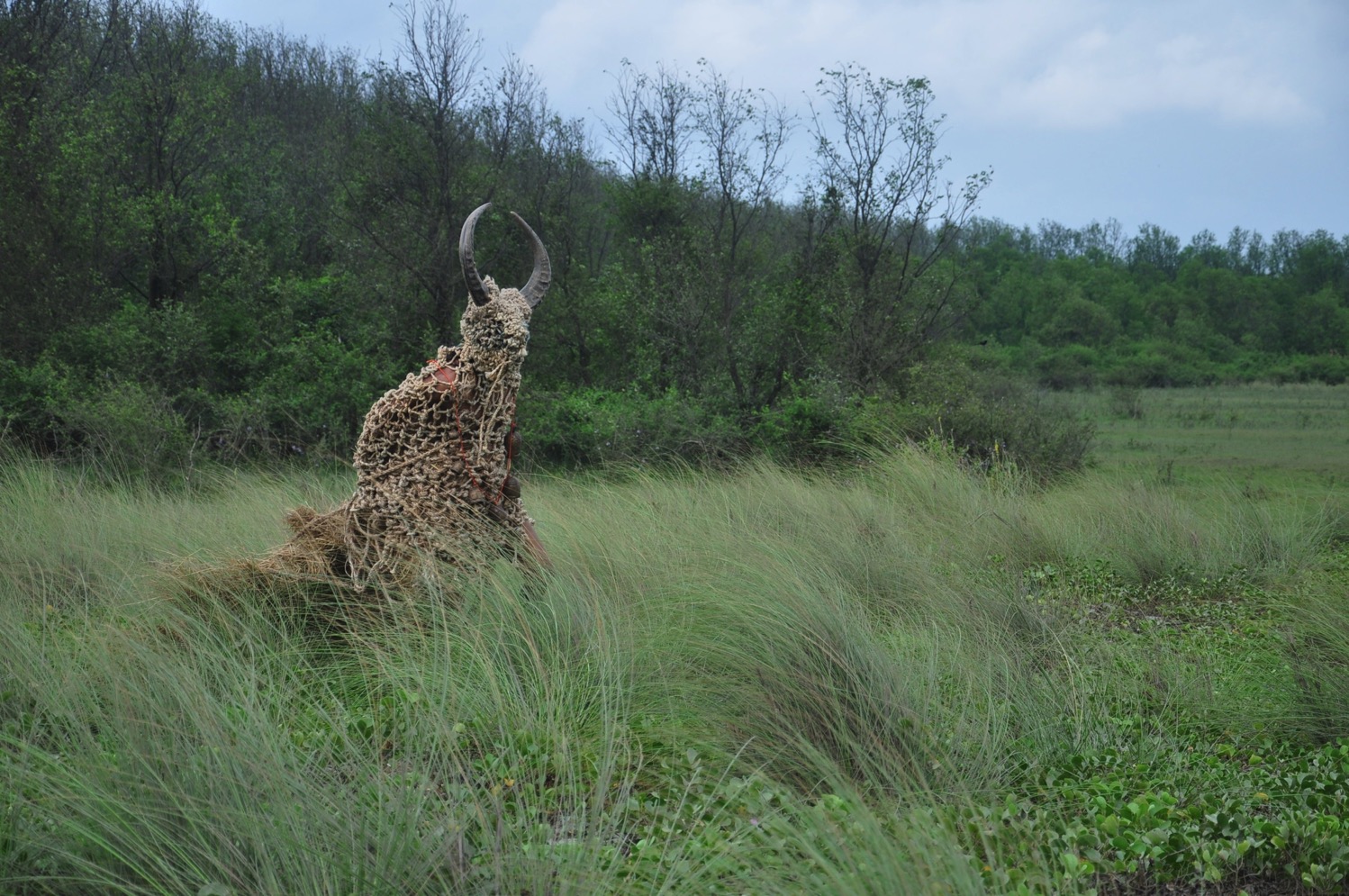 Transformation, Digital print, 50 cm x 75 cm, 2004-14, AP+5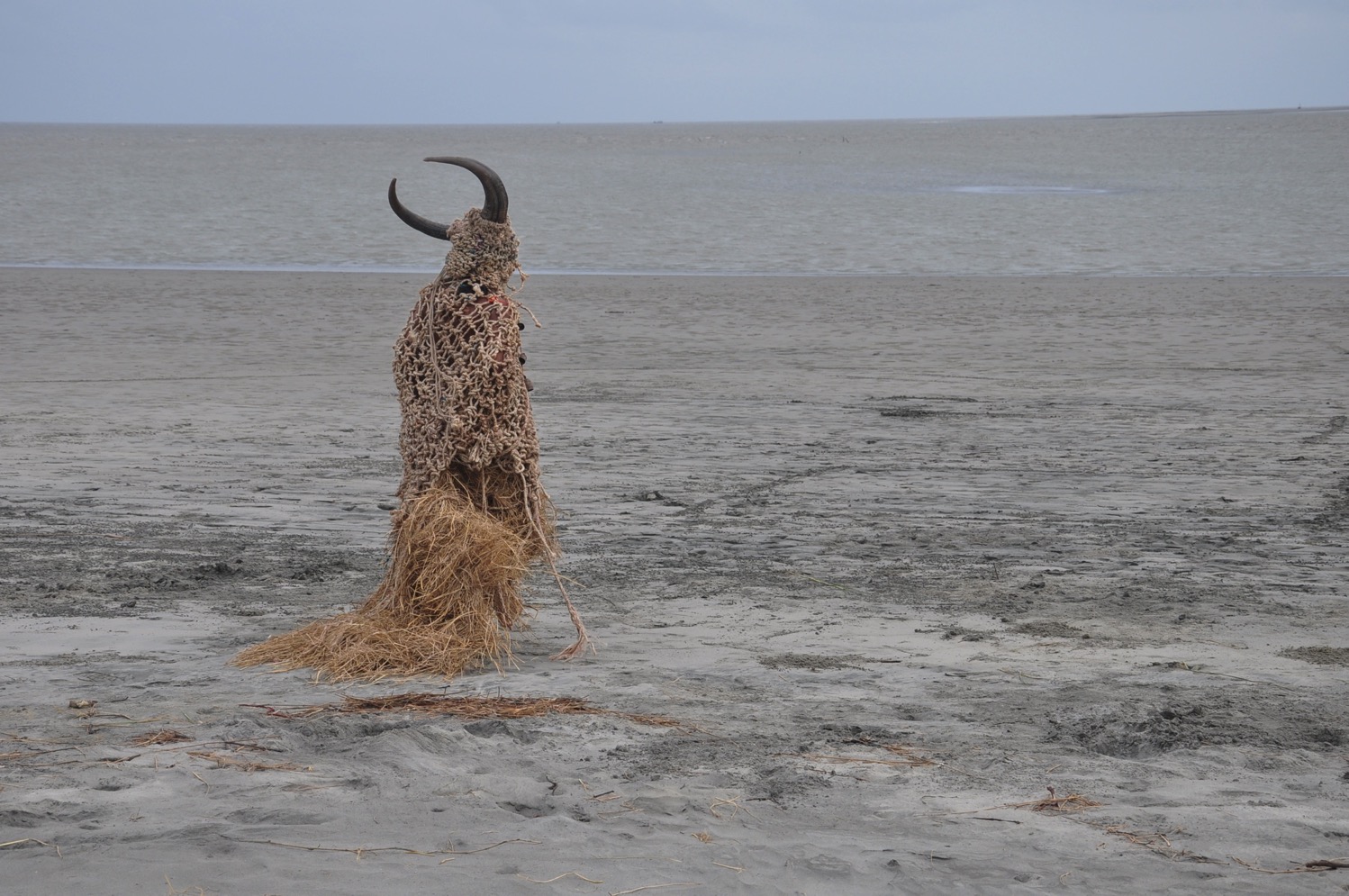 Transformation, Digital print, 50 cm x 75 cm, 2004-14, AP+5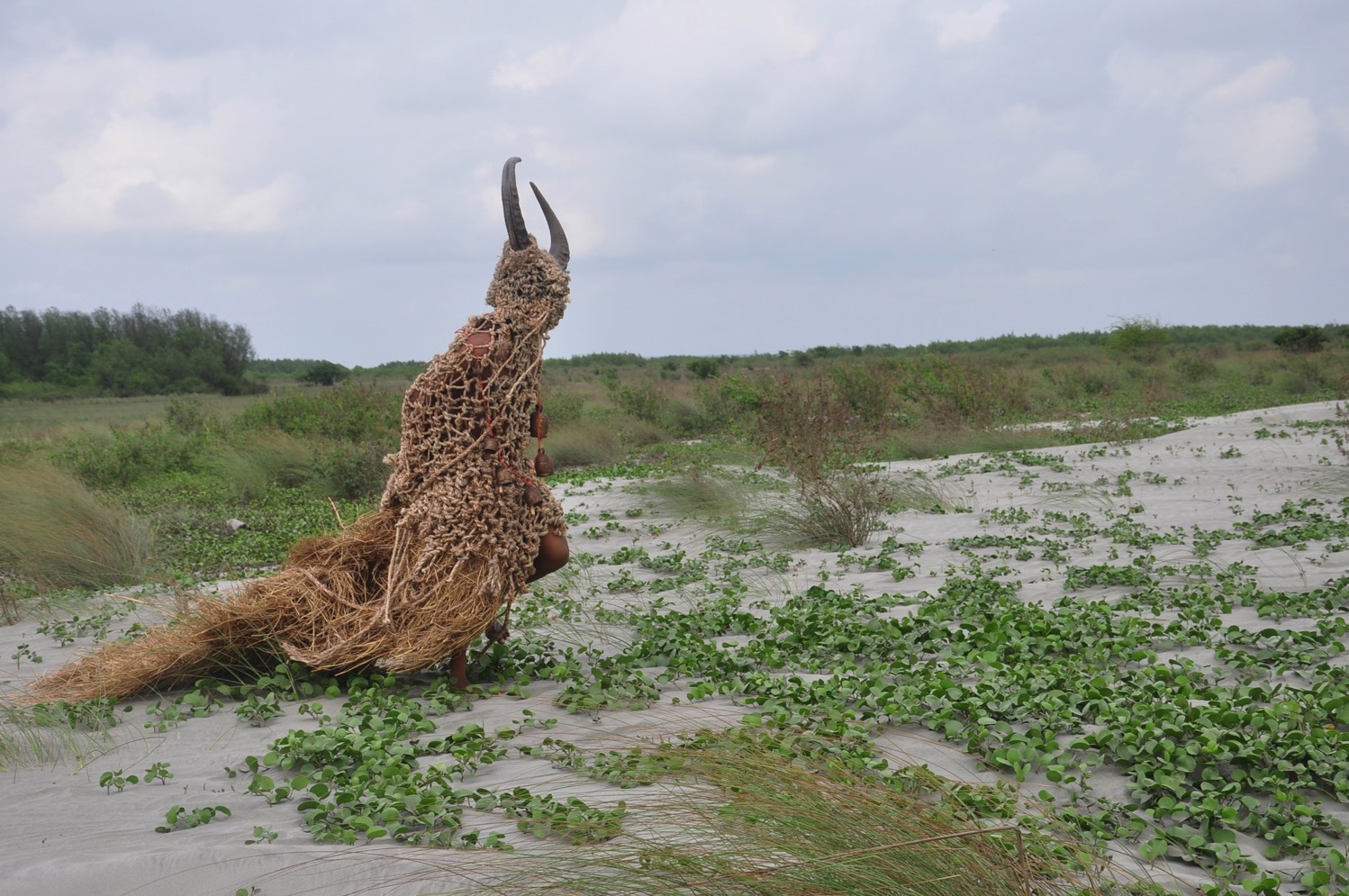 Transformation, Digital print, 50 cm x 75 cm, 2004-14, AP+5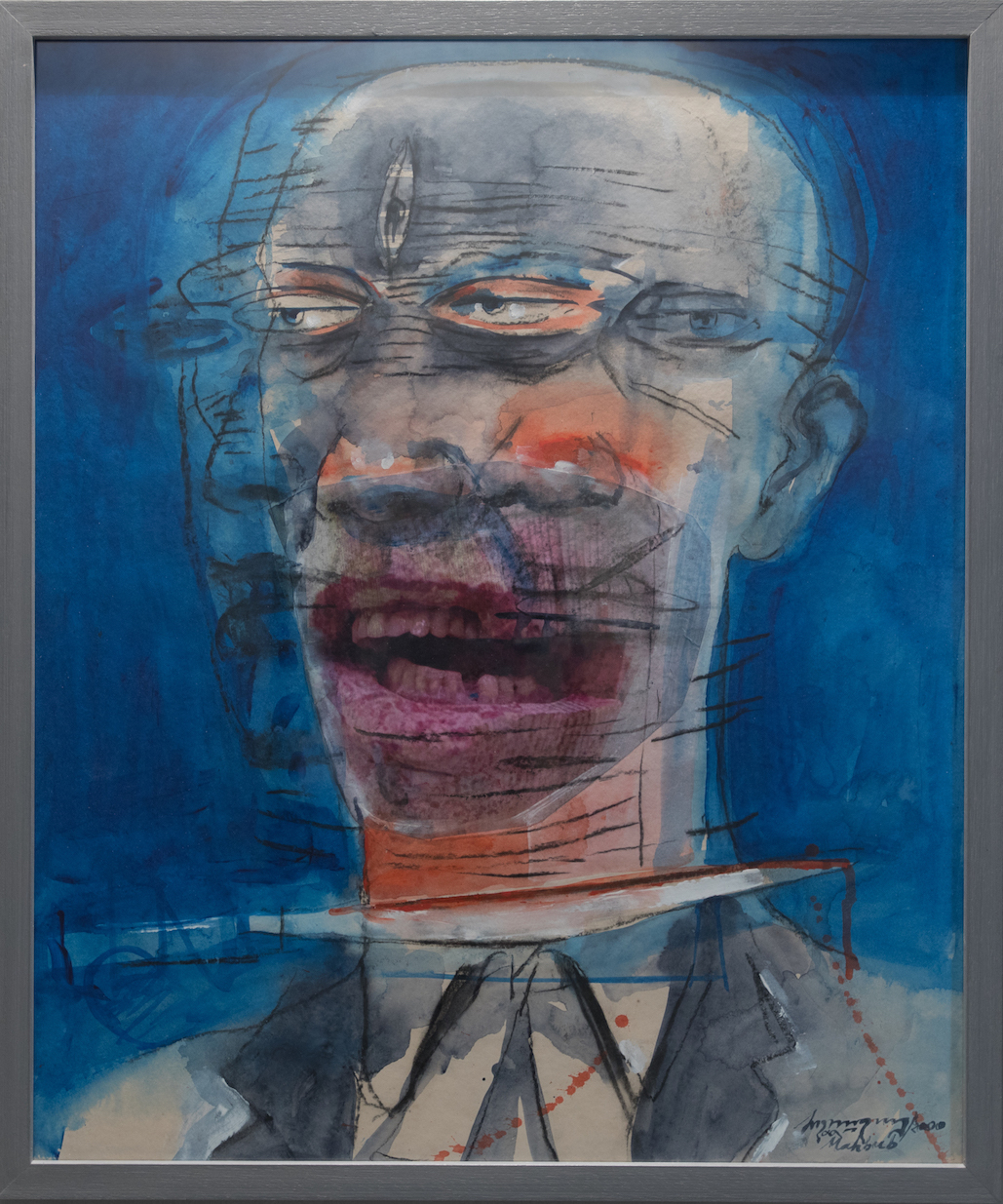 Self Slaughter, Acrylic on paper and collage, 62.5 cm x 50 cm, 2000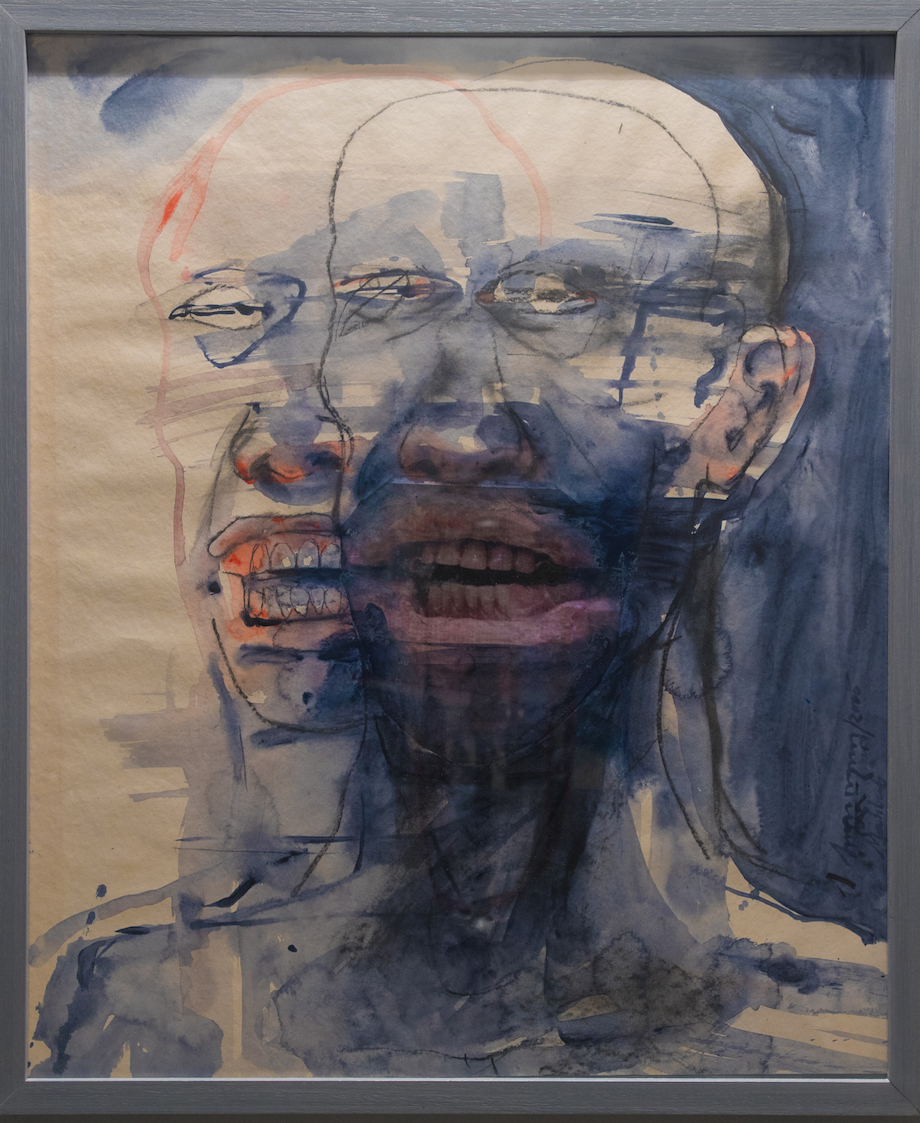 Self Slaughter, Acrylic on paper and collage, 62.5 cm x 50 cm, 2000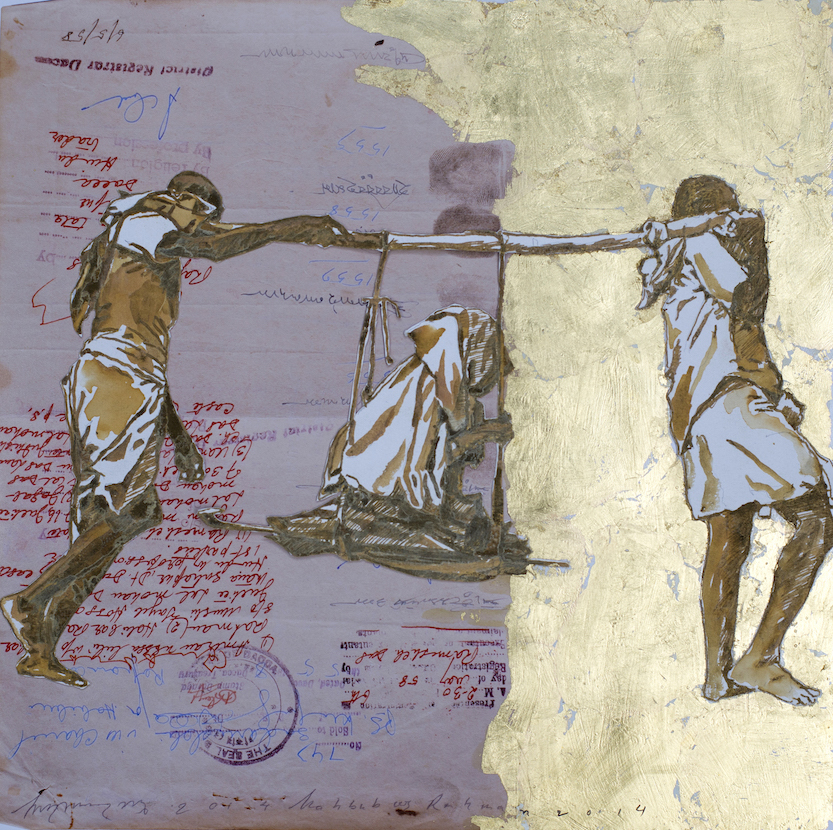 Dislocation, Iron ink drawing and gold leaf on digital print, 35 cm x 35 cm, 2018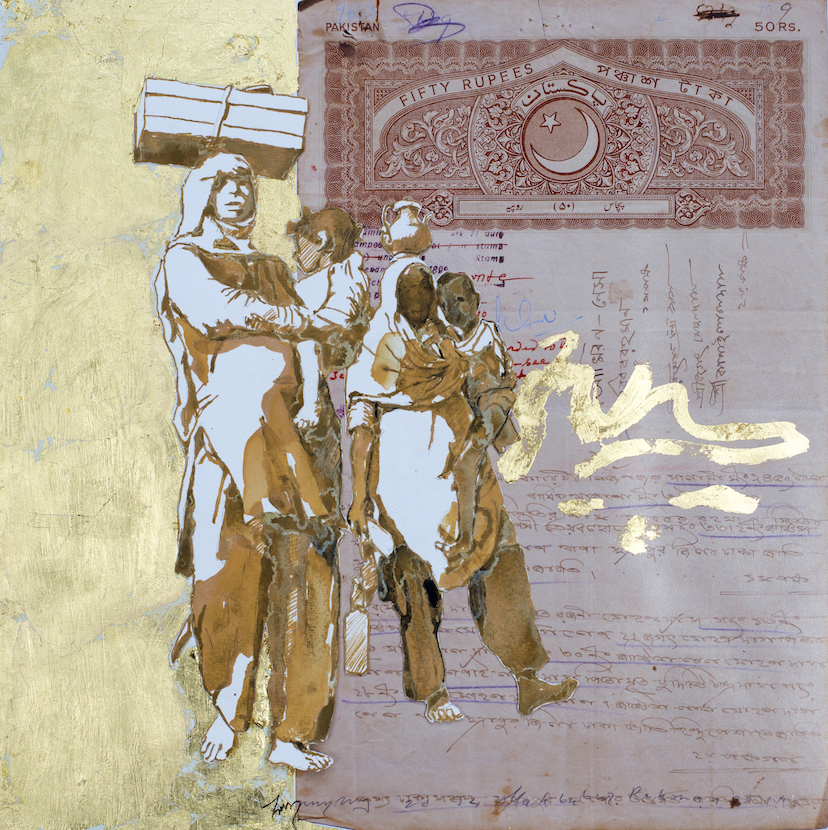 Dislocation, Iron ink drawing and gold leaf on digital print, 35 cm x 35 cm, 2018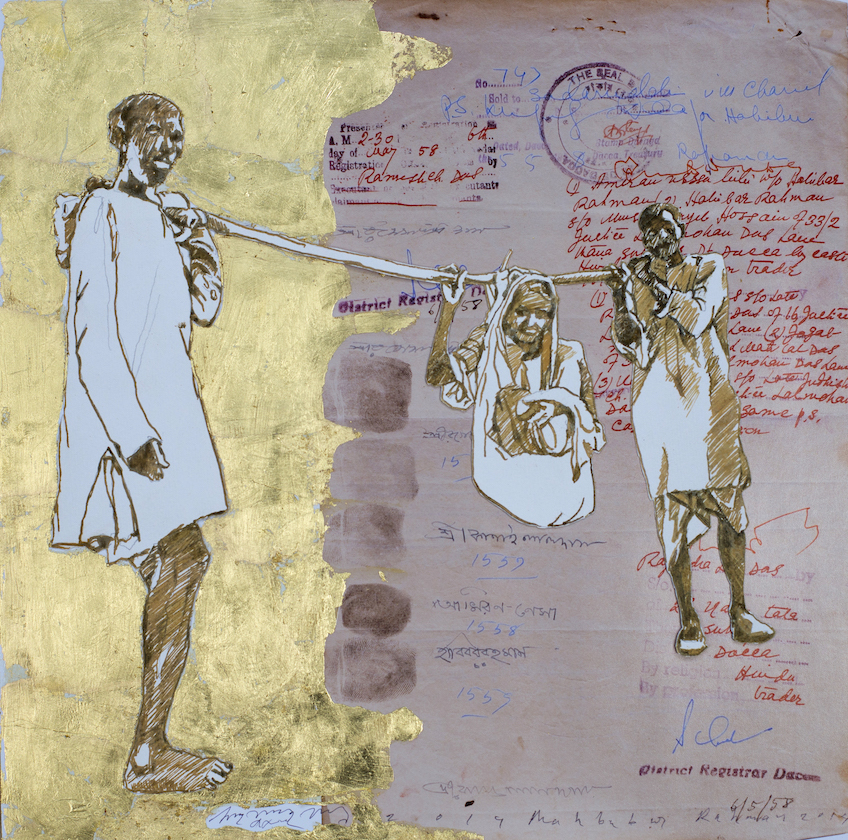 Dislocation, Iron ink drawing and gold leaf on digital print, 35 cm x 35 cm, 2018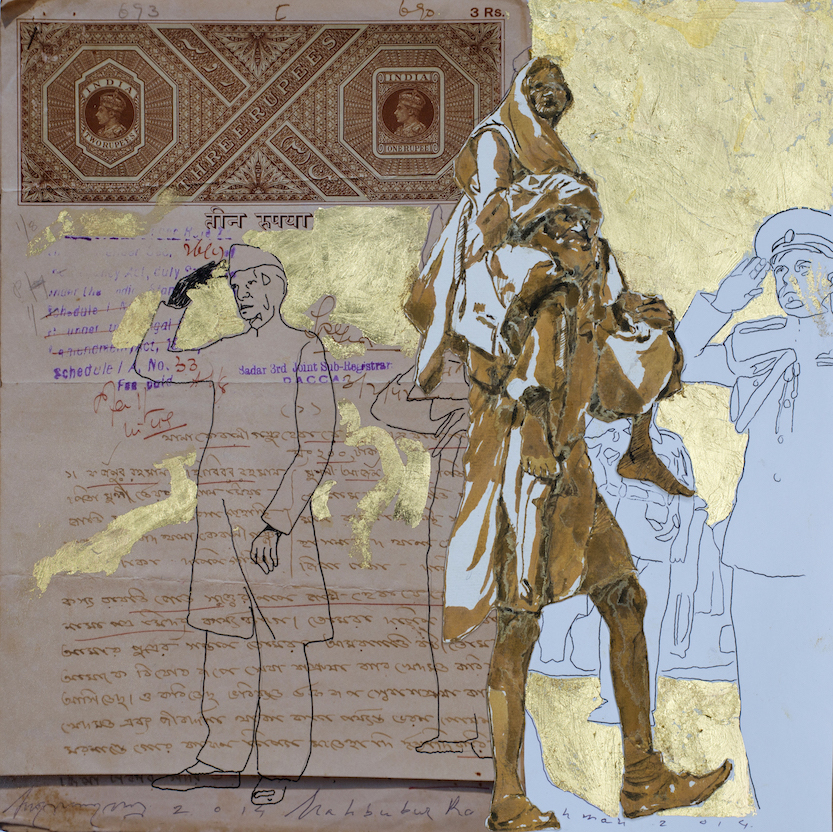 Dislocation, Iron ink drawing and gold leaf on digital print, 35 cm x 35 cm, 2018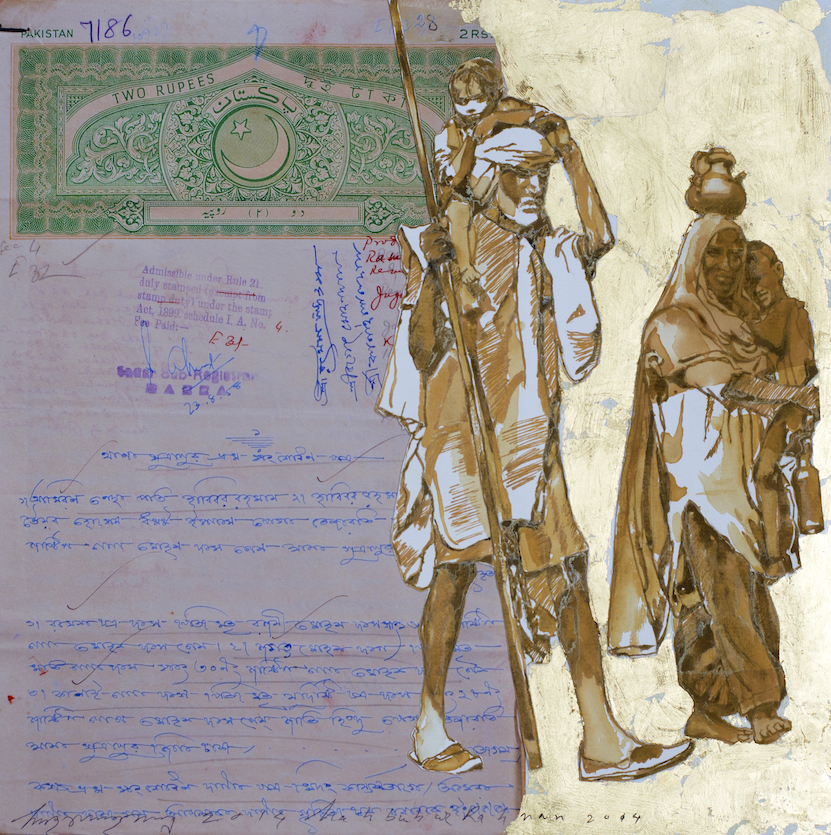 Dislocation, Iron ink drawing and gold leaf on digital print, 35 cm x 35 cm, 2018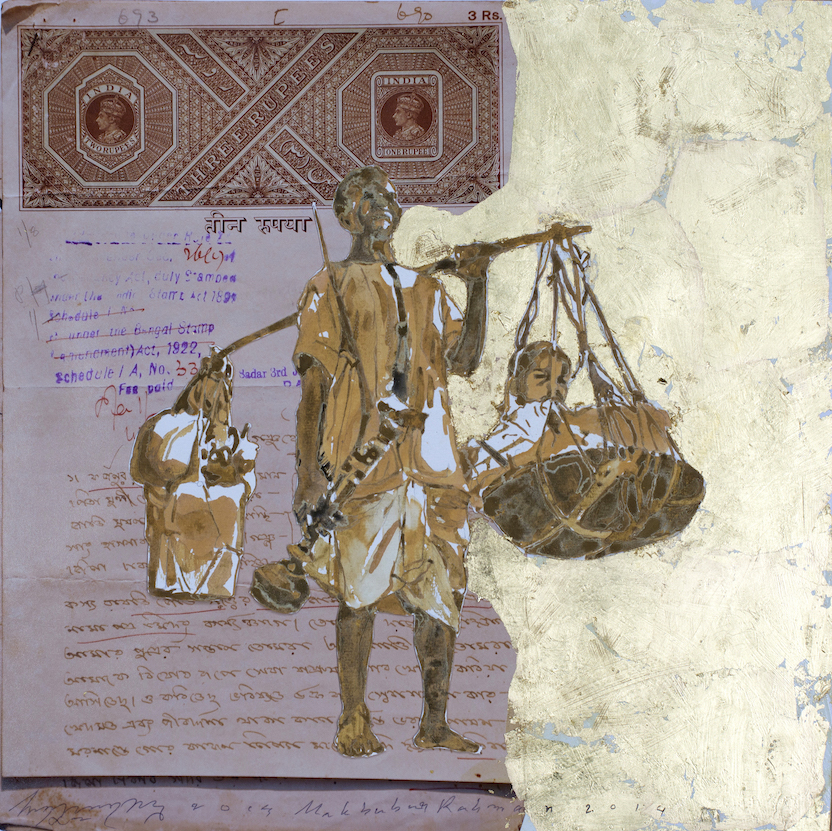 Dislocation, Iron ink drawing and gold leaf on digital print, 35 cm x 35 cm, 2018
What was really happending there, Charcoal drawing on paper, 100 cm x 70 cm, 2015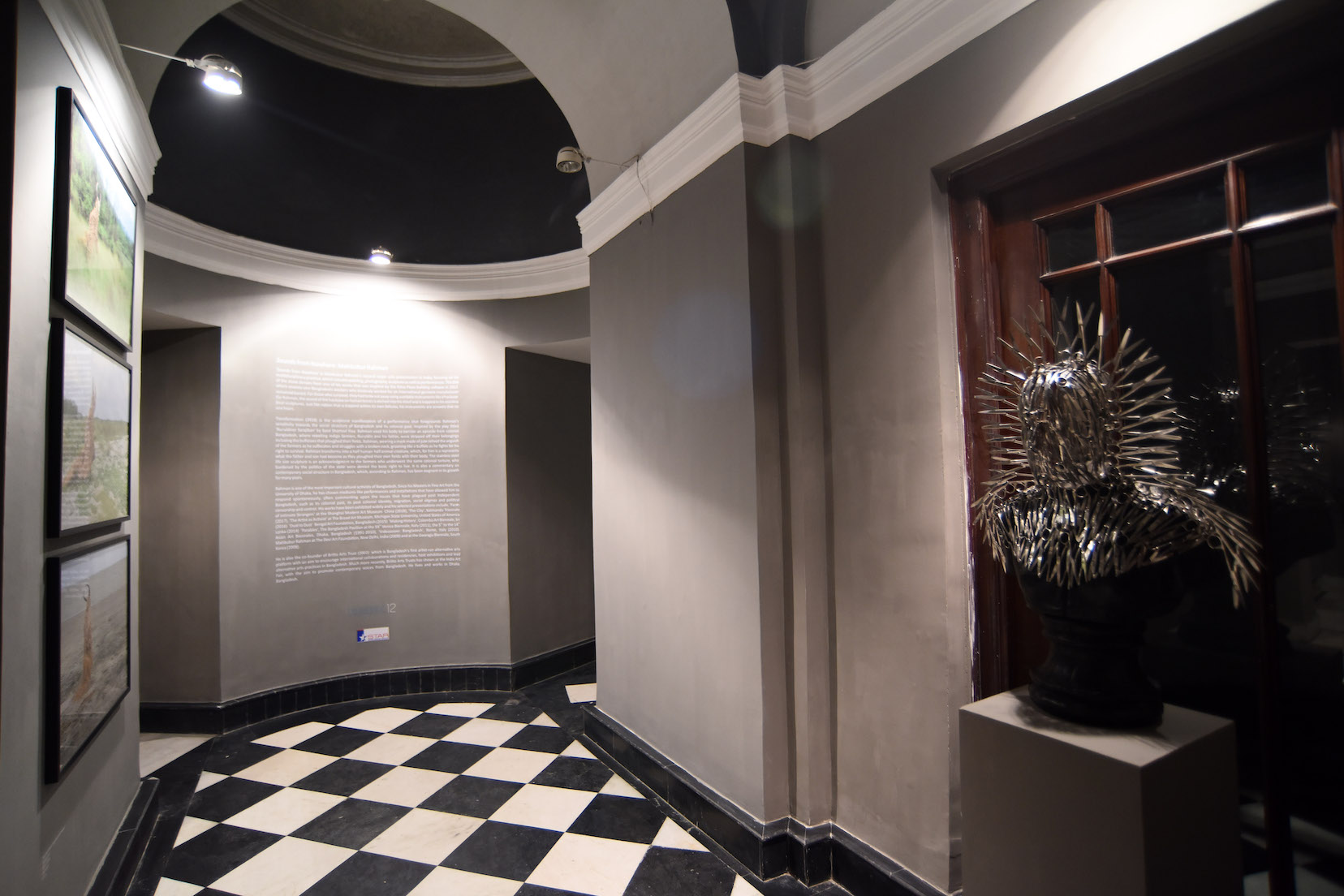 Installation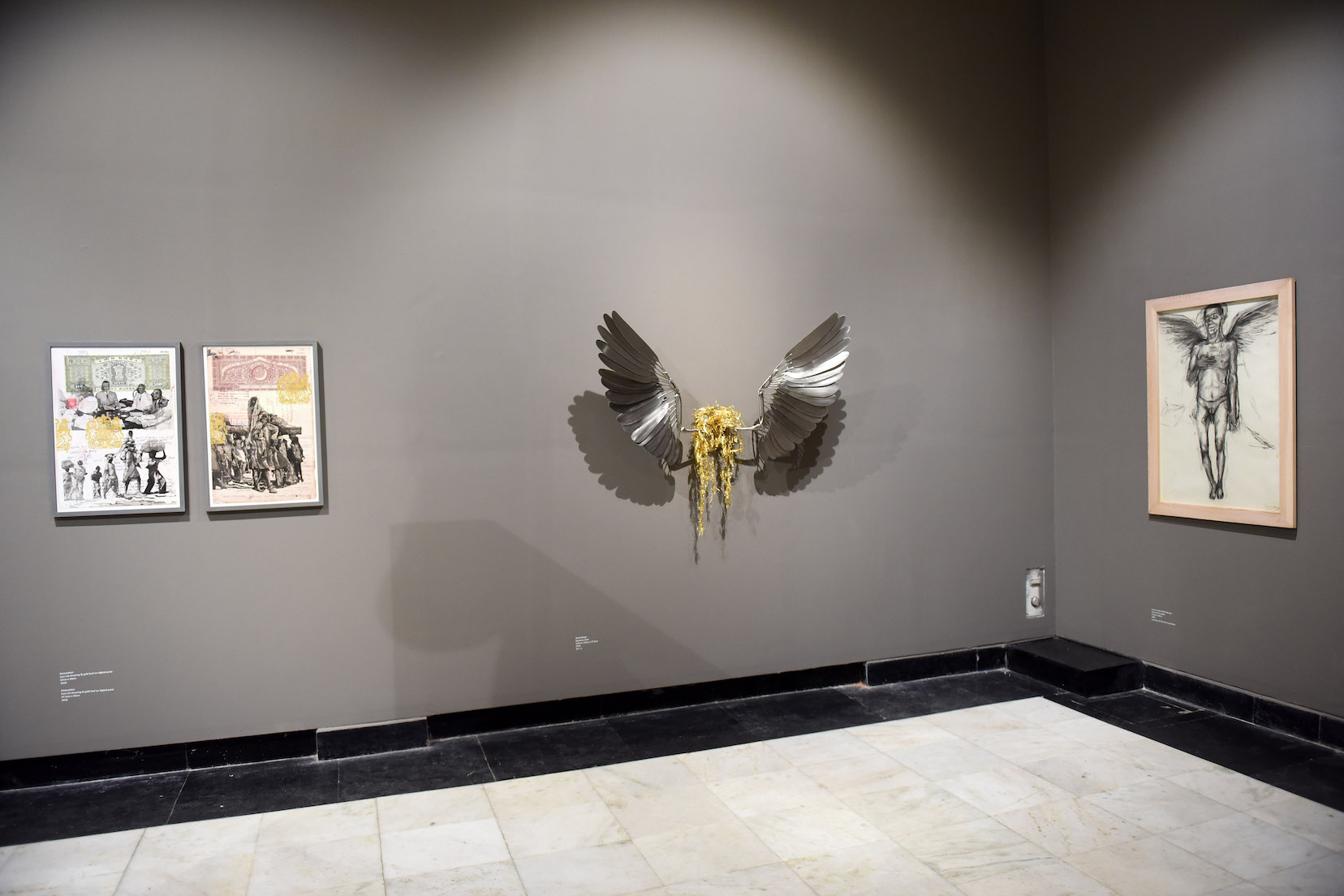 Installation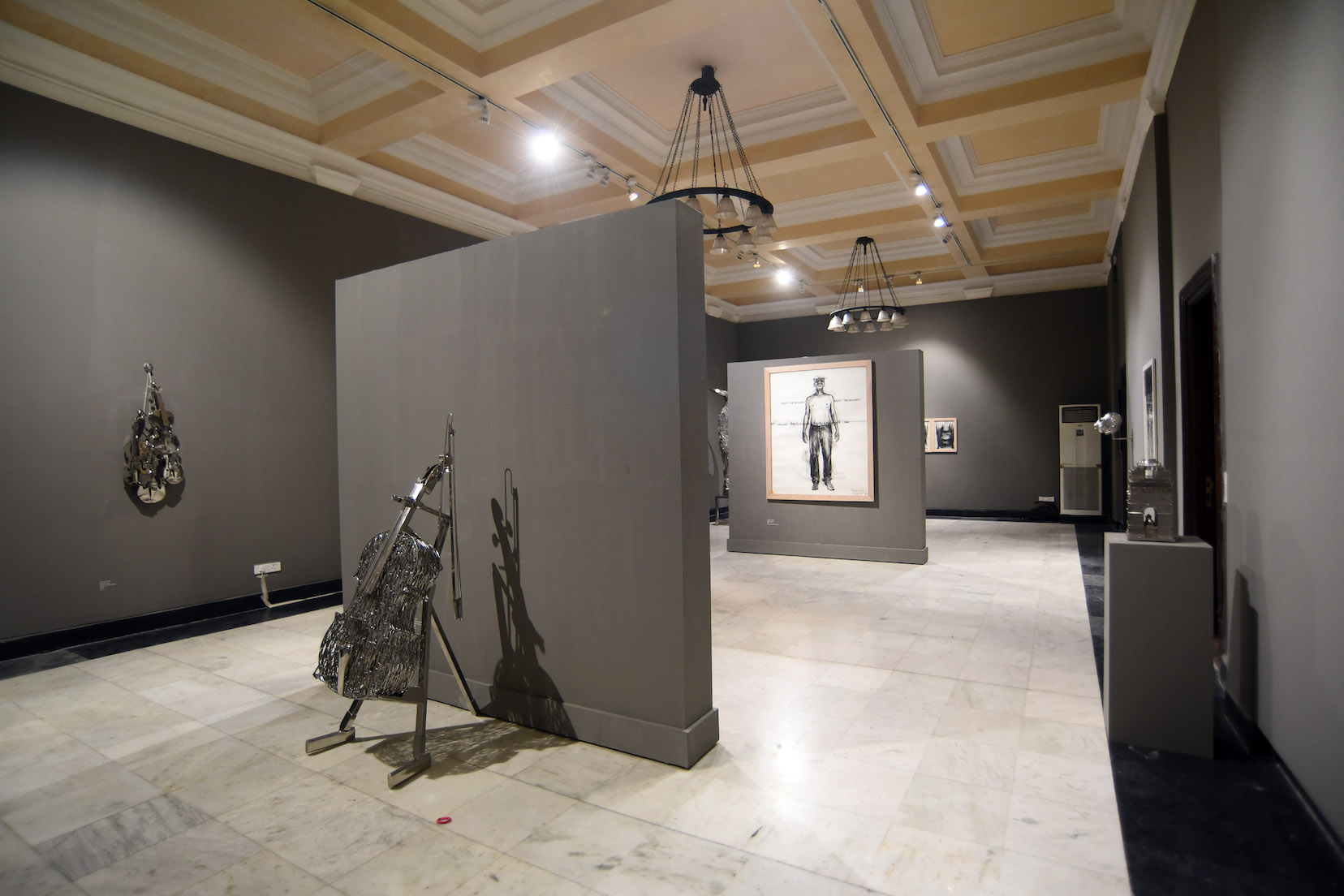 Installation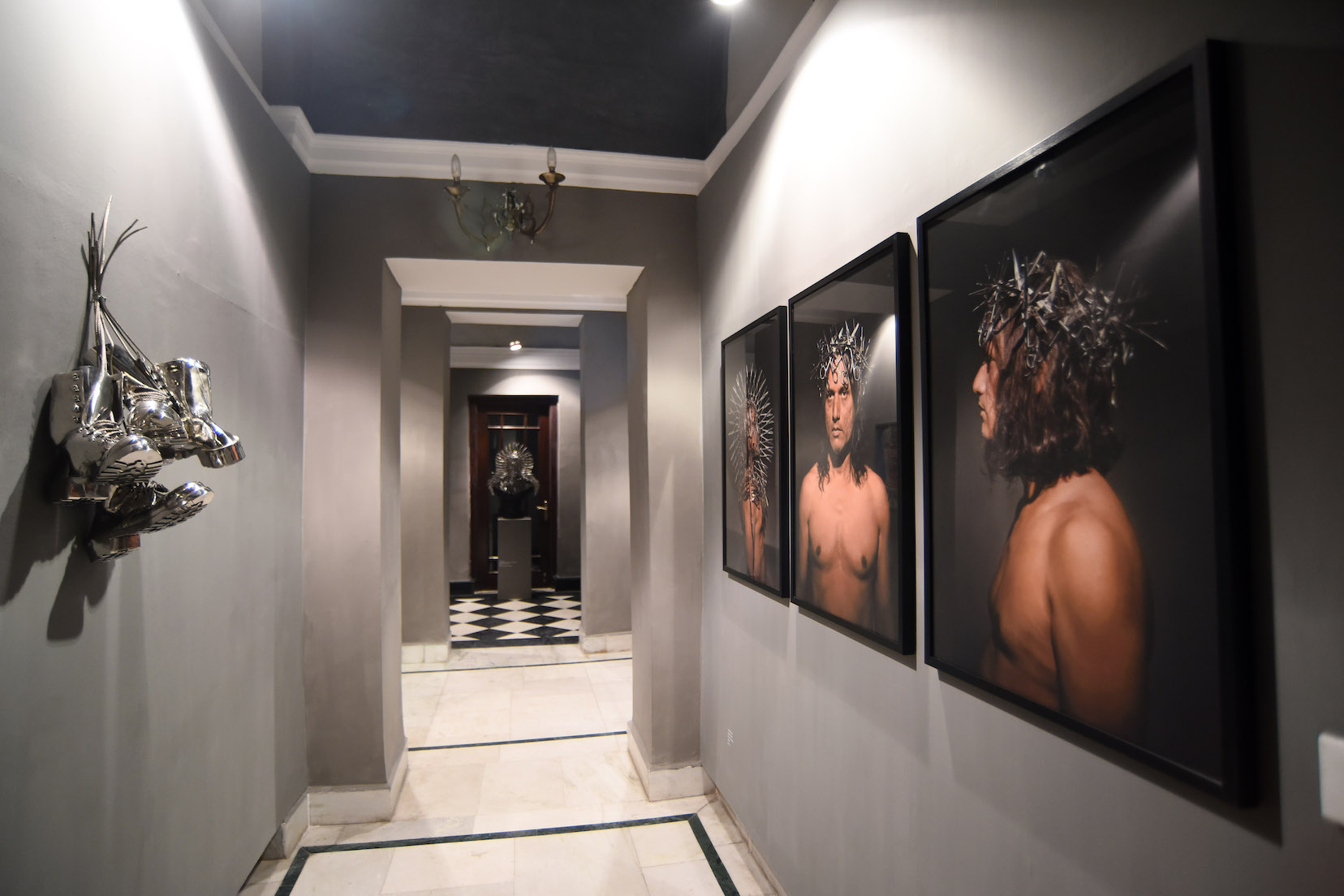 Installation