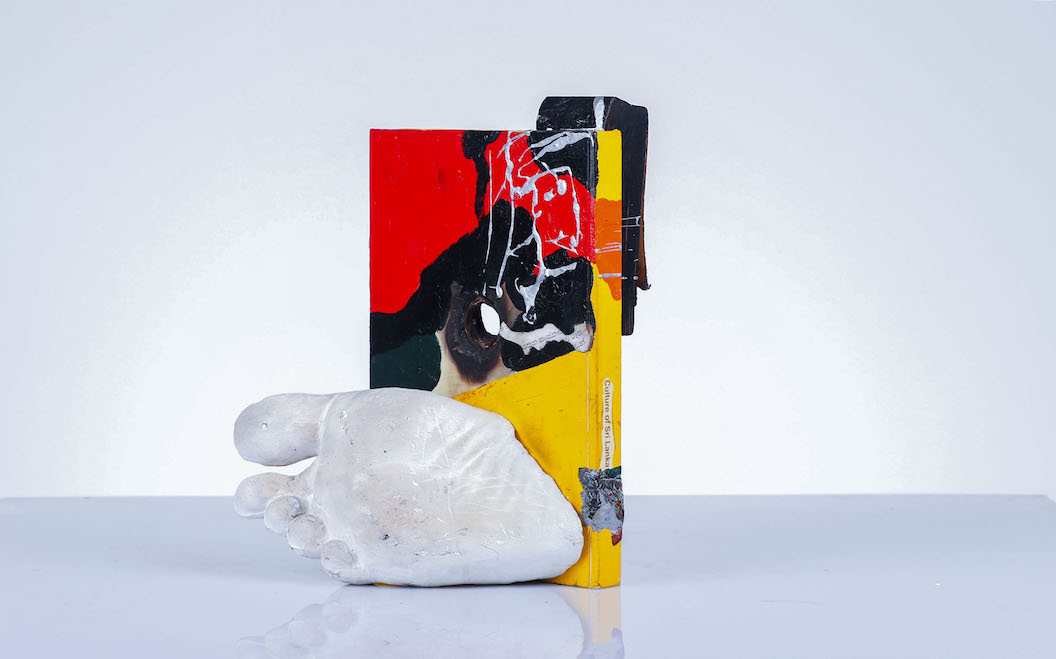 History and Culture of Sri Lanka, Used Book and Plaster of Paris, 23 cm x 19 cm, 2016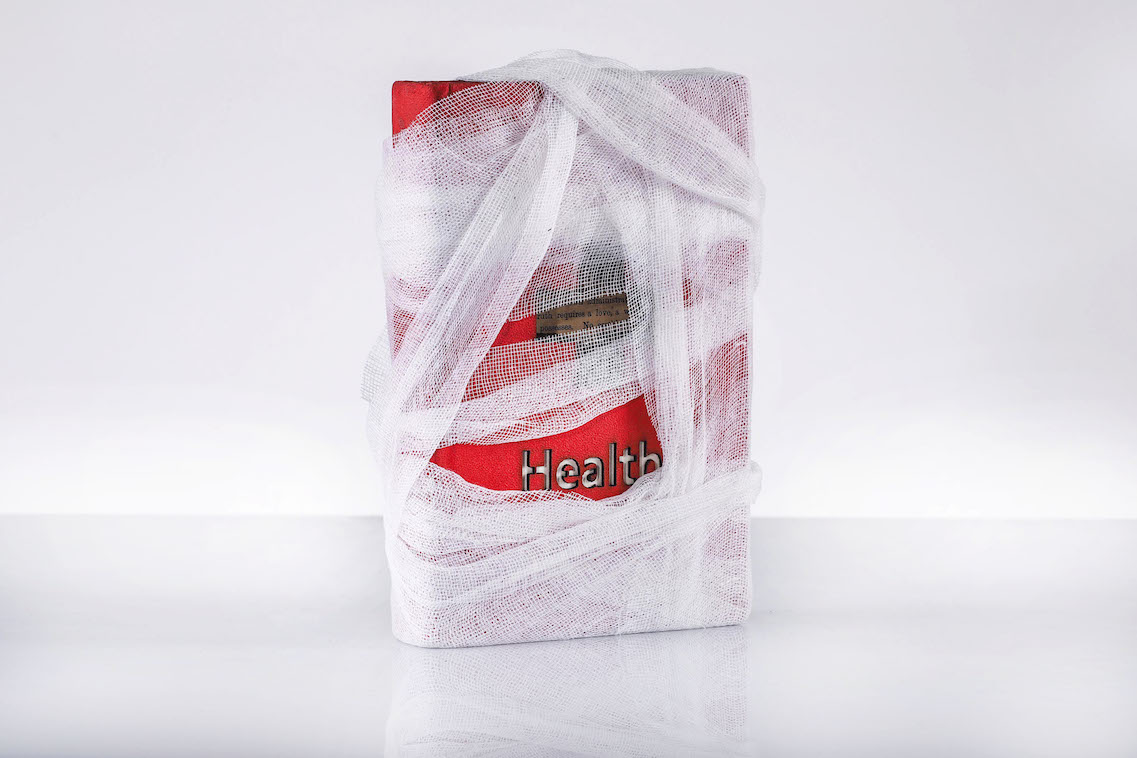 Health, Used Book and Bandage, 13 cm x 19 cm x 1.5 cm, 2019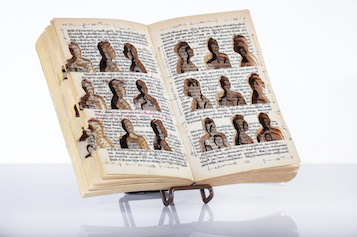 Face, Used Book, 18 cm x 24.5 cm, 2019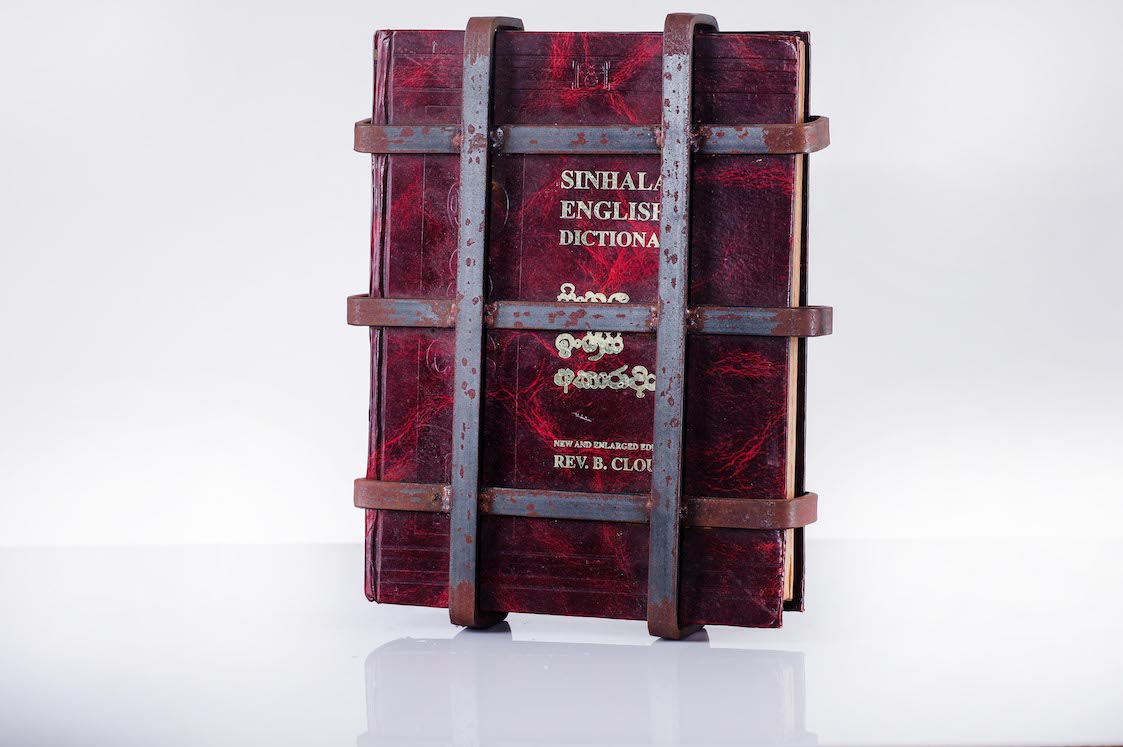 Encyclopedia, Used book and Metal, 27 cm x 20 cm, 2013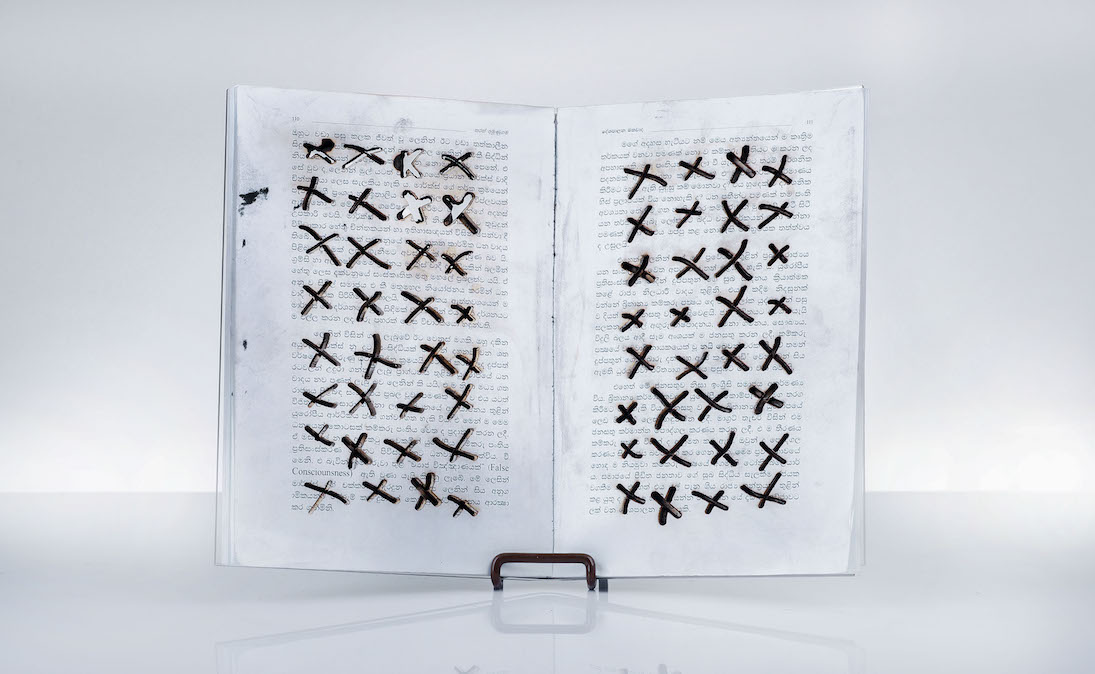 Election, Used book, 15 cm x 21 cm, 2019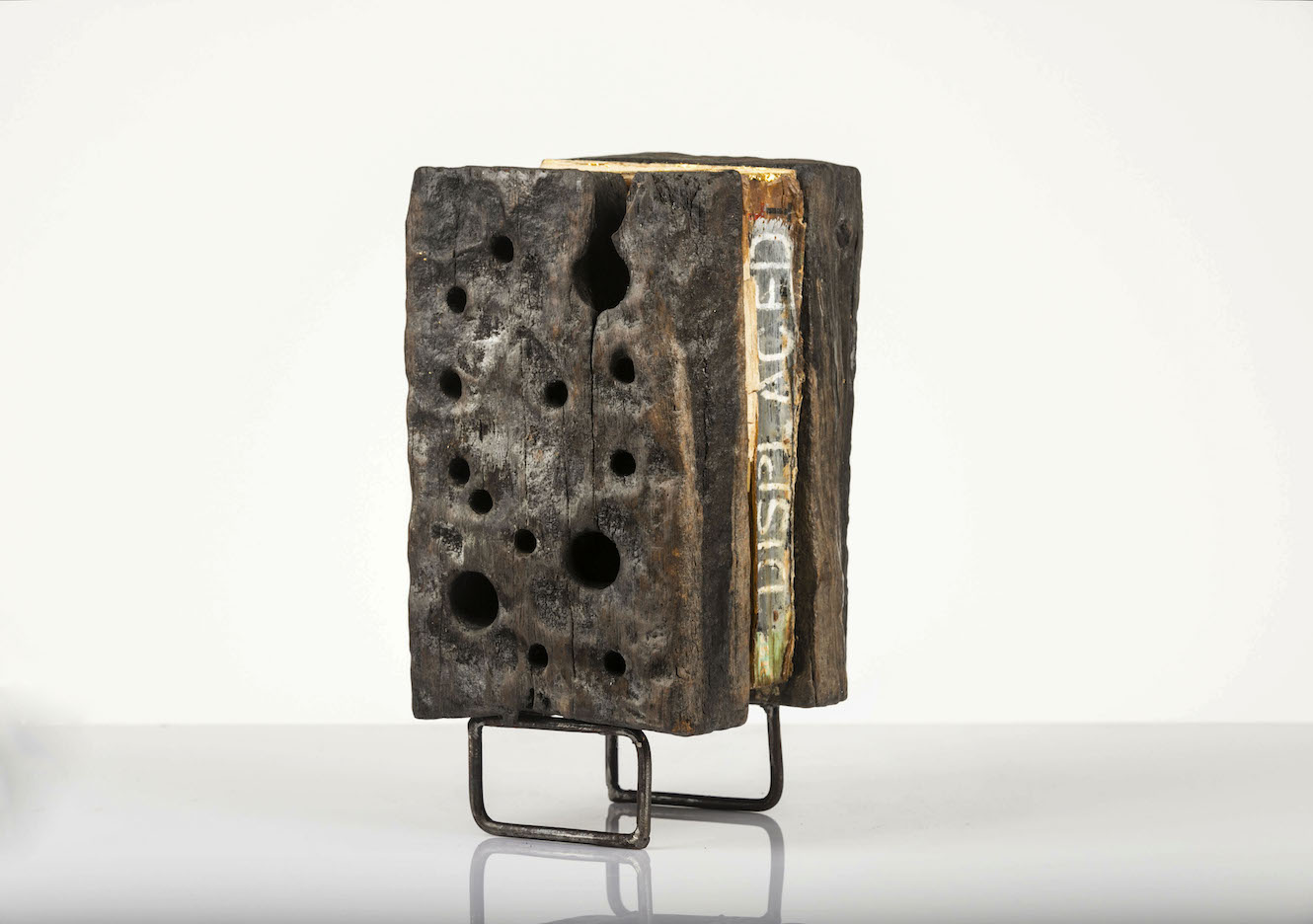 Displaced, Used Book, Wood and Paper, 26 cm x 15 cm x 3 cm, 2013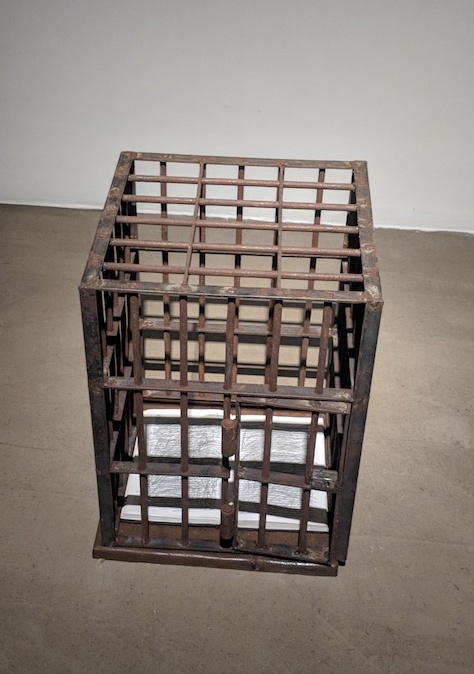 Democracy, Used Book and cage, 48 cm x 35.5 cm x 35.5 cm (size of cage), 2018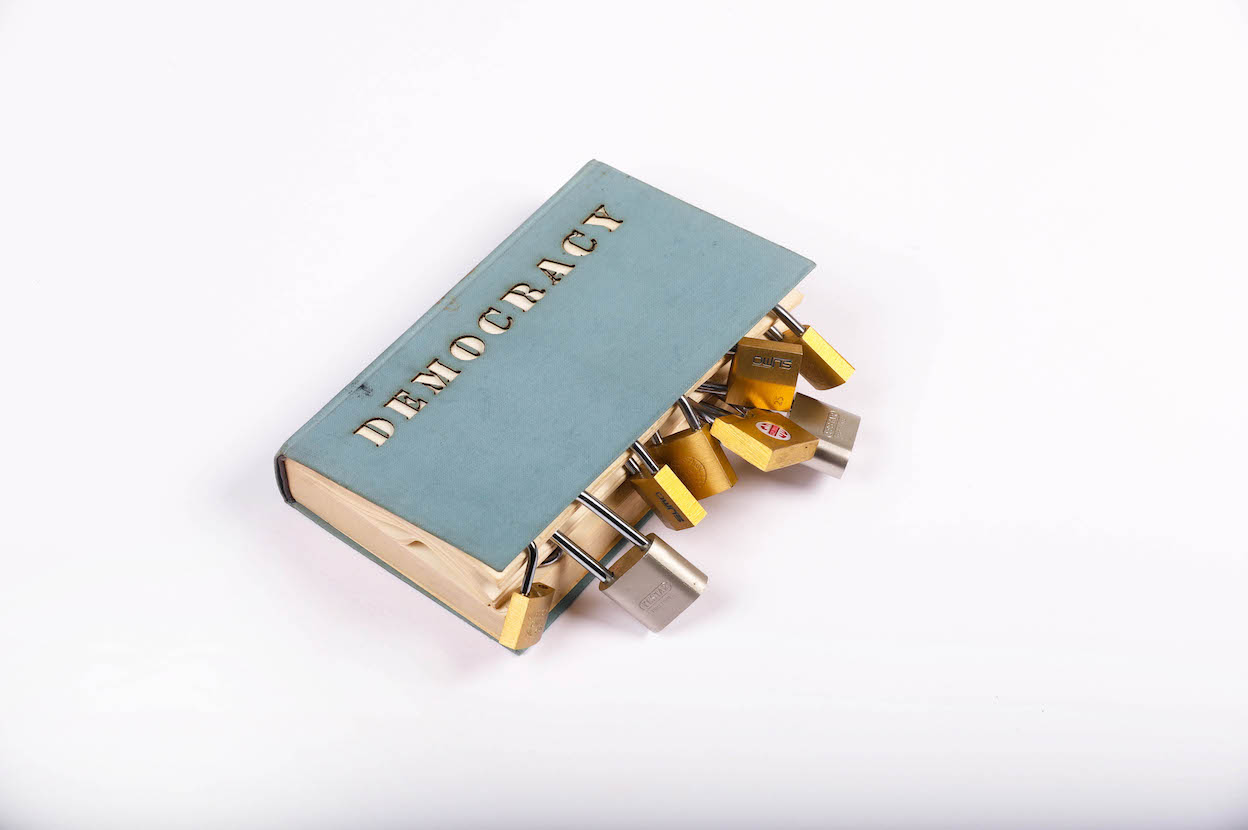 Democracy 2, Used Books & Padlocks, 26 cm x 15 cm x 1.5 cm, 2019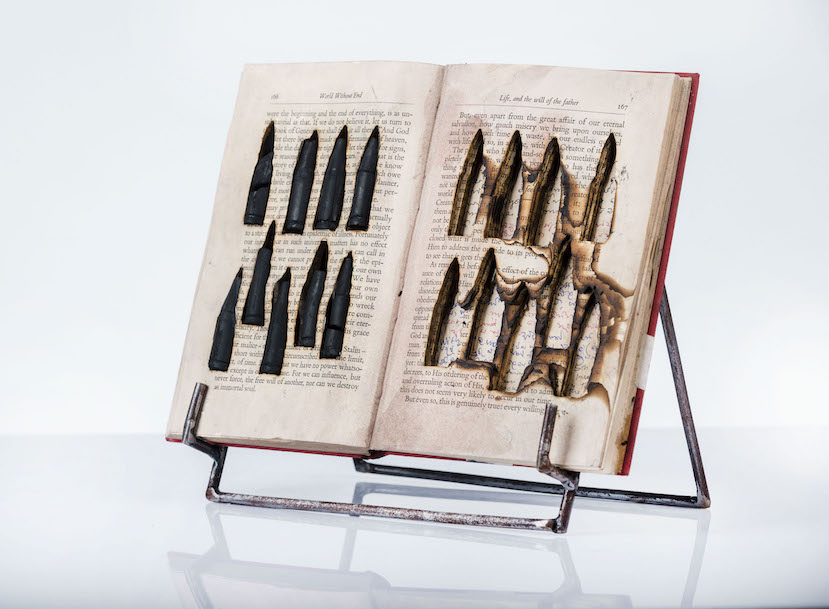 Bullet Book, Used Book and charcoal, 19 cm x 26 cm x 1.5 cm, 2019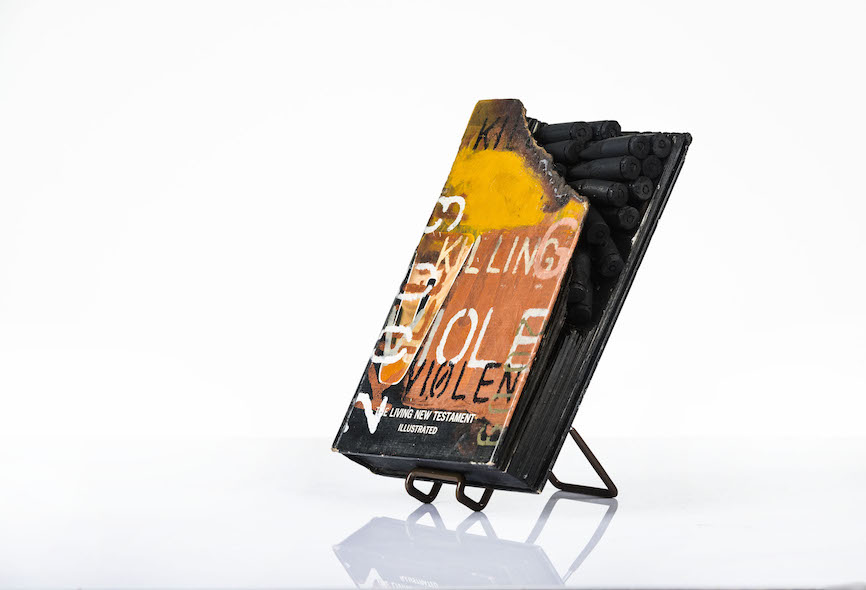 Book of Violence, Used Book and charcoal, 20.5 cm x 14 cm x 2 cm, 2016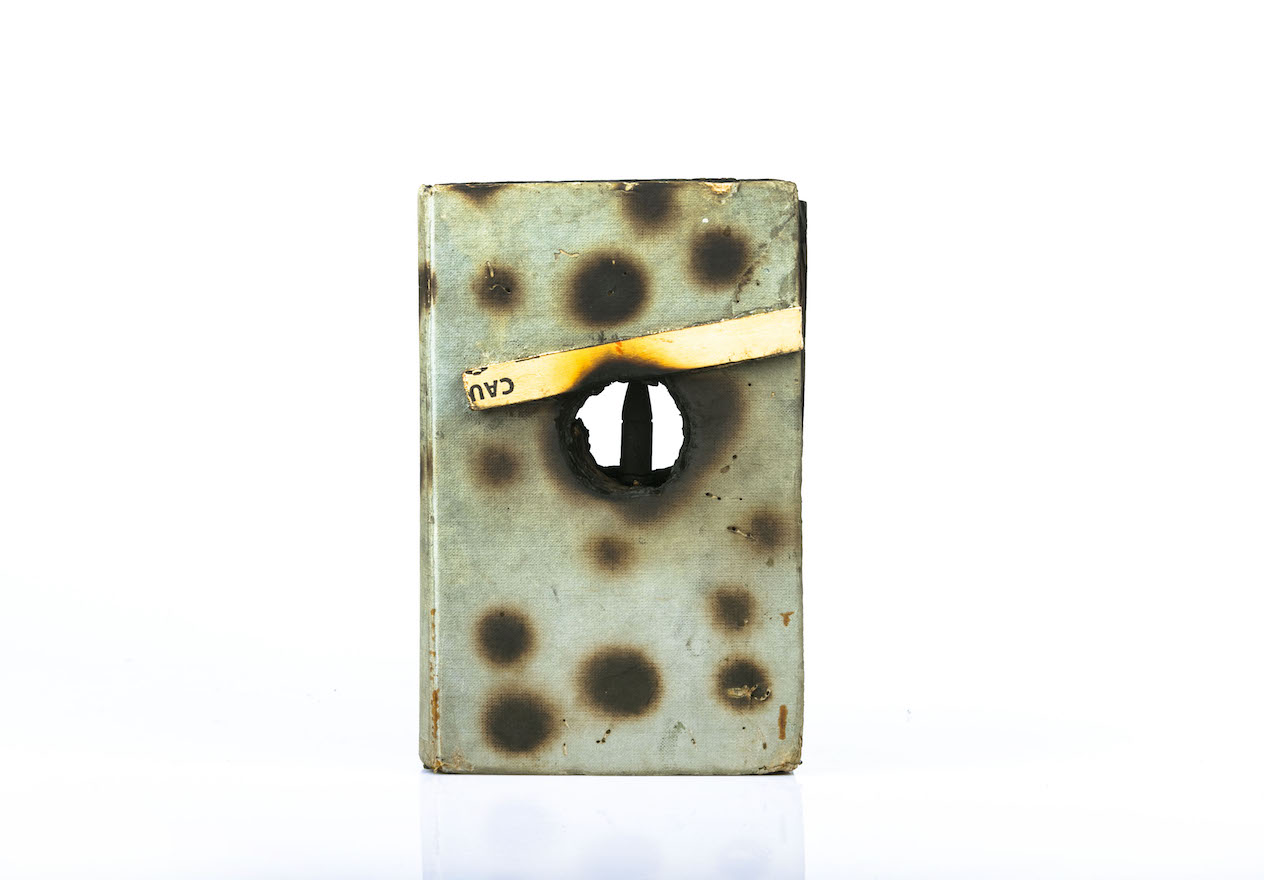 Wounded Book, Used Book and charcoal, 22.5 cm x 14 cm x 1.5 cm, 2013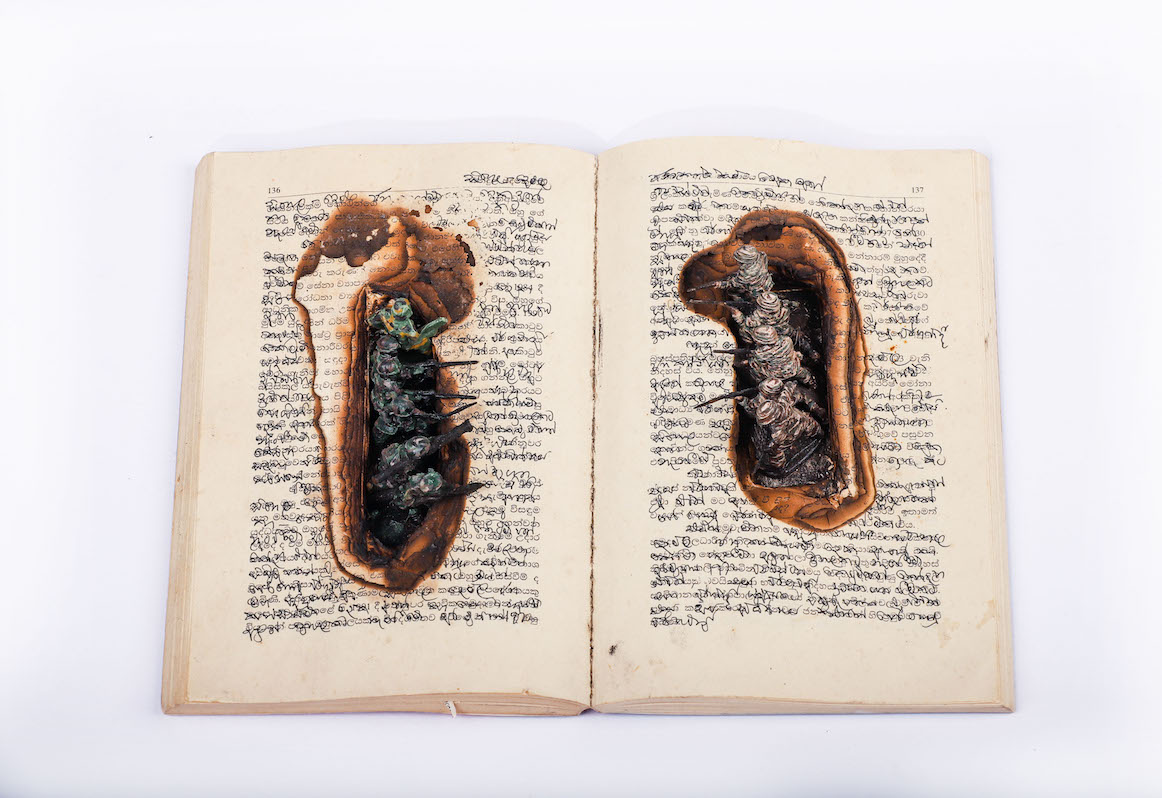 War Text, Used Books and toy soldiers, 22 cm x 30 cm x 2 cm, 2015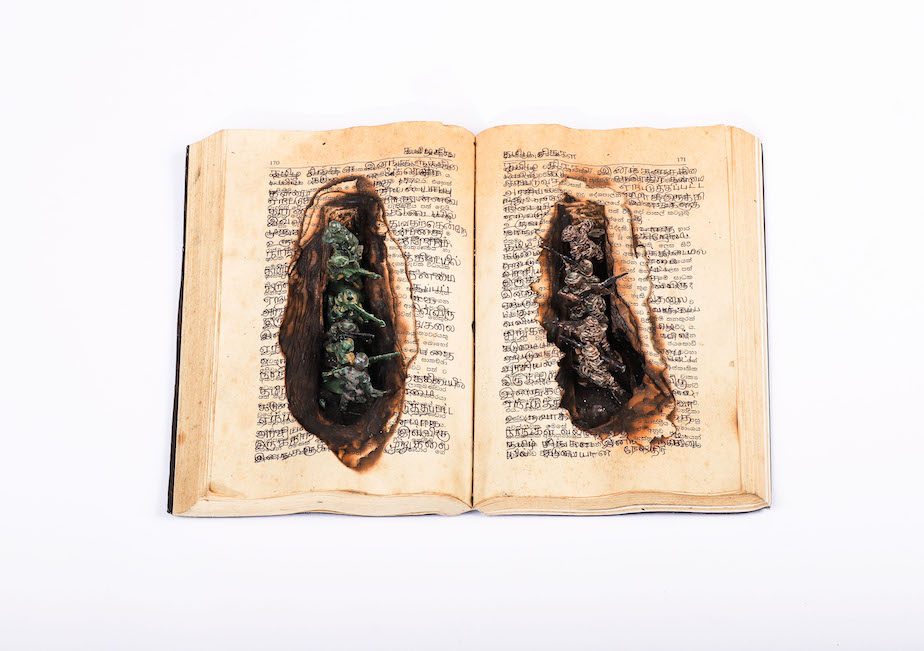 Bullet Book, Used books and toy soldiers, 27.5 cm x 21 cm x 2 cm, 2014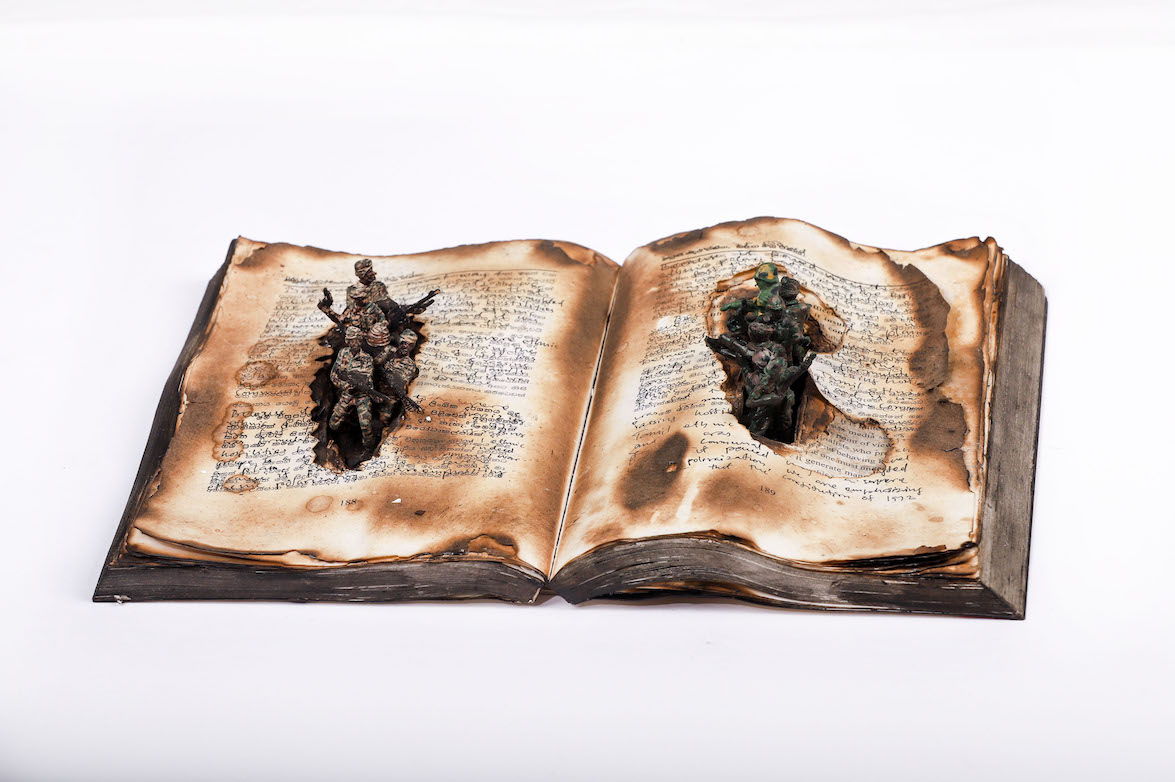 War Text, Used Books and toy soldiers, 22 cm x 30 cm x 2 cm, 2015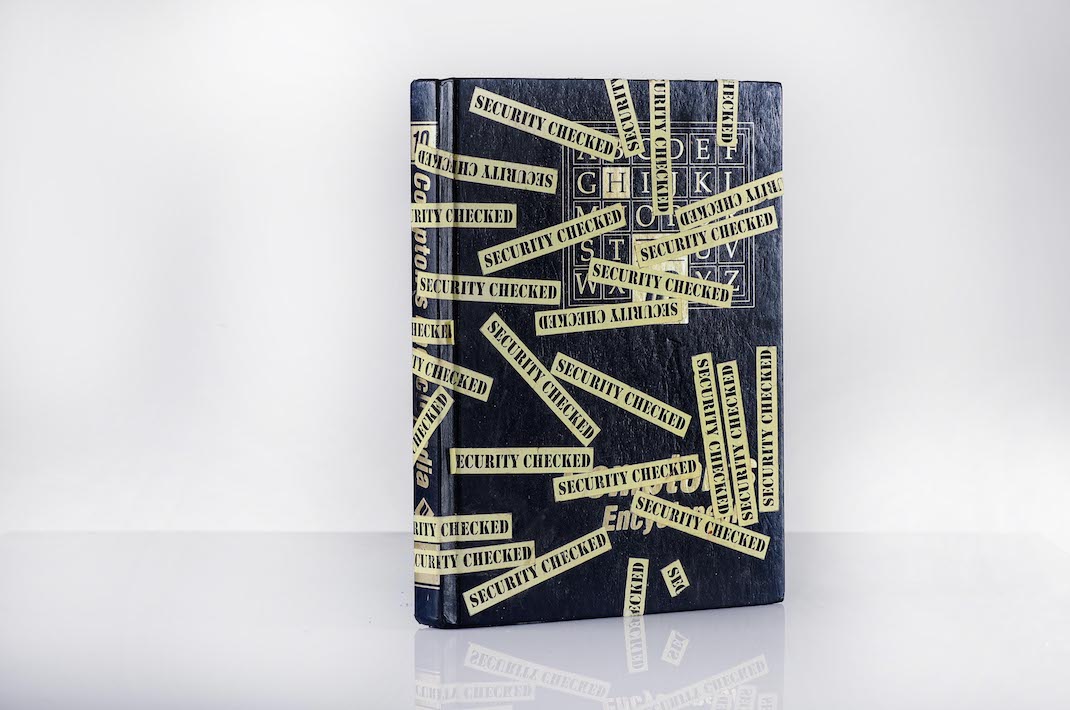 Security Checked Used books and labels, 20 cm x 26 cm x 1 cm, 2013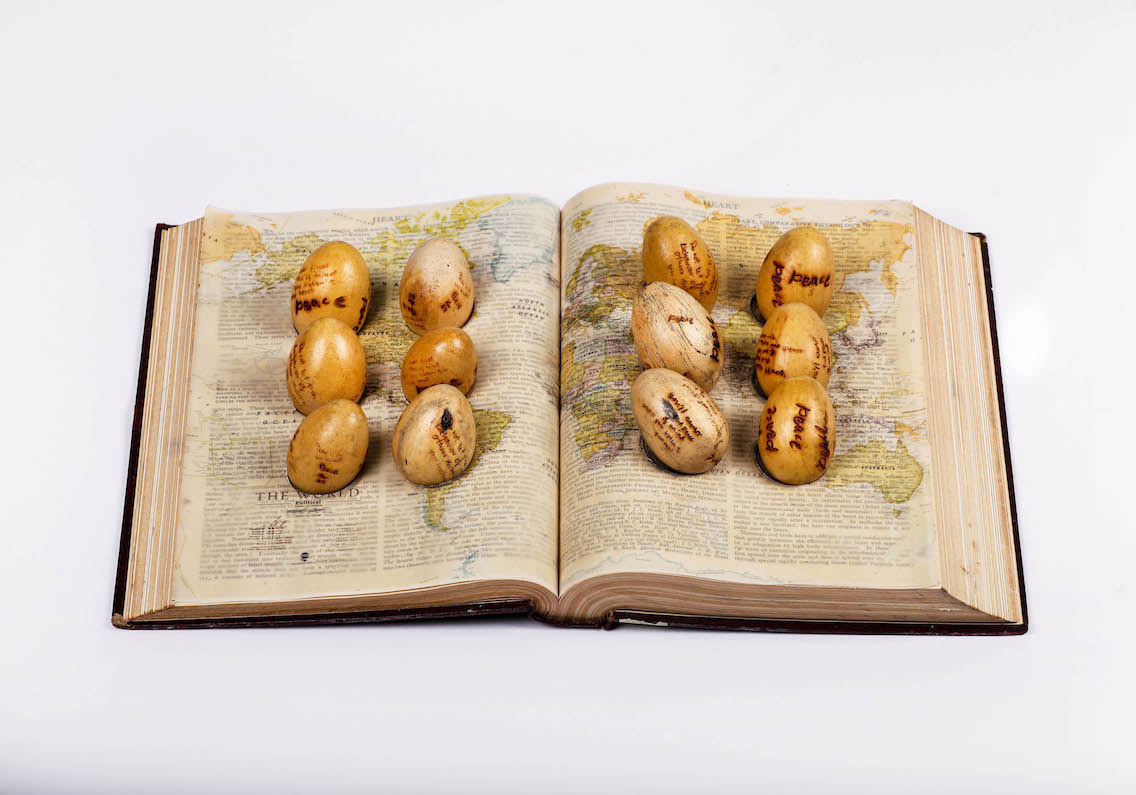 Peace Egg Book, Used Books and 12 wooden eggs. 28 cm x 46 cm x 3 cm, 2019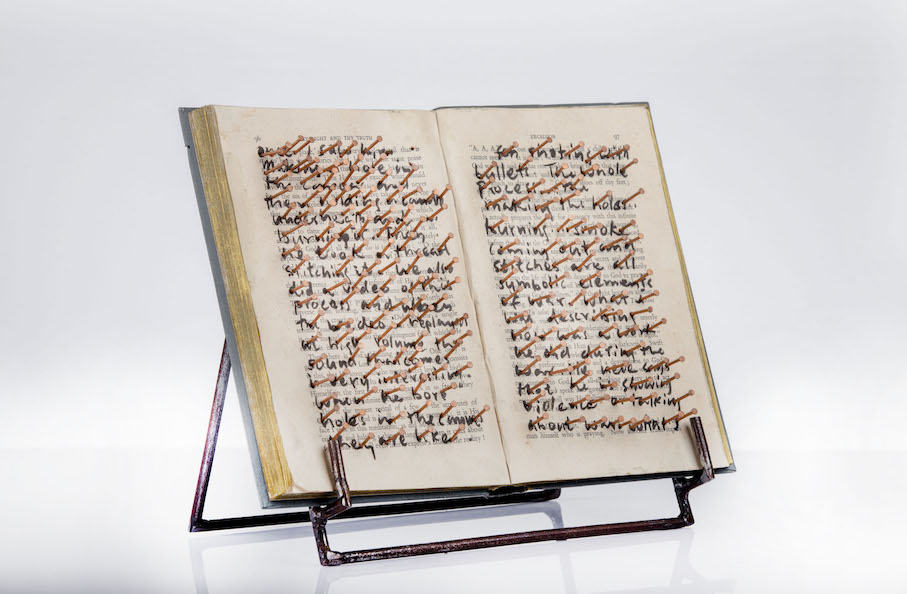 Nail on Book, Used Book and Nails, 19 cm x 24.5 cm, 2018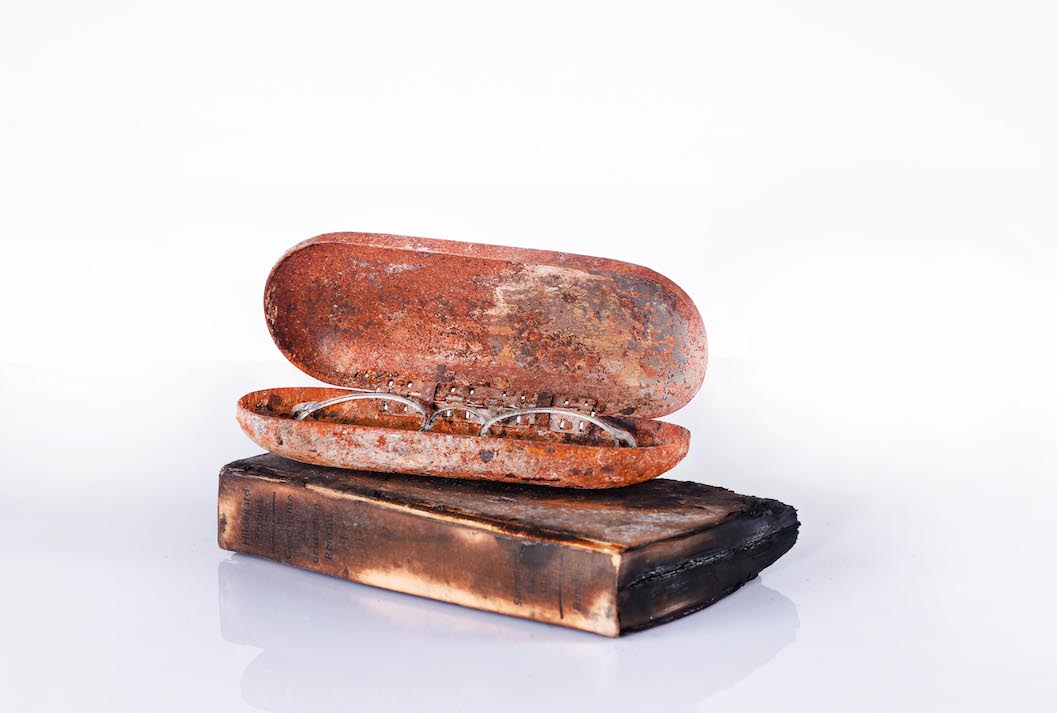 May-19, Used Book, Charcoal, Spectacle and Case, Variable, 2019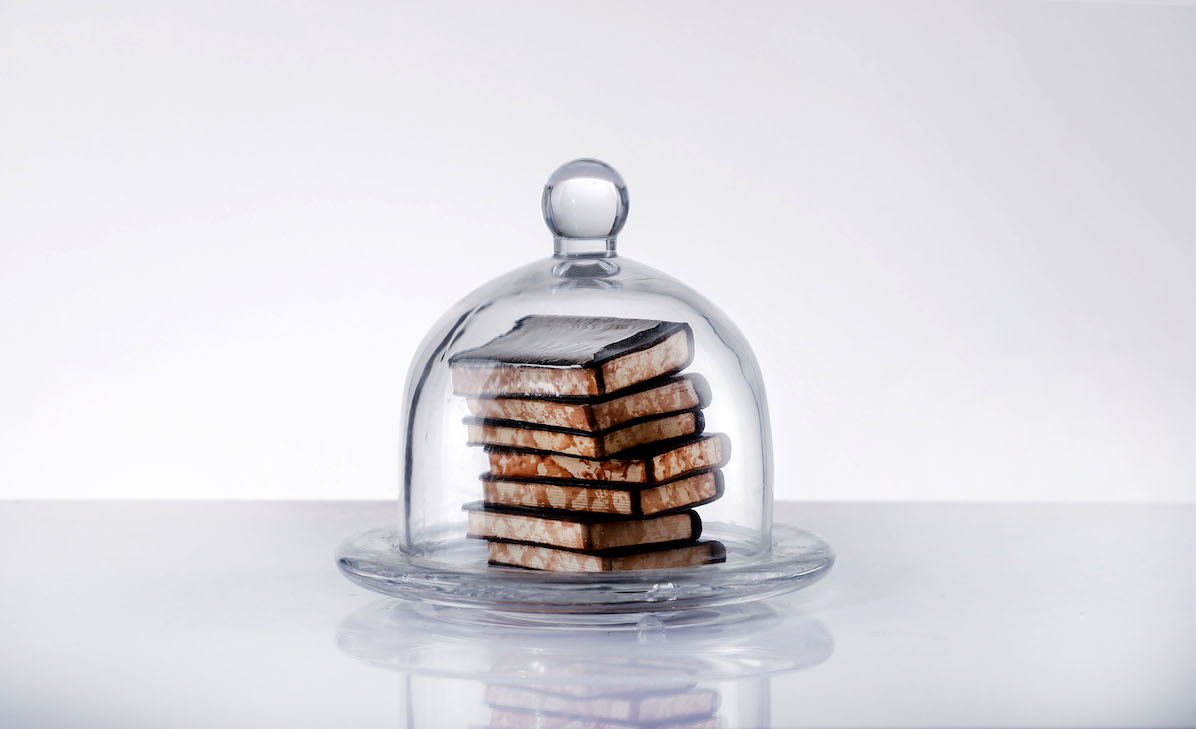 You cant eat this cake, 7 Used Books and glass, 17 cm x 20.5 cm x 15 cm, 2017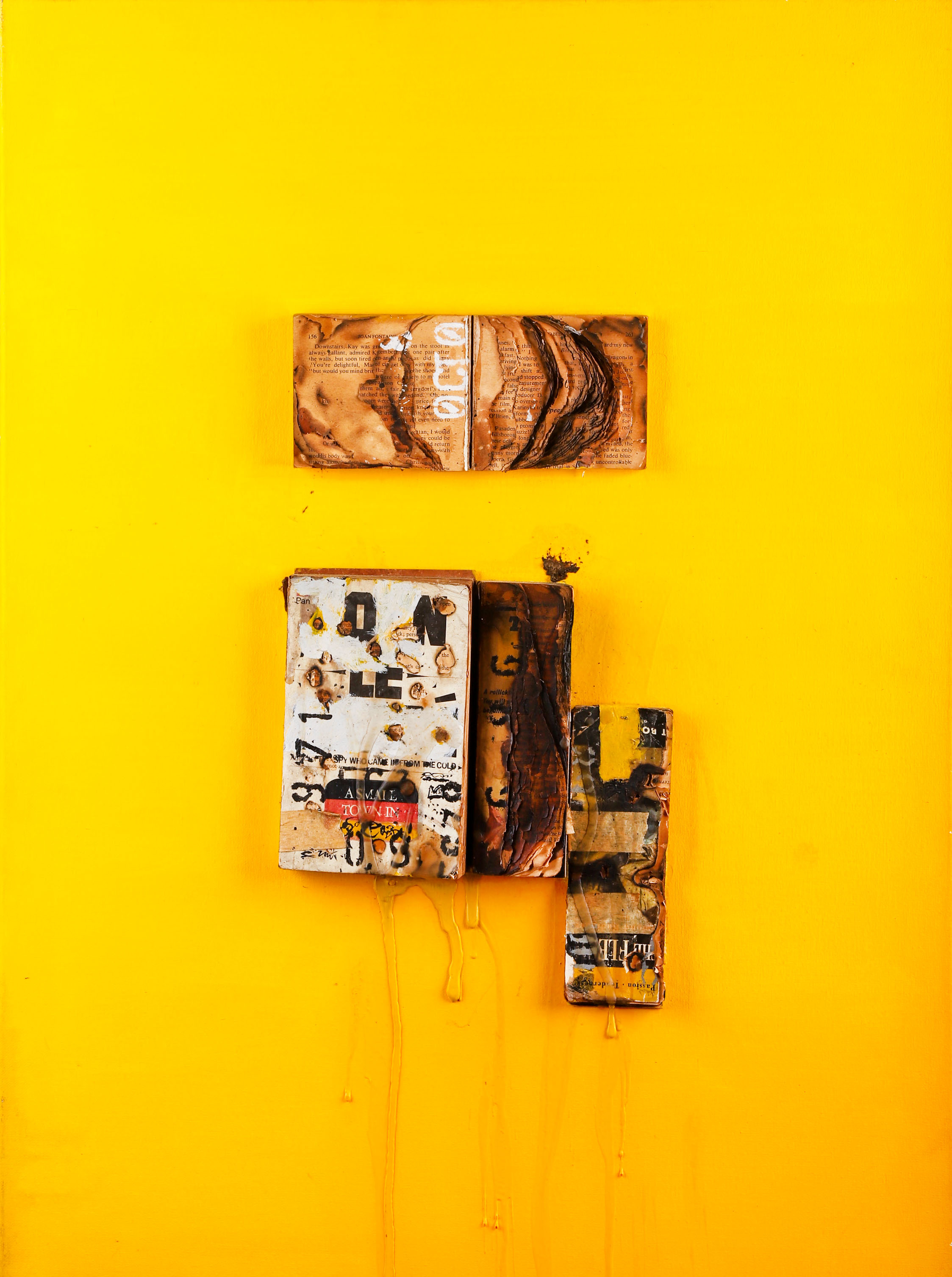 Year 1971, Used Book and acrylic on canvas, 78.5 cm x 58 cm x 2 cm, 2010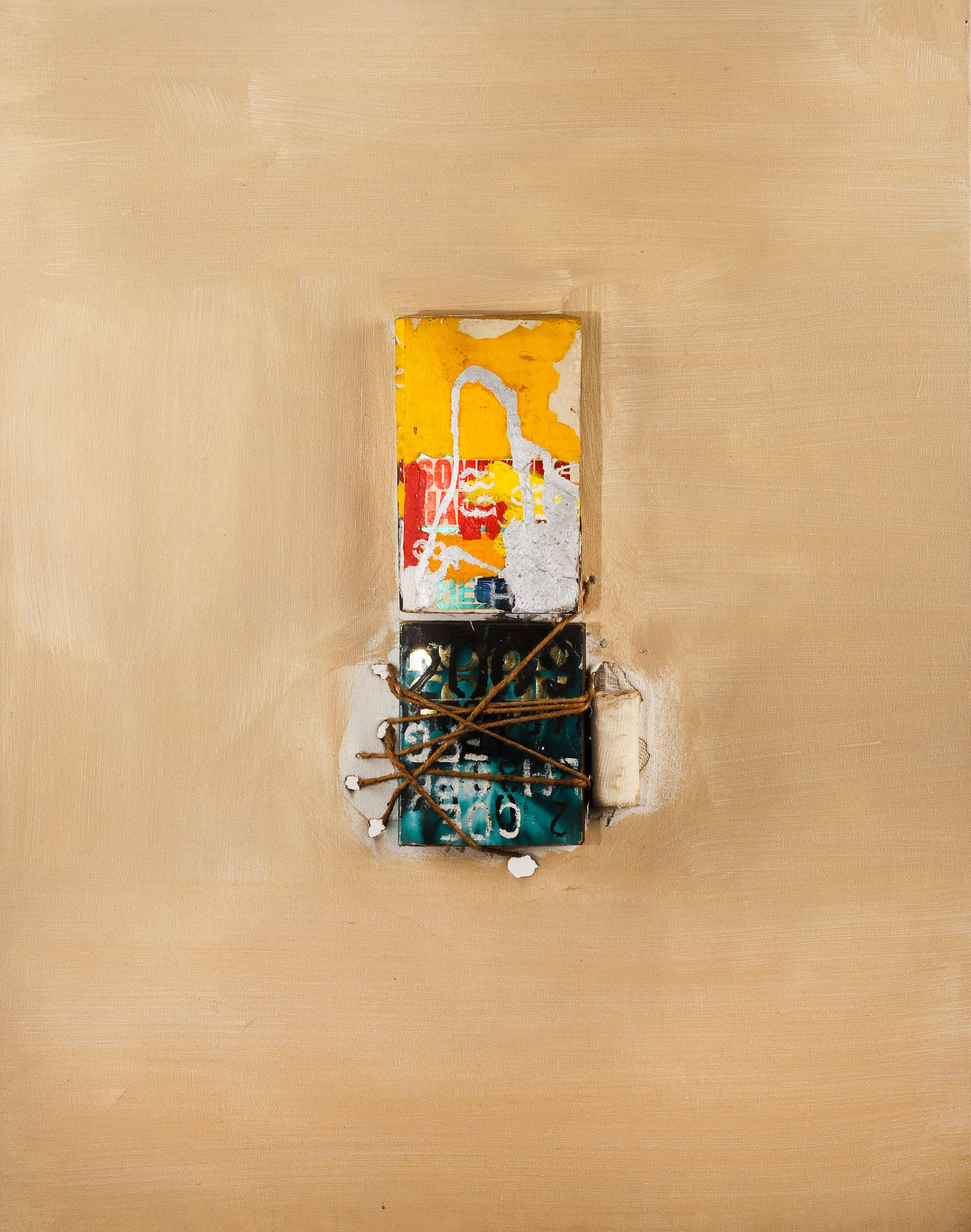 Year 1971, Used Book and acrylic on canvas, 78.5 cm x 58 cm x 2 cm, 2010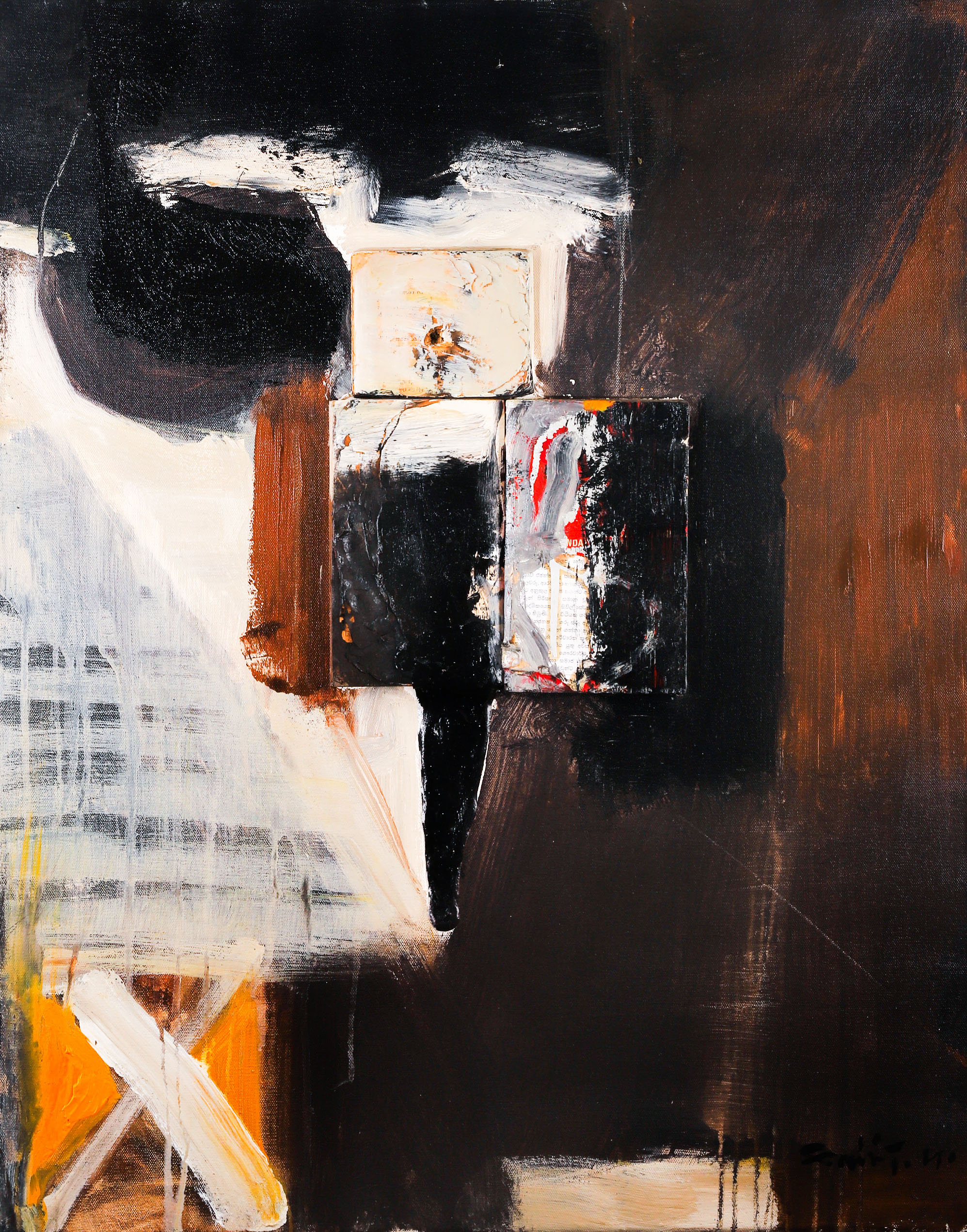 Year 1971, Used Book and acrylic on canvas, 78.5 cm x 58 cm x 2 cm, 2010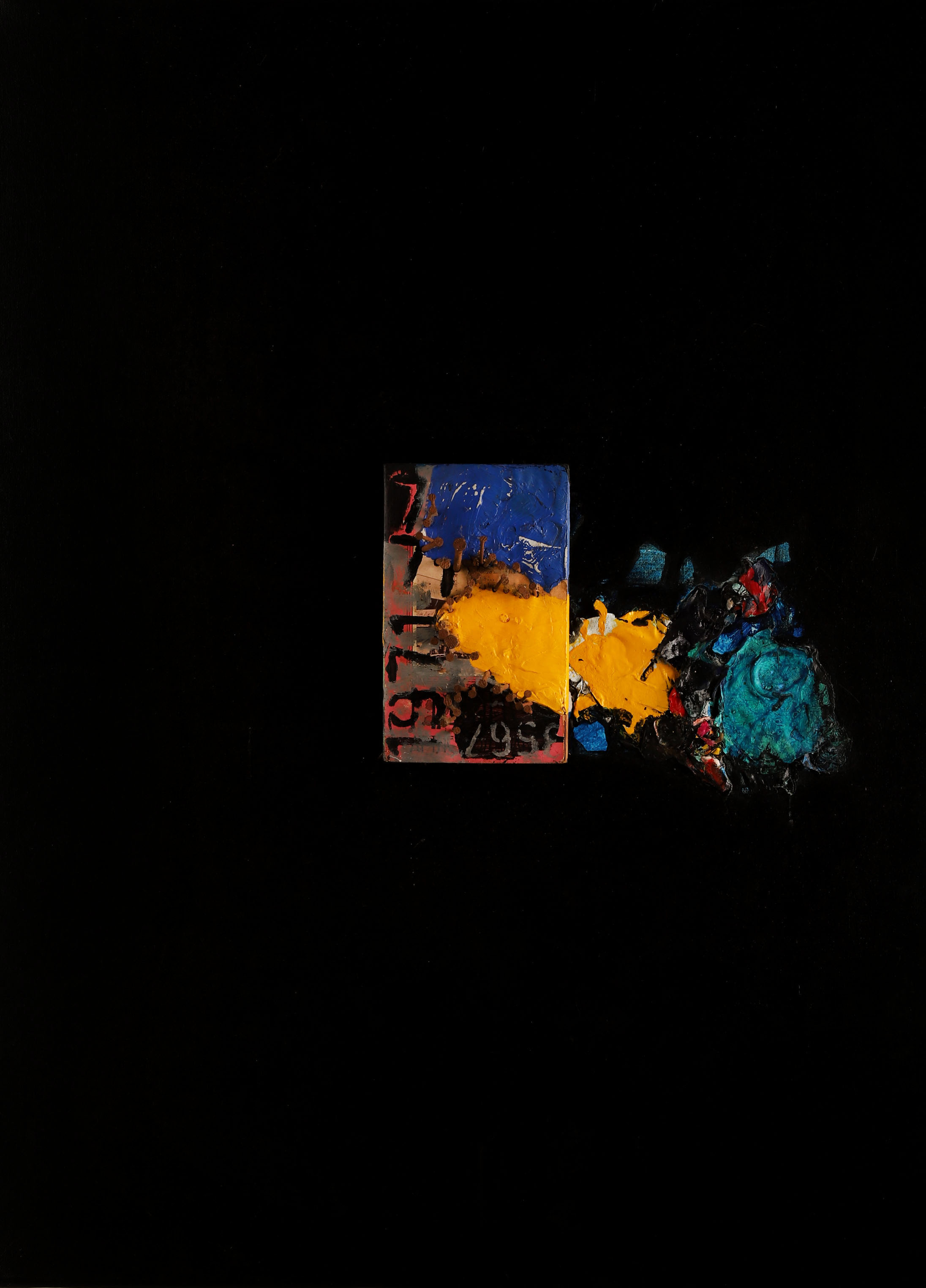 Year 1971, Used Book and acrylic on canvas, 78.5 cm x 58 cm x 2 cm, 2010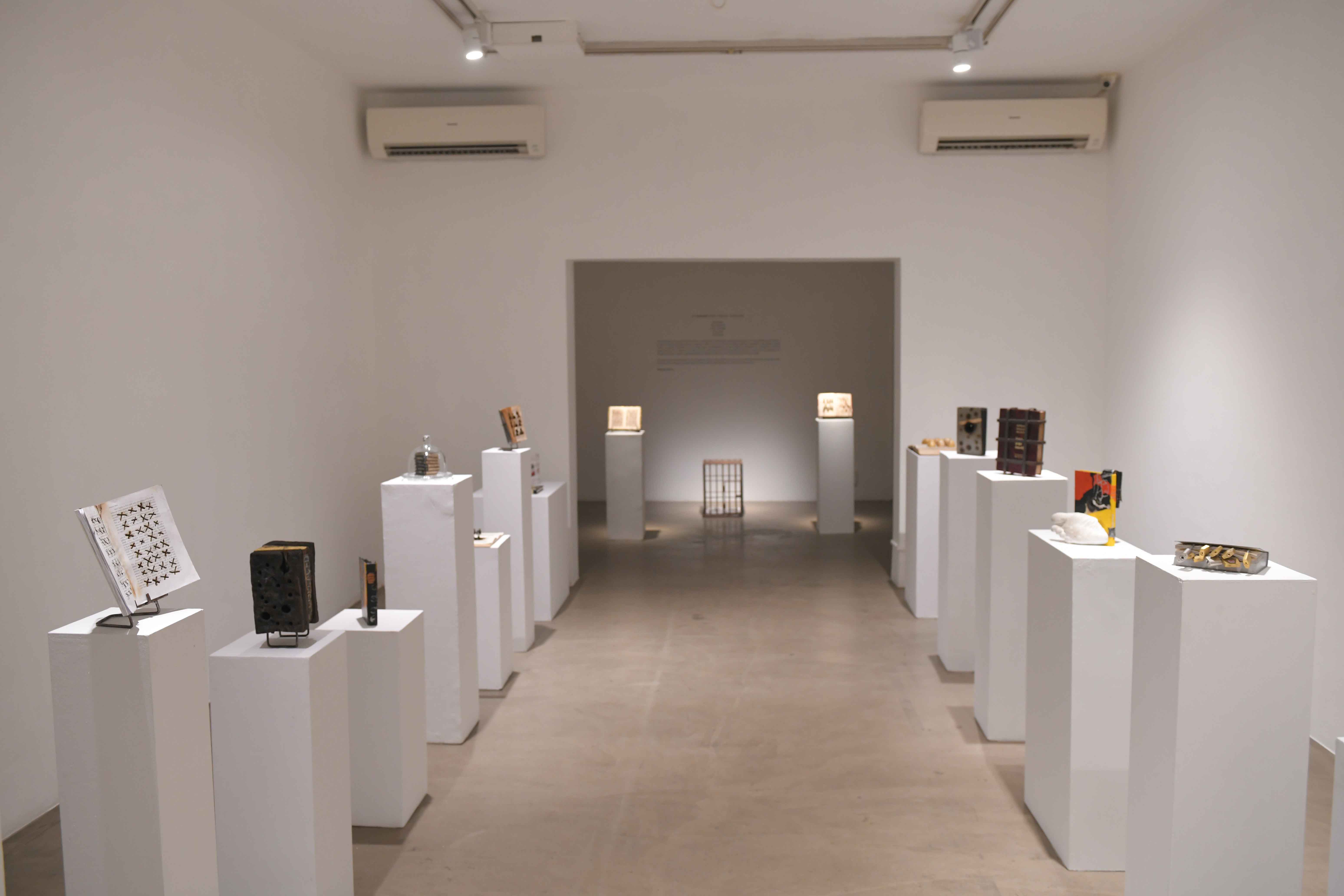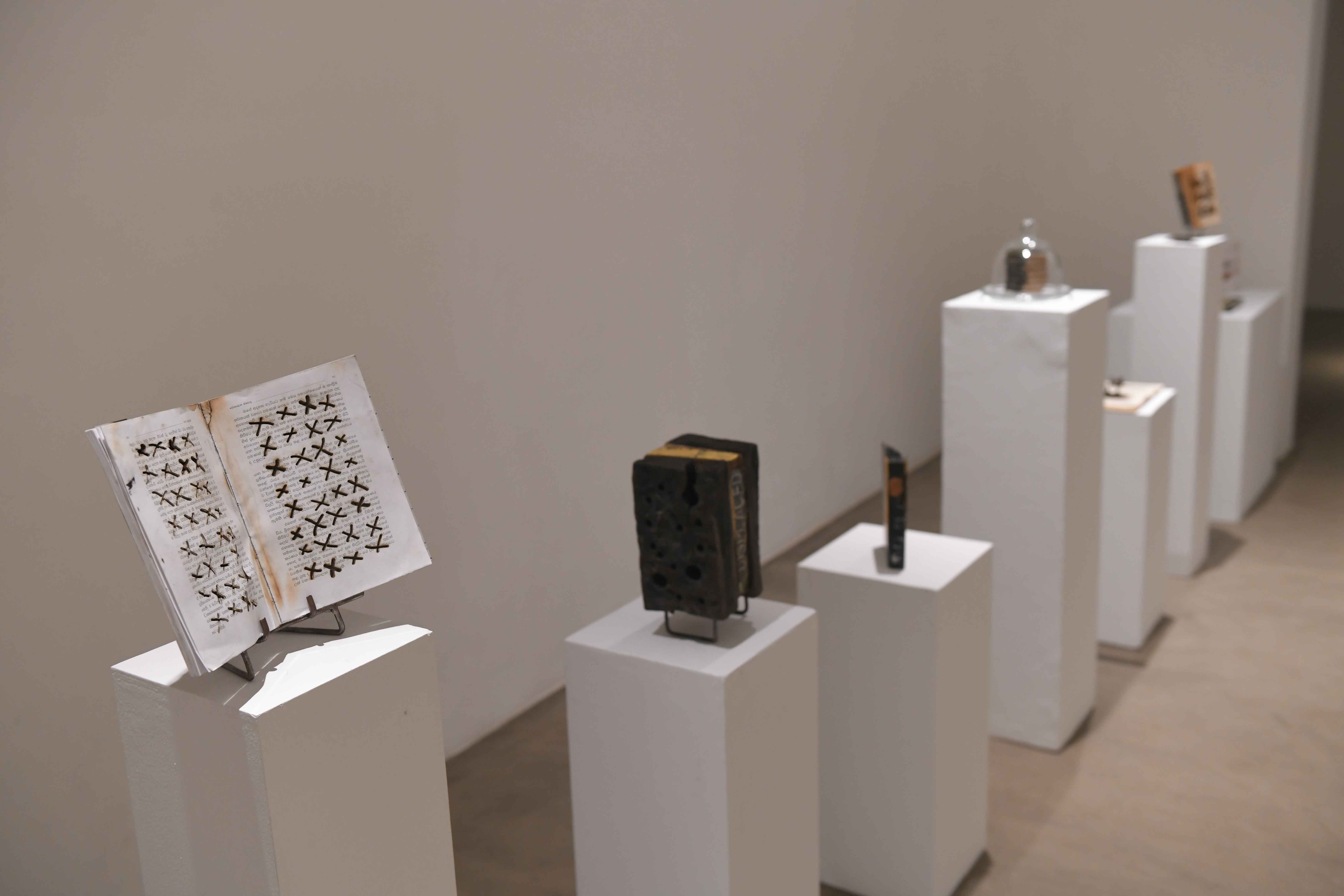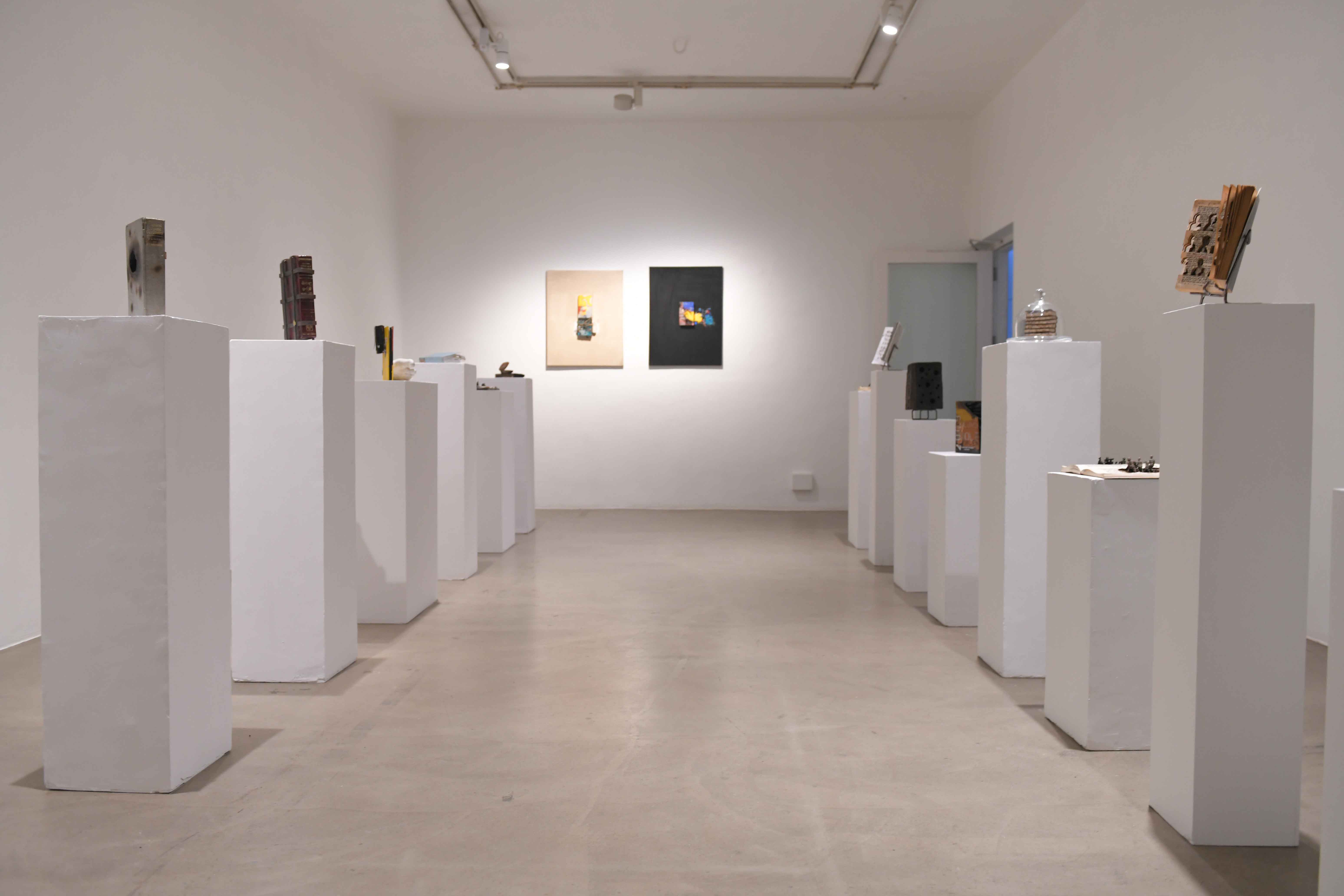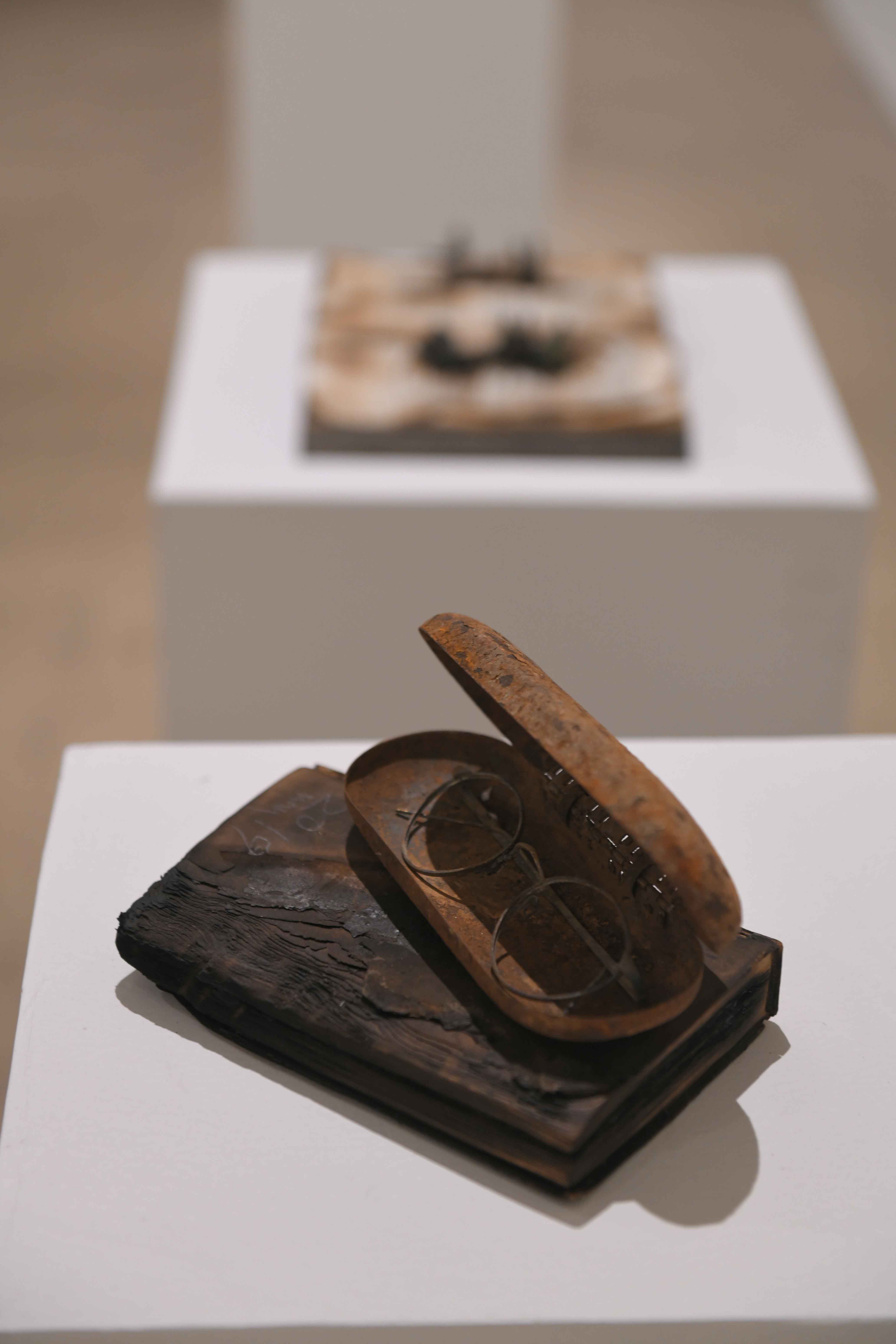 THE WOUNDED BOOK | KINGSLEY GUNATILLAKE

Wound(s),
The wounded,
To be wounded,
To wound,
Wounding –
In this inventory of words exists the artist's confrontation with images and sensory responses to the experience of violence, as well as the perpetration of acts of violence. With an art practice that includes painting, installation, illustration, mixed media, sculpture and video art, Sri Lankan born multidisciplinary artist, Kingsley Gunatillake has consistently resisted statist, dominant narratives in circulation of a Sri Lanka at war, and in its post war transitions, in his work. This trajectory of 'being' in relation to pain is most powerfully manifested in the form of his book artwork since the 1990s.

The book encountered herein in a multitude of creative interpretations carries its wounds: literal wounds, received in the moment of its making, as well as wounds referenced through signification, borne of a 30-year war. Each book is a narrative of pain and loss. Conceived through the artist's introspection in response to the burning of the Jaffna Library in Sri Lanka in 1981, this artistic practice of using burning and cutting repeatedly is a meditation: a creative conversation with the book as material and materiality. The book is both an act of remembering, and that of witness. In its evocation of memories of trauma and loss, the book allows for mourning and memorialization (to remember, and to forget) through a complex act of reading through juxtaposition.

Here is also an act of resistive writing. One that destroys text, in order to make and remake meaning, held in the echoes of what has been before, as well as the incoherence of pain. These books, with the shells of the bullets embedded deep within, bear witness to the fact that there is no objective knowing in the narrative of pain; what remains are the shifting sensations of terror and turbulence discerned through the artist's subjective knowing. Taken in as a threat to security for his book making practice in the aftermath of the most recent wave of violence in Sri Lanka, measured and photographed as the guilty are, this is the body that knows the fragility of artistic freedom and democratic citizenship. The work produced is telling of an ever-elusive peace.
Text by Ruhanie Perera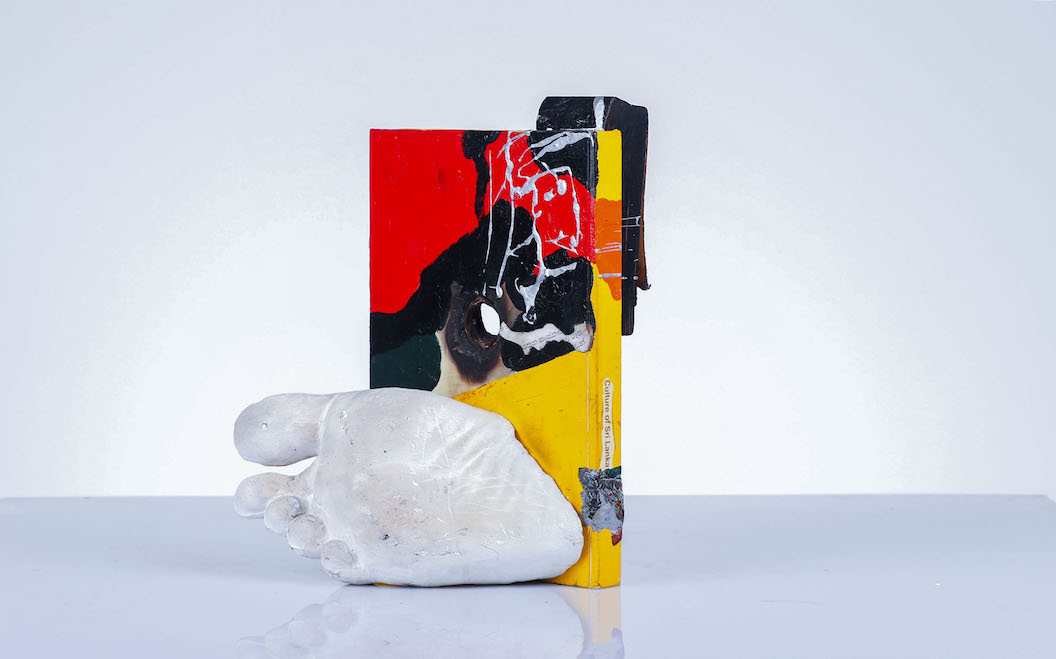 History and Culture of Sri Lanka, Used Book and Plaster of Paris, 23 cm x 19 cm, 2016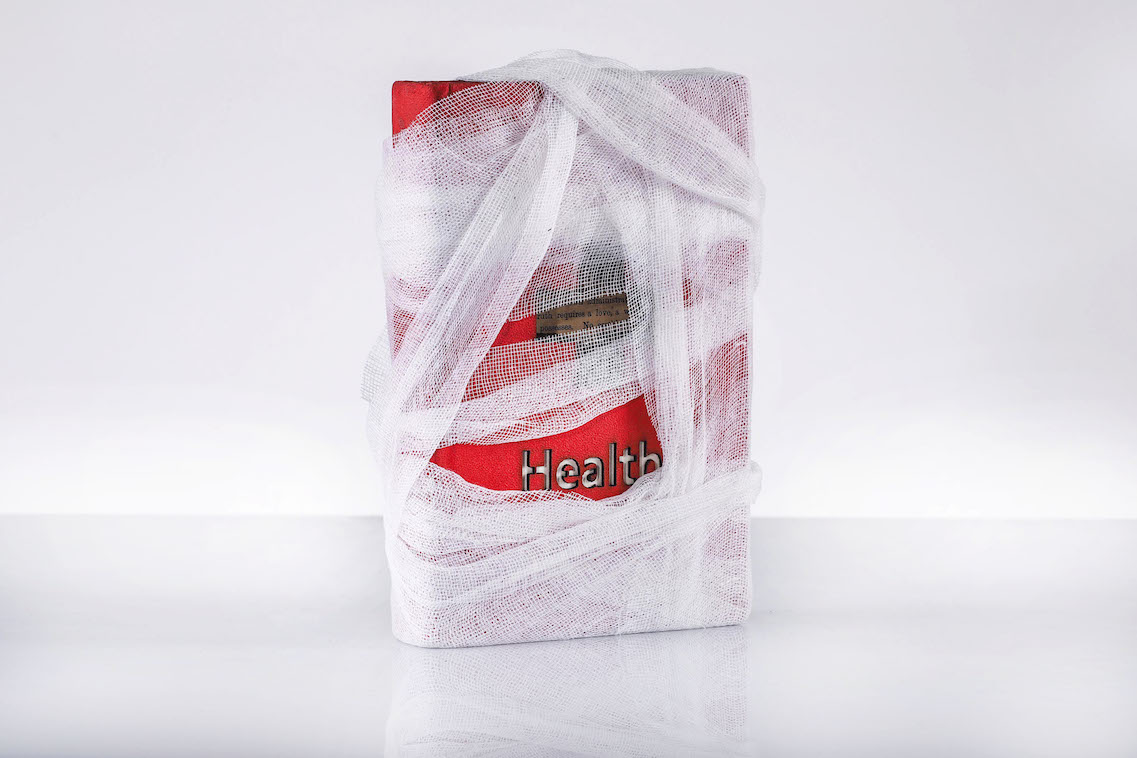 Health, Used Book and Bandage, 13 cm x 19 cm x 1.5 cm, 2019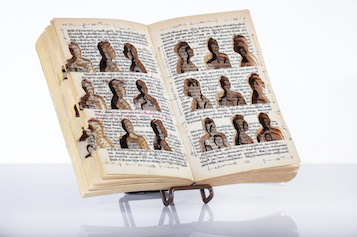 Face, Used Book, 18 cm x 24.5 cm, 2019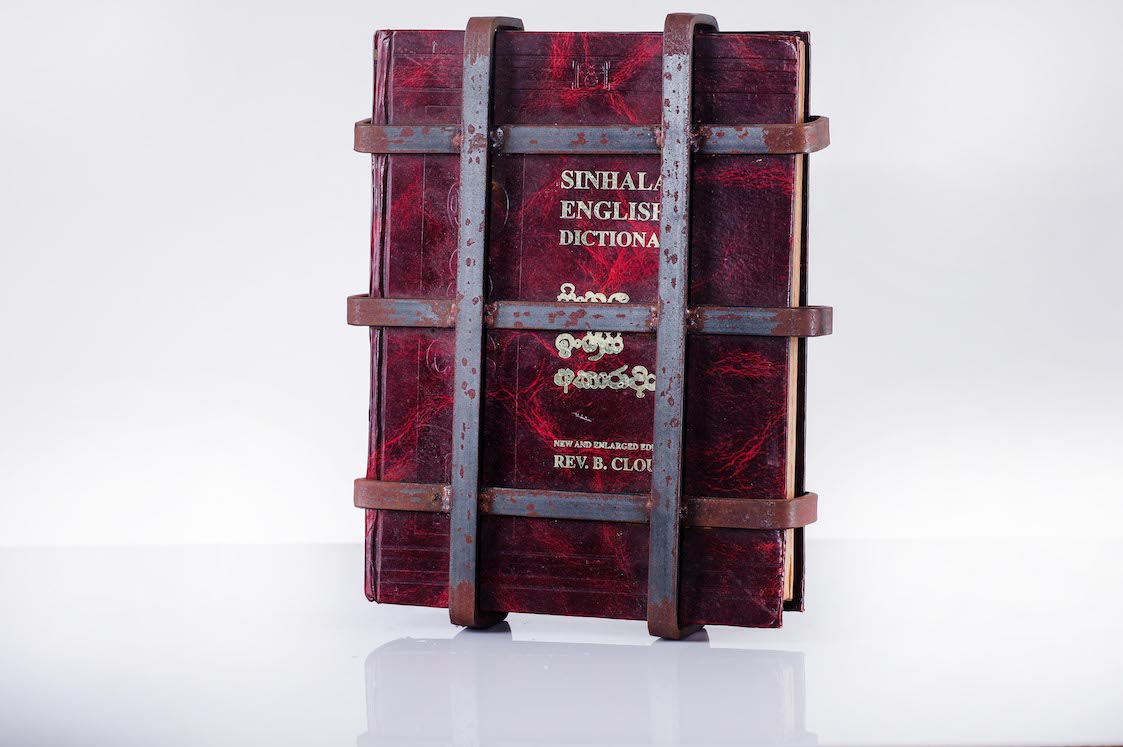 Encyclopedia, Used book and Metal, 27 cm x 20 cm, 2013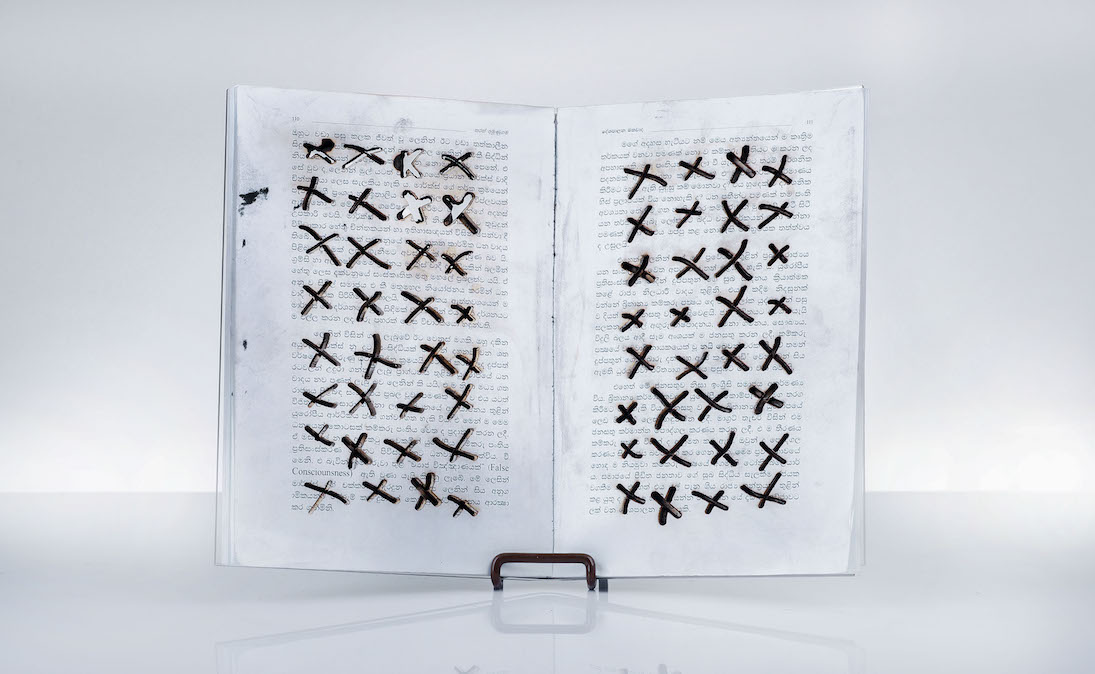 Election, Used book, 15 cm x 21 cm, 2019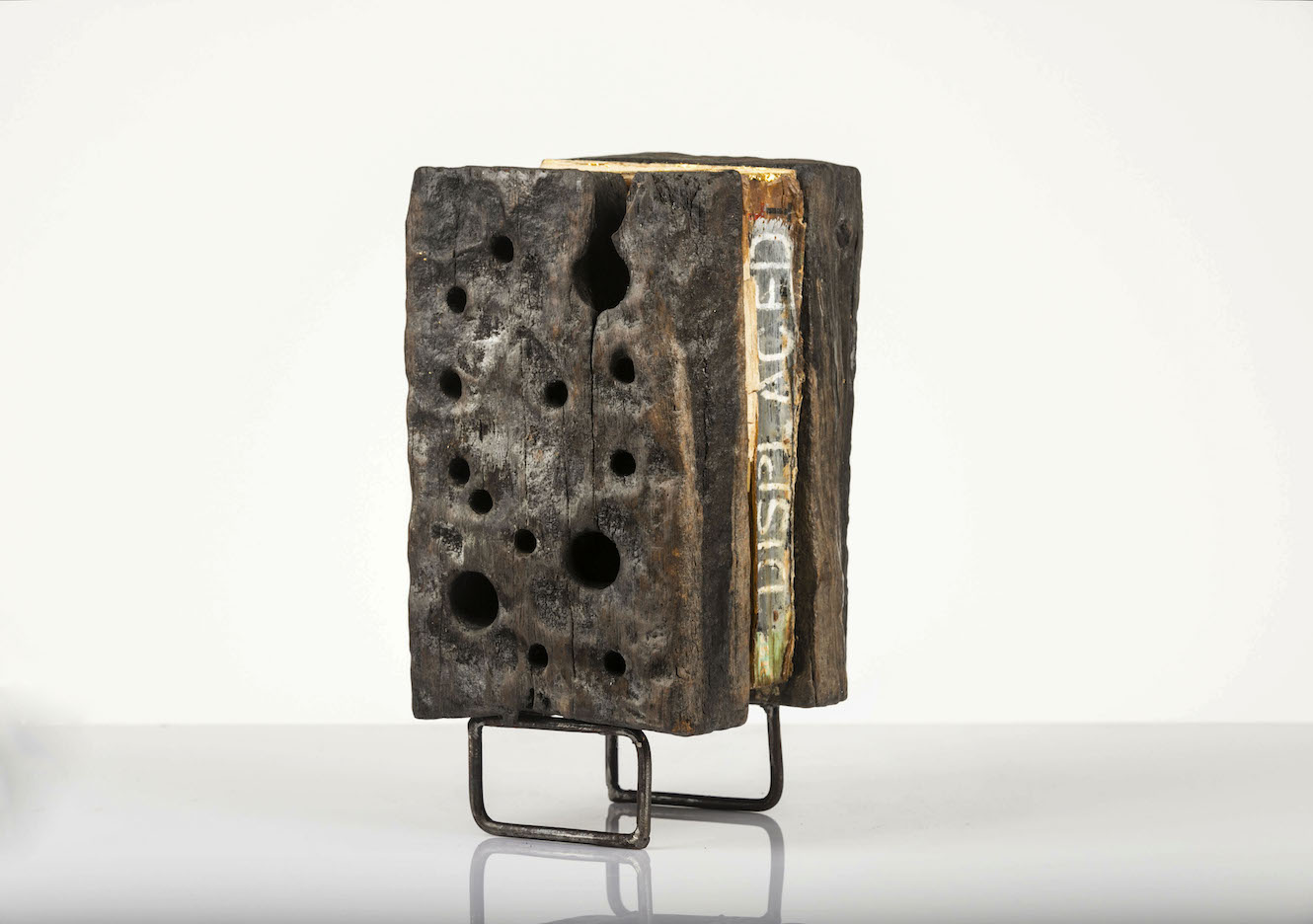 Displaced, Used Book, Wood and Paper, 26 cm x 15 cm x 3 cm, 2013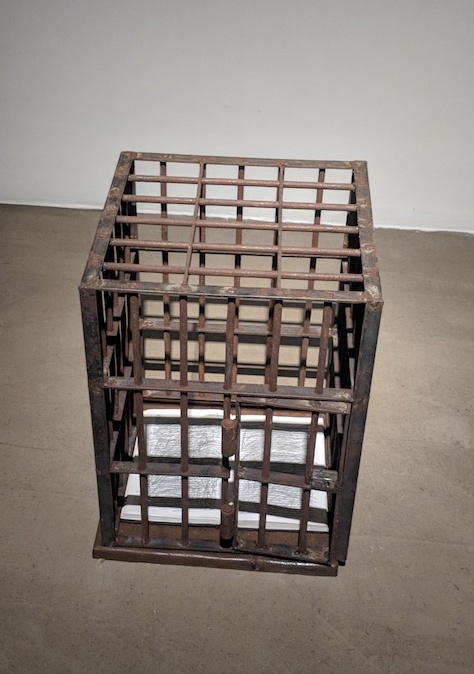 Democracy, Used Book and cage, 48 cm x 35.5 cm x 35.5 cm (size of cage), 2018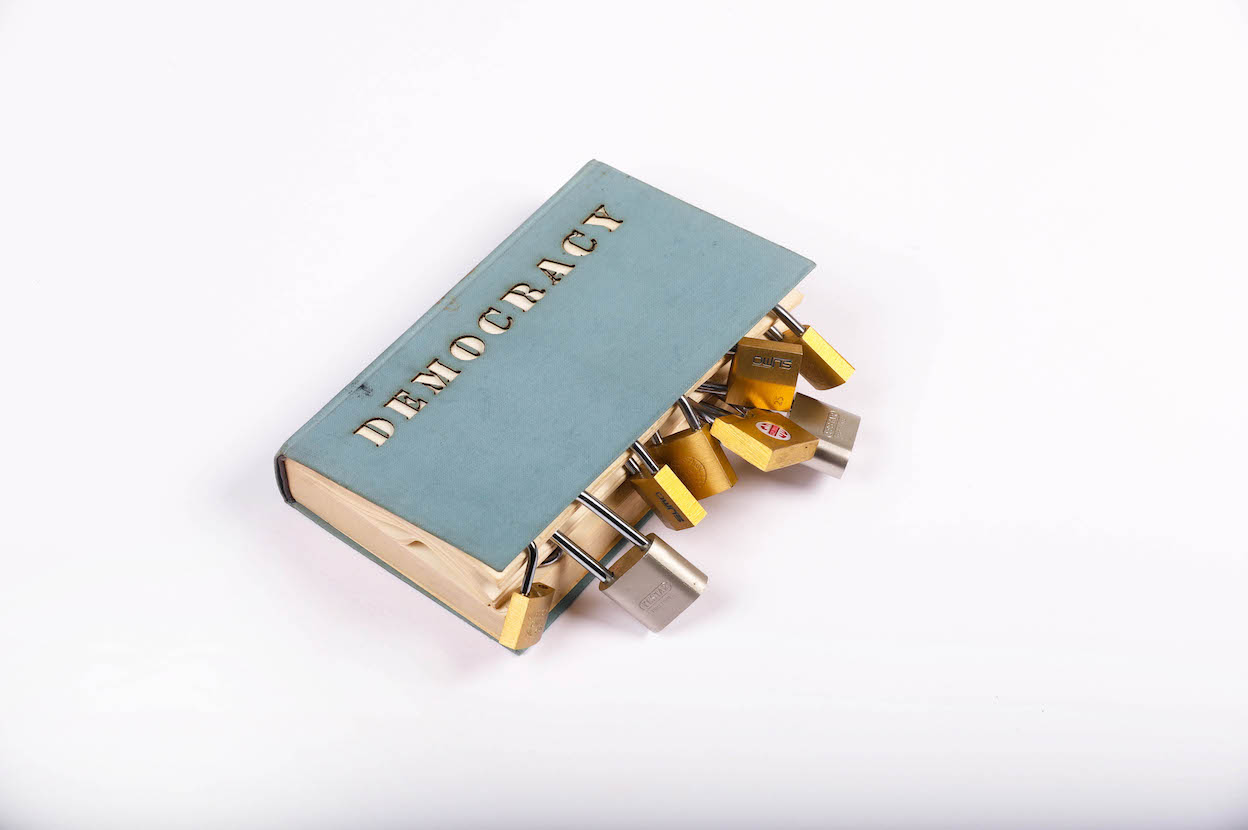 Democracy 2, Used Books & Padlocks, 26 cm x 15 cm x 1.5 cm, 2019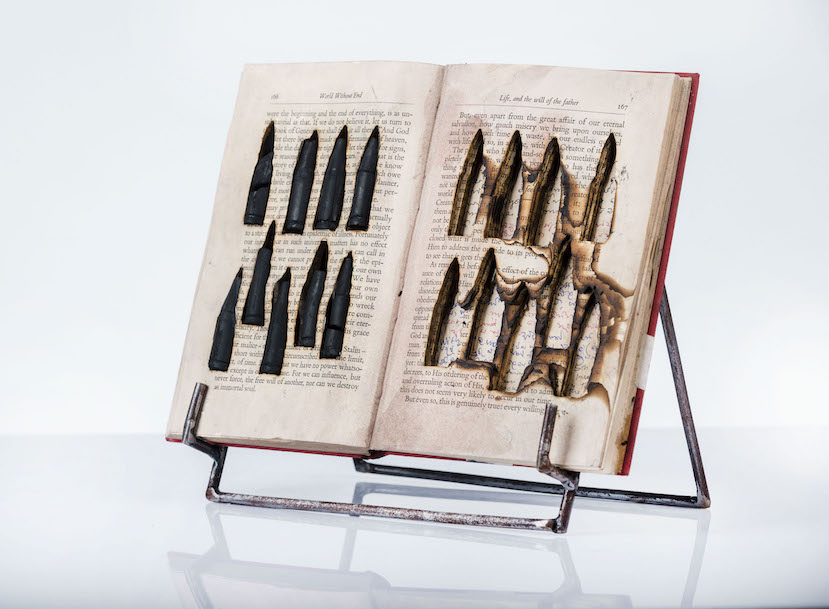 Bullet Book, Used Book and charcoal, 19 cm x 26 cm x 1.5 cm, 2019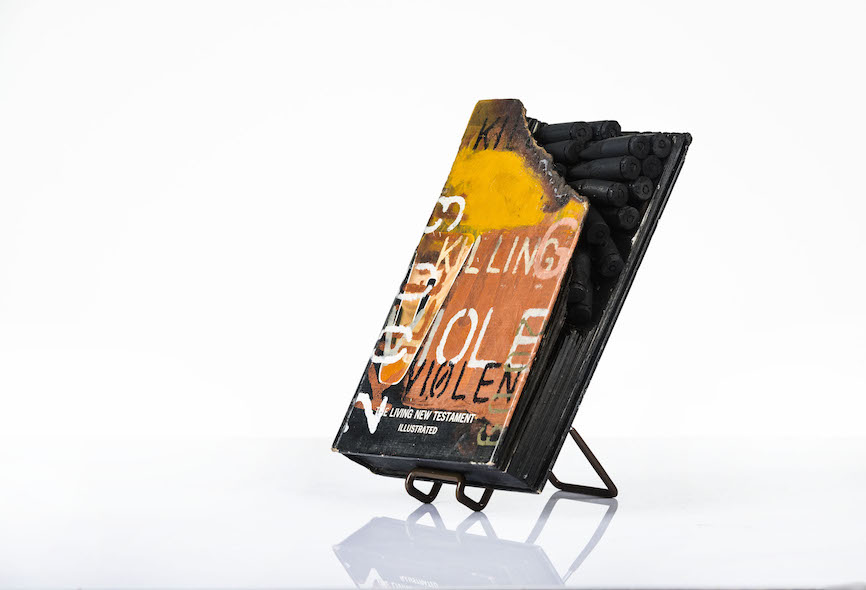 Book of Violence, Used Book and charcoal, 20.5 cm x 14 cm x 2 cm, 2016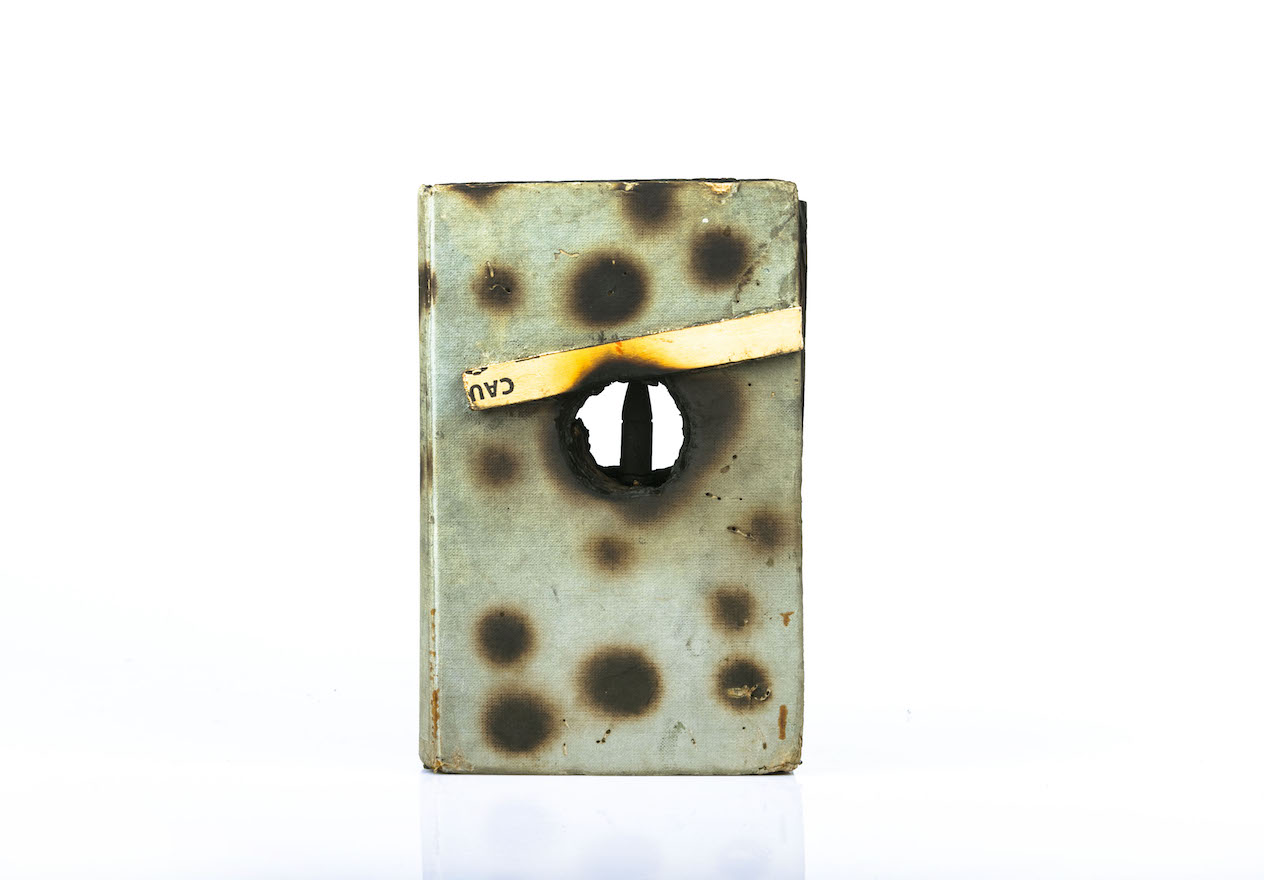 Wounded Book, Used Book and charcoal, 22.5 cm x 14 cm x 1.5 cm, 2013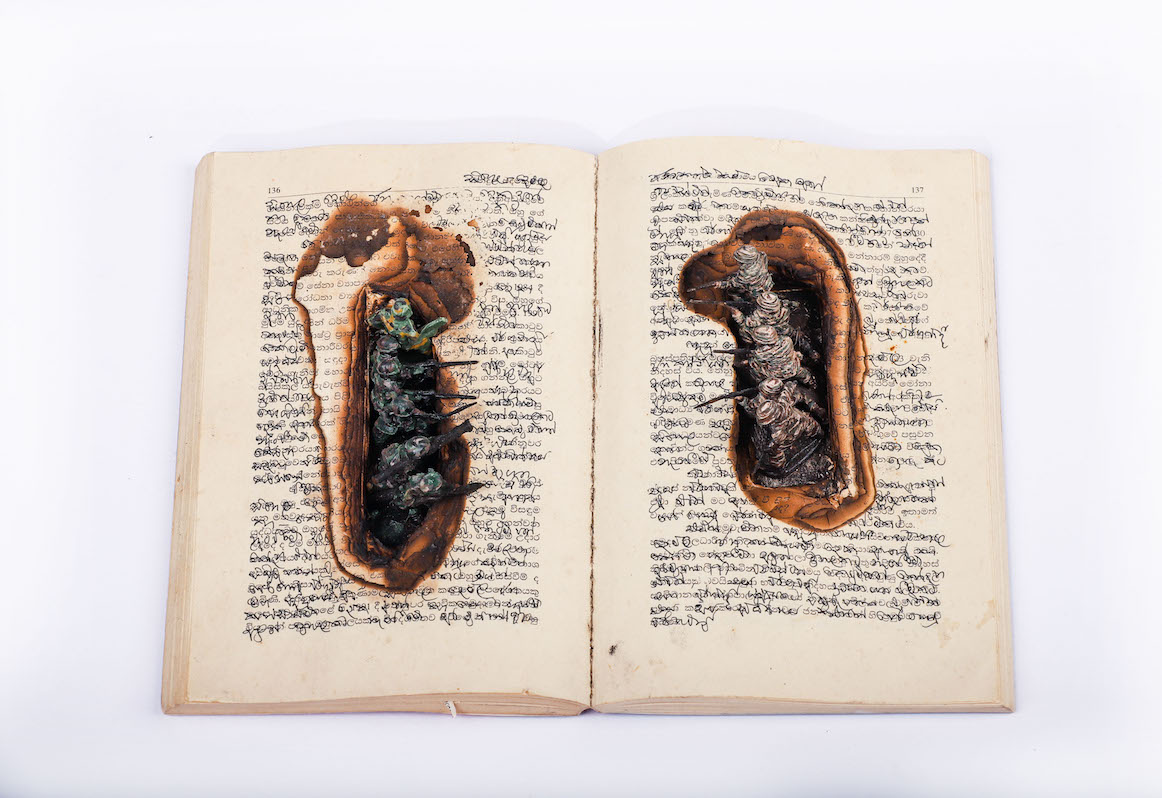 War Text, Used Books and toy soldiers, 22 cm x 30 cm x 2 cm, 2015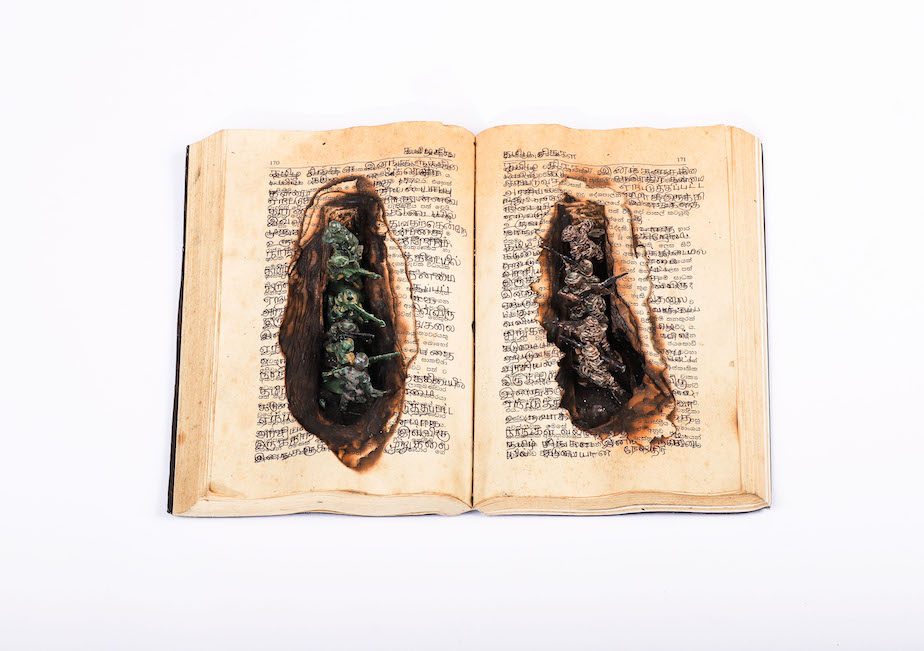 Bullet Book, Used books and toy soldiers, 27.5 cm x 21 cm x 2 cm, 2014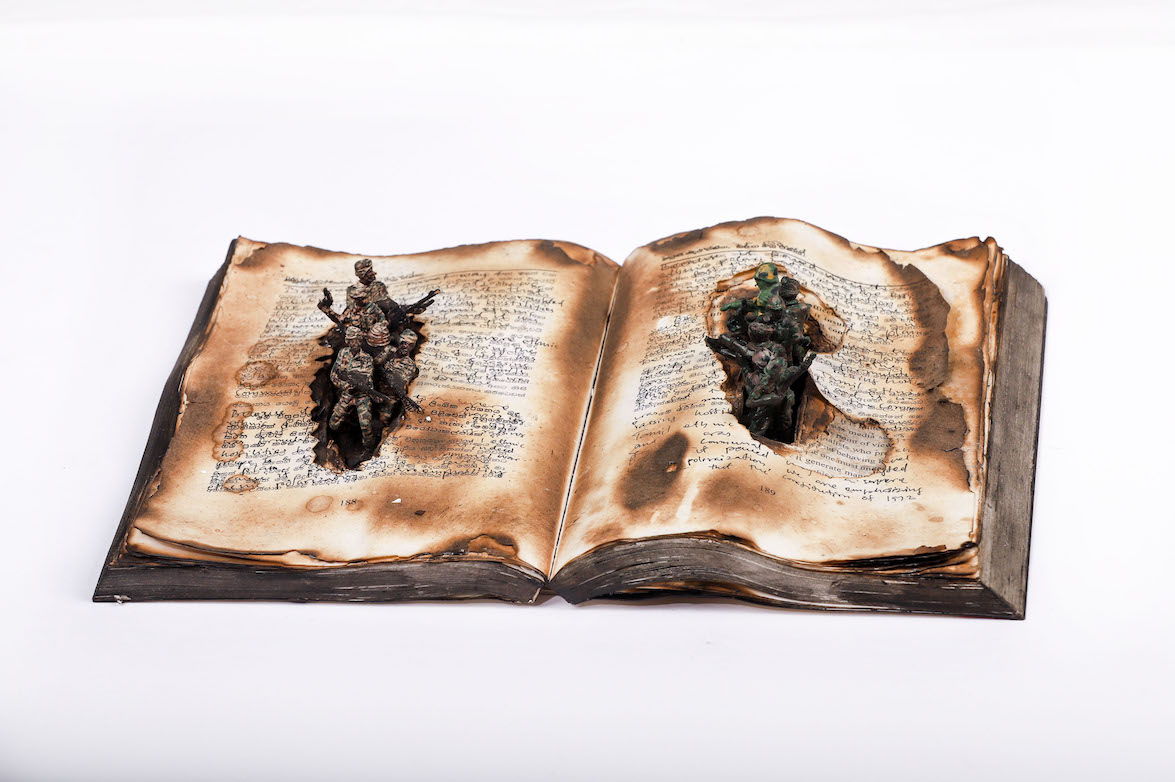 War Text, Used Books and toy soldiers, 22 cm x 30 cm x 2 cm, 2015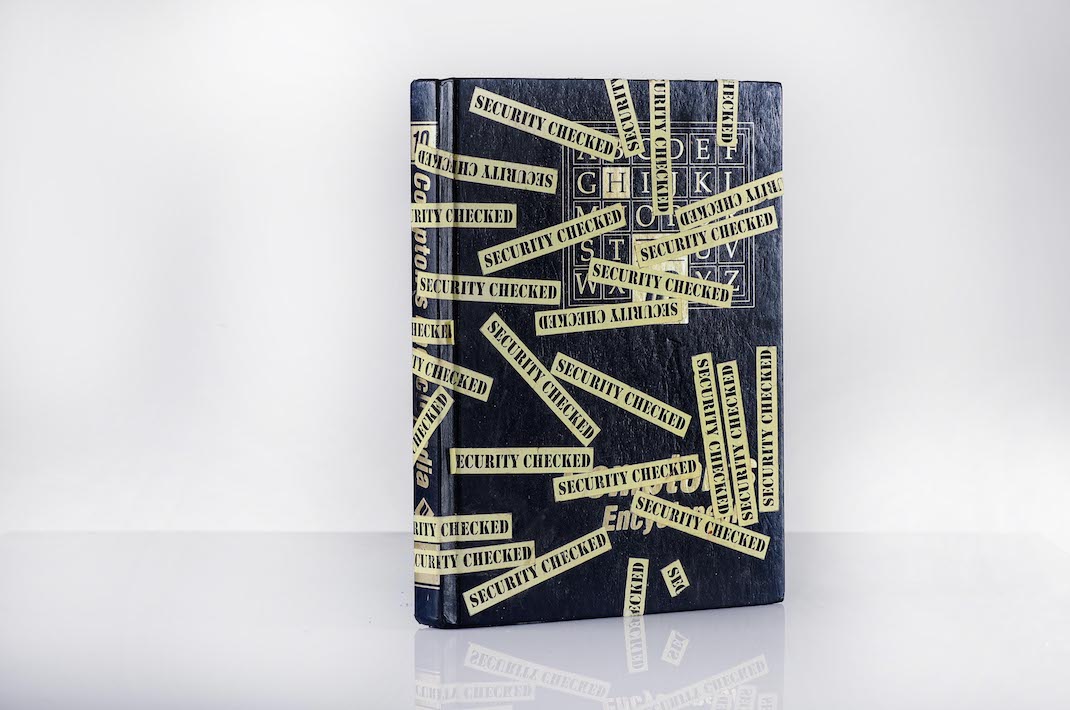 Security Checked Used books and labels, 20 cm x 26 cm x 1 cm, 2013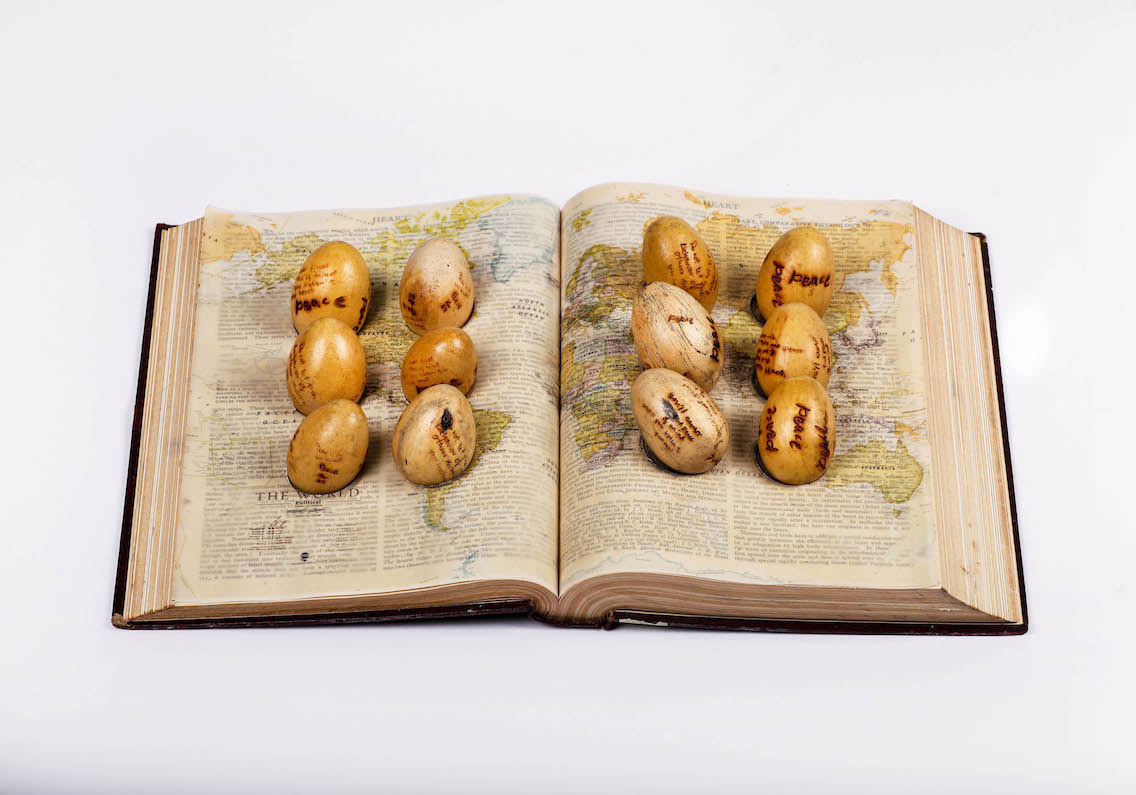 Peace Egg Book, Used Books and 12 wooden eggs. 28 cm x 46 cm x 3 cm, 2019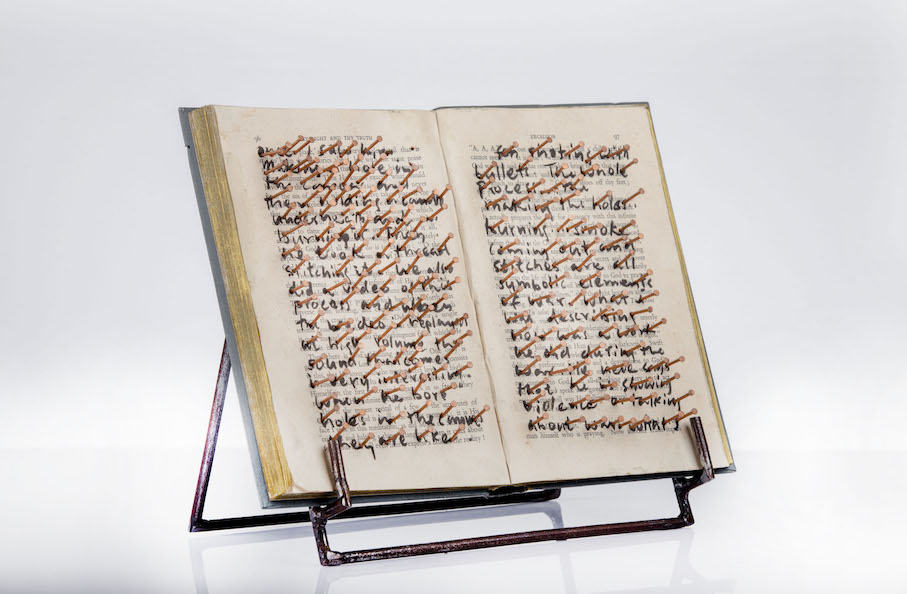 Nail on Book, Used Book and Nails, 19 cm x 24.5 cm, 2018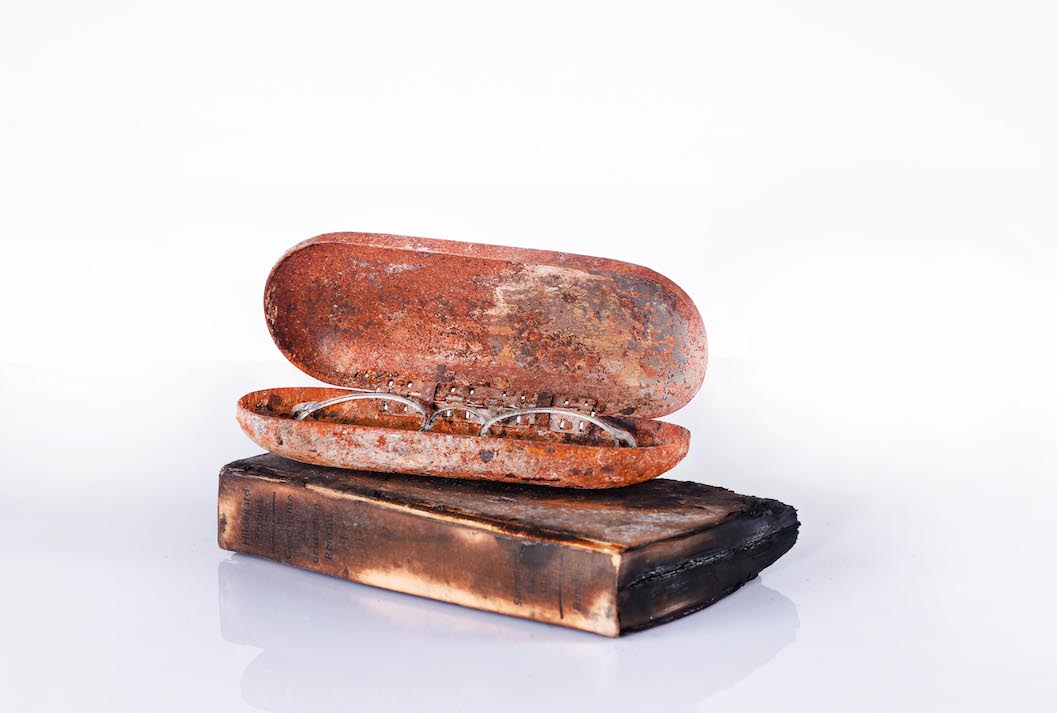 May-19, Used Book, Charcoal, Spectacle and Case, Variable, 2019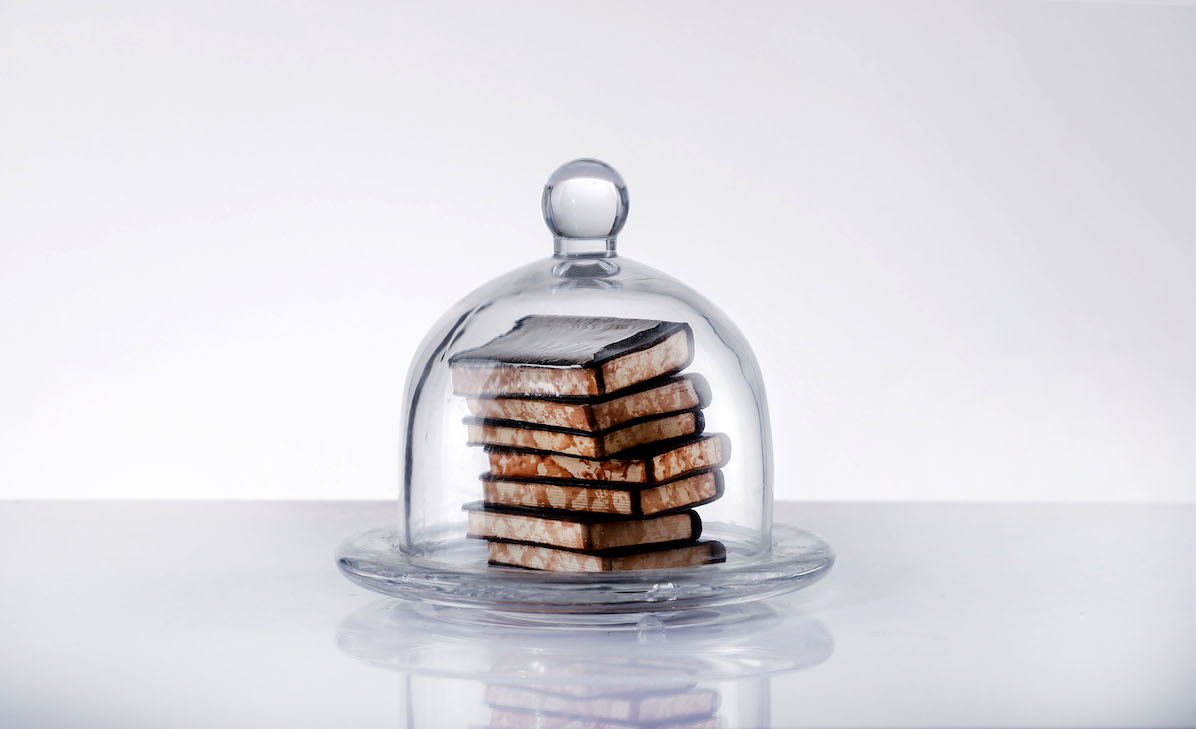 You cant eat this cake, 7 Used Books and glass, 17 cm x 20.5 cm x 15 cm, 2017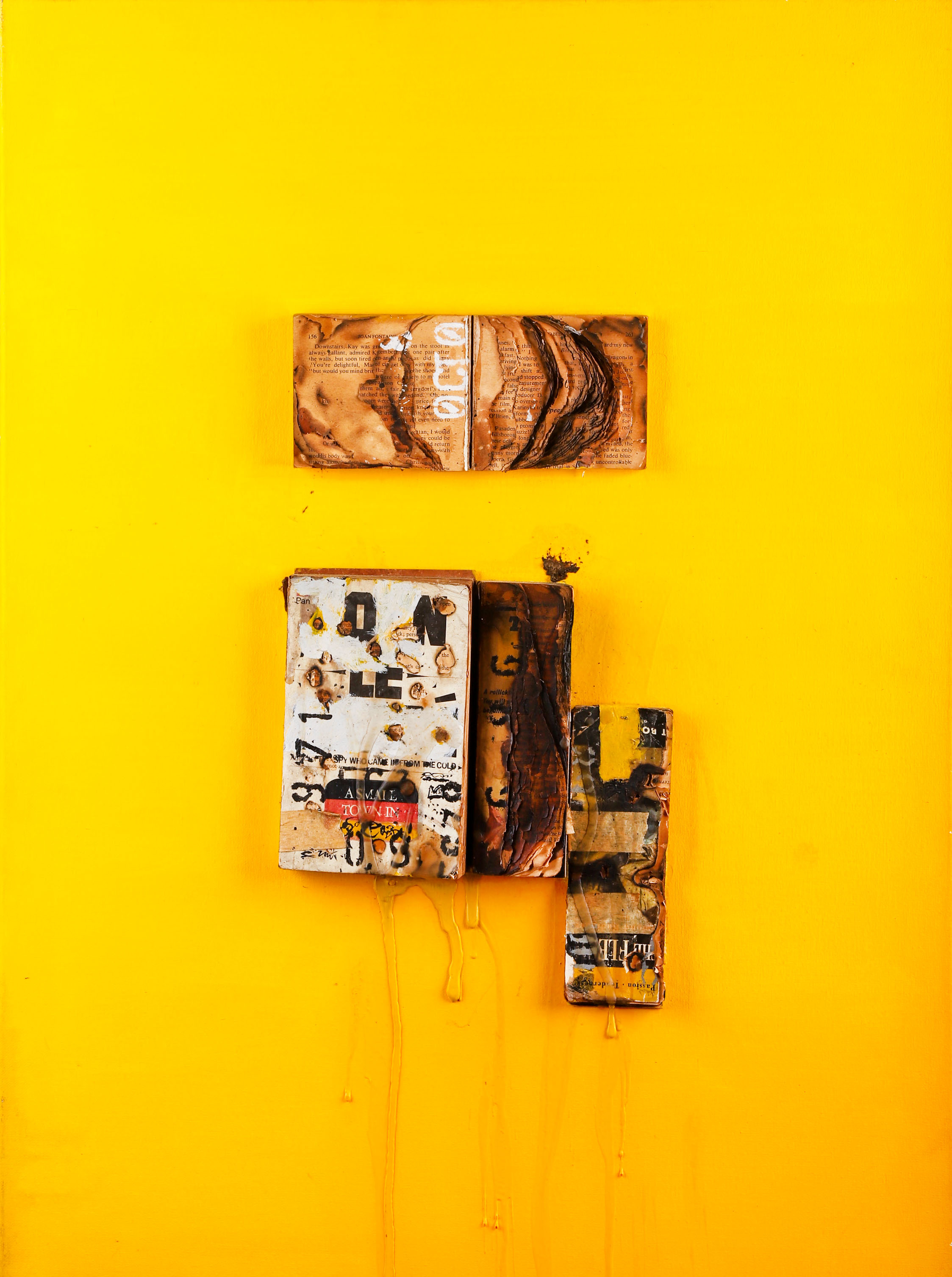 Year 1971, Used Book and acrylic on canvas, 78.5 cm x 58 cm x 2 cm, 2010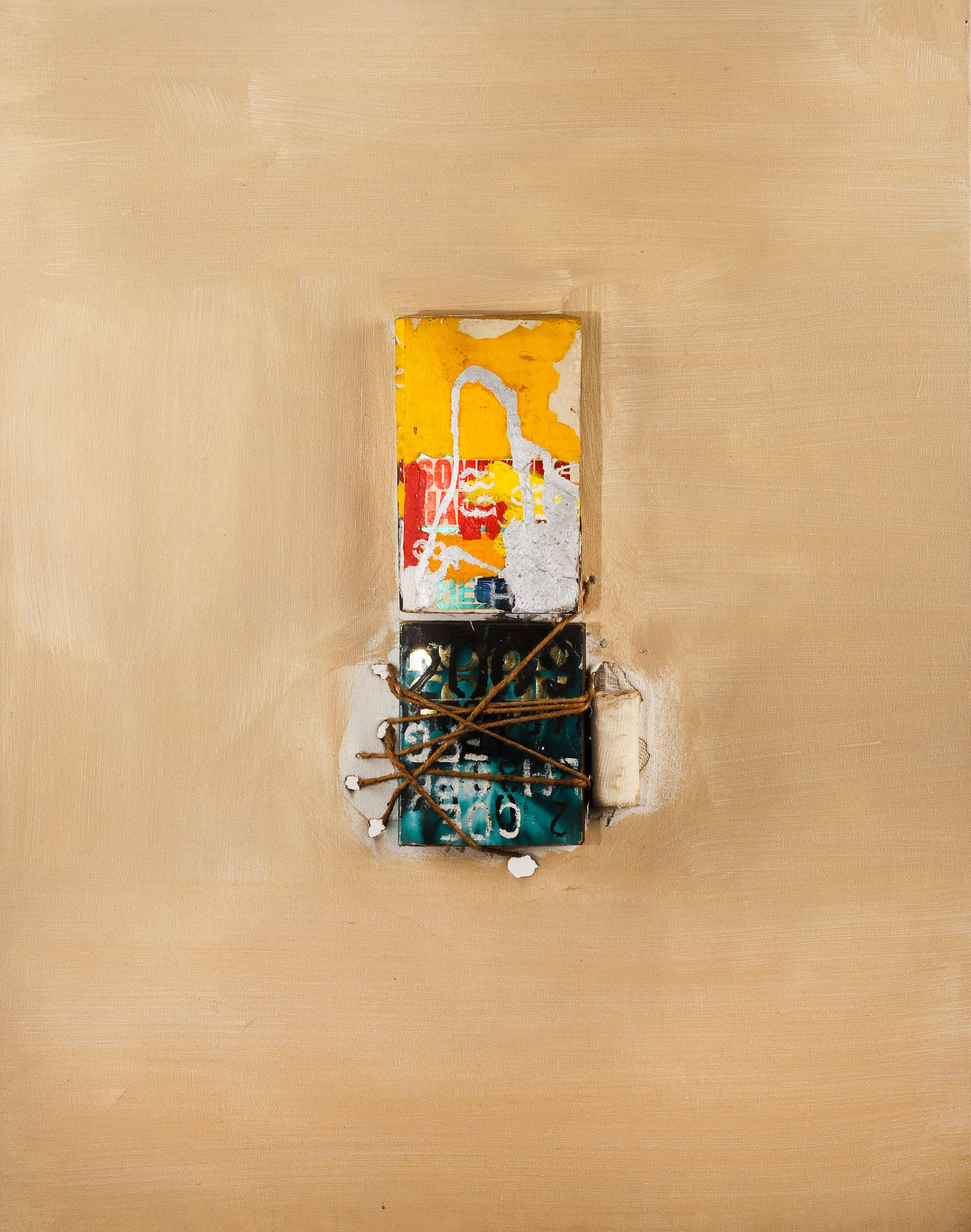 Year 1971, Used Book and acrylic on canvas, 78.5 cm x 58 cm x 2 cm, 2010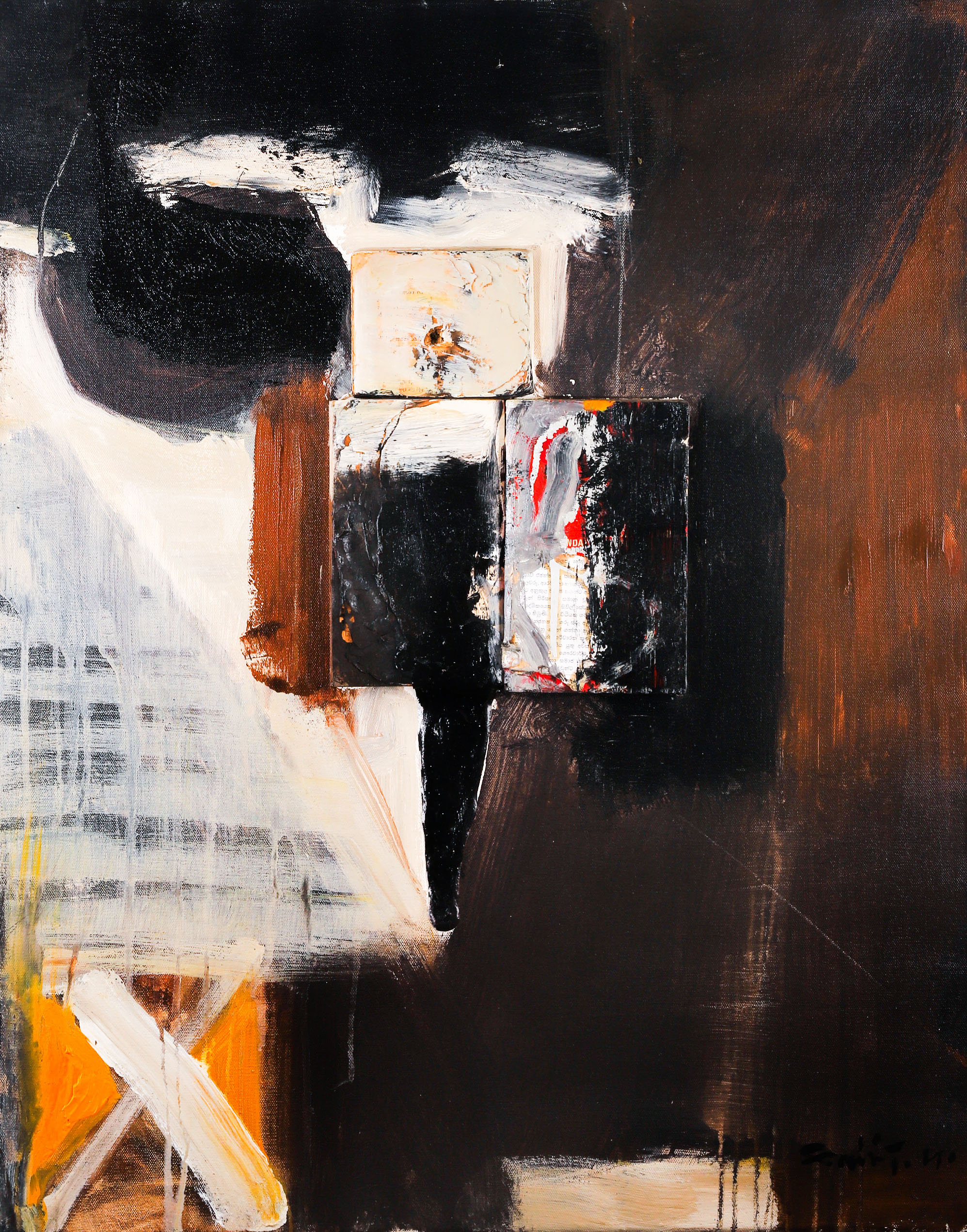 Year 1971, Used Book and acrylic on canvas, 78.5 cm x 58 cm x 2 cm, 2010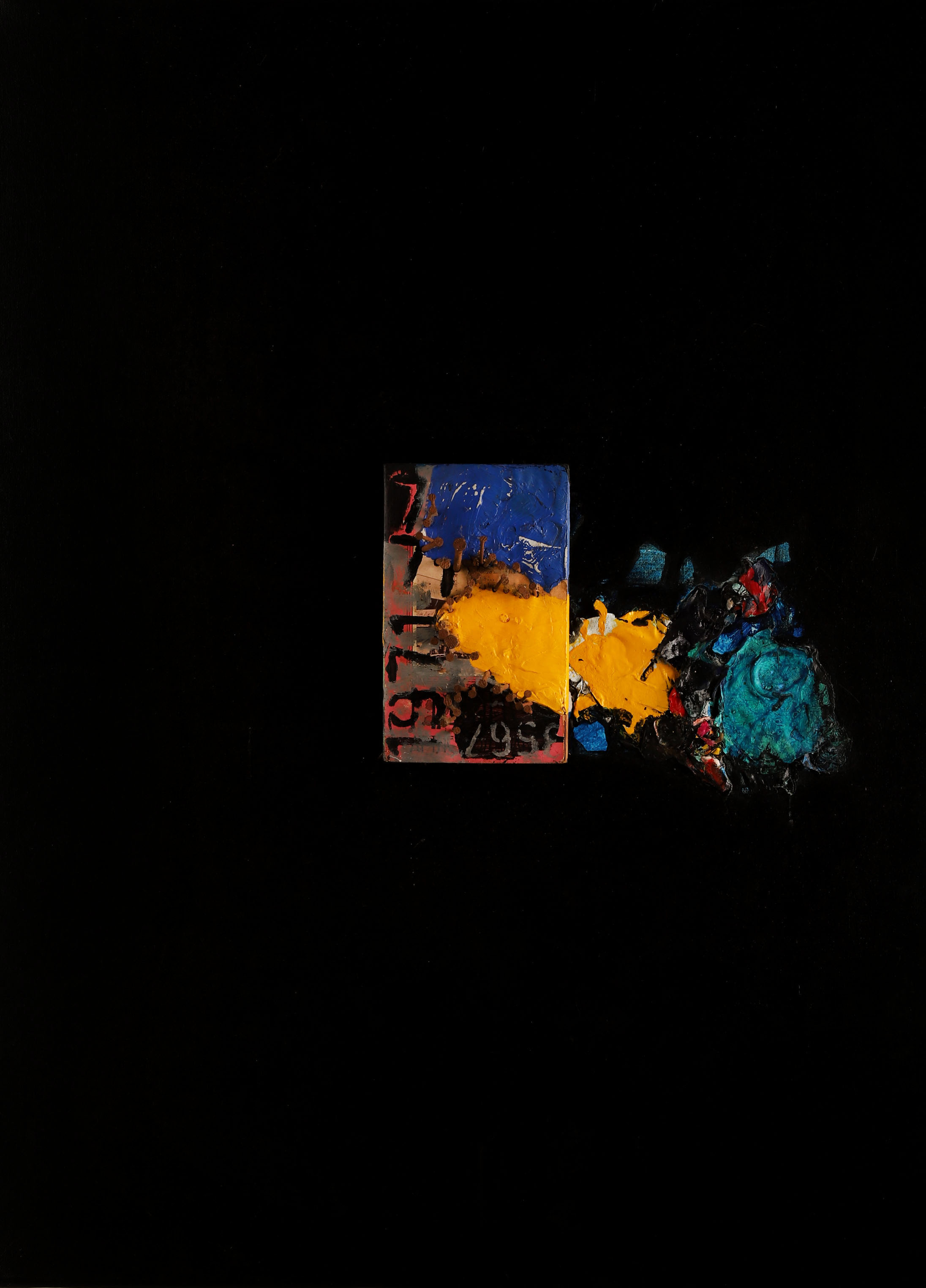 Year 1971, Used Book and acrylic on canvas, 78.5 cm x 58 cm x 2 cm, 2010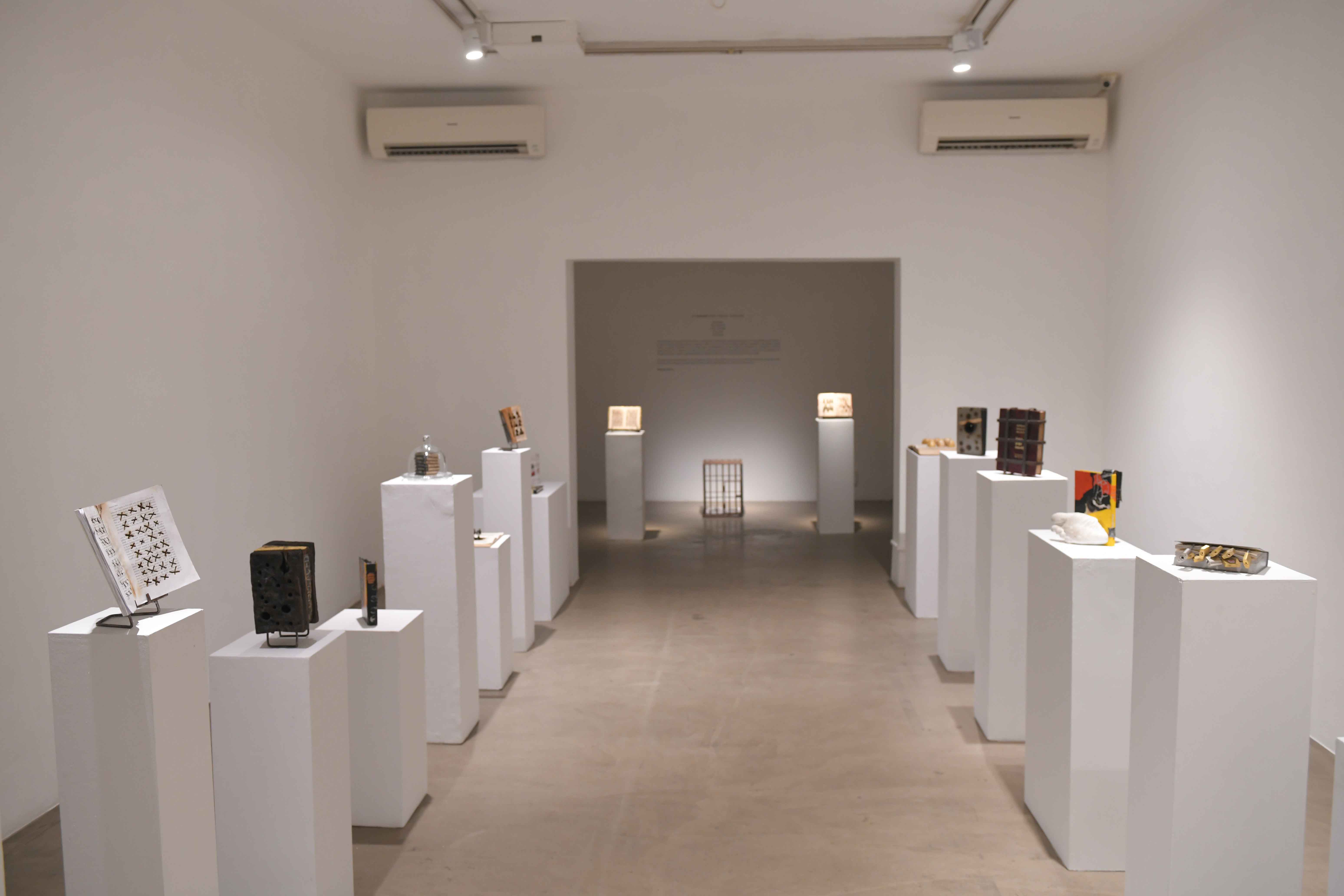 Installation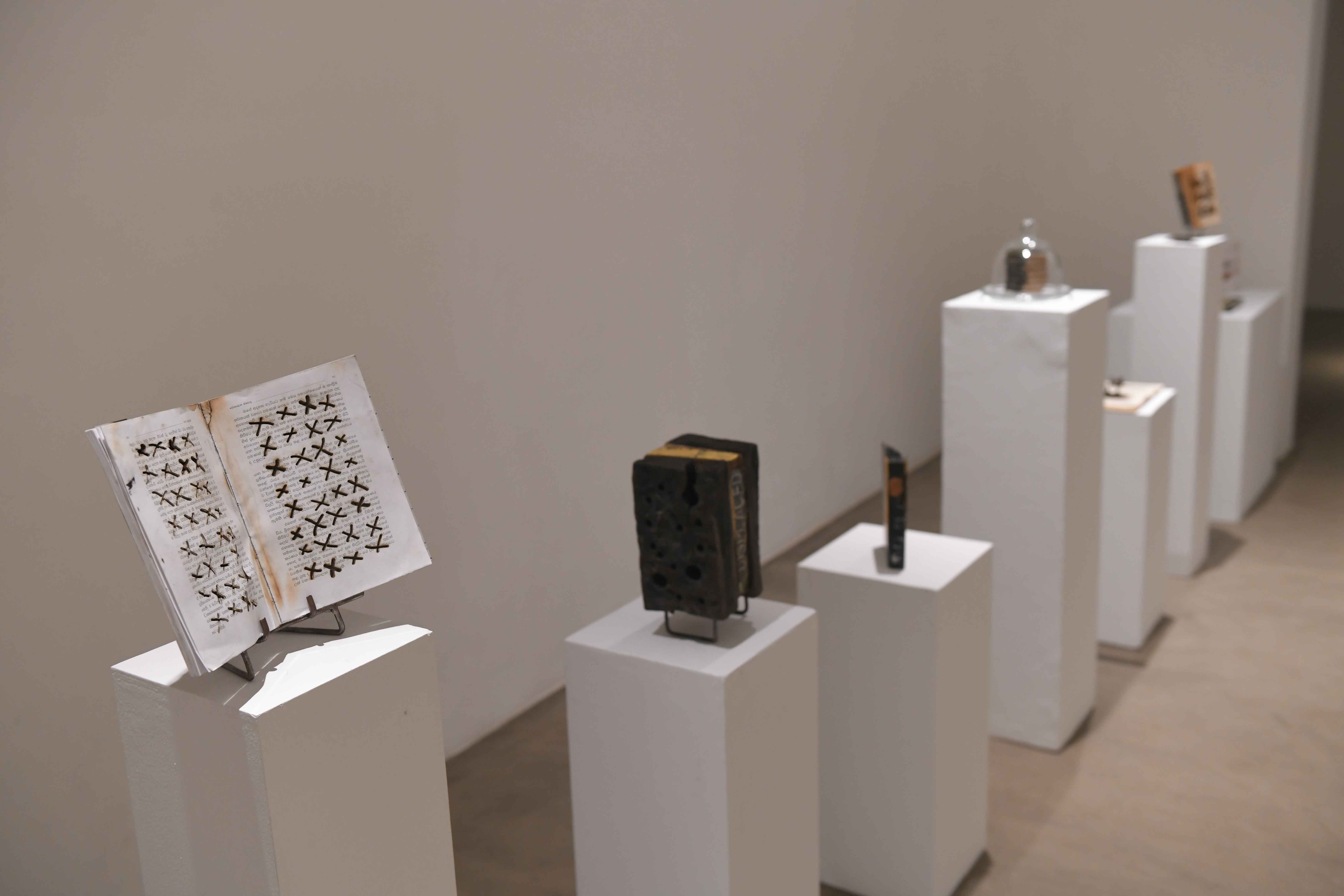 Installation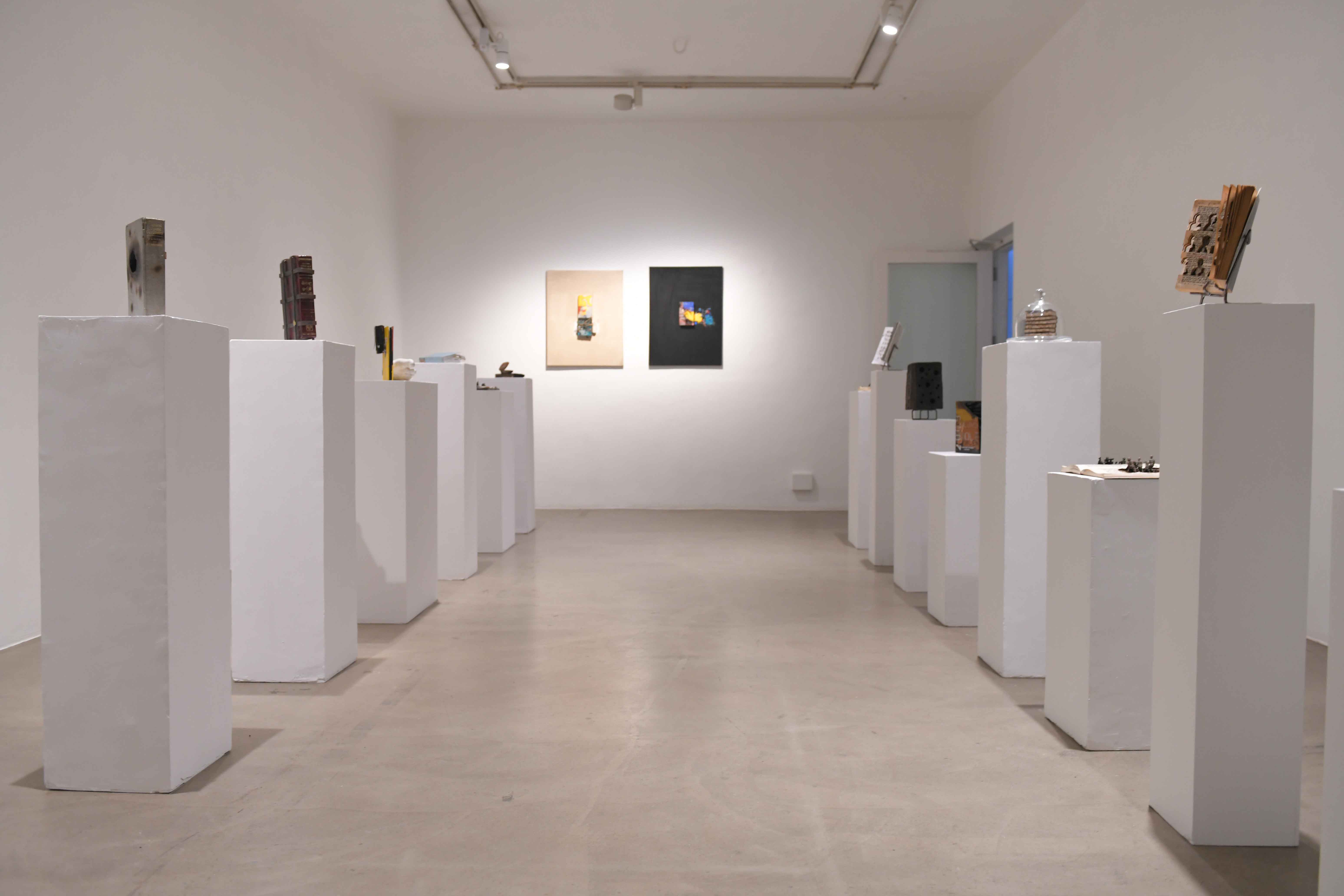 Installation
Installation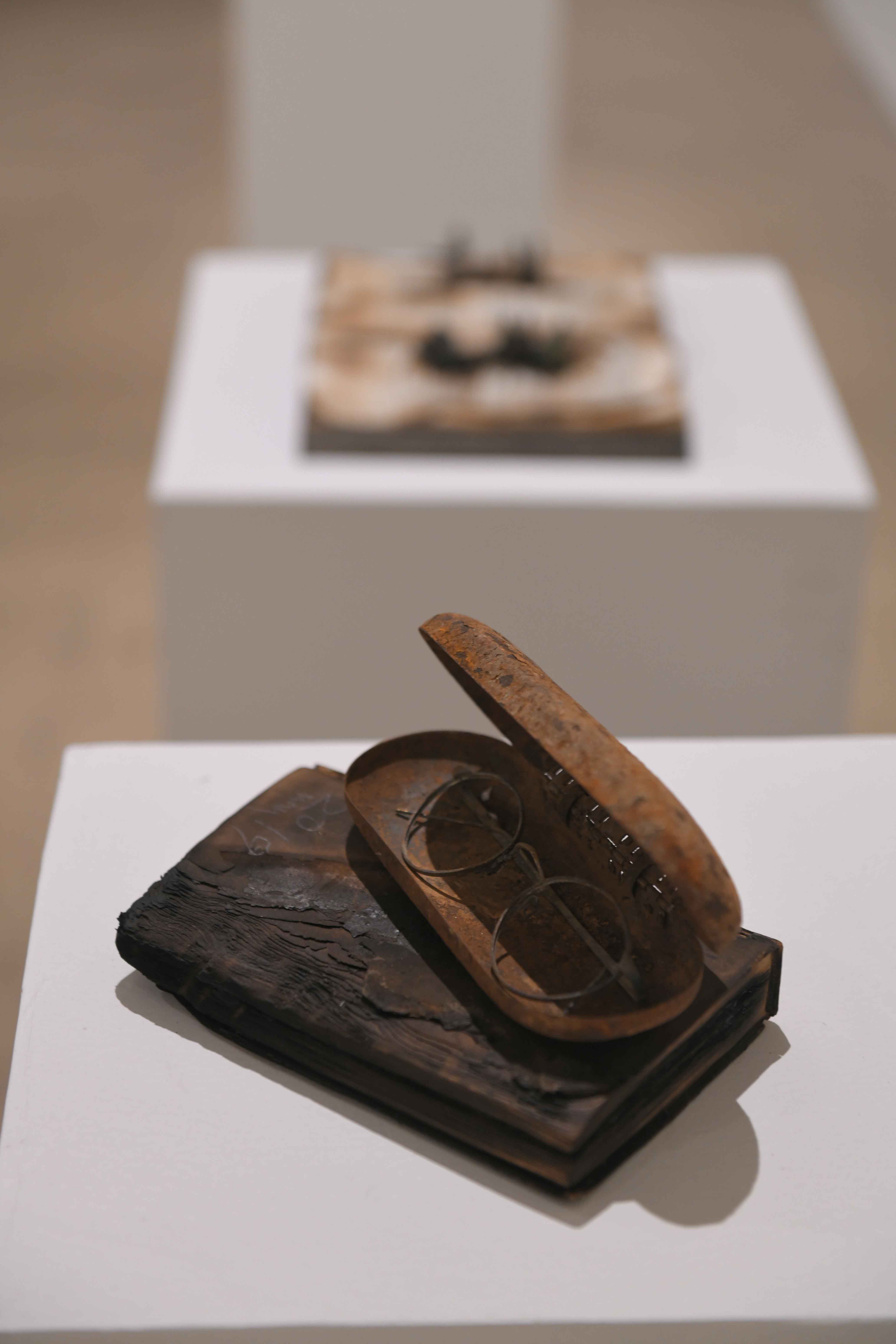 Installation